Vinyl Ranch Rail Fences and More
Val: Okay, now what?
Richard: Now, just like we did with the long rails, we do with the short rails. We'll put it into the open-end to our right, pop it through, pop it in, just pop the back of the post. There you go, and pop it in on this side. Great.
Val: Well, okay.
Richard: Now, hand me one of those and we'll do it again two more times. Thanks so much. Now, hold your post, pop it in, pop your post. There you go. Pop it in from this side and . . .
Val: And one more.
Richard: One more.
Val: Okay.
Richard: Pop it in, and pop it in. Great. See, once again, with the dry concrete, we're able to adjust the rails, adjust the posts as we need. Now we can finish lining it out, making sure the tops and all the posts are level, come back. It looks like it's about to rain anyway so we can put a couple of gallons of water on it or wait for a small rain shower, and these posts will set up just fine because the concrete will only take as much water as it needs to set up. No more, no less. Great. Ready to talk about gates?
Val: Yeah, let's talk about gates, Richard.
Richard: Fantastic.
Val: Okay, Richard. What are these?
Richard: This is all the gate hardware that comes with every gate we sell.
Val: Okay.
Richard: First off, we have the gate female side. This goes around the 2×2 square tubing, comes with the carriage bolt and the nut, fits onto the J-Bolt that goes through your post.
Val: Okay
Richard: Goes through it just like so, goes through your post. Your gate fits on here. You adjust your height of your gate, tighten it up, ready to go.
Val: Okay
Richard: This is the gate latch. This is from Uni-Latch. This is an exclusively buy from Uni-Latch. It's a spring-loaded plunger. It's very unique to the horse industry, and it's a very heavy-duty . . . Look at the size of that plunger. It's as big as the hinge on the J-Bolt. It's extra-long so you can adjust it. If you missed your gate opening, you can use this extra to make up that gap.
Val: Oh, well that's good.
Richard: The biggest part of a fence is the gate. That's the most important, most crucial part and the latch on that gate really means a lot. I spend $20 for that latch alone and it is darn well worth it.
Val: I can see that.
Richard: Also, we have the plugs for the top of the gate. These plugs just cap the gate so the water doesn't get into the gate. Now, would you like to take a look at the gate?
Val: Absolutely.
Richard: Well good, let's take a look.
Val: Richard, this isn't a standard white vinyl gate.
Richard: Correct. Remember I told you we did that 21 miles of fence in the past 14 years? We found that the white vinyl gate was the weakest link in the white vinyl fence. An otherwise excellent product had this one little piece that fell apart within six months to a year. The gates that were made out of the white vinyl fence were put together with aluminum rivets. Well the aluminum rivets wear out after a time and make a bigger hole and the gate falls, literally falls apart within six months to a year. There's no way to back them up and there's no warranty on the gates. There's obviously a warranty on the fence, but never a warranty on the gates. So we decided, let's make a steel gate that matches the fence exactly. It's double powder-coated white. I have these custom made, inch and a half by five and a half C-channels welded to 2×2 steel outposts out here. Rust can happen but very rarely because this is automotive-grade finish. You'll feel that. Does that feel familiar?
Val: Yeah, it feels like the hood of my car.
Richard: It's exactly the same product. It's painted on here as it's painted on automobiles.
Val: Oh, wow.
Richard: So, it's an automotive-grade finish.
Val: Okay.
Richard: Gates get a lot of wear and tear and abuse. The white vinyl gates require stiffeners, require extra bolting and extra hardware. We have none of that. We have just that simple hardware kit we showed you earlier and then we're ready to go. Now, they are perfectly sealed and no water can get into the top of that gate.
Val: Great.
Richard: It matches exactly. Now, let's go drill the holes on the hinge post and I'll show you how we do a hinge post.
Val: Okay. Richard, what did you mark this here for?
Richard: These are the center holes for the J-Bolts that are going to go through this. We're going to fill this full of concrete and rebar. The J-Bolt's going to go through here and the gate is going to hang on this post.
Val: Okay
Richard: This post is going to be solid concrete, around it and through it. Here we go. Now, the big key is holding your drill level as you go through because you don't want to go through at an angle. Did it make a hole?
Val: Yep, looks great.
Richard: Take your J-Bolt. I'll take mine. Take the nut off and one washer.
Val: Okay.
Richard: Then run this one all the way up to the front.
Val: Okay.
Richard: To the J-Bolt itself. All right. Now, place it through the post.
Val: Okay.
Richard: Put your pin and just barely start it on the other side. Go ahead and run it up to where it's fairly snug.
Val: Okay.
Richard: Perfect. In the top of this post, I said we're going to use half inch rebar.
Val: Okay.
Richard: Six foot sticks. We're going to put about, depending on your gate, we're going to put two to four and maybe as many as six half inch sticks of rebar down through here and we're going to cup and pout concrete down this post.
Val: Okay.
Richard: Now, concrete will come out these little crevices and these corners and it will leak everywhere.
Val: Okay.
Richard: You'll call me up and you'll be mad at me but the finish of this is so smooth. You feel how that . . . It's almost like glass, isn't it?
Val: Uh huh
Richard: Nothing sticks to this. Concrete will not stick to this. You can wash it off now, come back later and tap it with that rubber mallet and it will all just chip and flake off. Concrete won't stick to it so if it looks horrible, don't worry. The main thing is, you want to put some rebar in here. Fill this post with about a bag and a half of concrete, about a bag and a half two bags around it in the hole and then let it sit for about four days to make sure all that concrete is perfectly cured.
Val: Okay.
Richard: Then you're ready to hang your gate. You want to see what it looks like when it's hung?
Val: Yeah, let's do it.
Richard: Great.
Val: Wow, Richard. This looks great and it's so light and easy to swing open.
Richard: That was our whole point of building it like this, was to make it easy to install and make it extremely durable. I don't want to get the phone call "Hey, I love the fence, but your gate's terrible."
Val: Yeah. All right Richard, we've got the fence done. We've got the concrete set. Now how do we put the caps on?
Richard: Easy one. Take a standard pyramid horse cap, 5×5 cap, and we'll take a standard PVC glue, just the regular clear PVC glue with the small dauber and just trace around the inside of the cap, put it over the top and it just snaps into place. Like so, snaps, done. Try it yourself.
Val: Okay. It is easy.
Richard: That's all there is to it. Now, you're completely done. Now if any of these do come off, all you have to do is re-glue it and put it back on there if one would happen to come off. Sometimes horses will pick them off but very rarely.
Val: Okay.
Richard: Try this next one.
Val: Okay.
Richard. There you go, all there is to it. Now your fence is done.
Val: Great.
Richard: Congratulations.
Val: Thank you, sir. Want to see a particular product or company featured here at BeyondtheBricks.com? Then contact us at the email below. We're always looking for great companies to help folks make the great outdoors greater.
Sours: https://fencesupplyonline.com/vinyl-ranch-rail-fences-3-rail-2-rail/
PVC Horse Fence
PVC fencing can add beauty to your property and give your farm the appearance of excellence for years to come. RAMM PVC farm fence has the post-and-board look without the maintenance of replacing broken boards. Posts are double-walled and rails have re-enforcing ribs inside for stability. PVC fencing systems never need painting, and they won't discolor. The lifetime-limited warranty includes fading from sun damage; our fencing is protected from UV rays with state-of-the-art technology
Due to the nature of PVC and the fact that it has no definite breaking capacity, we recommend it as a decorative fence around your yard, arena, or driveway. If you choose to use PVC as horse fence containment, we recommend using electric fencing to protect you and your horses. Remember that horse fencing systems are not 100% horse proof, however, some are more effective. At RAMM, we believe PVC Farm Fence is safer than high tensile wire horse fencing and other traditional styles of fencing, but it is better to be safe when dealing with large animals.
PVC Fencing can be useful as a decorative fence around your farm, along driveways, and for riding arenas. Available in 2, 3, and 4 rail systems, PVC offers beautification in vinyl with a traditional look. Caps, posts, rails, and routings are all included in the system. RAMM's PVC horse fence supplies are top in quality and will aid in the upkeep of your beautiful PVC Fence, as well as keep it in optimal working order – to protect your livestock and investment.
RAMM Tip: We highly recommend the use of an electric fence in conjunction with PVC fencing. We encourage you to browse through our safer vinyl fence alternative (Flex Fence®) section and electric horse fence systems for more options on your farm.
If you would like pricing for PVC fence or have installation/planning questions, we welcome you to call us at 1-800-434-6296 to speak with a friendly RAMM account manager. You may also visit our Horse Fence FAQs page for the most common questions we have regarding horse fence installations. *For more photos and ideas, we welcome you to visit our PVC Vinyl Fence Pinterest board section.
Sours: https://www.rammfence.com/fence/pvc-fencing
3 Rail Horse Fencing
3 Rail Horse Fencing by A Vinyl Fence offers wholesale pricing to the public. This horse fence is strong, clean and easy to install.
Our pasture fence or ranch fence are excellent for any project. We offer wholesale pricing so as to keep cost down and compete with the big box stores like home depot fencing and lowe's fencing.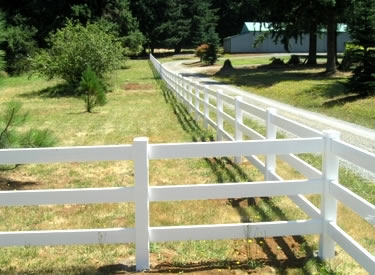 Wholesale 3 Rail Horse Fence
3 Rail Horse Fence by A Vinyl Fence offers wholesale horse fence pricing to the public. This horse fence is clean, strong and easy to install. Our horse fencing comes in different rail sizes so choose the one that is best for your project. This pasture fence or ranch fence will last a lifetime! Shop for horse fencing below. How much horse fencing do I need? There is a horse fencing calculator on each horse fence product page.
Showing all 6 results
Sours: https://www.avinylfence.com/product-category/vinyl-fencing/horse-fence/3-rail-horse-fencing/
Vinyl Horse Fencing
Vinyl Horse Fence — Horse Fencing
Whether you are trying to fence in livestock with a vinyl pasture fence or want a beautiful white horse fence as a property boundary, we have the product for you. Although good vinyl horse fencing can be expensive, poor horse fencing can be a whole lot more expensive. That's why we only offer commercial-grade vinyl horse fence, and we guarantee it will be at the best price available online. Wood fences rot and look terrible in a few years, and barbed wire is not attractive. That is why a beautiful, durable, white vinyl horse fence is the best choice.
Types of Vinyl Horse Fencing We Offer
Wholesale Vinyl Fencing is your resource for high-quality, commercial-grade horse fencing. Here are the impact-resistant, virtually maintenance-free options we have available:
2 rail — The shortest of our three designs, the 2-rail horse fence has two parallel rails measuring 16 feet long. It measures three feet tall.
3 rail — The key feature of the 3 rail fence is its size, 54 inches tall, with three parallel rails in 16-foot lengths.
4 rail — The 4 rail fence design measures 60 inches tall and features four parallel rails that are 16 feet long.
Click For a Quick Quote
Horse Fencing Styles
The Advantages of Vinyl Fencing
Vinyl fencing for horses, cattle and property boundaries has pretty much taken over — and for good reason. A vinyl pasture fence looks better, works harder and lasts longer than a wood fence, and barbed wire is a fence material of the past. You don't need to paint, screw, repair or mend a vinyl horse fence. It will look great and last for years to come.
Vinyl horse fencing is being used successfully for cattle containment by some of our customers. Yes, it's true that cattle like to push, nudge and shove when in confined areas. This is why it can be a good idea to run a hot wire, whether in a confined space or in open pasture. Our vinyl horse fence options are being used with electric wire fencing with great results!
To ensure the best results at the least cost, simply drill holes in the posts, string a wire through and electrify it with a hot fence unit operated by solar power.
Why Buy From Wholesale Vinyl Fencing
Wholesale Vinyl Fencingv provides premium vinyl horse fencing to landowners. Our wholesale fence company has established a reputation for high-quality products and services. With affordable, high-end horse fences, landowners can have peace of mind knowing their property and animals are secure. Our horse fences are attractive, sturdy and durable. Secure your land and animals today with our exclusive vinyl horse fence.
Please browse our options below. We have 2 rail vinyl, 3 rail vinyl and 4 rail vinyl in stock nationwide.
Sours: https://wholesalevinylfencing.net/horse-fence/
Fence vinal horse
White PVC Vinyl Horse Fencing
What Are The Benefits of Purchasing Vinyl Horse Fence Factory Direct?
Thank you for visiting our website. Our white post and rail horse fence has been installed across the USA for over 25 years, so if you have ever driven by a beautiful white 3 rail horse fence, there is an excellent chance it was manufactured by us. We have been a leader in the vinyl fencing industry since 1995.
Our heavy duty white PVC horse fence systems are an affordable and practical option to define your property, perfect for equestrian fence, ranch fence, farm fence, and split rail fence applications. Choose from 2 rail, 3 rail vinyl fence, and 4 rail horse fence and 5 rail post and rail configurations. All options are economically-priced for even the largest properties, with truckload discounts are available.
Our heavy duty white vinyl horse fence systems are designed to create a visual barrier for your horses or livestock. Vinyl fence will not prevent a horse or cattle from going through the fence. If they decide to go through the fence this will simply slow them down as they can go through a brick wall if they so decide. The advantage with our heavy duty vinyl horse fence is that if they do go through the fence our fence will break cleanly without jagged edges or splinters which will help protect your animals from injury from nails or splintered wood. Our fence is an affordable and practical option to define your property, perfect for equestrian fence, ranch fence, farm fence, and split rail fence applications. Choose from 2 rail, 3 rail vinyl fence, and 4 rail horse fence and 5 rail post and rail configurations. All options are economically-priced for even the largest properties, with truckload discounts are available.
When you order direct from us, you'll receive everything needed for your project. Concrete is not needed for our heavy duty posts. The only exception is that we do require concrete to support gate posts. Our heavy duty horse fence does not use any brackets, wood, or screws, making it quick and easy to install. You will save money by purchasing your horse fence factory direct by avoiding the middleman. To save even more money, you can install our products on your own, or hire a local installer. We provide 24/7 installation support and work directly with you or whomever will be installing your fence to make sure the job is done correctly. If you need help finding a local fence installer, let us know as we have an extensive list of fence installers all across USA and might have one very close to you.
White Color is the only color currently available!
Currently only White Color is Available. Later this year, before Winter we should have our other color choices back in stock. Tan horse fence, Clay Horse Fence and even Gray Horse Fencing used for vinyl post and rail fence, split rail fencing and farm fencing, plus in Winter 2022 we should have our mocha walnut wood grain horse fence (click here to view), white crossbuck fencing (click here to view), and matching heavy duty gates (click here to view). If you have a unique project, we can custom manufacture any option and route your posts to your specifications. We believe our job is not done until your vinyl horse fence is properly installed. We also manufacture matching horse fence gates and custom gates upon request.
Quality Matters.
If you compare the quality you will see that our vinyl horse fencing stands alone and is second to none. Plus our gates are the best in the business. The thickness and gauge of our white PVC horse fence is considered the very best in the industry. Because our split rail fencing is commercial grade, it will be stronger and hold up longer than products from companies that offer a lesser grade agriculture fence, which is not meant to hold in horses or livestock. Our vinyl horse fencing is engineered for all applications, from horses to cattle and livestock, farm fence and post and rail fence. If this is for a commercial project, using a higher grade quality means your vinyl horse fence will add actual value to your project as it will never need to be painted nor replaced, and will always look fresh and new. All of our vinyl split rail fencing products are heavy duty, made with virgin vinyl, and backed by our industry leading transferable lifetime warranty. Contact us today for a free quote. We offer free nationwide shipping on most orders, plus volume discounts for large projects. We are always here ready to help and hope to work with you on your vinyl ranch fence project.
What Do Others Have To Say?
"Justyn is very responsive and accommodating. Product is incredible. I moved into my home 8 months ago, which came with a vinyl fence. I needed to open up one of the sides to allow passage into the back for tree removal. I decided instead of removing a post and replacing it with the single gate i would just install a double gate. The double gate quality and appearance compared to the previously installed single gate and remaining fence is leaps and bounds beyond. I would recommend these guys to anyone that is looking for a competitively priced product that exceeds the quality of any other in the market!"

Read More

"If you want a privacy fence this is the only manufacturer that I would buy it from! We Installed a 7' white vinyl privacy fence around our pool in 2014. It has been through several hail storms, 70-80 mph winds countless times and the fence looks like we installed it yesterday. Great product and great customer service!"

Read More

"Justyn has always been very responsive and excellent communication skills. We have purchased multiple fencing supplies and will continue to purchase in the future. Thank you!"

Read More

"VERY high quality product with GREAT customer service. We had to match an old fence and they did it perfectly. Stop looking and call them. You won't be sorry."

Read More
HIGHEST QUALITY VINYL HORSE FENCE MADE IN USA
Heavy Duty, Commercial Grade. Fast Shipping A+ 247 Customer Service
Request Free Quote
© 1999-2018, A Vinyl Fence Wholesaler, All Rights Reserved.
Sours: https://www.vinylfenceanddeck.com/products/vinyl-horse-fencing/white-pvc/
Steel Board Horse Fence Installation
Then she ordered me to get out of the pool and wait by the sun lounger, and she quickly went into the house and. Brought from there a wooden dildo with a belt.ordered to take her from behind, she got up on the chaise longue on all fours. First of all, I thrust two fingers into her vagina and gently massaged it, to which Wade responded with a languid gaggle, and then, making sure that she had enough.
You will also be interested:
And we do too. I was a part-time student, I received a notice-call for the session on December 1, I was just going to arrange a student leave. Before the New Year, as greetings from the heavenly office, all of Odessa was completely out of the way, "as its residents themselves said. Wet snow and rain, the strongest ice, severe frosts and terrible snowfall, breakdowns of heating systems and water supply.
TV news was even creepy to watch.
1023
1024
1025
1026
1027