Everyone wants to look as good as they can. Especially girls, a lot of girls love dressing up and keeping with the latest in fashion. Girls simply love to stand out and shine bright from the rest; this is where the glitter nail art designs became a constant favorite.
Glitters are very unique that they make you feel simply out of this world. It brightens up the move and sends sparkles in dull moments. It's not that hard to fall in love with glitter on your nails. It's without a doubt that everyone just adores glitter nail art. Applying glitter on the nail is simply easy but there are also other things that you can do to make them look even more interesting and unique.
In case you would want to have your own glitter nails here are simple glitter nail art designs that you can apply on your own. Painting great looking glitter nail art designs is more than just applying the top coat with nail polish.
Glitter tip nail art design
This is a fairly easy glitter nail art design that can be done in 15 to 20 minutes.
What you need:
– matte nail polish (any color of your liking
– powder glitter or glitter from eye shadow works too
– clear nail polish for the top coat
– base coat
Start by applying the base coat and letting it dry. Your base coat can be any color as long as it will not show through the top coat. After that apply the nail polish color of your choice on top of the layer. You can stick to the classics and use a black nail polish for the glitter to be more noticeable later on. You should be able to finish making your glitter pot at this time. Combine the polish and the eye shadow glitter to create the powdery glitter effect. Simply dip the nail polish brush on the glitter pot and apply the glitter midway the nails all the way outwards to the tips. Make sure that the glitter layer is completely dry before applying the final coat on top.
Half Moon Glitter nail art design
Another easy glitter nail art design that can be finished within 15 to 20 minutes. You will need the same things as the previous glitter nil art tutorial.
As usual start by applying the base coat to protect your nails. After the base coat dries, apply the nail polish color of your liking or which one you feel would go best with the nail art design. Get your glitter pot and dip the nail polish brush inside. In contrast to the previous design, you will start from the nail cuticle and painting towards the middle of the nails. It is like a reverse design for the glitter tips but it can also look great just as it is. Get your clear coat and paint on top of the nail polish and glitter layers to preserve the design longer.
Glitter sandwich nail art design
Another easy and awesome looking glitter nail art design. This can be done under an hour.
What you need:
– sheer nail polish in the color of your choice
– glitter polish
– clear polish for the top coat
– base coat
Like any other nail art design, start by applying your base coat for nail protection. When you are sure that the base coat is dry apply the sheer polish. You can start by applying one coat at first then letting it dry. Sheer nail polish is those that need numerous coats to make the polish look opaque. On top of the sheer polish layer apply your glitter nail polish. Unlike the previous tutorials, you will be using a readymade glitter polish to make this glitter nail art design look at its best. When the glitter layer is dry apply another coat of sheer polish on top. Keep the layers thin or the coats will easily chip off. Finish off with a final layer of sheer polish and clear coat then you are as good as done! If you want your nails to dry faster you can dip your nails in a bowl filled with cold water. This helps seal the color and also gives a glossy look on your glitter nails.
Ombré glitter nail art
One more simple glitter nail art idea you can finish in 15 to 20 minutes.
What you need:
– base coat
– nail polish to the color of your liking
– glitter polish
– clear coat
Clean your nails and apply your base coat. When they are dry apply two coats of the nail polish of your choice. Take your glitter polish and apply it on your nail three fourths the way downward to the nail tips. This helps create the ombré look. Use the same nail polish to swipe the glitter from the midway point of the nail towards the tip. At last pat the tip of the nail with the glitter polish to create the darkest part of the ombré effect. To protect the design seal it with clear coat on top.
Now that you are familiar with how glitter nails can look more interesting and unique, why not start practicing and create your very own masterpieces of nail art? They are very easy and rewarding to paint. Paint your nails and create a fashion statement.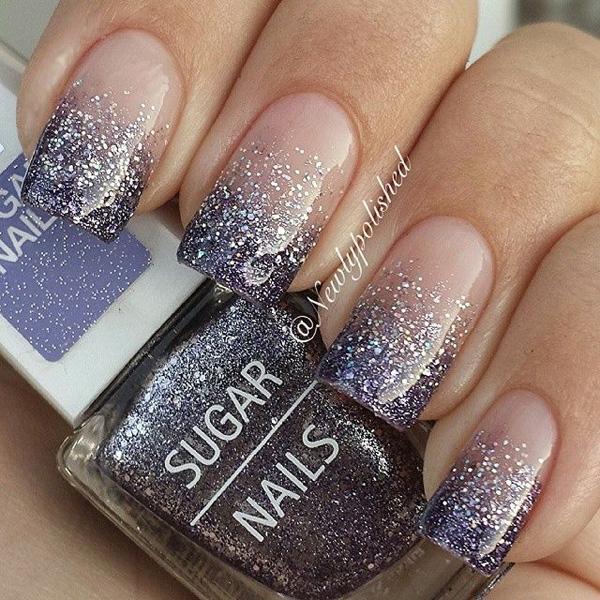 Gradient nail art and silver glitter nail art designed in French tips. Stand out of the crowd with beautiful nail art decorated with Glitter Powder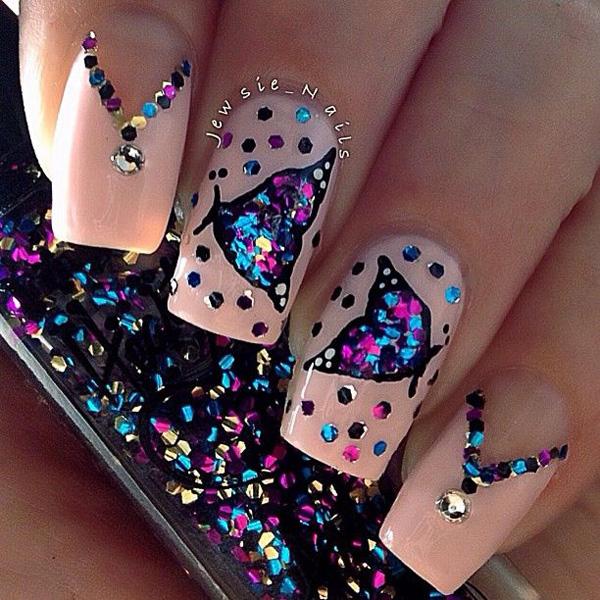 Amazing glitter inspired nail art with a butterfly and necklace design topped with rhinestones nail decos.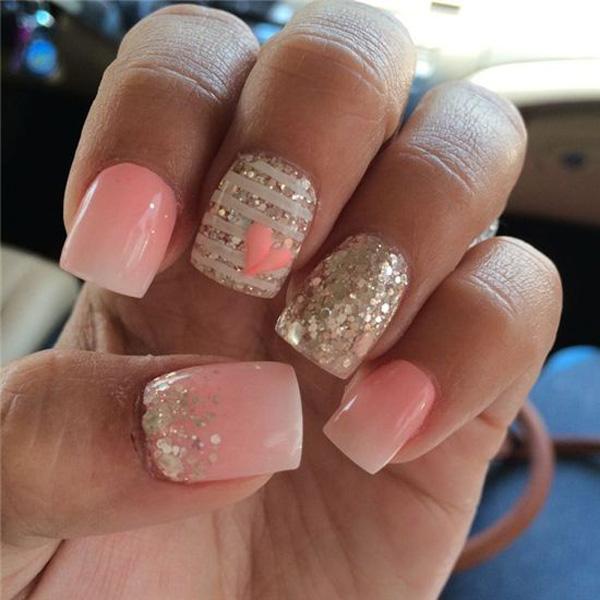 A pretty looking glitter nail art design in stripes and half mood details with a pink heart detail on top.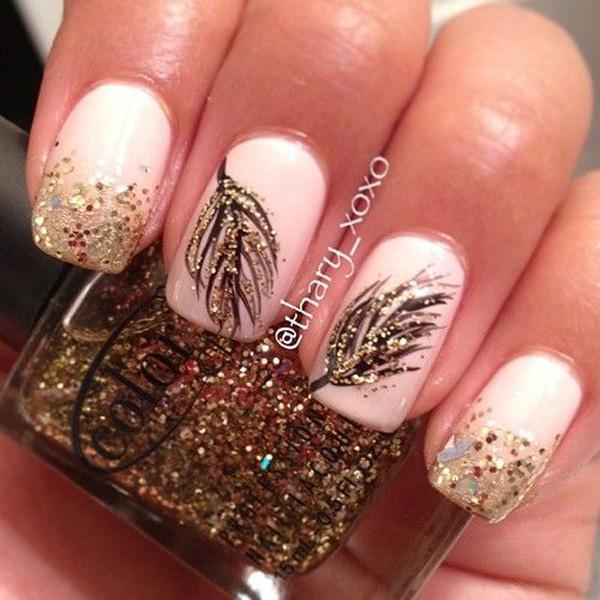 Fall themed nail art with gold glitter coupled with leaf details in black polish.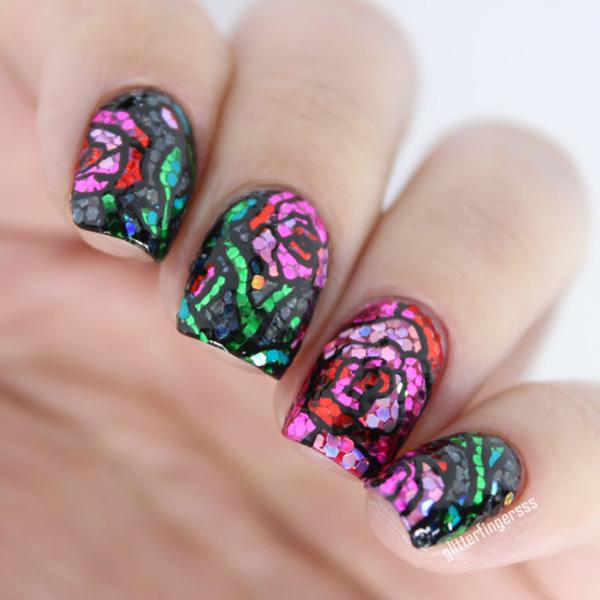 Very artistic and mosaic themed glitter nail art designed in rose details.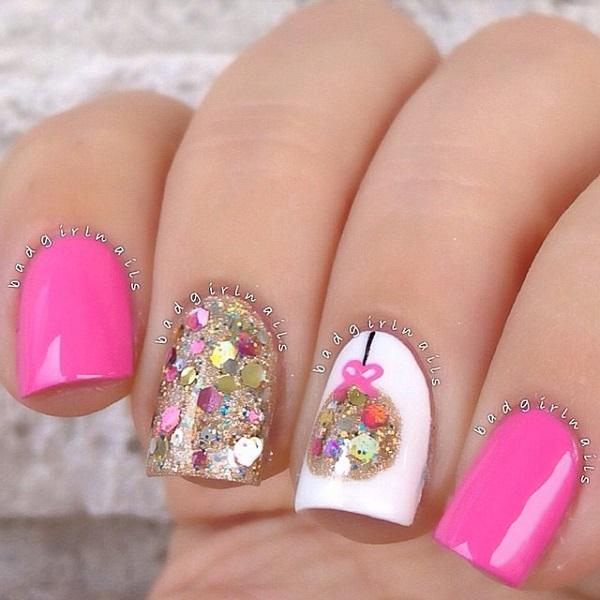 Colorful and pretty glitter nail art details on top of white and pink matte polishes.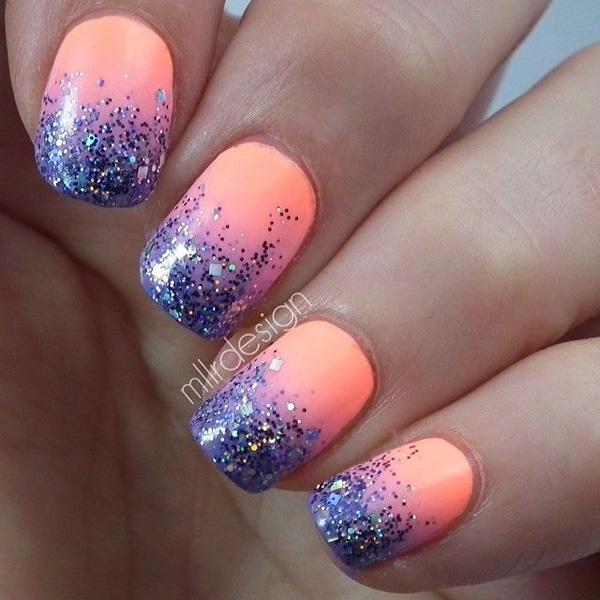 Glitter tipped nails in contrast to a matte melon polish background.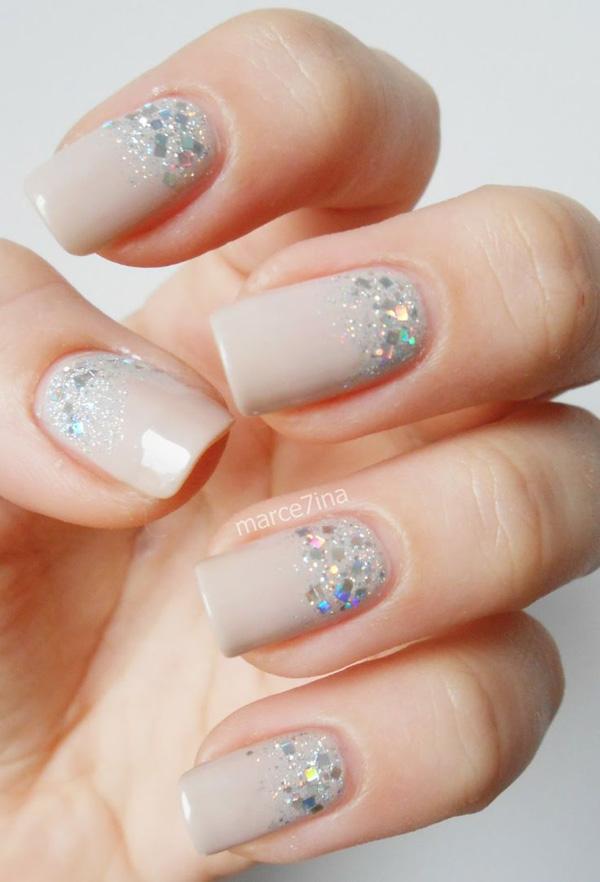 Half moon glitter nail art design in matte nude nail polish.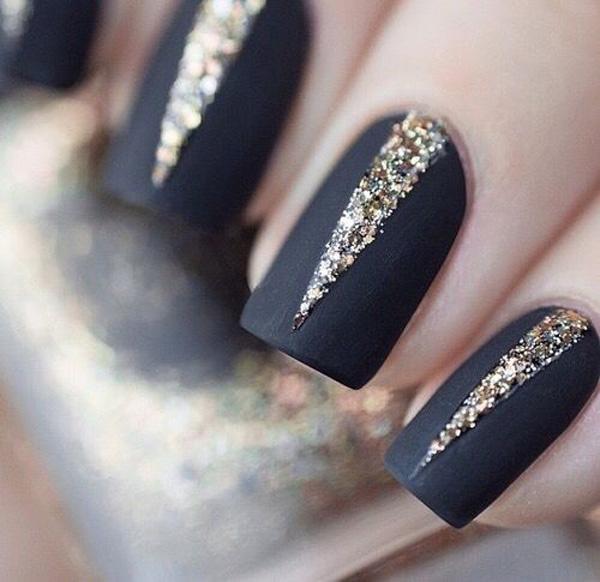 A stand out glitter nail art design in thin long v-shapes in contrast to the midnight blue base coat.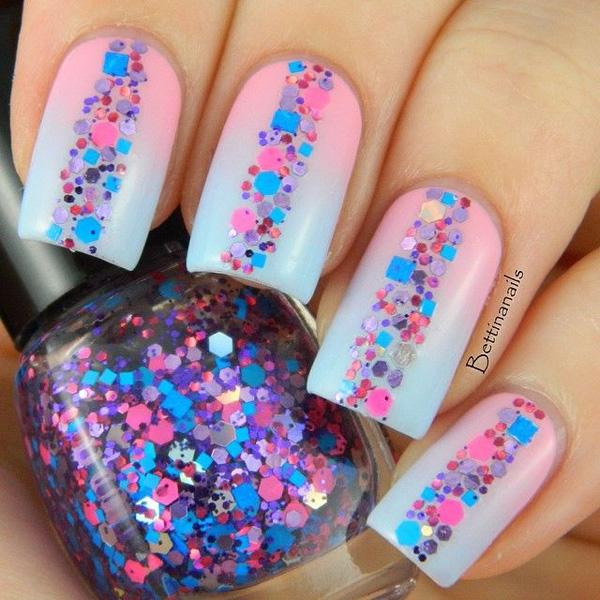 Candy colored glitter inspired nail art design on top of a gradient themed nail art design.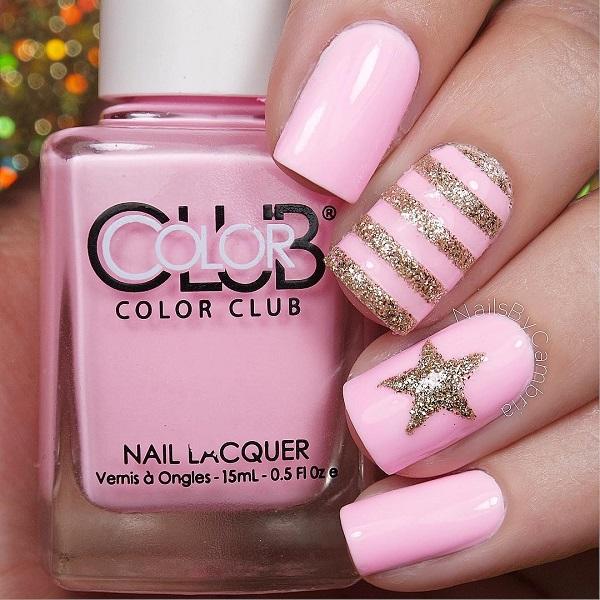 Adorable looking glitter nail art design in posh pink colors and wonderful silver glitter in stars and stripes.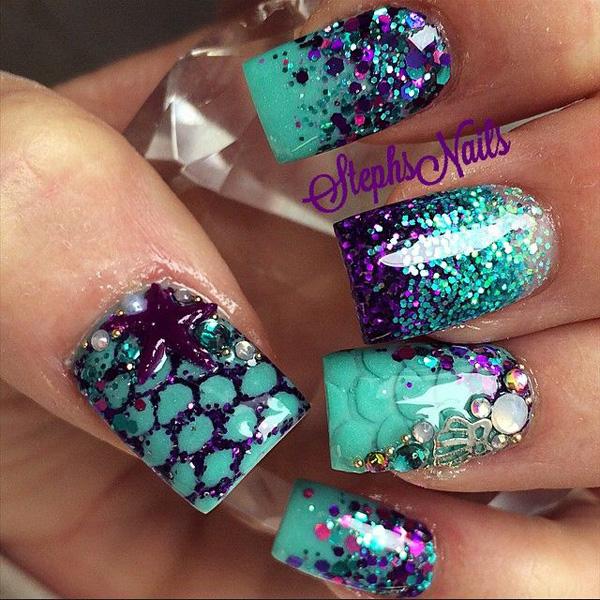 Paint the colors of the sea unto your nail with help from glitter nail art designs and add wonderful accents like starfish and scale details to complete the look.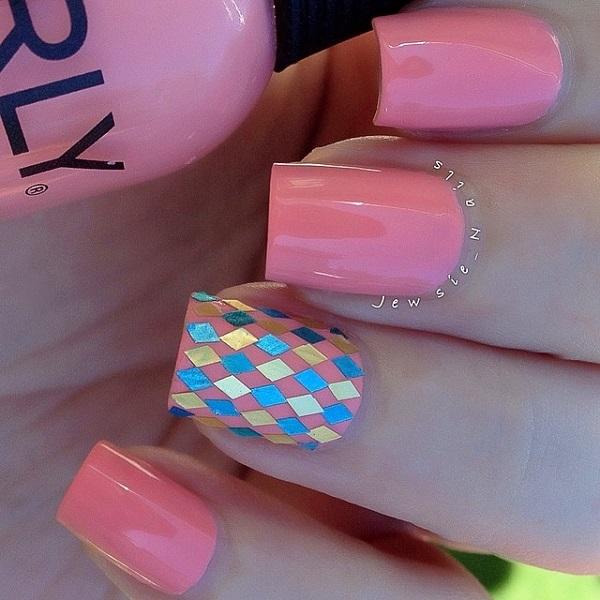 Baby colored diamond glitters atop a matte carnation pink nail polish.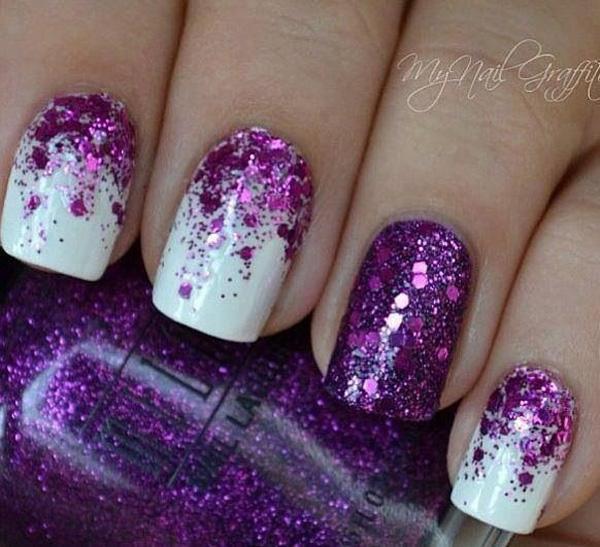 Half moon purple glitter nail art design on top of a matte white nail polish.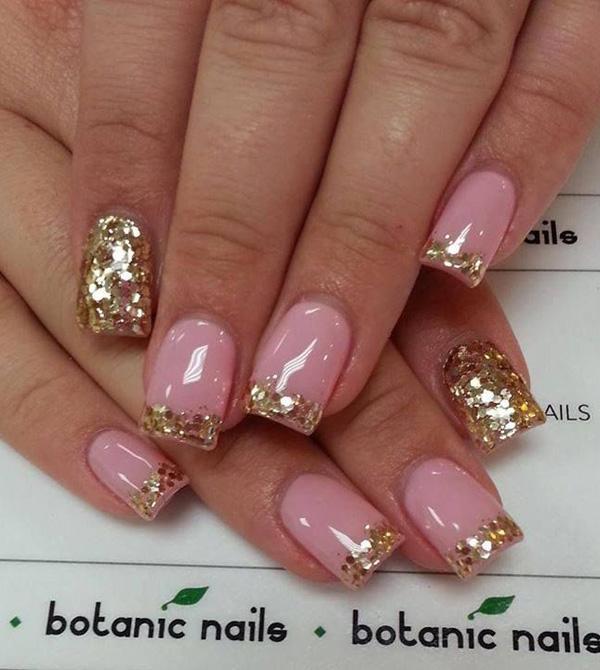 Gold themed glitter nail art design in French tip atop a clear base coat.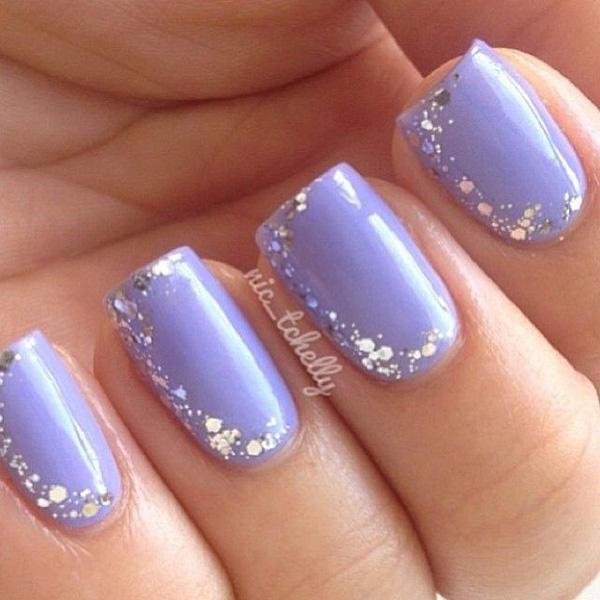 Pretty looking half nail glitter nail art design combined with a periwinkle base coat.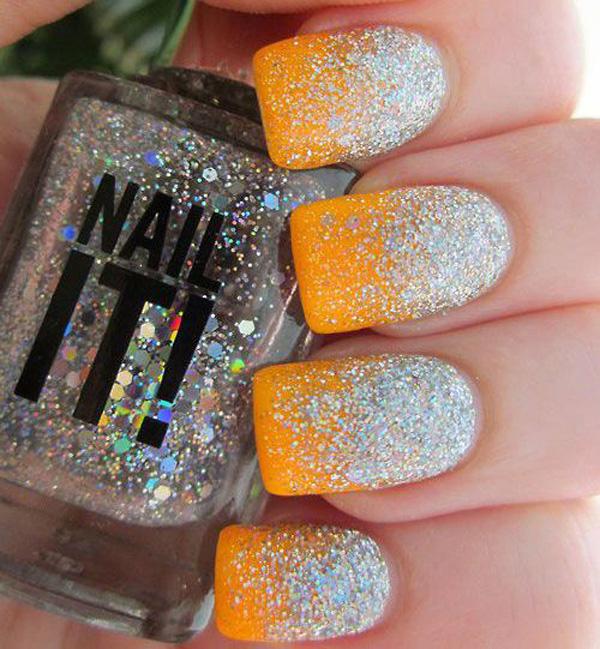 Sparkling and glittering half moon nail art in silver glitters and neon orange nail polish.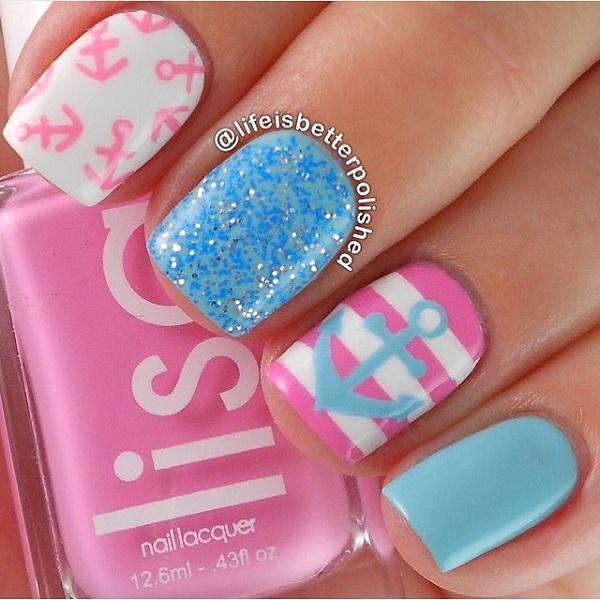 Anchors away with this cute blue glitter nail art design with baby pink, baby blue and white polishes.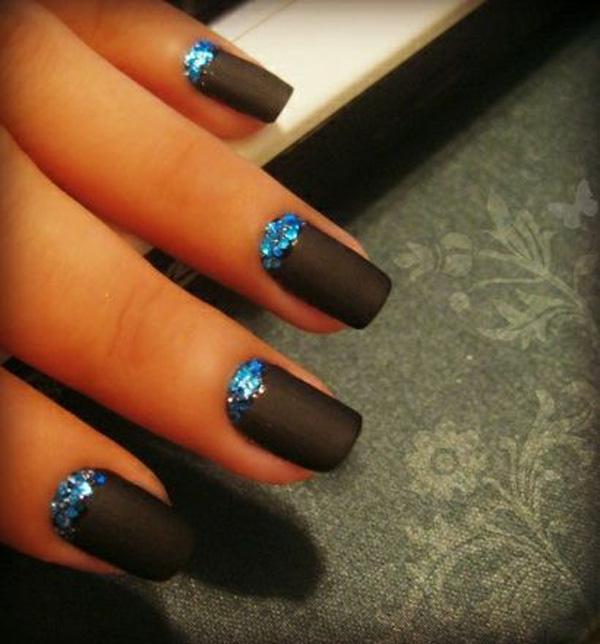 Cuticle glitter nail art design in blue glitters with black matte nail polish.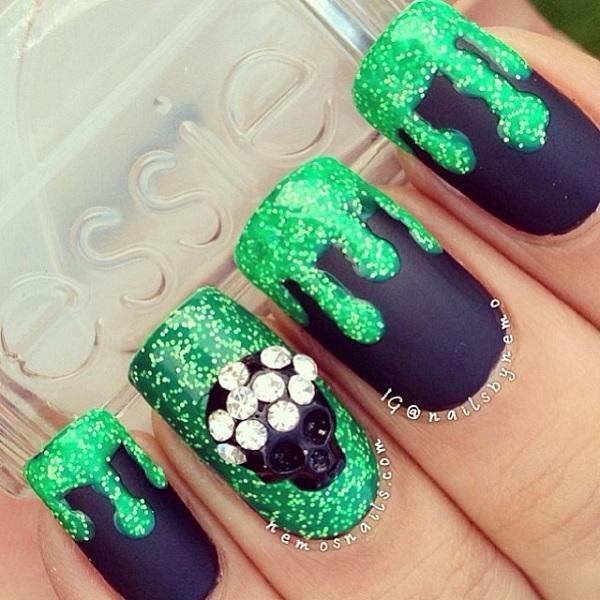 Deadly poison themed glitter nail art design in green glitter polish and midnight blue matte polish with accents of a black skill and silver beads on top.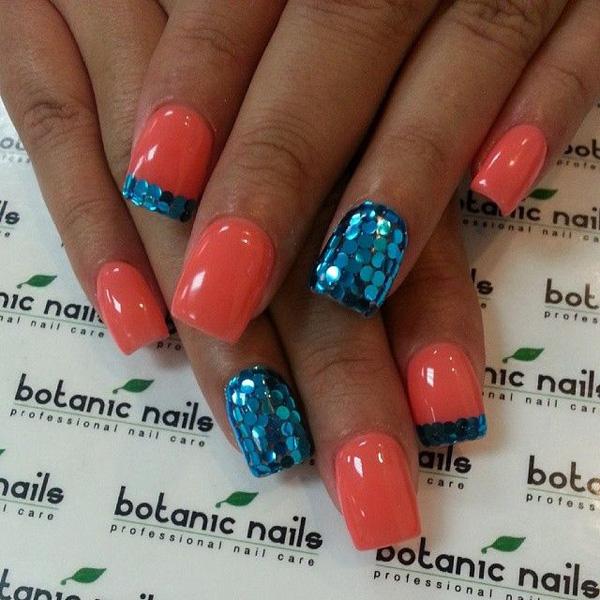 Wonderful looking aqua blue glitter nail art design in French tip and matte detail with melon nail polish.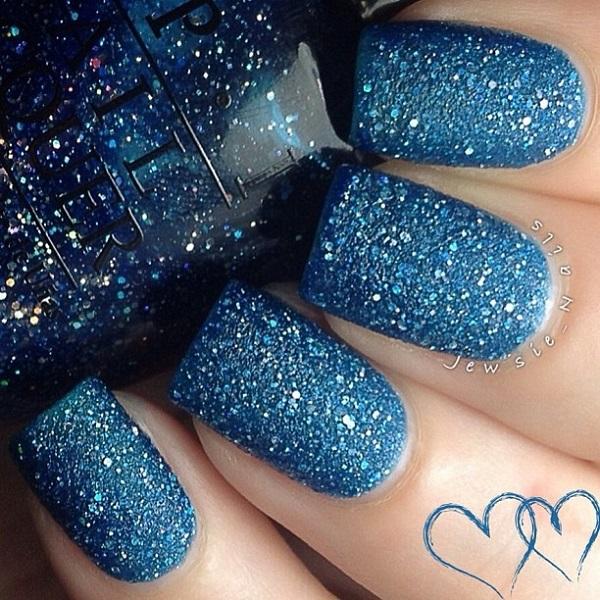 Sparkling full glitter matte nail art design in mesmerizing aqua blue glitters.
Blue glitter nail art design with v-shaped details and a gradient inspired nail art as base.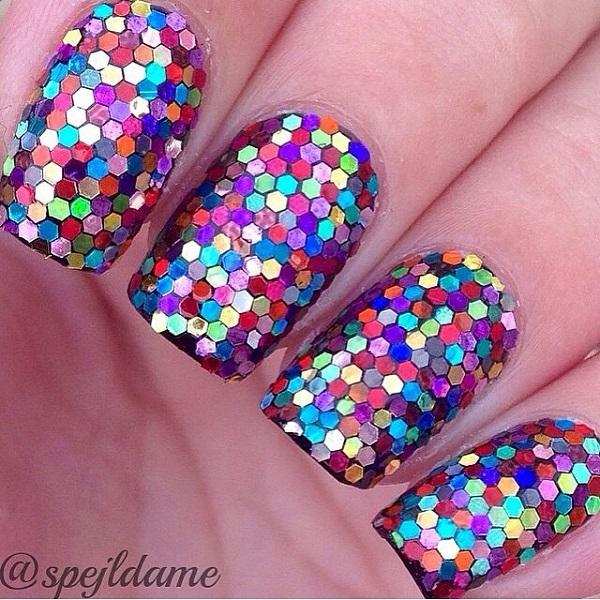 A pretty multi colored glitter nail art design in a mosaic like theme.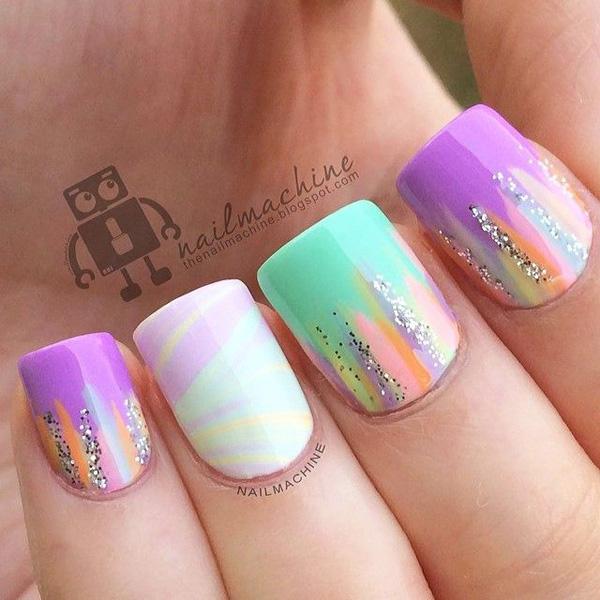 Abstract and baby colored glitter nail art design with tiny glitter accents from the cuticle to the middle of the nails.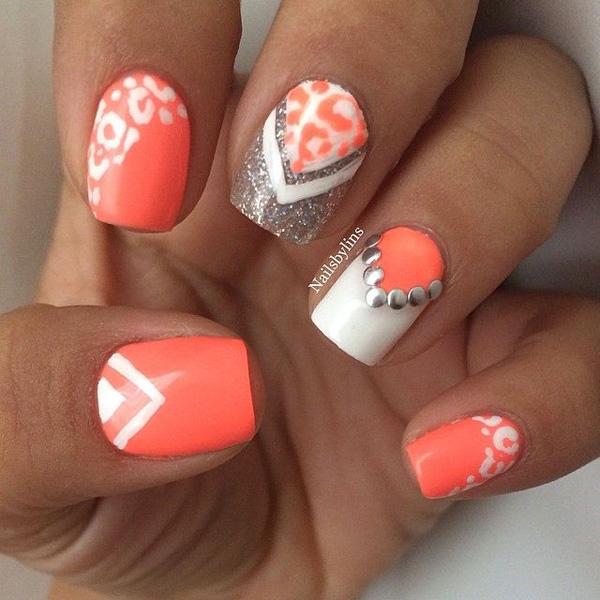 Animal print glitter nail art design in white and melon polish with glitter tips and silver beads on top.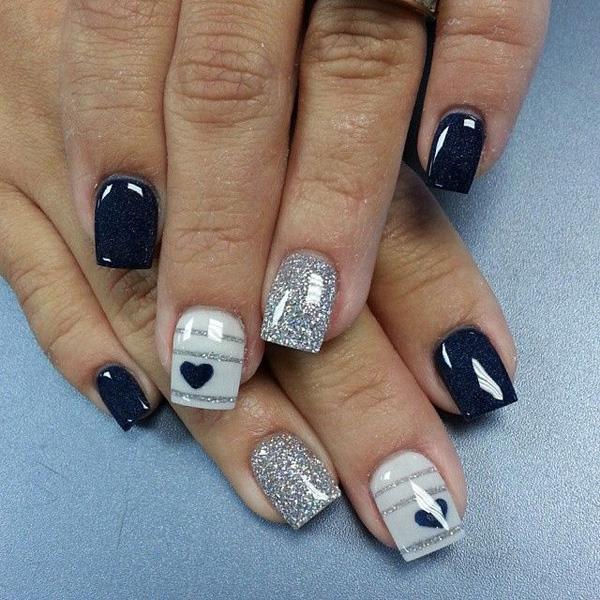 Cute and minimalist glitter nail art design consisting of matte glitter nails in silver and stripes on top of gray and midnight blue polishes.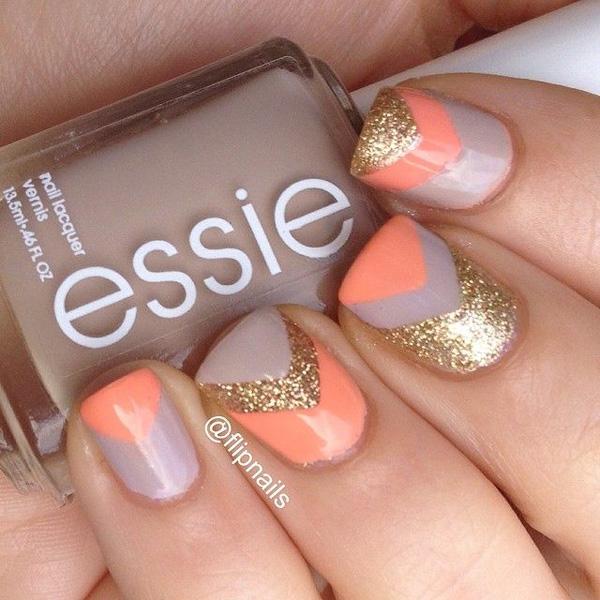 V-shaped glitter nail art design in gold glitter polish and melon and periwinkle polishes.
Amazingly color coded half moon glitter nail art where the glitter is concentrated on the cuticle part of the nails.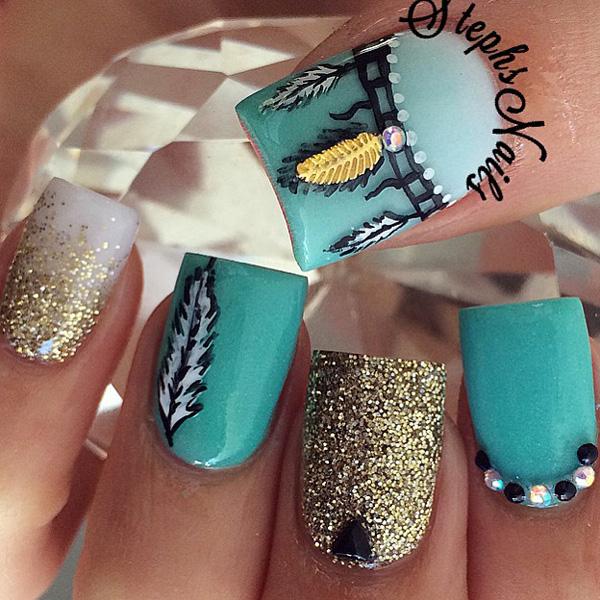 Feather themed glitter nail art in gold glitter and aquamarine polish finished with white and gold leaf details.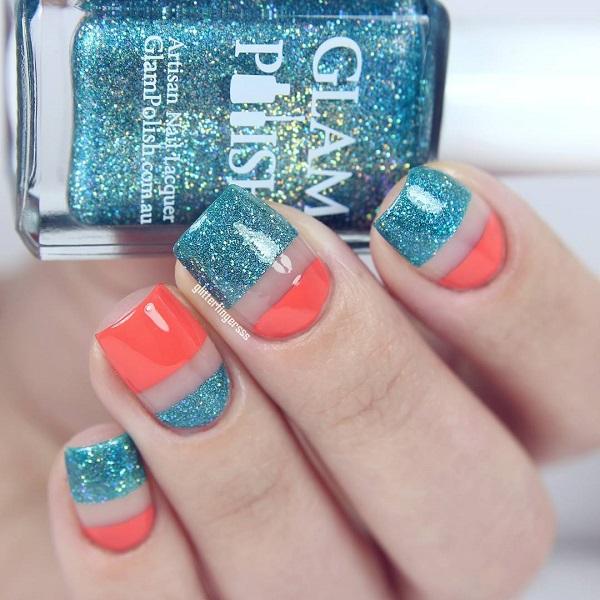 A fun looking stripes glitter nail art design in blue glitter and melon nail polish on top of a clear base coat.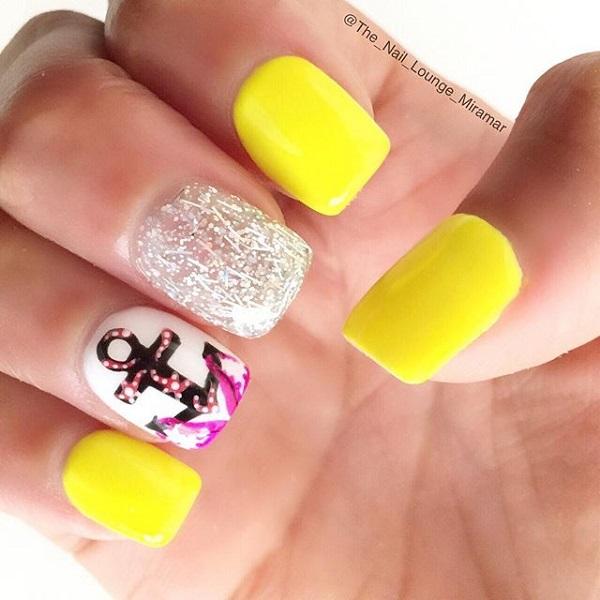 White and yellow glitter nail art design with an anchor detail in white, black and magenta polish.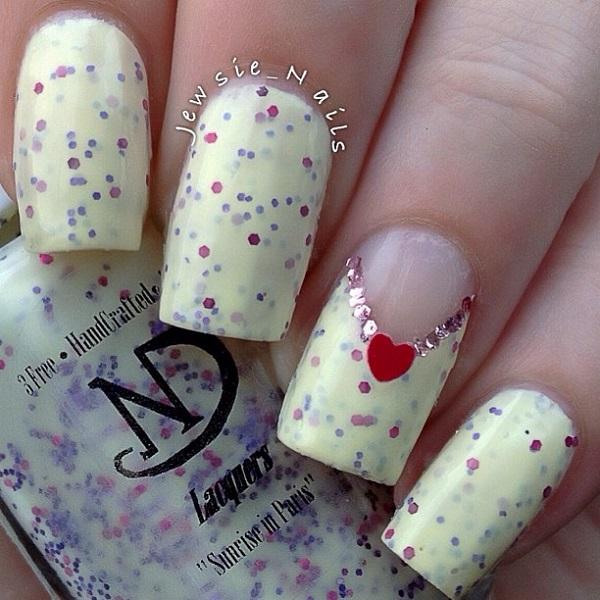 Sandwich themed glitter nail art design with red violet and blue glitters and white sheer polish.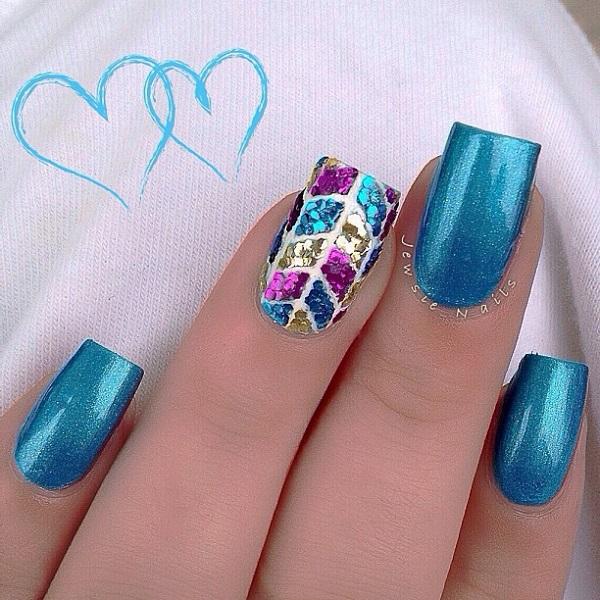 Blue, magenta and cold inspired glitter nail art design in blue matte polish and white base coat for the glitters.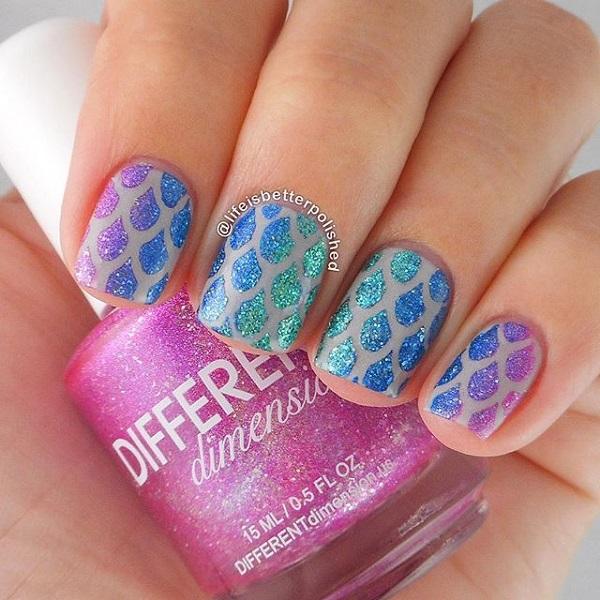 Mesmerizing gradient glitter nail art design in droplet shapes and atop a matte brown nail polish base.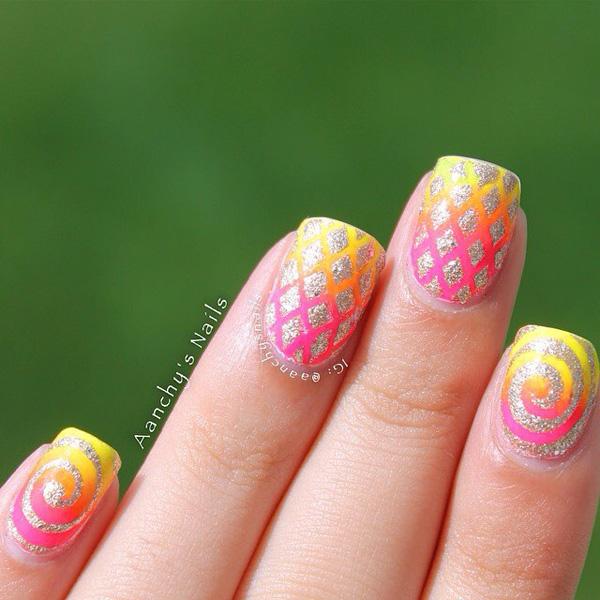 Diamond shaped glitter nail art design on top of a gradient themed nail design in pink and yellow combination.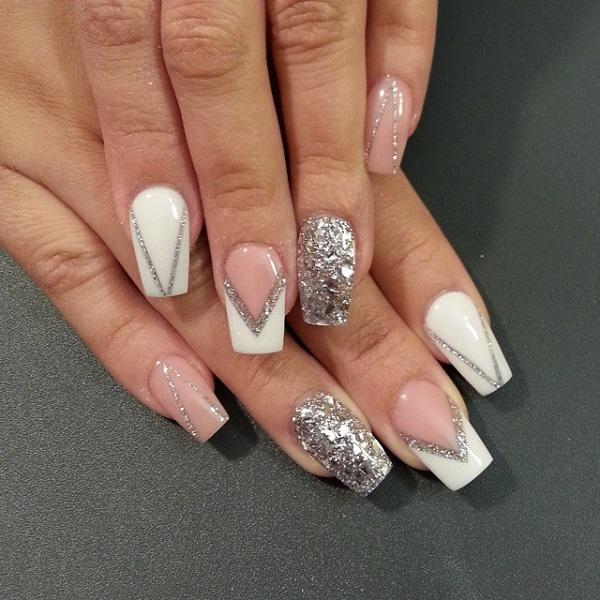 White and silver glitter nail art design forming v-shapes on top of a clear coat base polish.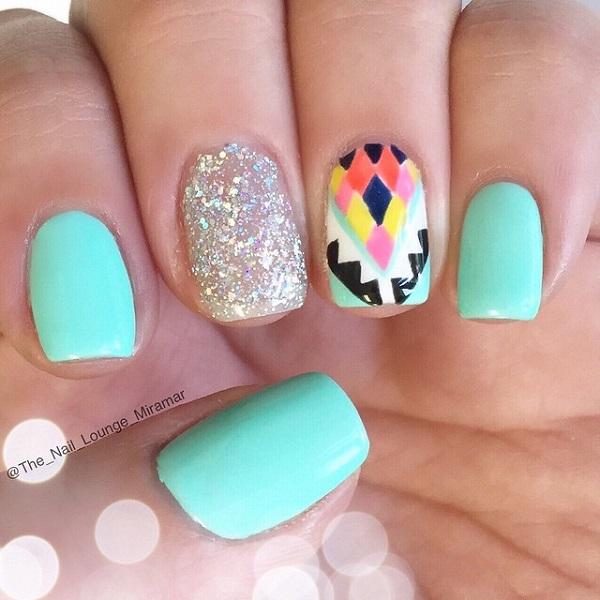 Tribal themed glitter nail art design in silver glitter, matte sky blue nail polish and multi colored polishes for the tribal shapes.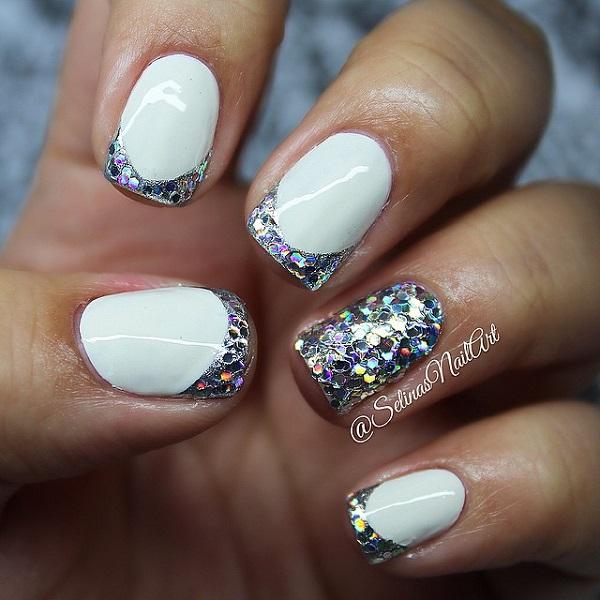 French tip glitter nail art design in white matte polish and multi colored glitters.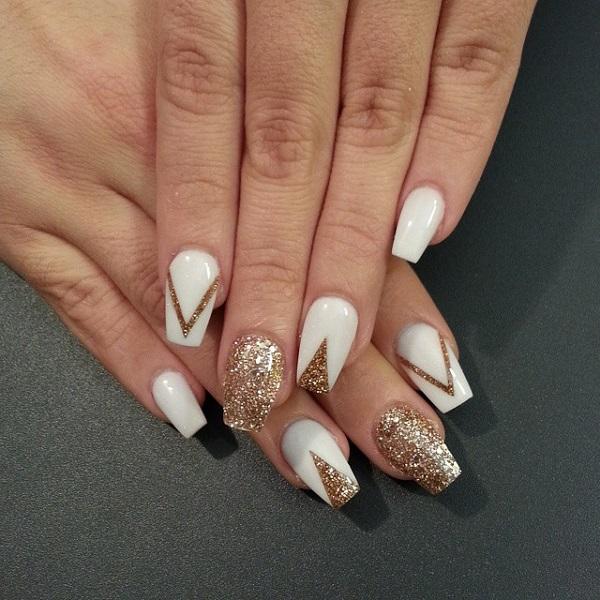 White and gold glitter nail art design in v-shapes and white base polish.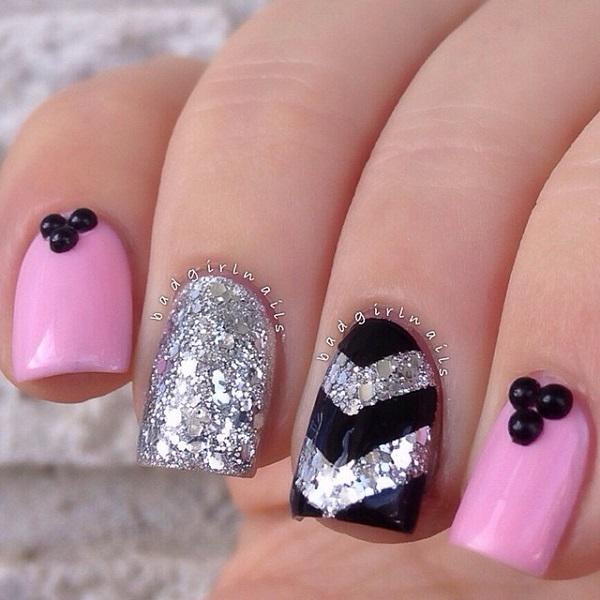 An adorable looking glitter nail art design in silver glitter, pink matte polish and black polish for the v-shape details finished with black beads on top.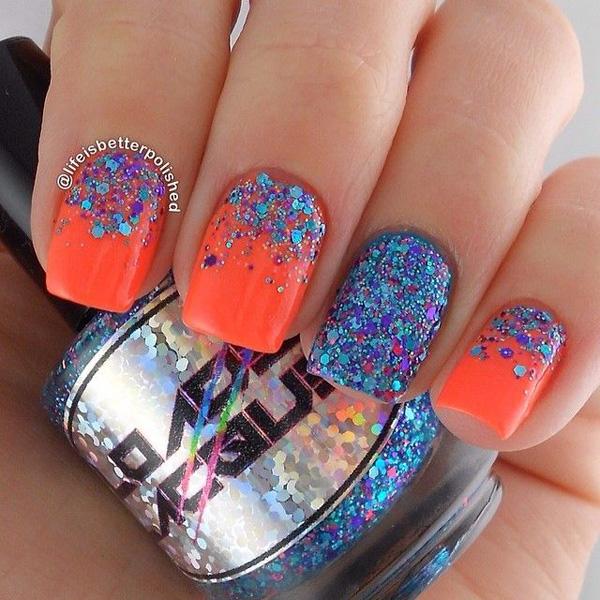 Exciting half moon glitter nail art in blue and fuchsia glitters and neon orange matte polish.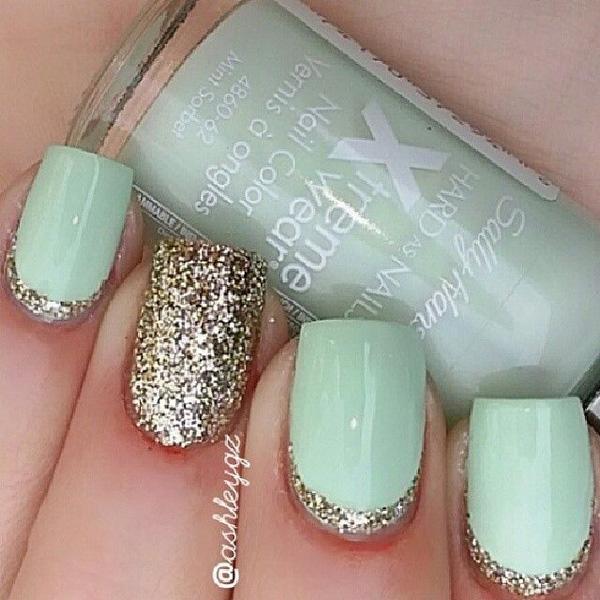 Classic looking light green matte polish and silver glitter nail art design on the nail cuticles.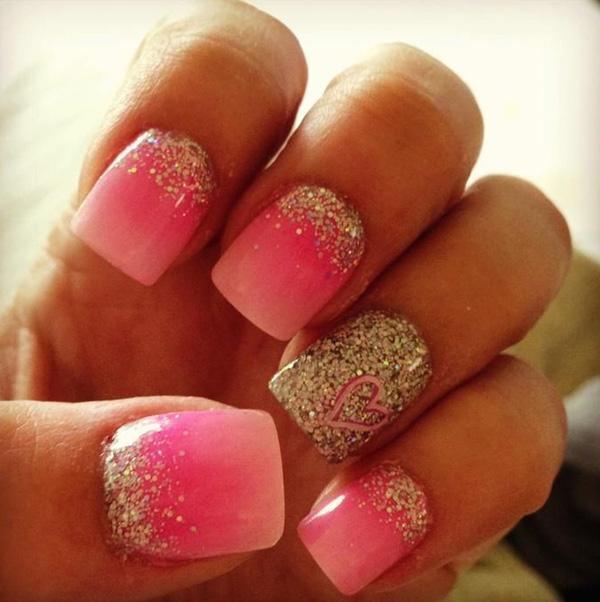 Silver half moon glitter nail art design on top of a gradient nail art in pink and white combination.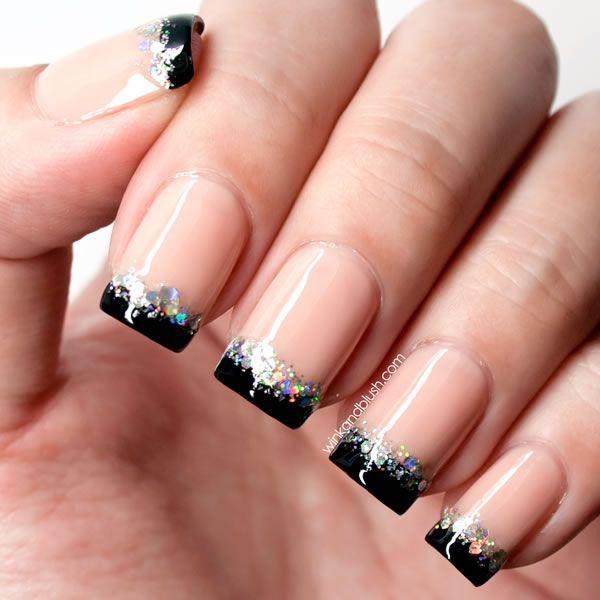 Awesome looking French tip glitter nail art design in black nail polish and silver glitter as lining.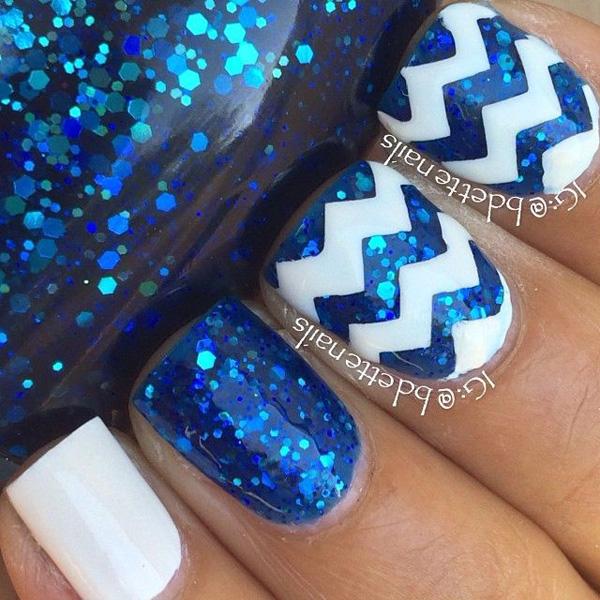 Cool looking sandwich glitter nail art design in blue glitters and white polish with clear sheer polish for the sandwich effect.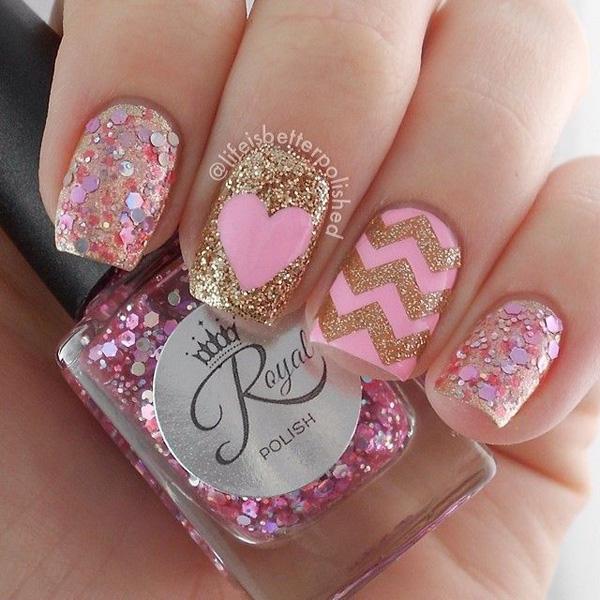 Pretty in pink and gold, glitter nail art design with gold glitter zigzag details and baby pink base coat.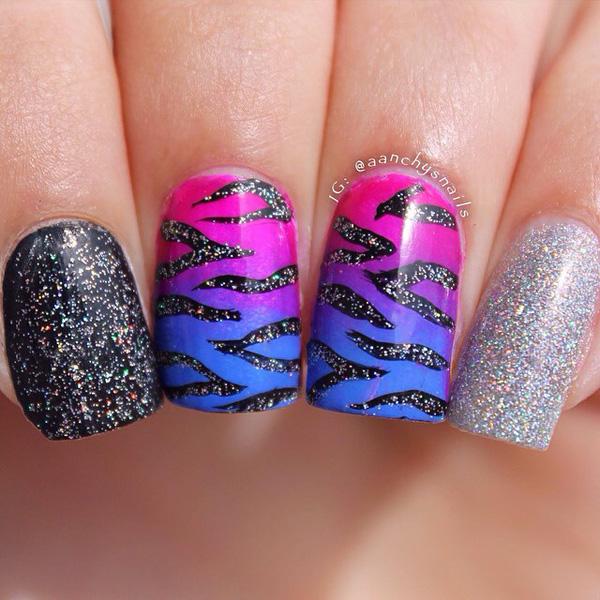 Animal print glitter nail art design on top of a gradient inspired polish in pink and blue combination.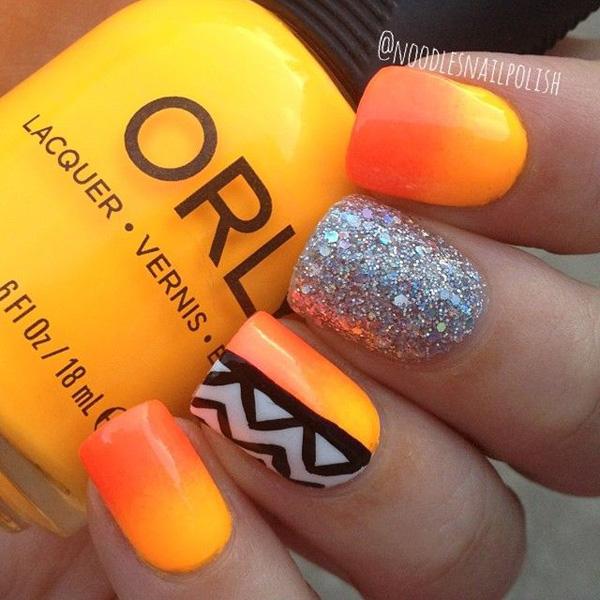 Silver glitter nail art with black and white tribal designs on top of a yellow and orange gradient nail art design.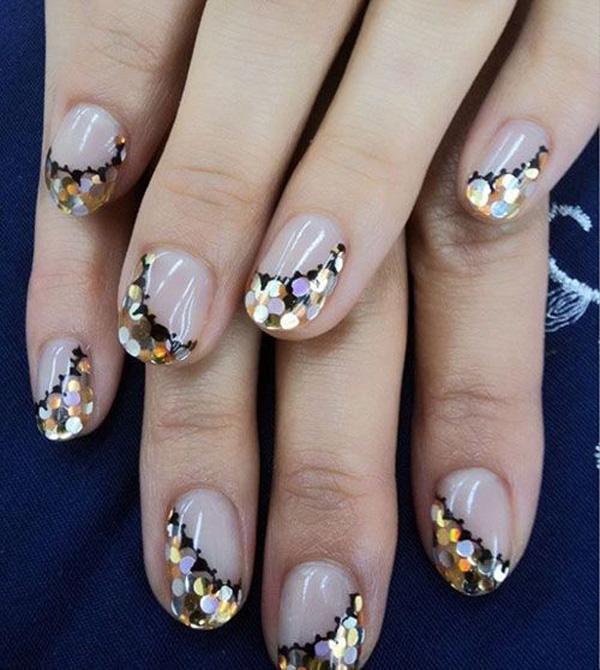 A very pretty and clean looking diagonal French tip in white and gold glitter on top of a black polish.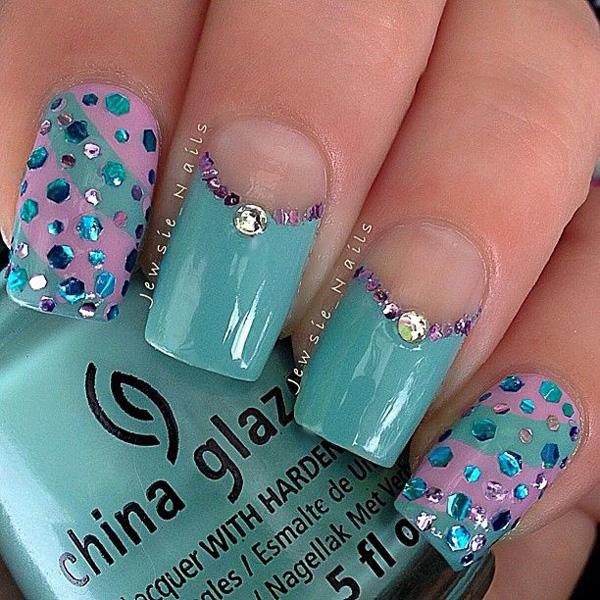 Green blue and violet polish topped with silver, green blue and violet glitters on top.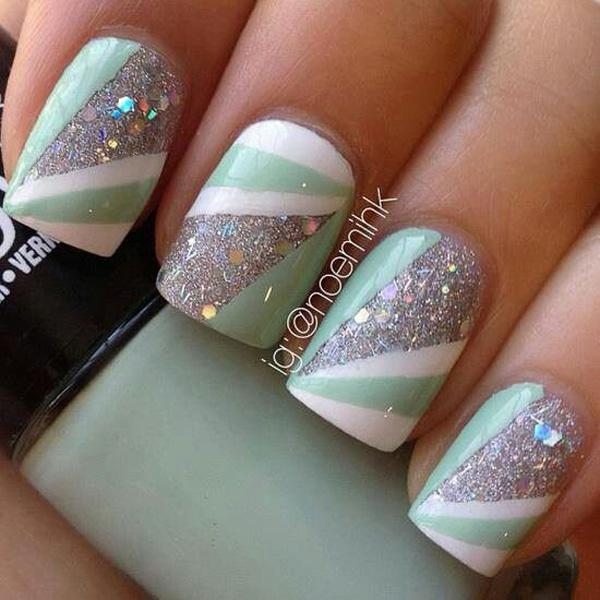 Abstract themed glitter nail art design in silver glitter with white and light green polish.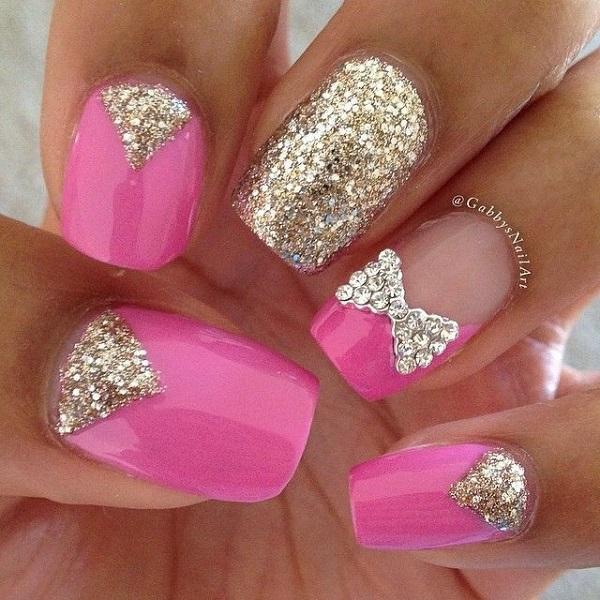 Carnation pink polish with silver glitters on top forming v-shapes.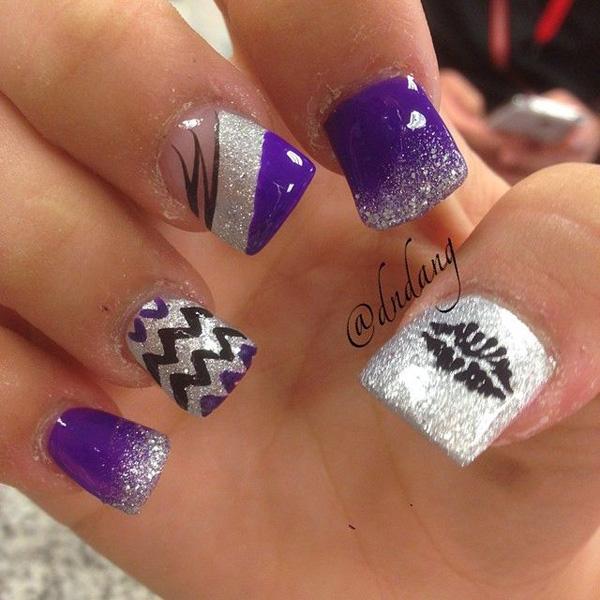 Silver glitter nail art with black and violet polish in stripes and zigzag details.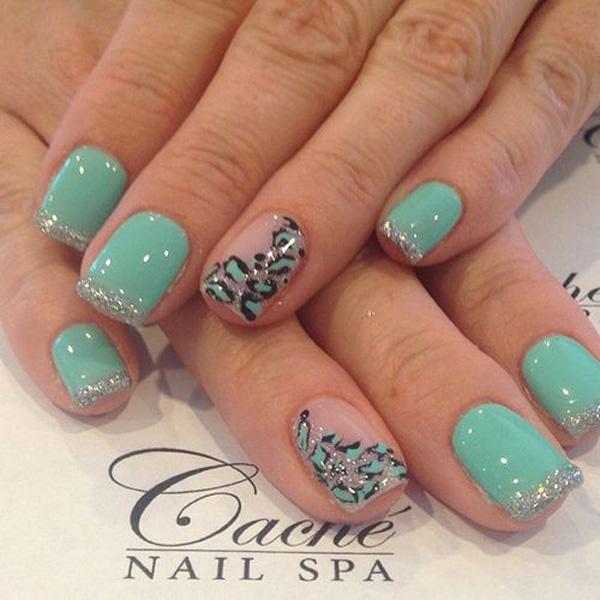 Sea green nail polish with silver glitter French tips and animal print in black and sea green details.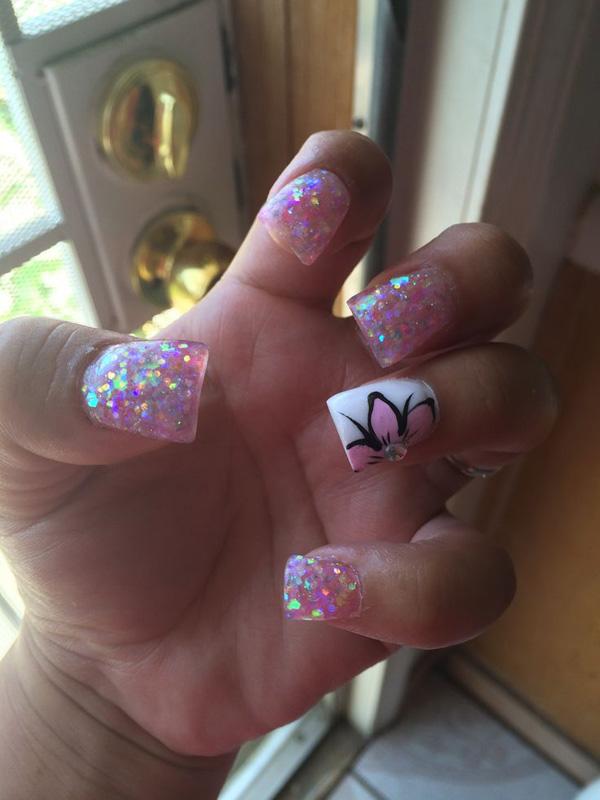 Cute white and pink glitter nail art with a black and pink flower detail.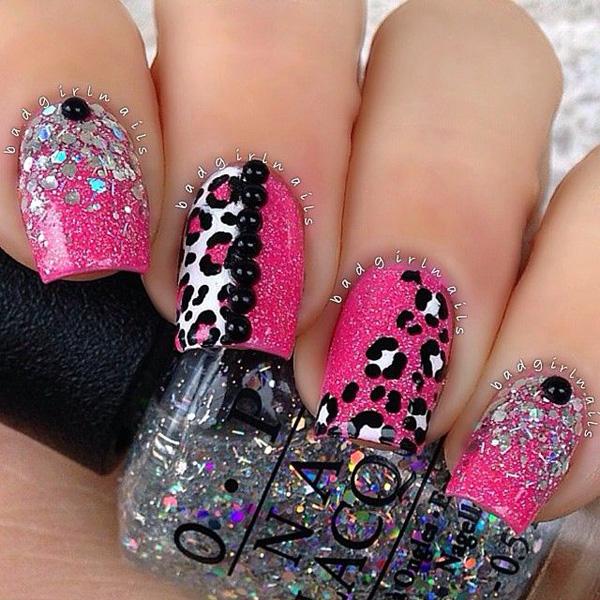 Animal print glitter nail art in pink glitter and black and white polish topped with black beads.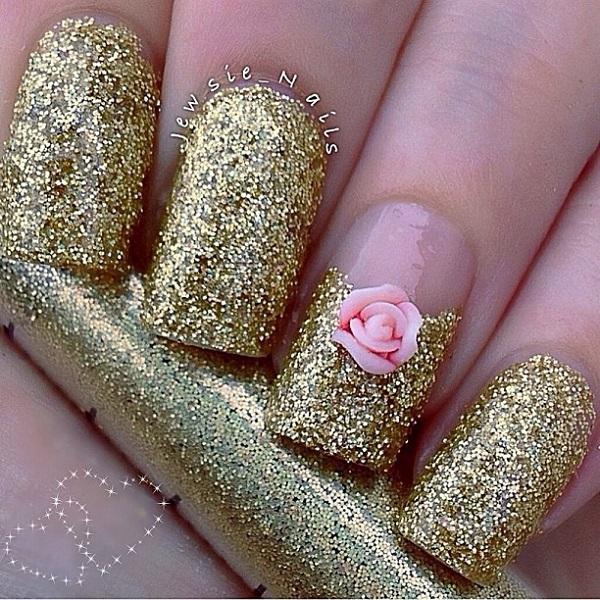 Ravishing in gold glitter nail art topped with a pink flower detail.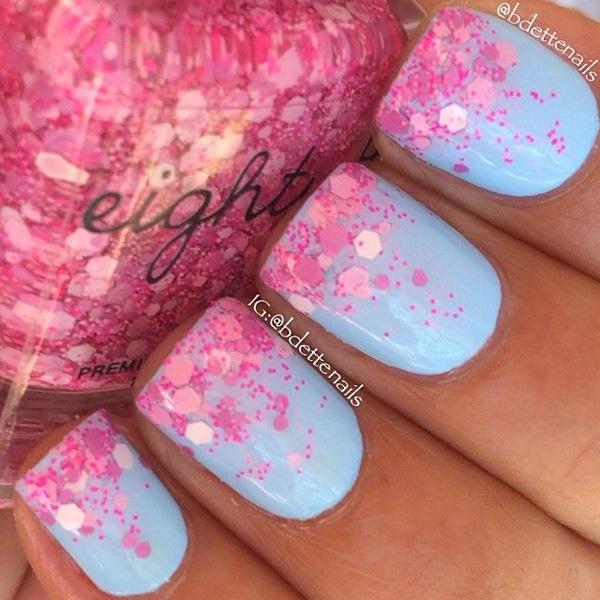 Baby blue polishes with baby pink glitter French tips.
Related posts:
Sours: https://www.cuded.com/60-glitter-nail-art-designs/
Clear nails with gold glitter
Eriba touring gebraucht mit wc
Shop the Gold Glitter Resin Ring - Clear at Claire's today. Claire's is a global brand powerhouse for self-expression, creating exclusive, curated and fun fashionable jewelry and accessories, and offering world-leading piercing services.
Fall Nail Stickers- Red & Green Leaves. $0.99 USD $2.95 USD. Nail Stickers- Silver Rectangle. $2.95 USD. Nail Stickers- Holographic Silver Design. $2.95 USD. Nail Rhinestones and Charms w/ Metallic Pebbles: Lilac & Mint #36. $3.95 USD. Transparent 3D Butterflies- Magenta #44.

GOLD RUSH GOLD NAIL ART GLITTER 15GM RESEALABLE BAG I am a classic and traditional, flexible yet strong. I was popular during the "gold rush" but I can be traced back over 4 billion years. This high quality glitter is designed to be chemically...

Beetles Red Purple Gold Glitter Gel Nail Polish Set - 6 Colors Fall Winter Wine Red Gel Polish Kit Full Maroon Nail Gel Polish Set, Soak Off LED Nail. 0.25 Fl Oz (Pack of 6) 4.5 out of 5 stars. 8,209. $13.99. $13. . 99 ($9.33/Fl Oz) 20% coupon applied at checkout.

Nail Polish. Get your nails looking fire with these hot nail polish shades. Whether your nail vibe is bold colour, classic French manicure or full-on glitter, sweep on your new favourite shade to nail the perfect manicure every time. To finish your look, glide on a long-lasting, high-shine top coat for the perfect manicure. Filter: 2 products.

CLOSEOUT Inspired Nail Stickers- Y. $2.95 USD. Sold Out. Glow In The Dark Halloween Nail Stickers- #10 Ghosts & Trees. $0.99 USD $2.95 USD. Large Neon Numbers 6 Sheets Nail Stickers. $9.95 USD. Silver & Gold Caviar Beads. $2.95 USD.

Shop All Nail Brands. We have it ALL…an amazing array of nails that WOW! From Halloween and Breast Cancer Awareness to every day and every occasion, we have false nails in glow-in-the-dark, French designs, sculpted nails, jelly nails, glue-on and press-on manicures, and more.

How to apply Loose Glitter: First option –Apply a very thin medium wet bead of clear acrylic to the nail, then pick up small amounts of the glitter and apply on top, allow to dry and cap in clear acrylic. Second option –Pick up a small bead of clear acrylic then go directly into the loose glitter to pick up and apply t

Nov 05, 2019 · 6. Gold Glitter and Matte Nude Nails. The next nail idea that we have to show you is one of our favorites. Some of the nails are nude, some are French ombre, and each nail is adorned with rhinestones or sparkly gold glitter. What we love is that most of the rhinestones are different and include pink, rose gold and silver.

Jun 16, 2020 - Explore Emilia Garza's board "Gold Glitter Nails", followed by 200 people on Pinterest. See more ideas about nails, nail art, nail designs.

41 of the sparkliest glitter nail designs on Instagram. The removal process is totally worth it. For nails that shine brighter than Bellatrix's vault at Gringotts, you have to go with glitter ...

Dec 14, 2011 · It's a mix of small gold glitter and larger round holo glitter in a clear base, and so pretty. Silver Spells is such an awesome polish, consisting of very dense, big chunky pieces of hexagonal glitter in a clear base as well as tiny silver glitter - perfect for layering.

Nail polish smears realistic isolated icon set with different colors and styles illustration. macrovector. 8k 198. Like. Collect. Save. Pink nail design. female hands with glitter manicure. devmaryna. 1k 77.

Nov 05, 2019 · 6. Gold Glitter and Matte Nude Nails. The next nail idea that we have to show you is one of our favorites. Some of the nails are nude, some are French ombre, and each nail is adorned with rhinestones or sparkly gold glitter. What we love is that most of the rhinestones are different and include pink, rose gold and silver.

Jul 26, 2020 - It's all around sparkling and rich notes. . See more ideas about nails, nail art, nail designs.

Get yourself some fun Gold Glitter Wedding nail art from Zazzle! Check out our unique assortment of nail wraps right now!

|
Chist hematic
Sours: https://tqj.giudyfrenchie.it/clear-nails-with-gold-glitter.html
Want to do up your digits with a dope ombré glitter design? Nail artist Simcha Whitehill aka Miss Pop shows you how it's done.
1. Prep. File nails into desired shape, push back your cuticles — DO NOT CUT THEM! — and then apply one layer of a base coat polish, followed by a coat of Deborah Lippmann's Baby Love, a sheer nude shade, as your base color. Then, add on a gold glitter polish, like E.L.F. Cosmetics Essential Glitter Nail Polish in Golden Goddess, to the tip of your nail first. Then, brush back the color toward the mid-point of your nail to leave a trail of glitter behind.
2. Add dimension with larger glitter flakes. Make your mani multi-dimensional by painting on a polish with different sizes and tones of metallic glitter flakes. Alie used Deborah Lippmann's Glitter And Be Gay. "In one step, start by dabbing the glitter at the tip of the nail, and then stroke the brush down the nail to create a fade effect," Whitehill says.
3. Use an orange stick to apply chunky glitter. Add multicolored larger glitter flakes (which you can get at your local art store) using an orange stick or a toothpick — that's been first dipped in basecoat, so the glitter flakes stick to it — to place them strategically on your nail. If you're pressed for time, you can also pick up a polish with super chunky glitter in it and apply it over the very tip of your nail.
4. Apply a coat of silver glitter to balance out the color on your nails. Tone down the rainbow you just created by dabbing on a few specks of silver glitter; Alie painted on Milani Jewel FX in Silver Glitter. Then, seal your shimmering look with a high-shine topcoat.
Voila! You're done. Now, tweet your DIY design with the hashtag #CosmoManiMonday.
RELATED ARTICLES:
Nail Art How-To: Tortoise Shell TipsNail Art How-To: Navy and Teal Glitter Nails
5 Things You NEED to Make Sure Your Manicurist Does
Follow Carly Cardellino on Facebook and Twitter.
Photo Credit: Elizabeth Griffin
This content is created and maintained by a third party, and imported onto this page to help users provide their email addresses. You may be able to find more information about this and similar content at piano.io
Sours: https://www.cosmopolitan.com/style-beauty/beauty/how-to/a22181/gorgeous-glitter-nail-art-tutorial/
Last Updated on
Glitter is mainly used for special occasions or festivals. However, with the vast array of easy and cute glitter nail designs that have emerged in recent years for almost every occasion, one can sport a fab nail anytime! Find out some ideas for cute glitter nails that will let you go chic, bold, or subtle with short or long nails to give them an undeniable wow factor!
What Are Glitter Nails?
Nail art is a creative way to paint, decorate and embellish nails. Nail polish has developed into an array of other variants, like crackled, glitter, flake, speckled, iridescent, and holographic, to glam things up. Derived from the old Norse word Glitra, glitter means 'to shine,' modern glitter as we know it today has been the basis of countless viral fashion trends across the globe.
Applying glitter nail polishes is the newest trend in personal grooming that helps a woman own her identity through personalized fashion and style. A coat of glitter on your beautifully painted nails can add charm and oomph factor to your hands and overall ensemble. Acrylic nail polishes are a combination of liquid monomer and powder polymer. Glitter acrylic nail designs form a hard layer instantly after application that can brighten up the dullest manicure with sparkles.
Whether you get custom DIY glitter nail art designs or visit a salon for a professional service, nail glitters can be the fastest way to perk up your fingertips. Here are some of the most artistic nail art design ideas that will inspire you to make your nails Instagram-worthy:
15 Stunning Glitter Nail Ideas That You Will Love
From micro-glitter, glitter, frost, or luster, here are some of the stunning glitter nail ideas to dress up your digits in drops of sparkle.
1. Acrylic Nails With Beachy Waves
Any shade of icy cool blue mixed with white and light brown creates beautiful beachy nail art that brings peace and relaxation.
How To Do
Apply the sea blue, light blue, and light brown shades on a cotton ball.
Dab the cotton ball onto your nail, keeping the brown shade near your cuticle.
Add a drop or two of white polish to the bowl of water.
Spray some nail polish remover in the bowl to break up the nail polish slightly.
Dip your nails one by one in water.
Use some nail polish remover to clean up the sides of your nails.
Add the topcoat.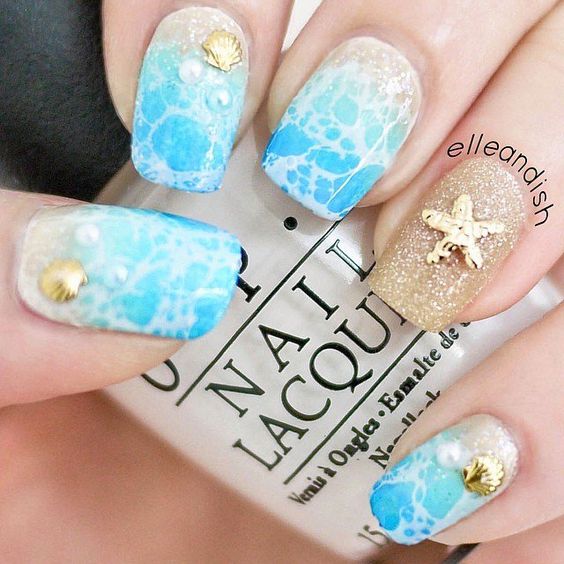 2. Red Glitter
Get into the upcoming holiday spirit with red glitter nail designs with subtle or a rich shade of red.
How To Do
Paint the base with two coats of dark red polish.
Sprinkle golden glitter quickly before the topcoat dries up.
Dust off the remaining glitter with a tiny brush.
Paint the top coat for a shimmery finish.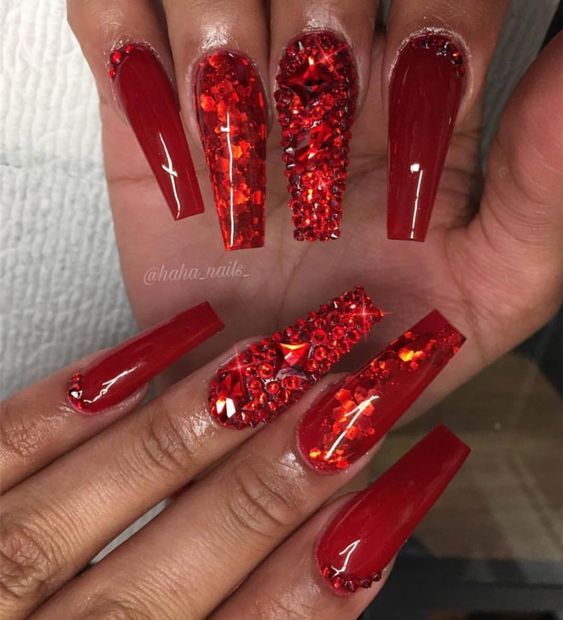 3. Blinging the Tips
Blinging out your tips with glitter french nail designs has been quite popular among the teens.
How To Do
Apply pink for the base of the nail. Make a curved white tip for contrast. Let it dry.
Gently paint over the white with a glitter top coat for creating fabulously sparkly tips.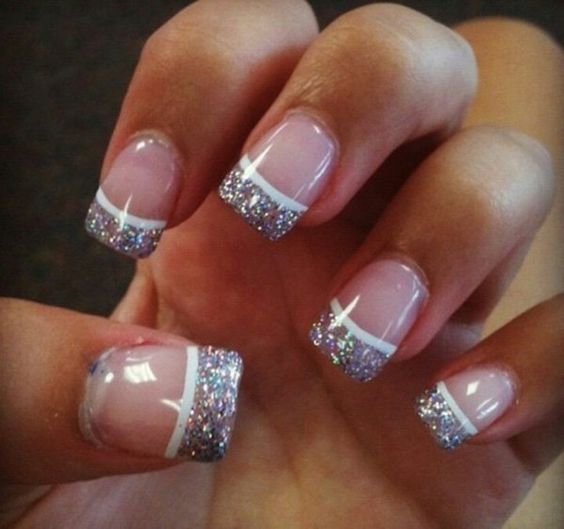 4. Pretty Pink
While sweet pink nails are pretty in themselves, ramp up the glam with shiny pink glitter nail designs.
How To Do
Apply two coats of coral pink nail polish on your nails.
Let it completely dry.
Cut and stick a small piece of cello tape on your nails, keeping the tips of your nail exposed.
Now apply glitter on the exposed tips.
Once the tips dry off, gently peel off the cello tape.
Finish with a clear topcoat.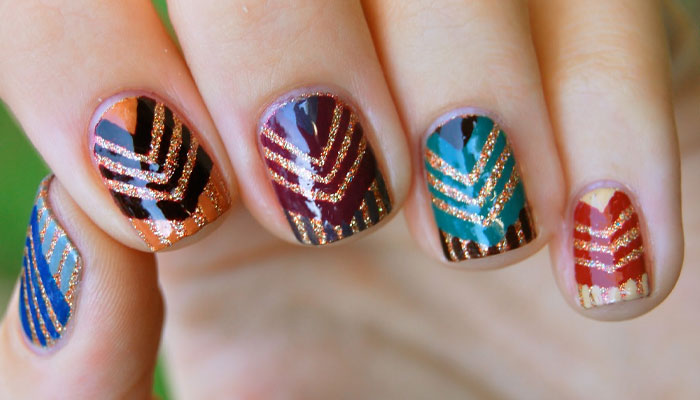 5. Dazzling White
White nail designs with glitter look soft and sophisticated enough to be your best summer nail art staple.
How To Do
Paint nails with a base flat white polish.
Add silvery-white glitter to the nails of the index and ring finger.
Stick stripping tape to the middle nail.
Finally, apply the topcoat.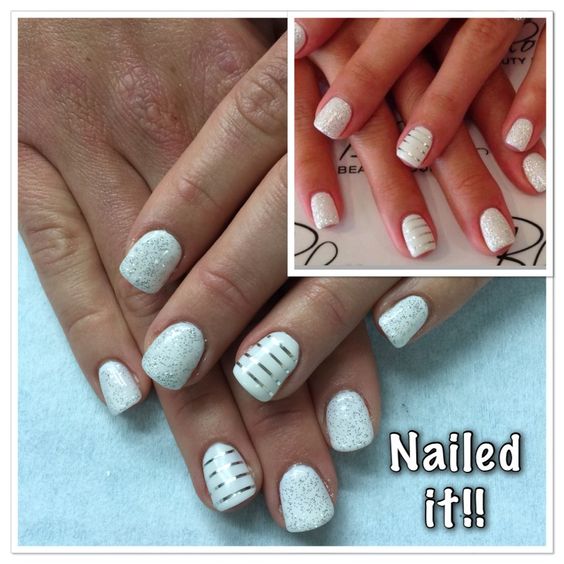 6. Glitter Cuticles
Glittered cuticles against any contrasting base color of your choice help create minimalist art on your fingers.
How To Do
Push back your cuticles.
Apply two coats of any nail color of your choice. Let it completely dry.
Place a rounded Band-Aid over the bottom of your nail. It will form a half-moon shape near the cuticle.
Apply glitter nail polish on this area.
Carefully remove the Band-Aid once you're done.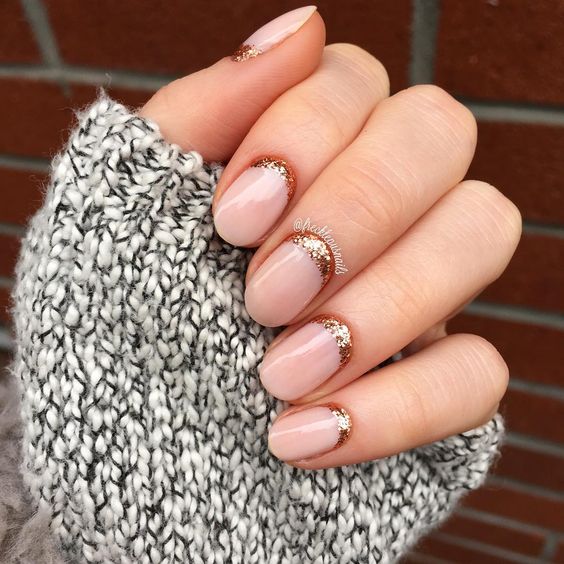 7. Dark Desire
Glitter designs over black nail polish offer an edgy and fashionable look.
How To Do
Apply two coats of black nail polish on your nails.
Use copper, gold, or silver shade of chunky glitter to apply on the base of your nails.
Dab the glitter to spread it around.
Finish with a topcoat.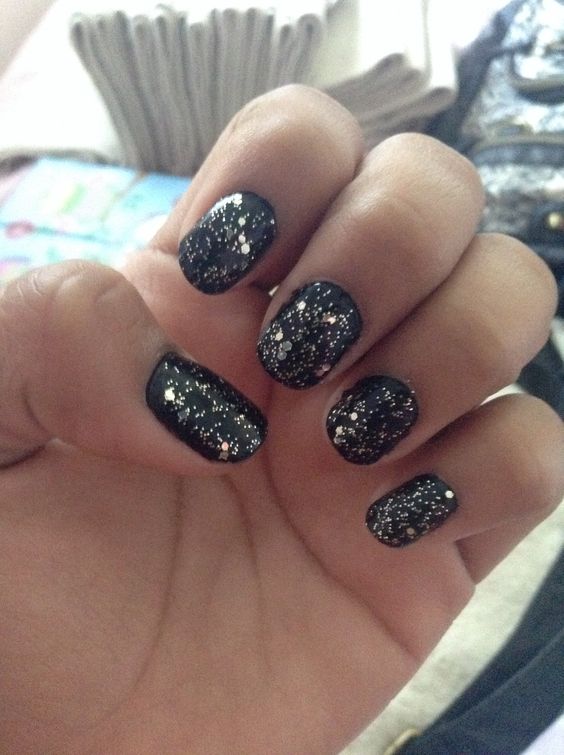 8. Holographic Glitter
From celebrities, fashion bloggers to runway models, everyone seems to be loving the holographic glitter nails trend.
How To Do
Apply a base coat.
Apply two to three coats of holographic glitter nail polish in any shade of your choice.
Finally, apply the topcoat.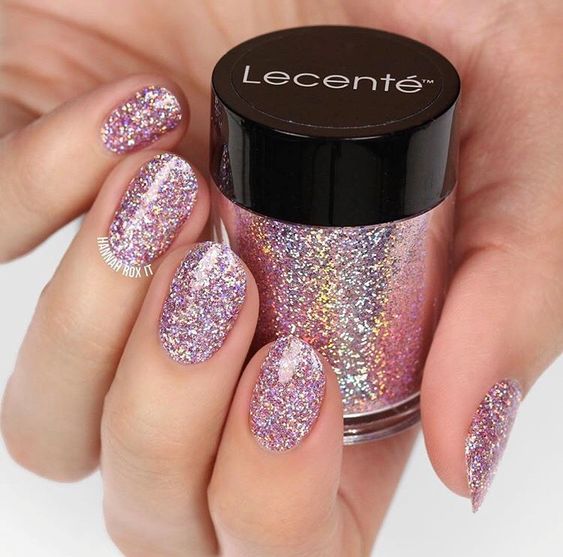 9. Party Ready Glitter
An ombre design is perfect for you to curate a weekend party look.
How To Do
Apply two coats of nude nail polish.
Add bold and chunky glitter nail art polish.
Start from the bottom of your nails and dab at the glitter to create a gradient effect.
Apply top-coat for your manicure to last longer.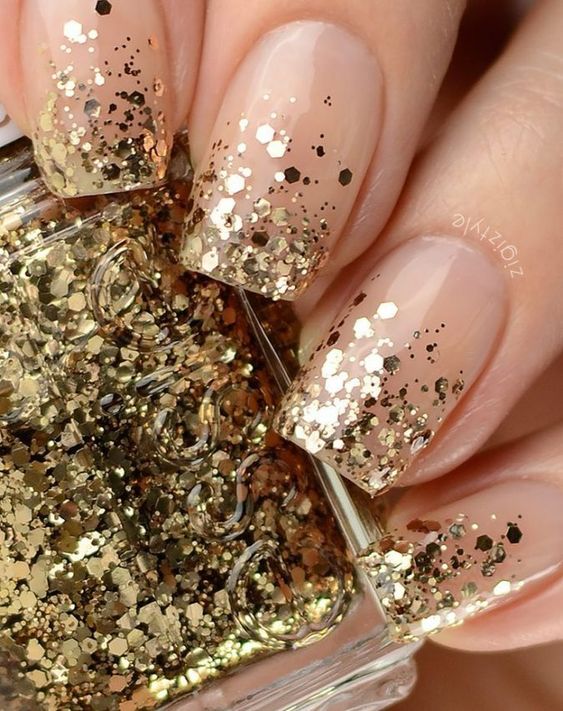 10. Bejeweled Shine
This bejeweled design is made using just the right amount of glitter to dazzle up your blue sapphire blue nails.
How To Do
Paint your coffin stiletto nails with two coats of sapphire nail polish
Apply fine glitter polish to the edges of your nails and dab softly to spread it around.
Apply a thin coat of chunky glitter polish over it. Apply clear nail polish on top.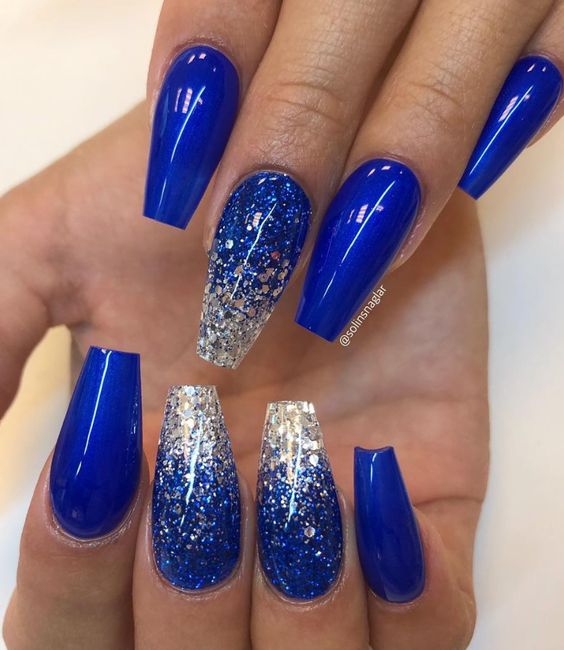 11. Emerald Sparkle
Emerald green with glitter on short nails gives you a fresher and unexpected look.
How To Do
Apply a clear base coat.
Paint the nails with emerald green nail polish.
Dab the glitter delicately on your nails with a sponge. Repeat as many times as necessary to cover all the nails.
Apply top coat to finish off.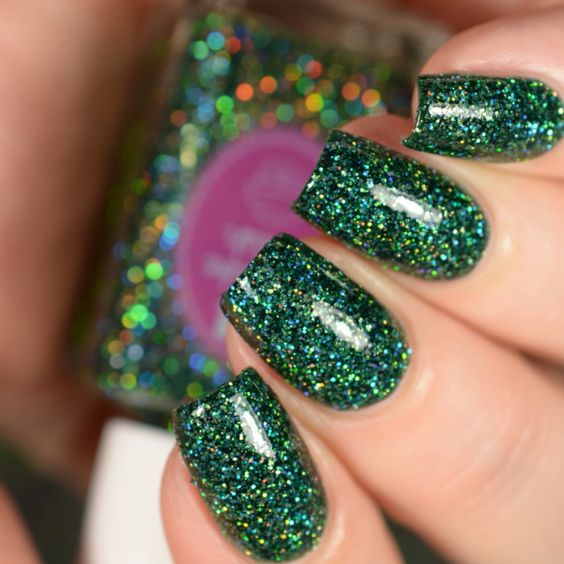 12. Super Shiny Silver Glitter
A silver glitter nail polish offers the maximum shine and glam needed to make a lasting impression.
How To Do
Apply base coat.
Lining the skin around your nails with liquid latex ensures it won't get covered in polish.
Use a makeup sponge to apply the silver glitter nail polish onto your nail.
Peel off the liquid latex.
Apply final topcoat.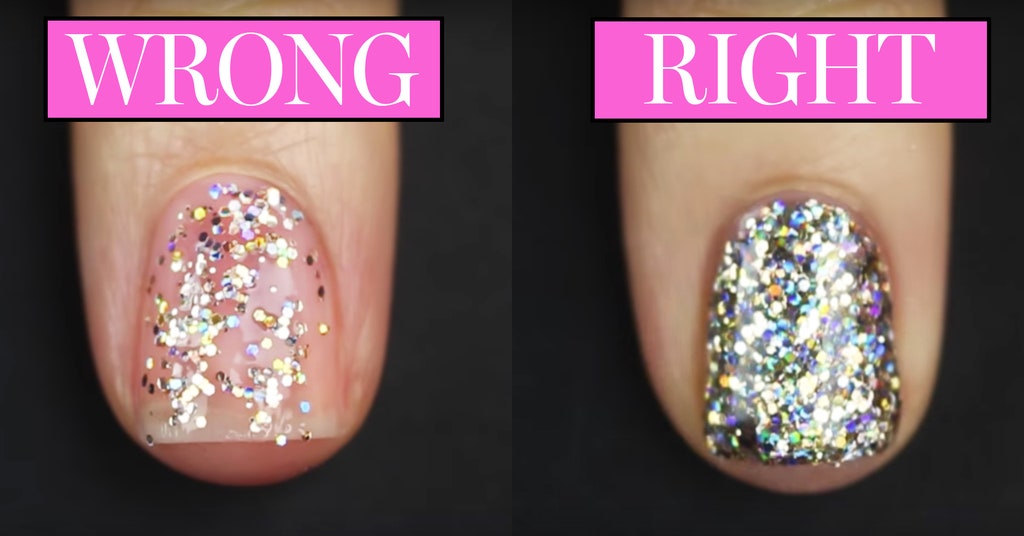 13. Light Purple With Multicolor Glitter
Get flirty with purple by accentuating it with multicolor glitter that exudes a fun spring vibe.
How To Do
Paint all your nails, except for any finger that will sport a glitter polish. Apply two coats for a smooth and even finish.
Use a multi-colored glitter nail polish for that specific finger.
Apply a topcoat.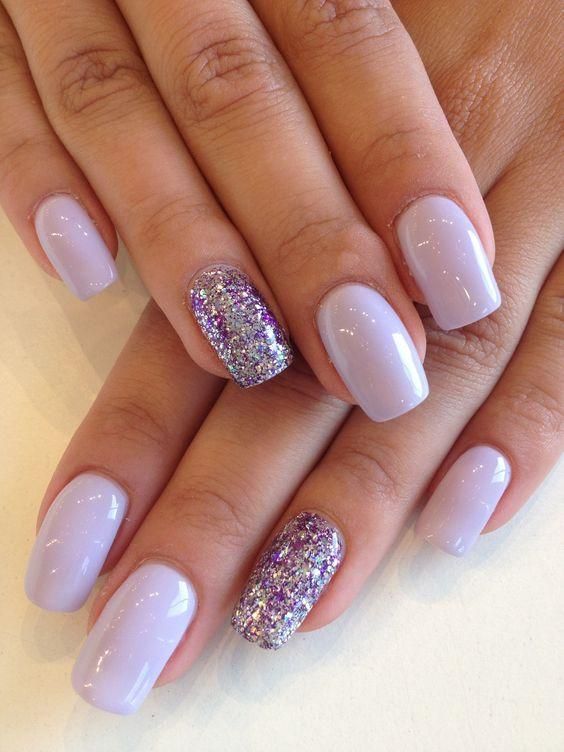 14. Gray And Pink Glitter
Pink glitter goes well with gray and monochrome nail polish shades to create a versatile and unique nail design.
How To Do
Apply pink glitter polish on the thumb and ring fingernail.
Apply light grey paint on the middle and pinky fingernail.
Paint white polish on the index finger and add on stripes in black using a fine brush.
Seal with a topcoat.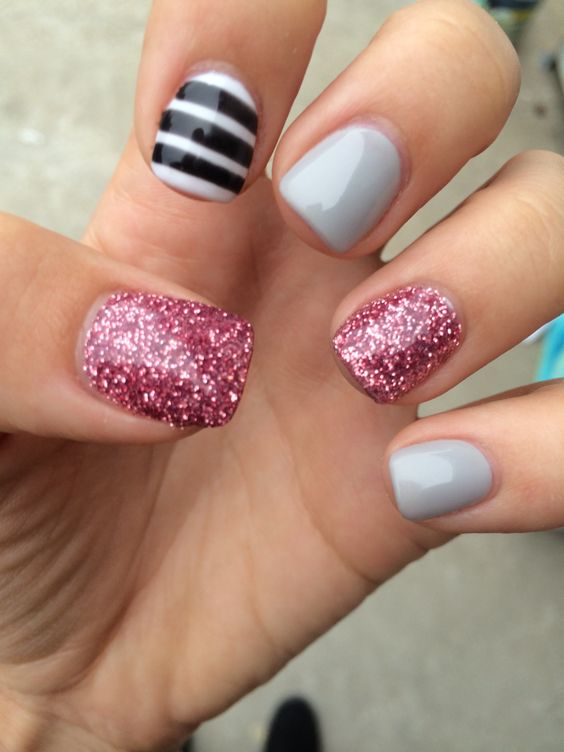 15. Cocoa Gold With Chevron Design
A dark shade of brown spruced up with gold glitter Chevron patterns makes an ideal winter style statement.
How To Do
Paint your nails with two coats of brown nail polish. Let it dry completely.
Place a piece of scotch tape diagonally across your nail on both sides to form a triangle.
Use a chunky gold glitter nail polish to cover this space up. Gently remove the tape.
Apply a layer of high-shine topcoat.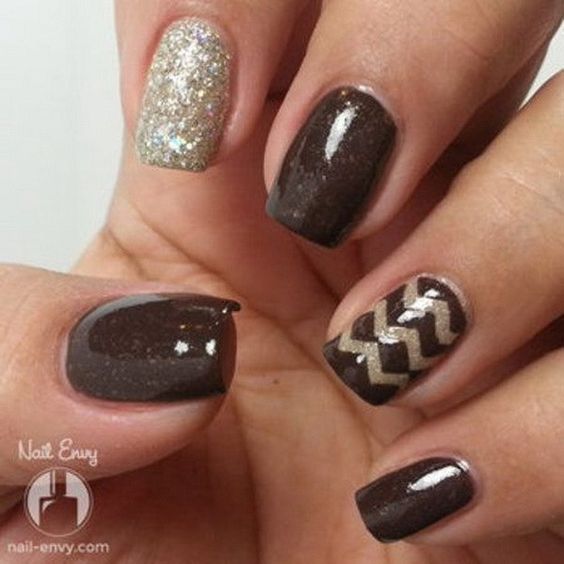 Easy Steps To Remove Glitter Polish From Nails
After a perfect sparkly application, removing the glitter from the nails is crucial without ruining them. Here are some steps to follow:
Get the first layer off by roughing up the polish a little. Too much buffing can damage the nail.
Acetone-based nail polish gets rid of stubborn glitter by dissolving the nail paint.
Take some cotton balls or pads and soak them in a bowl containing acetone-based removers. Set them onto your nailbed to cover each nail.
Cut some aluminum foil into long strips to wrap all-around your fingers. After sealing the nail well, wait for around 5-7 minutes.
Slide the tin foil off and use the cotton balls that have already been soaked in acetone to wipe the nails.
Acetone residue on nails can dry or damage them. Rehydrate the nails by massaging olive oil or almond oil to replenish the moisture after removing the glitter polish.
Although human attraction to sparkle is deep-rooted in our culture, it represents a dramatic display of feminine beauty. Glitter combined with an alluring spectrum of color makes any nail enamel shade look cool and multi-faceted. So, take your pick and express your mood with a glitter nail design.
Also Read:
How to Shape Your Nails Perfectly
How to Make Your Nail Paint Last Longer
How to Take Off Nail Paint without Using Remover
Ruchelle Fernandes
Sours: https://parenting.firstcry.com/articles/magazine-15-beautiful-glitter-nail-ideas-to-glam-up-for-your-next-look/
Glitter nail tips silver
21 Pretty White Glitter Nails for Any Occasion
When choosing a nail design, glitter is one of the most popular choices. This is for many reasons but glitter is stylish, statement making and it makes you look and feel glamorous. We love sparkly nails at StayGlam and we have 21 of the most stunning white glitter nails to show you. White is a beautiful color choice for nails because it suits everyone, looks amazing with glitter and suits every season, too. So, it is must-have color for your nail polish collection. What are you waiting for?! Take a look at these white nails and find a beautiful nail design. There are subtle manis, bold designs and of course, nails for special occasions.
1. Short and Sparkly Nails
The first nail idea is so pretty, glitzy and easy to wear. Here we have short nails that are covered in white glitter. The sparkles are so soft and so is the white because it is not as bright as some of the other white shades. Nails like these will suit any nail length and shape. Not only that, but they are perfect for any event from parties to weddings. This mani was created with Kiara Sky Winter Wonderland.
2.  White Nail Design
Rhinestones have become such a big nail trend. This mani shows how to wear glitter and rhinestones beautifully. For this look, some nails are shimmery white, some are white with silver rhinestones and two of the nails are light pink with a white v french tip. It is such a stunning idea and the rhinestones really jazz up the mani. You can recreate this or you can opt for just one design for all nails.
3. Frosted French Mani with Sparkly Flower Art
Many glitter nail designs are quite bold but this one is a little more subtle. This is a frosted French mani and there is one accent nail, too. The accent nail is nude with sparkly white flower art. It is such a pretty and elegant idea. This is a great way to wear glitter in a chic way that isn't too over the top. Try a similar look or you can use a different tip design with the flowers.
4. White Glitter and French Ombre
We love this next idea because it combines some must-have looks all in one mani. Here we have long coffin nails. Some are simply glitter white, and some feature a popular French ombre design. It is such a trendy and glamorous design. You can easily recreate this design at home and it suits every nail shape and length. For more blink, add some rhinestones.
5. Soft White, Glitter and Rhinestones
Next, we have another soft white look to show you. Two of the nails are matte white with silver rhinestones while the others have a white marble effect with silver glitter. It is a glam and beautiful mani and it will be perfect for a special occasion. You can put any one of the two designs on your thumb nail. This art would look amazing on stiletto nails as well.
6. Cute and Short Nail Idea
The next nail idea is another cute and pretty design. Three nails have a soft and subtle ombre while the other two are white and sparkly. As the nails are quite short, this look will be so easy to wear. You can, of course, try the art on longer nails too. It is just so chic and glam. This look was created with Premium White, Covergel Fibre Rosé Intense, Milky White, Just Sparkle-Glitter Mirella, Swarovski Crystals and Secret Beyond Shine by JustNails.
7. White and Nude Nails with Subtle Glitter
Love the more subtle glitter? If so, check this out. Here we have soft and light nude color that is paired with white. Some nails have block color, some are ombre and some nails are sparkly. The glitter is so subtle and shimmery. It is a stunning mani and it is another one that would be great for a special occasion. Recreate the whole look or use one design on all nails.
8. Long Nails with Glitter and Rhinestones
This next idea is one of our favorites. The nails are long and square shaped. Some are bright white with rhinestones while the other nails are white and glittery. It is a stunning mani and the glitter is so sparkly and statement making. A mani like this will be perfect for a bride because it is elegant but will wow which is perfect for such a special event. This look was created Premium White, Diadem, Premium Fibre Soft White, Swarovski Crystals and Secret Beyond Shine by JustNails.
9. Short Pink and White Glitter Nails
You can use any glitter color with white as white compliments any other color beautifully. Next, we have the perfect example of that. Here we have shorter nails and most have a different design. Some nails are white with silver glitter, some have pink and white ombre while the other white nails use pink and silver sparkle. It is a gorgeous nail design and it shows how stunning pink glitter can look with white. Recreate the whole look or just go for the pink and white. This look was created with Ginger Color Gel, Frosted Nude Pastell and Bellini Glow Sugar Glitter.
10. White Glitter and Chevron Nails
Chevrons are another cute nail look. Don't just take our word for it, check out these nails. These nails are long and coffin shaped. Some nails are just white, the next is white with subtle glitter and the last nail is white with chevrons and glitter. We love the chevrons, they look so trendy. Recreate this mani or put chevrons on all nails. You can create chevrons with nail tape or with a stencil. There are tutorials online.
11. Glitter Ombre Nails
Looking for a statement making mani? If so, this is for you. Here we have super long coffin nails that start nude and then change to sparkly glitter towards the tips. So, the nails have a glitter ombre look. These nails are so glitzy, bold and glam. You can recreate these or if these are too long for your taste, you can always opt for a shorter version. This design will look great on every nail shape and length, we guarantee it.
12. White and Silver Nail Idea
Silver is another color that looks amazing with white! This mani is a great example of that. The design features long pointy nails. Some of the nails are silver and sparkly with either glitter or rhinestones. The rest of the nails are white with a little pop of silver glitter. We love the silver and white color combo because it is stylish, edgy and glam all in one look. This design can be created on any nail shape.
13. Nude Nails with White Glitter Tips
We love this next nail idea, it is so pretty and glam! Here we have stiletto nails and they all start nude and then blend to glitter towards the tips. So, it is like a sparkly version of a French manicure. This is a stunning look that is perfect for parties, the prom and weddings. It is also great for every day wear if you just want to jazz up your look.
14. Soft Pink and White Design
Next, we have a soft and elegant pink and white idea. The nails are coffin shaped. Some are white and sparkly, some nails have light pink ombre and the other nails are white with silver and pink glitter. The color combo is stunning – pink and white are just so beautiful together. Recreate this or you can use a bolder pink shade.
15. White Nails with Subtle Glitter
If the bolder glitter looks are not for you, then this could be perfect! This mani features white and short coffin nails. The nails are all white but a subtle dusting of glitter has been added to the tips. So, the glitter is barely there until the light catches it and makes it sparkle. This is an easy to wear design that will suit all nail lengths and shapes.
16. Sparkly White Stiletto Nails
The next nail idea is dazzling and stunning. Here we have long stiletto nails. All of the nails have a different design including white chrome, rhinestone art, white glitter and even clear nails. It is a trendy and statement making look that will wow everyone. Nails like these are a must-have if you want to dress to impress.
17. Glam and Elegant Nail Art
Looking for glam and pretty nail design? If so, this could be perfect for you. This mani features long coffin nails. Two nails have an ombre look while the other two are white and sparkly. One of the ombre nails also has beautiful white and glittery nail art. It is a glitzy and elegant design that would be perfect for a wedding. This idea will look amazing on stiletto nails too.
18. Pink and White Glitter Mani with Flowers
This next idea is another one of our favorites. All of the nails are short and feature a mix of sparkly white and shimmery pink ombre. One of the nails also features a stunning flower with a rhinestone center. This is a pretty look that will be great for the spring and summer. You can hand-paint flowers or you can buy floral stickers. Either way, you will end up with an eye-catching mani.
19. Chrome and Glitter Design
Like the chrome nail designs? If so, check this out. Most of the nails are different and feature white chrome, white block color and the others are sparkly too. This is a fun and trendy mani that will make you stand out from the crowd in style. You can recreate the whole look or put one or two designs on all nails.
20. Glitzy Nails with Glitter Art
Next, we have another glitzy and glam look. These nails are quite short and have a coffin shape. Most of the nails are white and there is one pink nail as well. Three out of five nails are also decorated with rhinestones and glitter. This is a bold and sparkly design that is perfect for those who love bling. All of the nail art will look amazing on longer nails too.
21. White Glitter Nail Design
The last nail idea is trendy and dazzling! Here we have beautiful coffin nails. Two nails are completely white with either glitter or rhinestones. The others are nude with white tips and plenty of sparkle. This is a stylish and unique mani that will make a glam statement with any outfit.
We hope you have found a gorgeous white glitter nail design to try!
Sours: https://stayglam.com/beauty/white-glitter-nails/
Gel French Tip Manicure with Loose Glitters
With glitter nails are simply more festive and fun to wear. Glitter is the universally awesome nail color. There is just something about that glitz on your fingertips that puts a smile on your face.Going to a party? Going to the beach? Binge eating mochi on your couch while watching Will & Grace until you feel better about the world? Glitter nails are a hit for every occasion!Honestly, was there ever a time that glitter nails were unpopular? We really don't think so. But if there was, we're glad we don't remember it.
50 Amazing Manicures to Find Your Glitter Nails Goals
Getting the looks in this gallery may require some special tools and techniques.You need a base coat (clear), polish in the base and glitter colors you like, glitter powder (optional, but recommended if you like the textured glitter look), a top coat, a small brush (to clean polish off skin around the nail), nail striping tape (if you're doing traditional or reverse French or nail art with hard lines) and polish remover to clean up messy edges.
If you like the ombre trend, you can layer on your glitter freehand or use a makeup sponge to apply each coat. If you like the precision nail art or French tips, invest in some nail striping tape. It will give you a crisp line wherever you want it, and the special adhesive won't mess up the layers of polish underneath. If you're doing a full nail you can just paint with a clear base coat, then roll the nail in the glitter while the polish is still wet. If you want more of a dusting than full coverage, you can sprinkle it onto wet polish instead. You can use your nail tape to get precision lines with this technique as well.
You know the other amazing thing about glitter polish? It doesn't chip like regular polish does. That's right. It's shiny and its invincible. Just like you. Let's get to the polish!
1) Alternating Maroon and Pink Glittery Nails
Source: instagram.com
This is a nail polish idea you could easily pull off at home. The thumb, index, and ring fingers are painted with a pretty deep maroon color. The pinky and middle fingers are painted with a rosy glitter polish, and the middle finger has a second layer of iridescent hexagonal glitter polish as a top coat. Simple!
2) Vibrant Green Iridescent Sparkly Nails
Source: instagram.com
If you're one of those ladies who likes to try bold different nail designs then this is a fun challenge! The base color is a bright green. Glitter powder with an iridescent finish creates a prism of colors, and the effect is totally unique. It's a creative manicure that could really set off a look for a special event…or just to wear for fun!
3) Nude, White and Gold Glitter Nail Art
Source: instagram.com
It's not quite subtle, but not quite bold. This look is perfect for the nail addict that wants the best of both worlds. A fleshy nude creme color is the base. Then there is a bright white glitter nail design and a couple of golden nude accent nails. The eclectic nail designs are a fun riff on neutral polish.
4) Absolutely Perfect White Glitter Nails
Source: instagram.com
Simple glitter is one of the manicure types that's easy to do yourself and still gives you all the sparkle and glam you crave. This long nail design uses 2-3 coats of a white gold glitter in a clear base. It's simple, beautiful, and easy to wear. This color could work just as well on short nails, too!
5) Ultra Glam Silver Glitter Nails
Source: instagram.com
The almond nail shape and bright, glitzy glitter make this manicure worthy of a diva. There is a clear or nude polish base, topped with sparkly glitter polish in an ombre style that goes almost all the way to the nail base. The polish with larger glitter pieces combined with multiple coats makes this nail polish idea really sparkle.
6) Nude With Sparkly Glitter Tip Nails
Source: instagram.com
Isn't this manicure fit for an enchanted evening? You would need long nails to achieve this look. The base is a clear or nude jelly polish. The glitter is multi-shaped in silver with a colorful iridescent finish. Only the tips are painted with glitter. There is a subtle ombre at the smile line so it's not exactly a "French" style, but its close.
7) Dangerously Sexy Gold Leaf Designer Nails
Source: instagram.com
These ultra-glam designer nails are no joke. The long, sharp stiletto nail shape with clear tips is unique all by itself. There is a creative micro glitter gold leafing effect along the smile line. It's super artsy with an imperfect hand-painted pattern, yet its somehow the perfect amount of polish for daringly different nail designs like this one.
8) Simple Gold Glitter Short Nail Design
Source: instagram.com
Don't let the length fool you. This glittery short nail design packs all the shine and glitz of its longer counterparts – and it's easy to paint and wear! The key is to shape your nails just to fingertip length with a rounded shape. The dense gold glitter polish is painted right down to the cuticle.
9) Fit for a Mermaid Aqua Nail Art Design
Source: instagram.com
If you're heading to the beach (or really want to) this is your ticket to mermaid status. The anchor color (pun intended) is an aqua chrome that's honestly stunning all by itself. Enter nail art designs. You've got aqua-to-white glitter ombre and gemstone accent nails to top it all off. It's totally luxurious, and you totally deserve it.
10) Shimmery Acid Effect Pink Glitter Nails
Source: instagram.com
Do you love pink nails? Do you love glitter? Do you love the 80s? Then there are the nails for you. It's a totally 2018 take on 80s neon and it's so fun! The neon pink color has glitter in different shapes and sizes throughout. It creates a cool acid-like effect and also shimmers and shines.
11) Iridescent Long Chrome Glitter Nails
Source: instagram.com
The combination of iridescent chrome color with a glittery finish is a unique nail polish idea that's bold and beautiful. This color would be awesome on long or short nails, and it's actually pretty simple. The polish does all the work. It's a dark chrome polish with an opalescent finish and micro glitter to make it sparkle as well as shine.
12) Classy Pink Polish With Textured Glitter Accent
Source: nailschick.com
OMG, we are in love with this cute easy nail design. This is the best neutral glitter nail design – totally appropriate for work and play. The base color is a creamy, semi-sheer baby pink. The ring finger accent nail is finished with an expertly color-matched textured glitter (probably from a glitter powder).
13) Neutral Ombre Glitter Nails and Pearl Accents
Source: fabfashionfix.com
You've probably noticed that the neutral blush pink is a popular base color for some of these glitter tip nails. It lets the glitter do the talking. This manicure has some nails painted in full glitter, and some are done with ombre tips. The pinkie fingers have 3-D pearl nail art.
14) Electric Blue Glitter Nails With Silver
Source: instagram.com
Oh, this manicure is so glossy and the blue/silver combo on the ombre nails is gorgeous! The base color is a cobalt blue with a hint of shimmer. The thick glitter is blue-to-silver ombre on most of the nails, with a cool triangle accent and diamond nail art on one nail of each hand.
15) Jelly Pink and Silver Glitter Nail Design
Source: instagram.com
If a modern-day Disney princess got a manicure, this would probably be it. A super light shade of blush pink is used as the base color. There is a ring finger accent nail that's full force silver glitter. On the other fingers, unexpected a-symmetrical tip art with the glitter. The effect is modern and classy while still being a little playful.
16) Shockingly Sparkly Prismatic Long Nail Design
Source: instagram.com
This manicure means business. We've got long nails with full coats of iridescent glitter on every finger. But don't stop there. A matching iridescent tone faceted gem is placed at the base of each nail. Serious bling! A manicure like this is a total show stopper.
17) Perfect Black and Gold Manicure
Source: instagram.com
This manicure is what we need right now. Hands down, these are the best black glitter nails around. That shiny black base color is slick as heck, The textured gold foil glitter accent nail is gorgeous, and the gold sequins and beads on the second accent nail are just right. Nailed it!
18) Beige Nails With Chunk Glitter and Gold Tips
Source: instagram.com
Layers upon layers of glitter! So fabulous. Layer one is a super light peachy pink creme hue. Layer two is a subtle gold micro-glitter ombre from tips to mid-nail. Layer three is the serious glitter. Thick multicolored pieces of glitz in ombre concentrated at the top of the nail so a bit of the gold peeks through.
19) Green With Envy Long Glittery Nails
Source: instagram.com
These nails are totally boss. The stiletto shape is ridiculous glam all on its own, but add in the deep dark shade of green glitter that shines up and it is over the top in all the right ways. Channel your inner Elphaba with this long glittery mani.
20) Perfect White Wedding Nails With Silver Glittery Shimmer
Source: nuovosquare.com
Getting married? Congrats! We just found your manicure. These white glittery nails shimmer like the snow. There is really no color in this manicure. The base polish is flat white, and the glitter is silvery white, so the manicure is truly neutral. The glitter powder just makes it shine so beautifully. Perfect for a pretty white wedding dress!
21) Bold Multicolored Fiesta Glitter Ombre Nails
Source: instagram.com
It's a party at your fingertips! The base color is baby pink with a hint of shimmer. Then comes the cute ombre glitter tips that are just rocking out and doing their thing. This glitter polish has big and small flecks, multiple colors, and multiple shapes. Make sure to use a good top coat to keep the glitter pieces from snagging on fabric.
22) Subtly Sexy Beige to Pink Glitter Ombre
Source: instagram.com
Isn't this manicure intriguing? The ombre effect hoes from micro-glitter silvery beige to micro-glitter pink. The glitter effect is toned down a tiny bit with a matte top coat. The effect is really awesome and unique. If you have a very conservative work environment this would be a great way to get your glitter fix without being too obvious about it.
23) Mink Gray, Glitter and Gemstone Accent Nails
Source: instagram.com
This mani means business. The base color is a gorgeous matte mink gray, which honestly would be amazing all on its own. But wait! There's glitter. There are two accent nails. The first is glossy, full-coverage rose pink glitter. Gorgeous. The second is base-to-tip gemstone nail art. It is totally glamazon and totally fab.
24) Hot Pink Shiny Nails and Glitter
Source: instagram.com
Do you want shiny nails? These babes get the job done. First of all, "yes" too hot pink glitter nails. This bright pink base shade is amazing. The other nails are done up in a bright-to-blush pink ombre glitter with flecks of gold and silver. Everything is topped off with a high-gloss top coat to get that super shiny finish.
25) Tiffany Blue Glitter Nails With Cream Accent
Source: instagram.com
Love these! The robins egg blue creme color is so pretty. The glitter nails go a few shades darker in the same family of blue and have golden flecks of glitter. This is a fun spin on the accent nail trend because all but one nail on each hand is painted with the glitter polish and the accent nails are done in the creme blue.
26) Perfectly Mauve Nails With Gold Glitter Accent
Source: instagram.com
This mani is done up in that classic neutral shade of pink creme with accent gold glitter nails. The single accent nail has an ivory base with 2 or 3 coats of gold glitter over top. Everything is finished with a glossy top coat to make this manicure polished and neat.
27) Reverse French Manicure With Rose Gold Glitter
Source: lifestylezz.com
This manicure is amazing! The reverse French manicure is one of those different nail designs that's understated and yet so thoroughly stylish. This is a perfect example. Instead of contrasting tips, you do a line of contrast around the base. This manicure uses the traditional French sheer pink as a base, and the reverse tips are done in rose gold glitter.
28) White as Snow Textured Glitter Manicure
Source: instagram.com
Sheer white color and glitter powder come together to create this unique effect. If you've never tried one of the textured manicure types you're in for a treat! A manicure like this one has the glitter basically sitting on top of the polish, so when you touch the polish you can feel the little pieces of glitter rather than a smooth surface.
29) Nothing but Rose Gold Glitter
Source: instagram.com
There is so much shining in this dense glitter polish that the color is almost chrome, but don't worry. It's still glitter. Here every nail is done up in a single rose gold shade of medium-sized glitter. This glitter is full-coverage so you wouldn't need a base color to paint over.
30) Shimmery Gray to Black Glitter Nails
Source: instagram.com
This is a cool way to approach ombre. Instead of the shades changing from tip to base, the shades of this manicure change from finger to finger. The single glitter nail is done in a dense chrome colored full-coverage glitter that is really pretty. Then you've got a similar chrome shade but in a creme color on the next nail, followed by a black shade on the next.
31) Reverse French With Powdery Pink and Rose Gold Accent
Source: theart123.com
Here's that popular reverse French mani trend again! This short nail design uses a creme polish in powdery pink with a rose gold glitter half-moon at the bottom of the nail. The ring finger is painted fully with the rose gold glitter. The look is simple and pretty.
32) Pink Glitter and Gemstone Nail Art Designs
Source: instagram.com
Another nail polish idea that's pretty in pink! This manicure uses 2 shades of pink. A cream (almost beige) shade is used as the base color for this manicure. Then there are 3 accent nails. One is painted with dusty pink creme polish. One is painted with a medium sized silver glitter polish. One is bedazzled with pink-hued gems and jewels.
33) Creative Bronze Chrome With Warm Pearlescent Glitter
Source: instagram.com
Those nails are so shiny you can almost see her reflection! The base color on this is a sheer bronze chrome. Then you've got alternating nails painted base-to-tip with a pretty bronze glitter that has large and fine pieces and a pearlescent finish. Finally, there are sequins used as nail art gems that match the pearlescent bronze glitter.
34) Soft Gray Creme With Copper Glitter
Source: instagram.com
This is an interesting combination because instead of the glitter and base polish being in the same color family you've got colors that match and compliment each other. The soft gray is so pretty and classic. It is a go-to neutral for lots of women, so if you feel like shaking it up add a glitter accent nail in a color like this shimmery copper!
35) Blush and Gold With Marbled Nail Designs
Source: instagram.com
This manicure is just stunning and it has a little bit of everything! The blush pink creme base color is painted in matte and gloss. The matte fingers have a gold gem. The gloss fingers have either gold glitter reverse ombre from the base or a gorgeous marbled nail art design. Finally, there is a pink and gold glitter accent nail.
36) Easy Natural Nails With Gold Glitter Tips
Source: zigiztyle.blogspot.hu
These beautiful ombre glitter nails could not be easier to pull off yourself. Start with your natural nails shaped and painted with a clear base coat. Use the gold glitter polish starting at the tips. Keep most of the polish at the tip, but add some down to the middle of the nail so you get the ombre effect. Add a second glitter coat mostly on the tips. Finish with glossy top coat and you're done!
37) Natural Nails With Hexagonal Glitter Nail Art
Source: instagram.com
This manicure would take some patience but the results are awesome and unique. These natural nails are almond shaped and a base coat with a little color is applied first. The hexagonal glitter looks like it has been applied by hand to create a honeycomb pattern at the tip of each nail that becomes more spaced out around mid-nail to make the ombre effect.
38) Beige Cream and Gold Glitter Nails
Source: instagram.com
This mani is totally golden! Again, we see a twist on the accent nail where the base color here is that super shiny and shimmery gold glitter, while the accent nail is a matte cream color. The matte accent nails also have gold sequins and gems that complement the glitter.
39) Sexy Sand Sparkle Nails With Gold Ombre
Source: instagram.com
These nails are worthy of a tropical island goddess! That sandy base color with a hint of shimmer is absolutely beautiful. The glitter color is gold but also has a really warm almost red undertone which is so pretty. The glitter is used in full-coverage on one accent nail, and in reverse ombre on another.
40) Matte Nude With Silver Glitter Nails
Source: instagram.com
It is all about the texture with this manicure. The "naked" base color is a flesh-toned nude creme shade painted with a matte top coat. The glitter accent nails are thick, textured silver glitter. We're talking disco ball level glitter, here. The contrast is really striking, and putting the accent nails on different fingers of each hand is an interesting touch.
41) Deep Burgundy Nails With Gold Reverse Ombre
Source: instagram.com
Burgundy nails with gold glitter honestly might be the all-time best color combo. This particular shade of Burgundy has micro-glitter for a little bit of shimmer. The fine gold glitter polish is applied from the base to create a reverse ombre style. The final look is elegant and festive.
42) Neutral Nails With Plum Glitter Ombre
Source: instagram.com
Get those glittered tips! All you need are your natural nails, some dense glitter polish, and you're off to the races. After a base coat, start from the tips and work your way to mid nail, keeping most of the polish at the tips of the nails. You'll need to repeat this 2-3 times to achieve this look. Each time, keep the polish closer to the tip.
43) Simple Black With Gold Tips an Accent Now
Source: winkandblush.com
Get fancy with this black and gold mani that's easy and chic, like all the best things are. Start with a shiny jet black polish on every nail. Use the glitter ombre technique to apply gold glitter to the tips of all but your accent nail. On the accent nail, do 1-2 coats of gold glitter over the black.
44) Barely-there Soft Pink and Silver Glitter
Source: instagram.com
Isn't this manicure just lovely? The soft pink creme color is subtly brought to life with pink and white ombre glitter. The ombre glitter is applied over the pink in reverse from the base, leaving a hint of the soft pink color peeking through at the tips. The color of the glitter catches pink and blue in the light. So cute!
45) Cute Easy Nail Design With Pink Glitter
Source: instagram.com
Party-ready nails are as simple as some colorful glitter tips. This long nail design starts with a stiletto shaped nail. If your natural nails are this long, congrats! Just shape them in a tapered tip. If not, you can get acrylics in this shape. The medium and fine pink glitter is painted from the smile line to the tips with a soft blend to the natural nail color.
46) Beautiful Neutral Cream With Peach Glitter Accents
Source: instagram.com
Love this! Jelly and glitter polish make such a beautiful combination. This has a peachy nude sheer jelly color as the base. There are some accent nails painted fully in a peach glitter, and one nail on each hand has a triangle-shaped French manicure style tip. We just love this flattering shade.
47) Super Girly Baby Pink Glitter Everything
Source: instagram.com
Are you a glam princess? Then this is your manicure. Long, luxurious nails are painted with a baby pink shade and a fine pink glitter top coat. You may have to do 2-3 coats of glitter to get this kind of shine. A high-shine top coat over the glitter will really make the mani glossy and bring out the shimmer in the glitter.
48) Charcoal Gray Matte With Silver Glitter Tips
Source: essie.com
Start with a nice, deep shade of charcoal gray polish. You can get a matte formula, or use a matte top coat. Then get some glitter on those tips! This polish in this style has medium and large silver glitter. It gives an artful ombre look like you dipped your fingers in silver.
49) Neutral Ivory Cream Gilded Glitter Ombre Nails
Source: instagram.com
These nails are just to die for. File this under best nail ideas of all time! A simple ivory creme polish is anything but basic with gilded gold. Use the same ombre glitter technique you would use on the tips, but starting from the base instead of the tip. You can get the gilded effect with chunky glitter ombre layered over fine glitter ombre.
50) Glossy Emerald Glitter Nail Polish
Source: instagram.com
These sparkly nails are totally enchanting. Any self-respecting nail addict won't be able to resist these rich emerald fine glitter beauties. When the color is this amazing you don't need nail art. Just shape your nails, apply 2-3 coats, and don't forget the high shine top coat.
50 Gorgeous Ideas for Glitter Nails at Every Length
It's seriously so easy to get glitter nails. There are loads of polishes out there at every price point that are glittery and fabulous. You can also get fancy and use glitter powder dust for awesome effects and textures. Trends like reverse French manicures and gemstone or pearl nail art are totally trendy, but there are also plenty of simpler nail ideas if you prefer your glitter a little more toned down.
Time to get yourself some sparkle nails! You can use glitter however you like to paint your nails. Neutrals? Bright colors? Simple? Ornate? Take your pick! Check with your nail salon about getting the glitter ombre nail color you want. If you prefer DIY manicures, check tutorials to get your ombre technique down, then paint away!
Sours: https://thecuddl.com/glitter-nails/
You will also like:
21 Easy and Cute Glitter Nail Designs
Glitter was made for special occasions. That's what we think anyway, and when you start to look at the vast array of easy and cute glitter nail designs, you'll soon find that there is literally a nail for every occasion. Whether you like them long, short, square, pointed, or something completely different entirely, easy and cute glitter nails are the way forward.
Just in case you don't believe us, we've found some real delights that we think you're going to want to sit up and take notice of. Go and make yourself a cup of tea or coffee and make yourself comfortable on the couch. It's time to start thinking creative.
1 – White + Gold Triangles
If you want to start with something super simple and super quick, this isn't a bad way to go. The design itself is minimal, but packs a pretty impressive impact, and you could customise the look by changing colours or shades.
We'd start by painting your nails with your base shade, in this case – white. When that has dried COMPLETELY, use tape to create the shapes – triangles, chevron, etc. Finish everything off with a clear top coat, let it dry, and you're good to go. Customisable, simple, quick, and suitable for every occasion.
---
2 – Sparkle + Nude Glitter Nails
These nails are perfect for any occasion – weddings, birthdays, for when you just want your hands to look pretty when you're in the office. They're super simple too – a subtle way of incorporating some sparkle into your life.
You could pick just one nail to add this stunning sparkle effect on to if more than one is a little too much for you. Just remember to add a good top coat, and wait for it to dry entirely. These nails need to be perfectly smooth and stunningly finished.
---
3 – Black + Silver Sparkle Nails
And for when you need a little more sparkle in your life, these black and silver sparkle nails are just perfect. We're just dying to be invited somewhere so we can rock impressive talons like these easy and cute glitter nail designs.
The one design we are obsessed with in this easy and cute glitter nail designs is the white to black glitter ombre look. It's easier than you'd think to recreate, and you can do it all with the help of a makeup sponge and your regular black and white glitter polish. Add your black base, then add your white tip, and use the for each colour over the top. Use a sponge to layer up the white over the black to give it that proper gradient effect.
---
4 – Nude & Silver Sparkle
These are simply beautiful glitter nails – sophisticated, glam, and great for any occasions. You could easily wear nude nails to work, adding an overlay of that silver shimmer and sparkle for nighttime wear – great for taking you from office day to party night!
We love the way only half the nails have been glittered-up, but going vertically rather than horizontally. It's such a simple change, but it gives you a very different cute and glittery look.
---
5 – Super Shiny Easy and Cute Glitter Nail Designs
Wow – these are super shiny and super sparkly! You've got a few different components in these nails, bringing together a wonderfully jazzy look that's perfect for a special occasion.
Within the silver glitter nails, holographic silver pieces have been used to make them really shiny. When you layer up glitter and silver shimmer in this way, it almost gives the nails are more three-dimensional look. And let's face it … there's no such thing as too much sparkle. Is there?
---
6 – Purple and Silver Stiletto Glitter Nails
If you wanted to inject some colour into your easy and cute glitter nail designs, we think you could do a whole load worse than these purple beauties. They're very different – isolating the glitter design to a triangle in the centre of the pointed nail shape, but it's one that could be customised to suit every shade and colour.
Once you've painted your nails with the colour you're going for, in this case different shades of violet, lilac and lavender, wait for them to dry and then use nail tape to mark off that triangle shape. Pile on the glitter, wait for it to dry again, add your top coat and you're done. They're much easier than you first may have thought, right?
---
7 – Glitter and Broken Glass Nails
Glitter nail polishes are renowned for being super hard to get rid of, but there are some tips and tricks that you can use to make life a little easier. A sparkly nail is always a good idea, but when you're desperately trying to get rid of all traces of it before you head to work on Monday morning, you'll wish you hadn't bothered.
One beauty blogger started using old tights to remove the glitter nail polish, rather than nail varnish remover on cotton wool balls or pads. Soak cut-up strips of your tights, soak them in the remover, and then place on your nails. You can even wrap them around if you find that easier. After a few minutes, simply wipe away and the glitter should come off. Oh, and opaque tights are apparently better than the sheer varieties. Now you know!
---
8 – Silver Shimmer Tips
If you want super smooth and perfectly finished nails like these, you'll need to get your routine sorted. Sadly it won't be a case of slapping on some polish and hoping for the best. In fact, this is one of the worst things that you can do.
You'll need to prep your nails for your new sparkly talons, and you should start by shaping and buffing the nails if you are at home. Get rid of any leftover polish, give your nails a good clean, make sure they're the right shape and size, and then use a base coat. Doing this will ensure that your nails look great, but they'll also last longer before they start to chip and look ruined.
---
9 – Rainbow Glitter Tips
If you already have a nude base nail, a great last minute tip to jazz your hands right up is to use a rainbow mix of glitter, and a sponge to apply it. That's right, we're leaving the nail polish brush behind.
If you don't have nail polish glitter in differing shades, you can make your own with makeup glitter, or even craft glitter. Pout some clear top coat in a dish, mix in a variety of glitter shades and sizes, and then use your sponge to dab the glitter right on the tips. Use your regular non-glittery top coat and wait to dry and you have easy and cute glitter nail designs that everyone will love.
---
10 – Green + Silver Glitter Nails
The worst part about trying to recreate these easy and cute glitter nail designs is waiting around for them to dry. You need to wait for your clear base coat to dry, then your base shade, and then your glitter.
Ideally you should be leaving your nails to dry for at least ten minutes between layers, and you can speed this up by soaking them in ice cold water. Just make sure they're not still slightly tacky otherwise you'll smudge them.
---
11 – Different Sized Glitter Nails
For when you want something that really stands out, don't settle for using just one glitter type. As you can see from these adorable glitter nail designs, different sizes of glitter pieces can make for a very interesting (and super sparkly) finish.
Again, you might find using a sponge makes this much easier and quicker to complete than using a brush to dab the glitter on. In fact, while we're on the subject, you're meant to dab glitter, not brush it with the brush you're given with the pot. This just smears it across, whereas dabbing will perfectly plop the sparkle where you need it.
---
12 – Pretty in Pink Glitter Nail Designs
The products you're using on your nails are just as important as your technique, and one of the best products we've found is by Nails Inc – a great brand to check out if you've never heard of them.
Nails Inc offer a Superfood Base Coat with extracts of kale, lemon, ginseng, Aloe Vera, grape and pomegranate. There are many benefits to using this – you'll prevent your nails from splitting and also breaking, and you're also providing your nails with much-needed nourishment. Do you know how much better your nails will look if you show them a little TLC?
---
13 – Silver Gradient Glitter Tips
How's this for a unique way to have white tips? It's so simple, and we would never have thought of adding that miniature glitter gradient to the white tips, but it adds just the right amount of a little something, don't you think?
If you don't have time for a salon appointment, you could add this silver sparkle to a mani that's a couple of weeks old. Saving money and time – what a winning design?!
---
14 – Silver Sliver + Black Matte Nails
Another stupidly simple way of doing your own nails at home, how's this matte black look take your fancy? It's another of the cute and easy glitter nail designs, and one that mixes matte with shiny. It's the contrast that makes it so stunning.
It's a lot easier to recreate at home than you first may have thought, and if you have a steady hand, you won't even need nail tape to create that triangle shape. With a thin enough nail brush you should be able to apply the glitter just fine. There you want it to 'stand out', giving it that three-dimensional look you can see here, the nail tape will make it easier to 'layer'. Just make sure that the matte black layer underneath (or whatever shade you have gone with) has had the time to completely dry. Otherwise the nail tape will create marks that will ruin the smooth lines of this look.
---
15 – Pastel Pink Glitter Twist
How do you feel about pink glitter? We love it (obviously), and we think these long glitter nails are a really pretty design. Different shades and sizes of glitter have been used on the different nails, giving you numerous ways to wear the simple design. If you liked just one of the looks you can see here, just have one of the looks. Or have them all – it's entirely down to you.
You could even switch the colours up if you wanted to. Pink, blue, red, green – go with whatever matches your outfit, that's what we say.
---
16 – Negative Space + Glitter Nails
Negative space nails are really beautiful nails, called as such because they are quite literally a negative space. You leave the nail nude, rather than painting the entire length of it. In this case, the blue glitter tips have been used, leaving the rest of the nail nude and just with a beautiful glossy top coat.
We love the rich blue shade here, and we also love the way that silver glitter has been used to create an ombre gradient effect on the middle finger. At least it's pretty for when you want to flip it to someone.
---
17 – White Base + Gold Glitter Nail Designs
These nails are so much easier to recreate than you first may have thought. With a white base, you can then go ahead to use nail tape to mark off those sections you don't want to cover in glitter. Then, we're going to tell you about an amazing nail hack you probably wouldn't have thought of.
Rather than using your regular nail polish brush to apply your glitter, scrap it. Grab a makeup sponge instead – a clean one, and preferably one you don't mind covering in nail polish … because you know how much of a bitch it will be to get off. Rather than brushing or slicking glitter over your nails, apply some petroleum jelly or latex around the edges of your nails (to stop any mess getting on your skin) and then dab the glitter on with the sponge instead. The finish will be much more even all-over, and you'll be able to concentrate the glitter to the areas you actually want.
---
18 – Mermaid Pink + Green Nails
They're two colours you probably wouldn't have been able to put together before you see this picture, but it offers a really exotic finish that we can't help but fall in love with.
Another very simple idea and design – the two colours are easily added together, using that sponge-dabbing action to create a soft gradient rather than a sharp line. They're so pretty, incredibly simple, and very effective.
---
19 – Mermaid Green + Gold Glitter Nails
How do you feel about these almost mermaid-like glitter nail designs? It's a simple idea – using the beautiful ocean-green-blue as the backdrop, adding holographic gold glitter pieces to really bring the look to life.
That's one of the first things you should remember when looking at these easy and cute glitter nail designs – start simple. You'll often find that the simplest of changes and additions to a basic nail shade can often make the biggest impact.
---
20 – Gold Glitter Tips
These gold glitter tips are a classic example of something very simple, yet very effective. If you're having a hard time trying to find something to pull inspiration from, take a peek at Youtube. We always get carried away watching tutorials for hours, but you'll always find something you'll love enough to recreate.
You'll also pick up some great nail hacks. We've learned so much from these videos, and those tips have definitely made home-manicures much easier for us!
---
21 – Pink Confetti Nails
Confetti nails are so beautiful, we can't help but want them for ourselves. The tiniest addition of coloured sprinkles have completely transformed these otherwise plain-pink nails.
They look a little bit like ice cream, or the cutest doughnut we've seen. Now we want doughnuts and ice cream. You too?
---
These easy and cute glitter nail designs can easily be mixed up with different shades to bring you a beautiful combination of looks and designs, and you can easily change the entire look with the help of different sized glitter too.
We can't wait to see what you lovely lot come up with. If you feel creative make sure you come back and show us. Send us in your beautiful designs. We want to feature you.
And if you loved 21 easy and cute glitter nail designs you're going to love these too:
Sours: http://cherrycherrybeauty.com/21-easy-and-cute-glitter-nail-designs/
41
42
43
44
45