Long before Parasite created a worldwide sensation and swept up nearly every important award in film, including the top prizes at the Oscars in 2020, Korean culture had been steadily gaining global popularity. With this Korean Wave, also known as Hallyu, you may have heard of the boy band BTS. Or perhaps you've developed a taste for haute Korean cuisine thanks to Michelin-starred restaurants like Cote and Atomix. Or maybe you have a shelf lined with Korean beauty products for your nightly 10-step skincare routine. Korean television dramas, though they may not have as much critical clout as the country's cinematic output, are an indispensable part of the cultural fabric—and several of the best ones are on Netflix. Below are the most entertaining K-dramas to watch on the streaming service, from a charming romantic comedy-slash-thriller to a stunning period piece.
Squid Game
Watch Now
This highly dystopian thriller—think Hunger Games meets Parasite, with a lot more violence—has become such a global hit that it is projected to become Netflix's most popular show, ever. The twisted premise: 456 people who are down on their luck and desperate for money are invited to play a series of popular children's games. While the eventual winner is promised a handsome cash prize, little do these contestants know that losing a game means paying with their lives. Be prepared to binge the entire first season in one night.
Hometown Cha-Cha-Cha
Watch Now
This charming romantic comedy follows a big city hot shot dentist (Shin Min-a) who gets fired from her practice and decides to start over in a small seaside town. While adjusting to her new, decidedly less glamorous life, she meets the village's down-to-earth jack-of-all-trades (Kim Seon-ho).
Mine
Watch Now
Much in the vein of recent Korean shows offering a blistering portrayal of the lives of the country's stratospherically wealthy (see: The Penthouse and Sky Castle, both of which are unfortunately not on Netflix, yet), Mine centers around a powerful chaebol family, and specifically on its two daughters-in-law who are trying to carve out their identities—and reclaim what's theirs—in a patriarchal society. Part Succession, part Downton Abbey, and part Big Little Lies (a murder, revealed in episode 1, propels the narrative), watch for a bingeworthy, twisty plot and stellar lead actresses Lee Bo-young and Kim Seo-hyung, especially, who is very reminiscent of Tilda Swinton in I Am Love with her impeccable style and poise.
Vincenzo
Watch Now
Resident heartthrob Song Joong-ki stars as the title character Vincenzo, who was adopted by the head of an Italian crime family when he was young and grew up to become a consigliere to the mafia. Infighting and betrayal forces Vincenzo to flee to Korea, where he finds a new enemy to take down: a ruthless conglomerate.
The Uncanny Counter
Watch Now
In this popular paranormal hit, a disabled teenager is recruited into a supernatural group known the Counters, who go after the evil spirits that have escaped the afterlife to possess human hosts and corrupt them into committing terrible acts. As part of this crew of demon hunters (the front for their secret business is a noodle shop) he develops superhuman and psychic abilities, and leads a double life—high school student by day, vanquishing evil by night.
Stranger
Watch Now
Now two seasons long (with fans hopeful for a third), this beloved crime thriller was featured on the New York Times' list of the best TV shows of 2017. Louis Vuitton muse Bae Doona plays a charming detective who teams up with an empathetically-challenged prosecutor (a brain surgery gone wrong during childhood left him with very low EQ) to solve a murder. Along the way, they discover much deeper, more insidious forces at play, in the name of political conspiracies orchestrated by Korean TV's favorite villain: those all-too-powerful, ne'er-do-well conglomerates.
Start-Up
Watch Now
As its title suggests, Start-Up is about a group of millennial individuals working in Korea's version of Silicon Valley. While their professional struggles might be reminiscent of the HBO hit Silicon Valley, this being a Korean drama after all, the show is more rom-com (expect the usual, like love triangles, meet-cutes, etc) than industry satire.
Mr. Sunshine
Watch Now
This historical drama is set during the late Joseon Period, Korea's last dynasty before Japan annexed the country in the early 1900s. Lee Byung-hun plays U.S. Marine Eugene Choi, who returns to his motherland and falls in love with Go Ae-shin (played by The Handmaiden actress Kim Tae-ri), a noblewoman who secretly moonlights for the Righteous Army, a militia fighting for Korean independence. Mr. Sunshine has all the requisite ingredients for a great K-drama: love triangles, history, and action. Above all, it's a cinematographically beautiful ode to Korea, before it was changed forever.
It's Okay to Not Be Okay
Watch Now
Mental health—generally a highly taboo subject in Korea—is the central theme of this show. A popular children's book author (Seo Ye-ji) has an antisocial personality disorder; a psychiatric ward caregiver (Kim Soo-hyun), on the other hand, has high emotional intelligence and the added baggage of having to take care of his autistic older brother. Girl meets boy, and the healing begins.
Kingdom
Watch Now
In this Netflix original (there are two seasons out now, a third on the way) set in the Joseon era, the king is mysteriously stricken with a strange illness and is presumed dead. Crown Prince Lee Chang (Ju Ji-hoon) attempts to find out what's going on with his father, only to be locked out of the palace by his power-hungry stepmom and her father, who are conspiring to keep the king's condition a secret until they can secure their grip on the throne (by getting rid of Lee Chang, for one). Turns out the king isn't dead—he's turned into a flesh-eating zombie. The plague begins to spread throughout the kingdom and it's up to the Crown Prince to save his people—and expose the evil conspiracy behind his stepmom's power grab. It's likeGame of Thrones plus The Walking Dead, but set in 17th century Korea. And much like those shows, Kingdom asks: can people be more monstrous than the zombies that hunt them? Yes.
Itaewon Class
Watch Now
First, Park Sae-ro-yi (Park Seo-joon) gets expelled for punching a school bully, who happens to be the son of the very powerful owner of food conglomerate Jangga Group. Then he loses his father in a hit-and-run accident, in which the reckless driver is—who else?—that same rich bully. After nearly beating his father's killer to death, Sae-ro-yi gets sent to jail for three years. After his release, he vows to take down the powerful food company that ruined his life by opening up a bar in Seoul's Itaewon neighborhood with the goal of turning it into a franchise. This underdog tale received high marks for its diverse cast of characters—the bar's employees include a transgender woman, a Guinean-Korean, a former gangster, and a sociopath—and its portrayal of their difficulties in trying to fit into a society that is rarely kind to outsiders.
When the Camellia Blooms
Watch Now
A woman (Gong Hyo-jin) moves to a small town with her young son and opens up a bar. She faces constant ridicule from the village women, first for being a single mom (also another taboo subject in Korea) and also for making a living serving alcohol, mostly to men. Not everyone is displeased with her arrival—a local police officer (Kang Ha-neul) is instantly smitten. Despite the show's rom-com style, interspersed with especially heartwarming depictions of the protagonist's relationship with her son, it's also part thriller. There's a serial killer on the loose and she'll be his next victim unless her admirer catches him first.
Extracurricular
Watch Now
To those around him, high school senior Oh Ji-soo (Kim Dong-hee) is just another typical brainy overachiever—so bland, in fact, that even his guidance counselor suggests he study less and go get a social life. Outside of school hours, though, he runs a security service for an illegal prostitution business (while keeping his identity a secret) so he can earn enough money for his future. When a classmate discovers his secret and wants in on the business, things start to get a lot more complicated—and dangerous.
Hospital Playlist
Watch Now
This Grey's Anatomy-like show is about five friends who have been inseparable since medical school and who are now doctors at the same hospital. The show depicts their complicated lives, both in and out of the operating room. And one of the ways they blow off steam? By playing in a band once a week (hence the Playlist in the show's title).
Hyena
Watch Now
In this legal drama about two lawyers who represent society's one percent, Yoon Jae-hee is a partner at a prestigious law firm with a great track record and a huge ego. Jung Geum-ja runs her own scrappy one-person law office. The two have just their outsize ambition in common, and they battle it out to secure the most high profile—and lucrative—cases, doing whatever it takes to get them. A great cast (Kingdom's Ju Ji-hoon and A-list actress Kim Hye-soo)makesHyena an entertaining watch.
Vagabond
Watch Now
After a plane carrying his young nephew crashes on its way to Morocco, stuntman Cha Dal-gun (Lee Seung-gi) vows to find out what happened. With the help of National Intelligence Service agent Go Hae-ri (Bae Suzy), the two begin to uncover a terrorist conspiracy that leads all the way up to the Blue House (aka the presidency).
The Heirs
Watch Now
Think of this popular 2013 drama as a Korean version of The O.C. Cha Eun-sang (Park Shin-hye) takes on part-time jobs to support herself and lives in the home of the wealthy Kim family, where her mother is a housekeeper. A scholarship enables her to enroll in a high school attended by the children of Korea's one percent, where she soon finds herself in the middle of a love triangle involving the Kim family scion Kim Tan (Lee Min-ho) and his nemesis Choi Young-do (Kim Woo-bin).
Crash Landing on You
Watch Now
A South Korean heiress (Son Ye-jin) goes paragliding and accidentally ends up on the wrong side of the DMZ (the Demilitarized Zone that separates the two Koreas). She's rescued by Ri Jeong-hyeok (Hyun-bin), a captain in the North Korean Special Police Force. Predictably, they fall in love, and he must keep her identity a secret and get her back home before anyone finds out who she is. Crash Landing on You was ratings gold (it's currently the third highest-rated show in Korean TV history) thanks to its A-list stars, a solid supporting cast, and its multidimensional portrayal of life in North Korea.
Romance is a Bonus Book
Watch Now
Former copywriter Kang Dan-i (Lee Na-young) is unemployed, divorced, and a single mom. Her best friend Cha Eun-ho (Lee Jong-suk) is an accomplished author and editor-in-chief of a book publishing company. Eun-ho asks Dan-i to find him a housekeeper but unbeknownst to him, she secretly begins cleaning his house. Eventually she has to come clean to Eun-ho and takes a temp job at his publishing house. The hardship and discrimination Dan-i faces in trying to re-enter a workforce after leaving it to raise a kid adds another layer to this charming romantic comedy.
Leena KimAssociate EditorLeena Kim is an associate editor at Town & Country, where she writes about travel, weddings, arts, and culture.
This content is created and maintained by a third party, and imported onto this page to help users provide their email addresses. You may be able to find more information about this and similar content at piano.io
Sours: https://www.townandcountrymag.com/leisure/arts-and-culture/g33302077/best-korean-dramas-on-netflix/
Korean drama
Television program genre
Korean drama (Korean: 한국드라마; Hanja: 韓國드라마; RR: han-guk deurama), more popularly known as K-dramas, are television series in the Korean language, made in South Korea. Korean dramas are popular worldwide, partially due to the spread of Korean popular culture (the "Korean Wave"), and their widespread availability via streaming services which often offer subtitles in multiple languages. Many K-dramas have been adapted throughout the world, and some have had great impact on other countries.[1] Some of the most famous dramas have been broadcast via traditional television channels in other countries. For example, Dae Jang Geum (2003) was sold to 150 countries. K-dramas have attracted attention for their fashion, style and culture all over the world. The rise in popularity of Korean dramas had led to a great boost to fashion line.
Format[edit]
South Korea started to broadcast television series in the 1960s. In the 1990s, traditional historical series transformed into the present miniseries format, creating the notion of fusion sageuks.
A single director usually leads Korean dramas, which are often written by a single screenwriter. This often leads to each drama having distinct directing and dialogue styles. This differs from American television series, which can rely on multiple directors and writers working together.
Series set in contemporary times typically run for a single season and usually contain 12 to 24 episodes of 60 minutes each. Historical series may be longer, with up to 200 episodes, but they also generally run for only one season. This differs from American television series, where the first season does not have a definitive end as the plot is being set up to last for multiple seasons.[citation needed]
The broadcast time for drama series has been 22:00 to 23:00, with episodes airing on two consecutive nights: Mondays and Tuesdays, Wednesdays and Thursdays, or weekends. Most of these drama series appear on each of the nationwide networks: Seoul Broadcasting System (SBS), Korean Broadcasting System (KBS), Munhwa Broadcasting Corporation (MBC) and on the cable channels, including Joongang Tongyang Broadcasting Company (JTBC), Channel A, Total Variety Network (TVN), and Orion Cinema Network (OCN). Some of drama series might turn into seasonal serials just like famous American weekday drama series.
The 19:00 to 20:00 evening time slot usually have been reserved for daily dramas, which run every night from Monday through Friday. Dramas in these slots are in the telenovela format, rarely running over 200 episodes. Unlike American soap operas, these daily dramas are not broadcast during the daytime. Instead, the daytime schedule often includes reruns of the flagship dramas. The night time dailies can achieve very high ratings. During late 2000s, for example, not only the weekend series First Wives' Club recorded 41.3%, according to TNS Korea,[3] and also the evening series Temptation of Wife peaked at 40.6%, according to TNS Korea.[4] During early 2010s, as side footnote, KBS1 Weekend Household Opera serials for family like Please Marry Me, Ojakgyo Family, My Husband Got a Family, Wang's Family, and What Happens to My Family? gained such a popularity, reputation and influence.
Many Korean dramas follow the live-shoot model and thus are usually shot within a very tight schedule, sometimes finishing just a few hours before actual broadcast. Screenplays are flexible and may change anytime during production, depending on viewers' feedback, which can be difficult for production teams.
Plots and storylines[edit]
K-dramas have a multitude of different genres such as action dramas, historical dramas, school dramas, medical dramas, legal dramas, or even horror comedies. While most dramas carry romantic elements and deep emotional themes, there are various styles and tones.[5]
The main themes of Korean television dramas are friendship, family values, and love, blending traditional values of Confucianism with Western materialism and individualism.[6]
However, it is an emerging trend amongst Korean dramas to showcase ongoing societal issues of Korean society such as stigma of mental illness,[7] gender inequality, suicide, classism, bullying, spy cameras, corruption, homophobia or racism.[8]
Historical[edit]
Main article: Sageuk
The term sageuk refers to any Korean television or film drama that is either based on historical figures, incorporates historical events, or uses a historical backdrop. While sageuk literally translates to "historical drama", the term is typically reserved for dramas taking place throughout the course of Korean history.[9]
Since the mid-2000s, some sageuks have achieved major success outside of Korea, such as Asia-Pacific, Central Asia, Greater Middle East, Central and Eastern Europe and Latin America.[10] Sageuks including Dae Jang Geum (Jewel in the Palace), Yi San and Jumong enjoyed strong ratings and high satisfaction ratings in countries such Vietnam, Uzbekistan, Kazakhstan, Fiji and Iran. Jumong, which aired on IRIB (Islamic Republic of Iran Broadcasting) in 2008, had 85% viewership.[11]
Romance[edit]
Often centered around a love story, series set in contemporary times often focus on family ties and romantic relationships. Characters are mostly idealized with Korean male protagonists described as handsome, intelligent, emotional, and in search of "one true love". This has also been a contributing factor to the popularity of Korean dramas among women, as the image of Korean men became differentiated from that of other Asian men. The romantic tension typically "is built up so expertly that it is more emotionally resonant when the main couple finally hold hands halfway through the series than when a full-blown bedroom scene happens in an American series". Also, due to Korea's culture, "love scenes rarely progress past kissing" and "even seeing a Deep tongue kiss in a Korean drama is newsworthy".[15]
History[edit]
Early years[edit]
Radio broadcasting, including the broadcasting of radio dramas in Korea, began in 1927 under Japanese rule, with most programming in Japanese and around 30% in Korean. After the Korean War, radio dramas such as Cheongsilhongsil (1954) reflected the country's mood.[17]
Television broadcasting began in 1956 with the launch of an experimental station, HLKZ-TV, which was shut down a few years later due to a fire. The first national television channel was Korean Broadcasting System (KBS), which started up in 1961. The first Korean television film was a 15-minute piece titled The Gate of Heaven (천국의 문, Cheongugui mun), on HLKZ-TV.
The first television series was aired by KBS in 1962. Their commercial competitor, Tongyang Broadcasting (TBC), had a more aggressive program policy and aired controversial dramas as well. The first historical TV series aired was Gukto manri (국토만리), directed by Kim Jae-hyeong (김재형), depicting the Goryeo era.[22] In the 1960s, television sets were of limited availability, thus dramas could not reach a larger audience.
In the 1970s, television sets started to spread among the general population, and dramas switched from portraying dramatic historical figures to introducing national heroes like Lee Sun-shin or Sejong the Great. Contemporary series dealt with personal sufferings, such as Kim Soo-hyun's influential Stepmother (새엄마, Saeeomma), aired by Munhwa Broadcasting Corporation (MBC) in 1972 and 1973. As technology and funding was limited, Korean channels could not make series in resource-heavy genres like action and science fiction; American and other foreign series were imported instead.
1980s–present[edit]
The 1980s saw a change in Korean television, as color TV became available. Modern dramas tried to evoke nostalgia from urban dwellers by depicting rural life. Kim Soo-hyun's first real commercial success, Love and Ambition (사랑과 야망, Saranggwa yamang), aired on MBC in 1987 and is regarded as a milestone of Korean television, having recorded a 78% viewership. "Streets became quiet at around the airing time of the drama as 'practically everyone in the country' was at home in front of the TV", according to The Korea Times.[17] The most outstanding classical historical series of the era is considered to be 500 Years of Joseon (조선왕조500년, Joseonwangjo 500 nyeon), a serial that ran for eight years, consisting of 11 separate series. The serial was produced by Lee Byung-hoon, who later directed one of the biggest international successes of Korean drama, Dae Jang Geum.The 1990s brought another important milestone for Korean television. As technology developed, new opportunities arose, and the beginning of the decade marked the launch of a new commercial channel; Seoul Broadcasting System (SBS), which facilitated and re-initiated a race for catching viewers' attention. The first real commercial success among Korean television series was Eyes of Dawn (여명의 눈동자, Yeomyeongui nundongja), aired in 1991 by MBC, starring Chae Shi-ra and Choi Jae-sung. The series led the viewers through turbulent times from the Japanese rule to the Korean War. New channel SBS also produced successful series, one of them being Sandglass in 1995. Sandglass was a "trendy drama", which the Korean Culture and Information Service considers an important milestone, having changed the way Korean dramas are made by introducing a new format. In this decade, the new miniseries format became widespread, with 12 to 24 episodes. This era marked the start of export for Korean dramas, setting off the Korean Wave.
The beginning years of the 2000s gave birth to famous Korean dramas and also marked the period of overseas distribution of Korean dramas. Some popular ones are Full House, Autumn in my heart and Winter Sonata. It is marks the birth of a new genre, called "fusion sageuk", essentially changing the ways to produce historical series, with successful pieces such as Hur Jun, Damo and Dae Jang Geum.
Since the 2010s, "web dramas", has become a popular genre. It is a short form of drama mostly streamed on video streaming service such as Naver TV and YouTube.[citation needed] It started to take over the popularity of conventional dramas among 10s and 20s because the shorter runtime, and often feature trendy contents which teenagers are easy to sympathize with.[29]
Webtoon dramas are also another drama type that is gaining popularity. These dramas are adapted from comic strips called webtoons. As such, the plot is more imaginary instead of realistic, and add to the diverse content of K-dramas. Some notable webtoon dramas are Cheese in the Trap, Misaeng and Itaewon Class.[citation needed]
Production[edit]
Korean series were originally produced in house by the television channels themselves, but have been outsourced to independent production companies since the 2000s. In 2012, as much as 75% of all K-dramas were produced this way. Competition is fierce among these companies; out of 156 registered firms, only 34 produced dramas were actually aired in 2012. The budget of the production is shared between the producing company and the broadcaster, with the broadcasting channel covering around 50% of expenses usually. If top stars and famous scriptwriters are employed, they may cover even more. The rest of the budget has to be brought in by the production company with the help of sponsors. In the case of product placements, income is shared by the producer and the channel. The channel keeps 100% of the advertisement income during airtime; this could amount to ₩300–400 million. A typical Korean drama may cost as much as ₩250 million per episode, and historical dramas cost more than that. For example, Gu Family Book cost ₩500 million per episode.
In Korea, much of the budget is spent on the appearance fees of top stars since they are heavily dependent on celebrities' popularity. In some cases, the actors may take up as much as 55–65% of the whole budget, while it is 20–30% in Japan, and roughly 10% in the United States as dramas there tend to avoid casting famous actors when starting off. Everything else, including salaries of lesser-known actors, extras, and technical staff, location rent and other expenses, have to be covered from the remaining amount. Often, production companies overrun their budgets and cannot pay salaries. In 2012, actors held a demonstration in front of the headquarters of KBS, expressing their concerns. Actors are usually paid after the last episode is aired at the end of the month. In series made by smaller production companies for cable channels, there have been cases where the companies went bankrupt and could not pay their actors and crew, while the channel denied all responsibility, claiming all liability was with the bankrupt production firm. Producer Kim Jong-hak spent as much as ₩10 billion on Faith, which was considered a commercial failure, resulting in the inability of Kim to pay crew salaries and other overheads. Kim, who had produced successful dramas such as Eyes of Dawn and Sandglass, committed suicide after he was accused of embezzlement.[32][33] The biggest stars may earn as much as ₩100 million per episode.Bae Yong-joon, the star of Winter Sonata, reportedly received ₩250 million per episode for The Legend in 2007.
Filmmaking process[edit]
As producing a series involves high expenses, production companies seek to shoot the episodes in the shortest time possible. In contrast to practices elsewhere, the first four episodes of Korean series are usually shot in advance, but the rest are shot continuously as the series is being aired. Scripts are not finished in advance, and may change according to viewer feedback and viewership ratings, where popular characters receive increased screen time and plotlines are changed to match audience expectations.[37] These changes may occur a few hours before daily shooting, and the crew might receive only a few ready pages. The production usually works with three camera crews, who work in a rotating manner to speed up filming. Because of unregulated script changes and tight shooting schedules, actors are almost continuously on standby, and have no time to leave the set or sleep properly. The Korean media have a separate word to describe irregular, short sleeps that actors resort to, in often uncomfortable positions, or within the set: jjok-jam (쪽잠), or "side-sleeping". Dramas usually air two episodes a week, one after the other, with the following episodes having to be shot within the intervening five days. Some Korean actors have admitted to receiving IV therapy during filming, due to extreme schedules and exhaustion.[38] Nonetheless the live-shoot model remains widely used since the production team can react to real time audience feedback.[37]
Production teams originally sent two tapes to the channels; a primary copy and a backup copy. However, due to the tight filming schedules, a 70-minute episode might arrive at the broadcasting station on seven separate tapes in ten-minute installments. It happens that while the episode is being broadcast, the crew would be still shooting the last minutes or cutting the rest of the episode. During the airing of the nineteenth episode of Man from the Equator, screens countrywide went black for 10 minutes. Actor Kwon Sang-woo was openly complaining that he was still shooting Queen of Ambition 30 minutes before the last episode began airing. In South Korea, some production teams still do planning and scheduling manually, instead of using dedicated software.
From late 2014 onwards due to the popularity of Korean dramas abroad, especially the success of My Love from the Star in China, producers have increasingly been pitching and pre-selling the overseas broadcast and streaming rights of their dramas. This has given production teams the budget to move away from the live shoot basis to one in which the drama is completed before broadcast. In 2016, dramas such as Descendants of the Sun, Uncontrollably Fond, Moon Lovers: Scarlet Heart Ryeo and Hwarang: The Poet Warrior Youth were all pre-produced before airing. Nonetheless, some pre-produced episodes are often re-edited or even reshot the day of airing, due to audience feedback.[37]
The larger broadcasting companies have their own dedicated shooting locations for historical dramas, with extensive and elaborate sets. MBC's series are shot at MBC Drama in Gyeonggi,[40] while KBS dramas utilize the Mungyeongsaejae Studio (문경새재 KBS촬영장) in North Gyeongsang[41] and their studio in Suwon.[42]
Production companies[edit]
See also: Category:Television production companies of South Korea
Independent production companies are classified into:
Crew[edit]
Actors and actresses[edit]
Further information: List of South Korean actresses and List of South Korean male actors
The leading actors of Korean dramas have become popular outside of South Korea, due to the Korean Wave.
In the 2000s, it became customary to cast popular K-pop idols in dramas. Initially, this generated mixed reactions. Their appearance had provoked predominantly negative reactions outside their fandom because singers and dancers acting outside of their musical circle was regarded as unprofessional. Also, some idols were criticized for poor acting. Nowadays, this has become much more common feature in Korean dramas, as the public has been getting more used to the concept of "idol actors" and some idols have become known for their excellent acting skills.[43] Their critical reception is still mixed, however, some of them, like Bae Suzy, IU, Seo In-guk, Ok Taecyeon and Im Yoon-ah, became successful as actors and actresses.[45][46]
There were also instances of children taking up careers as child actors or actresses, usually portraying either the younger versions of some characters or the children of the adult characters from dramas. Subsequently, there were some child actors and actresses who continue pursuing acting careers even after reaching adulthood, and with some achieving success even after adulthood. Notably, such people include actors like Yoo Seung-ho and Yeo Jin-goo; and actresses like Kim So-hyun, Lee Se-young, Nam Ji-hyun, Kim Hyang-gi, Park Shin-hye and Kim Yoo-jung.[47]
Scriptwriters and directors[edit]
Scriptwriters and directors of Korean dramas are often as well known as actors are. An overwhelming majority of scriptwriters (90% according to the Beijing Metro Reader) are women, who not only write love stories but action series as well.[48] Compared to Korean cinema, television is more appealing for scriptwriters as contract conditions are better, acknowledgment is greater, and the salary is higher.
Famous scriptwriters tend to have a say in their field.[49] The most well-known scriptwriters include the Hong sisters, who wrote popular series such as My Girl, You're Beautiful and My Girlfriend Is a Nine-Tailed Fox; Kim Eun-sook, the screenwriter of Lovers in Paris, Secret Garden, The Heirs, Descendants of the Sun and Guardian: The Lonely and Great God; Lee Kyung-hee, famous for I'm Sorry, I Love You and The Innocent Man; male writer Choi Wan-kyu of Midas and Triangle; Noh Hee-kyung, the author of That Winter, the Wind Blows; and It's Okay, That's Love; and Park Ji-eun, who wrote My Husband Got a Family, My Love from the Star, The Producers, Legend of the Blue Sea and Crash Landing on You.[50]
Acknowledged TV directors include Lee Byung-hoon, who directed Hur-Jun, Dae Jang Geum and Yi San;Kim Jong-hak, the director of Eyes of Dawn, Sandglass, The Legend and The Great Doctor;[51] and Pyo Min-soo [ko], the director of Full House, Worlds Within and Iris II.[52]
While scriptwriters are mostly women, directors are usually men.[53] Some female directors have risen to prominence, such as Lee Na-jeong (이나정), who directed The Innocent Man,[54] and Lee Yun-jeong (이윤정), whose most famous works are The 1st Shop of Coffee Prince and Heart to Heart. The latter director is also the first female television producer employed by Munhwa Broadcasting Corporation (MBC).[55]
Music[edit]
Music plays an important role in Korean dramas. Original soundtracks, abbreviated OST's, are explicitly made for each series, and in contrast to American series, fans have a need to buy the soundtrack album of dramas. This trend started in the 1990s, when producers swapped purely instrumental soundtracks for songs performed by popular K-pop singers. Tom Larsen, director of YA Entertainment, a distributor of Korean TV series, thinks that Korean soundtracks are polished enough musically to be considered standalone hits.[56]
During the 2000s, it became customary for lead actors to participate in original soundtracks, also partially due to the employment of K-pop stars as actors. Actor Lee Min-ho, and leader of boy band SS501, Kim Hyun-joong both recorded songs for Boys Over Flowers, while the actors of You're Beautiful formed a fictional band and held concerts, where they perform the soundtracks live.[57][58][59]
OST songs of popular K-dramas can also become hits on regular music charts, with good sales of both physical and digital albums. The chart performance of the OST songs usually co-relate to the popularity of the drama. Songs from the OST of Secret Garden for example, had high digital sales and high rankings on music charts.[60]My Destiny, performed by Lyn for My Love from the Star, led music charts in Hong Kong, Taiwan, South Korea, and other Asian countries.[61] It also won the Best OST award at the 2014 Baeksang Arts Awards.[62] The soundtrack album of You're Beautiful sold 57,000 physical copies.[63] Performers of OST songs for action series Iris held two concerts in Japan in front of an audience of 60,000 people.[64]
Although the songs in Korean dramas may have only a selective few or are repetitive, the choosing of the songs are not that easy of a process. An example of this can be found in the OST for the Korean drama: Guardian: The Lonely and Great God. Songs usually are made to convey emotions or scenes especially in dramas and the emotion was assigned to be conveyed by Rocoberry was suffering and beauty. Rocoberry is a Korean indie pop duo with the members of Roco and conan and they are famous for composing songs in Korean dramas. Even though they had quite the experience with composing songs, for Guardian: The Lonely and Great God, they had to create 12 different compositions for this drama until finally one of their most famous songs I Will Go to You Like the First Snow was chosen. Not only did it take 12 compositions for this song to be chosen but after the approval of this songs, there had to be 7 rewrites until it was finally complete and met the satisfaction standards of the production team. link The song was used in only two episodes despite the hard process. The song was placed in two scenes that later on were shown to be connected to each other and also became some of the most important scenes in the drama. This is only the beginning of understanding how much time and effort goes into the choosing of songs for these types of dramas and how they can enhance a scene in many different ways.[65]
OST composers usually look for singers who have previously had success in the genre. Songs are written to reflect the mood of the series and their structure. Sometimes performers give their own songs for a series. For example, Baek Ji-young thought her song That Man, originally written for her own album, would fit Secret Garden. There are popular OST singers who are often employed, like Baek Ji-young, Lyn, and Lee Seung-cheol.[66] Sometimes, foreign singers are invited to perform songs for Korean OST. For instance, Swedish artist Lasse Lindh sang several songs for series like Angel Eyes, Soul Mate, I Need Romance, and Guardian: The Lonely and Great God.
Rating system[edit]
Further information: Television content rating systems § South Korea
The television rating system is regulated by the Korea Communications Commission, and was implemented in 2000. According to the system, programs, including Korean dramas, are rated according to the following principles (ratings irrelevant to dramas are omitted):[67]
: programs that may be inappropriate for children under 12, such as mild violence, suggestive themes or language.
: programs that may be inappropriate for children under 15. Most dramas and talk shows are rated this way. These programs may include moderate or strong adult themes, language, sexual inference, and violence.
: programs intended for adults only. These programs might include adult themes, sexual situations, frequent use of strong language and disturbing scenes of violence.
Reception[edit]
According to a researcher at the University of Vienna, popularity of Korean dramas have their foundation in Confucian values they transmit, which Asian viewers can easily identify with. Respect for elders, filial piety, family-orientedness, and the display of perceived "Asian moral values" play an important role in Korean series. YA Entertainment, the American distributor of Korean dramas, believes that part of the attractiveness of these series come from the quality of camera work, scenic locations, and spectacular costumes, which make the "final product very stylish and attractive, with arguably some of the highest TV production values in the world." Korean series follow their own formula, are innovative and don't conform to Western television productions. Stephan Lee from Entertainment Weekly called Korean dramas "fascinating and weirdly comforting".[70]
Exports of Korean series yielded US$37.5 million in 2003, which was three times higher than the amount reached in 1999. According to data from Korea Creative Content Agency, in 2013 K-dramas constituted 82% of the culture content export of South Korea, with an income of $167 million, which is four times more than a decade before.
A driving force behind the rising popularity is the intense involvement of fans. Because of the live-shooting production of K-dramas, Korean-speaking fans have the opportunity to participate in their creation—a unique phenomenon in the mass media world. They can influence the content of later shows in the series through complaints and suggestions, which are frequently adopted by the production teams.
The global community of non-Korean-speaking fans, on the other hand, is more involved in the consumption aspects: Fans share their opinions through tweets and comments on newsgroups (for example, the Soompi discussion forum) as well as reviews and recaps on websites and blogs. However, the impact of their social media activity goes beyond the fan community. It spreads the word about the K-drama genre to social connections like acquaintances, friends and family (e.g. Facebook friends or followers on Twitter) and thereby generally raises its popularity. But it also has an effect on the creation of new dramas. It influences the popularity of certain dramas, leading to higher demand for those videos from streaming sites and additional income for broadcasters. When a substantial profit results, it raises not only the prestige of people involved in the production but also provides feedback for production teams and indirectly influences future productions.
International reception[edit]
East Asia[edit]
China[edit]
In China, South Korean programs on Chinese government TV networks accounted for more than all other foreign programs combined in 2006.[79]Hong Kong has its own channel for airing Korean dramas, TVB J2, but ATV also airs Korean series in prime-time slots.[80]My Love from the Star received enthusiastic feedback from China. It was viewed 40 billion times on numerous Chinese video sites.[81] The drama also spurred interest about Korea, shown by China's increased consumption of Korean products such as Chi Maek (chicken and beer) and Korean cosmetics.[82] Due to the success of Korean dramas in China, some dramas have been compiled to create feature-length films by combining all episodes into one film. The prodigious popularity of Korean dramas in the country has, on some occasions, been caught in the crossfire over diplomatic issues between China and South Korea. Most notable being the THAAD deployment in South Korea which resulted in the blocking of Korean dramas on streaming services across the country in late February 2017.[83] Following the block, Chinese TV shows showcasing Chinese culture and other similar content replaced Korean content on TV networks' prime time schedules in the country.[84] In November 2017, the ban was lifted unannounced following the appearance of Kpop groups on national TV and the move to resume importation of Korean dramas by Chinese streaming services.[85] In China, apps like IQiyi, which is currently also available in Malaysia, Singapore, Taiwan and some other countries in multiple different subtitles, are available to stream and download Korean dramas for viewing.
Japan[edit]
The first Korean drama to gain widespread popularity in Japan was Winter Sonata, which was broadcast on the NHK satellite channel NHK BS2 in 2003. The program was aired twice in the same year due to high demand from viewers. NHK also hosted a classical concert featuring Winter Sonata's tunes performed by Korean musicians. Korean dramas boost tourism between Korea and Japan, and is considered a possible way of improving strained relationships between the two countries, as series have become increasingly popular with Japanese viewers.[86][87] Conversely, the series Iris had several pivotal scenes shot in Akita, Japan, which led to an increase of Korean tourists in that part of Japan.[88][89][90]
Mongolia[edit]
In Mongolia, Korean dramas have become popular and are broadcast at prime time. Dae Jang Geum achieved success in the country and was broadcast five times due to this. Autumn in My Heart, Winter Sonata and Stairway to Heaven were other popular dramas. Popularity in Korean dramas has resulted in interest in the learning of the Korean language as well as Mongolians travelling to South Korea. It has also led to increased mutually cooperative relations between Mongolia and South Korea.[91]
North Korea[edit]
Watching films or TV dramas from South Korea is a serious offence in North Korea, punishable by execution,[92] but people still manage to acquire them on CDs and DVDs.[93]
Taiwan[edit]
In Taiwan, interest in Korean dramas began when Star in My Heart aired in 1999. Since then Korean dramas have become very popular and according to the South Korean mission 120 K-dramas had been broadcast in Taiwan in the first half of 2011.[94][95]
Southeast Asia[edit]
Brunei[edit]
In recent times Korean dramas have experienced growing popularity in Brunei. The growing impact of Korean culture in Brunei led to the hosting of the ninth Korea Forum in the country at Universiti Brunei Darussalam in 2010. Korean television dramas, movies, music, and clothing have had a great impact on the people of Brunei.[96]
Cambodia[edit]
The first Korean drama to be broadcast in Cambodia was Winter Sonata; it was, however, Full House that launched the interest in Korean dramas and entertainment in the country. Following the success of Full House, more Korean dramas have been dubbed into the Khmer language. Korean dramas have become popular particularly amongst youth in Cambodia.[97]
Indonesia[edit]
In Indonesia, Korean dramas have gained popularity and the popular Korean dramas Winter Sonata and Endless Love were aired on Surya Citra Media in 2002. Some Korean dramas have also been remade into Indonesian versions such as Demi Cinta in 2005 which was a remake of the popular drama Autumn in My Heart and Cinta Sejati, a remake of Stairway to Heaven. RCTI and Indosiar are examples of Indonesian television networks that air Korean dramas in the early times, but later Trans TV airing some of popular Korean dramas until today.[98][99]
Laos[edit]
The popularity of Korean dramas and pop culture in Laos has led to many Laotian tourists travelling to South Korea. Korean pop culture has gained popularity in Laos through the Thai TV channels broadcasting Korean dramas and K-pop bands in the country.[100]
Malaysia[edit]
In Malaysia, Winter Sonata began airing on TV3 in 2003, which started an interest in Korean pop culture in the country. Dae Jang Geum and Autumn In My Heart were also aired in Malaysia. The popularity of Korean dramas have resulted in a positive reception of Korean expatriates in Malaysia.[101]
Myanmar[edit]
In Myanmar, the K-drama Autumn in My Heart was broadcast in the country in 2001, which led to interest in Korean entertainment. When Dae Jang Geum was on air, the drama sparked an interest in Korean cuisine in the country.[102] The rising popularity of Korean dramas and music in Myanmar has led to the Korea Foundation for International Culture Exchange (KOFICE) distributing Korean dramas in the country for free.[103]
Philippines[edit]
See also: South Korean television dramas in the Philippines
In the Philippines, Korean dramas are politically popular on free-to-air television since 2003. GMA Network, ABS-CBN and TV5 are regularly airing Korean dramas dubbed in Tagalog. As of the 2020s, GMA Network has the highest number of Korean dramas broadcast in the Philippines.[104]
Singapore[edit]
In Singapore, Prime 12 (now known as Suria) originally aired the Korean drama Sandglass on a weekly basis in 1996 and aired Asphalt Man in 1997. Since 2001, they are shown on Chinese language channel MediaCorp Channel U daily.[105] The launch of KBS World, ONE TV ASIA, Oh!K, Channel M and streaming app, Viu in Singapore allows viewers to watch Korean dramas with a variety of subtitles in a matter of hours after the original South Korean telecast.[106] Currently, Singaporeans also get access to Korean dramas through China-originated online platform IQIYI, which first soft-launched its app in 2019 and planned to expand its international bases in Singapore.[107][108]
Thailand[edit]
When Dae Jang Geum was on air in Thailand, Korean food started gaining wide popularity.[109] Due to the lop-sided nature of entertainment exports favoring South Korea, the Thai government requested increased introduction of popular Thai films to South Korean media outlets. This led to the signing of an Agreement of Cultural Cooperation between the two countries in August 2004.[110]
Vietnam[edit]
Korean dramas have also gained popularity in Vietnam, particularly among women and young people. The fashion and hairstyles presented in Korean dramas have become very popular among the youth of the country.[111]
South Asia[edit]
Bangladesh[edit]
Korean dramas have gained popularity in Bangladesh in recent years.[112] Their rising popularity in the country has led to the Korea Foundation for International Culture Exchange (KOFICE), an organisation which aims to distribute Korean dramas for free to countries, cooperating with broadcasters to distribute Korean dramas for free in the country.[113] With the growing number of K-drama fans in Bangladesh, more and more Facebook groups are popping up, giving them a platform to share their love of the shows with fellow K-drama enthusiasts and take part in events and activities hosted by the groups. One of the largest Bangladeshi K-Drama groups, BD K-Family, arranges a yearly get together for its members. Other popular Facebook K-Drama groups include K-Drama Archive BD, Korean Lovers Bangladesh, and BD Korean Drama Fam- all of which create opportunities for both local and international fans to participate in discussions about their favourite shows.[114]
Bhutan[edit]
In the Himalayan kingdom of Bhutan, Korean dramas and entertainment have gained popularity particularly amongst youth. Prior to interest in Korean entertainment, Bollywood had largely been the most popular form of entertainment in the country. When the Bhutanese film industry launched in the mid-1990s, Bollywood was the only form of influence on the industry. However, in recent years Korean entertainment has made significant inroads in the country and influence the entertainment industry alongside Bollywood. Korean entertainment has managed to influence fashion, and many video shops now sell Korean dramas and movies alongside Bollywood films. The interest in Korean entertainment has also led to controversy with older generations voicing their concern that Korean entertainment will deteriorate Bhutanese culture and traditions.[115][116]
India[edit]
In India, after the late 1990s and around 2000 Korean dramas started becoming popular through piracy particularly in north-eastern states such as Manipur, Assam, Meghalaya, Sikkim, Arunachal Pradesh, Tripura, Mizoram and Nagaland as well as parts of eastern state like West Bengal and more recently in southern stateTamil Nadu.[117][118] Hindi films and TV serials were banned in Manipur in 2000, as a result local television stations began broadcasting subtitled Korean dramas instead from Arirang TV and KBS World.[119][120] Many young people in north-eastern, eastern and southern parts of India mimic the hairstyles, clothes of Korean actors while Korean fashion became very popular in the region.[121][122][123] As part of cultural exchange, public broadcaster Doordarshan telecasted Emperor of the Sea and Dae Jang Geum.[124] Korean dramas are dubbed in Tamil on Puthuyugam TV such as 'Boys over flowers', 'My love from another star','Playful Kiss' and many more.[125]Full House and Hwang Jini started airing on Firangi channel in 2008. Reliance Big TV offered KBS World to its subscribers from 2009 on satellite television. Local fan clubs got help from Consul-General of the Republic of Korea while Korean Cultural Centre in India (KCCI) under South Korean embassy started mapping popularity of K-dramas.[126] As per KCCI, the motivation to understand Korean drama properly without subtitles is driving the uptake of Korean language classes among the youth with females outnumbering males.[127]DD Bharati broadcast period drama Hur Jun in 2014 that received highest viewer ratings of 34 million from January to October 2014. Online streaming platform ZEE5 launched Descendants of the Sun to test the Indian market from 8 February to 1 March 2017 and found overwhelming positive response for Korean content with viewer-ship ran close to 56 million.[120] The telecast of Korean drama on Cable TV in 2017 stopped as Korean Broadcasting System Network wanted to raise syndication charges due to accumulation of large viewer-ship base in India that included pockets of Bihar, Kerala and Uttar Pradesh due to short 16 to 20 episodes format that are easier for binge-watching.[128][129] With increasing interest in Korean content among younger generation from tier-1 cities, Samsung through its My Galaxy mobile application is partnering with Korean Broadcasting System (KBS) in 2019 to bring exclusive content for 20 million Indian users.[130] With COVID-19 pandemic, Dish TV started premium K-dramas dubbed in Hindi and Tamil.[131] Korean dramas are also driving highest viewer-ship on Netflix with second season of TV series Kingdom attained the Top 10 series row as of March 2020. It's Okay to Not Be Okay is on Netflix Top 10 list in India for several weeks in August 2020 which has jumped to number 3 position. Netflix is increasing investment on Korean content to capture the Indian market.[132]Over-the-top media service (OTT) MX Player confirmed rising popularity and demand of Korean dramas among millennial population especially the women audience and is now making deals with South Korean television and radio network company Seoul Broadcasting System (SBS) to bring more content in India. Korean dramas and films became most visited category for ShortsTV in India.[133] As per media experts, the relatable themes in Korean content is fast catching the imagination of general public of almost every age group that is going mainstream and driving highest viewing especially after 92nd Academy Awards winning movie Parasite due to the shared Asian cultural heritage and societal values.[134][135][136] As per Parrot Analytics report, k-drama series 'Crash Landing on You', is on demand 1.2 times than an average TV series that is 89.8% more than all drama titles shown in India forcing broadcasters to make extra slots as women are at the forefront of consumer demand in Korean content category.[137][138] The COVID-19 lockdown in India proved to be an inflection point in 2020-2021 when Korean drama moved from a niche sub-culture segment to mainstream due to services like Netflix, Rakuten Viki and YouTube. It penetrated to every age group and social background. The popularity of Korean drama forced many over-the-top media service in India such as MX Player, Viu and ZEE5 to bring the dubbed versions in local language that will help cater to large non English speaking audience.[139][140][141]
Nepal[edit]
Interest for Korean dramas in the Nepal began when Winter Sonata aired on Kantipur Television Network in the mid-2000s. This led to the popularity of other K-dramas such as Boys Over Flowers, Autumn In My Heart, You Are Beautiful and Full House to name a few. Popularity of Korean media products has also led to interest of learning the Korean language and has resulted in the emergence of Korean language tutorials that air on ABC Television in the country. Korean dramas have become popular among Nepali youth and markets are often frequented by teenagers looking to buy the latest dramas. The hairstyles and fashion of Korean actors have influenced the fashion sense of Nepali youth. Fascinated by the lifestyle and food of Korea, restaurants serving Korean cuisine have also been established in the country.[142][143]
Sri Lanka[edit]
In Sri Lanka, the Independent Television Network aired Full House in 2009 and it proved popular. Dae Jang Geum aired on Rupavahini in 2012 and was dubbed in Sinhala under the title Sujatha Diyani (සුජාත දියණී), meaning "The Pure, Valuable Daughter" and received a viewer rate of over 90%.[144] The Independent Television Network, Rupavahini, TV Derana, Sirasa TV, Swarnavahini and TV1 air Korean dramas dubbed in the Sinhalese language.[145][146] Streaming service, Iflix also streams many Korean dramas with English and Sinhalese subtitles in the country, some as early as 24 hours after their original Korean broadcast.[147] Additionally, the popularity of Korean pop culture in the country has led to an increasingly warm reception towards Korean people.[148]
Middle East and North Africa[edit]
Since the mid-2000s, Israel, Iran, Morocco and Egypt have become major consumers of Korean culture.[149][150] Following the success of Korean dramas in the Middle East & North Africa, the Korean Overseas Information Service made Winter Sonata available with Arabic subtitles on several state-run Egyptian television networks. According to Youna Kim (2007), "The broadcast was part of the government's efforts to improve the image of South Korea in the Middle East, where there is little understanding and exposure towards Korean culture" (p. 31).[151] The New York Times reported that the intent behind this was to contribute towards positive relations between Arab & Berber audiences and South Korean soldiers stationed in northern Iraq.[152]
MBC4 (Middle East Broadcasting Channel) played a major role in increasing the Korean wave's popularity in the MENA region (Middle East and North Africa). This broadcasting channel hosted a series of Korean drama starting 2013 such as "Boys Over Flowers" (أيام الزهور), "You're Beautiful" (أنت جميلة), "Dream High" (حلم الشباب ), "Coffee Prince" ( مقهى الأمير). Some Arab countries opposed Korean content (dramas, reality show) out of fear that their youth would abandon Islamic traditions in order to adopt Western modernity.[153] However, this did not stop the Korean industries from exporting more Korean Dramas to the Arab world in the following years such as "The Heirs" ( الورثة). The popularity of Korean dramas in the MENA region-and its continuous growth- originates from the content of these dramas. As the majority of the plots of Korean dramas focus on social issues (love between different social classes or family problems for instance),[154] the Arab audiences fit themselves and could relate to the Korean socio-cultural values as they seem appealing to them. So Korean dramas play the role of an equilibrium point where two, somehow, different cultures could create a new cultural space where these two different cultures could meet.
Iran[edit]
Iran's state broadcaster, Islamic Republic of Iran Broadcasting (IRIB), aired several Korean dramas during prime time slots in recent years, with this decision attributed by some to their Confucian values of respect for others, which are "closely aligned to Islamic culture",[155] while in contrast, Western productions often fail to satisfy the criteria set by Iran's Ministry of Culture and Islamic Guidance.[156] In October 2012, the Tehran Times reported that IRIB representatives visited South Korea to visit filming locations in an effort to strengthen "cultural affinities" between the two countries and to seek avenues for further cooperation between KBS and IRIB.[157][158] According to Reuters, until recently audiences in Iran have had little choice in broadcast material and thus programs that are aired by IRIB often attain higher viewership ratings in Iran than in South Korea; for example, the most popular episodes of Jumong attracted over 90% of Iranian audience (compared to 40% in South Korea), propelling its lead actor Song Il-gook to superstar status in Iran.[159]
Iraq[edit]
In the early 2000s, Korean dramas were aired for South Korean troops stationed in northern Iraq as part of coalition forces led by the United States during the Iraq War. With the end of the war and the subsequent withdrawal of South Korean military personnel from the country, efforts were made to expand availability of K-dramas to the ordinary citizens of Iraq.[160] In 2012, the Korean drama Hur Jun reportedly attained a viewership of over 90% in the Kurdistan region of Iraq.[160] Its lead actor Jun Kwang-ryul was invited by the federal government of Iraq to visit the city of Sulaymaniyah in Kurdistan, at the special request of the country's First Lady, Hero Ibrahim Ahmed.
Egypt[edit]
Autumn in My Heart, one of the earliest Korean dramas brought over to the Middle East, was made available for viewing after five months of "persistent negotiations" between the South Korean embassy and an Egyptian state-run broadcasting company. Shortly after the series ended, the embassy reported that it had received over 400 phone calls and love letters from fans from all over the country.[161] According to the secretary of the South Korean embassy in Cairo Lee Ki-seok, Korea's involvement in the Iraq War had significantly undermined its reputation among Egyptians, but the screening of Autumn in My Heart proved "extremely effective" in reversing negative attitudes.[162]
Europe[edit]
Romania[edit]
The first Korean drama in Romania was aired on TVR in August 2009 with Dae Jang Geum, and in the following month it became the third most popular television program in the country.[163] Since then, Korean dramas have seen high ratings and further success.[163][164]
North America[edit]
USA[edit]
The Asian American-targeted cable TV channels AZN Television and ImaginAsian aired Korean dramas alongside content from China, Japan, India, Thailand and other parts of Asia. The dramas were aimed at the Asian American community before the channels dissolved in 2008 and 2011 respectively.[165][166]
In November 2008, Netflix[167] began offering several Korean dramas as part of its video selection. In August 2009, DramaFever began offering free subtitled video streaming service, with video advertisements, in the United States.[168][169]
Singapore-based Viki streams popular Korean dramas across the world including North America, with subtitles in 70 languages.[170] Companies in Asia have also designed streaming services available online and as mobile apps targeted towards overseas Asian communities. "MobiTV" created by the Sri Lankan company, Bhasha is a streaming service and mobile app aimed at the Sri Lankan community and streams Korean dramas dubbed in the Sinhalese language alongside other content aired in Sri Lanka.[171] "Roopa", created by the same company, is another service available as a mobile app also aimed at the Sri Lankan community, it too streams Korean dramas dubbed in the Sinhalese language.[172] Chinese company PPTV is another example, a mobile app, "PPTV网络电视HD" streams Korean dramas aimed at the Chinese community alongside content that is primarily available in Mandarin, Cantonese and Korean but also increasingly in English.[173][174]
Additionally, Korean dramas are available at online DVD retailers. Some Korean dramas, however, are not available for region 1 (North America) encoding and NTSC video format. Amazon offers streaming of Winter Sonata for a fee.[175]
KBFD-DT in Honolulu, Hawaii broadcasts a majority of Korean dramas on its daily schedule, as well as offering the programs on sale at its website and on demand through its K-Life channel on Oceanic Time Warner Cable. Another Honolulu outlet, KHII-TV devotes three hours of its Sunday afternoon schedule to Korean dramas.
KTSF, a channel aimed at the Asian American community in San Francisco, California airs Korean dramas as part of its schedule alongside content in Mandarin, Tagalog, Hindi, Korean, Vietnamese, Japanese, Taiwanese and Cantonese.[176]
South America[edit]
Between 2001 and 2002, South America began to absorb Korean programming. The 1997 series Star in My Heart began its successful broadcast in Chile, Peru and other countries in the area, but these last two were where More had repercussions, including an Ahn Jae-wook fan club founded.[177] In 2002, Winter Sonata, produced by KBS 2TV, became the first series in the region to match the success of Meteor Garden, attracting a cult following in Asia. Marketing sales, including DVD sets and novels, exceeded $3.5 million in Japan. In 2004, then-Japanese Prime Minister Junichiro Koizumi noted that the series' male lead was "more popular than I am in Japan."[178] Other Korean dramas released in later years such as Jewel in the Palace (2003) and Full House (2004) had comparable levels of success.[179]
Chile[edit]
In Chile, which was one of the first countries on a global level, the phenomenon of Korean wave, which is also known as hallyu, began with the first drama aired that was the original 1997 MBC series Star in My Heart in 2001 by Chilevisión past midnight[180] and later years later in 2003 it was retransmitted by Canal 21 (Chillán) [es] in Chillán, but it was not until 2006, when Stairway to Heaven was broadcast at 1:00 pm on the public television channel Televisión Nacional de Chile, which achieved notoriety of this genre being compared to La madrastra—an old very successful Chilean soap opera—due to the high audience figures in its schedule competing directly with other channels, it was also broadcast by TV Chile to other continents dubbed into Spanish.[181][182]
Ratings and viewership[edit]
Viewership ratings are provided by two companies in South Korea: Nielsen Korea and TNmS.[183] Originally, Media Service Korea (MSK) was the sole company providing TV viewership ratings using people meter since 1992, but was only limited to Seoul Capital Area.[183][184] In 1998, TNS Media Korea began as a rival company in partnership with Taylor Nelson Sofres (TNS) which extended the service to five major cities; it was officially launched in June 1999 with a more sophisticated viewership rating survey technique.[183] While, in August 1999, AC Nielsen acquired MSK and rebranded it as AC Nielsen Korea and expanded the audience rating survey to the whole country with the aim to increase the credibility of the ratings.[183] In 2005, AC Nielsen Korea signed a merger with AGB Group and AGB Nielsen Media Research was established.[185] AGB Nielsen Media Research merged with KADD Nielsen Media Research in January 2013, and the official name was changed to Nielsen Korea.[183][186]
In 2010, TNS Media Korea was renamed to TNmS (Total National Multimedia Statistics).[187][183] Since late 2018, TNmS stopped providing data to the public through their websites, and instead occasionally releases the ratings through news agencies such as BreakNews.[188]
List of highest-rated series on terrestrial television[edit]
See also: List of South Korean dramas
The list was compiled from data by Nielsen Korea, based on the episode of the highest viewership since 1992.[189]
By household rating[edit]
List of highest-rated series on cable television[edit]
The following dramas air on a cable channel/pay TV which normally has a relatively smaller audience compared to free-to-air TV/public broadcasters (KBS, SBS, MBC and EBS).
By household rating[edit]
Sours: https://en.wikipedia.org/wiki/Korean_drama
While the South Korean TV and film industry has been around for over half a century, the last two decades in particular mark a rise in global recognition of the incredible body of work—culminating in a historic win for Parasite at the 2020 Academy Awards and South Korean actress Yuh-Jung Youn's win for Best Supporting Actress for her work in Minariat the 2021 Academy Awards. Further evidence? The latest Netflix global hit is a 2021 K-drama called Squid Game. Like Parasite, Squid Game is an unpredictable parable that explores life under socialinequality—and takes the characters' fights for survival to extreme heights.
Already binged it? Whether you're looking to dip your toes into more K-dramas, or you're already a fan seeking additional highly-rated, easily streamable options, here are 22 of the best Korean dramas that you can watch on Netflix right now—from romantic comedies, to superhero flicks, zombie horror shows, crime-busting detective thrillers, historical fiction and more. Pick a genre, and settle in for a marathon, because we can guarantee you're going to find your latest binge-worthy addiction.
Sours: https://www.oprahdaily.com/entertainment/tv-movies/g30852507/best-korean-drama-series/
Here's a post I probably first drafted at the beginning of this blog (aka five years ago) and then let sit in the blackhole of my drafts folder: the best Korean dramas I recommend to anyone who will listen!
I have been a watcher of Korean dramas for a decade and an Asian drama watcher for even longer. For years I suffered through bad kiss scenes, questionable fashion choices, and frustratingly conservative romances complete with aggressive wrist grabs. You guys don't know how good you have it these days!
Anyway, I completely missed the first Hallyu (Korean Wave), so I never got sucked into "Winter's Sonata" and its contemporaries. Instead, my introduction came because one of my favorite Taiwanese dramas, "It Started with a Kiss," was turned into a Korean one called "Playful Kiss" in 2010. The drama was cute but forgettable. What it really introduced me to was how much better quality K-dramas were.
I went from "Playful Kiss" to "Boys Over Flowers" since it was based off my favorite manga. Considering "Boys over Flowers" helped launched the second Hallyu, you can see how quickly I was sucked in!
Now, ten years later and I feel like a seasoned pro! Keep in mind, I've watched significantly less dramas than a hardcore fan. I probably average a few a year and walk away loving even less.
Before I tell you my favorites, here are some quick tips for viewing!
My Best Korean Drama Tips
I know what you're thinking. It's easy TV, why the heck do I need tips for watching? Trust me, friend, as any K-drama watcher knows, there's a certain art to enjoying them, especially if you don't speak Korean.
1. Korea is much more conservative than you might be used to.
Socially, Korea is like… the US in the 1950s and 1960s. Trust me, it's progressed a lot in the last decade, but it's still got a ways to go. The fact that "Itaewon Class" had a trans character is like the most risk-taking I've ever seen.
This means the restrictions for dramas are crazy high, and why if you get a love scene, it's like the most PG love scene known to man. It's also probably why kiss scenes back in the day were so, so, SO bad.
2. The best stations these days are tvN and JTBC.
You know how HBO and Netflix can get away with all sorts of tawdry things ABC, NBC, and CBS in the US can't? Same with TvN and JTBC. Keep in mind this is still Korea, so add about ten more layers of conservative restrictions.
Anyway, I'm not super sure when tvN and JTBC became the phenomenons they are today, but they far outperform KBS, SBS, and MBC in terms of cultural relativity. I'm sure regular network dramas still get higher numbers, but you don't hear people talking bout them nearly as much as you do about tvN or JTBC dramas.
3. Never watch a drama live
Of all the times I've watched a drama lives, I've been satisfied once. Every other time I've wanted to throw my laptop at a wall. There's this curse most dramas face because of how they produce them. Without fail, the second half of most dramas do two things: 1) dragggggg and 2) begin to make no sense and go off the walls. If you've ever experienced this, I'm sorry. It's caused a lot of distrust in me. After two back-to-back betrayals, I actually stopped watching them for a year and a half!
Why does this happen, you ask? Well, the problem is when a show goes live in Korea, it's actually only been pre-filmed for the first six or so episodes. Which means after those six, everyone is on set trying to pump out at least two episodes a week. That's minimum an hour a week but usually it's closer to three with the big dramas. With 30-minute episodes, you're looking at a minimum of an hour/week but most dramas wind up being 90 minutes, which means it's more like three. Movies half that long take months to film and edit, so imagine how hectic and crazy drama sets are.
This also means drama teams get realtime feedback on their plots and couples and it can really affect how the plot goes towards the end. It drives me NUTS.
For example, one drama I kind of liked but am not recommending below is "The Producers." Initially it was like a mockumentary-type show and I thought the premise was so fun! Sadly, Koreans apparently did not find the style interesting, so PDs scrapped the whole thing before it got going and it became paint-by-numbers drama that not even the charm of the main cast could make unique.
4. Remember, K-dramas take more concentration than regular TV.
This kind of a "duh" tip, but I do think it's important to note. With a K-drama, you need to focus 100% because otherwise you won't understand a thing going on. I feel like when we watch shows in our native language, we can do ten other things simultaneously and still know what's happening, but unless you speak fluent Korean, this will not ring true.
And you know how I said many dramas suffer from the second part curse? Yeah, imagine having to sit through minutes of just staring without playing Candy Crush on your phone.
5. The best places to watch are Netflix and Viki.
*Puts on bifocals* Back in my day, we had to find all sorts of way to watch our favorite Asian dramas. I remember downloading a special video player just to get subtitles to work or scrounging Youtube for bits and pieces.
These days, it's so easy to watch any of these K-dramas! Most of them are on Netflix but if you can't find them there, then head over to Viki, which has been around forever.
Bonus: I also like going over to Drama Beans to read recaps and comments after I've finished an episode.
6. Don't sleep on the OSTs
So unlike US shows, which typically use songs that already exist, Korean dramas create brand new original soundtracks (OSTs). Yes, every single drama gets its own score and original songs. And if a drama does well, those songs usually dominated the digital charts. I highly recommend getting into the OSTs; you'll have songs you still listen to years later.
The Best Korean Dramas I Tell Friends to Watch
Alright, now what you came here for! My picks for the best Korean dramas; aka the ones I tell all my friends to watch.
1. Crash Landing on You (2019-2020)
QUICK PLOT
When Yoon Seri falls into North Korean territory after a freak accident, she must rely on a group of soldiers to keep her safe all while falling in love with their leader, Ri Jeong Hyuk.
WHY I LOVED IT
Remember when I said of all the dramas I've watched live, I was satisfied once? This was that one exception! I still can't believe I watched it live after all the betrayal I've suffered, but between Hyun Bin's cheek bones, Son Ye Jin, and the plot, I just had to.
The premise honestly sounds ridiculous but "Crash Landing on You" turned out to be SO GOOD. It's just the right amount of funny, sweet, and utterly heart-wrenching. Two dramas have made me cry at the end, and this was one of them. Every character was so well done, from the duckling soldiers (got that term from Drama Beans) to the funny ahjummas and more, our lead couple was so well supported.
On a bigger scale, I think this did a LOT to humanize the typical North Korean. One of the things I've heard is that the longer the peninsula remains split, the more foreign North Koreans seem to the south (and the world), and I think this show and its popularity has done a lot to combat that.
2. Hotel del Luna (2019)
QUICK PLOT
Jang Man Wol runs a peculiar hotel right in Myeongdong. Hotel del Luna isn't just any old luxury hotel, it's a luxury hotel for ghosts, and Man Wol has been running it for over a millennium. After meeting Goo Chan Sung's father, she makes a deal with him that Chan Sung will come work for her hotel as their human manager in return for his father's life and financial security.
WHY I LOVED IT
It's always fun to watch IU play a feisty character because what got her famous was being the Nation's Little Sister! I'm definitely a fan of where she's taken her career the last decade, and "Hotel del Luna" is one of her many amazing decisions.
The mystery of why Man Wol is made to be the hotel CEO is interesting, and the blossoming romance between she and Chan sung is hilarious. Plus I love the secondary characters so much! Quite the crush on Block B's PO after this and his variety stuff.
A big thing that makes "Hotel del Luna" unique is how it handles death, and we see it throughout the whole show. I feel like it's actually been very cathartic for me watching the different ghost plot lines of each episode.
Oh, and Man Wol's fashion is incredible.
3. Hello My Twenties! (2016 & 2017)
QUICK PLOT
This drama follows five girls who wind up rooming together at a house called Belle Epoque while attending the nearby university. Throughout the show you get to know each of their personalities and follow their different trials and tribulations. There are two seasons, and one of the girl is swapped out for a new character while one of the original characters changes actresses. It's done really well, don't worry. I'm still mad we don't have a Season 3.
WHY I LOVED IT
This drama! I love it so much and I just want to hug all the girls and make sure they get through life okay. You'll be rolling with laughter and then wishing you too lived with a group of girls in a city like Seoul.
It also has SO MANY good messages for women, especially in Korea, and I've never seen a show that so casually references things we all go through. Sex? Periods? Adult diapers? Female sexuality? It has it all. Plus, it also goes into a lot of heavier material incredibly well: work harassment, stalking, domestic abuse, childhood trauma… I promise it doesn't feel forced.
4. Reply 1997 (2015)
Korean Name: 응답하라 1997
Best OST Song:"All for You" Cover by Eunji & Seo In Guk (org. by Cool); Did you know there's actually no official OST for Reply 1997? This cover was done after the fact!
QUICK PLOT
Turn back the clock to 1997 and experience what it was like to be a Korean teenager in the late nineties during the First Generation of K-pop stars! In the present day (2012) our cast meets up for a high school reunion and we must guess who the main character's husband is based on the story that unfolds 15 years prior.
WHY I LOVED IT
You know, maybe "Reply 1997" was what started the cable channel storm. It seriously did SO much in its run:
7.5% viewing at a time when successful cable dramas got 1 to 2%
filmed mostly in Busan, complete with the satoori dialect, at a time when nearly all dramas were filmed in Seoul
featured an LGTBQ character in a satisfying way
sparked the retro trend that is still very much a thing today
I binge-watched in college at some point during my junior or senior year because I liked APink and Eunji. It immediately became my favorite drama. The pacing is perfect as all 16 episodes are under 30 minutes, so you can watch this in a day or two.
Even if you have no relation to Korea in the nineties and won't get 80% of the pop culture references, you'll enjoy the ride. Just the pure fact they managed to get Eun Ji Won, a First Gen idol, to convincingly play a high school student in 2012 is a joke goldmine. By the end, you'll have all the feels for this rowdy group of friends and wish you had twice as long with them.
5. Reply 1988 (2015-2016)
QUICK PLOT
Turn back the clock another nine years to Seoul in 1988! This is the year of the Seoul Olympics and takes place right in the middle of Korea's rapid growth from a war torn country of the 50s to the technological behemoth it is today. In a little Seoul neighborhood, lives a handful of families whose kids are all teenagers navigating the late eighties.
WHY I LOVED IT
As you might guess, the success of "Reply 1997" spawned two more spinoffs with the Sung Dong Il and Lee Il Hwa playing the main parents in every iteration. While there's a "Reply 1994," I didn't love it and thought it got a bit draggy towards the end, which why it's not on this list.
By the time "Reply 1988" premiered in 2015, the show's team knew what to do to make the perfect drama. While the first two relied more heavily on the main romance, they must have realized the real reason Korean audiences loved them was more for the accurate nostalgia and cast camaraderie. So what to do they do with a bigger budget? Amp up the scenery and the cast!
More than 1997 and 1994, which are in the past but still somewhat resemble the present, 1988 really does feel like we're seeing a whole different Korea. Not only do you care about the main teen crew, you care about each and every one of their families and their individual plot lines. If you got nostalgic watching the first two, you're going to be sobbing by the time Duk Seon warns her friends not to try to revisit their old neighborhood because too much as changed in the last 30+ years.
Guys, I loved this drama so much that I'm not even mad about the romantic ending. It's so much more of an ensemble cast than any other drama on this list, so it softens the blow. I watched it semi-live, so I was pretty ticked off at how shoehorned the romance ending was, but looking back, in a 90 minute episode, that was maybe 5 minutes of disappointment versus 85 minutes of happiness.
6. She Was Pretty (2015)
QUICK PLOT
Kim Hye Jin wants her childhood friend, Ji Sung Joon, to remember her as the pretty preteen she once was, so she gets her friend, Min Ha Ri, to pretend to be her when they reunite as adults. The only problem is he's now her superior at The Most magazine.
WHY I LOVED IT
Listen, if you developed a crush on Park Seo Joon from "Itaewon Class," you'll adore him in "She Was Pretty," and he has better hair. This has to be one of my favorite "realistic dramas" as the cast is so damn charming and the plot is fun and light. Super Junior's Siwon absolutely steals the whole show as the goofy, eccentric senior feature editor, and I still haven't looked at danmuji the same way since.
Of all the "makeover" dramas, this one does the best job. A reviewer pointed this out, and I agree, one of the best things about the male lead is that he never once comments on her appearance, no matter what changes she goes through. And I love that her makeover is temporary and more of a confidence boost than a complete lifestyle change.
7. The Last Empress (2018-2019)
QUICK PLOT
What if Korea still had a monarchy? Pretty much the premise of this drama as Emperor Lee Hyuk marries commoner Oh Sunny, and she must go from being a silly girl with a crush to the Empress of the Korean Empire.
WHY I LOVED IT
I watched this drama in 3 days. THREE DAYS. Sure, the episodes are around 35 minutes, but there are FIFTY-TWO episodes and I watched it on Viki, which meant commercials! From the initial scene where they're exhuming the body of the first empress to the very last scene, this is the most bonkers K-drama train I've ever ridden. I struggled to even give you a quick plot because there's SO much going on every episode!
Let us all take a moment to appreciate Jung Nara who is a national treasure who manages to go through so many different emotions in one drama. Also honorable mention to Princess Ari, who is hilarious, and Sunny's family, who have the best reactions to everything.
8. Fated to Love You (2014)
QUICK PLOT
A remake of the Taiwanese drama, Lee Gun and Kim Mi Young find themselves in a shotgun marriage after their accidental one night stand ends up with a pregnancy.
WHY I LOVED IT
This was another K-drama where I'd seen the original first, so I knew how much heartache I was asking for. I do feel like they sanitized things a lot (this is where I learned that pounding rice cakes is a euphemism for sex) and added a lot more plot elements the Taiwanese omitted, but it's still a lot of fun and pulls at your heartstrings. Plus we've got Jung Nara again, this time with Jang Hyuk, and the two are just perfect in their roles.
9. I Need Romance 3 (2013-2014)
QUICK PLOT
A noona romance! Heh heh. Shin Joo Yeon is 33 and committed to her job at a home shopping network. Her love triangle includes the 26-year-old Joo Wan who she used to babysit until he went abroad 17 years ago, and her sunbae, Kang Taeyoon, who's still hurt by his ex-girlfriend, Oh Se Ryung.
WHY I LOVED IT
There are three "I Need Romance" series, but the third is the only one I really liked (more on the others below). Of all of them, this one balances the romance with the workplace and friendships the best. The main romance is really sweet, and at the time there weren't a lot of shows where the woman was the older, more established one in the relationship.
10. Secret Garden (2010-2011)
QUICK PLOT
Gil Ra Im is a tough stunt woman whose only weak spot is her fan love for Oska, a Hallyu idol, while Kim Joo Won is a prickly department store CEO and also cousin of Oska. While the two initially clash, they develop feelings for each other. Toss in a case of body swapping, you've got the biggest drama of 2011!
WHY I LOVED IT
I'm honestly not sure how this drama would hold up today because technically it's pretty full of cliches. However, it was my favorite drama for a long time even though the second half just barely avoids the curse. I think it's a lot because Ha Ji Won and Hyun Bin were so good in it and their chemistry was off the charts. I remember I used to have the finale saved to my iTunes, and I'd watch it for a pick-me up!
2 Drama's I'm in the Process of Finishing or Need to Start
11. Mister Sunshine (2018)
I'm about halfway through this historical drama and it's just utterly breathtaking. The shots of the Korean countryside are something else. It focuses on the Korean Empire in the late 1800s as Eugene Choi returns to his homeland as an American soldier.
It feels more like a complete movie production than it does a drama, especially with names like Lee Byung Hun and Kim Tae Ri attached. The only things I don't love is the massive age gap (luckily romance is like 1/100th of the drama), and the English acting, which is the best I've seen in an Asian drama but not great.
12. Kingdom (2019 & 2020)
Autumn has been telling me to watch this for a year, and she is the pickiest person I've ever met when it comes to pop culture, so I'll take her word. It sounds kind of ridiculous: zombies in Joseon, but it's supposed to be amazing. And Autumn says the cinematography is some of the best she's ever seen of Korea!
4 Dramas Not to Waste Your Time On
1. Cheese in the Trap (2016)
This drama starts off SO good. Like the webtoon is incredibly clever and nuanced, and the show seems to do a good job taking that on and then…. the main guy disappears half way through the show! Turns out there was drama behind the scenes that we'll never know the details of, but it makes the show go from clever to bad in a matter of episodes. I don't even think I watched the finale once I read the recap!
2. 12 Years Promise (2014)
I could not get through this drama. It was so drawn out and boring, and the characters made no sense. Even how they wind up sleeping together is weirdly forced and awkward. I started skipping through it to see what would happen, and when I realize the way they reconcile in the end was crappy too, I gave up altogether.
3. I Need Romance
Cho Yeo Jeong (who you guys might recognize as the rich mom from Parasite), is one of my favorite actresses. However, this drama was a mess. Her character was insanely annoying (like you know Cho is an amazing actress when you realize she was doing Concubine and Bangja around this time). The whole relationship between In Young and Sung Soo is weird and toxic, and I don't really think he ever did anything to deserve being forgiven for cheating on her.
4. I Need Romance 2012
So… I didn't hate this one as much as I disliked the first one. But it didn't really do anything for me. I remember thinking Ji Hoon and Yeol Mae got way too serious way too fast for the plot, and Yeol Mae was just kinda whiny.
Phewww! If you just read nearly 4,000 words on my K-dramas, I'm sorry haha, But also, I hope it was helpful! Now I have a proper list to send my friends when they ask me for recs!
What do you think are the best Korean Dramas to watch?
share this on pinterest
want to support?
I'm always grateful when friends and readereach out wanting to support There She Goes Again. Truthfully, I'm just happy my posts are helping people travel! If you'd like to support the blog, here are some companies and brands I'm affiliated with. Simply click the links, and I receive a small commission at no extra cost to you!
TRAVEL
BLOGGING / SOCIAL MEDIA
Follow:
Sours: https://thereshegoesagain.org/best-korean-dramas-to-watch/
Dramas best korean
7 Best Korean Drama Of All Time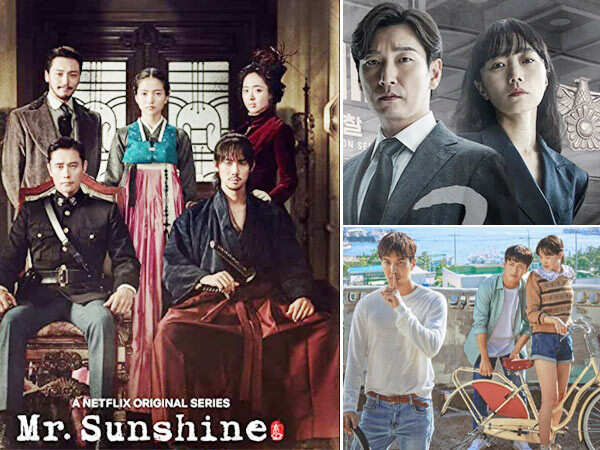 In these last few years we have seen an ever growing fanbase for
Korean dramas
. And the lockdown has only increased it. From cliffhangers in each episode to dramatic separations and love triangles there are a lot of things K-dramas have to offer. In these recent years we have seen
Korean filmmakers bringing in a whole new narrative for every genre, from rom-coms, to crime thrillers
. And as popular OTT platforms are introducing more and more shows it can be quite tricky as to which ones to add to your watchlist. Here we have listed some of the
best Korean drama of all time
from the lot which will make you a fan too. So overcome the subtitle barrier and watch these shows now!
1. Best Korean Drama Of All Time - Crash Landing On You (2019)
Starring Son Ye-Jin and Hyun Bin, Crash Landing On You revolves around Yoon Se-Ri (Son Ye-Jin) a successful entrepreneur and heiress from South Korea who crash lands in North Korea while paragliding because of a tornado. She then finds herself stuck in a tree in the Korean Demilitarized Zone above Korean officer Ri Jeong-Hyeok (Hyun Bin). What follows then is a heart-warming romance between Jeong-Hyeok who attempts to hide Se-Ri and send her back to South Korea. This show will take you through a rollercoaster of emotions Itaewon Class starring Park Seo-Joon, Yoo Jae-Myung, Kim Da-Mi is a one of a kind show. The story and the chemistry between the main leads is inevitable. You will seriously do a favour to yourself if you watch this show.
2. Best Korean Drama Of All Time - Itaewon Class (2020)
y revolves around Park Sae-Ro-Yi (Park Seo-Joon) who after his father's sudden death decides to bring down a powerful restaurant CEO, Jang Dae-Hee (Yoo Jae-Myung) of Jangga Group, who was behind Park Sae-Ro-Yi's expulsion from school and his three-year prison sentence. Despite being a convict Sae-Ro-Yi opens up his own bar and restaurant and aims to make it a top franchise in Korea. He then hires a group of misfits who are led by Jo Yi-Seo (Kim Da-Mi) who becomes the restaurant's manager and competes against CEO Jang. Itaewon Class keeps you hooked to your screens and is worth the watch. The cast's performance in this show is brilliant.
3. Best Korean Drama Of All Time - Kingdom (2019)
This show is one of the best horror series ever made. Starring Ju Ji-Hoon and Bae Doona the show revolves around how after a king collapses rumors suggest that he is no more. Then his son Crown Prince Lee Chang (Ju Ji-Hoon) sets on a journey to investigate the truth about his father's condition. He then goes on to discover that a contagious virus is spreading which is turning the living into undead. One side, the battle is with the infected people and on the other hand it is with people who are hungry for the power of the throne. Both the seasons of the show are fresh and intriguing. From the direction, costumes to cinematography and acting, the whole cast and crew has done a brilliant job. This show is perfect for all the horror thriller lovers out there.
4. Best Korean Drama Of All Time - Mr. Sunshine (2018)
Mr. Sunshine is all things emotional, funny, educational and passionate. Starring Lee Byung-Hun and Kim Tae-Ri the show revolves around a young boy Eugene Choi (Lee Byung-Hun) who is born into slavery but escapes from Joseon to America in 1871. After a few decades Eugene Choi (Lee Byung-Hun) who becomes a captain of the U.S. Marine Corps, returns to his home country for a mission. He then falls in love with Go Ae-Shin (Kim Tae-Ri), a noblewoman who is secretly connected to a group of Korean independence fighters. Set in the early 1900s the show portrays an amazing love story. The makers of Mr. Sunshine did a marvelous job showcasing the clash of cultures, honors and values. This show is an eye candy for all the history romantic buffs.
5. Best Korean Drama Of All Time - When the Camellia Blooms (2019)
When the Camellia Bloom is a rom-com with a twist. Starring Gong Hyo-Jin, Kang Ha-Neul, Jung-Ga-Ram and Kim Ji-Seok, the series revolves around the life of Dong-Baek (Gong Hyo-Jin) who runs a restaurant-bar called Camellia in Ongsan, and is always the target of gossip because she's a single mother and serves liquor to men. Regardless of all the unnecessary gossip in town, police officer Hwang Yong-Sik (Kang Ha-Neul) falls madly in love with Dong-Baek. Meanwhile Kang Jong-Ryeol (Kim Ji-Seok) Dong-Baek's ex boyfriend who is a basketball player returns to her life. While Dong-Baek tries to find happiness, there is a serial killer in town and Dong-Baek might be his next target. What we loved about this show is the chemistry between the actors and how the makers have combined rom-com and suspense thriller.
6. Best Korean Drama Of All Time - Prison Playbook (2017)
If you're into comedy shows then Prison Playbook is the perfect show for you to binge watch. Starring Park Hae-Soo and Jung Kyung-Ho the show revolves around Kim Je-Hyeok (Park Hae-Soo) a superstar pitcher in Korea, who gets sentenced to one year imprisonment for attacking a man who tried to sexually assault his sister. The story continues as he tries to settle into prison life and reconnects with his childhood friend Lee Joon-Ho (Jung Kyung-Ho) who is now an officer at the correctional facility. The story, characters and intensity of the series fit perfectly. Prison Playbook examines corruption in prison with parts of dark comedy which is exactly what we love about this show.
7. Best Korean Drama Of All Time - Stranger (2017)
Stranger is the perfect thriller suspense show. Starring Cho Seung-Woo and Bae Doo-Na the series revolves around a prosecutor named Hwang Shi-Mok (Cho Seung-Woo) who lacks empathy after undergoing a brain surgery as a child. He then teams up with a soft hearted police lieutenant Han Yeo-Jin (Bae Doo-Na) who teams up with him to solve a murder. As the two investigate to find the culprit, they discover the corruption taking place within the system. The show is well made, the plot is quite gripping, and is very well written. So If you're a sucker for good murder mysteries then you need should definitely watch this.
Read More - Unmissable Web Series of 2020-21
Subscribe to our YouTube channel
Recommended for You
Loading Next Article...
Site Blocked
In order to access website you need to accept our cookie policy.
View cookie policy.


Sours: https://www.filmfare.com/features/best-korean-drama-to-binge-watch-right-now-50081.html
25 Best Korean Dramas You Have To Watch Before You Die! [Updated 2021] Ft HappySqueak
K-Drama Guide: 20 New and All-Time Favorite Shows That Will Get You Hooked
By Cielo FernandoJuly 9, 2021
If you haven't been already consumed by any KDrama, first of all, are you living in a cave? Okay, we won't judge you. But seriously, why?
Korean Drama, also known as K-Drama, is not like any other show. They are interesting, satisfying us with amazing storylines and unpredictable plot twists, and…addicting in so many ways. Because of its big hit across the world, we can't deny its cultural impact on the world as they have become a worldwide phenomenon.
If you're looking for a good laugh, an ugly cry, an intense scare, or a good dose of kilig, one Kdrama (or probably 10) will give you your fix.
Best KDrama to Watch This 2021
From over-the-top kilig vibes to incredibly heartbreaking in a heartbeat, this Kdrama list will have you staying up until 3am. Here are the new and all-time recommended Kdrama you must watch!
Penthouse
Start-Up
Fight For My Way
Mine
Taxi Driver
Law School
Descendants of the Sun
So I Married An Anti Fan
Mouse
Crash Landing on You
It's Okay Not to Be Okay
The World of the Married
Weightlifting Fairy Kim Bok Joo
Pinocchio
Full House
Reply 1988
The Uncanny Counter
Sweet Home
Love Alarm
Hospital Playlist
What's inside this blog?
1. Penthouse
The Penthouse Kdrama is Korea's newest and most talked-about series. It follows the stories of three wealthy families vying for power in the exclusive Hera Palace community–a luxurious 100-floor penthouse apartment–putting the spotlight on three women who have many secrets and hidden ambitions. Sim Su Ryeon, who was born into wealth, a loving wife and mother who would do anything for her children, is the queen of the penthouse apartment. Cheon Seo Jin, the prima donna of the residence, does all she can to give everything to her daughter. Oh Yoon Hee, the one who comes from a poor family, but strives so hard to enter high society by becoming the queen of the penthouse. Their world begins to collapse after a mysterious girl falls to her death and the three attempt to cover up the location of her death to protect the reputation of Hera Palace. The Penthouse Kdrama is intense, messy, and we're
You can watch this Korean Drama on Viu.
2. Start-Up
If you're a fan of Bae Suzy and Nam Joo-hyuk, this Korean drama will get on your nerves, in a good way of course. Start-Up is a series that revolves around a group of young individuals who are in their late 20s and early 30s, aspiring to launch their dreams into reality through the tech accelerator for entrepreneurs called Sandbox. Suzy and Joo-hyuk's characters Seo Dal-mi and Nam Do-san were chosen to join the famous Sandbox along with Dal-mi's older sister Won In-jae who has everything society respects: a strong educational background, beautiful appearance, and money. The three of them will compete in a contest to be the best. Little does Dal-mi know, someone important from her past has her back throughout this start-up journey. The main characters will compete for success and love, and throughout the series, you will be rooting for Dal-mi to end up with Do-san or Han Ji-pyeong, played by Kim Sun-ho. Personally, we are team Do-san. If you feel like the world is against you and you're close to giving up, Start-Up is the best Korean drama for you as it will inspire you to follow your dreams whatever challenges you.
You can watch this Kdrama this 2021 on Netflix.
3. Fight For My Way
Fight For My Way is a drama about a former taekwondo champion (Ko Dong-man played by Park Seo-joon) and an information desk worker (Choi Ae-ra played by Kim Ji-won) who aspire to chase their dreams in a world that is rude to those with mediocre credentials, or those who don't fit in the society's "standards." But even if the world isn't kind to Dong-man, Ae-ra, Joo Man, and Sul Hee, they will not stop fighting for their way towards their dreams. This RomCom Kdrama just gets us and totally inspires us to never stop fighting for your dreams.
You can watch Fight for My Way on various Kdrama sites like Netflix, Viu, and Viki.
4. Mine
If you liked the Penthouse Kdrama or the Korean film Parasite, the Mine Kdrama will pass your taste and will definitely keep you up all night. The story revolves around two women who are strong and ambitious, played by seasoned actresses Lee Bo Young and Kim Seo Hyung, who each married a son of the Hyowon Group, a multi-billion won company. Although the two are rich and successful in their own rights, they struggle to find their place in the world of the Chaebol family they married into. Their lives get more complicated when a murder occurs and everyone does everything to keep their names clean.
You can watch Mine Kdrama on Netflix.
5. Taxi Driver
Taxi Driver is one of the newest Kdrama in 2021 adapted from a webtoon of the same name. The Taxi Driver Korean Drama is about a mysterious taxi service taking revenge against criminals on behalf of victims. The three main characters of the Taxi Driver Korean Drama are Kim Do-gi played by Lee Je-hoon, who is one of the drivers for the company whose mother was murdered. Kang Ha-na played by Esom is a lawyer while Ah Go-eun (Lee Na-eun) is an IT specialist and a hacker. This series is a good mix of action, horror, crime, drama, and a lot of chills.
You can watch Taxi Driver on Viu.
6. Law School
Curious about what law schools are like? The newest Kdrama Law School presents a deeper view of what it's like in Korea. This series follows the story of a group of students unraveling an unusual case. When a professor is found dead on their campus, everyone becomes a suspect. And the group of students discovers a web of secrets where the main suspect emerges—their "devil" professor. It has a compelling storyline that will hook the moment you laid your eyes on its first episode. This Korean Drama 2021 features young and seasoned actors including Kim Myung-min, Kim Bum, and Ryu Hye-young.
You can watch Law School Kdrama on Netflix.
7. Descendants of the Sun
Despite the differences and challenges, some relationships are really destined and this RomCom Kdrama shows you just that. The story centers on Yoo Shi Jin (Song Joong Ki), the leader of a Special Forces unit and the surgeon Kang Mo Yeon (Song Hye Kyo) who face battles of war, crime, and love giving you everything in one: romance, action, drama, adventure, and tons of comedy. While this is not a new series, Descendants of the Sun is one of the classics and a game-changer in the scene. This drama
You can watch Descendants of the Sun on various KDrama sites like Netflix, Viu, and Viki.
8. So I Married An Anti Fan
The Kdrama So I Married An Anti Fan follows the story of one of South Korea's biggest stars Hoo Joon (Choi Tae Joon), and the aspiring young magazine reporter Lee Geun Young (Choi Sooyoung). The two meet at an event where Geun Young inadvertently witnesses some rough and rude behavior from Hoo Joon, and accidentally throws up all over him. Geun Young gets fired thinking it was Hoo Joon behind it. So, she decided to mount a one-woman protest outside the star's agency building and immediately gained media's attention and later was labeled as Hoo Joon's number one anti-fan. But then, she was offered to participate in a reality TV show where she has to live with Hoo Joon. When filming begins, the two try to give each other a hard time on set, only to fall head over heels for one another. But how can this romance bloom?
You can watch So I Married An Anti Fan Kdrama on Viki.
9. Mouse
The Mouse Kdrama is something that will have your breath taken away with its nail-biting suspenseful scenes. The story focuses on Jung Ba-Reum (Lee Seung-Gi), a rookie police officer working at a police substation. He feels fulfilled and happy with his work until the nation is rocked by the ruthless murders of a psychopath serial killer who is always one step ahead of the authorities. Determined to find this killer and bring them to justice, Ba Reum and his partner track him down. Ba Reum comes face to face with the killer. Although he manages to survive the dangerous encounter, their meeting would change his life forever. The Mouse Kdrama is your best bet if you want solving mysteries.
You can watch Mouse on various Kdrama sites like Viu, and Viki.
10. Crash Landing on You
If there's one Kdrama that took the Internet by storm when the pandemic started, it's Crash Landing on You. The drama follows the story of a chaebol heiress (played by Son Ye-jin) who made an emergency landing in North Korea because of a paragliding accident and a North Korean special officer (played by Hyun Bin) who finds her and helps her eventually. The two struggle to hide while they slowly fall for each other. With its enticing synopsis, Crash Landing on You is considered the best Kdrama that brought on a ton of new fans of the genre and is now among the highest-rated dramas in Korean TV history.
After a paragliding accident, young heiress Yoon Se-ri accidentally lands in North Korea, where a military officer finds her and decides to help her. The two struggle to hide while they slowly fall in love with one another.
You can watch this on Netflix.
11. It's Okay Not to Be Okay
Another series to add to your Kdrama list is It's Okay Not to Be Okay. It's about Moon Gang Tae (played by Kim Soo-hyun) who is a community health worker at a psychiatric ward. He is the epitome of true beauty, inside and out. He's attractive, smart, patient, has the ability to sympathize with others and many things you'd ever hope for in your ideal guy. Meanwhile, Ko Moon Young (played by Seo Ye-Ji) is a popular writer of children's literature who, due to suffering from an antisocial personality disorder, seems extremely selfish, arrogant, and rude.
Gang Tae is desperate to escape from his emotional baggage and the heavy responsibility he's had all his life and begins to heal with help from the woman who writes fairy tales but doesn't believe in them.
You can watch this on Netflix.
12. The World of the Married
Game for a scandalous drama? The World of the Married is the best Korean drama for you as it will turn your world upside down and will give you all the feels you wouldn't want to experience in real life. This series follows the story of family doctor Ji Sun-Woo (Kim Hee-Ae) and her husband Lee Tae-Oh (Park Hae-Joon). Sun-Woo seems to have a perfect life—a successful career and a happy family—until she finds out her husband is cheating on her, and her friends betrayed her. The couple finds themselves trapped in dangerous affairs that could cost them their lives. This smashing hit Kdrama is currently the top 1, highest-rated series in Korean TV history. Because of its success, a top TV Station in the Philippines is doing a remake of the drama. If this doesn't convince you yet, we don't know what else will.
You can watch this on Netflix and Viu.
13. Weightlifting Fairy Kim Bok Joo
This RomCom Kdrama centers around Kim Bok-Joo (Lee Sung-Kyung), a promising collegiate female weightlifter, and the free-spirited Jung Joon-Hyung (Nam Joo-Hyuk) who is a collegiate swimmer plagued with numerous false start disqualifications. Romance, comedy, drama…Weightlifting Fairy Kim Bok Joo will make you laugh, cry and fall in love so hard with the story and characters.
You can watch Weightlifting Fairy Kim Bok Joo on Netflix and Viu.
14. Pinocchio
Pinocchio Kdrama revolves around two reporters Choi In Ha (Park Shin-hye) and Choi Dal Po (Lee Jong-suk). In Ha suffers from a condition called "Pinocchio syndrome" which makes her break into hiccups whenever she tells a lie.
They both pursue the field with different intentions: one is to follow her mother's footsteps while the other to prove his family's innocence, and show reporter Song Cha-ok what being a true reporter means.
You can watch Pinocchio Kdrama on various Kdrama sites like Viu, Viki, and Netflix.
15. Full House
One of the most classic series to binge-watch is Full House. The story follows two people with diverse personalities: an ordinary, caring, patient girl (Song Hye-kyo) with values and a famous star (Rain) who is her total opposite. If seeing each other is not enough to annoy them, what more if they'd have to live in the same house as a married couple? This is a recommended Kdrama because it gives you a dose of kilig vibes, a good laugh, and a good cry.
You can watch this on Netflix.
16. Reply 1988
Take a nostalgic trip back to 1988 through the lives of five families and their five teenage kids living in a small neighborhood in Seoul. Reply 1988 follows the story of five friends dealing with different types of hardship: from being uncertain for the future, being pressured to be perfect, and feeling neglected by parents. This drama and the other Reply series are worthy to stay up all night for as they will get you from the roots of your hair to the very tip of your toes. Just a warning though, you might be needing a bucket to catch all the tears you'll cry for joy and sadness while watching this.
You can watch it on Netflix, Viu, and iQiyi
17. The Uncanny Counter
If you love Ghostbusters, The Uncanny Counter will get you hooked! It's sort of the same concept except that this Kdrama features an eclectic group of characters who each possess special abilities to chase down spirits that prey on humans. They are noodle shop employees by day and demon hunters by night. Since it's airing, The Uncanny Counter was well-received by so many people, giving it high ratings. That being said, there must be a good reason why many Kdrama lovers put an all-nighter for this show!
You can watch this on Netflix.
18. Sweet Home
Tired of dramas and romcoms? Consider watching Sweet Home, one of the most talked-about Kdramas on the Internet. Don't let the title fool you though as this series is based on a cult favorite webtoon of the same name. Sweet Home follows a high school guy who moves into a new apartment complex after the death of his family. It is set in a unique world in which people turn into monsters that reflect their internal desires.
You can watch this on Netflix.
19. Love Alarm
What if an app could tell you when someone likes you? A perfect way to know if your crush also feels the same way as you…or not. Love Alarm revolves around a hardworking student Kim Jo-jo who captivates the hearts of two guys—who just happen to be best friends and basically are like brothers—in her school: Hwang Sun-oh and Lee Hye-yeong. At the end of the first season, we're left with a cliffhanger: who will Jo-jo choose to be with?
You can watch Love Alarm on Netflix.
20. Hospital Playlist
Hospital Playlist tells the day-to-day stories at the hospital following the 20-year friendship of five doctors who all went to medical school together, and share a love for music. The show tells the story of these five friends as they go through the challenges of working in a hospital with a career centered around life and death, dealing with patients, and living their own lives outside of work.
You can watch Hospital Playlist on Netflix.
Frequently Asked Questions About Kdrama
Q: What is the best Kdrama to watch this 2021?
A: Whether you want romcoms, heavy dramas, or thrillers, Korean dramas got you covered. Here are the must-watch series that are worth your time:
Penthouse Kdrama
Start-Up
Fight For My Way
Mine Kdrama
Taxi Driver Korean Drama
Law School Kdrama
Descendants of the Sun
So I Married An Anti Fan
Mouse Kdrama
Crash Landing on You
It's Okay Not to Be Okay
The World of the Married
Weightlifting Fairy Kim Bok Joo
Pinocchio
Full House
Cheese in the Trap
Vincenzo Kdrama
18 Again Korean Drama
It's Okay, That's Love
Reply 1988
The Uncanny Counter
Sweet Home
Record of Youth
Love Alarm
Hospital Playlist
Q: Where can I watch new Kdrama 2021?
A: There are many Kdrama sites that allow you to watch classic and new series. These include Netflix, Viu, Viki, and iQiyi.
Q: How many episodes are there in a Korean Drama?
A: Usually, there are 16 episodes per season in one KDrama.
Disclaimer: ZEN Rooms claims no credit for images featured on our blog site unless otherwise noted. All visual content is copyrighted to its respectful owners. We try to link back to original sources whenever possible. If you own the rights to any of the images, and do not wish them to appear on ZEN Rooms, please contact us and they will be promptly removed. We believe in providing proper attribution to the original author, artist or photographer.
Sours: https://www.zenrooms.com/blog/post/kdrama/
Now discussing:
If you're not watching Korean dramas, better known as K-dramas, then you're missing out in several ways. First, there's the big-picture, cultural impact to consider: K-dramas have become a worldwide phenomenon, and if you're going to be a pop culture connoisseur/productive denizen of the entertainment-loving internet—and you're here, so you obviously are both of those things—then you need to be versed in all things K-drama. And then there's the more important reason to watch K-dramas: They are addictive and amazing, and you'll thank yourself for adding them to your pop culture diet.
Known for their interesting storylines and intense (if sometimes predictable) plot twists, Korean dramas can go from super sappy to incredibly heartbreaking to "WTF, what was that?" in a heartbeat. That variety is exactly what keeps viewers coming back for more. Here, we've listed the best K-dramas to watch.
---
Squid Game
This content is imported from YouTube. You may be able to find the same content in another format, or you may be able to find more information, at their web site.
If you haven't yet checked out Squid Game, which is set to become Netflix's most-watched show ever, then here's one more recommendation: This edge-of-your-seat Korean thriller is definitely worth a look. In the viral hit, a group of people in serious debt sign up to play a series of children's games for a chance at 45.6 billion won (about $38 million). The catch? If the players loose at Tug of War or Red Light, Green Light, they die.
watch it on Netflix
Crash Landing on You
This content is imported from YouTube. You may be able to find the same content in another format, or you may be able to find more information, at their web site.
A South Korean heiress, Yoon Se-ri, gets caught in a storm while paragliding and finds herself blown off course into North Korea. Se-ri then runs into Ri Jeong-hyeok, Captain of the North Korean Special Forces and a member of the North Korean elite family. Captain Ri eventually hatches a plan to get Se-ri back to South Korea with the help of his squad, but not before they all tackle the obstacles that come their way—and then some. This drama mixes romance with comedy and ultimately tells the tale of two star-crossed lovers. It's currently the highest rated tvN drama and the second-highest Korean drama in cable television history.
WATCH IT ON NETFLIX
Goblin (Guardian: The Lonely and Great God)
This content is imported from YouTube. You may be able to find the same content in another format, or you may be able to find more information, at their web site.
This series, written by Kim Eun-sook, is the fourth highest-rated Korean drama of all time. The fantasy romance is about a modern day goblin, Gong Yoo, who needs a human bride (Kim Go Eun) to end his cursed immortal life. His life then becomes intertwined with a grim reaper, Lee Dong-wook, who is unable to remember his past. The story evolves as all these strangers lives intertwine.
WATCH IT ON VIKI
Sky Castle
This content is imported from YouTube. You may be able to find the same content in another format, or you may be able to find more information, at their web site.
This series follows the journeys of four women and their families as they try to maintain the status quo among the upper crust of South Korean society. The drama revolves around one mother's obsession with getting her daughter into an elite university by any means necessary...sound familiar? This one is a nice mix of romance, soapy drama, and comedy, so if you enjoy human-interest stories, Sky Castle is definitely the K-drama for you.
WATCH IT ON NETFLIX

Vincenzo
This content is imported from YouTube. You may be able to find the same content in another format, or you may be able to find more information, at their web site.
If you're looking for something in the middle of the Venn Diagram of "K-Drama" and "Mafia Drama," then Vincenzo is the show for you. In it, Song Joong-ki stars as a Korean man named Vincenzo who was adopted by an Italian mafia family and raised in the mob life in Italy. When his adoptive father dies, his adopted brother sets out to kill him, forcing Vincenzo to flee back to Seoul.

watch it on netflix

Law School
This content is imported from YouTube. You may be able to find the same content in another format, or you may be able to find more information, at their web site.
How to Get Away With Murder fans are sure to love Law School, which focuses on students and professors are prestigious Hankuk University Law School. The show's plot kicks off when one law professor at the school is found dead and another, Professor Yang (played by Kim Myung-min) is arrested for the crime, forcing the students to team up to prove Yang's innocence.
watch it on netflix
100 Days My Prince
This content is imported from YouTube. You may be able to find the same content in another format, or you may be able to find more information, at their web site.
In 100 Days My Prince, Prince Lee Yul is forced to flee the palace after he discovers a secret that puts his life at risk. After an accident causes him to lose his memory, he's nursed back to health by a commoner and told he's betrothed to their daughter, Yeon Hong-shim. The story focuses on their next 100 days together, with Lee Yul living life as a commoner and their love story growing in the process.
watch it on netflix
Boys Over Flowers
This content is imported from YouTube. You may be able to find the same content in another format, or you may be able to find more information, at their web site.
Boys Over Flowers is an old-school teen drama, focused on a group of popular/privileged/not-so-nice boys at the prestigious Shinhwa High School. The group, known as F4, bully others to get their way—until a working class girl named Geum Jan-di arrives at the school on scholarship and stands up to the boys.
watch it on netflix
Navillera
This content is imported from YouTube. You may be able to find the same content in another format, or you may be able to find more information, at their web site.
Fair warning: Navillera is the kind of show that is best watched with a full box of tissues at your side. The series focuses on Shim Deok-chul, a 70-year-old retired mailman who dreams of being a ballet dancer. As Deok-chul pursues his dream, he also battles advancing Alzheimer's.
watch it on netflix
The Penthouse
If you thought Big Little Lies and Sky Castle laid the melodrama on thick, just wait until you take a bite out of this rollercoaster of a series. Penthouse follows three wealthy families vying for power in the exclusive Hera Palace community–a luxurious 100-floor high-rise that juts out of the Seoul skyline. Like its forebears, the series centers on three women who hide behind their various secrets and traumas with piles of money and their boundless ambitions for their children. Their world begins to crumble after a mysterious girl falls to her death and the trio attempt to cover up the location of her death to protect the reputation of Hera Palace. It's messy, and I am living for it.
watch it on viki
The Uncanny Counter
This content is imported from YouTube. You may be able to find the same content in another format, or you may be able to find more information, at their web site.
This show loosely reminds me of Ghostbusters, but with an eclectic group of characters who each possesses special abilities. The five-person group, called "Counter," work at a noodle restaurant by day and at night, hunt down evil spirits who have escaped from the after life to go after humans. (Their red tracksuits in the show are iconic and honestly would make for great group Halloween costume in 2021—just putting the idea out there.) This K-drama has been very well received by the audience and will have you binging all the episodes in one weekend.
watch it on netflix
Sweet Home
This content is imported from YouTube. You may be able to find the same content in another format, or you may be able to find more information, at their web site.
If you enjoyed Korean movies like The Call and Alive, you'll be able to stomach and love Sweet Home. The show follows a guy who moves into a new apartment complex after the death of his family. Depressed and a loner, he starts witnessing frightening things in the building from some of his odd neighbors. If you're a peek-over-the-blanket-type person when watching horror shows like I am, then I'd advise you to tune into this during the day time. (I made the mistake of starting this show at night—never again.)
watch it on netflix
Run On
This content is imported from YouTube. You may be able to find the same content in another format, or you may be able to find more information, at their web site.
The storyline: Ki Seon-gyeom, a popular sprinter turned sports agent, meets Oh Mi-joo, who writes subtitle translations for movies, and Mi-joo believes they were destined for each other. The story centers around their budding romance alongside some strong secondary characters. Mi-joo is played by actress Shin Se-Kyung (from Rookie Historian) while Seon-gyeom is played by Im Si-Wan (from Strangers From Hell), so if you're familiar with both famous faces then give this show a chance.
watch it on netflix
Start-Up
This content is imported from YouTube. You may be able to find the same content in another format, or you may be able to find more information, at their web site.
Suzy Bae and Nam Joo-hyuk stans will want to tune into this drama, which mixes comedy with romance. The show centers around a group of young individuals who are all eager to start their own businesses. When Bae and Nam's characters, Seo Dal-mi and Nam Do-san respectively, are chosen to join Sandbox (a tech accelerator for entrepreneurs), along with Seo's sister Won In-jae, the three are pitted against one another in a contest to be the best. Little does Dal-mi know, however, someone important from her past (Han Ji-pyeong, played by Kim Sun-ho) has her back throughout this start-up journey. Viewers will be rooting for Dal-Mi to end up with Do-San or Ji-pyeong. Personally, we are team Ji-pyeong.
watch it on netflix
Tale of the Nine Tailed
This content is imported from YouTube. You may be able to find the same content in another format, or you may be able to find more information, at their web site.
You might want to keep the lights turned on for Lee Dong-wook's new show because it's a little scary (think scenes with ghosts and a water well à la The Ring). Aside from some minor scenes that make you shudder, however, the story largely revolves around his character Lee-yeon, a mythical fox known as gumiho, and a documentary filmmaker Nam Ji-a (played by Jo Bo-ah) who were once lovers in the past. (The foxes adopt human appearances, but have special powers.) Circumstances in the present bring the two on a treacherous journey that involves solving Ji-a's parents mysterious deaths and the two rediscovering their love for each other.
watch it on viki
Record of Youth
This content is imported from YouTube. You may be able to find the same content in another format, or you may be able to find more information, at their web site.
New to Netflix, this show centers on three ambitious individuals from different social classes working in the cut throat world of show business and fashion. Sa Hye-joon (played by Park Bo-gum) and Won Hae-hyo (played by Byeon Woo-seok) are models who aspire to be actors. They end up becoming friends with makeup artist An Jung-ha (played by Park So-dam) and together the trio must face a variety of obstacles that threaten to stop them from achieving their dreams in the entertainment industry.
watch it on netflix

Rookie Historian Goo Hae-Ryung
This content is imported from YouTube. You may be able to find the same content in another format, or you may be able to find more information, at their web site.
In a Romeo and Juliet-esque storyline, this show revolves around a romance between an aspiring palace historian and a lonely prince. Together, they go on a journey to break societal norms and uncover secrets from their pasts that could have consequences on their present day lives. This show is suited for those seeking sweet, heart-fluttering moments and will have you rooting for the couple until the very end.
watch it on netflix

It's Okay to Not Be Okay
This content is imported from YouTube. You may be able to find the same content in another format, or you may be able to find more information, at their web site.
The story centers around a caretaker at a psychiatric ward, Moon Gang-tae, who crosses paths with a children's book writer Ko Moon-young. Gang Tae has lived life on the run while taking care of his older brother, Sang Tae, who is autistic and suffers from reoccurring nightmares of the day their mother was murdered. He is a big fan of Ms. Ko, who is known to be antisocial and has a difficult personality. After a series of events, all three lives become intertwined and their dramatic back stories are revealed. Gang-tae, Sang-tae, and Ms. Ko share more in common with one another than they think. Aside from the fact that the two leading romantic pairs are both gorgeous, this show will keep viewers glued to their seats thanks to Gang-tae and Ms. Ko's push-and-pull dynamic.
watch it on netflix
Mother
This content is imported from YouTube. You may be able to find the same content in another format, or you may be able to find more information, at their web site.
When substitute teacher Soo-jin (played by Lee Bo-Young of When My Love Blooms) discovers one of her students Hye-na (played by the brilliant Heo Yool) is being abused by her mother and her boyfriend, she impulsively decides to run away with the little girl. Soo-jin sets out to travel from South Korea to Iceland (she is a bird researcher and has been given a grant to work at an institution there), but before she can make it to Iceland so many unexpected events happen. Viewers will discover why Soo-jin is so drawn to Hye-na and they will grow into the quite unexpected mother-daughter pair we're all rooting for. This show will ask viewers to think about what it means to be a mother/who gets to be one and will leave your eyes puffy from sobbing after every episode. Mother is one of South Korea's most highly-rated series.
watch it on viki
Love Alarm
This content is imported from YouTube. You may be able to find the same content in another format, or you may be able to find more information, at their web site.
In a world where an app lets you know whether or not someone is in love with you within a 10-meter radius, feelings are transparent even when you don't want them to be. The story centers around a hardworking and studious student Kim Jo-jo who catches the eye of two guys (who just so happen to be best friends and basically are like brothers) in her school: Hwang Sun-oh and Lee Hye-yeong. Sun-oh is a model from a rich family and could not be any more different from Jo-jo but they fall for each other. As time passes, the two drift apart and Hye-yeong sees this as a chance to finally confess his feelings for Jo-jo. At the end of season one we're left with a cliffhanger: who will Jo-jo choose to be with?
watch it on netflix
Strangers From Hell

This content is imported from YouTube. You may be able to find the same content in another format, or you may be able to find more information, at their web site.
If you're looking for a creepy, pull-blankets-up-to-your-eyes kind of drama, watch this show. It follows a young man in his 20s, Yoon Jong-woo, who moves to the countryside to Seoul after his friend offered him a job. He needs a place to live and ends up finding Eden Gosiwon, an unkempt but inexpensive apartment with a communal kitchen and bathroom. He decides to stay for six months until he has enough money to move out, but starts noticing weird behaviors and strange happenings in the apartment building. One of his neighbors, played by Goblin's Lee Dong-wook, is a dentist by day and serial killer by night. We'll stop here and let the other suspenseful events shock you to your core.
watch it on netflix
The King: Eternal Monarch
This content is imported from YouTube. You may be able to find the same content in another format, or you may be able to find more information, at their web site.
This Korean drama has it all: parallel universes, time travel, a handsome king, a strong female detective, tragedy, and romance. The show tells the story of Lee Gon (played by one of South Korea's most popular actors: Lee Min-ho), a Korean emperor who rules The Kingdom of Corea (the North and South are still unified in this world) and discovers a portal opening in the bamboo forest that leads him to a parallel universe—the world that we know today. He meets, and falls in love, with detective Jung Tae-eul (played by Goblin's Kim Go-eun) in this world and they have to work together to close this time portal before their two worlds collide and freeze in time forever. Will they succeed in their journey and will their love be able to transcend time?
watch it on netflix
Hospital Playlist
This content is imported from YouTube. You may be able to find the same content in another format, or you may be able to find more information, at their web site.
Grey's Anatomy and other medical drama stans will want to dive right into this drama that depicts the stories of people working at a hospital. The five doctors have been friends for 20 years (they all went to the same medical school) and now they're colleagues navigating through a career centered around life and death. This show is currently one of the highest-rated Korean drama in cable television history and a second season is set to premiere in 2021!
watch it on netflix
Extracurricular
This content is imported from YouTube. You may be able to find the same content in another format, or you may be able to find more information, at their web site.
Sky Castle's Kim Dong-hee stars in a lead role as Oh Ji-soo in this show. The drama centers around three high school students who commit crimes to earn money and along the way encounter dangerous enemies and obstacles. It will take an episode or two for you to fully grasp what is happening before you appreciate the intricate storytelling that is being told by director Kim Jin-min. Hang in there for the journey.
watch it on netflix
Mystic Pop-up Bar
This content is imported from YouTube. You may be able to find the same content in another format, or you may be able to find more information, at their web site.
This show checks off the boxes for drama, fantasy, and mystery. The storyline centers on Ssanggab Cart Bar, which is only open at night on the rooftop of a building. Wol-Ju (played by Hwang Jung-eum) runs the mysterious food cart and customers who visit her consist of the living and dead. While drinking and eating, they converse with Wol-Ju about themselves and their internal struggles.
watch it on netflix
Memories of the Alhambra
This content is imported from YouTube. You may be able to find the same content in another format, or you may be able to find more information, at their web site.
This fantasy drama is perfect for Hyun Bin and Park Shin-hye fans (you may remember her from the popular show The Heirs). The two actors play each other's romantic interest in Memories of the Alhambra, which is set between Spain and South Korea. (Fun fact: Park Shin-hye learned Spanish for the show, so her voice is not dubbed!) They encounter each other in Spain when Hyun Bin's character, Yoo Jin-woo, arrives to the hostel owned by Park Shin-hye's character, Jung Hee-joo, because he wants her to sign over the rights to develop her brother's augmented reality game. (The brother, meanwhile, has vanished into thin air). Jin-woo starts playing the game and eventually realizes it is causing those around him to die. If he wants to save himself and Jung Hee-joo's missing brother, he has to complete the dangerous quests.
watch it on netflix

Hyena

This content is imported from YouTube. You may be able to find the same content in another format, or you may be able to find more information, at their web site.
Yoon Hee-jae is a handsome attorney who's confident in crushing his opponents in court. He has a "chance" meeting at a laundromat with a mysterious woman and ends up falling for her only to later discover that the woman, Jung Geum-ja, is actually an attorney representing the opposite side. She had strategically won Hee-jae's heart (and his case files) because she really needs a win to save her struggling business. Despite being wronged, Hee-jae is attracted to Geum-ja and the pair duke it out in court. If Yoon Hee-jae looks familiar to you it's because the character is played by Ju Ji-hoon, who also plays the dazzling Crown Prince in Kingdom.
WATCH IT ON NETFLIX
Hi, Bye Mama
This content is imported from YouTube. You may be able to find the same content in another format, or you may be able to find more information, at their web site.
If you like a little supernatural pizazz with your drama, this show is for you. Cha Yoo-ri is a ghost who died five years ago, leaving behind her husband, Jo Kang-hwa, and their child. In a move to become a living human again, Cha Yoo-ri carries out a reincarnation project for 49 days. When she reappears to Jo Kang-hwa, however, she finds that her husband has changed a lot since she died.
WATCH IT ON NETFLIX

Itaewon Class
This content is imported from YouTube. You may be able to find the same content in another format, or you may be able to find more information, at their web site.
Where to start with this one? This series tells the story of Park Sae-roy, who opens a restaurant in Itaewon after having spent a few years in prison for beating up Jang Geun-won, the son and heir to Jangga Group. The two have a rough history and now, with a fresh start, Park Sae-roy wants to not only franchise his restaurant DanBam, but have it overtake Jangga Group as a household name. (His ultimate goal is to get revenge for his father's death, which was caused by the Jangga family.) The CEO of Jangga Group is a self-made man of success and he will not let Park Sae-roy defeat him or his son. The two engage in a power struggle throughout the entire series that's filled with juicy plot twists and turns.
WATCH IT ON NETFLIX
The Heirs
This content is imported from YouTube. You may be able to find the same content in another format, or you may be able to find more information, at their web site.
This drama tells the story of a group of rich, privileged high school students who will one day take over their families businesses. The coming-of-age themes explored in the drama include identity, wealth, and relationships. One of the main characters is Kim Tan, a chaebol heir to Jeguk Group, who hasn't had the easiest relationship with his older half-brother Kim Won because he thinks Tan is trying to steal their father's company from him. To make Tan's life even more difficult, he ends up falling in love with his housekeeper's daughter, Cha Eun-sang, much to his father's disapproval and he has to compete with classmate Choi Young Do's sudden interest in Eun-sang too when she transfers into their elite school. Tan seeks to overcome all the obstacles to be with Eun-sang no matter what his family or friends at school say.
watch it on netflix
Legend of the Blue Sea
This content is imported from YouTube. You may be able to find the same content in another format, or you may be able to find more information, at their web site.
This fantasy romance show explores the relationship between a con artist and a mermaid who meet and fall in love. The mermaid, Shim Cheong, (played by the talented and beautiful Jun Ji-hyun) follows her lover Heo Joon-jae (Lee Min-ho) to land unbeknownst to him that she is a mer person. Juxtaposed against present day, the storyline also focuses on the two's Joseon-era incarnations, town head Kim Dam-ryeong and the mermaid Se-hwa. That pair met a tragic fate, so what does this mean for their current counterparts? Will Shim Cheong and Joon-jae meet the same bad fate?
watch it on hulu
Autumn in My Heart

This content is imported from YouTube. You may be able to find the same content in another format, or you may be able to find more information, at their web site.
This 2000 South Korean drama's legacy and popularity is the equivalent to that of Titanic. The show is considered a pioneer in Korean melodramatic series and helped launch the "Korean Wave." The plot: Two girls are born in October and an accidental switch of their name tags at the hospital leads them down very different paths. Eun-suh has a happy life with her loving parents and brother, Jun-suh, while Shin-ae is raised by a single parent in poverty. One day Eun-suh gets into a car accident and a blood test reveals Eun-suh and Shin-ae were swapped at birth. The girls go back to their original parents. Years later, Eun-suh and her "brother" Jun-suh meet again, the start of a love story. Make sure to have some tissues on hand because this show is a major tearjerker.
WATCH IT ON AMAZON PRIME

Touch Your Heart
This content is imported from YouTube. You may be able to find the same content in another format, or you may be able to find more information, at their web site.
I'm somewhat biased because I am an unabashed Lee Dong-wook stan, but Touch Your Heart is really, really fun to watch. Things take place in a high-powered law firm, where a washed-up actress works as a secretary for a cranky attorney. The two leads have great chemistry—they've played star-crossed lovers in another drama, Goblin—and they're both extremely good-looking. Plus, it's another workplace love story! Is the universe trying to send me a sign?
WATCH IT ON NETFLIX
Angel's Last Mission: Love
This content is imported from YouTube. You may be able to find the same content in another format, or you may be able to find more information, at their web site.
In this KBS drama, a tough as nails former ballerina tries to regain her prima donna status with the help of her mischievous guardian angel. Blinded in a tragic accident, Lee Yeon-seo is desperate to get back to the stage, but the scheming and conniving of the people around her prevents her from making her return. Dan, a guardian angel just one mission away from completing his duties on earth, gets suckered into yet another assignment and falls in love on the job.
(True k-pop stans will immediately recognize the lead character in Angel's Last Mission: Love—it's L from the iconic group Infinite! Sadly, I don't think we'll be getting much singing in this drama...but you can stream "The Chaser" on all platforms.)
WATCH IT ON VIKI

Perfume
This content is imported from YouTube. You may be able to find the same content in another format, or you may be able to find more information, at their web site.
Fans of Shin Sung-rok (The King's Face, The Last Empress), rejoice—your second lead syndrome is over! The actor finally snagged a leading role in the KBS romantic comedy Perfume as Seo Yi-do, an eccentric fashion designer plagued with endless phobias. He's known for often playing the villain (he's really good at being bad), but in this drama, you can actually root for him to get the girl!
The premise is simple, at least for a Korean drama: A depressed housewife on the brink of a breakdown receives a magic perfume that makes her into an entirely new person. With her new face and identity, she decides to pursue a modeling career, and ultimately clashes with the prickly self-proclaimed god of fashion.
WATCH IT ON VIKI

Chief of Staff
This content is imported from YouTube. You may be able to find the same content in another format, or you may be able to find more information, at their web site.
Remember House of Cards? The Netflix original series followed the complex and super sheisty lives of politicians and journalists in Washington, D.C. The show was nothing short of a hit, but it came to an unfortunate end once its star became embroiled in a very serious, very disturbing controversy.
Chief of Staff is a lot like House of Cards, but rest assured, the drama is maintained within the show. There's scheming, manipulation, illicit affairs, serious criminal activity, and a whole lot of lying to the general public by the voters by the very people they put in office—sounds appropriate for the day and age we're living in, no?
WATCH IT ON NETFLIX

Something in the Rain
This content is imported from YouTube. You may be able to find the same content in another format, or you may be able to find more information, at their web site.
Although we love outrageously plotted k-dramas, Something in the Rain is a more straightforward and realistic look into an ill-fated romance and workplace discrimination. Yoon Jin-ah is a single career woman who begins a romance with her friend's little brother after he returned from a stint abroad. But their relationship draws an immense amount of scrutiny from their families, who don't approve. Jin-ah also faces a sexist workplace, where she and her female co-workers are demeaned by their male colleagues.
watch it on netflix
Because This Is My First Life
This content is imported from YouTube. You may be able to find the same content in another format, or you may be able to find more information, at their web site.
Does broke millennials working underpaid jobs and dealing with today's high cost of living sound familiar? The characters in Because This Is My First Life are just like us–following their dreams, working in high-powered industries, all the while just barely reaping the benefits. Nam Sae-hee (Lee Min-ki) is a software developer working for a start-up who suffers from a mortgage that eats up all his disposable income. Yoon Ji-ho (Jung So-min) is a struggling screenwriter who dreams of developing her own k-dramas, but she's relegated to being a highly underpaid writer's assistant on mediocre shows. After she's forced to move out of her apartment, she ends up renting out a room in Sae-hee's house. When they realize that a fake-marriage would be mutually advantageous for both their precarious financial situations and societal expectations, they decide to tie the knot. Obviously, one thing leads to another and they're unable to separate their contractual marriage from the real feelings that they begin to develop.
watch it on netflix
My Mister
This content is imported from YouTube. You may be able to find the same content in another format, or you may be able to find more information, at their web site.
My Mister tells the story of two people struggling with financial troubles, family drama, and loneliness. Park Dong-hun (Lee Sun-kyun) is a middle-aged engineer working under a boss who is younger than him, all the while providing for his two unemployed brothers and their mom. To make matters worse, Dong-hun's wife is having an affair with his boss (yikes). Meanwhile 20-something Lee Ji-an (K-pop star IU) is in a mountain of debt and will do just about anything to get the loan sharks off her back. After she catches Dong-hun accepting a bribe, she decides to steal gift certificates he received in an attempt to pay off her loans. Heart-wrenching and hopeful, the show tells the story of two people developing a sweet kinship while trying to dig themselves out of trouble.
watch it on netflix

Dear My Friends
This content is imported from YouTube. You may be able to find the same content in another format, or you may be able to find more information, at their web site.
Featuring a star-studded cast of industry veterans–most notably Oscar-winner Youn Yuh-jung (!)–this heartwarming slice-of-life drama follows elderly friends who are just vibing in their last years of life. After Park Wan (Go Hyun-jung) decides to write a novel about the life of the elderly at the behest of her mother, she gets close to her mother's group of lifelong friends and learns their small but significant life stories. The series is a love story about friendship and lifelong connections that looks through time at old memories and the ways those moments thread into our twilight years.
watch it on netflix
This content is created and maintained by a third party, and imported onto this page to help users provide their email addresses. You may be able to find more information about this and similar content at piano.io
Sours: https://www.marieclaire.com/culture/a26895105/best-korean-dramas/
312
313
314
315
316