B1AZ-3518 Plastic upper/lower bearing sleeve     Fits 53-73 Upper or Lower                                       20.00 each
C3DZ-3518  upper/lower bearingFits 65-73 upper or lower                                21.00 each
DOTZ-3510    Lower Retainer           65-76          10.00 goes between lower bearing & adjuster sleeve
D9TZ-3C773  Plastic lower bushing    74-79         9.00 
C6TZ-3A525   Steering Coupler           65-66        70.00
C7TZ-3A525   Steering Coupler             67-79       72.00
FF-3517  CNC Machine lower Bearing Assembly to replace the Plastic lower bushings that where on all of the fixed 74-79 columns, 78/79 Tilt Columns and tyhe 74/79 4x4 Trucks                                              90.00
C5TZ-3513    Steering Column to floor seal Fits trucks manual steering65-76 or trucks with the Bendix Power Steering System                       25.00
DOTZ-3513  Steering Column to floor seal    Fits trucks with the Ford Steering Gear Box 70-76 or if using the Ford Box on 65-69 trucks             30.00
D5TZ-7228-R  Auto Shift Collar          61-77       Disc. due to pure Junk  
D5TZ-7228-Orig.    Original FORD NOS   Automatic Shift Collar     < when available >        65-77      100.00
D5TZ-7228-B   3-Speed on the Column Shift Collar  do not come with shift pin                                 61-77      40.00
C1TZ-7228-BL   Blank Shift Collar          61-77       60.00
Blank collars only when available
ALL OTHER SHIFT COLLARS  Need to call first to see if we have since some have been disc.
C7TZ-7B033      Dial Selector                    67-72      15.00
D4TZ-7B033     Dial Selector                    73-77      25.00
D8TZ-7B033     Dial Selector                    78-79     21.00
D3TZ-7A004     Dial Selector Cover    73-77       15.00
D8TZ-7A004     Dial Selector Cover    78-79      15.00
C5TZ-7A110  Dial Indicator Pointer   61-77       12.00
D8TZ-7A110  Dial Indicator Pointer   78-79    10.00 
D3TZ--13305   Chrome Turn signal Handle with Black Knob                                                        61-79     18.00
Turn Signal Switches all come with the harness, you have to use your old plug, Unlike others, Ours swithes are USA MADE !!!

C9TZ-13341  Turn signal switch          65-69      85.00 Has been Disc. by Ford, Still have a few left that are Original Ford Switch that is NOS
DOTZ-13341  Turn signal switch          70-72       125.00 Has been Disc. By Ford,  have only a few of the Original Ford Switches left
D3TZ-13341-S   Turn signal switch for 3 speed or 4 speed granny gear transmission        73-77      115.00 
Below  is a firewall bracket marked power steering for the 70/79 Box used in trucks. This bracket was used on late 69 to 76 trucks. If needed call us for which year is needed since the 65/72 cabs have a different bolt pattern than the 73-76 trucks. 1977 trucks did not have any and the cabs are drilled different so this bracket would have to be drilled in cab on when using it on a 77/79 Cab

here below is a column we built for a customer that is for Floor Shift 72 F-100 with a New 3 Spoke Steering Wheel with a new 3 Chrome Horn Ring as used in the 61/70 F-100/250 and 67/72 F-350's

and here installed in his truck hours later
New  Black 3 Spoke Steering Wheel                61-70         210.00
New Chrome 3 Spoke Horn Ring   61-70                                   125.00
Sours: http://www.flashbackf100s.com/steering_column_parts__all_associated_parts_with_steering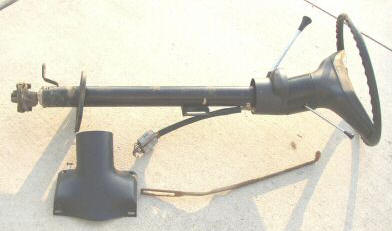 '78-'79 steering columns are the same for 2WD and 4WD. The steering box end of the shaft is splined and there is a yoke for a rag joint on 2WD installations or the short shaft with U-joint for 4WD. The steering column in this picture has the 2WD adapter installed.
This is a 1978 column, correct for 1978 and 1979 (for dash-mounted ignition switches). Also shown is the dash trim piece and the special tilt-only rag joint.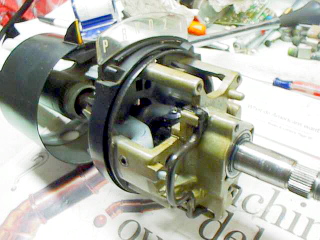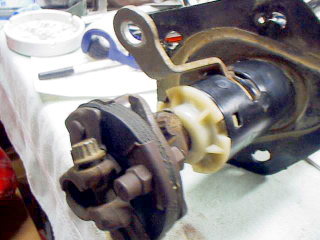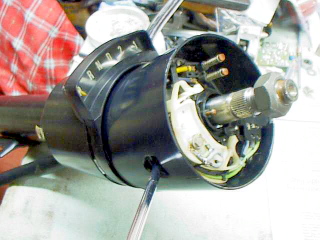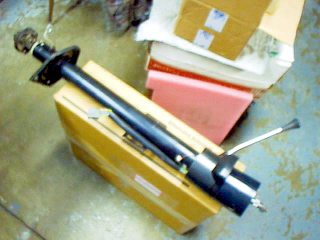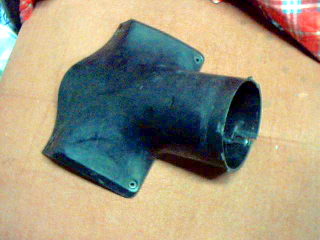 Usually the tilt columns are found in the Camper Specials, Trailer Specials and other top-end models.
1973-1979 Ford pickup steering steering columns will bolt into a '67-'72 pickup with some wiring changes. Plus they came with a plastic shroud around the column to the dash. However, 1978 and 1979 are the only years from this era in which a tilt column was available, and mostly on pickups equipped with an automatic transmission and power steering. There is a tilt column for a floor-shift manual transmission truck...but they're extremely rare. If you ever find one in a salvage lot, GRAB IT!
Steering wheel fit:
Source1: the spline count and taper is the same on Ford columns from the 50's to the 90's so wheels will interchange just fine.
Source2: the '73-'78 steering wheel will not fit '79 column. Different spline at hub to shaft fit. 79's take '79 & later (the smaller wheels of 80's & 90's), while '78s take '78-earlier (back into 40's)
The horns don't work without modifications after '73. (the late model trucks ('78-newer) use a two-wire horn contact. Up to 1977 the horn was a single wire grounded in the wheel. On a '78-'79 they went to a two-wire through circuit. In order to make this work one of the wires needs to be grounded.)
The Ford part number for the tilt turn signal switch is D8TZ-13341-A with a list price of $100.87. They are identical to any 1970-1979 Ford car with a tilt except the car versions have different length wires and an extra wire for the key buzzer. Go get a switch for a Lincoln, it works fine. The Ford pickup tilt column shares the same bearings as the Ford van tilt columns (which are longer and do not work well in a truck...but the van columns are great for parts!)
To get the '78-'79 units to fit, you will have to do some wiring changes. The hazard lights are integrated into the column. You might also have to rewire the neutral safety switch...it changed in '78 from the column to the transmission.
The '78-'79 columns themselves are the same with auto tranny...the difference is how it hooks up at the end of the column. The 4WDs have a knuckle shaft & rag joint, whereas the 2WDs just have a rag joint. All automatic columns are the same and all standard columns are the same, each fitting F100 through F350. If you get a 4X4 column it will not have the 2WD coupler but you can use one from a '78-'79 van tilt.
To have the ignition switch in the column you can get parts from a van or a Lincoln. The tilt part is all the same. Just swap the top part of the column that tilts with the key to the other column. But if you want the wheel to lock you must use the wheel from the locking column, because it has holes drilled in it for the pin to lock the wheel. Also, the van and pickup tilt column turn-signal switches all the way to '86 (and possibly up through '88) will fit the '78-'79 tilt columns. The wires may not be the same, but it's not too hard to figure out.
Used tilt columns normally go for about $150 (plus shipping) on E-bay.
Some say the 1980-up steering columns would take more serious modification to work. However, others have reportedly used the tilt column from a '80-'86 Ford truck. They say it fits like the factory column. You will obviously have to rewire the blinkers and flashers, and wire in the ignition switch to it so you'll have a locking steering column. (The forums have conflicting info in this department. Aside from the obvious wiring changes, some say that the columns are physically a bolt-in and others say they won't fit.)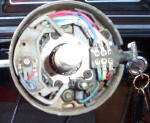 CLICK TO ENLARGE
This is a '73-'79 non-tilt turn-signal cam for visual reference.
====================================

(by 67f100hd) I found an outfit that sells '65-'79 F-100 steering columns for either automatic (column shift only) or floor shift (manual or auto). They supposedly come primed for paint, brushed or polished. Also they TILT! Has signals and flashers. Try www.hotrodssuperstore.com According to the web site, this column sets you back about $600
Or if you want to spend $500 for a new column try this place: http://broncograveyard.com/products/cat/18/142
---
(by dablack00) http://fordification.com/forum/viewtopic.php?t=21570
I finally finished wiring up my 79 tilt column in my 71 F100. The only reason I'm finished is because the inspection is up and my horn hasn't worked since I did the switch. Now all is working.

I saw the post on the 67 wiring, well the 71 wiring is even easier. My column doesn't have cruise. Just tilt.

79 white red is hazard switch. I didn't use this one. I kept the hazard switch on my dash. You could easily wire the 79 column switch in if you like.

79 Blue/red is the indicator light. I didn't hook it up. If you want to hook it up, just splice in to your dash lights. No big deal.

79 yellow = ground for the horn. The 78/79 horn has two wires. The yellow is the ground, so ground it out.

79 dark Blue to 71 Blue yellow
79 light green to 71 light green
79 orange blue to 71 orange blue
79 light blue to 71 light blue
79 green white to 71 green white
79 green orange to 71 green orange
79 white blue to 71 white blue

Thats it. No big deal. Just took me a while to figure out the horn thing. All the other wires match up color wise.
---
78/79 Tilt Column Wiring (taken from a forum thread)
LBell101: I'm putting a '79 tilt into my '67. I have the '67 wiring all figured out but I'm not sure of the original wiring placement on the '79 column. The column has cruise control that I plan on using at some point and I think that is what is throwing me off some. It has the curved connector with wires as follows:
First row:
Yellow with blue dots
White with red trapezoids
Green with red stripe
Orange with blue stripe
Blue
Green
Second row:
Blue with red stripe
Dark Blue
White with blue stripe
Green with white stripe
Does anyone know where each of these wires goes or what it operates? Also, I did do a search and found some info but nothing for a cruise tilt column. Thanks!
------------------------------------------------------------------
The major change between the two era's of columns is the hazard light switch, which is on the column of the '78-79 column and on the dash or in the glovebox on the earlier trucks. The '78-'79 non-tilt column's wiring and harness is the same as the tilt version, except for the horn circuit. When you plug the column harness into the main harness, what was the horn circuit would now control the cruise control. The main control box for the cruise control is located inside the cab on the firewall. The horn would then (still going through the cruise control circuits) be operated through a relay which is attached to a dash brace behind the instrument panel.
In addition to the cruise control's control box, there is one for the brakes.
To add cruise control to your truck, and utilize the cruise features built into the column, there are several parts required:
the main cruise control box and wiring, both of which are under the dash
the main underhood cruise control components, like the chain which links to the carburetor, vacuum pod and all necessary brackets
the horn relay and harness
the older-style brake light switch with the metal case, which mounts on the vacuum booster actuating rod

the special brake light switch wiring harness
the speedometer cable and speed sensor
brake pedal assembly
brake booster (FT-38 or FT-43)
the harness for the vacuum actuation device

the switch on the brake pedal which disconnects the cruise control (non-cruise trucks have the brake light switch mounted onto the side of the brake pedal, but will be substituted for the style that mounts on the vacuum booster pushrod. The cruise shutoff switch will then mount in it's place on the brake pedal)
------------------------------------------------------------------
LBell101: I've been gathering parts and I believe I have a cruise control system worked out. I could not find a '78-'79 donor for cruise control, so I took a system out of an '85. So, what I will have when done is a '79 tilt column with '85 cruise control in my '67 F-100.

After pouring over many schematics and cutting apart an '85 wiring harness, I think it will work just fine. I had to use the '85 button pad as it has the resume button. That fits perfectly in the '79 steering wheel. While at first look the '67, '79, and '85 circuits look vastly different, they are not. As a matter of fact, after you whittle down all the circuits it's surprisingly simple. Here's a diagram I made up: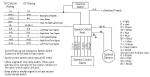 Everything does work. It did bolt in directly with no extra switches. The only part that needed to be modified in my case was the plastic collar that fills the column down to the dash. You don't need it but it looks better with them.
---
According to the the '73 wiring diagrams:
red/black stripes to brake light switch
green/white stripes to LH front turn signal
white/orange stripes to emergency flasher
yellow/brown stripe (I could only find yellow/black stripe to LH rear turn signal)
white/blue stripe to RH front turn signal
blue to turn signal flasher
blue/red stripe to "PRNDL" lights (you wont need the wire to the "PRNDL" light since you have a manual shift.)
green to RH rear turn signal
yellow/blue to horn relay
78 SteeringColumn Pin-out:
White / Blue to Front Right Turn Signal & Indicator Light
Green / White to Front Left Turn Signal & Indicator Light
Black / Red to Stop light switch
Yellow/Black to Rear Left Turn Signal Light & Brake Light
Light Green to Rear Right Turn Signal Light& Brake Light
Blue to Turn Signal Flasher
White/red stripe is for the Hazard lights
Blue/Red stripe - Gear selector courtesy Light
Lg.Yellow/green dots --Horn

*Note. Wiring code changes if cruise control is used.
The above information is great as a starting point when researching a tilt-column swap, but there is a lot of misinformation and contradictions in the various discussion threads, so I'm trying to nail down the specifics on what will work. Using the information presented above, here is a list of questions I've come up with, and welcome any help or input anyone can offer. Please....anything you contribute must be based on personal experience so it can be verified, and not "well, I heard from Joe's mom's uncle's cousin that...."
Questions:
It's been discussed in the '67-'72 forums that the '73-'79 columns will physically bolt in the earlier trucks with no modifications necessary, and it's been discussed in the '73-'79 forums that the NEXT generation of columns will also physically bolt in. (At this point I'm not concerned with wiring modifications necessary, just the physical mounting of the column assembly.) Therefore one would assume that any of these columns will also bolt into a '67-'72 pickup as well. So...what is the last year that will fit the '67-'72 pickups with no mods necessary to mounting points at the dash, firewall or steering box?
ANSWER [LBell101]: It is possible that an '80 or newer column would bolt in. But they have the ignition switch built into the column. The switch itself is near the bottom of the column and the key is integral to it. That's why no one uses them for the swap. If it does bolt in, I'm sure you could use the new style switch after figuring out the wiring and blocking off the old dash switch hole.


What years are the steering wheels interchangeable? One source says everything from the '50s through the '90s has the same shaft taper and spline count and another source says the spline count changed in '78, meaning there are two variations: '79-earlier and '80-later. Which is correct, verified by personal experience?
Answers to these questions will be posted here as they become available. Thanks for your help!

Sours: https://www.fordification.com/tech/tilt.htm
73 79 67 72 FORD F100 F150 TRUCK BRONCO TILT with CRUISE STEERING COLUMN RESTORED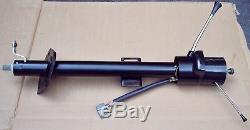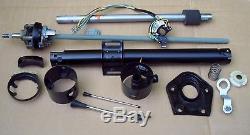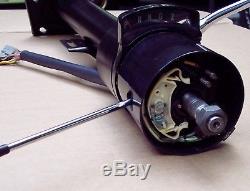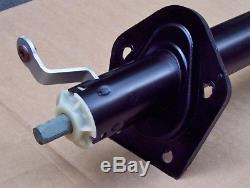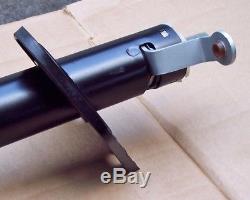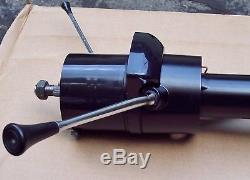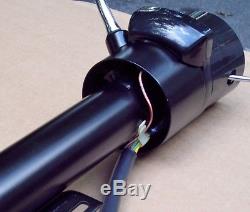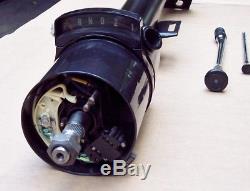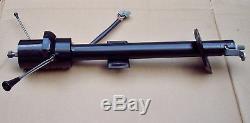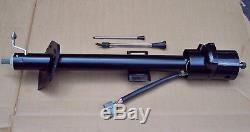 Column will work in both 2wd and 4wd trucks. Only difference is that if going into a 4wd you will need the 4x4 intermediate shaft in order to hook up. Column is also a direct fit/ bolt-in for 1967, 1968, 1969, 1970, 1971, 1972, 1973, 1974, 1975, 1976, 1977 year models. In these years the neutral safety switch would need to be addressed and on'67-72 models the harness connector would have to be swapped out.
Column has been totally taken apart (see 2nd pic), cleaned, sanded to bare metal, etch primed, sanded with 400 grit, and painted with a quality black satin lacquer paint. Plastic top cover was polished with a buffer. Tilt is super tight with no play or slop.
The retaining bolts that draw the tilt tight were coated with thread locker and will not be coming loose. Light works in the PRNDL cover. Bearings have been cleaned and re-packed with new grease.
Steel balls were in excellent condition so no need to replace. They are super smooth and turn like silk. Column has wire for cruise control option.
Dash mount cover also included (not shown but included). Dash cover is unique to the tilt columns. A regular cover will not work with this column. The'67-72 trucks have a 1 wire horn contact. This column uses a 2 wire contact which means that one of the wires would have to be grounded in order for the horn to work if going into these years.
This is a OEM factory column. Built rugged and sturdy, not like some of these aftermarket columns that can be bent over your knee. It will give many more years of dependable service.
Turn signal lever simply screws in, shift lever pushes down and in and is held in place with a rolled pin. Just line up the hole and tap it in. The pin hole on the collar is in excellent condition, not wallowed out like some are. Pin is tight when installed. The item "73 79 67 72 FORD F100 F150 TRUCK BRONCO TILT with CRUISE STEERING COLUMN RESTORED" is in sale since Thursday, July 5, 2018.
This item is in the category "eBay Motors\Parts & Accessories\Vintage Car & Truck Parts\Interior\Steering Wheels & Horns". The seller is "cjmince" and is located in Clarksville, Tennessee. This item can be shipped to United States, Canada, United Kingdom, Denmark, Romania, Slovakia, Bulgaria, Czech republic, Finland, Hungary, Latvia, Lithuania, Malta, Estonia, Australia, Greece, Portugal, Cyprus, Slovenia, Japan, Sweden, South Korea, Indonesia, Taiwan, Thailand, Belgium, France, Hong Kong, Ireland, Netherlands, Poland, Spain, Italy, Germany, Austria, Mexico, New Zealand, Singapore, Switzerland, Norway, Saudi arabia, Ukraine, United arab emirates, Qatar, Kuwait, Bahrain, Croatia, Malaysia.


Sours: http://tiltsteeringcolumns.info/73-79-67-72-ford-f100-f150-truck-bronco-tilt-with-cruise-steering-column-restored.htm
1967-72 Ford Truck Tilt Floor Shift Ford Shaft w/Manual Box Steering Column - Paintable Steel
INSTALLATION KITS(all the required components needed for flawless installation)
1953-56 Ford Half-Ton Truck
This GM style column comes complete with a turn signal plug and horn relay which will convert the ididit wiring to your Ford wiring. To install, a swinger-style column drop will be required to secure the column to the dash, as well as a floor mount and u-joint. Modification of the intermediate shaft is also required if you are using the original gearbox.
1965-79 Ford Half-Ton Truck
A new rag joint is required to install. This column comes complete with a pre-welded underdash mount that will match the original bolt pattern. A Female End Plug which connects with the ididit wiring plug is also included. The wires will simply be matched by function rather than color.
For 1965-66 columns: Please note that the Bendix box was frequently used as a replacement for the Saginaw box. If not using the original steering box, a shorter length column may be required. Call ididit for details.
Sours: https://www.ididitinc.com/i-25048456-1967-72-ford-truck-tilt-floor-shift-ford-shaft-w-manual-box-steering-column-paintable-steel.html
Column steering 67 f100
Ididit - 1967-72 Ford F-100 Truck, Tilt Steering Column with Shifter, Retro Fit
These 1967-72 Ford F-100 tilt steering columns make any customized truck look great and are available in chrome for that custom look. Our tilt columns feature 8 way positioning. They are retrofit to position just right in your vehicle. With the same specs as the tilt floor shift version, this column shift column is just as easy to install. The column has been modified to put your aftermarket wheel in the same location as the original. All years utilize the original transmission mounted neutral safety switch. A gear shift indicator is not included. The shift pattern on the column will allow you to use either a 3-speed or 4-speed transmission. A shift linkage is required for installation and will attach to the lower shift linkage provided on the column.
Kit includes:
Plain Steel Steering Column with shifter
Levers and knobs
Self-canceling turn signals
4-way flashers
3 7/8" Wiring harness
Female end plug will be included to change the vehicles wiring harness to match the column wiring harness
Horn Relay
Limited Lifetime warranty
Available upgrades:
For chrome or black powder coated, add $219.00
Notes:
Available for either manual or power, please specify. May require additional components to complete installation. Note: A stock Ford wheel will not bolt to the top of this column. An after-market steering wheel is required.
CA Prop 65 Warning - cancer and reproductive harm www.p65warnings.ca.gov
Sours: https://www.performanceonline.com/
installed ididit steering column
Black Tilt Steering Column 1967 - 1979 Ford Truck 33 No Key Col Shift new
Description
Helix steering columns are CNC machined to deliver the highest quality steering performance in a compact column. Each steering column offers reinforced column tubing, 5 position tilt, billet steering column dress up kit, steering wheel horn button, hazard button, and machined splined steering wheel input. Steering columns are available with push button start, key on ignition and key on dash. You can also choose steering columns with built in shifter, or floor shift. Available in chrome or paintable finish.

Stay ahead of the pack with Helix Suspension. For more information on Helix products please contact your local dealer, or go to http://www.helixsuspension.com.
Show More
---
Features
Diameter :: 2"
Shroud Length :: 7"
Main Shroud Length :: 3.5"
Tapered Shroud Length :: 3.5"
Column Length :: 33"
Output Shaft :: 2" long 1" DD
Steering Wheel Input :: 3/4" x 36 Spline
Shroud to Wire Port :: 15.5"
Finish :: Black
Feature :: Includes Billet Shifter Arm, Turn Signal
Turn Signal Switch :: Included Prewired
Hazard Switch :: Included Prewired
Column Plug :: GM Plug
Feature :: Color Coded Wires
Feature :: Column Shift
Feature :: 5-position Tilt
Gear Indicator :: PNRD12 Illuminated Display
Transmission :: 3-Speed Automatic
Show More
Sours: https://www.johnnylawmotors.com/mi/sqeiRcxs/black-tilt-steering-column-1967-1979-ford-truck-33-no-key-col-shift-new
You will also like:
On to the handrail, he grabbed the member that was straining in the water and began to jerk off. After sucking Volod's dick for a while, Lena released it from her mouth, licked the head and, continuing to masturbate, began kissing its tip, touching the hole with her tongue, licking the transparent droplets that stand out. Then she looked up from the penis, turned her head to her husband, looked at him with a clouded look and in a gentle voice.
Asked: - Let's go to the bed.
73
74
75
76
77