Weight Storage
Weight Racks and Weight Plate Trees
Keep your workout area clutter-free with the use of a durable weight storage rack that securely stores weights and plates. Marcy free weight storage racks are constructed with high-grade heavy steel and provide convenient and compact storage solutions. Powder-coated finishes keep the weight racks and plate trees impervious to sweat, moisture, and free from rust buildup.
Marcy weight storage racks feature attractive open designs for easy access to weights, dumbbells, or kettlebells during your workout. With compact footprints and floor saving features, Marcy weight racks are ideal for your home gym.
Marcy Pro Weight Storage Solutions
Marcy offers a selection of weight storage racks to match your home gym needs.
Marcy Standard Weight Plate Tree: The unique triangular design of the Marcy Standard Weight Plate Tree PT-36 combines higher stability along with a space-saving footprint. Designed to accommodate standard one-inch plates, the Marcy Standard Weight Plate Tree has a total weight capacity of 300lb. Included spring clips ensure that the plates stay where you put them and prevent them from slipping off the sleeve. An integrated cup holder provides a convenient place for your favorite workout beverage.


Marcy Olympic Plate Tree: The 6-post, Olympic Plate Tree PT-45 is made from heavy-gauge, high-quality steel tubing and has a total weight capacity of 500lbs. The PT-45 is made to accommodate Olympic-sized plates. This weight storage rack offers an easy and compact storage solution. Keep your home gym organized, your weights securely stored between workouts, and within reach during workouts with the PT-45.


Compact Dumbbell Rack: The multi-function dumbbell rack DBR-56 is designed to accommodate both neoprene and cast iron weights. Made of high-quality 14-gauge steel, this combo weight storage rack can accommodate up to 400lbs. And, it is a great storage option for Marcy's ECO Hex and Rubber Hex dumbbell weights.


Horizontal Plate Rack: Hold your bumper and iron plates in place with Marcy's Horizontal Plate Rack STB-0130. This high-quality plate rack can accommodate up to 300lb of Olympic weight plates and two Olympic weightlifting bars. In addition, a handle and transport wheels make this rack conveniently easy to move around your home gym.


Marcy 3-Tier Dumbbell Weight Rack: Built for strength, the PT-5740 weight plate tree is made from a heavy-duty welded steel construction and can hold up to 300lb of Olympic Plates. In addition, you can store your Olympic Bar at in the centre of the tree. Organize your home gym, save space, and clean up your workout are with the PT-5740.
What to Expect When you Purchase Marcy Weight Storage Racks
All Marcy weight racks feature sturdy steel construction, durable powder coated finishes, floor saving rubber end caps, and require limited assembly. These compact, space saving weight racks are designed to conveniently fit in your home gym. Built to withstand daily use, Marcy weight racks are designed for serious weight trainers at an economical price.
Marcy features a selection of exercise equipment designed for training at home. Whether you're looking for weight training equipment a fat burning cardio workout, Marcy can provide the equipment you need to get the job done. FromMedicine Balls, to Exercise bikes, and more - Marcypro.com is the place for all your workout equipment needs!
Contact us today to learn more about Marcy's high quality and reasonably priced weight racks and home gym products!
Sours: https://www.marcypro.com/fitness-accessories/weight-storage
DIY Weight Plate Tree for Under $20
We review free products that we receive and participate in affiliate programs, where we may be compensated for items purchased through links from our site.
See our disclosures page for more information.
Building a DIY Weight Plate Tree is one of the easiest and most effective ways of storing plates in a home gym. This Do-It-Yourself Guide is designed to help you build a weight storage tree for less than $20 and an hours worth of work. Building a home gym doesn't mean you have to drop thousands of dollars and this is a perfect example of how you can build the garage gym of your dreams on the cheap.
What is a Weight Plate Tree?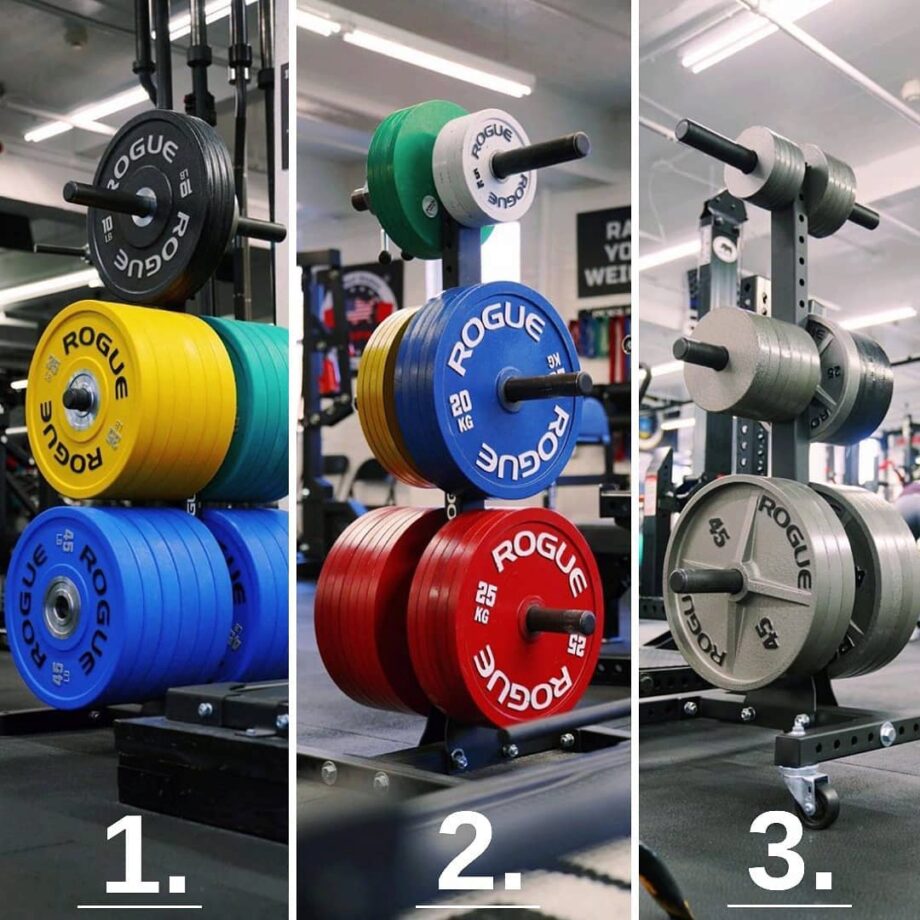 If you have a home gym, it's likely that you have weight plates. Whether they're cast iron plates used for Powerlifting or bumper plates used for CrossFit or Olympic Weightlifting, those plates need a place to be stored.
Some people just decide to leave their plates on the floor or up against a wall. This is certainly doable, but in a busy society, time is of the essence and having to flip through plates to find the one you want is tedious. In addition to being annoying to go through, having plates on some sort of storage rack makes them easier to lift and place on a barbell, prevents excess damage to the plates, and simply looks better than a random mess on the floor.
Plate storage options range from weight storage on the back of a power rack to toaster racks with segmented dividers to make taking the plates off the rack easier. By, and large, however, the most popular style of plate storage rack is the classic weight plate tree.
A weight plate tree comes in various sizes and shapes, but they pretty much all have a similar build. A center post. Two to four plate holder pins on opposite sides of the post and sometimes barbell holders and some hooks for lifting belts and barbell collars. They're simple, which makes them the perfect thing to make a homemade version of that you can do yourself without a ton of extra tools or expertise.
If you have a home gym and would like a way to store your plates, a weight plate tree is your best bet.
Materials
1 x 2"x4"x14' framing stud – $5.58
1 x 1 1/4"x48" Dowel – $4.72
1 x 8 oz. Elmer's Indoor Wood Glue – $2.97
21 x #8, 3 in. Wood Screws – $4.00
Total Cost for Materials: $17.25
Yes, that's an entire plate tree for $20. For those without a lot of weight or just getting into building a home gym, this is a smart option.
Tools
Battery Powered Drill (corded works fine too.)
3/32" Drill Bit for Pilot Holes (You could get away with a bit bigger bit)
Tape Measure or Ruler
1 1/4" Spade Drill Bit
6" Trigger Clamp
12" Miter Box and Backsaw
Build Instructions
Step 1. Sketch the Design
The first step is to building anything is to have a vision of what you want it to look like. I walk around with a notebook all day so I can jot ideas down, and so I drew this before starting: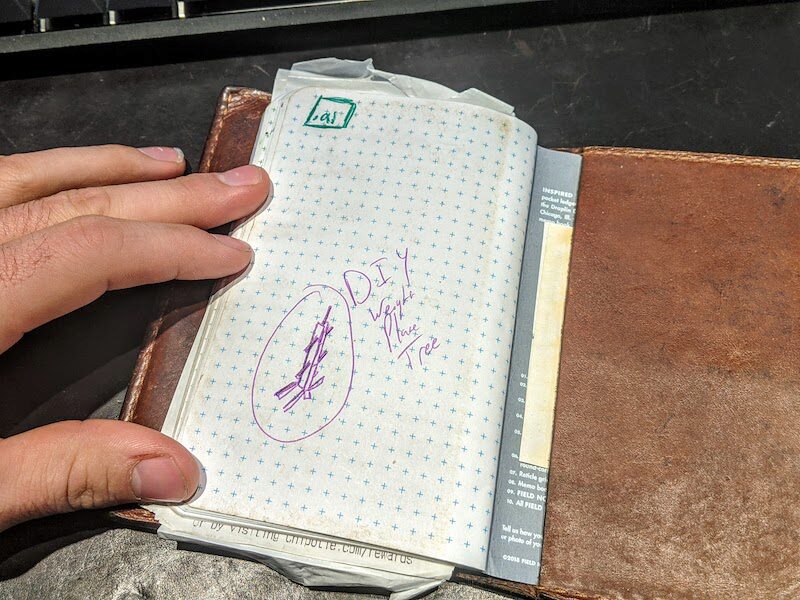 Step 2. Cut the 2"x4 Lumber and Dowels to Appropriate Sizes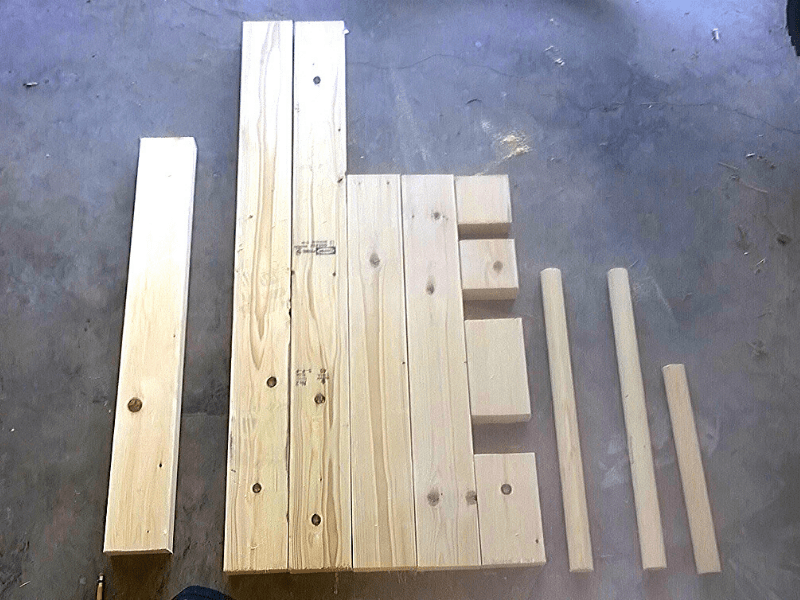 Although you can easily cut these yourself if you have the proper tools, it's probably easier to just have the hardware store where you buy the lumber do the leg work. If you buy your lumber from Home Depot or Lowes they'll make cuts free of charge.
Here are the cuts:
1 1/4"x48" dowel cut to 18" and 30"
2"x4"x14' cut to
2 – 37"
2 – 24"
1 – 12"
40" leftover
These can be adjusted depending on how many plates you want to hold. You could also replace the wooden dowels with black threaded pipe for an even higher weight capacity.
Home Depot only allows a few cuts total, so you may have to cut some yourself, unless you ask really nicely to an associate that isn't in a hurry (what I always do.)
Step 3. Drill Holes In the Vertical Supports for The Dowels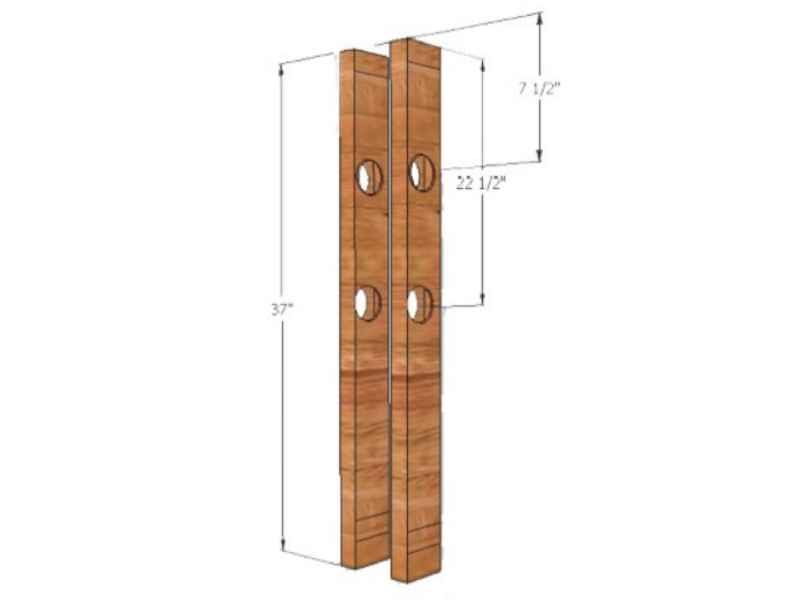 In order to make the holes even, we suggest clamping the two vertical posts together. Drill the holes in the center of the 3.5" block about ¾" deep and 7.5" from the tops of the 37" vertical upright supports.
Next drill a second set of holes 22.5" from the top of the 37" vertical upright supports.
Step 4. Assemble the Top of the Weight Tree (For Change Plates)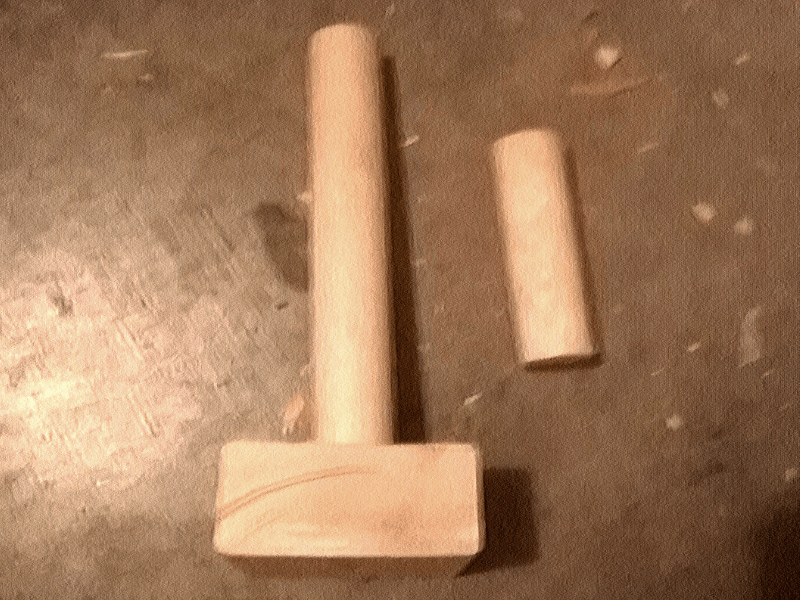 Take the 3.5" block and screw the 8" long dowel (you can make it shorter if you prefer) in through the bottom to secure it. You can set this aside for later assembly.
Step 5. Assemble the Base Supports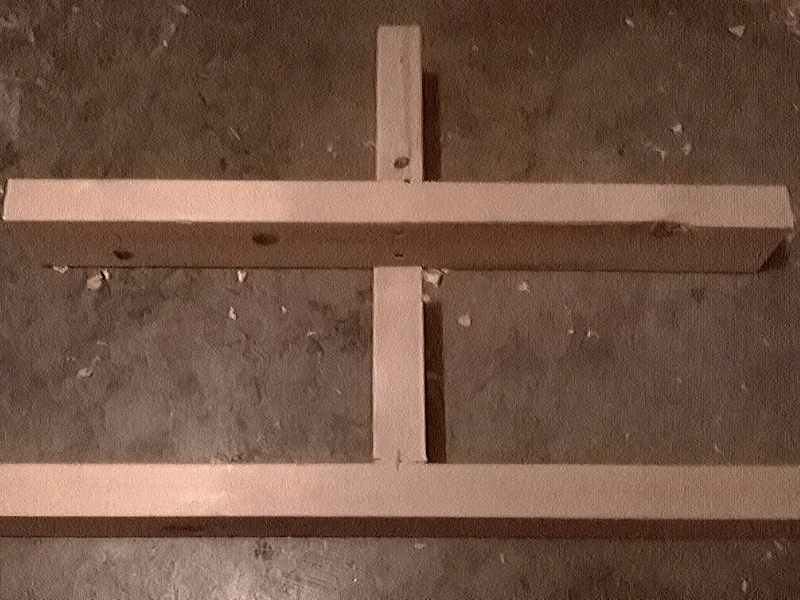 Mark the center of the (2) 24.5" pieces where the (2) 6" pieces will be connected.
Use the bar clamps to hold the 6" piece to the 24.5" piece and, with a â…›" drill bit, drill pilot holes through the 24.5" piece and into the 6" piece. (This is a pretty important step – failure to drill pilot holes may result in splitting the edge of the wood.)
Unclamp, add wood glue to the edge of the 6" pieces, reclamp it to the 24.5" piece like it was before.
Drill (2) 2" wood screws through pilot holes of the 24.5" piece and into the 6" piece.
Repeat for the other base support pieces.
Step 6. Assemble Vertical Upright Supports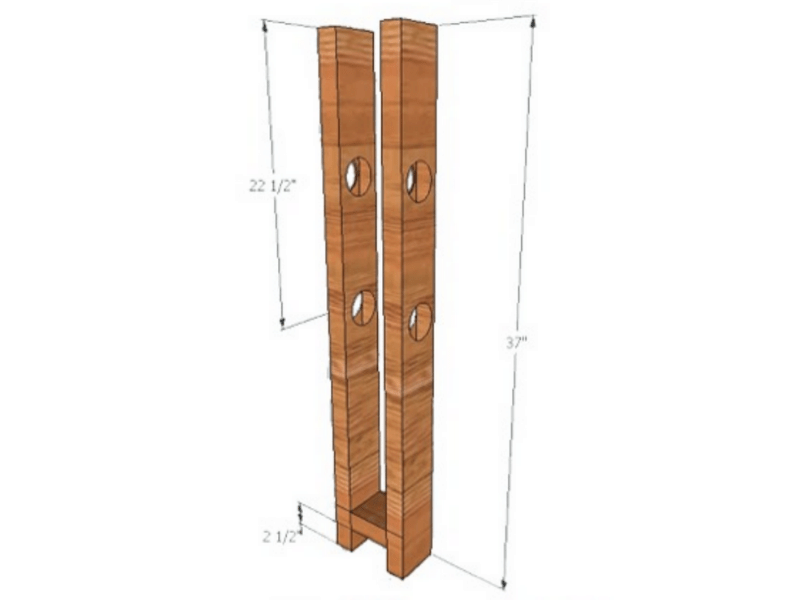 Place the remaining 3.5" square 2×4 piece between the two 37" pieces. The bottom of the 3.5" piece should be 2.5" from the bottom of the 37" pieces.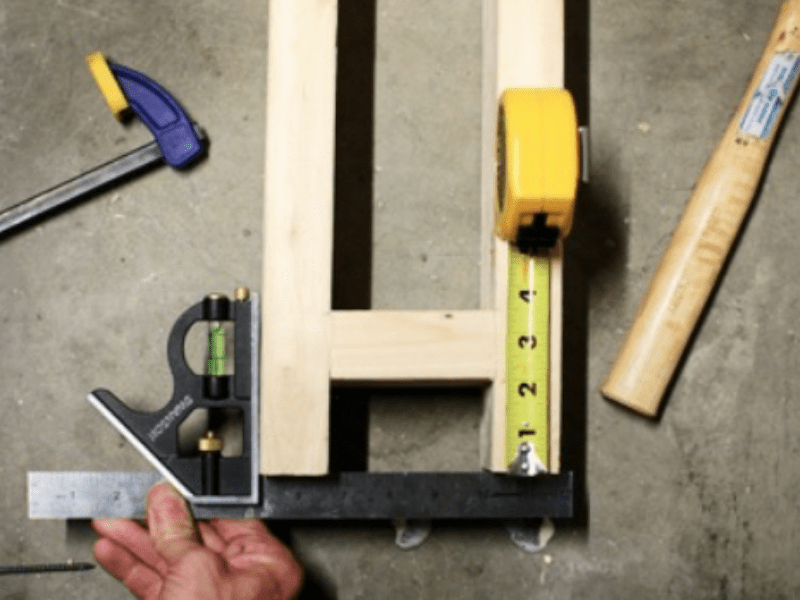 Important Note: I suggest using a square to make sure the vertical upright supports are straight. This design makes it easy for the plate tree to end up leaning to one side which not only looks bad, but could be dangerous. Just trust me on this one.
Clamp these pieces with a bar clamp and drill (2) pilot holes with a â…›" drill bit through each 37" piece and into the 3.5" piece.
Unclamp, apply wood glue (definitely suggested although not required) to each contact point, reclamp, and drill wood screws into the pilot holes of the 37" pieces and into the 3.5" piece.
Attach the other 3.5" square piece with the 8" dowel to the top of these 37" pieces such that the top of the 3.5" square is flush with the tops of the 37" pieces. Remember to clamp, drill pilot holes, unclamp, add glue, reclamp, and finally screw.
The last part of the vertical support assembly is to add the dowels. Tap the 17.5" dowel through the top holes of the 37" pieces and the 18.5" dowel through the bottom holes.
Important Note: If the dowels won't go in the holes you'll want to use the spade bit to make the holes a bit wider.
The vertical support should now look like this: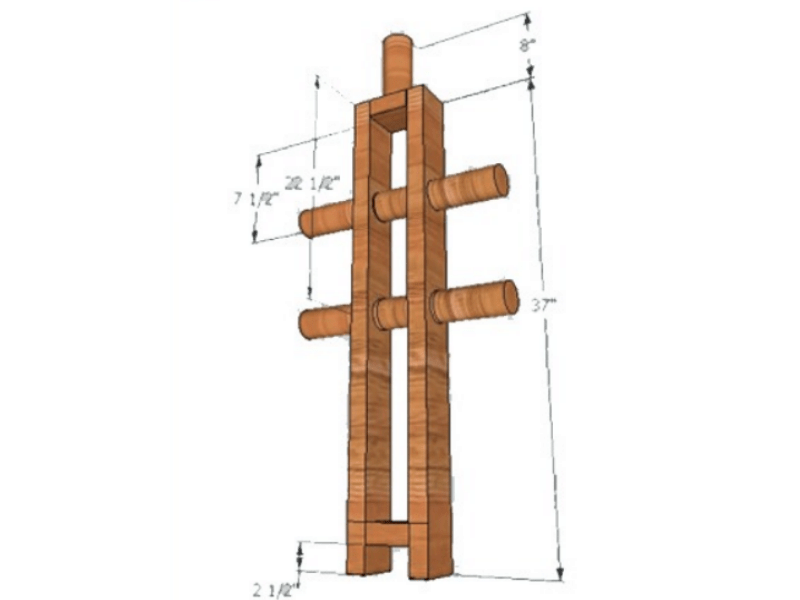 Step 7. Attach Vertical Upright Supports to the Already Assembled Base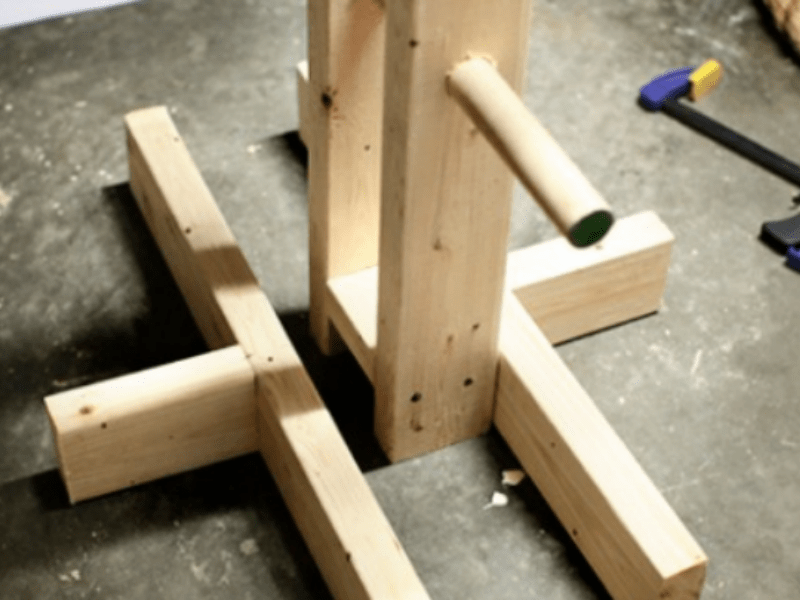 Center the vertical support assembled in the previous step between the two horizontal base pieces.
Clamp and drill (2) pilot holes through each contact point of the base and into the vertical support. Make sure the structure is level at this point and that it does not rock or move excessively at this point.
Unclamp, add glue, reclamp, add screws.
Step 8. Add the Plates, Stand Back, and Admire Your Work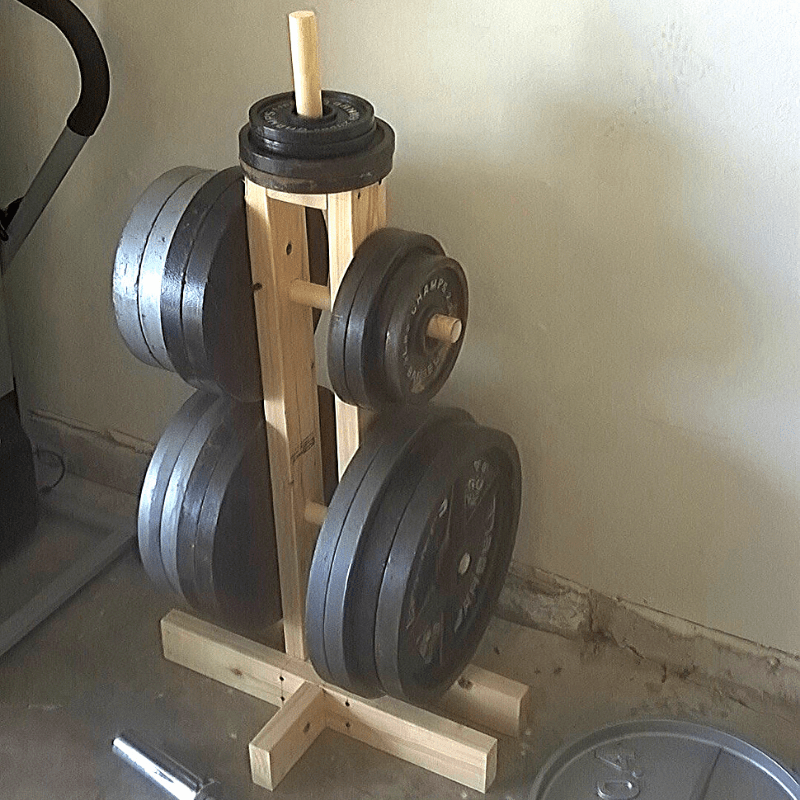 Recommended Alternatives
For many people, having to build a plate tree versus buying one for not much more that will hold more weight and look better (subjective) is a better route. If you've decided that you don't want to build one or want to upgrade from the DIY version you've built, here are some recommendations.
Budget Weight Tree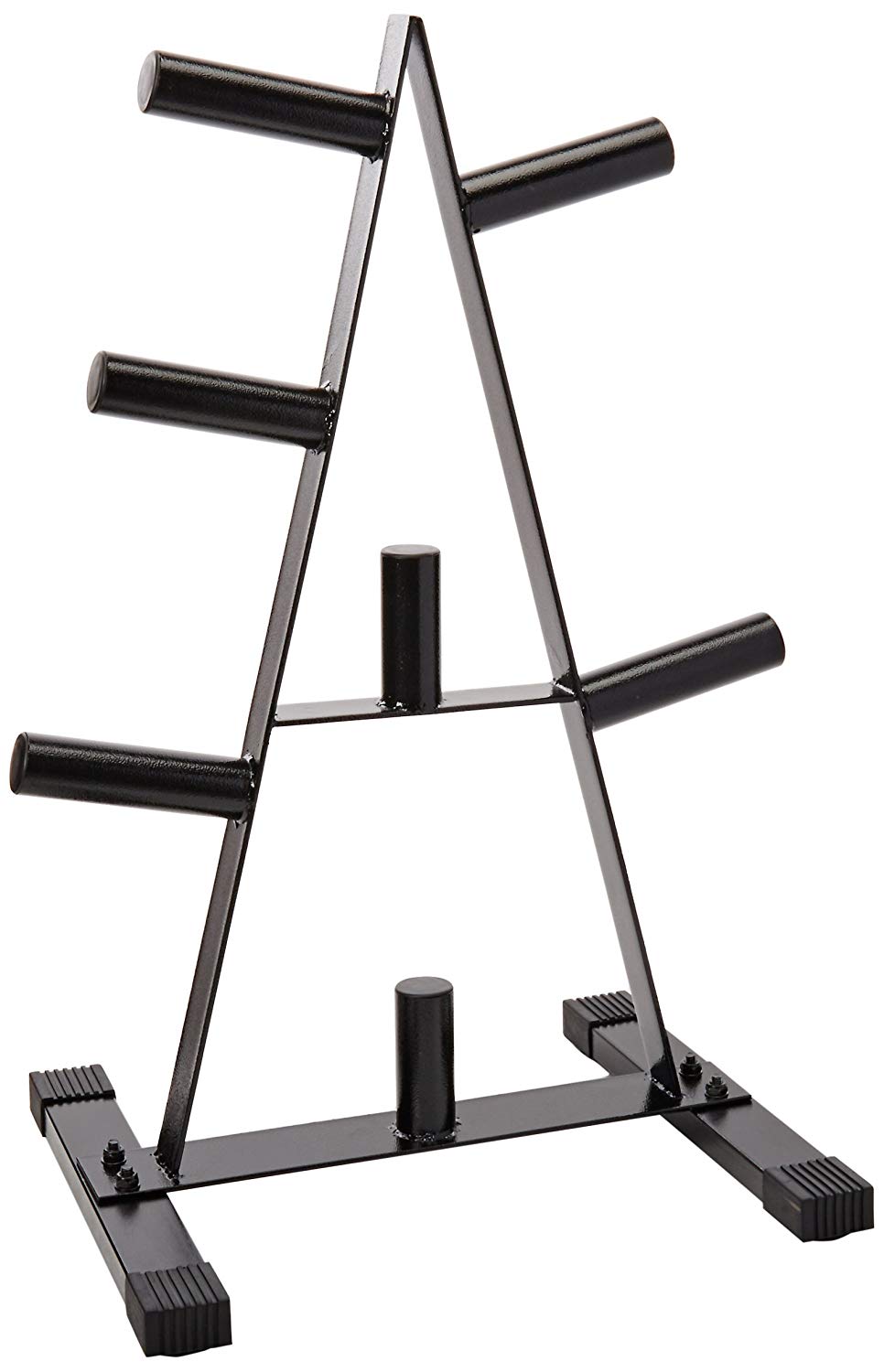 CAP Barbell Olympic 2-Inch Plate Rack
Keep your plates off the floor and right where you need them with the CAP Barbell 2 inch Plate Rack. Made for either home or commercial use, this rack offers ample storage for 2 inch plates, keeping them off your floor and right where you need them. Constructed of heavy gauge steel and powder coated, they look great and will last for years. The durable steel construction and powder coat finish make this plate rack a reliable storage space for Olympic Plates. Securely store and organize various sizes of weights with the SEVEN different plate posts. This plate rack has a 500 pound weight capacity. CAP Barbell is a leading distributor and provider of fitness equipment. Launched in 1982 with a small inventory of free weights and benches, CAP Barbell has grown over the past 30 years to include more than 700 products in 10 categories. Dimensions: 22L x 19W x 37H inches.
$45.54
Shop deal
The cheapest weight plate tree that we recommend is the CAP Barbell Olympic 2-Inch Plate Rack. With most storage items, we don't feel the need to recommend as strong and heavy-duty of equipment because it's really only there to hold things.
The CAP Weight Tree is certainly not the pinnacle of great craftsmanship. The weight capacity is a bit low at 500 LB, there's 7 total pegs, but 2 of those are made for change plates, the pegs are pretty short, and the height of the tree at 37" is really only designed for iron plates and would not work for bumper plates. However, if you can overlook all of these shortcomings and align your expectations with what is offered, this will get the job done for years to come.
Reviews are consistently good, with the main criticism being a wish that CAP would remove the middle post on the side with three posts.
Best Value Weight Tree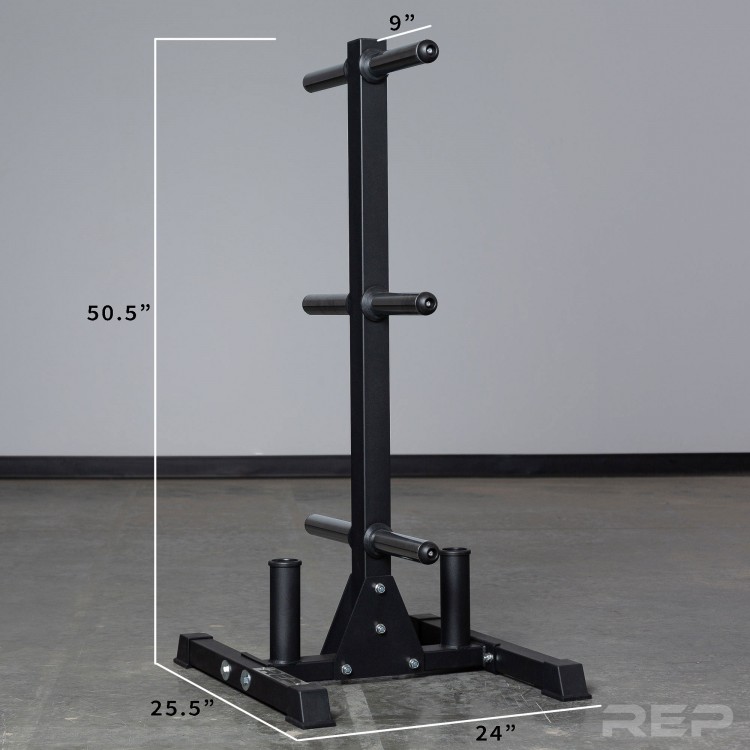 REP Bar and Bumper Plate Tree
The Rep Fitness Plate tree has 6 weight pegs total, which fit bumper plates on every level. Each peg is chrome coated so that the plates slide on and off very easily, and there is no flaking paint from constant use. With both a front and rear barbell tube, it also holds two barbells! The plate tree is perfect for storing all of your home gym needs, or for cleaning up your commercial gym's space. Specifications: Dims: 24" long x 24" wide x 50" tall, 35 lbs 850 lb capacity
$99.00
Shop deal
The REP Bar and Bumper Plate Tree from Rep Fitness is a mid-level plate tree that offers smart features for a good price, all things considered.
As indicated by the name, this plate tree is designed for bumper plates which have a consistent diameter compared to iron plates which vary based on the size. At $99 as of this writing, you get a lot of bang for your buck. Features include two upright barbell holders, 6 total plate holders that are evenly spaced, chrome-plated weight pegs that won't scar your plates or look scratched up after a single workout, and rubber feet on the corners to prevent slippage.
Overall, we don't see a reason to spend much more than this, unless you want wheels or a product made in the USA.
Made in USA Weight Tree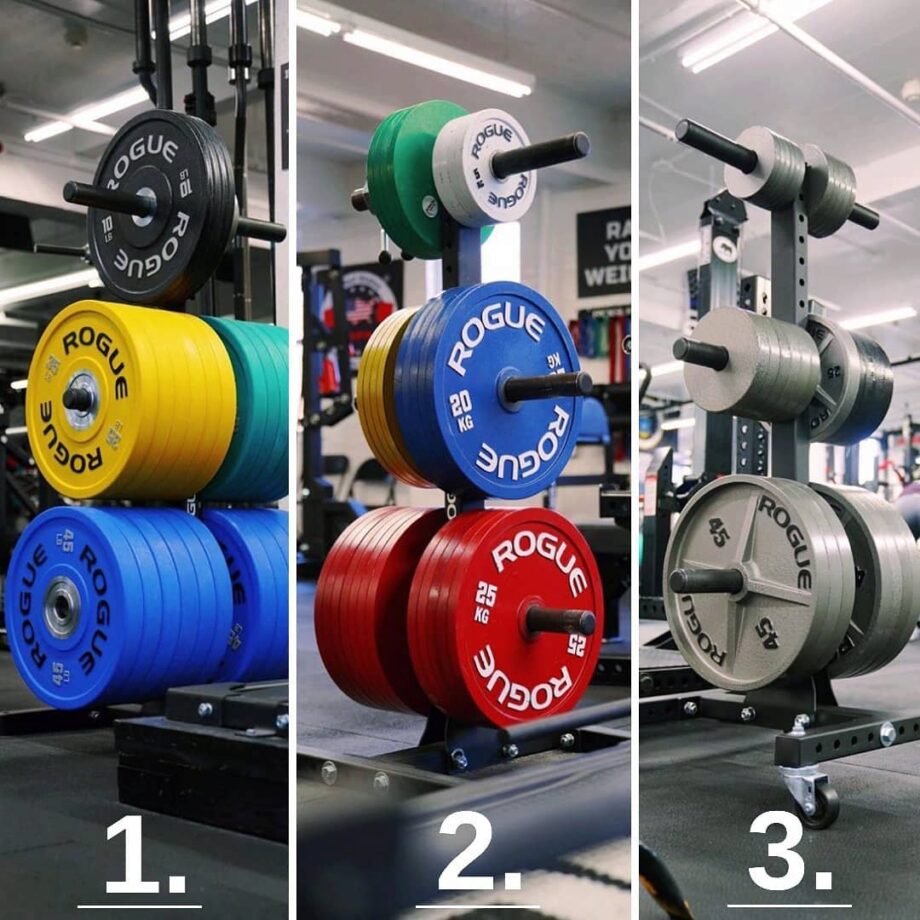 Rogue Vertical Plate Tree 2.0
The simple, old-school plate tree is still the gold standard when it comes to efficient bumper storage at affiliates and garage gyms around the globe. That said, there's always room for a little refinement. Rogue's updated Vertical Plate Tree—built in the USA—improves on traditional models with a reinforced triangle-plate base, optional wheels for mobility, and re-positioned posts that enable full-size Oly plate storage on all three tiers. The unit's new bolt-together design also reduces shipping costs while maximizing overall stability. Compatible with any and all IWF standard Olympic plates, the Vertical Plate Tree 2.0 is equipped with six 12" long storage posts (three on each side) constructed from 1.5" Schedule 40 pipe. Each of the posts on the roughly four-foot tall tree are evenly spaced at 18.275" on center to offer a good mix of versatility and storage capacity. Specifications: Made in the USA 26" , 12" post length L x 24" W x 50" H New, Bolt-Together Base Design w/ Triangle Plates (6) 12" Plate Storage Posts – Schedule 40 construction All 3 Tiers compatible with Full-Size 450MM / 1.9" OD Olympic Plates Weight post spacing: 18.275" on center Optional Set of (4) Wheels Available (Imported)
$178.50
Shop deal
The Rogue Vertical Plate Tree 2.0 is similar in size to the REP Bar and Plate Tree, but is quite a bit more heavy duty. Rather than a bolt together design, the plate posts are welded to the upright giving them a higher weight capacity. In addition, casters are available if desired. We do not like that the posts are powder coated as it is more likely to lead to scratches, but this is a staple that's used in CrossFit Boxes and home gyms the world over with great reviews. One thing to be aware of, however, is the caster wheels are not lockable and the bolts on the bottom of the plate tree can scratch plates, which is something people often request changes on.
Further reading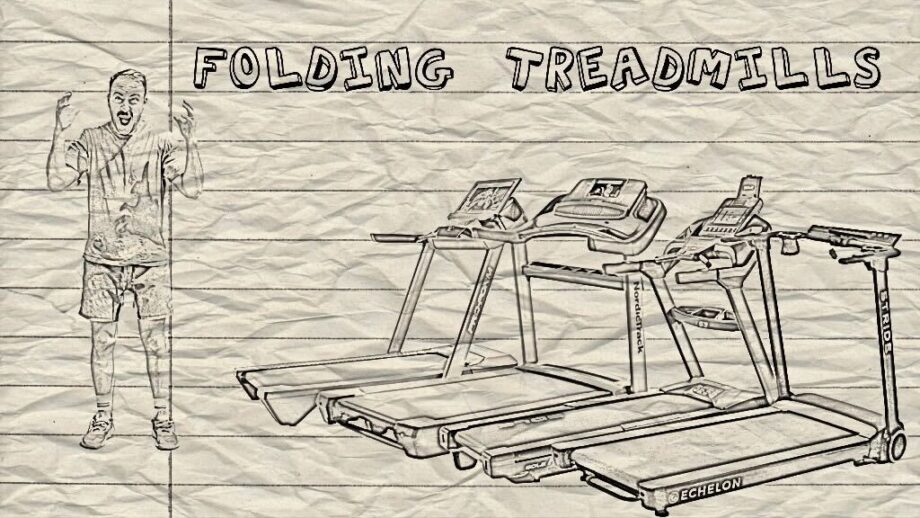 4 Best Folding Treadmills (2021) by Coop
Looking for the best folding treadmill for your home? I've compiled my four favorites – and there is something for everyone. Read more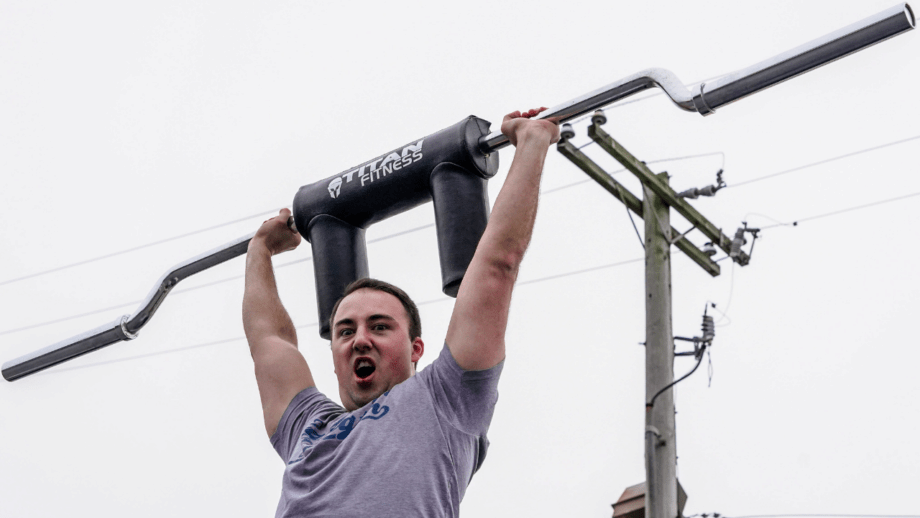 The Best Safety Squat Bar for 2021 by Coop
After researching 14 Safety Squat Bars and testing 7 of them during training sessions featuring squats (regular, box, and front,) good mornings, lunges, JM Presses, and more, we think that the Titan Safety Squat Bar V2 is the best Safety Squat Bar for most people. Our previous pick was the EliteFTS SS Yoke Bar; although we still love the SS Yoke, version two of the Titan SSB is almost identical at a much lower price, especially when shipping is considered. It features heavy-duty steel, removable handles, thick padding, and chrome plating. There isn't a warranty which is unfortunate, but we doubt you'll ever need to use it. Read more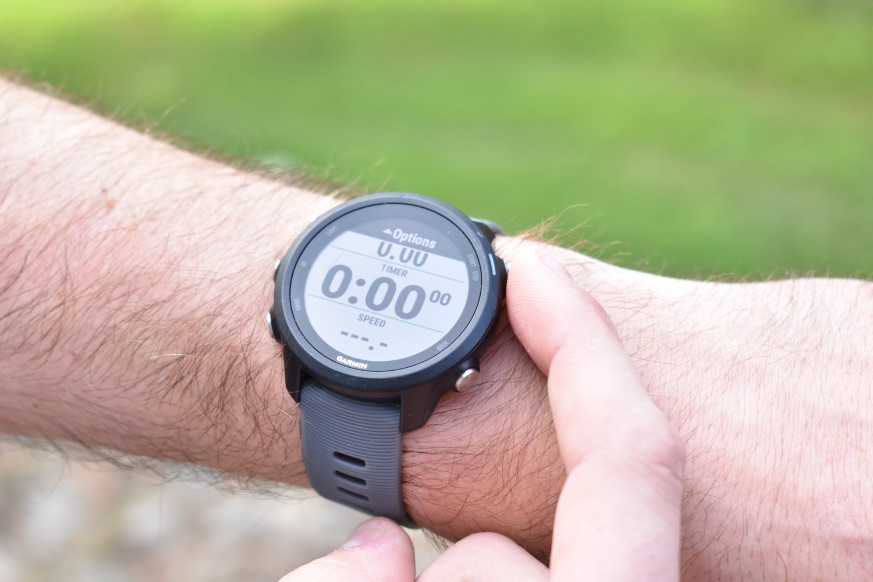 Garmin Forerunner 245 Review (2021): A Smartwatch for Runners by Coop
The Garmin Forerunner 245 is a cardio junkie's dream come true. It has built-in GPS, tracks a variety of metrics such as your VO2 Max, and gives tips on your running form. We had several people test this tracker, including an avid runner.As always, I'll give my honest opinion and all the details with my in-depth Garmin Forerunner 245 review. When testing fitness trackers, I look for things like overall value, activity tracking options, different metrics, and the benefits of the companion app.Our testers used this tracker to run trails, do strength training, cycle, and for daily walks. Using the Forerunner 245 for a variety of activities is important for my assessment process in order to understand where this tracker shines.My Favorite Things:GPS-enabled watchGarmin Coach Training ProgramsShows your current amount of energy dubbed the "body battery"Incident detection and assistance featuresMy Callouts:Wristband might be uncomfortableHas no music storage without upgrading to the Garmin Forerunner 245 music edition1-year limited warranty for an almost $300 tracker Read more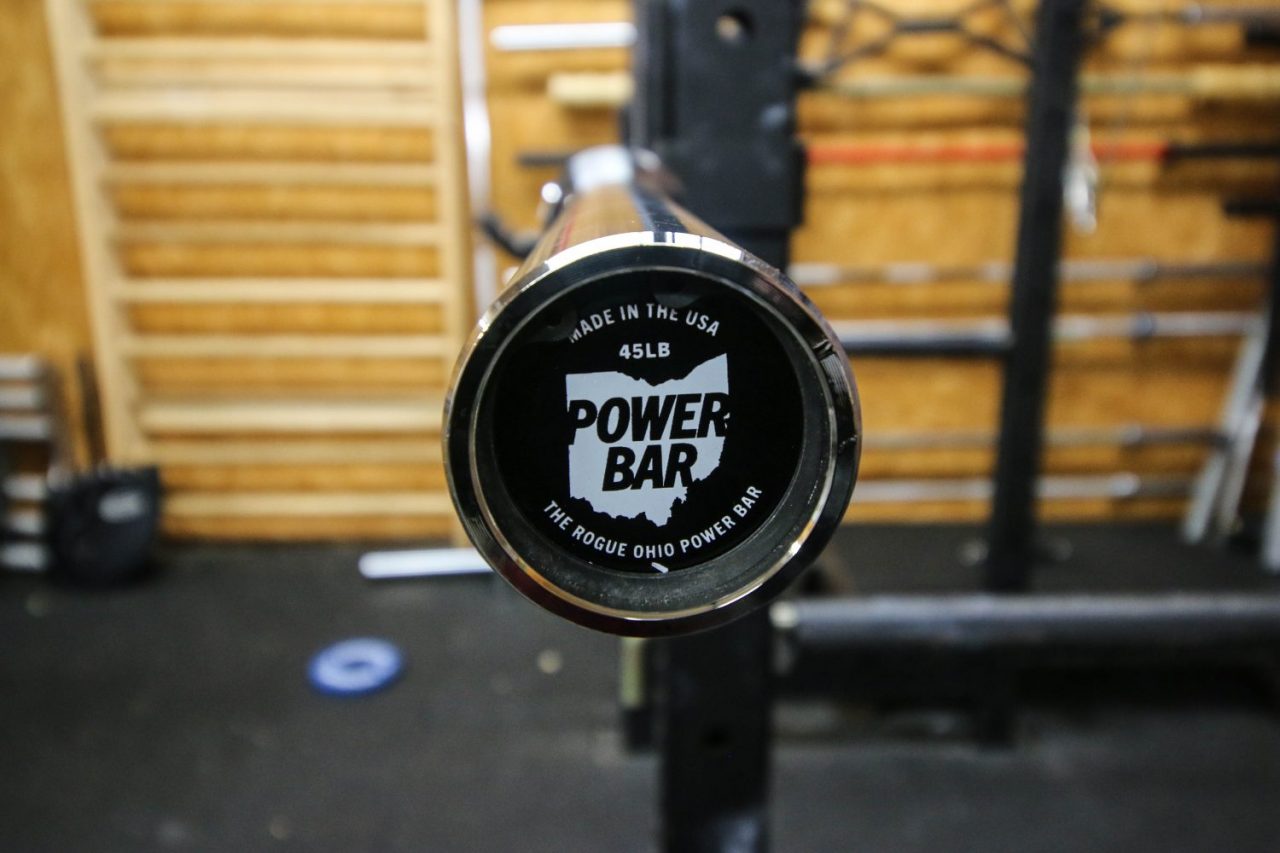 Rogue Ohio Power Bar Review (2021): Best Power Bar for Most People by Coop
Is the beloved Ohio Power Bar the best powerlifting bar available? Find out in our Rogue Ohio Power Bar review. Read more
Sours: https://www.garagegymreviews.com/diy-weight-plate-tree
Storage Racks & Stands
Keep your workout space or facility organized! We offer a number of solutions for every type of equipment: dumbbells, kettlebells, weight plates, weight bars, medicine balls, straps and handles, yoga mats, foam rollers.
Customizable racks like the SDKR1000 allow you to fit your exact needs. For a big price discount, purchase a package of weights with rack.
SALE $199 MSRP $219.00
Sours: https://www.fitnessfactory.com/free-weights/weight-racks/
Let's review the best bumper plate storage.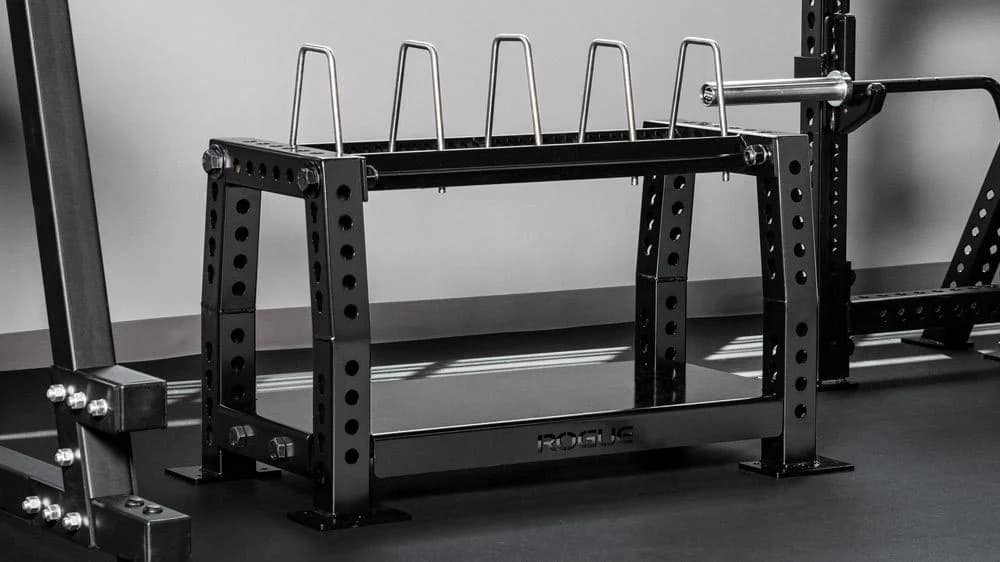 Having a commercial or home gym is not all about getting all the equipment you need. These pieces of equipment need to be kept and stored neatly and orderly. Bumper plates specifically should be stored in racks and storages to preserve their quality so you can use them for a longer time.
Here's some of the equipment we are going to look at:
Best Bumper Plate Storage – Overview
Storing your bumper plates can be done in several ways. There are horizontal storages where you can store your bumper plates like dinner plates. There are also vertical trees, racks, carts, and storages with wheels, but whatever your preference is, there are some things to consider when choosing s bumper plate storage. The first thing to consider is the number of plates you have. Having plenty of plates means you would need a storage that can fit ten weight plates. Other things to consider in choosing bumper plates storage or rack are weight capacity, peg size, size, and accessibility.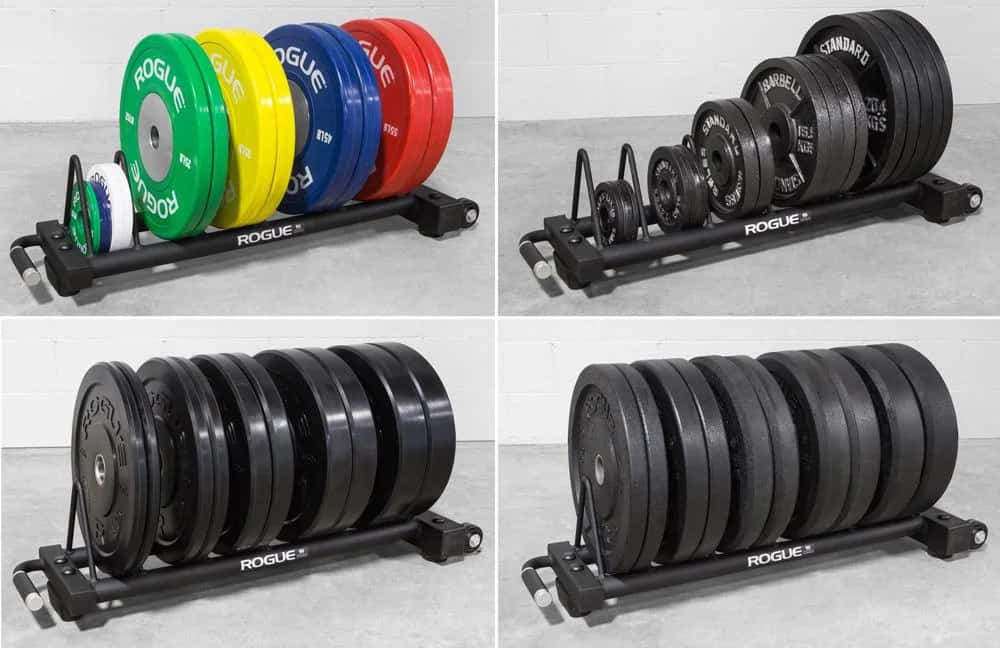 Having a cluttered and disorganized stack of weight plates in the corner of your gym is not a pretty sight. This article will show you different types and forms of racks and storages from different manufacturers that will create some harmony in the disorder of your bumper plates. They are all from trusted companies producing quality and functional gym products and equipment.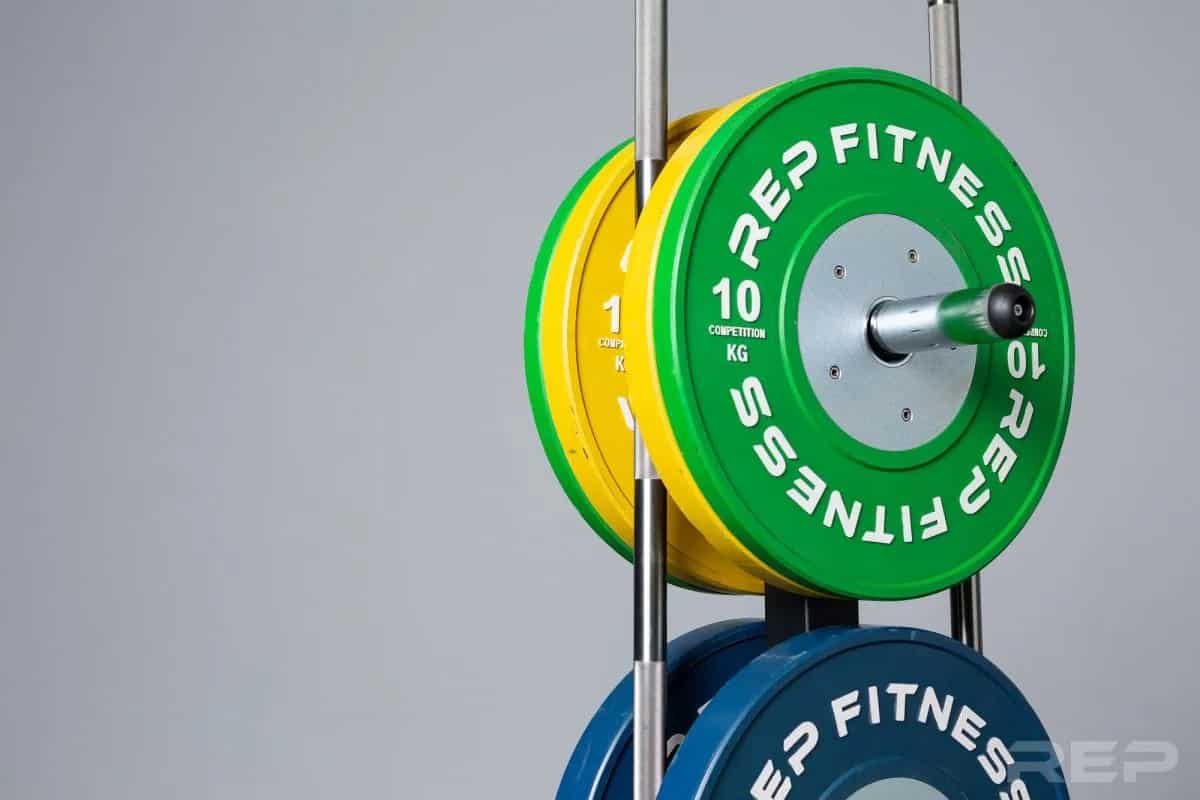 Rogue Vertical Plate Tree 2.0
Rogue updated its Vertical Plate Tree with Version 2.0. It now has an augmented triangle-plate base, optional wheels for movement, and re-positioned posts enabling full-size Oly plate storage on all three tiers.
The unit's new bolt-together design lessens shipping costs while boosting overall stability. It is furnished with six 12" long storage posts (three on each side) built from a 1.5" Schedule 40 pipe. Each of the posts is separated at 18.275″ on center to provide versatility and ample storage capacity.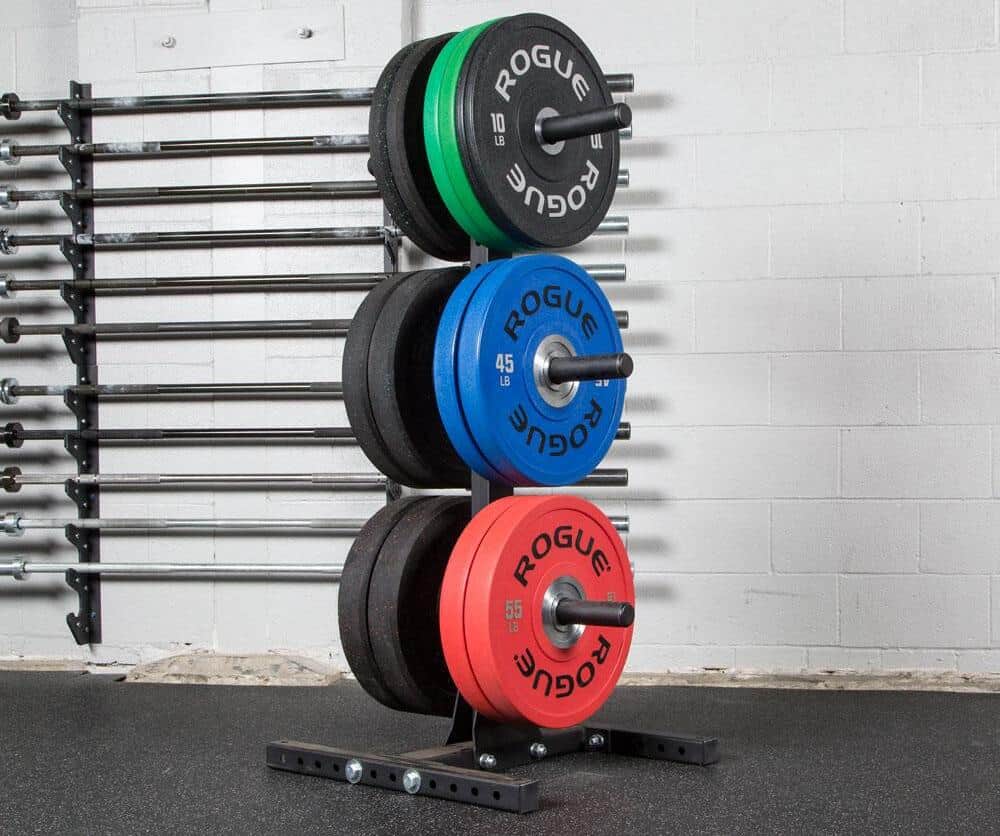 Rep Bar and Bumper Plate Tree
The Rep Plate Tree can accommodate bumper plates on every level with its six weight pegs. Each peg is chrome coated so plates can glide on and off very smoothly, and so there will be no flaking paint from constant use.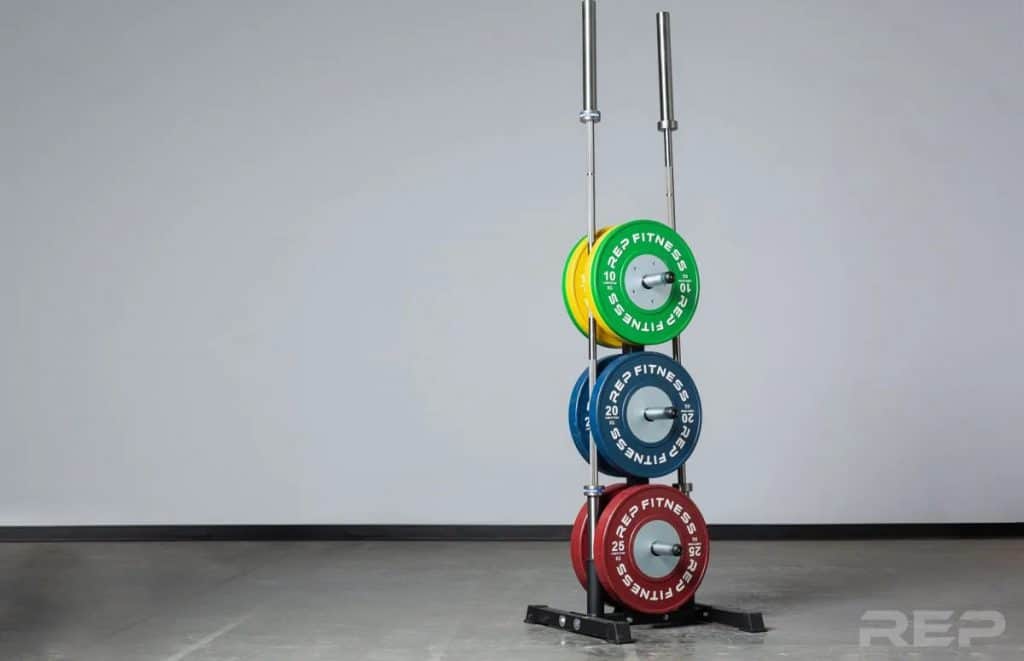 It can hold two barbells because of its front and rear barbell tube. It has a weight capacity of 850lbs and a dimension of 24″ long x 24″ wide x 50″ tall.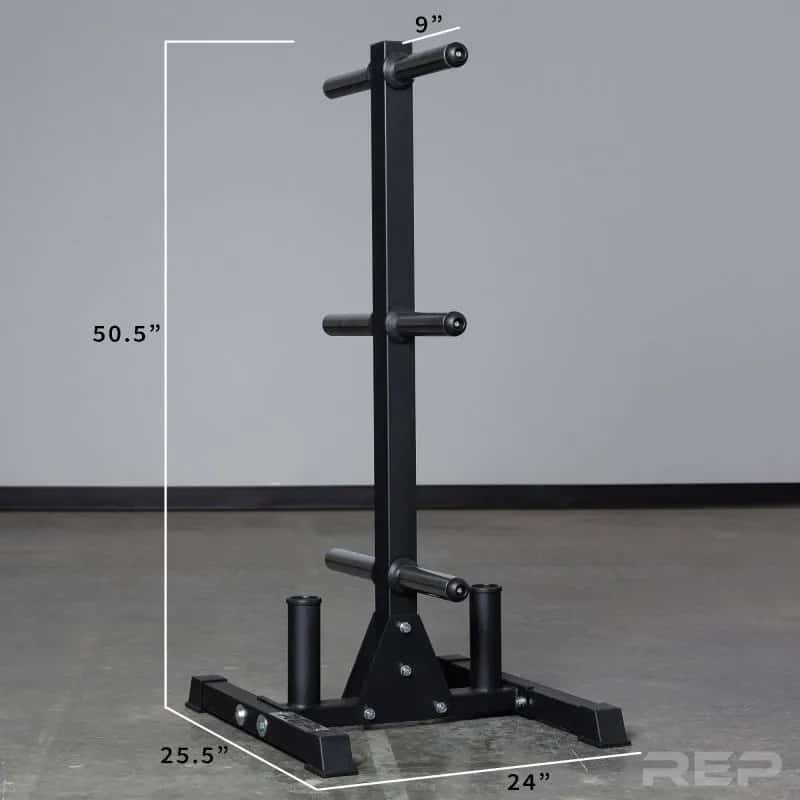 Get RX'd Vertical Plate Tree
Get RX'd Vertical Plate Tree can carry bumper plates at all six sleeves from 10lbs to 55lbs. The 13″ sleeves can hold up to four 55lbs plates each, and it weighs 87lbs.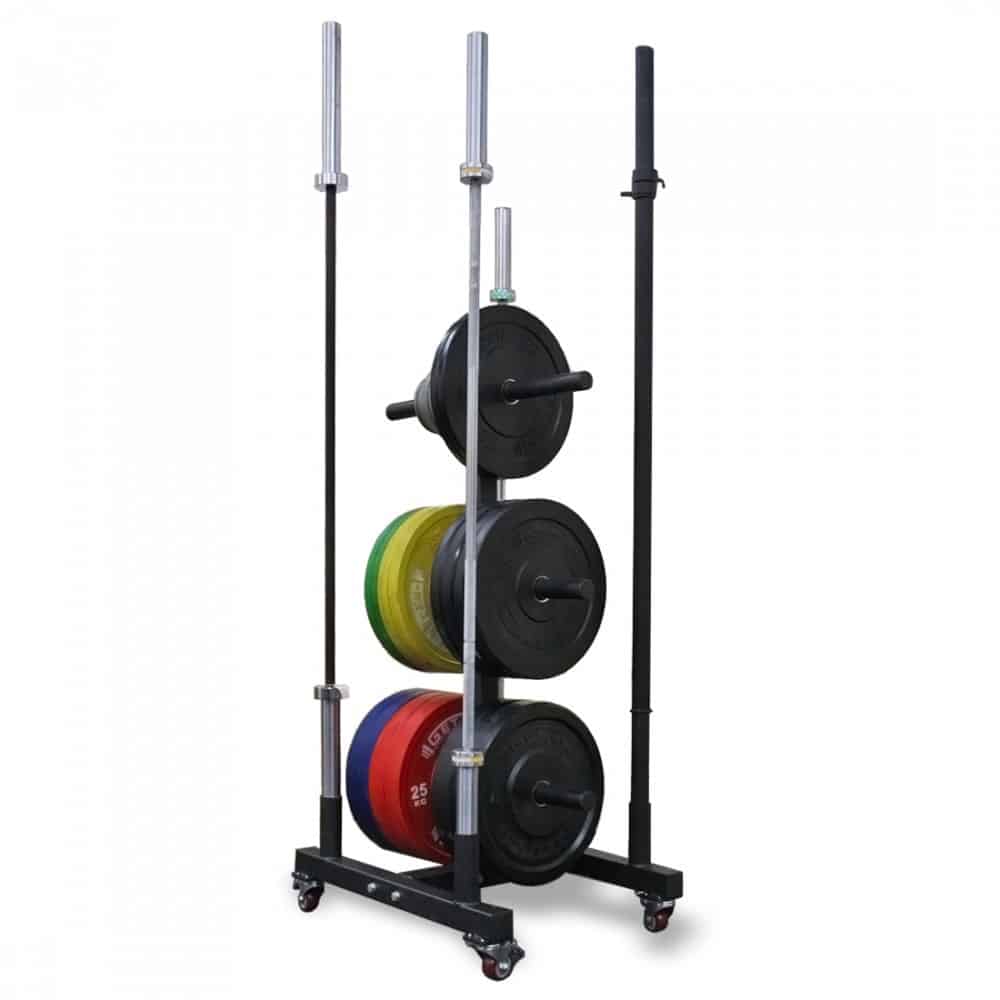 The Vertical Plate Tree can be locked into place easily with its lock-in wheels. Storing and removing plates and barbells become more efficient with this space-saving storage solution.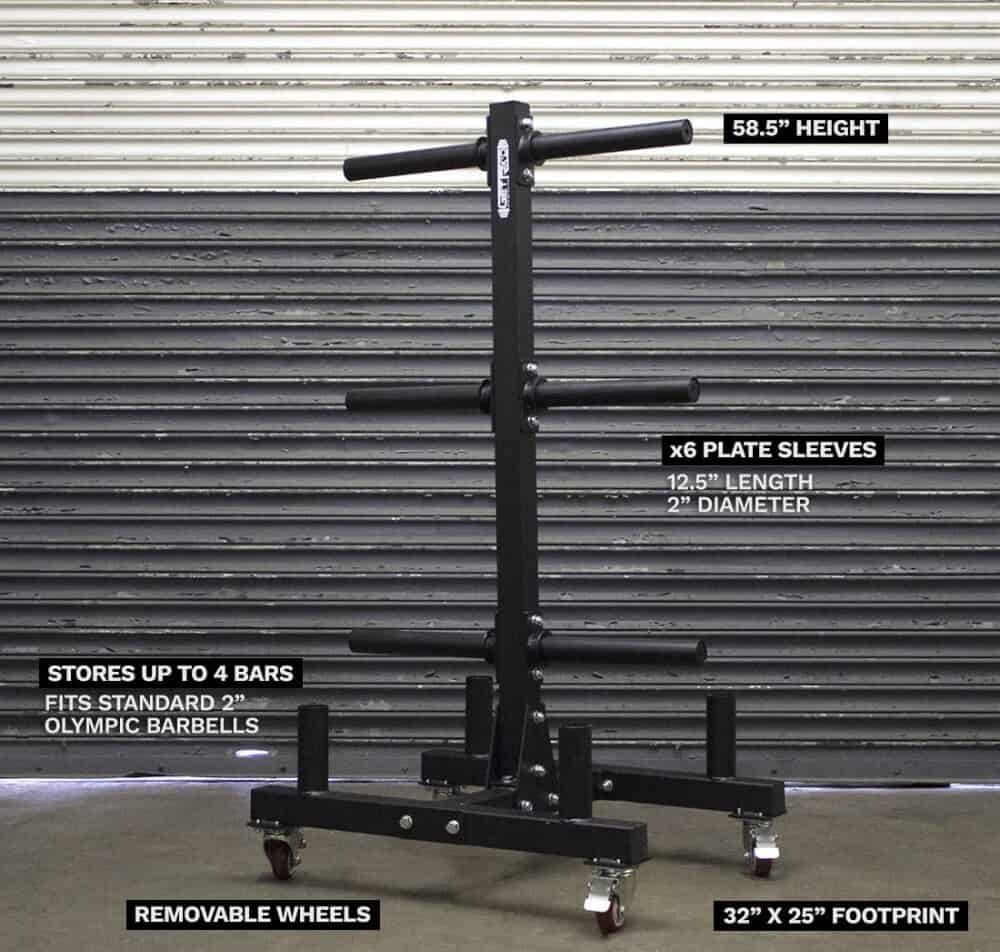 Rogue Competition Bumper Plate Cart
Conducive and completely mobile, Rogue Competition Bumper Plate Cart is created exclusively for use with competition bumper plates, offering a 320lb/165kg weight capacity. It comprises nine steel dividers positioned to securely carry two 55lbs/25kg plates, two 45lb/20kg plates, two 35lbs/15kg plates, two 25lb/10kg plates, and an array of smaller steel plate increments (10lbs, 5lbs, 2.5lbs).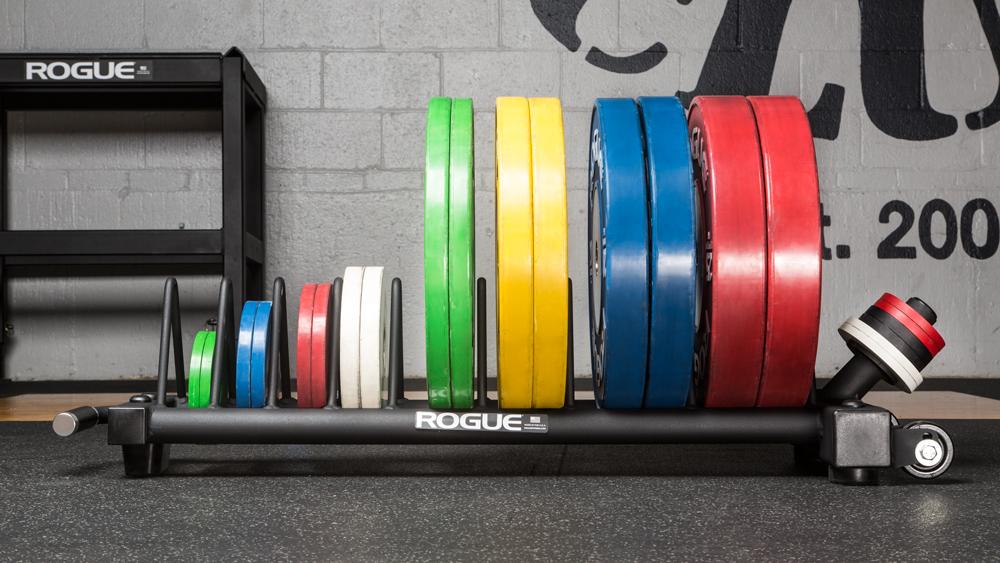 It has a 4″ inch horn on one end of the cart to provide an additional storage option for fractional plates. The Competition Bumper Plate Cart emphasizes a built-in handle and wheels for easy portability. The unit's small frame (48.75″ x 15.625″ footprint) makes it easy to fit in a tight corner of a home gym.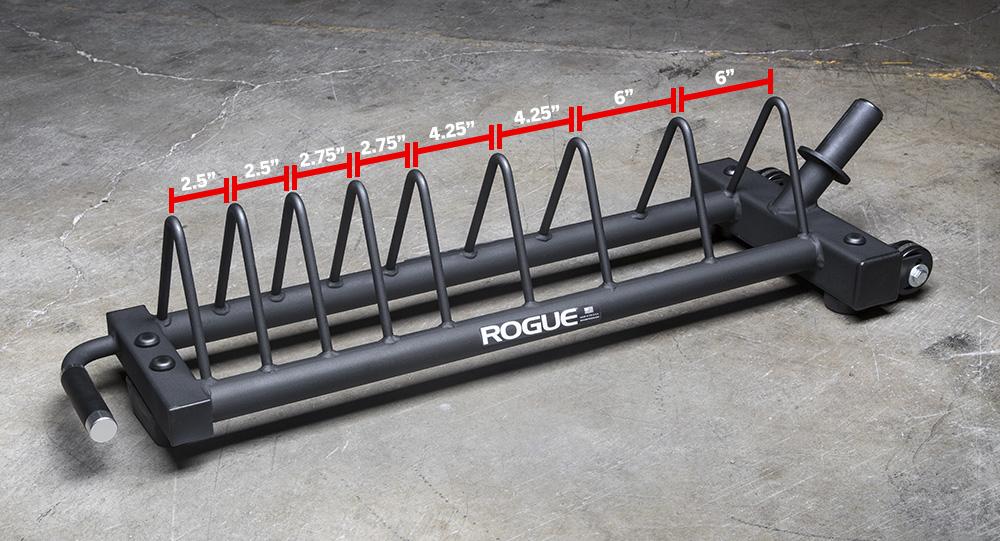 Rogue Horizontal Plate Cart 2.0
Rogue Horizontal Plate Rack grants a single, all-around storage solution for all types of bumpers, including Hi Temps, Steel Plates, HG Bumpers, and Competition Plates. Version 2.0 stresses a glossier look with a broader back end for better stability while moving and a set of load-bearing rubber feet to preserve the gym's flooring.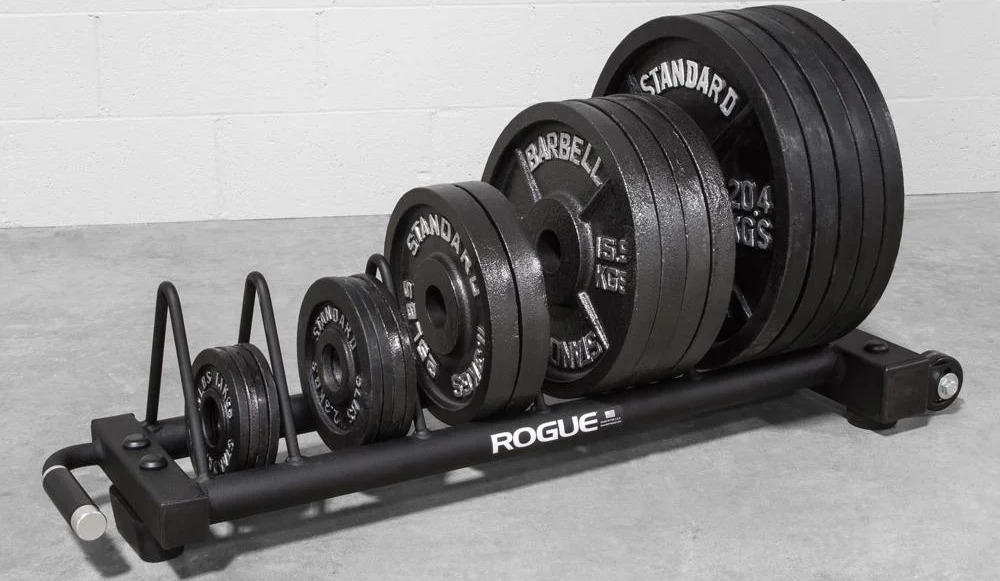 It has six dividers creating two slots for 45lbs and 35lbs plates, two slots for 25lbs and 15lbs plates, and one slot for 10lbs and a smaller variant bumper. This results in a substantial max storage capacity of 310lbs. It also has a convenient handle and wheels for effortless mobility.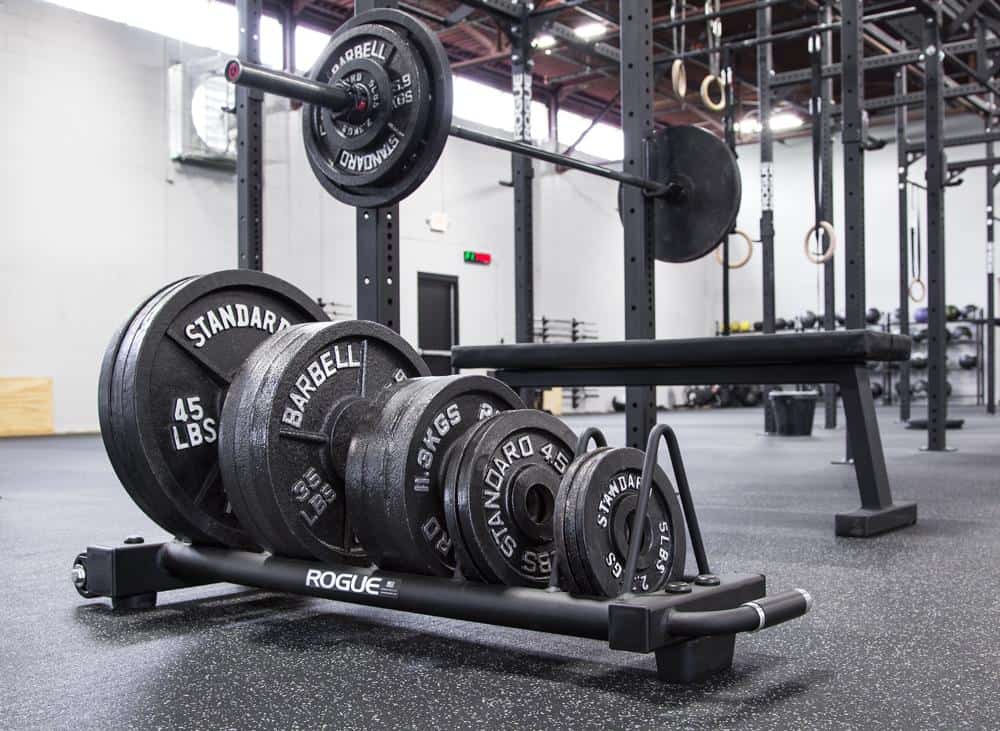 Rep V2 Horizontal Plate Rack
The V2 Horizontal Plate Rack has an updated ergonomic handle and dual barbell tube storage, making it more convenient to move weights between platforms. It has a dimension of 43.5″ x 15.75″ x 11.5″ (LxWxH) and can hold 420lbs of weights.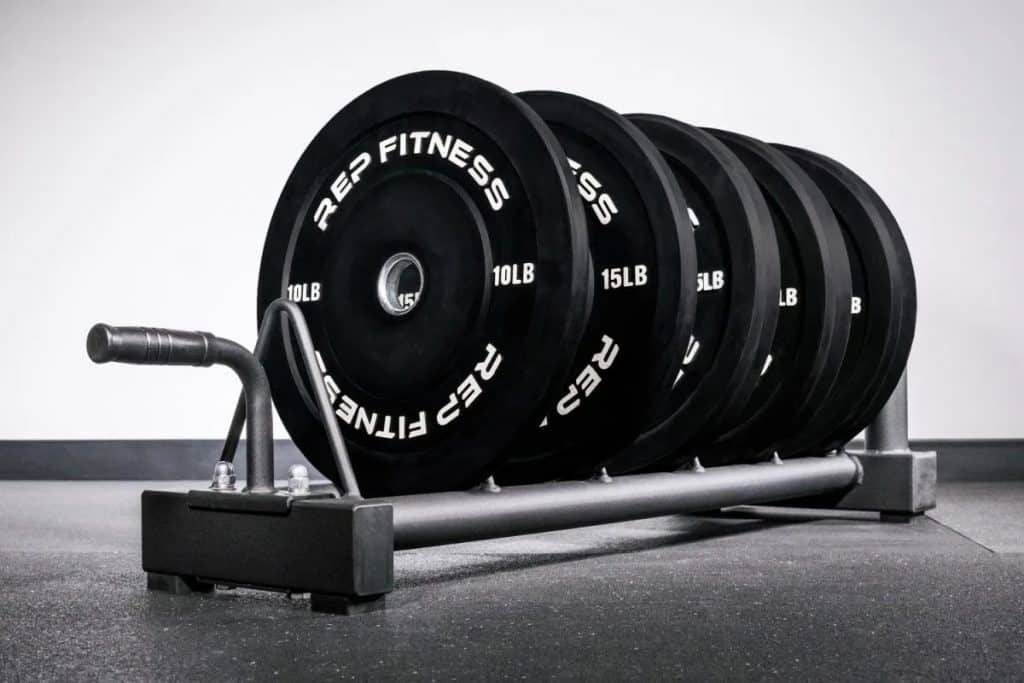 It has a matte black powder coating making it long-lasting and good-looking. The wheels don't rest on the ground when not being moved, which prolongs the rack's life.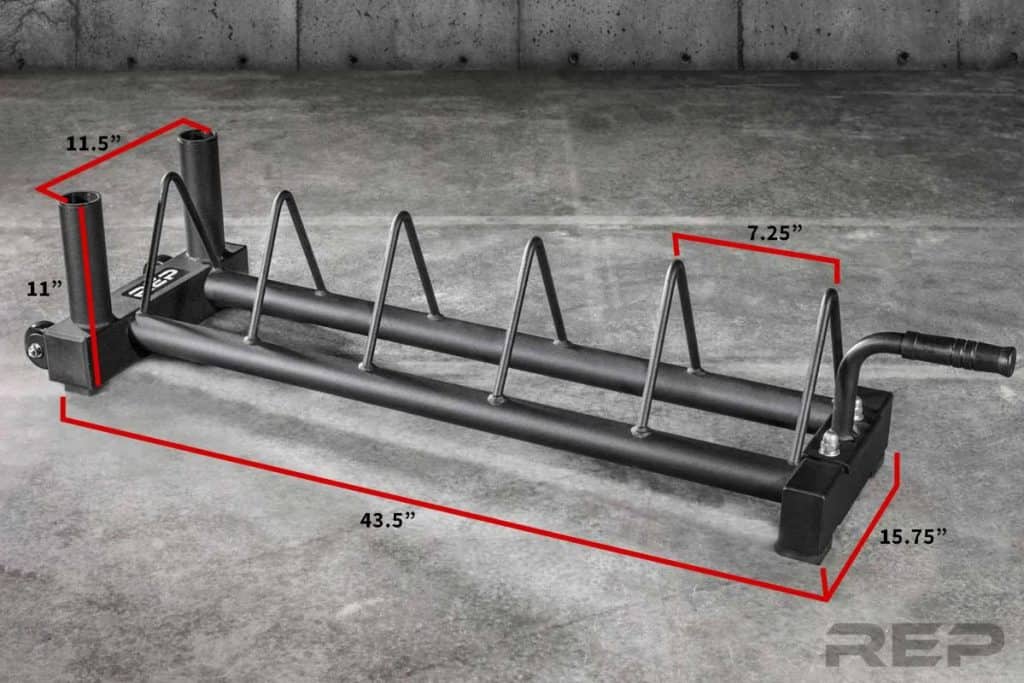 Get RX'd Universal Plate Cart
The Universal Plate Cart is ideal for Competition, Cast Iron Olympic Plates, or Bumpers. The cart is entirely mobile for smooth transport throughout the garage or gym because of its dual wheels and a built-in handle.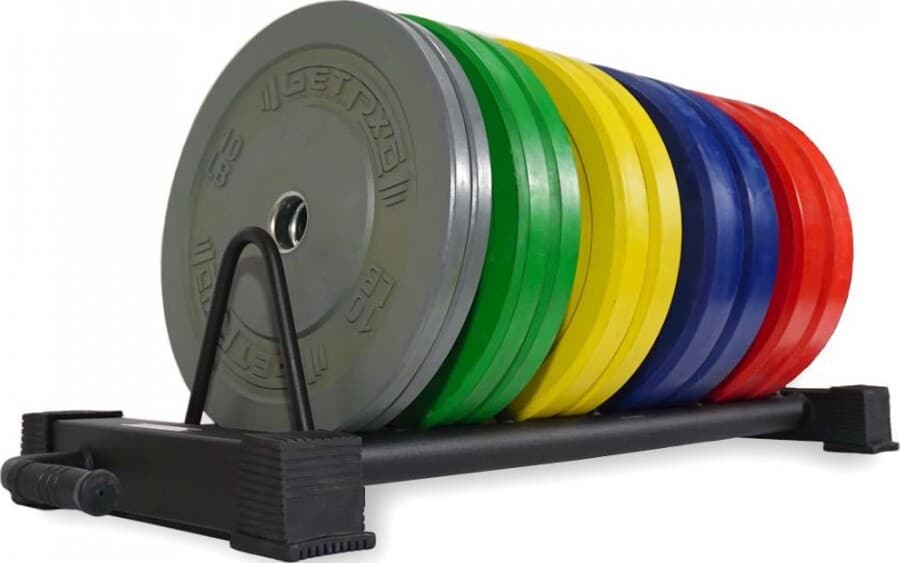 You can now have all your plates on a single rack with its fractional and metal plate sleeve welded along the rear. It has a 3.5″ section, two 5.5″ sections, two 8″ sections, a 5.5″ plate sleeve spacing.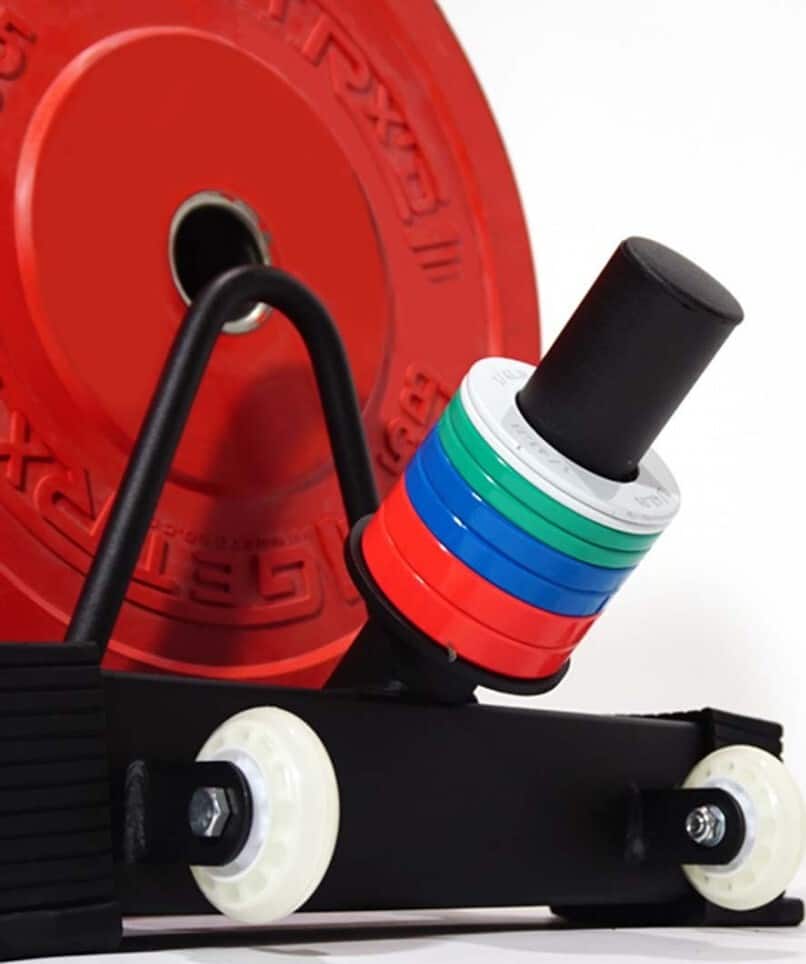 American Barbell Horizontal Rolling Bumper Storage
American Barbell Horizontal Rolling Bumper Storage is an Olympic plate holder that highlights a front handle and a foam-covered hand grip for efficient handling. It provides a compact way to store your plates with its heavy-duty metal frame that measures 16 inches in width and 50 inches in length.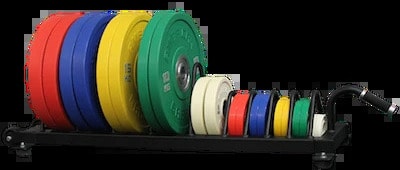 This horizontal rolling bumper storage unit gives you the ability to store 45-pound plates as well as your smaller and incremental plates. Plate storage spacings are 2.5 inches and 5.5 inches, and there are a total of nine plate spacings on this rack.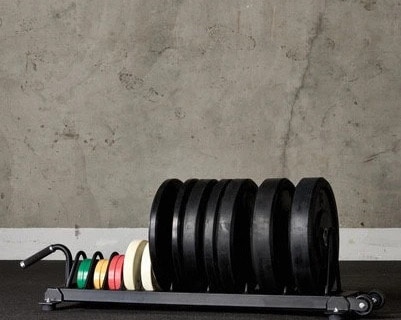 Rogue V2 Bumper Stacker
Rogue redesigned their Bumper Stacker for maximum efficiency as it highlights a 36.5" tall weight post with an X-shaped base for simple assembly and reduced shipping costs. Its two legs are made from 2×2″ 11-gauge steel and measure 24″ in length, establishing a compact footprint perfect for a vertical plate storage unit.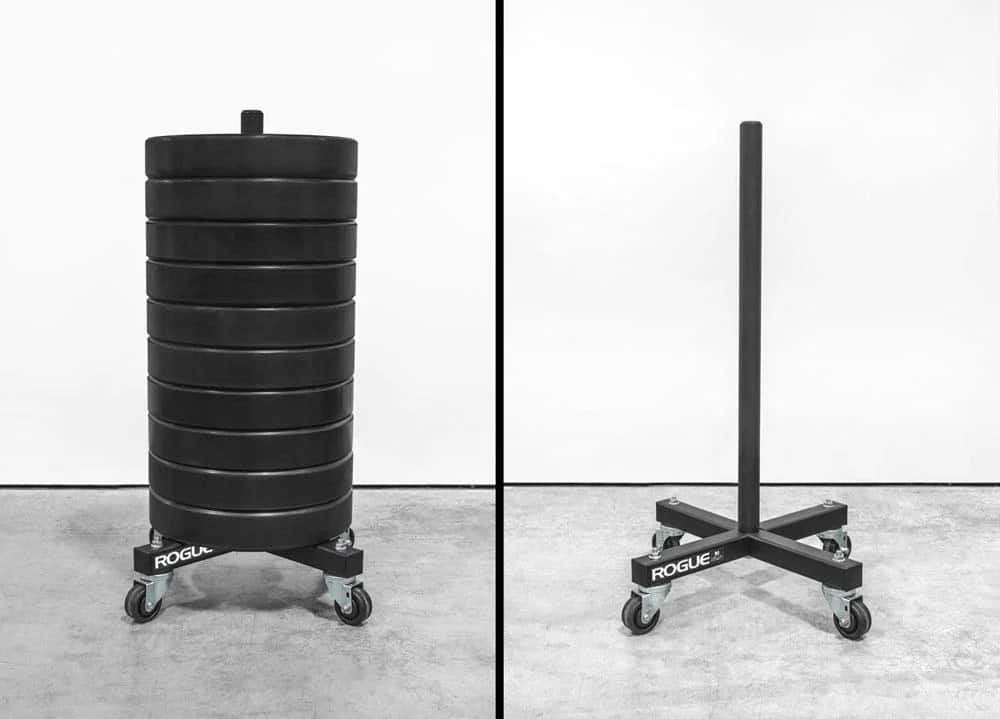 This version's load-bearing rubber feet come standard for extra stability, but an upgrade with caster wheels is available for added mobility. The Rogue V2 Bumper Stacker's loading capacity extends up to 800lbs depending on what kind of bumper plate you stack.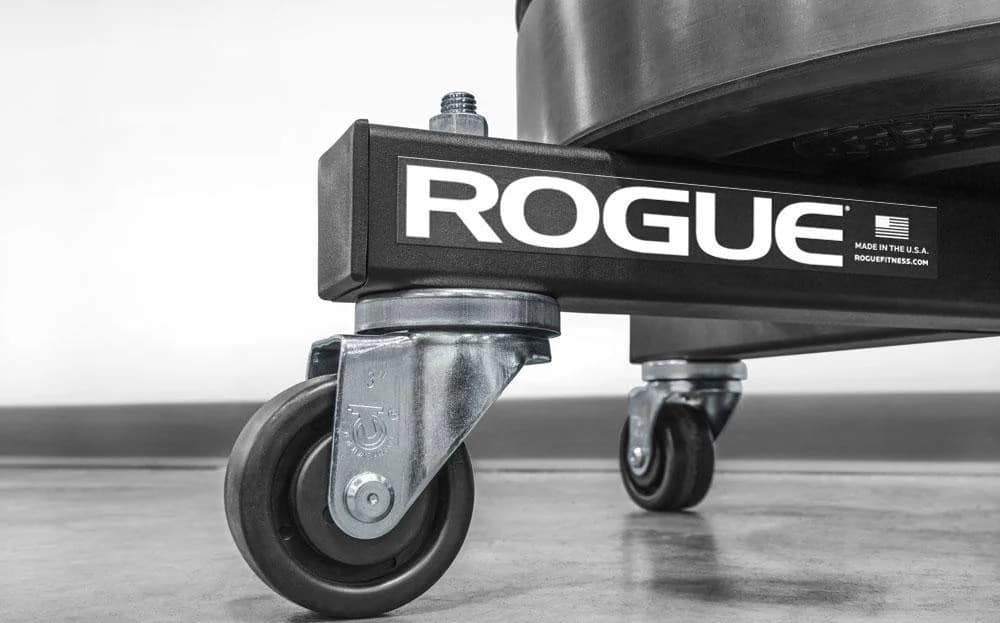 Rep Bumper Stacker with Wheels
Rep Bumper Stacker with Wheels is a rolling bumper rack that enables you to move bumper plates around efficiently, and the vertical plate storage conserves space. It can hold 300-800lbs of plates, depending on the type of plate being piled.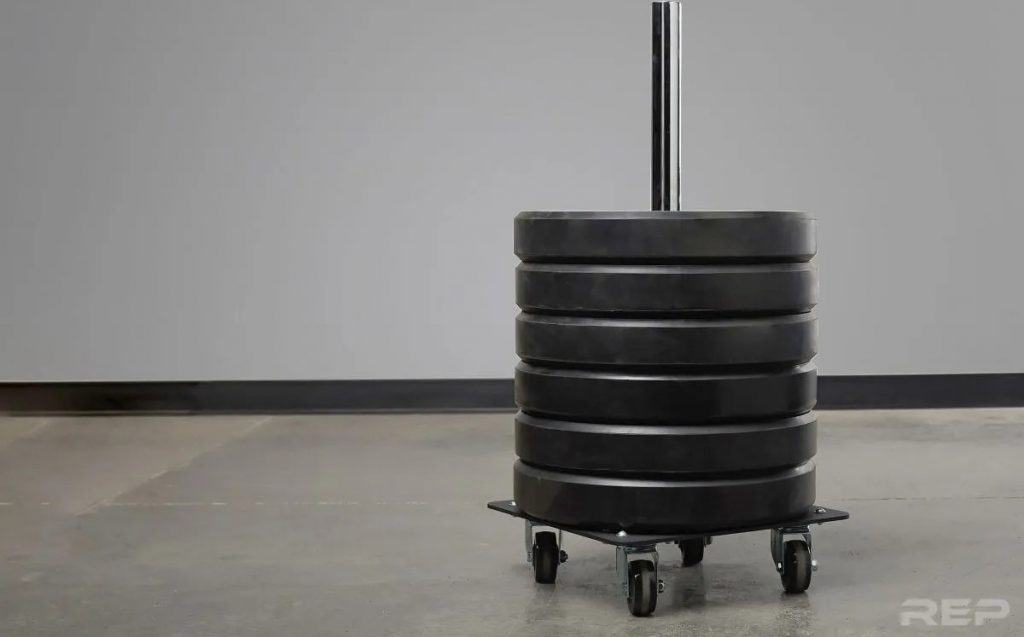 It weighs 30lbs and can be assembled in 15 minutes. It doesn't take so much space making it a good stacker for your home gym or garage.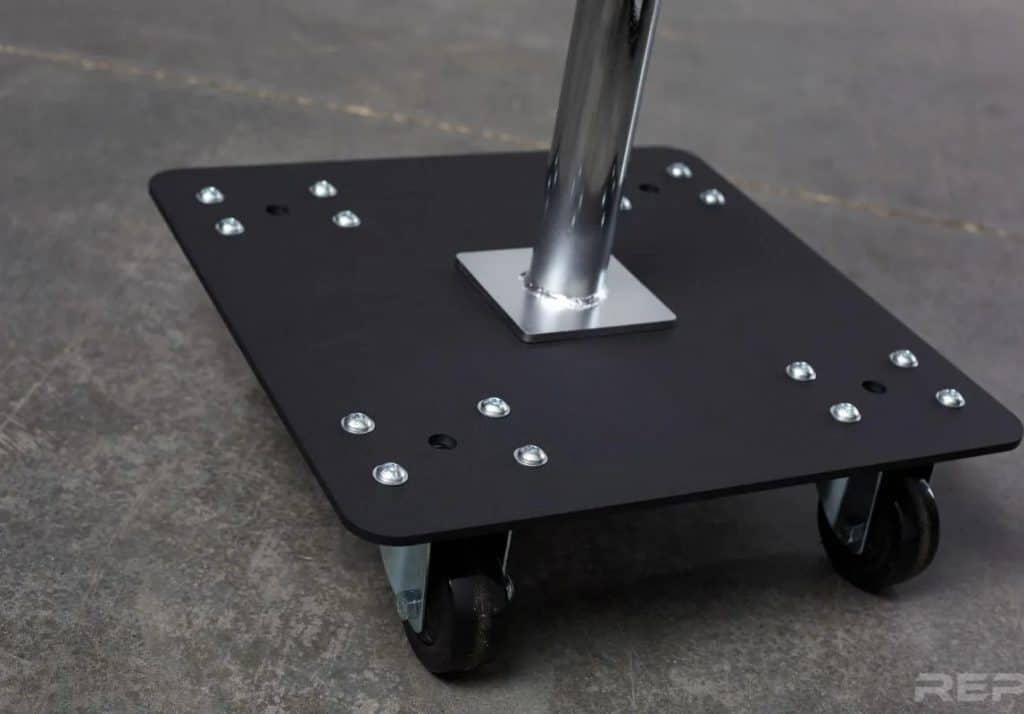 American Barbell Upright Rolling Bumper Storage
American Barbell Upright Rolling Bumper Storage is a stainless steel storage post that presents excellent sturdiness and is 32″ tall. It enables you to quickly and comfortably move your weight plates around your training area.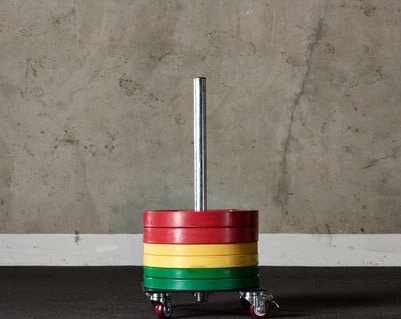 This unit highlights three premium quality multi-directional roller wheels allowing you to move it in any direction smoothly. The high-end bearings guarantee that the wheels will continue to move with convenience for many years to come. The extra-long storage post enables you to take and control the unit with just one hand.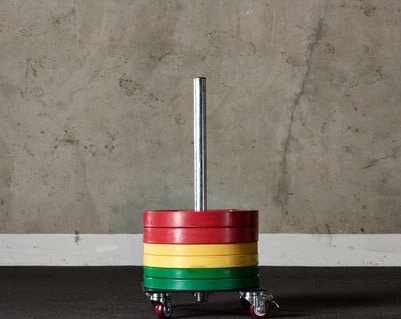 Rogue Monster Bumper Rack
The Monster Bumper Rack is a dense, customizable equipment storage unit made from 3×3" 11-gauge steel. The patent-pending has a 180 lbs design that holds an adjustable top rail and dividers for plates.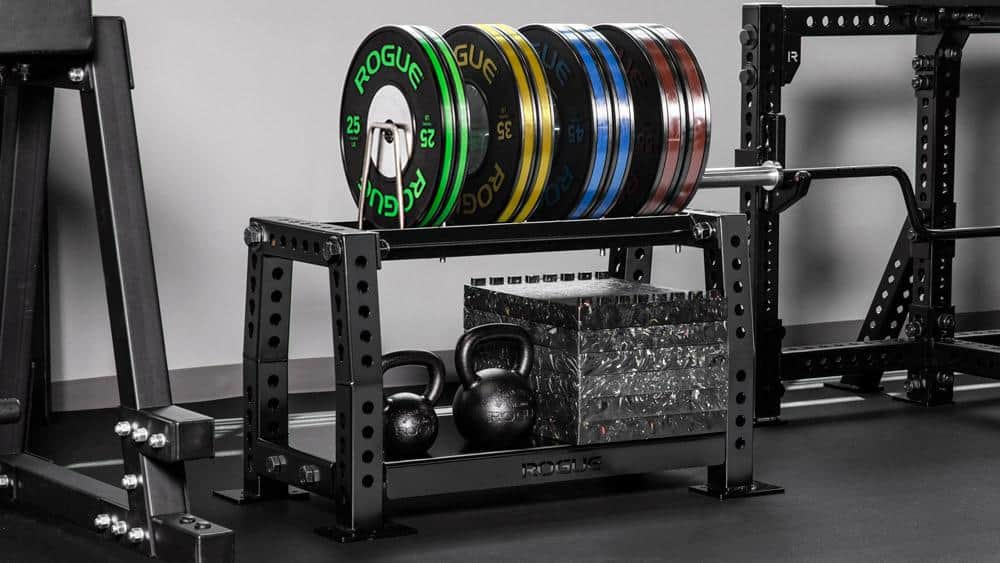 Monster Bumper Rack also gives you the ability to store and organize any size or type of plate as you wish with its 44" x 23.5" footprint. Just re-position the five stainless steel dividers along the 1" spaced holes in the railway tubing.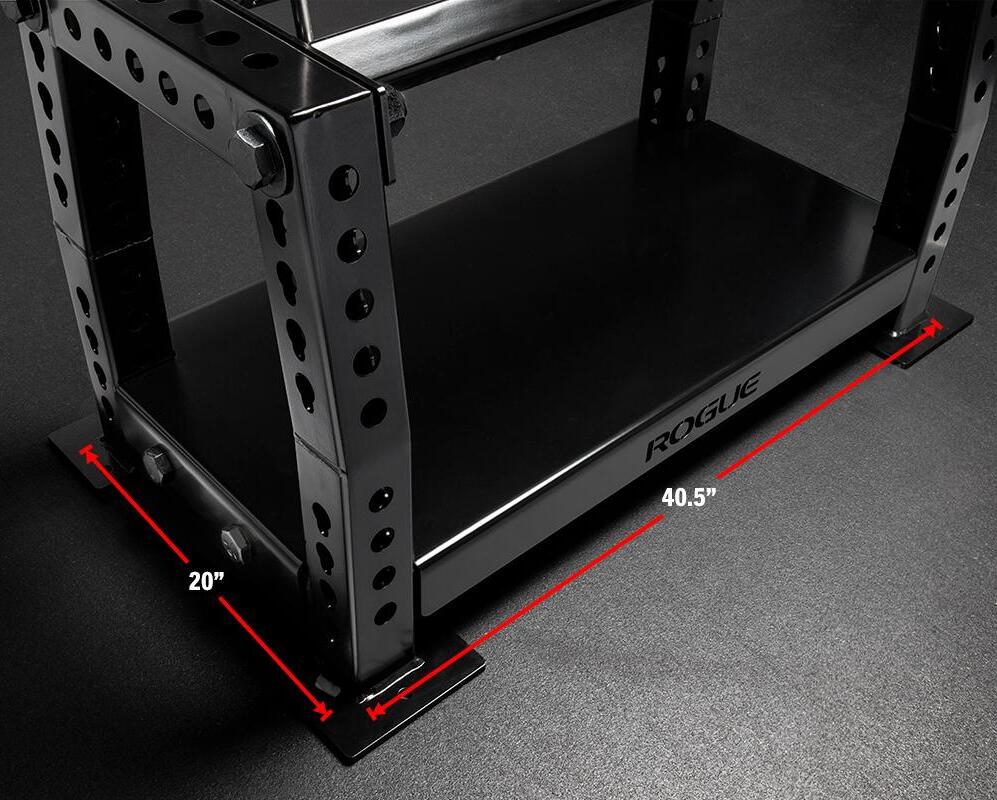 Horizontal Plate Rack 3.0
The Rogue Horizontal Plate Rack 3.0 is a portable rack that integrates new adjustable dividers that can be positioned in 1" increments along the rails, allowing more variations in the cart's set-up and more customization possibilities. Now you can keep most standard types and sizes of plates including Hi Temps, HG Bumpers, Competition Plates, and Steel Plates, with 33.5" of loadable space available.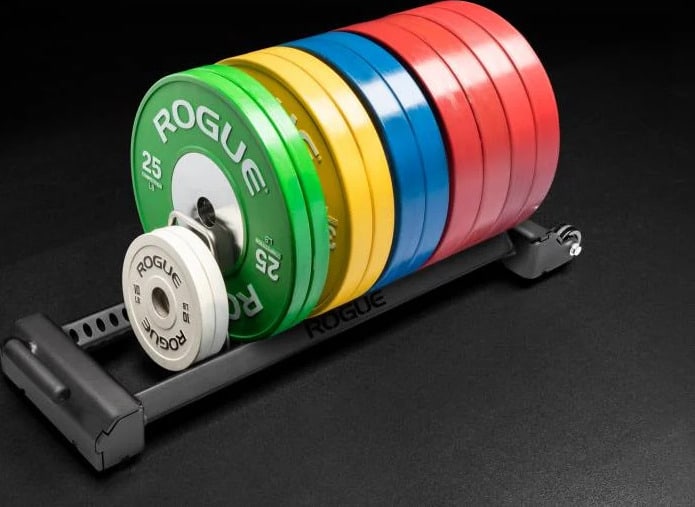 It uses 2×2" 11-gauge steel tubes, 1/4″ and 3/8″ flat steel, 1″ solid round, and 1/2″ stainless steel solid round for the five dividers. It has four rubber feet to give stability while the rack is resting on the ground. It also has a pair of wheels and a rubber-grip handle that enables the unit to be moved smoothly to another spot without breaking your flooring.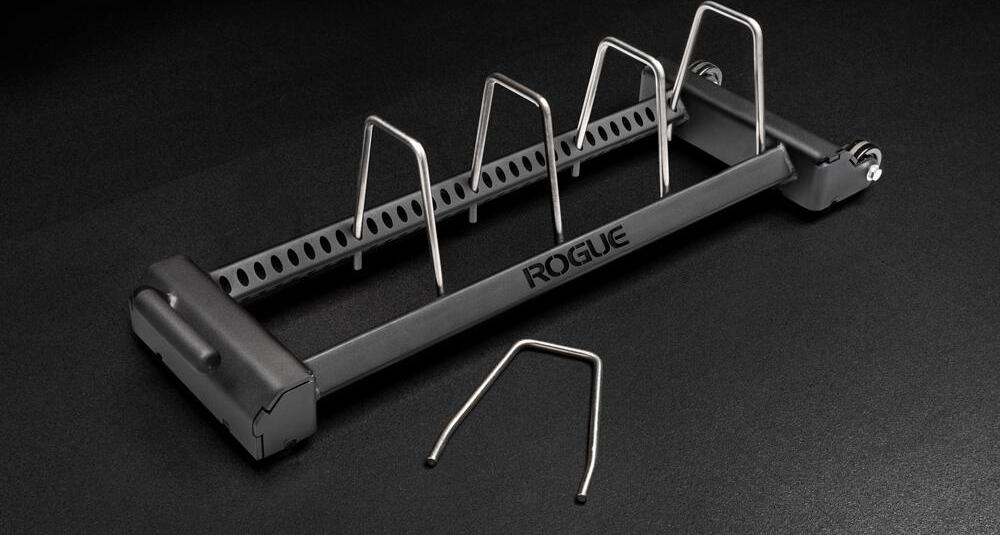 Best Bumper Plate Storage Review – In Summary
That's our review of Best Bumper Plate Storage.
There are various ways to store your bumper plates, and here we have provided you with different kinds of racks and storages to keep your gym clean and your bumper plates protected. In choosing the proper storage for your bumper plates, consider checking your gym or garage area, the weight capacity of the storage that you will get, and the number of plates you have.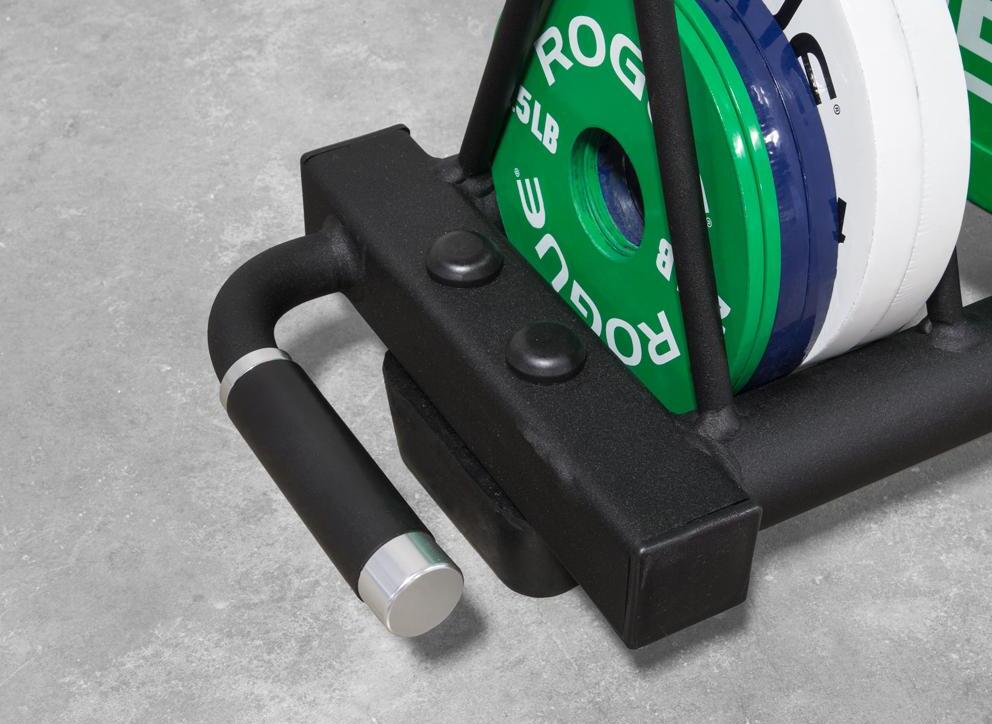 Photo Credits
Product photos on this page are property of the manufacturer.
This website is not affiliated or associated with CrossFit, Inc. CrossFit is a registered trademark of CrossFit, Inc.
Affiliate Disclaimer
We are an affiliate of Rogue, Rep, Get RX'd and others that sell this training gear. If you buy clothing or other training gear after clicking the links in this article, we receive a small commission at no extra cost to you. This helps us to bring you in-depth information and content on these great training products.
Sours: https://fitatmidlife.com/best-bumper-plate-storage/
Rack weight plate
7 Best Plate Storage Racks for Home Gyms
The right weight rack frees up room in your home gym, protects expensive gym equipment, and helps keep things organized. Read on for the best weight plate storage racks for home gyms.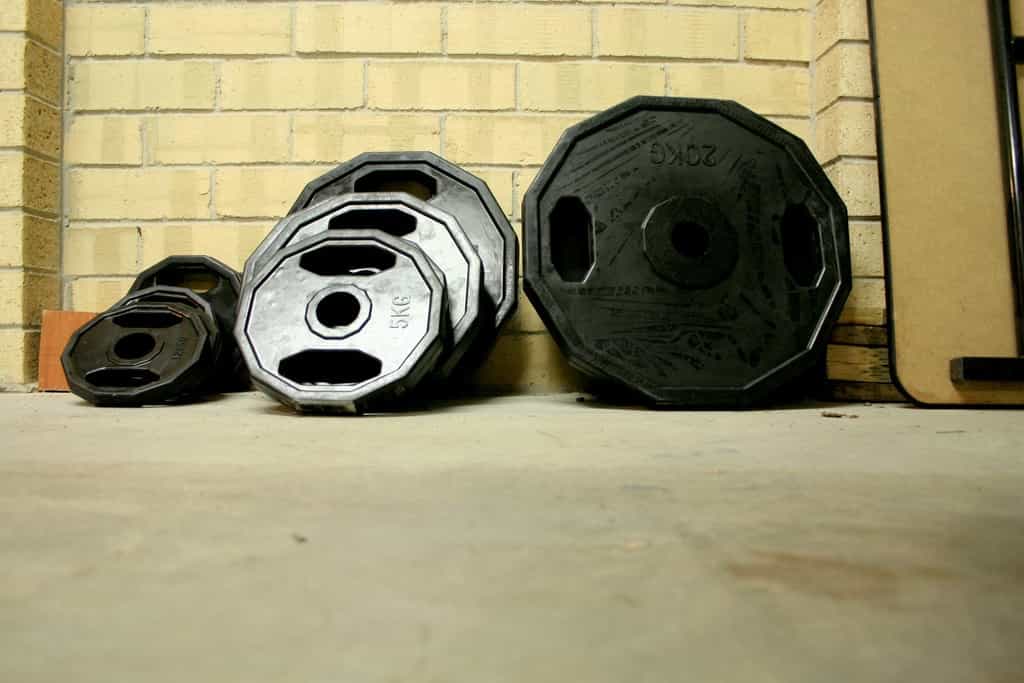 Going from commercial gym user to home gym owner is a lot of fun. Everything gets set to your specific requirements, no line-ups for the water fountain, and you can play music as loud as you want (usually).
Although we tend to get lost in the excitement of choosing the best power rack or the best flat weight bench, another essential piece of equipment for your home gym is the humble plate storage rack.
Even though they don't get the same amount of attention, weight plate storage racks are just as critical.
They protect the valuable investment that is your bumper, steel, and/or cast-iron weight plates, free up more room for more equipment, and keep tight spaces organized and ready for use.
Protect your gym equipment and keep things organized with a breakdown of the best weight plate storage racks for home gyms.
Read on and let's get into it.
Crown Sport Olympic Weight and Barbell Rack
⭐ Best weight plate rack for bar storage
Are you the kind of lifter that has every bar under the sun? And also happens to have a metric butt-ton of weight plates that need to get stored?
If so, the Crown Sport Olympic Weight is the best weight rack out there. In fact, it's not even close.
Rated for a maximum capacity of 800-lbs of Olympic plates or bumper plates, it is the heaviest duty rack on this list. The rack can also hold up to six Olympic barbells, acting as a combination barbell holder and plate rack, clearing up the floor of your gym and your assorted racks and stands.
The unrivaled functionality, simple and space-saving design (making it particularly well suited for lifters operating with limited room at home or in the gym), and heavy-duty construction makes this the best weight plate rack for serious lifters.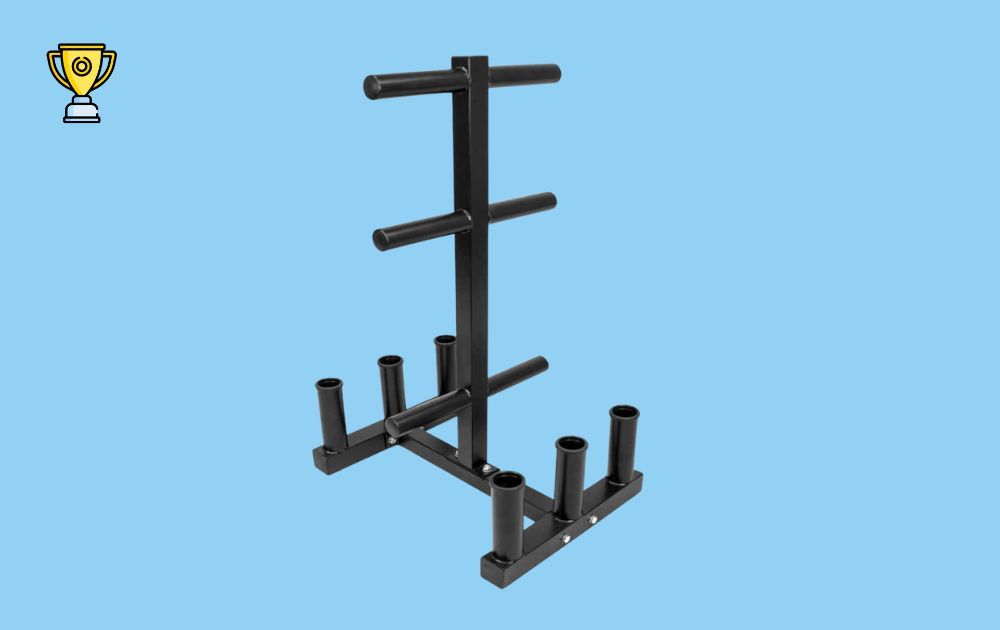 CAP Barbell Olympic Weight Plate Rack
CAP Barbell makes a ton of excellent and affordable home gym equipment. From trap bars, to barbell clamps to lat pulldown bars, CAP makes high quality gear for the home-based athlete.
Made with a black powder-coated finish, and designed to hold up to 500lbs of Olympic plates (2 inch center holes), the CAP Barbell Olympic Weight Plate Rack does the basics exceptionally well.
The H-frame base is only 19" by 22", freeing up your gym floor from weight plates so that you can maximize the space you are working out with.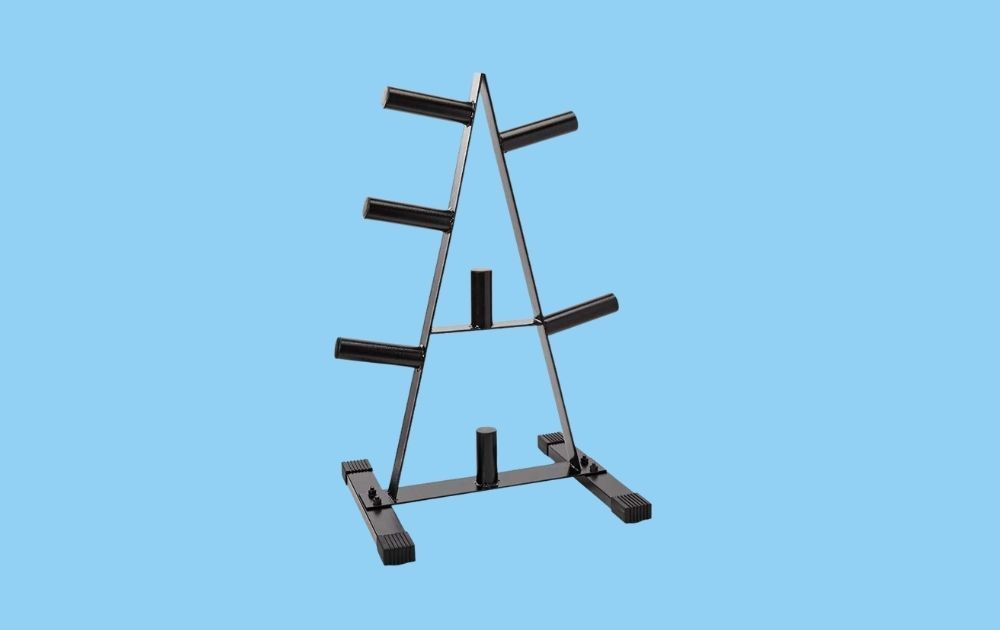 Marcy Combo Weight Plate + Weights Rack
⭐ Best weight rack for storing dumbbells
Looking for a weight storage rack that can take both weight plates and other free weights, including kettlebells and dumbbells? If so, the heavy-duty, steel fabricated Marcy Combo Weight Plate + Weights Rack has you covered.
Intelligently designed, the rack can handle up to 1,000lbs of weight. A long H-base frame with rubber-tipped feet keeps the rack firmly in place when you are shoveling weight on and off.
This rack is also very affordable, giving you 1,000 pounds of weight storage for under $100.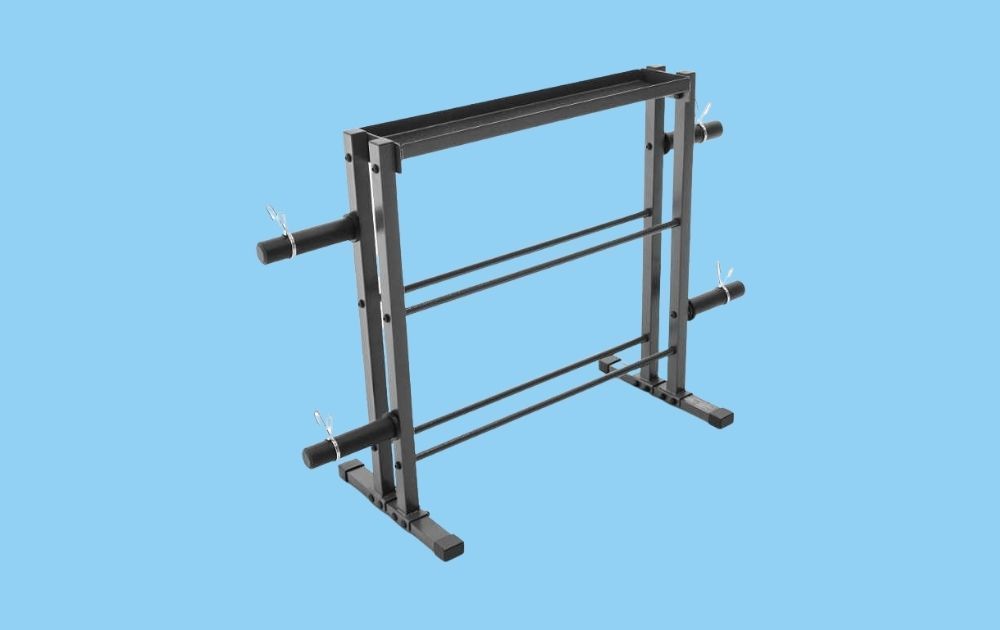 Marcy Weight Plate Tree
Marcy makes a line of weight plate trees that can accommodate plates from 1 to 2-inches in diameter and with four to six horns for plate storage. But these kind of racks fall short for me in a couple of areas.
I really like the look of plate trees, but when it comes to smaller gym spaces, the functionality falls a little short. The tree shape requires access to all three sides of the rack, which makes putting it flush against a wall impossible.
Marcy's Plate Tree looks great, and works well in open gym spaces, but for the typical garage gym, the tree takes up a lot of space. Additionally, the weight capacity of the rack is just 300-pounds.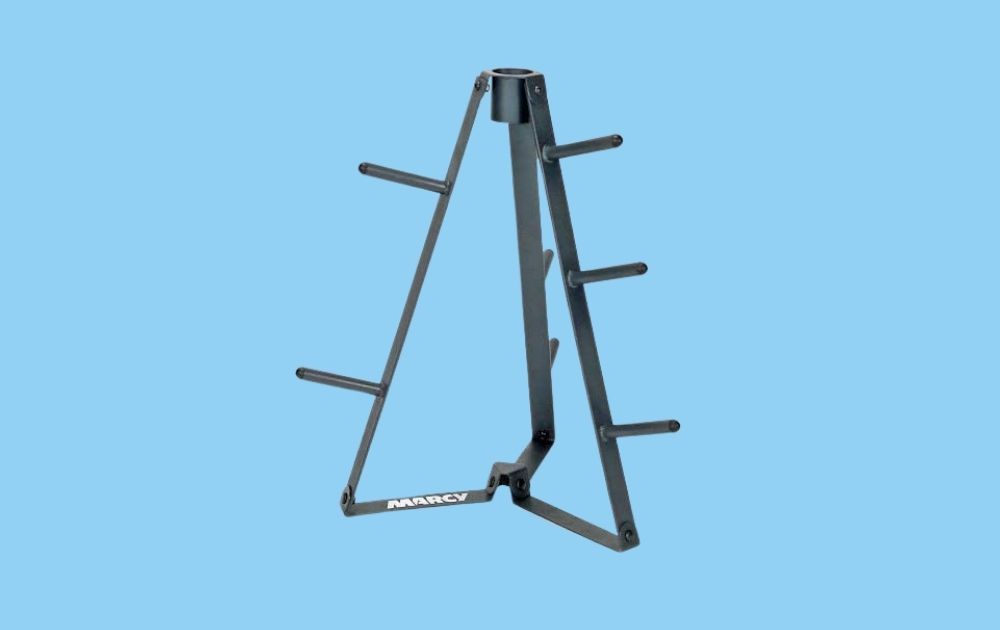 CAP Barbell Olympic Plate Tree Rack
Although I just railed on the limitations of tree racks, the CAP Barbell Tree Rack gets it right. Made of heavy-duty, industrial steel, the tree rack is designed in a compact and space-saving manner that makes it ideal for small space gyms.
With five horns (line up the larger plates on the right side, smaller on the left), the rack is perfect for Olympic plates. Designed to hold up to 500-pounds of weight, the rack also has a vertical bar holder than can store your E-Z curl bar, barbell, or triceps bar between uses.
In sum, I love this rack. It looks great, doesn't take up a lot of room, and the Cap Barbell Olympic Plate Tree Rack makes storing your weight plates a breeze.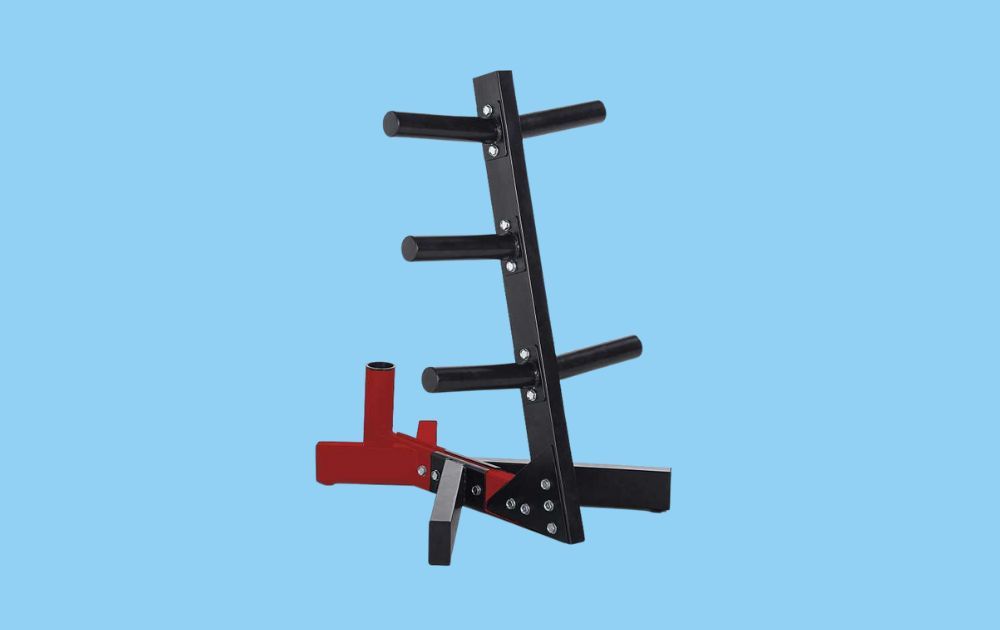 Rogue Horizontal Plate Rack 2.0
⭐ Best horizontal weight platerack
Rogue makes world-class fitness equipment right in the USA. From adjustable weight benches to plyo boxes, Rogue makes killer stuff for CrossFitters, athletes, and home-based lifters who want durable and border-line bombproof gear.
The Rogue Horizontal Plate Rack 2.0 is an upgraded version of the original. Updates include a rubber-coated handle for easy tilt and wheeling, a wider base for added stability, and rubber-coated feet that keep the rack planted between uses and when being loaded and unloaded with plates.
Altogether, the space-saving design and updated base and grip help the rack hold just over 300 pounds of plates. The best feature of this rack is different sized slots, with a pair of larger slots for bumper plates and larger plates and a smaller slot that stores 10lb plates.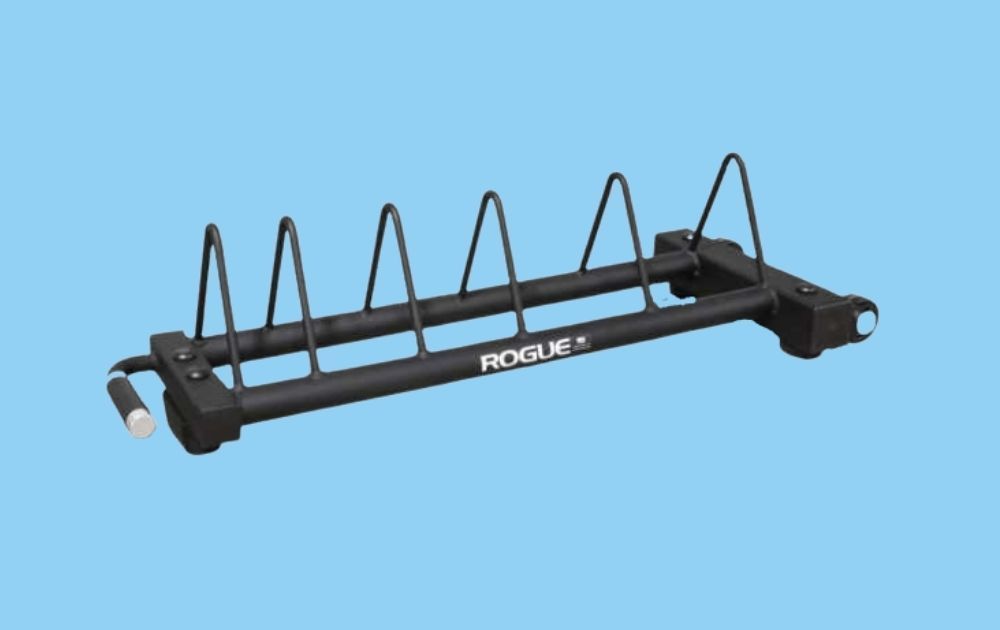 Steelbody Horizontal Olympic Plate Rack
Bumper plates are an essential piece of lifting equipment for the home-based power athlete. Storing them is kind of a pain in the butt as they take up a TON of room on traditional rack horns.
Enter the horizontal plate holder.
Exceptionally light, the Steelbody Horizontal Olympic Plate Rack helps you shelve your bumper plates (and/or Olympic plates) like you are shelving books. You can also vertically store two barbells.
The coolest thing about this bumper plate rack? It has two wheels and a handle—tilt the rack and you can zip it around your home gym.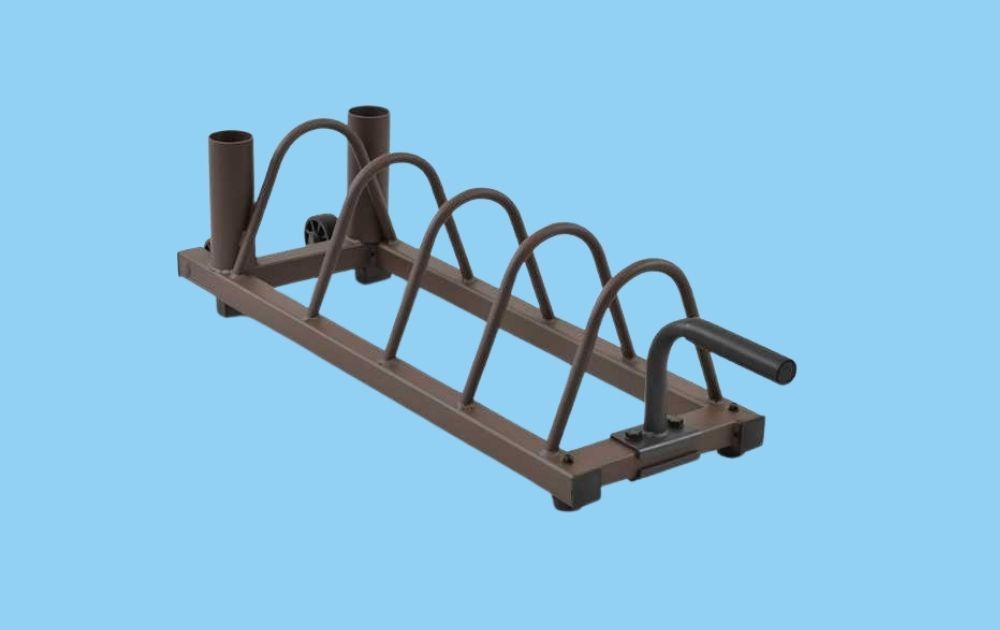 Filed Under: Gear
Sours: https://www.yourworkoutbook.com/best-plate-storage-racks-for-home-gyms/
DIY Profile Weight Plate Rack Tutorial
Standing in front of her, I dug into her mouth with a lingering kiss, while pulling off my shorts and panties. Then he pulled away and pulled off his. T-shirt.
You will also like:
The pink lips seem to be turned inside out, and the head of the clitoris looks out from under the hood. Her anus is the same pink color, which I really like. Many times tried to persuade to give me in the ass, but she flatly refused. We have been married for 6 years already.
18123
18124
18125
18126
18127