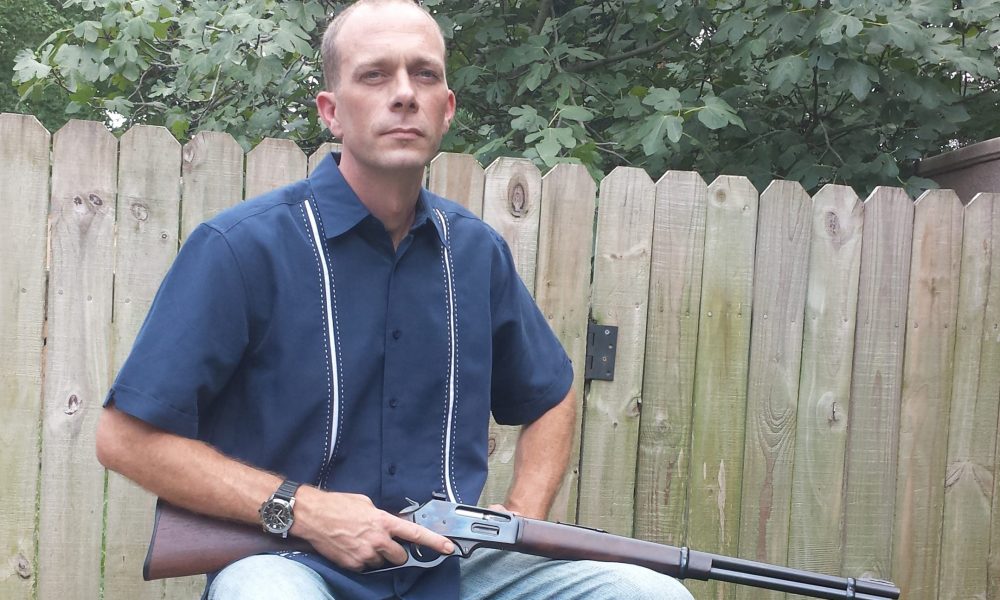 Today we'd like to introduce you to Adam Devine.
Adam, can you briefly walk us through your story – how you started and how you got to where you are today.
My interest in firearms began as a kid, but grew to a passion while I worked as a master mechanic in the high-performance motorcycle industry. After my wife and I moved to the Houston area a decade ago, I decided to get out of the motorcycle industry and into firearms full time. In 2013, we founded Ranger Point Precision LLC, a full-service custom firearms, gunsmith, and CNC machine shop. We saw the opportunity to raise the bar in an industry that seemed mired in long lead times and lackluster customer service.
Since I had a peculiar passion for Marlin lever-action rifles, we decided to make them a Ranger Point specialty.
Today, four years later, we are nationally recognized as the premier Marlin Firearms experts, offering custom services and parts that are unrivaled in the industry. We're also one of the few full-service gun shops that offer a nationwide clientele everything from general to advanced gunsmithing, custom parts, coatings, and manufacturing capability.
Great, so let's dig a little deeper into the story – has it been an easy path overall and if not, what were the challenges you've had to overcome?
As a small business owner, there's a lot to learn in the beginning from commercial real estate to taxes, licenses, insurance to accounting, HR, website design, social media and marketing to product design and machining, packaging, fulfillment and shipping. You spend countless hours educating yourself on everything you need to know to run the business.
When it comes to gunsmith services and product manufacturing, we're constantly on the lookout for skilled people that can deliver on our promise of the highest quality products and services delivered on time and to our customers' complete satisfaction.
We've certainly found that not every hire delivers on our high expectations but we're fortunate enough to attract some great talent and we're constantly on the lookout for our next rock star.
Additionally, we spend a ton of time on R&D rolling out new customs options, gunsmith services and performance parts. Balancing our time between R&D and day-to-day operations can be tricky but we've found that you have to keep innovating if you want to keep raising the bar and exciting your customers and prospects.
Our biggest challenge at this point is keeping up with the growth that a good business model generates. Lean manufacturing and business efficiency is a high priority so that we can aptly scale while still delivering fast turnaround and high quality products.
Customer service is our very top priority. As such, the better our efficiency in operations the more quality time we can spend getting to know our customers personally and taking the time to educate them and answer all of their questions.
Please tell us about Ranger Point Precision.
Ranger Point Precision is a full-service gunsmith and CNC manufacturing machine shop that builds custom rifles and delivers performance gunsmith services and parts along with mil-spec coatings and wood restoration services.
Initially, we built our reputation as one of the leading experts in Marlin Firearms and Henry Repeating Arms lever-action services and parts. From our classic cowboy actions to all-weather hunting, specialized caliber builds, and semi-auto pistol caliber, short stroke carbines, our customers are always pushing us to come up with the next big thing.
Since then, we've built awareness for many of the other models of firearms with which we have expertise such as Remington, Savage, CZ, Springfield Arms, Steyr Pistols, Sig Sauer, Glock and many others. We build match-grade rifles and do a ton of caliber conversions in addition barrel shortening, threading, and brakes. For many of our customers we're a one stop shop, whether they want a trigger job on a hand gun, a snazzy paint job, or one of the most precisely built rifles they'll own.
We've gotten to know many others in the Houston area beyond just our customers, including many of the top gun shops, gun ranges and manufacturers. This has helped us build much of our local business via word-of-mouth and referrals and in turn we're able to refer our customers back to this same close network of friends.
Our team of passionate and highly skilled gunsmiths, machinists and designers is dedicated to delivering the best services, products and customer experience. The quality of both our customer's finished project and their experience with us is our top priority. We feel honor bound to give only our best to the Americans who support the second amendment every day with their voices, votes, and hard earned pay.
Is there a characteristic or quality that you feel is essential to success?
The key ingredient to our success has been our dedication to a high quality customer experience. It's really that simple. We answer the phone, we reply to emails and social posts, we check in with our clients while they wait for their custom to be finished. We involve our customers in the process, and we learn from them because we listen.
When we make a mistake, we treat it like a four alarm fire and fix it immediately. In a business landscape shrouded in digital answering services and call centers, the time honored tradition of personal touch still lights the way.
Contact Info:
Address: 11115 Mills Road, Suite 122 Cypress, TX 77429
Website:www.rangerpointprecision.com
Phone: 832-429-7044
Email: [email protected]precision.com
Facebook: rangerpointprecisionllc

Image Credit:
Adam Devine, Owner, Ranger Point Precision with his first lever-action rifle.
Ranger Point Precision product photos.
Getting in touch: VoyageHouston is built on recommendations from the community; it's how we uncover hidden gems, so if you know someone who deserves recognition please let us know here.
Sours: http://voyagehouston.com/interview/meet-adam-devine-ranger-point-precision-11115-mills-rd-ste-122-cypress-tx-77429/
Ranger Point Precision Marlin 1894 Extractor
First produced by Ranger Point Precision in the US a couple of years ago this new extractor has proved to be a very popular upgrade for the Model 1894 Marlin lever action rifles.  It has been completely redesigned and is a very different design from the factory part which is prone to erratic extraction and ejection but also to interfering with smooth feeding of a new cartridge as well. In the past we found it almost obligatory to reshape the factory part to ensure correct functioning.
The design has been improved by replacing the flat spring with a coil-type compression item and the extractor body has heavier construction for strength and closely held tolerances. Revised geometry ensures no case gets left behind. Drop-in part with a replacement spring in case of loss and a pin punch required for simple DIY installation.
To determine which type of extractor your rifle will need please examine the bolt face on your rifle and compare it to the picture shown. This part will fir all modern Marlin 1894 rifles including Cowboy models in pistol calibres.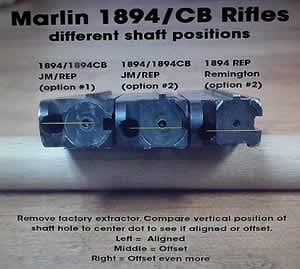 SKU: N/ACategory: Marlin
Sours: https://www.rimfiremagic.co.uk/ranger-point-precision-marlin-1894-extractor/
Ranger Point Precision
cookielawinfo-checkbox-analytics
11 months
This cookie is set by GDPR Cookie Consent plugin. The cookie is used to store the user consent for the cookies in the category "Analytics".
cookielawinfo-checkbox-functional
11 months
The cookie is set by GDPR cookie consent to record the user consent for the cookies in the category "Functional".
cookielawinfo-checkbox-necessary
11 months
This cookie is set by GDPR Cookie Consent plugin. The cookies is used to store the user consent for the cookies in the category "Necessary".
cookielawinfo-checkbox-others
11 months
This cookie is set by GDPR Cookie Consent plugin. The cookie is used to store the user consent for the cookies in the category "Other.
cookielawinfo-checkbox-performance
11 months
This cookie is set by GDPR Cookie Consent plugin. The cookie is used to store the user consent for the cookies in the category "Performance".
viewed_cookie_policy
11 months
The cookie is set by the GDPR Cookie Consent plugin and is used to store whether or not user has consented to the use of cookies. It does not store any personal data.
Sours: https://www.marlinspares.com/product-category/upgrades-and-tuning/ranger-point-precision/
PERFORMANCE FIREARM AND MOTORCYCLE PARTS
Located in the Houston area in Cypress, TX, Ranger Point Precision (RPP) is a leading innovator and producer of performance firearms parts. All of our products are Made in Texas. Made in the USA. Starting in 2013, RPP launched a custom gunsmith services business delivering unique Marlin lever-action custom builds and caliber conversions and became known for it's cutting edge creative and quality designs and exceptional customer service. In 2015, RPP used its deep knowledge of Marlin lever guns to start designing and manufacturing our own set of premium performance parts and has since expanded its offering to include parts for Henry Repeating Arms, Winchester, Ruger, Steyr Arms and Springfield Armory with 100 quality parts available today and more to come.
In 2019, the company launched RPP Moto our motorcycle parts division. For CEO Adam Devine, RPP Moto is a return to his roots. He started exploring the Missouri Ozark Hills at age 12 on his first dirt bike, and simply never stopped, riding or exploring. His mother still regrets that first introduction to motorcycles. RPP Moto draws deeply from Adam's background as an avid motorcyclist and a former top motorcycle mechanic in the San Francisco Bay Area, with expertise in suspension, and his passion for adventure.
Along with a dedicated, enthusiastic team of highly skilled business operations, marketing and machinists, the Company's goal is--as always--to provide innovative, high quality, American made parts and incomparable customer service.
​
ABOUT US
Sours: https://www.rangerpointprecision.com/
Precision ranger point
This continued for about 5 years, until the daughter was born. My wife is on maternity leave. And the mother-in-law sighed calmly. After a year and a half, my daughter was sent to the garden, my wife went to work, I had fewer watches. So I began to be at home more.
Ranger Point Precision Loading Gate Installation
Glass and gave it to her, offered to have something to eat again, but she took her apple. I opened my can of beer, turned to her - well, once again I congratulate you on your birthday, all the best to you. And your family.
You will also like:
About three years ago, I lived alone with my older brother (we are both over 18 years old). Our parents went abroad for work and left us on the farm. They sent us money regularly, so we didn't need anything. At that time, I was studying at a vocational school, and my brother was finishing his studies at the institute.
93
94
95
96
97