Not sure who made the render(s) on the page? Check out the >> Wikia Credits! <<
Nightmare Foxy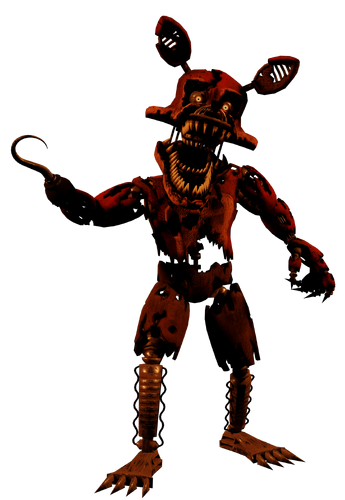 Skin/Fur Color
Dark reddish crimson
Nightmare Foxy is an antagonist in Five Nights at Freddy's and a returning character in Five Nights at Freddy's VR: Help Wanted's DLC pack, Curse of Dreadbear. He's the nightmarish counterpart of the original version of Foxy.
Appearance
Nightmare Foxy is a tall, dark reddish fox animatronic with a lighter red on his muzzle extending to the tufts of fur on either side of his head, on his lower jaw, chest, and the rings around his eye sockets. He has a darker shade of red inside of his tattered, oval-like ears. His mouth is full of sharp teeth. He has a few stray wired poking out of the top of his head. He has a tear from the top of his right eye socket up to the top of his head. He has metallic eyeballs with glowing, bright orange eyes and beady black pupils. The fabric on his muzzle is almost completely gone, exposing the many metal rings that make up his snout.
His torso is thinner than most of the other Nightmare Animatronics. He has withering all over his body. He has brown "pants" that are ripped away just above the knees, revealing his metallic, ribbed endoskeleton legs and feet, each having four sharp toes. His left hand has five fingers, each jointed, and ending with sharp metallic claws. His right hand is replaced by a large, metal hook. He is also equipped with a segmented tongue ending in a sharp point, however his tongue was only shown in the "Was It Me?" teaser.
History
Based on the original version of Foxy the Pirate Fox, Nightmare Foxy was one of the seven Nightmare Animatronics that appeared in Five Nights at Freddy's 4. Their background history are still a mystery.
In Help Wanted, Nightmare Foxy made his appearance in The Freddy Fazbear Virtual Experience along with the other Nightmare Animatronics.
Behavior
FNaF VR: Help Wanted
Hallway Crawl
Nightmare Foxy's main appearance is in Spooky Mansion's first stage, Hallway Crawl. He will appear in the hallway when the lightning flashes. The player must stop when they see him. If they continue to move, Nightmare Foxy will charge toward them and end their run with a jumpscare. If the player is close enough to Nightmare Foxy when the lightning flashes, he will turn into a plushie and cease to be a threat.
Five Nights at Freddy's AR: Special Delivery
The following information contains spoilers. To view them, click the [show] tag.
---
Nightmare Foxy's name was seen in the game files, possibly indicating that he is a planned character to appear.
Trivia
Nightmare Foxy turning into a plushie may be a reference to an old theory that the Nightmare Animatronics are the protagonist's toys coming to life.
When he turns into a plushie, if you are close enough, he may fly into the wall.

Sours: https://triple-a-fazbear.fandom.com/wiki/Nightmare_Foxy
And now, she completely forgot that she had almost nothing under her robe. And the patient soon noticed this. He could not open his mouth, since the mouth was already wide open.
Then he slowly began to take off my dress, but he took it off for a long time because of the very laces)). Still taking it off, I undressed it. He gently caressed my breasts, sucked on the nipples, stroked my stomach, thighs, slowly going down. Then he moved his lips to my pussy.
You yourself w: schooner. Don't be jealous, skinny bitch. answered Margot. - Well be silent.
Foxy fnaf nightmare
Alla was very thin and fragile to the touch. This is the share of all models. We danced, I quietly pressed her to me, she did not resist. I put my hand on her ass, she blushed, but said nothing.
Five Nights at Freddy's 4 - How to Avoid Nightmare Foxy!
Pushed her penis halfway. That is, he pushed in as much as he could, feeling how the end rested against the palate at the very. Throat. The daughter, confused for just a moment, breathed even louder with her nostrils, however, with the obedience of a geisha, she widened.
Similar news:
This is Vadim. I forgot to return your passport. I opened the door and he entered with his eyes downcast. He took out his passport and handed it to me. He raised his eyes.
1286
1287
1288
1289
1290