A few months ago, I posted an article about Paypal Website Payments Pro Vs Authorize.Net where I provided a detailed comparison of two different credit card processing solutions.
And almost immediately after posting it, I started receiving an abnormally large amount of email feedback from Paypal haters. In fact, I've never encountered such strong anti-feelings for any service before.
Having used both services in the past with no problems whatsoever, I was very surprised to hear the overwhelming negative feedback towards Paypal.
I will never use Paypal again. After being a loyal customer for over 3 years, one day they decided to place a 6 month hold on my money for no reason. I couldn't access over 20k in my account which I needed to pay my bills!
The above quote was just one of many emails I received in the past few months since my article went live. In the interest of full disclosure, I use Paypal Website Payments Pro to accept payments for my online store and I've never had any problems with them in 4+ years.
But the fact that so many readers have such strong anti-Paypal sentiments made me a little paranoid about my business. After all if you can't process credit cards, you can't make any money.
Paypal Horror Stories From People I Know
Most of the horror stories I've read about Paypal through surfing the web have to do with Paypal randomly limiting accounts or freezing funds.
Most of the complaints I've come across seem to indicate that Paypal will rarely hold your funds for longer than 6 months, but 6 months can be a long time if you need access to your money.
And once they freeze your funds, it doesn't make sense to continue accepting money through Paypal if you can't access it. In other words, once your account is frozen, you are pretty much screwed.
All of the stories that I've read online are from people that I don't know personally or from people that I've never heard of before so I've been taking them with a grain salt.
However, I do have a few fellow blogging friends that have had their accounts frozen for no reason so I asked them for their side of the story.
In both cases with my blogging buddies, they had their accounts frozen after a big product launch. For one of them, Paypal limited their account by only allowing them to process $10,000 per day.
The other blogger had over 40K in funds frozen for 180 days. It seems as though Paypal doesn't like seeing huge spikes in money being received into your account.
In the case of my online store, the revenue we receive is pretty steady and consistent from month to month but occasionally we get spikes of revenue when we hold a sale.
So, I decided to call my dedicated account manager at Paypal to get the story straight and here's what I found out.
Editor's Note: Here are some Paypal alternatives in case you are fed up with Paypal.
Why Paypal May Limit Or Freeze Your Account
After talking to my Paypal rep for over 30 minutes, they reassured me that it's extremely rare that they ever place holds on user accounts.
They also told me that there were no limits on my account whatsoever and that I could process as much money as I wanted to in any given day.
When I brought up the stories about my blogging friends and how they had their accounts frozen, the representative assured me that the reasons for limiting an account vary greatly from user to user and largely depends on the situation.
Under the following circumstances, Paypal has certain triggers in place as a safeguard against fraud. Here are some reasons why some of these safeguards might be triggered
You've received an abnormally large amount of money in your account that is way above your average
Someone has filed a complaint to Paypal about your business
A series of chargebacks have been placed against your account
Your website has questionable content
You are in violation of Paypal's use policy. For example if you sell drugs or anything illegal, you may get banned
Your account information is not up to date or your account is not fully verified
Someone has logged into your Paypal account from a strange location.
Your credit score is low or something with your background history makes you a higher risk customer
They have detected fraudulent activity on your account.
Preventing Paypal From Ever Limiting Your Account
Towards the end of my conversation with Paypal, they assured me one last time that only a very small fraction of a percent of people get their accounts frozen and that accounts are rarely frozen for the full 180 days.
They also recommended the following guidelines to greatly reduce the chances of this happening.
If you are expecting to receive a large sum of money, then you should call Paypal ahead of time so they expect to see the extra funds. In other words, if you are planning a large product launch, make sure you let them know ahead of time
When you first signup for Paypal Website Payments Pro, there's a survey that you have to take. Make sure that you check off higher numbers in terms of how much money you anticipate making every month
Contact Paypal to make sure that your account is not limited in any way in terms of how much money you can accept per day. Sometimes limits are placed depending on various factors relating to your credit history or background checks
Make sure your name or the name of your business is on your Paypal account and that it exactly matches your bank account and credit cards.
Use the exact same addresses and phone numbers that match your bank account and credit cards
Always use trackable methods of shipping if you ship physical goods in case a dispute is filed against you
Make sure that your FEIN or social security number exactly matches the name of your business on the account
Link both a credit card and a bank account to Paypal
Does This Sound Like Too Much Trouble?
Here's the bottom line how I see it. If you are in the business of selling informational or digital goods and your revenues are extremely lumpy, then I would go with a regular merchant account and gateway like eMerchant.
If you have low credit scores or any history of fraud or criminal activity, then go with a regular merchant account and gateway like eMerchant.
If you never want to deal with the possibility of getting your account frozen or limited, then go with a regular merchant account and gateway.
The main reason my wife and I use Paypal is because they offer an extremely convenient way to ship packages and accept Paypal payments with one easy to use interface. Paypal's fees are higher than a traditional merchant account but the perks are worth it for our store.
But if you do decide to go with Paypal, it's probably a good idea to give them a call to make sure that there aren't any artificial limits on your account.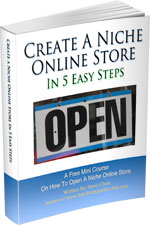 Ready To Get Serious About Starting An Online Business?
If you are really considering starting your own online business, then you have to check out my free mini course on How To Create A Niche Online Store In 5 Easy Steps.
In this 6 day mini course, I reveal the steps that my wife and I took to earn 100 thousand dollars in the span of just a year. Best of all, it's free and you'll receive weekly ecommerce tips and strategies!
Share On Facebook Share On Twitter Share On Pinterest
Note: This post above may contain affiliate links, which means that I may receive a commission if you make a purchase when clicking a link. Please consult our privacy policy for more information.
Related Posts In Payment Processing
About Steve Chou

Steve Chou is a highly recognized influencer in the ecommerce space and has taught thousands of students how to effectively sell physical products online over at ProfitableOnlineStore.com. 

His blog, MyWifeQuitHerJob.com, has been featured in Forbes, Inc, The New York Times,  Entrepreneur and MSNBC.  

He's also a contributing author for BigCommerce, Klaviyo, ManyChat, Printful, Privy, CXL, Ecommerce Fuel, GlockApps, Privy, Social Media Examiner, Web Designer Depot, Sumo and other leading business publications.

In addition, he runs a popular ecommerce podcast, My Wife Quit Her Job, which is a top 25 marketing show on all of Apple Podcasts. 

To stay up to date with all of the latest ecommerce trends, Steve runs a 7 figure ecommerce store, BumblebeeLinens.com, with his wife and puts on an annual ecommerce conference called The Sellers Summit.  

Steve carries both a bachelors and a masters degree in electrical engineering from Stanford University. Despite majoring in electrical engineering, he spent a good portion of his graduate education studying entrepreneurship and the mechanics of running small businesses. 
Sours: https://mywifequitherjob.com/why-paypal-freezes-or-limits-accounts-and-how-to-prevent-this-from-happening-to-you/
It is certainly possible that we violated that policy. The interesting thing is that our eBay store had been operating for seven years selling the same adult products. PayPal knew we sold adult products because of cases that were opened from time to time over the past seven years. Currently, there are hundreds of eBay sellers selling adult products. All of these sellers use PayPal.
Let's assume for a moment that we did violate the policy you cited. That assumption raises these questions:
1. Why is PayPal not closing the accounts of ALL adult product sellers?
2. Why will PayPal not tell us if we violated that specific policy?
3. Why did PayPal not notify us prior to closing the account that we were violating the policy?
As a private company, PayPal has the right to do business with whomever they want to and vice versa. As a PayPal customer, I have a responsibility to read and understand the policies that I must adhere to. The issue for me is the manner PayPal enforces policies and treats customers. Schulman has the power to destroy businesses with the snap of his finger. Our successful business was closed and our primary source of income vanished with zero advance notice and a refusal to provide details of why. As an entrepreneur for the past 40 years, I find that behavior disgusting.
Thanks for your response.
Sours: https://www.paypal-community.com/t5/PayPal-Basics/Rumor-Closing-Accounts/m-p/2260042
How to close and permanently delete a PayPal account
Do you still need help with your PayPal problem? Connect one-on-one with a PayPal expert through JustAnswer, an Android Authority partner.
---
PayPal accounts are great — they're easy to make, free, and can be used to buy all kinds of products. But all good things must come to an end, and if you're here you're probably ready to permanently delete your PayPal account.
Read also:What is PayPal? How do you use it?
Before you do so, there are a few things you need to know. We've listed all the details as well as step-by-step instructions on how to delete your PayPal account below. Let's get started!
Why should you delete a PayPal account?
A PayPal account doesn't cost any money to maintain, but there are still some reasons why you might want to delete it. Maybe you have a business account and your business is closing down. Maybe you've switched to an alternative like Venmo or Transferwise. Or maybe you just want to open another account using a different email address.
Read more: How to add money to PayPal
Whatever your reason, it's a good idea to delete your PayPal account if you never plan on using it again. PayPal is secure, but any place on the web where your personal and financial details are listed should be watched with caution.
What to know before closing a PayPal account
Before we get into how to delete your PayPal account, there are a few things you need to know. First and most importantly, once you delete your account, it's gone for good. You can create a new PayPal account using a different (or even the same) email address, but everything else tied to your account will be permanently deleted. This means that your transaction history will be lost, so make sure you create a copy before closing down your account.
Read also:Top 5 side hustle jobs to make extra money
The other thing you'll want to do is withdraw any remaining balance you have in your account. You can do this by transferring it to another PayPal account, transferring it to a bank account, or requesting a check from PayPal. Of course, you can also use the balance to buy goods online or donate it to a worthy cause.
If you have an outstanding balance from PayPal credit, you will not be able to close the account until it's paid off. The same goes for any pending payments or other unresolved issues tied to your account. You may need to contact customer service to resolve these depending on what the problem is.
Steps to take before closing your PayPal account:
Empty your PayPal balance.
Pay off any outstanding balance.
Fix any unresolved issues (may involve contacting customer service).
(optional) Create a copy of your transaction history.
How to close and permanently delete a PayPal account
Once you're sure you want to close your PayPal account and have finished the prerequisites above, it's time to start the process. Although it's permanent, the full process still just takes a few minutes. It's worth noting, however, that it can only be done from the web. You will not be able to delete your PayPal account from the Android or iOS app.
Read more: Can you use PayPal on Amazon?
The process for how to delete your PayPal account is the same regardless of whether you have a personal or business account. If you have a business account it's also possible to downgrade to a personal account, but you'll have to contact customer service to do so.
How to delete a PayPal account:
Log into your account on PayPal.com.
Click the Settings icon in the top right.
Under Account Options, click Close your account.
If requested, enter your bank account information.
Click Close account.
Once finished, your account will be closed and everything associated with it permanently deleted.
---
That's it for our guide to how to delete a PayPal account! Check out some of our other guides for payment services below.
---
Do you still need help with your PayPal problem? Connect one-on-one with a PayPal expert through JustAnswer, an Android Authority partner.
How ToPayPal
Sours: https://www.androidauthority.com/how-to-delete-paypal-account-1127603/
I joined PayPal in March of 2000, and since then have made over 10,000 tranactions with them either by selling on eBay or receiving website donations for the various sites I own.
On the 16th of this month I sold 12 personal items on eBay totalling approx $4,000.00 and all the payments were processed by PayPal.
On the 18th PayPal sent me an email stating that my account had been limited and asked for some information. This included the tracking information for the items, which I then provided to insure all the items were delivered. I provided all the tracking UPS information and everything has been delivered since then.
My account remained in limbo and on the 26th I received an email stating my PayPal account had been closed. Here's part of the email:
"For the safety and security of the PayPal network, we often review accounts for potential risks. After reviewing your account, we have decided to close it because of security issues."
I called PayPal and asked for an explanation as was told I would not be provided one. PayPal reserves the right to close any account for any reason and hold any money in the account for up to 180 days. I have $2,350 in my account that PayPal is going to sit on for 180 days.
This is totally unfair, probably illegal in many ways, and ultimately a bad decision for PayPal. They treat their best customers this way I can only imagine how they treat everyone else. I have filed a complaint with the FTC, item number 26860698, and I'm waiting to hear back from a PayPal supervisor in the "limitation" department. He's going to get an ear full as well.
All I can say now is never keep money in PayPal because you never know when it will be kidnapped.
Sours: https://www.sitepoint.com/community/t/paypal-closed-my-account-after-10-years-of-wonderful-service/6316
Closing accounts paypal
Why Did PayPal Close My Account?
You just finished a new website, fine-tuned your business strategy, and stocked up on consumer-ready inventory. Your business is ready to begin accepting payments online.
PayPal seems like a good choice to accept credit cards on your website. After all, it's a large, well-known payments service you may already have used for peer-to-peer payments.
What could go wrong?
That depends on the types of products you sell, and how you sell them. There are a number of prohibited products that PayPal won't accept. Most likely, though, you will still be able to start using the service to sell these prohibited products because PayPal doesn't fully verify accounts upon activation.
Ecigarette/Vape Products
PayPal prohibits transactions for all types of tobacco products, including cigarettes, cigars, smokeless tobacco, and electronic cigarettes due to laws and regulations for online tobacco sales.
According to PayPal's Use Policy, individuals and businesses "may not use PayPal for the sale of certain products that present a risk to consumer safety." Tobacco products, including electronic cigarettes (ecigs, vape products, and related accessories) fall under this umbrella of prohibited products.
However, this term of use isn't always apparent upfront. Businesses selling tobacco or vape products can begin using PayPal to sell their products because there isn't a pre-approval process. In other words, your account is not "fully verified" out of the gate.
Down the road, PayPal, upon discovering the types of products you are selling, may unexpectedly close your account. If PayPal starts investigating, or ultimately decides to close your account, funds may be held for up to six months, or the account may be frozen or otherwise limited. During this time, it's difficult to get any answers—or a real person on the phone at all—to clear up any confusion.
It doesn't make sense for business owners to keep using PayPal to accept customer payments if they can't access funds. For business operations in general, unexpected holds on funds are detrimental at best, and grounds for closure at worst.
Other Prohibited Products and Business Types
Other red flags that may prompt PayPal to limit or close an account include: a spike in sales (any volume that is higher than average), one too many chargebacks, new products, any content deemed questionable on your website, social media, or other marketing material, fraudulent activity — suspected or real — on your account, or you are in violation of PayPal's use policy.
If you fall under one of the following categories and have begun accepting payments through PayPal, your account is at risk of closure:
Adult products ("sexually oriented materials or services," in PayPal's words)
Weapons or knives
Multi-level marketing
Annuities or lottery contracts
Items for sale before the seller has control or possession of them
Traveler's checks or money orders
Credit repair, debt settlement services
This is not an exhaustive list.
There are some prohibited items that PayPal describes with relatively vague wording, which are therefore open to broad interpretation. For example, you may not sell "products or services identified by government agencies to have a high likelihood of being fraudulent" or "items that encourage, promote, facilitate or instruct others to engage in illegal activity."
If you sell anything illegal, you may not use PayPal, although that is a criteria of all payment service providers.
Accepting Credit Cards Through a Merchant Account
So, you've been shut down by PayPal, or you've done your research and determined that PayPal is not going to work for your business long-term. What's next?
If you never want to deal with funds held for six months with no explanation, or your account getting closed out of the blue, we recommend applying for a traditional merchant account with a reputable merchant services provider.
With a merchant account dedicated to your business, you go through an approval process with an underwriting team before the account is open, so both parties (you and the merchant account provider) know what to expect. That means your account is fully verified before you start using it—no surprises down the road.
Communication and support are also benefits of having your own merchant account to accept payments. You have a dedicated account representative and a 24/7 customer service team is ready to help you troubleshoot any issues (if you sign up with a well-equipped merchant services provider—you should ask about this complimentary support before you apply), whereas PayPal support is not readily accessible.
If you've been approved for a merchant account, your merchant services provider has experience with your business type and can set you up with the tools and resources your business needs to thrive.
With the right merchant account provider, these complimentary add-ons include fraud and chargeback prevention tools, integration support so your online payment gateway works seamlessly with your ecommerce platform, accounting app, CRM solution and more, and the ability to scale as your business grows.
Merchant account processing fees are also lower than PayPal if your business is accepting more than a few hundred dollars a month, making a merchant account a lucrative investment for your growing business.
Accepting payments through an online payment gateway, such as Authorize.net, also shows your customers that your business is experienced and of a good size, as the PayPal logo is mostly seen on smaller business websites.
In addition to credit cards, an online payment gateway also allows customers to pay with electronic check (ACH transfer), and, no matter the payment method, you have the opportunity for next-day funding.
Apply for a merchant account to get set up with an online payment gateway and say goodbye to held funds, disgruntled customers who are suddenly unable to check out of your website, and other costly damage control because of the types of products you sell.
If you have any questions, feel free to contact us for a free, zero-obligation consultation.
Get Started
Sours: https://www.bankcardusa.com/why-did-paypal-close-my-account/
PayPal Is Closing Accounts Tied To Crypto?
What Can I Do if PayPal Closed My Account?
With over 94 million users, PayPal is perhaps the most recognizable and widely used online payment system around the world. When a user opens a PayPal account, he agrees to uphold the company's terms of service. If he violates those terms, PayPal reserves the right to close his account. PayPal states that it doesn't close user accounts without a justifiable reason. The company always supplies an electronic or written notice notifying users ahead of time regarding user agreement violations and account closures.
Reasons for Account Closure
In the user agreement, PayPal states the company's right to close a user's account if she engages in restricted activities. Activities such as selling counterfeit items, reaching a negative account balance, or providing false or inaccurate information are only a few restricted activities that are grounds for account closure. If you remove consent to receive electronic communications, such as removing your email address from your contact information, PayPal also reserves the right to close your account.
Dormant Accounts
If you fail to log in to your PayPal account for at least two years, the company will close your account. If there is a balance at the time of closure, PayPal will send the balance to your primary residence or revert the balance to your state of residency. If your address or registered state is unavailable, PayPal reverts the funds to Delaware. You will receive a notice prior to the account closure and reverting of the balance. Contact your state's unclaimed property administrator to claim the balance if PayPal reverted the funds to the state.
Recovering Closed Account Balance
If PayPal closes your account due to restricted activities violations and your account contains a balance at the time of closure, PayPal may hold the balance for 180 days. If there are any fines or liabilities associated with your account closure, PayPal will deduct those fees directly from any existing balance. If you are unable to recover your funds after 180 days, you may have to file a suit in small claims court to receive the remaining account balance.
Considerations
Once PayPal closes your account, there isn't much you can do to reopen that account. However, unless PayPal indicates a refusal to services in the future, you can open another PayPal account, but it will not include your previous transaction history. You must register the new account using different login information, and you can't use financial accounts linked to your previous PayPal account. You must link a new bank account or credit card to the new account than those linked to your closed account.
Sours: https://pocketsense.com/can-do-paypal-closed-account-8314954.html
You will also like:
Well he is my taste. One thing does not pin me - he is a bodyguard, and I do not like this breed. Out of habit, I put my feet on the dashboard of the car and turned on my favorite music. I wondered what he would think of me and I pretended not to replace his interested look. He is a security, but this does not negate the fact that he is a man, and any man can be tamed.
1460
1461
1462
1463
1464