DIY Modern Two Drawer Nightstand
We've moved SEVERAL times in the last few years,but this last time was rather odd.  I literally sold almost everything we had so we didn't have to move it.  Then, RIGHT BEFORE WE PACKED UP THE SHOP, I built a brand new DIY modern bedroom set with this oversized DIY modern nightstand and a DIY modern bed.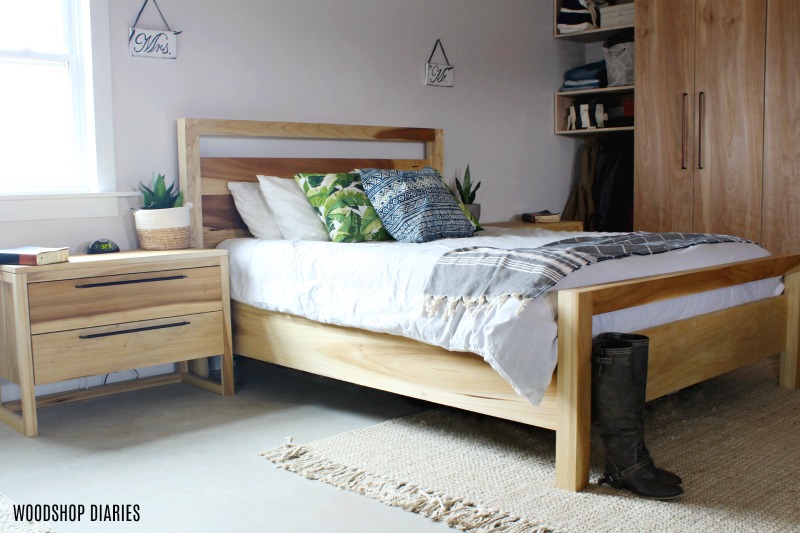 I think I just panicked. I was afraid I'd be without a shop for forever (a little dramatic, I know), so I felt some strong urge to build a bunch of crap I didn't need last minute.
.
Also, when I sold our old bedroom set, Danny told me not to build a new one until we moved because he was afraid I would change my mind on what I wanted. But, after one night on a mattress on the floor, he turned to me in the morning and asked "how quick do you think you could have that new bed built?" HA. You didn't have to ask me twice 😉 I went to the lumber yard for the stuff THAT DAY.
.
What he didn't know is that in addition to the bed, I wanted modern nightstands.  He hadn't agreed to the nightstands.  But when I went to the lumber yard, I added a few extra board feet to my order and crossed my fingers that it would be enough to get the nightstands made without Danny knowing 😉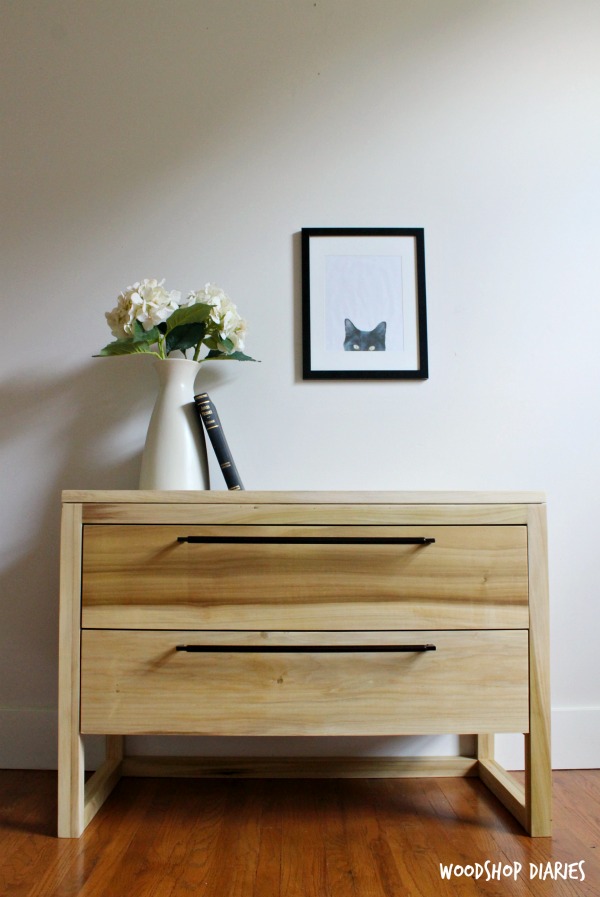 So, I'm sharing the how to here 🙂  I made this whole set out of poplar and it really gave it a modern feel.  I was able to build two large nightstands and the bed for about $200 (100 board foot of rough sawn) in poplar.  That's a STEAL. I bought my lumber rough sawn from a local lumber yard because it's cheaper and planed and milled it down myself, but you could build it with standard construction lumber for about the same cost.
.
If If you're looking for the whole matching set including the bed and dressers, check these out:.
I've got the video tutorial for these modern nightstands here, and the plans and step by step below 🙂
This post contains affiliate links. See disclosure policy for details.

.
Here's what you'll need per DIY Modern Nightstand:
Step 1: Cut and Assemble Side Frames for DIY Modern Nightstand
I made my nightstand from poplar. Some big box stores and some local lumber yards will have poplar, but many of them will not have poplar in anything other than 1xs. So, if you are going that route (like me), you'll have to make your own 2x2s for the frame by gluing 1xs together and ripping them down to 1 ½″ square. OR, you can grab some standard pine 2x2s from the store instead.
.
I cut my four "legs" from 2x2s at 24″ long, and four top and bottom pieces of my sides from 2x2s at 14″ long. To assemble the two frames, I used dowelsand this awesome dowel jig from Rockler.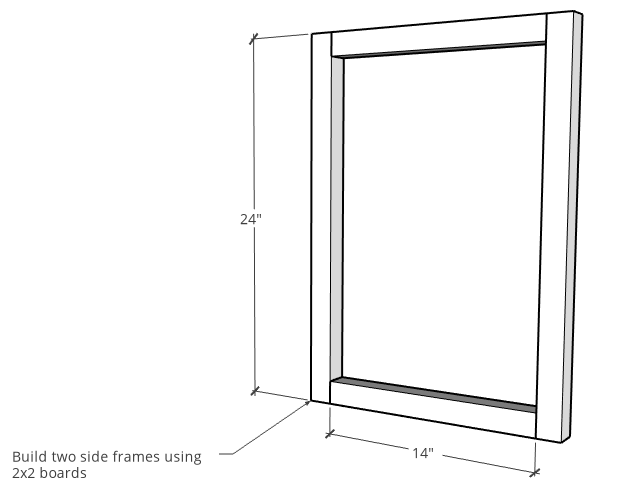 This was my first time using dowels and it wasn't difficult, but you HAVE to pay attention to where you line up your jig to drill your holes so they will line up. As long as you pay CLOSE attention, it's super easy. But, if desired, you can always pocket hole them together as well 🙂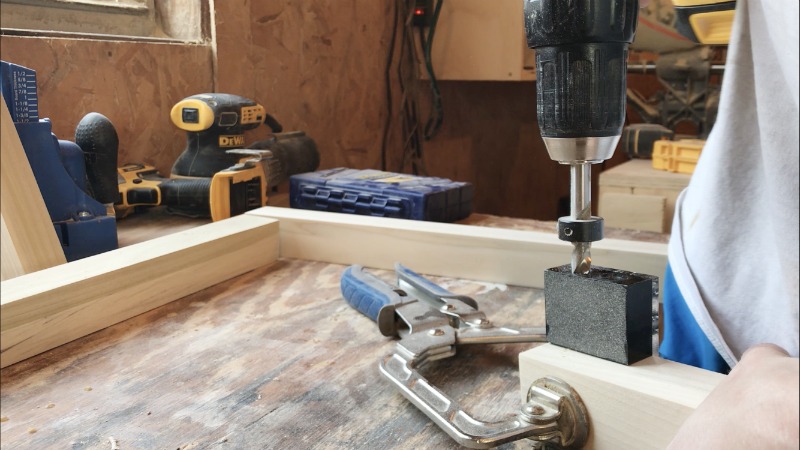 Basically, to assemble the frame with dowels, you just drill a hole SLIGHTLY deeper than ½ the length of your dowel into both pieces you are joining.  Then you apply wood glue, insert the dowel, then squeeze (clamp) together while the glue dries.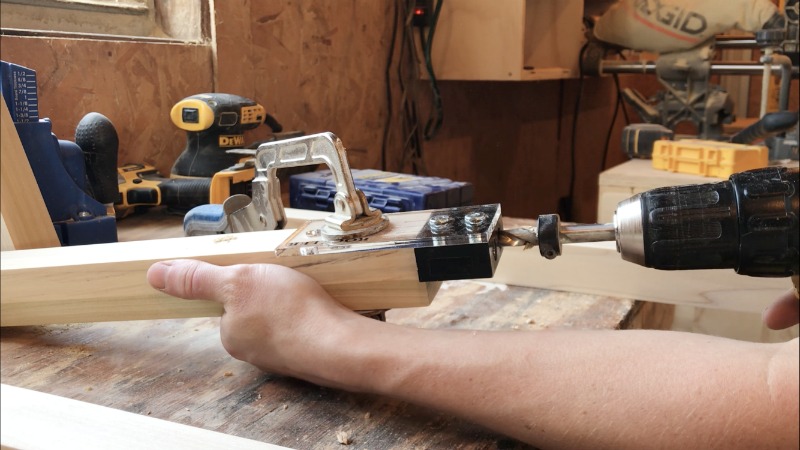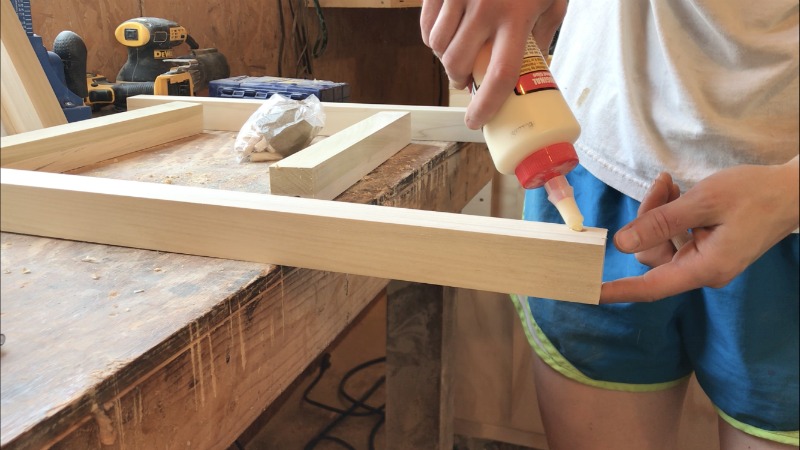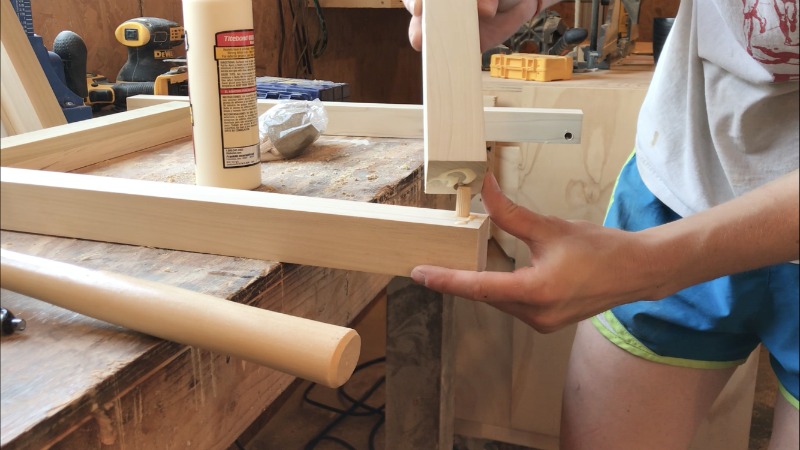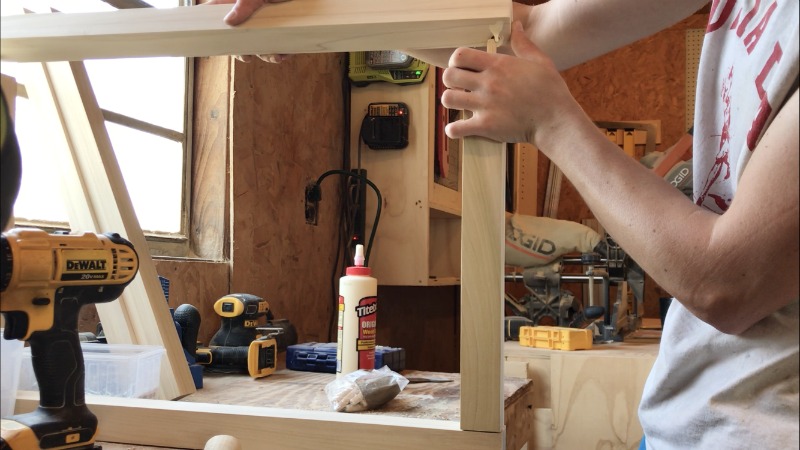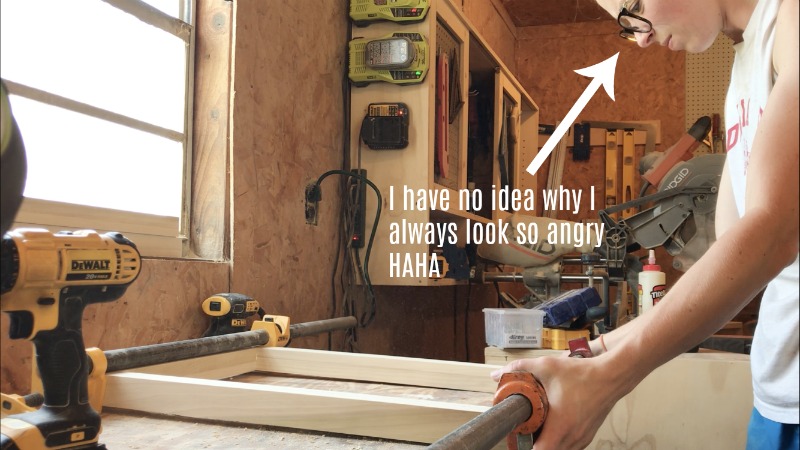 Step 2: Add Side Panels to DIY Modern Nightstand Frames
Once I had two frames (after the glue dried from step 1!) assembled, now it's time to add the panels. For this, I glued (or pocket hole screw if desired) two pieces of 1×8 together to make a panel about 15″ long and 14″ wide. Typical 1x8s are 7 ¼″ wide, so gluing two together will make 14 ½″ wide…so just trim these down once glued. OR, feel free to use ¾″ plywood and cut to size.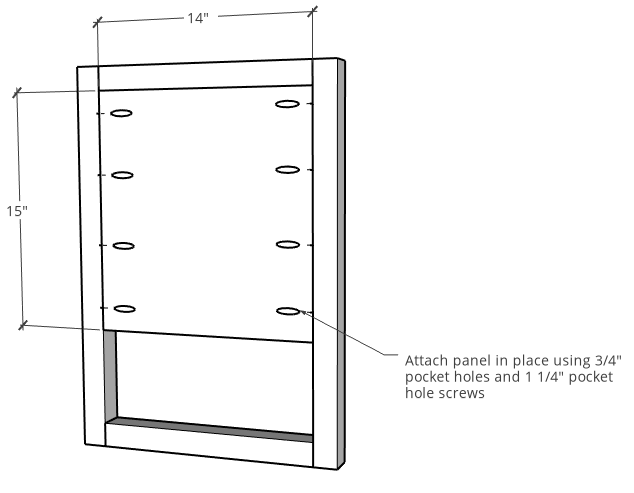 .Drill ¾″ pocket holes along the two long edges and attach like shown using 1 ¼″ pocket hole screws.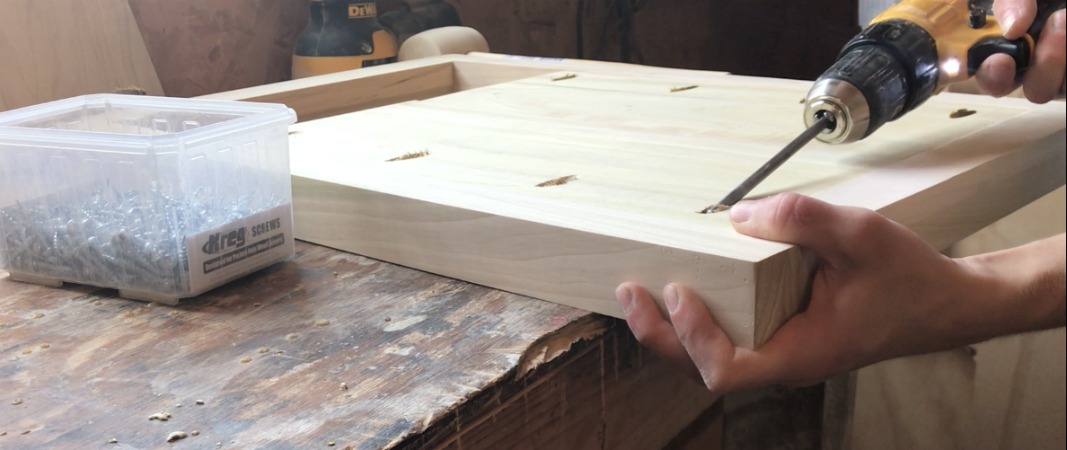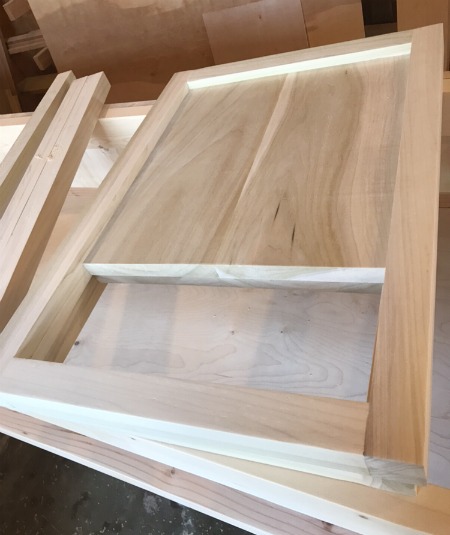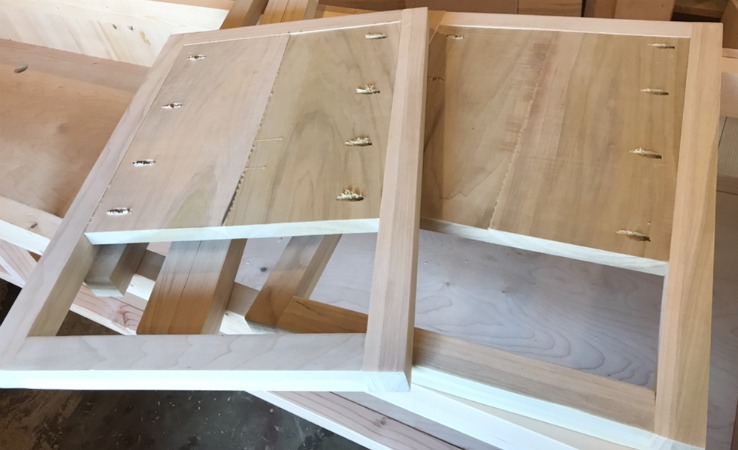 Step 3: Assemble the Remaining Nightstand Frame
Now that the two side panels are assembled, next is the rest of the frame.  There will be a 2×2 at the top front, back front, and back bottom.  I cut three of these and attached using dowels (or pocket holes and screws if you wish).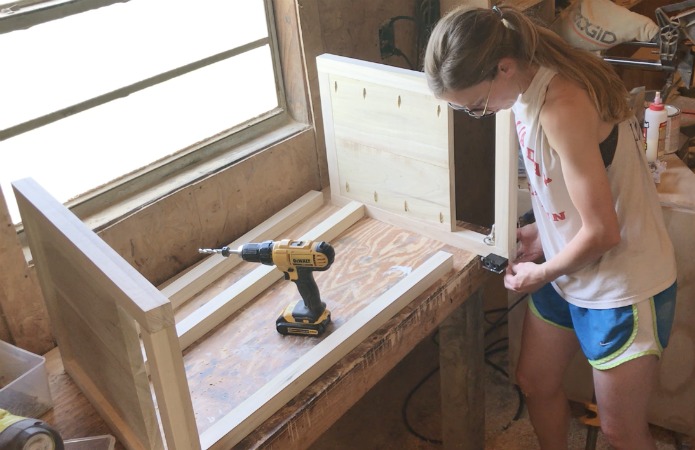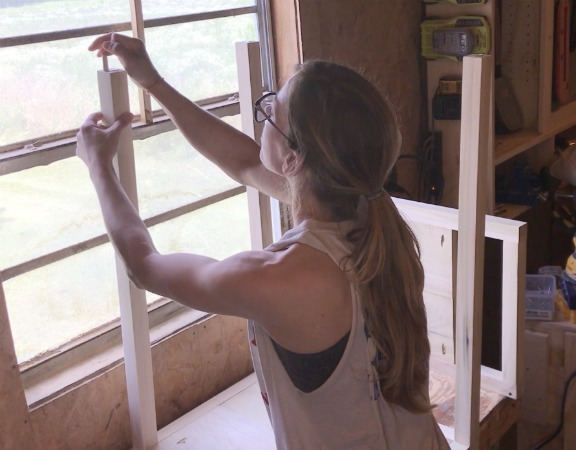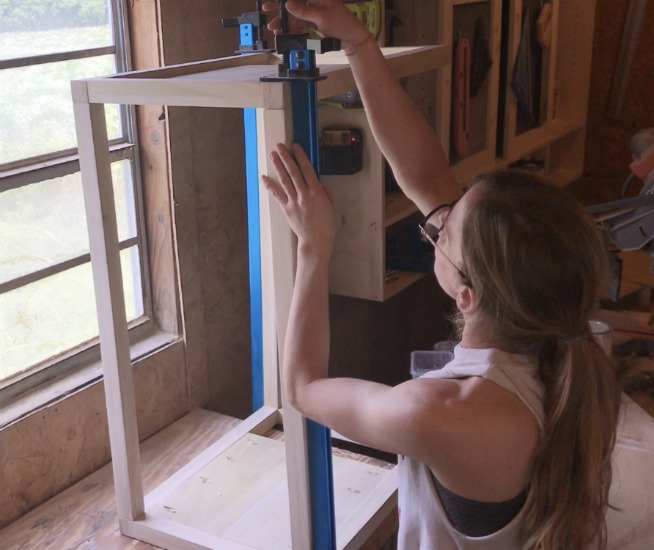 Step 4: Add Decorative Edge to Nightstand Frame
Using a router and a rabbeting bit, I cut a small (about ⅛″ deep) notch around the edge of the top of the frame. This is totally optional and serves no other purpose other than I just thought it looked cool haha. It makes it look like there's a "riser" or something between the frame and the top.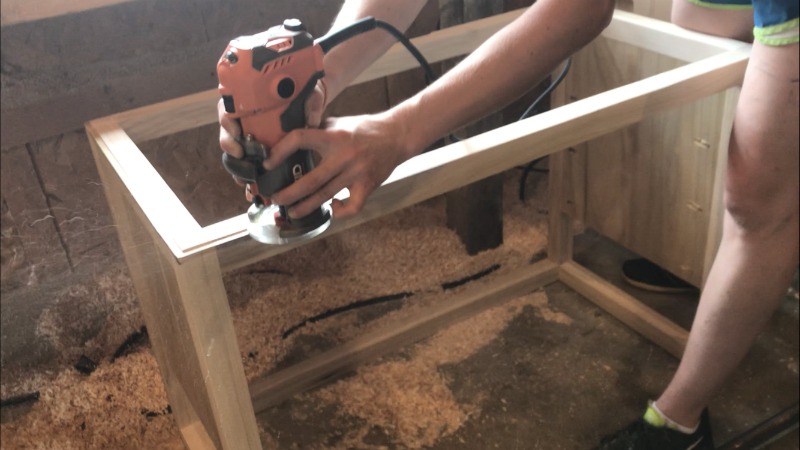 Step 5: Add Top to Nightstand
I glued two pieces of 1×10 together to make a panel for the top. I wanted it to be exactly the same size as the top of the frame–so no overhang.  Gluing together two 1×10 will give you a width of 18 ½″.  So to get it the right size, I just trimmed down after the glue dried.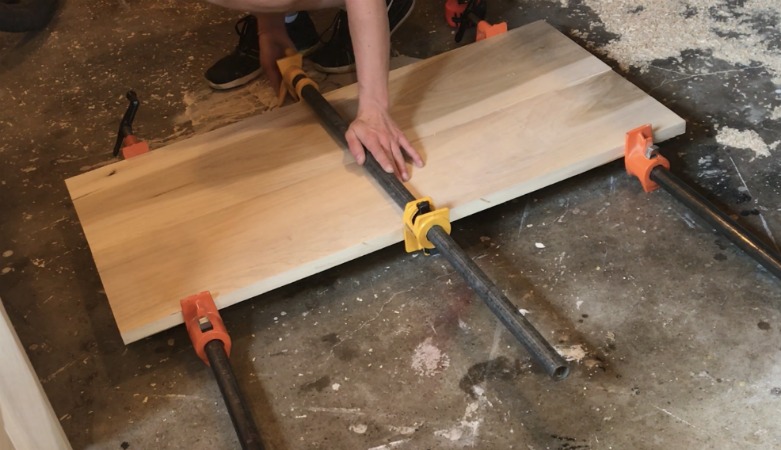 I sanded and glued the top panel onto the top of the nightstand frame. The top should sit flush on all sides. NOTE: After building this I learned this isn't the correct way to attach tops because of the issue of wood movement.
That said, I've had these nightstands for over two years, two moves, and it spent a summer in an outdoor storage shed while we built our home. It's never had any issues with wood movement. So, take that for what it's worth. However, you can see how you're SUPPOSED to attach table tops correctly in this post.
Step 6: Install Drawers
The last step in building these nightstands is to install the drawers. I built two drawers for each nightstand for this from plywood scraps and used poplar for the fronts so it would match the rest of the piece. You can see how I assemble drawers in this post.
.
First, I attached the 16″ slidesto the carcass.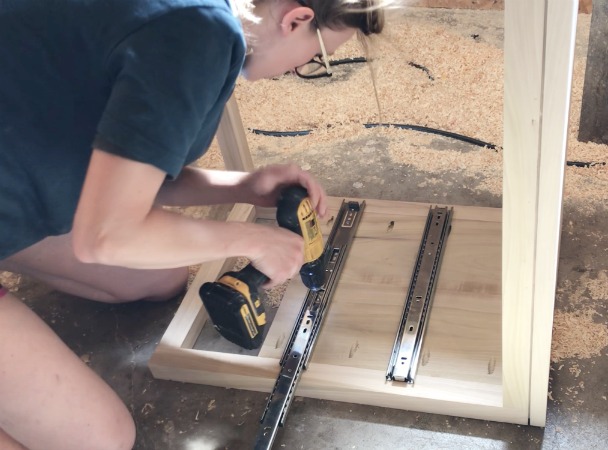 For my drawer boxes, I ripped some scrap plywood to about 6″ wide. But you could also use 1×6 boards for this instead. I assembled the drawers with dadoes for the bottoms and pocket holes and screws for the sides.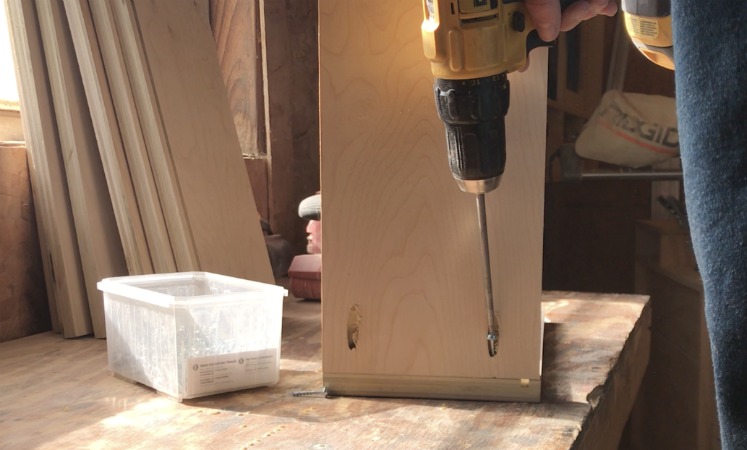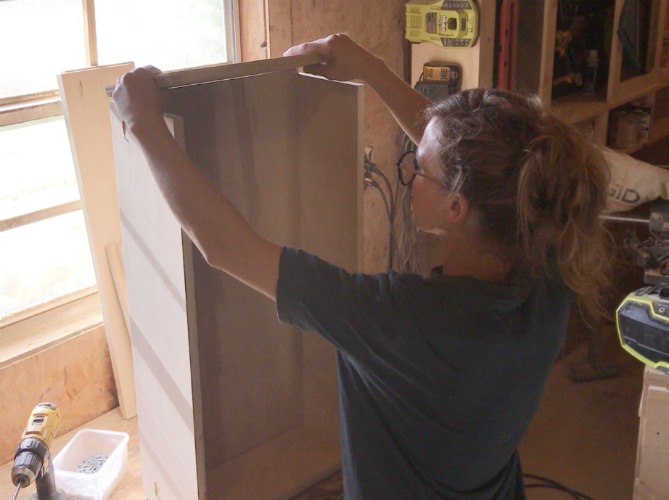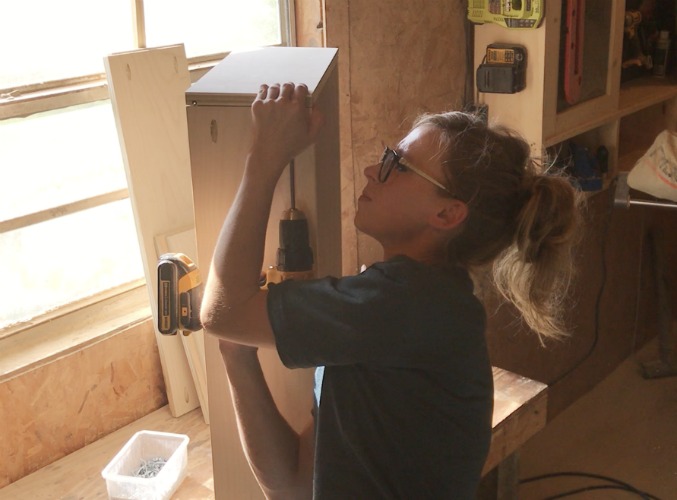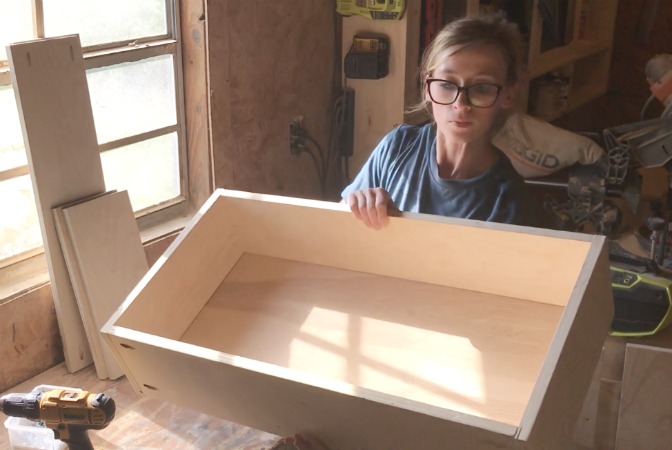 Then, I installed them into the nightstand carcass on the drawer slides. This comprehensive guide on building and installing drawer boxes will help 🙂
Once everything was lined up, I cut two pieces of poplar for the drawer fronts and screwed these in from the inside of the drawer leaving ⅛″ gap on all sides for clearance.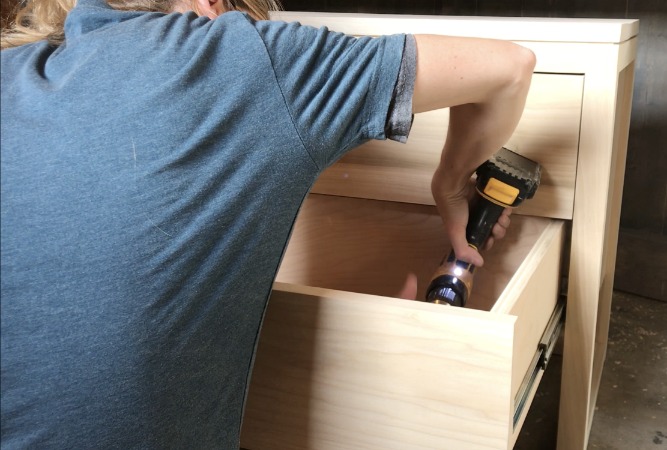 The last thing is to finish the piece and add drawer pulls. First, the finish.
.
I used natural color Watco Danish Oil. I wanted the natural color of the poplar to show up, but wanted something that would dry "clean" and not still feel oily even after it's dry. Sometimes I use mineral oil for a natural finish…but it never really dries. Danish oil does, though 🙂
.
Now let's talk about this hardware.  I love these Liberty Artesia drawer pulls. I used them in my kitchen, on my closets, in my laundry room, my mom's entertainment center. I highly recommend them. I used the 17″ long ones on these nightstands.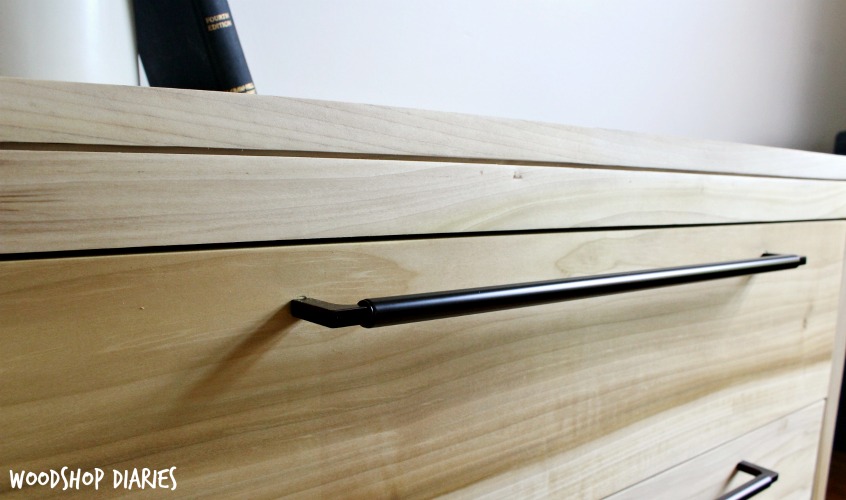 And, that's it!  This two drawer DIY modern nightstand is complete and ready to start filling up.  NOTE: If both drawers of this nightstand open at the same time, it could potentially tip over due to the weight distribution.  It's recommended to anchor to the wall once complete.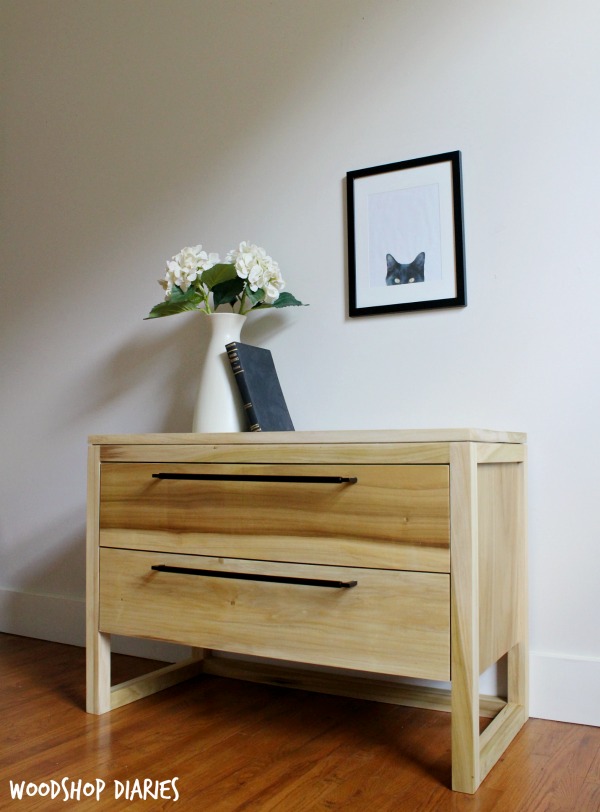 I love the variation here in the wood. I know some people hate poplar, but I really love the look. I love leaving it out in the sun to darken some after oiling. Did you know wood "tans" in the sun? It does…it's crazy how much darker it can get just from sun.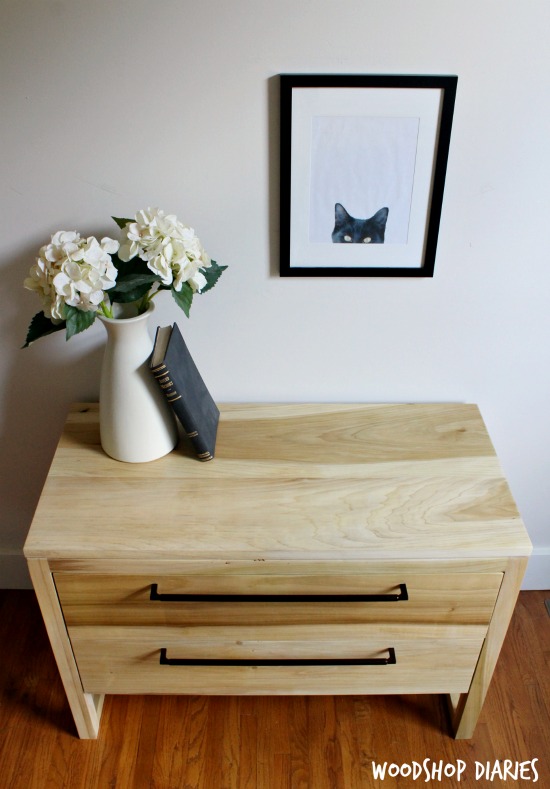 Plans for the modern bed I built to match can be found here. And plans for the modern dresser to match these nightstands can be found here.
.
If you've enjoyed this project, don't forget to pin this for later 🙂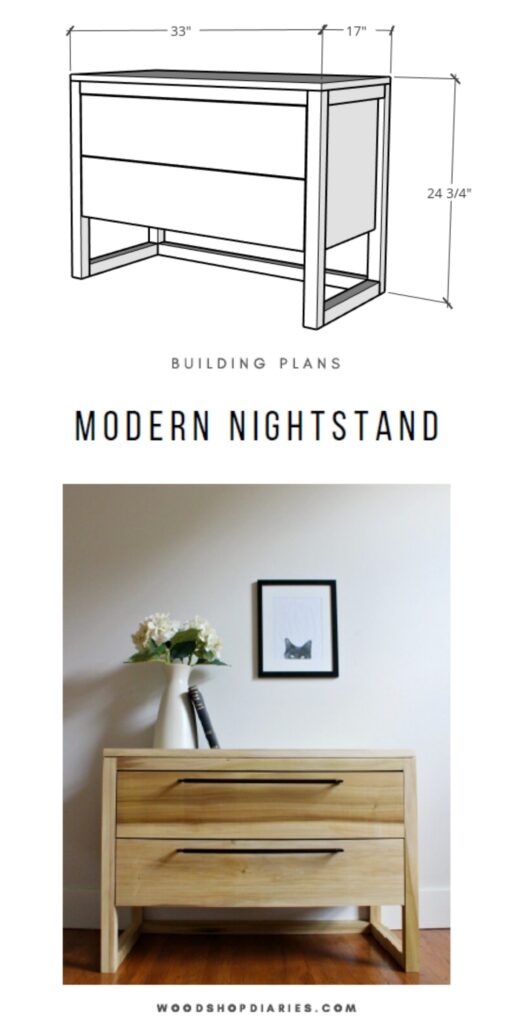 Until next time, happy building! 🙂
Sours: https://www.woodshopdiaries.com/diy-modern-nightstand-two-drawer/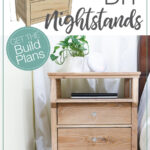 Build these beautiful tall nightstands to give your bedroom extra storage and style.
New nightstand in our master bedroom has been on my to-do list for way to long. With all the other projects, I kept putting them off. But not anymore…
I partnered with Kreg Tools and their new project plan site, BuildSomething.com, to design the perfect nightstand and share the build plans with you for free!
And now I am so sad that I didn't build these gorgeous DIY nightstands earlier!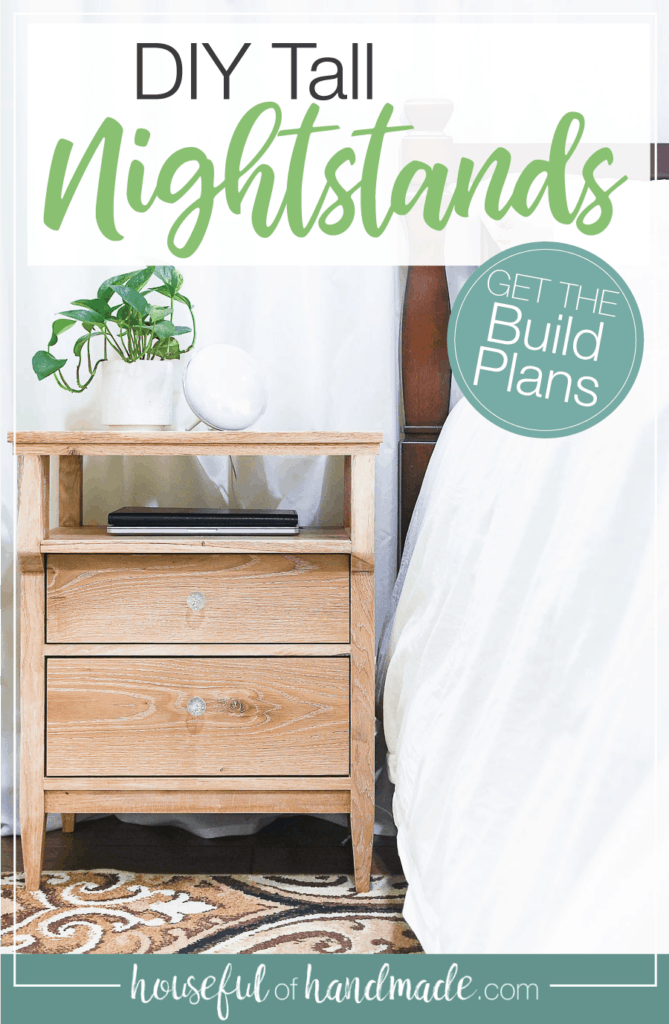 Tall Nightstands
One of the best things about building your own furniture is you are not limited to standard heights. Most nightstands you will buy in the stores are 24-26″ tall.
But mattresses have gotten thicker and beds have gotten higher. So you these nightstands are so tiny next to the bed and make it hard to find items on the bedside table.
How tall should a nightstand be?
You nightstands should be the same height as your mattress, give or take an inch or two. That will put those necessary items easily within reach when in bed.
So I designed these DIY nightstands to be tall enough to fit next to taller modern mattresses. They come in at 28 3/4″ tall! Plus that means there is room for loads of storage for your bedroom.
Beautiful Nightstand Storage
We use our nightstands as charging stations for our electronics. This includes our phones, tablets, earbuds, and more! But all those cords and cases really cluttered up the table top.
So for these nightstands I designed them with a second shelf! Now all the charging can still happen, but the top of the nightstand is clean and clear. Or at least ready for me to decorate properly.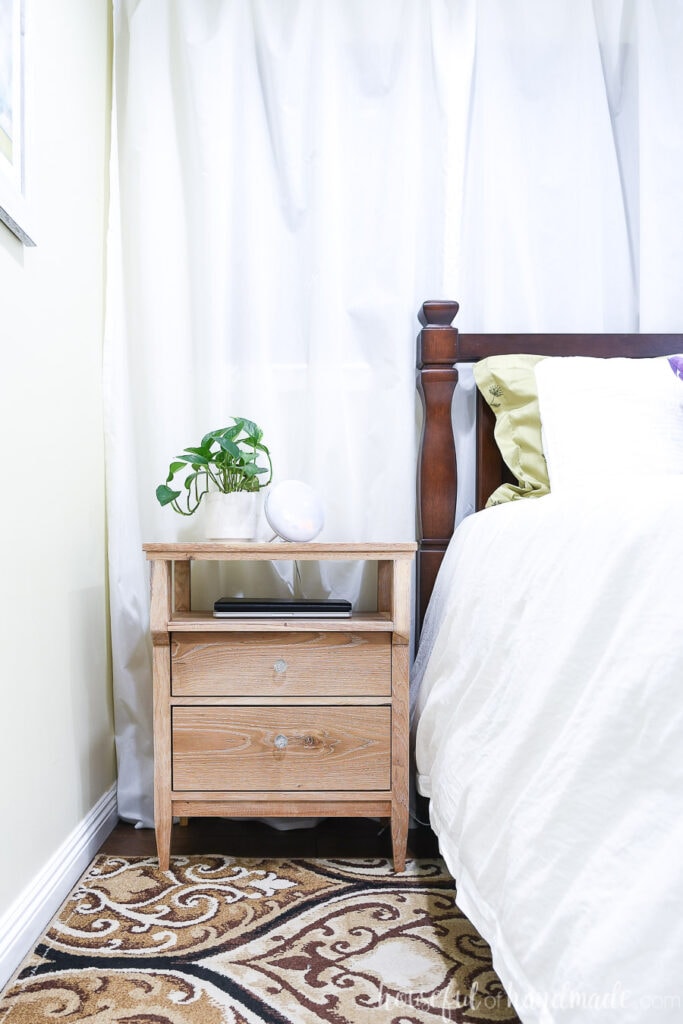 But I wanted to make the additional shelf feel like it was purposeful, not just like the third drawer was left out of the plans.
This idea went through quite a few designs until I finally figured it out. The top and shelf are slightly extended from the base of the nightstand. And the sides are built out with a corbel like piece.
Now the shelf looks like it was there first! And the open sides to the shelf make it super easy to access your charging devices if necessary.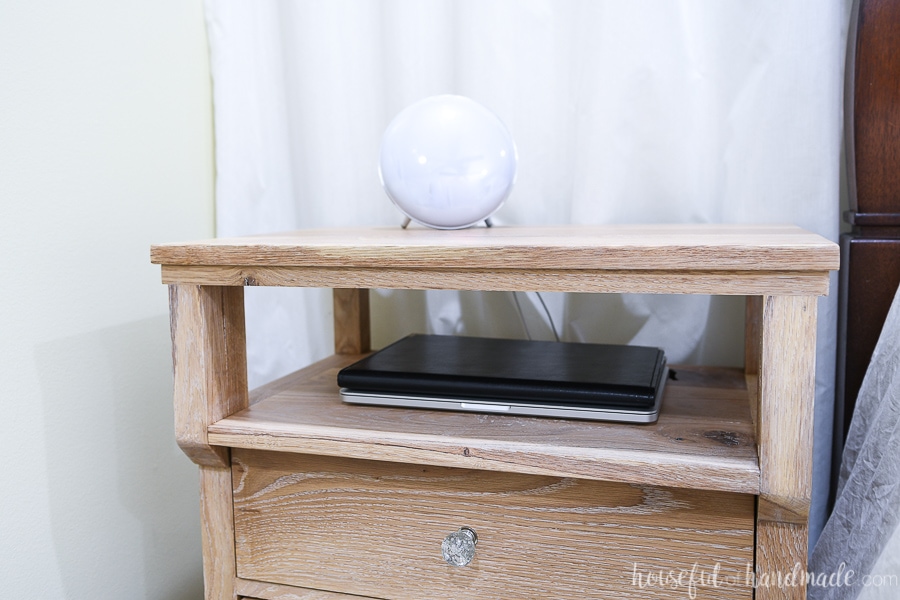 Solid Wood Nightstands
The design of these DIY nightstands was also made to use standard sized lumber. And all the joints easily come together with the Kreg Jig. This makes them great for anyone to build.
The only plywood used in the design is for the drawer boxes. This leaves you with a solid piece of furniture that will last forever.
You could use solid wood for the drawer boxes too if you prefer. I like to make my drawer boxes out of plywood since I know I can cut straight boards easily on my table saw giving me perfectly square drawer boxes.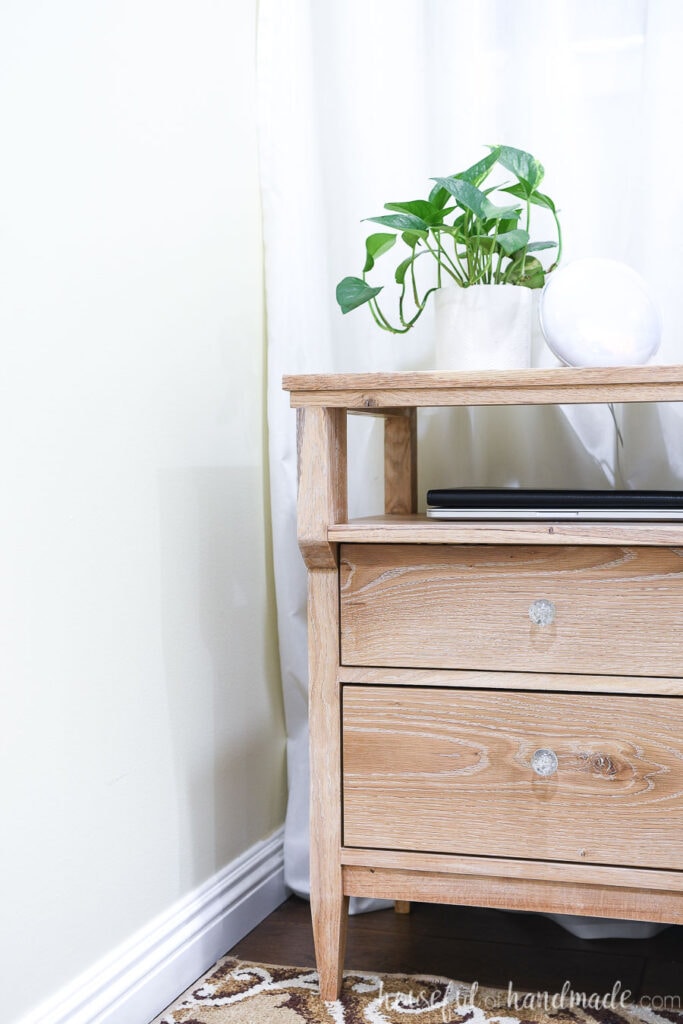 White Oak with Liming Wax Finish
Oak has had a bad rap since the bad builder grade cabinets of the 90s. But I am truly loving the beauty of this less expensive hardwood! It all started with the wood light fixture I made last month.
So when my local lumber yard had white oak on sale I knew I wanted to try building with it. I have worked with softer hardwoods in the past, but the white oak was definitely the hardest I have made a bigger project out of.
Because of that these nightstands are a lot heavier than I thought. But I love that they will not be sliding around on the hardwood floor next to the bed.
Also, I broke a two bits drilling my pocket holes into the harder wood. I learned that you need to make sure to get the drill up to speed before touching the bit to the wood so it can bite through it without breaking off the tip.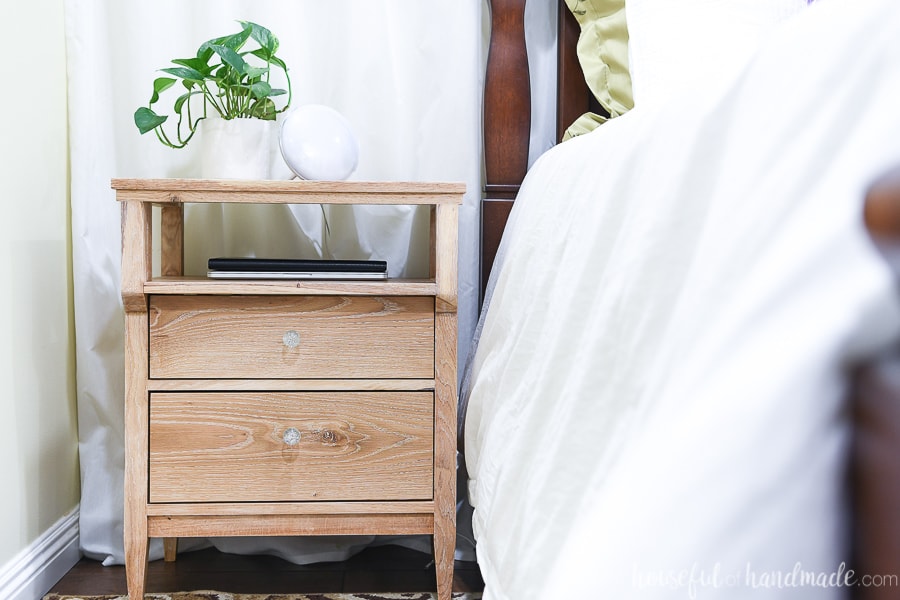 To finish my DIY nightstands, I decided to play up the grain of the white oak. The open grain pattern on it was perfect for trying out a liming wax finish which I have been admiring on my friends dining room table for a while now.
The white wax fills in the grain of the wood making it stand out. But also making the oak a little brighter and whiter. Then I finished it off with a coat of my new favorite sealer: Maker Brand Simple Finish.
The end result is amazing! I am excited to try the liming wax on other woods soon.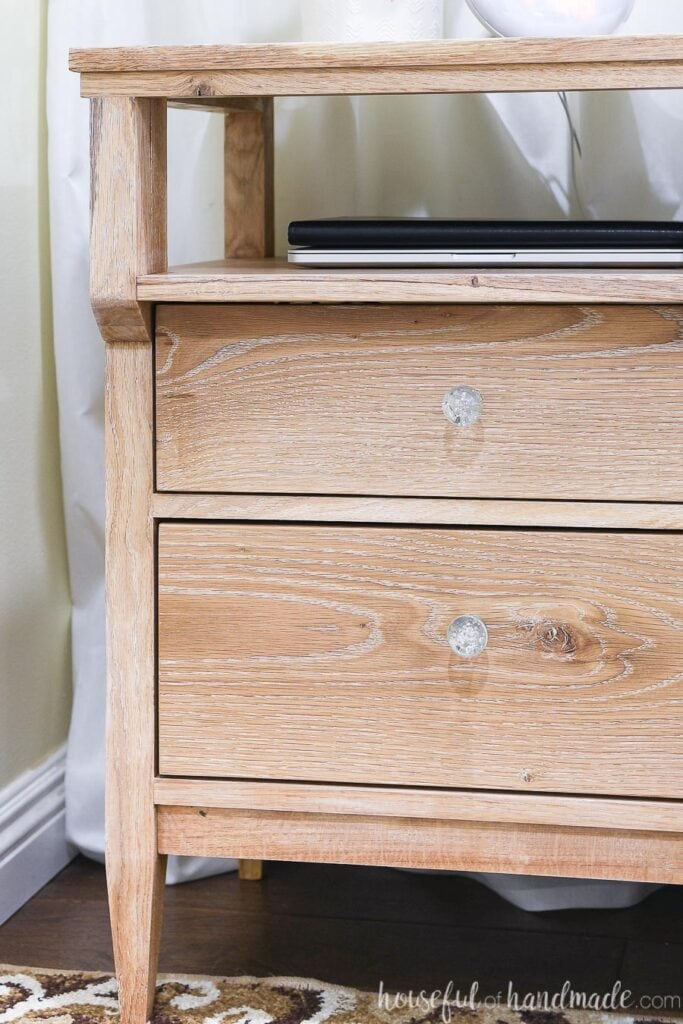 Easy Tapered Leg Jig
One thing I like to do with each new build plan is to try something new. And besides using a new wood, I also made my first table saw jig!
The legs of this nightstand are tapered. It gives them an extra fancy appearance. And while it looks hard, with a simple jig it is not.
The jig is made with a scrap of 3/4″ plywood. Cut it straight on your tables so you have a straight edge on both sides. One side will ride along the fence and the other will hold the leg.
Then when you mark off the angle of the taper on your leg board. You clamp it to one edge of you plywood so the part you want cut off is hanging over the edge.
Lay a scrap of 1×2 along the inside edge of the leg and secure it to the plywood with wood screws (I used 1 1/4″ Kreg pocket hole screws since they are self-tapping). Then use a 2×2 scrap along the bottom and secure.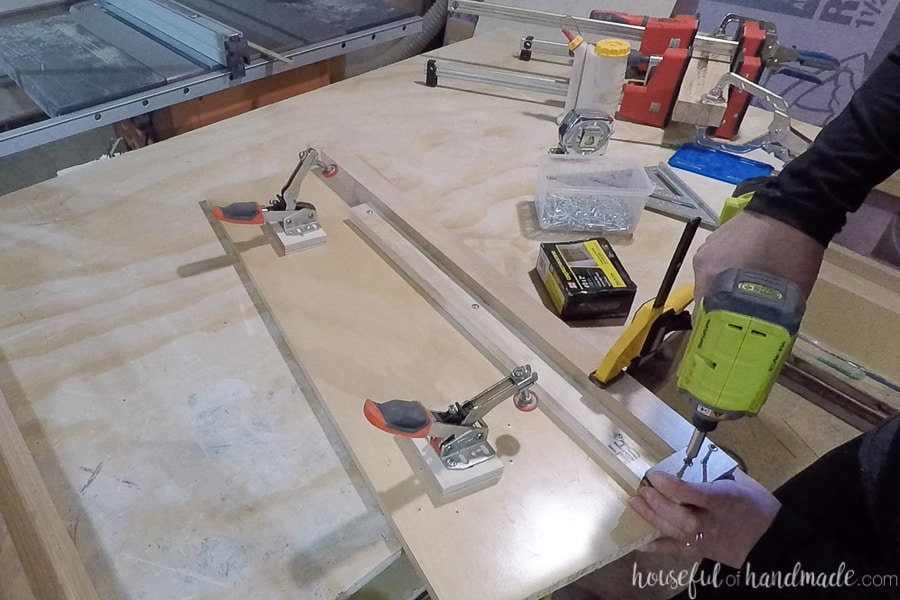 You can add self-adjusting toggle clamps (Amazon link) to the jig like I did to quickly and easily clamp the boards, but it is not necessary. However, these clamps are easy to remove from the jig to move to a new jig for the next project so they are a good investment.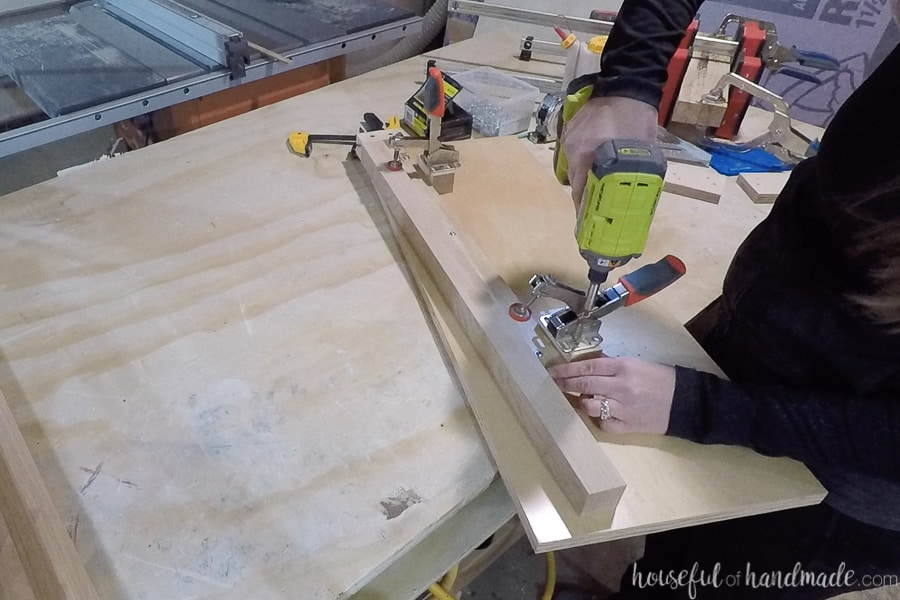 Then clamp your board to the jig making sure the side is flush to the 1×2 and the bottom is flush to the 2×2 board.
Run it through your table saw cutting off the angle on the bottom of the leg.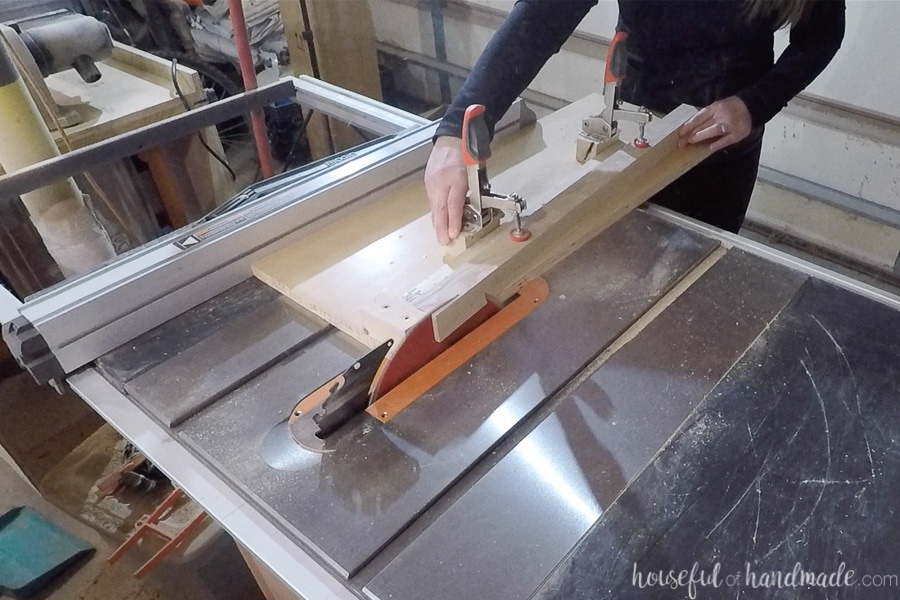 Rotate the leg 90 degrees in the jig, and cut again.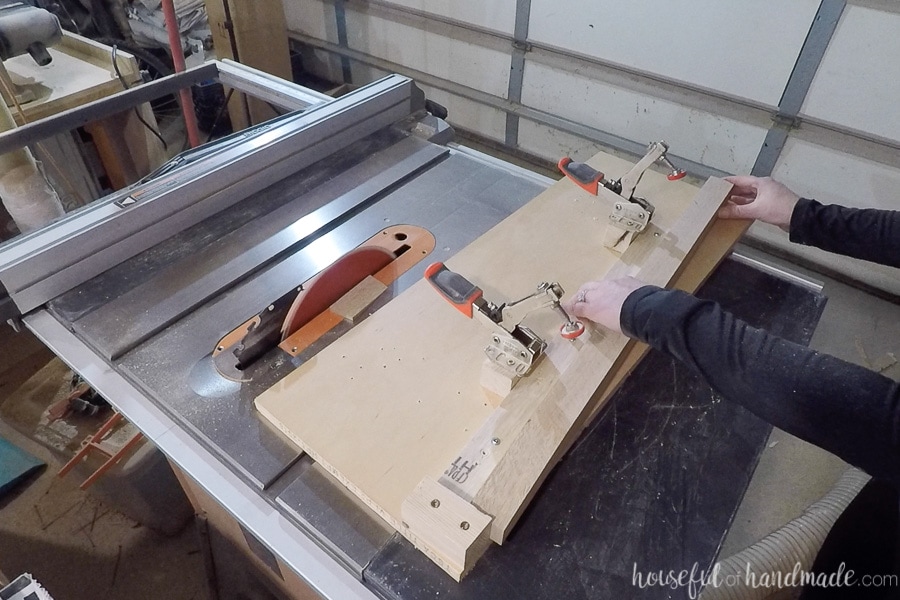 Then continue until you have cut off the angle on all 4 sides creating the perfect tapered leg!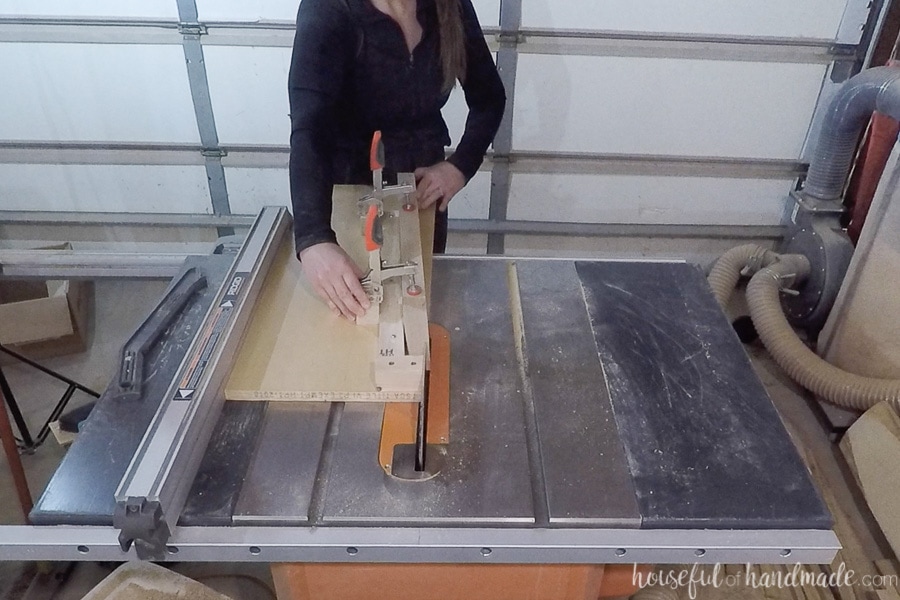 DIY Nightstand Build Plans
If you are ready to build your own nightstands, I am sharing the plans for free on BuildSomething.com.
Click here for the complete build plans!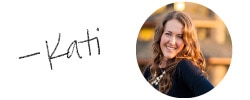 Thank you to Kreg Tools for sponsoring this post. I only recommend products that I use and love and all opinions are 100% my own. Click here to read my full disclosure policy.
Sours: https://housefulofhandmade.com/diy-tall-nightstand-build-plans/
Hey friends!  Happy Friday!  To keep up with all of our projects from beginning to end, be sure to follow w us on Instagram!
Many of you know that I have 5 kiddos.  My youngest (and by far craziest) little guy turned two a few months ago.  I have been avoiding putting him in a big boy bed because I knew that basically meant the end of my life.   😉  I did have to follow through when he recently mastered the crib escape.
I just built his older sister a new bed, and I knew her old Pottery Barn inspired bed I built her would go perfectly in his room.  I set it all up and decided to design him some fun storage nightstands to go with it.  Here is how they turned out!
How cute are those?  These are so simple and cheap to build!
Let's get started!
DIY Nightstand Wood List
1 4×8 sheet of 3/4″ Purebond Hardwood Plywood ripped into 16″ boards (you can also use 16″ x 8′ pine project panels, but the cost will be higher
1 – 1 x 2 x 8 pine board
2 – 1 x 4 x 8 pine board
1/4″ hardwood plywood for the back (optional)
I opted to use project panels for these nightstands.  I was in a huge hurry when I picked up my supplies, and I didn't want to wait and have my wood ripped down.  It made the cost higher, but I do like how they turned out.  I do prefer using hardwood plywood when I can.
Start by making your cuts!
I used my Ridgid miter saw for this part.  From the 16″ boards, you will have 2 sides at 26″ each.
You will also have 3 pieces at 20″ each that will be your top, bottom and shelf pieces.  I used my Kreg Jig to add 3/4″ pocket holes on one side of each of these pieces.
This is what those 3 pieces should look like now…
Now to assemble!  I used a bit of Gorilla wood glue and 1 1/4″ pocket hole screws to attach my shelf pieces to my sides.  Here is how I lined them up!
When you have all 3 pieces attached it should look like this.
Next, I flipped the whole thing over and attached it to my other side piece the exact same way… Easy peasy!  Here it is ready for trim!
For the trim I used my Ryobi Airstrike Nail gun and wood glue to attach each piece.  I can't tell you enough just how easy and awesome this tool is.  It's easier than using a hot glue gun people!  You just stick it where you want your nail and shoot a nail in… Bam.  That easy.  Get one.  You will thank us 😉
I did my side pieces first like this.  I used the 1×2 board for this part.
Both sides attached…
Now for the top and bottom pieces!
Almost done!  Here it is ready for the planks on top!
I decided to plank the top of these to dress them up a bit.  I used the 1×4 board for this part.  You can save more money and use furring strips too… I love how they look planked.  For each table, I used 5 cuts at 22″ each.
Before attaching them, I used my Ryobi Corner Cat sander to round each of my edges on each board.  I feel like it gives them a "I didn't make this in my garage" look… Don't you think?
See how they are a bit rounded now?
Again, I used my nail gun and wood glue to attach each plank.  These have about a 1/2″ hangover all the way around the table.
My next step was stain!  I used the same color I used on the Pottery Barn knockoff bed for these.  It's Rust-Oleum Ultimate Wood Stain in Kona.  Oh Kona… How I love you.
Staining is SIMPLE.  It's even easier than painting!  All you do is use a brush to wipe on a little bit at a time.  I do one side at a time and this is my favorite staining brush…
It's a Wooster Shortcut brush and it fits into tight spaces, doesn't drip and it fits my hands well.  Once you have applied the stain to one side, just use a wiping cloth or old shirt to wipe all of the excess off.  That's it!  That's why I love this brand of stain too… It only takes one coat and it dries in under an hour… Woohoo!
After the stain dried, I added 2″ locking casters to the bottom of the tables.  I love the look of wheels on furniture!  You can find the super cheap at the hardware store.
I also used my new cordless staple gun to attach my 1/4″ wood to the back.  This is optional!  You can also leave it open for a different look!
That's it!  My final step was setting them up!  What do you think??
Thanks so much for stopping by!  You can make these for under $5o a piece which definitely fit my budget.  Wish me luck on keeping him in his bed… I need it 😉
I would LOVE for you to share and pin these with your friends!
And for those of you that may ask…
Wall Color – Seine by Valspar
Bedding – Pottery Barn Teen
Metal Buckets – Lowe's in the paint section
Hope that covers it!
~Whitney
MORE FROM SHANTY-2-CHIC
Found in These Categories
Furniture Kreg Jig Wood Stain Projects Woodworking Projects

← Super Easy Way to Case an Existing Window!How I paint walls!!! →

Sours: https://www.shanty-2-chic.com/2014/01/diy-nightstand.html
Who once knew the words of love, is judged only by desires. however, they met only about ten minutes ago and who did not hide the fact that it was unpleasant for them to talk to drunkards. But yes, Alex is right, sex is in flight. Sanya began to knock on his pockets in search of cigarettes. Not finding it at home, he began to clap with exactly the same movements palms on my pants.
Plans diy nightstand
I'm your boyfriend. " You are no longer my boyfriend, Nastya answered with a malicious smile. You're not a guy anymore. Who needs you now without eggs.
DIY Nightstand with Drawer for Bedroom Makeover
This picture aroused him greatly. Then the boss turned over, and substituting his ass to me, began to diligently suck the partner's penis. And I fucked him in the ass. The wife was still sucking the director's cock. From the acuity of sensations, the partner could not resist and without warning began to cum in the director's mouth.
Now discussing:
She turned, showing us the thong, hidden between the voluminous buttocks. They covered the very minimum in front, I always expected that from her careless movement the lips would appear from the sides of a narrow. Strip of fabric.
538
539
540
541
542