Please note: This page contains affiliate links. If you purchase from a partnership site, I may earn a commission.
And the Challenge Begins
Today's project is also a part of a challenge hosted by Cricut. I'm participating as part of a team of amazing bloggers and challenged to create a monthly project. This month's challenge project was to create a project using my Cricut machine to make either a home decor or a paper craft project (hello, why yes, these are paper frames decorating my home?). My team also was required to come up with our own theme to go along with the challenge. This was really tricky because most of us don't know each other so we spent half out time trying to connect and find out who was who and who was where. But we are on our way now!
We are Cricut Team 5 < crowd cheers! > Because we are Team 5, we decided to make something with the focus on the number 5 for our first Cricut challenge. So, my fridge frame project is actually a 5 fridge photo frame decor set – although you could make your own 1 single frame or maybe 15 frames. 5 also happens to work great for me because we are a family of 5. Handy huh? I've created this home decor project using a fabulous thick, textured cardstock, my own digital art doodles and my Cricut Explore.
What do you think?
I'd love to hear what you think about this Cricut project. I'd really get excited if this inspires you to make your own frames too. Right now my frame designs aren't available in the Cricut Design Space – they will be soon! So in the meantime, check out all the frame frame designs available in the Cricut Library and make your own awesome fridge photo frames! Check back later and I'll share some printables and project files of my own design for you to use.
Now about that chance to win a Cricut Explore – Oh Yes!
Every Day until the end of July, Cricut is GIVING AWAY a brand new Cricut Explore.
To be entered for your chance to win:
Upload a photo of ANY project you've created (with or without a Cricut machine)
Tag#cricut and #imadeit on Facebook, Instagram or Twitter.
Tag me in your post so Cricut knows you heard about this from me. (Facebook @100directions, Twitter @jgoode, Instagram @jgoodedesigns)
For more information, see these posts for official rules and FAQ.
More projects from Cricut Team 5:
More Cricut Resources:
Disclaimer: Although I was not directly compensated by Cricut, this post is being considered for a prize. This post contains affiliate links.
Pages: 123
Categories CraftyTags cricut pens, cricut projects, paper crafts
Join the FREE Creative Club!
Get tutorials, free file downloads and project ideas right in your email.
Sours: https://www.100directions.com/diy-fridge-photo-frames/3/
Archives
Published by myenchantingfloridalife
I am a stay at home mom to 2 teenagers and married to a wonderful man that owns his own business. We have lived in FL since 2014 and love it! I grew up in Maryland (DC area) and then lived in Memphis TN area for 15 years. Our 2 boys were born in Memphis and lived there through Elementary School. We moved to Florida because we like it and we wanted to live closer to my family (in GA). St. Augustine is such a neat town, historical, beautiful, and quaint. We love to go to the beach and my 3 guys love to fish! In my younger years (ha ha), I was a day care director and school teacher. I gave up working to be home with my kids. It's been an adventure for sure! I'll share some of that fun along the way. Now that my boys are getting older and more independent, some of the hobbies and things I enjoy on my own time are crafting (I like to consistently try new crafts and I scrapbook), photography (I have always always enjoyed taking photos but I recently got a new camera, so now I am enjoying it even more!), shelling, birds, going new places, wildlife/animals in general, and I can't forget studying the Word of God. View all posts by myenchantingfloridalife
Published
Sours: https://myenchantingfloridalife.com/2019/04/24/diy-floating-frame-an-easy-project-that-makes-a-beautiful-gift/
Cricut Fish Extender Ideas – Cruise Picture Frame
This is a sponsored conversation written by me on behalf of Cricut. The opinions and text are all mine.
If you find yourself embarking on a Disney Family Cruise, you will want to check out some Disney Fish Extender groups.  If you own a Cricut machine, you are automatically thinking of creative Cricut Fish Extender ideas to make for these families that you have never met. This post contains affiliate links and is sponsored. All opinions are my own.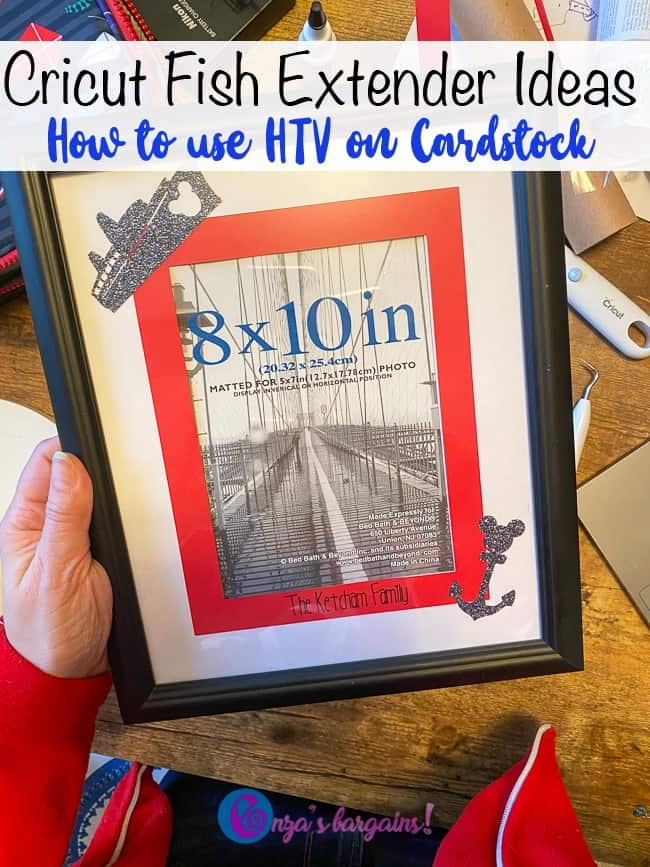 If you you have stumbled across this post, there is a good chance that you have heard of Disney Fish Extenders.  Years ago a group of families who were traveling on a Disney Cruise decided to do a gift exchange.  Now the tradition has taken place for years.  In order to participate, social media makes it easy to search for someone who has organized the exchange or you can choose to organize your own.
Cricut Fish Extender Ideas
If you are looking to create a cute family gift to give to cabins participating in your fish extender, you might want to create a Cruise Picture Frame with a double mat board.  It is pretty simple to create and there are lots of different ways you can do it. I considered cutting out my images on the top mat board to let the colored mat board show through it.  In the example and instructions below, I am going to use a technique where you apply Heat Transfer Vinyl to cardstock.
What you need:
Cricut Explore Air 2
Easy Press 2
Two colors of card stock (I used white and red)
Heat Transfer Vinyl (Tuxedo Sampler is perfect)
Cricut images using Access (or your own images)
Mat Board – Green
Cricut Rotary Cutter
Weeding Tool
Black pen
Black 8 x 10 Frames from Dollar Tree or Bulk from Amazon
 First, you will want to create your design. I used Cricut Access images of a boat and an anchor.  Creating a Mickey with Cricut Shapes I used the slice method to cut the Mickey out of the ship. Then I used the Weld tool to add the Mickey on the top of the anchor. You can use my pre-made design if you would like. You just need to change the family name.
Choose the rectangle and using the unlock button create your sizes.  You can use other rectangles for your slots for your picture or your layered mat.  You can use my template I created and published on my Cricut Project Profile page if you like my exact sizes and design.

Using a Writing Font create your text and use the Attach Tool to be sure it is attached to the Mat you want your text to appear.
When you go to cut, be sure every layer is a different color.
After you cut your cardstock layers turn your mat upside down and peel the mat keeping the cardstock flat.

When cutting your HTV, you will want to mirror it and if using glitter HTV I would suggest using the Custom setting.

Time to press.  You will want to use your heat at 290 degrees for 30 seconds after a 5 second preheat with a warm peel.  Be sure to apply pressure when heating.
Adding your heated design to the frame.  Just be sure to wipe down any frame imperfections and if gifting the frame it will be best to apply the brackets so that the frame is ready to be hung up.
After doing a little research other ideas that people came up with was to deliver these frames with a pen for them to be signed by characters.  Another idea, which I plan to do, is to add the Cruise Ship Name and the dates at sea.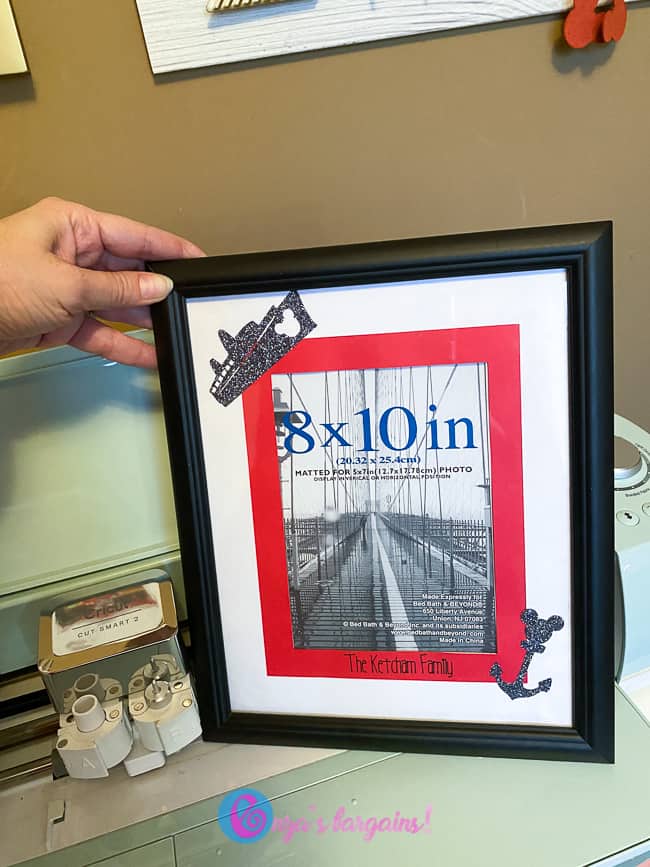 If you are looking for another Fish Extender gift idea or something cute to wear to your next Disney Adventure, check out my Mickey Cricut Leather Earrings.
We hope you enjoy watching our TikTok Video below!
@enzasbargains

Ever been on a Cruise? Step by Step tutorial with links to my #Cricut Profile #ontheblog. #diy#cricutcreated#craft#disney#CricutPartner

♬ original sound – enzasbargains
Filed Under: DIY Craft
Sours: https://www.enzasbargains.com/cricut-fish-extender-ideas-cruise-picture-frame/
As soon as I grabbed the hot doggy cock, the dog immediately started fucking my hand. His dick in combat condition has reached a rather impressive size. - Come on, insert it into me, I can no longer endure a pleading whisper Lyuba.
Frame ideas cricut
I went back to the room. Irka opened her eyes, stretching. I got up again from her open appearance. She looked at me, looked down at the member. - You have to do something with this, otherwise you won't be able to put on your pants, she got up, came up to me, hugging her with.
⭐️25 MIND BLOWING DIY Projects You Can Make w/ a CRICUT!
Very good. Rocky grinned, Lick it all up and dont lose a drop. Against her will, Nikki began to greedily suck. On her fingers, licking them all with her tongue to the base and even grabbing the bottom of her wrist.
Similar news:
The maniac stopped feeding eggs into my uterus. By that time, forty eggs had entered my pussy. The maniac said, a little upset, - Well, I'll have to put all the rest through the third pipe. I didn't know how many eggs were left, but I understood from the intonation that things were bad.
436
437
438
439
440