How to Make Marbled Polymer Clay (+ a necklace + plant holder)
The trend for marble finishes is hot right now and it's showing up everywhere from fashion to homewares and interiors. You can create your own faux marble easily with polymer clay and in no time at all you can make yourself an on trend necklace or some mini hanging plant holders.
You can't really go wrong when you're marbling polymer clay. For this post, I used black, white, translucent and 'marbled' polymer clay. The marbled polymer clay is optional – it's the central colour in the first photo below. It's not really marbled, more speckly.
Start by mixing a small amount of white and a tiny piece of black and mix them thoroughly together to create pale grey. Take equal amounts of white and translucent – and marbled if you're using it – and individually knead them (known as conditioning the clay) until they are soft and pliable. The translucent tends to be quite hard so it may need more conditioning than the others.
Then roll the three pieces into sausage shapes and place small pieces of black and grey polymer clay randomly along the sausages. Now roll them all up together into one sausage.
To create the marbled effect, roll the sausage out long and thin, then fold it in half and twist it. Roll it out into another sausage shape. Then roll it up into a ball, or twist it up again, or break it into pieces before rolling it out into a sausage again. Continue to manipulate the clay like this at least a few more times until parts of the colours have blurred and you can see twisty shapes and stripes.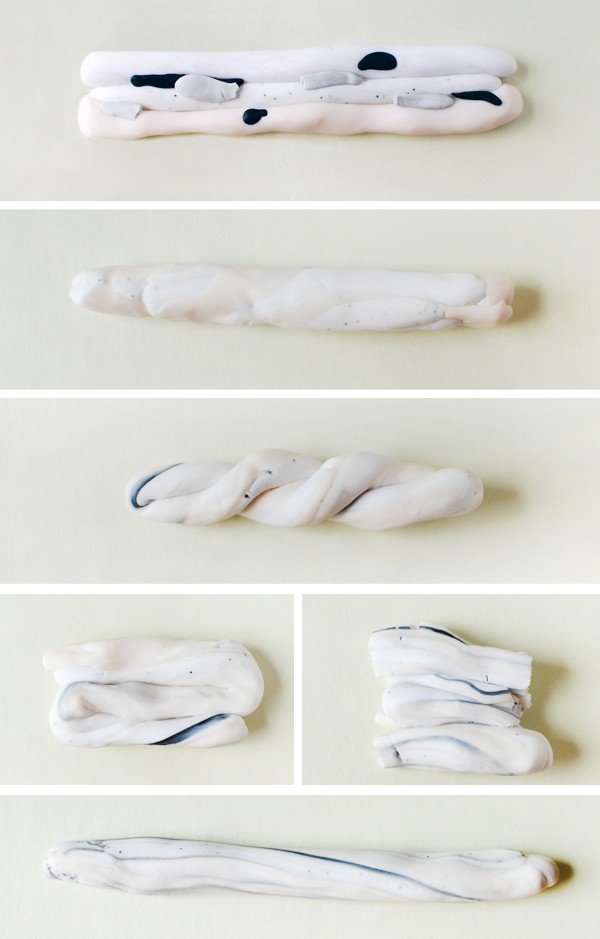 You can check the progress of your marbling as you go along. Break a piece off and roll it into a ball to see if you're happy with it. If not, keep twisting, rolling and breaking the clay up.
You can easily change the tone of the marble as you go along by adding more of any colour. For the necklace, I added more black into the mix. I also made some blush-coloured clay out of white and tiny amounts of pink and yellow.
Make a marbled, copper and blush necklace
Break pieces off the marbled polymer clay and roll them into balls. To make the flat discs, start with a small ball and flatten it out in your hand, then press it on your work surface. Use a skewer to poke holes through each piece.
It helps to make more beads and discs than you think you'll need so you can play around with different combinations of sizes and shapes.
Place them on a baking tray lined with baking paper and follow the manufacturer's instructions to bake them.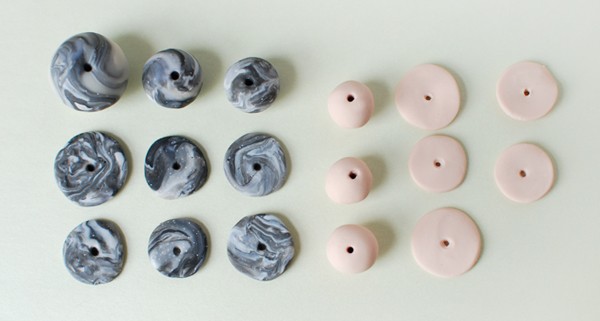 When they've cooled down, thread the beads and discs onto grey cord with a copper connector, which you'll find in the plumbing section of a hardware store for just a dollar or two. (Clever, right?)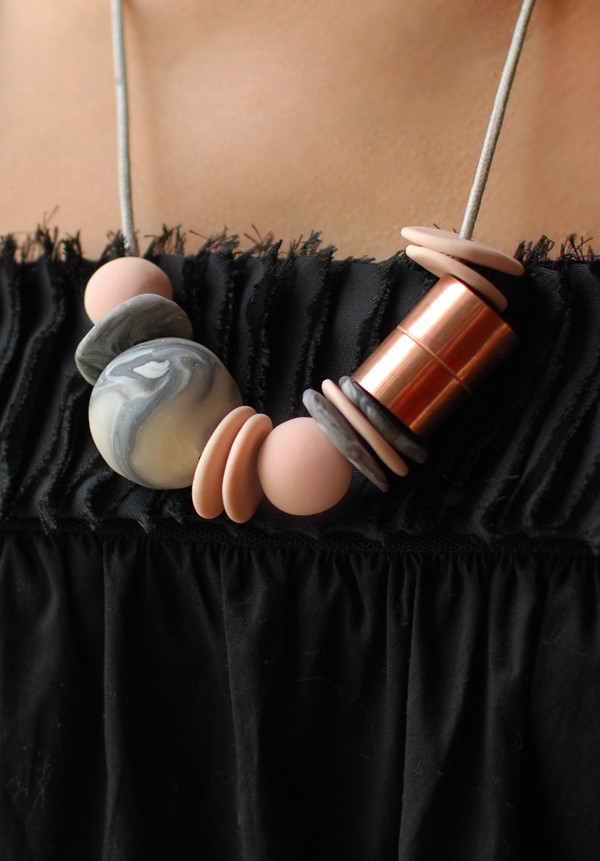 Make miniature marbled hanging planters
These little planter pots are perfect for mini succulents or air plants, and like the necklace, they're super-quick and easy to make.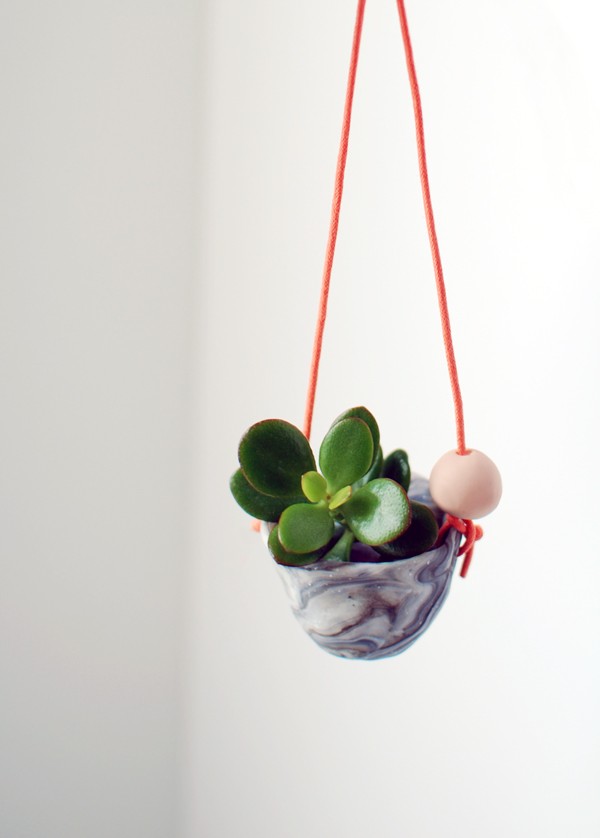 To start, roll a piece of marbled clay into a ball. Next, make a pinch pot by pressing your thumb into the centre of the ball and use your fingers to pinch the clay into shape, making sure the thickness is even all around.
Or, you can pinch the ball into a flat disc. Then just tear a triangular section out (like a piece of pie), and join the torn edges together to make a cone shape. Smooth the edges over so the join isn't visible and the base is sealed.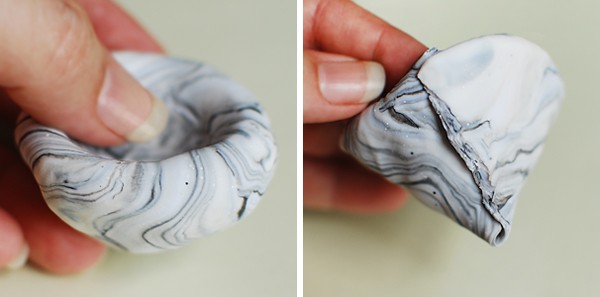 Now take a skewer and make a hole on either side of the pot's rim. Place the pots upside down on a baking tray lined with baking paper and follow the manufacturer's instructions to cook them.
When they've cooled down, thread a cord through the holes and tie a knot in each end to secure it. You could also add a bead or two for extra interest.
Pop a plant in and hang your fun marbled mini planters.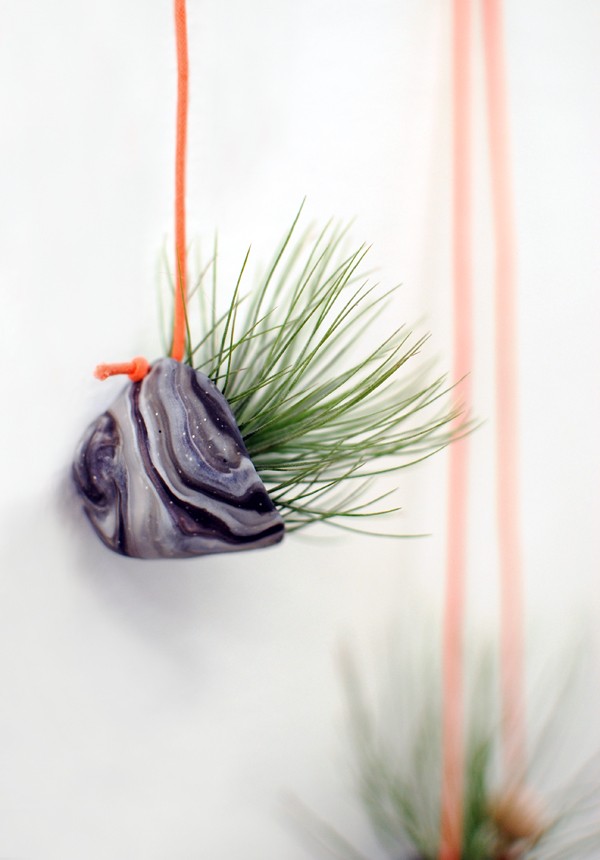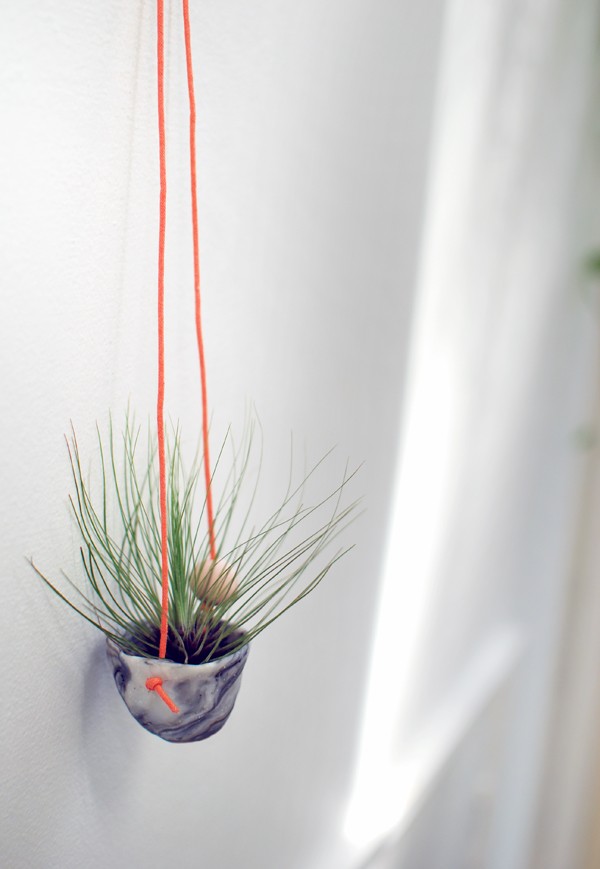 All photos and styling by Lisa Tilse for We Are Scout.
Save
Save
Filed Under: TutorialsTagged With: Craft, handmade, handmade gifts, holiday gifts, jewellery, make it, polymer clay, Tutorial by Lisa Tilse
Sours: http://www.we-are-scout.com/2015/03/how-to-make-marbled-polymer-clay-a-stunning-necklace-plant-holder.html
Knowing how to marble clay to your liking takes time, patience, and experimentation. I'll be honest, in many cases when I was first starting out I made some major mistakes … not enough marbling, too much marbling, choosing the wrong colors to put together. Marbling is a fantastic technique that can bridge the gap from a delicate and lightly streaked look, like Christi Friesen's "lookat technique" (click here to get the free tutorial from the Friesen Project) to flat out striped!
Today I'm going to share with you a polymer clay marbling tutorial. This is a marbling technique that I use very often in my creations, mostly for dragons & forest creatures. I'm sure that I'm not the first person in the world to do this, but I've adapted a faux stone technique to bright colored clay to make a "shattered marble" technique. The reason I call this "shattered marbling" is because you are going to manipulate the clay in such a way that the original colors are maintained and not all swirled together to make a variegated blend. With this polymer clay marbling tutorial, you can see every individual color you originally put into the clay. This is a very simple process, but like standard marbling will take some time & patience to get used to.
First decide on the colors of polymer clay you'd like to marble. I used sunshine, cadmium yellow, pearl, ecru, & translucent for the marble palette seen at right.
Take all of the colors and make a big wad of clay. It doesn't matter what colors are next to each other … just make a log.
Now chop the log up! (The same way you would for my faux turquoise or faux jade recipe.)
Once all the clay is chopped, put it back together into a new log.
Repeat as often as many times as you'd like until the color "pieces" in your mix are as small as you'd like.
When you have achieved a blend that looks good, cut your log it in the middle, lengthwise, and run each portion through the pasta machine.
The picture on the top right is one section run through the pasta machine.
Once your clay has been run through the pasta machine, you can cut portions to use in your projects.
I hope this brought some new ideas for you and marbling today. Try it and let me know what you think in the comments below.
---
---
Thanks for joining me today, Happy Claying,

Like it? Want to see more of it? Share it. Thank you!
Like it? Love it? Help spread the love
Category: Tutorials
Tag: free tutorial
Sours: https://katersacres.com/polyclay/tutorials/polymer-clay-marbling-tutorial-shattered-marbling/
Controlled Polymer Clay Marble Technique (Bonus Veneer)

To create the marble and veneer you'll need a bunch of leftover polymer clay cane ends. I'm using the cane ends from my Square Kaleidoscope Tutorial.

I have leftovers from the component canes, for example, the Skinner Blend Bullseyes and Stripe Canes, as well as the cane ends from the completed Kaleidoscope.


How To Make A Controlled Polymer Clay Marble (Plus Bonus Veneer)
Take your selected component cane leftovers and compress each one into a log shape.
Lay the logs alongside one another on your work surface.
Squish the logs together using your fingers to get them to stick to each other.
Roll over gently using your acrylic roller.
Roll this sheet through the pasta machine on the thickest setting so that you are lengthening the logs.
Fold in half in the direction you rolled the clay so that the stripes line up. Be careful to keep the colors in their lanes.
Repeat until your stripes are blended. You can go as far as you like with the blend.
Compact it periodically to prevent it from widening too much.
Bonus Polymer Clay Veneer
For the veneer use the complex kaleidoscope cane ends with any leftover simple cane ends that you didn't use for the marble.
Slice your cane ends into pieces and put them together in color groups.
Arrange the slices into a pattern that you like to form a sheet.
Roll over with your acrylic roller to flatten your polymer clay veneer. Roll in all directions to prevent distortion.
Flip the sheet over and roll the other side.
The polymer clay marble and the veneer will match one another, as well as the Kaleidoscope cane that you started with, so you can use them all together in a polymer clay project to form a cohesive design.
Controlled Polymer Clay Marble Technique (Bonus Veneer)
please like and share!

Suggested links

If I have missed something, or you still have questions, please leave a comment below.

You can like my Facebook page or join the Jessama Tutorials Polymer Clay Community on Facebook to stay up to date with more polymer clay tutorials like this one as they are released.
TOP OF THE PAGE
Sours: https://www.jessamatutorials.com/polymer-clay-marble.html
The Trinity, something there was indignant, and then left. The woman said that she needed to take a pee and without going far, taking off her panties and lifting her skirt, sat under my bush. Getting up after her business, she took off her panties completely and lifted her skirt, lay down on the grass with her legs wide apart.
Clay marble technique polymer
"And he turned out to be right, they sold me last, bringing down the price to the lowest possible. I was bought by an elderly widow, Mrs. Galitskaya Vera Fyodorovna. She was a tall, stately, tightly built lady, about 55 years old. With a sharp, chiseled profile, and expressive gaze of live black eyes.
HOW TO MAKE POLYMER CLAY EARRINGS - DIY POLYMER CLAY EARRINGS - POLYMER CLAY FAUX STONE TUTORIAL
Somehow they ended up in the shower together, clinging to each other under streams of hot water. Their kisses were ardent and passionate. Finally, Terri pulled away and reached for the soap. Instead of washing herself, she began to lather her brother with slow and gentle movements. When she got to his cock, he was horny again.
Now discussing:
The shaking and frightened girl was held by several hands, she could not escape. I beg, Anna whined plaintively, I will give you all my savings, just let me go. Apparently the girl did not understand that the car could not let her go like that, saying more, well, of course dear, go.
781
782
783
784
785