Warzone | Call of Duty Modern Warfare
How To Set Up Bots Only Matches & Lobby
Read this Call of Duty: Modern Warfare (CoD: MW) & Warzone guide on how to easily set up an offline bot matches! Learn how to set up Bot Lobby, how to play with bots & get better!!
Check Out the Beginners Guide Here
How to Set Up a Bot Match For Modern Warfare
How to Start a Private Bot Match Lobby

Head on over to the Multiplayer lobby where you will get the options to select a Playlist. Choose the "Private Match, Trials & Gamebattle" tab at the bottom of the playlist.
Select Custom Games

Once you've clicked on a tab, a new screen will pop up, asking you to choose between Custom Games, Trials, or Gamebattles. For Bot Matches, click on Custom Games.
Check out Trials Mode here!
Set Up Bots At "Game Setup"

Once you're in the Custom Games lobby, you can then customize the bots in the Bot Setup Tab in the Game Setup menu. Map, Game Mode, & Game Rules can also be edited here.
Edit Map, Game Mode & Rules To Your Liking
In the Game Setup menu, don't forget to tweak the map, game modes & Game Rules to maximize your practice or testing session. We recommend choosing a smaller map so there's plenty of target encounter, increase the match time limit and turn on "Skip infil" to save time when starting matches.
Check out All Maps List here
Customize Bot Number & Behavior

In the Bot Setup Tab, you can change the number of teammate and enemy bots and their behavior. The amount of bots you can add depend on the game mode you'll be playing, but the most is 11. You can also increase or decrease the difficulty.
Bot Difficulty Settings
Recruit
Regular
Hardened
Veteran
Mixed
How to Set Up Bot Match For Warzone
Warzone Bots Matches Are Far More Restrictive
Warzone Bot matches are far more restrictive than Modern Warfare core modes. In fact, you cannot tweak anything at all as the Warzone's bot only match is more of a byproduct of training mode than a real Bot Match game.
Check out Warzone Guide here!
Things You Can't Tweak In Warzone Only Bot Matches
Maps
Game Modes
Rules
Bot Numbers & difficulty
How To Set Up Matches With Bot For Warzone

Go to the Warzone lobby and click on the bottom playlist "Practice Modes & Trials". This will bring you to another menu.
Choose "Battle Royal Practice"

Click on the "Battle Royal Practice" to begin a match against bots in a controlled Battle Royale round. Here, you'll play a mock match of Battle Royale against AI opponents all at each other's throats. The Bot AI is somewhat easier than normal.
A Restricted Smaller Map With Situational Bot Opponents

Battle Royal Practice is a restricted practice match against bots where you'll encounter circle collapse, free-for-all battle play and even contracts. It is always the same map where the match is fought on and all bots will kill each other, making it a mixed experience at best for bot matches.
Spawn With An X16

Similar to a game of Battle Royale, you get to spawn in with just an X16 Handgun. However, if you want to swap attachments or loadout mid-match, you'll still need to buy a Loadout Drop.
Check out Best Loadouts & Classes for Warzone here!
What are Bot Matches?
Fight Against Enemy AI in Multiplayer Modes

Bots are computer-controlled opponents that you can fight with or against. They follow a pre-determined algorithm to determine their behavior which varies by your settings & circumstances. They are great for target practice & gun, map training.
Check out How to Aim Better Guide here!
Can Only Add Bots To Specific Game Modes

Not all game modes can be played with Bots. There's only a select few that you can set up where you can play with Bots instead of other players.
Check Out the Multiplayer Mode List Here
Game Modes That Can Be Played With Bots
Does Not Add XP Or Unlock Gear
You won't be able to gain XP or unlock new weapons or attachments when playing against bots. Matches with bots are not considered multiplayer after all.
Great For Practicing, Trying Out Loadouts
Playing in matches with bots is a good way to practice and try out new loadouts before going into multiplayer matches. It's also a great way to familiarize with maps.
Check Out the Best Custom Loadouts Here
Call of Duty: Warzone & Modern Warfare Related Articles
Season 6 Guides
New Season 6 Weapons
Season 6 Operators
Warzone Guide
Check Out The Warzone Guide Here!
Best Weapons & Loadouts
Campaign-Related Guides
Gameplay Modes
Leveling Guide
Check out Beginner Tips Here!
Weapons & Equipment
Check Out Best Custom Loadouts Here!
© 2019 Activision Publishing, Inc. ALL RIGHTS RESERVED.
Trademarks are the property of their respective owners. Its licensors have not otherwise endorsed and are not responsible for the operation of or content on this site.
Call Of Duty Official Page
Sours: https://gamewith.net/cod-modernwarfare/article/show/12328
Custom Warzone Lobby Rules
Drop-In Gaming will host the Warzone lobby and you will add DropinGaming#9593694 on Activision to join the lobby with your duo partner.
How To Play: Teams will play 3 games in the same private lobby and try to get as many kills and the best placement possible, as 1 point is awarded for each kill and up to 10 points based off of your placement. Cross platform must be turned on.  There will be an intermission between games to submit scores and get ready for the next match.
Clan Tag: At least one player on each team must have the clan tag provided by Drop-In Gaming in their clan tag. The clan tag will appear on the tournament page you're registered for 5 minutes before the start time.
Disclaimer: All players must be registered in the tournament to be eligible for prizes. If a player competes without being registered, their team will forfeit buy-in, any awarded prizes, and won't receive a refund. It is your responsibility to ensure that your entire team is registered.
Score Submissions: After each game is played, teams must take a photo of their kills and placement. This can be done in game or with the after action report. You must submit your photo evidence in the tournament you are registered for. Example: 10 combined kills + 6 points for 3rd place = 16 points.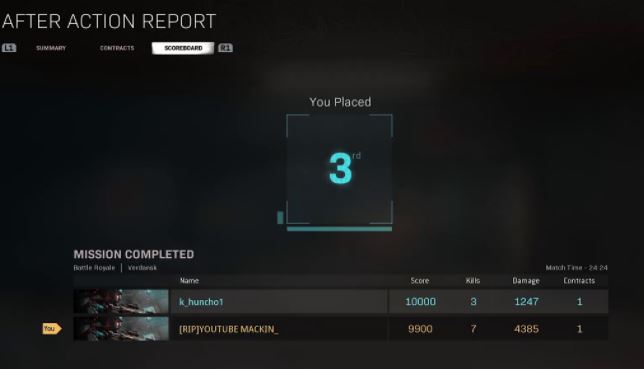 Placement Points: 1 point awarded per kill
Placement Points:
10 points for 1st place
8 points for 2nd place
6 points for 3rd place
4 points for 4th place
2 points for 5th place
Results: The team with the best total score at the end of the 3 games will be the winner and announced on the tournament page. After the 3rd game concludes, players will have 15 minutes to submit scores. No late submissions will be taken into account for scoring.
Ties: If a tie occurs, the winner will be the team with greatest total damage for their 3 games. (Total damage calculated by adding up team damage from all 3 games).
Dispute: If you want to dispute the match, email [email protected] and upload evidence to back up your claim. All disputes will be reviewed by our gaming analysts to determine the final outcome.
Streaming: We recommend streaming to avoid any cheating allegations. If streaming, confirm "Streaming" when creating your team on the given competition. Players can also post in community chat with their stream info as well.

Disconnections: If you disconnect please send a private message to [email protected] or a member on Discord so we can invite you before the next game starts. Discord: https://discord.gg/rhCQgHkNg3
In-Game Glitches: Any player/team using an in-game glitch intentionally to give them an advantage, will be kicked from the tournament with no refund and potentially banned.
Sours: https://www.dropingaming.com/game-rules/custom-warzone-lobby-rules/
Season three is live for Call of Duty: Black Ops Cold War and Warzone, which means Activision has pushed a lot of new content live for both games. 
In Warzone, players can even invite friends to private matches and play games on the Rebirth Island map.
To play a private match in this way, you just need to get everyone loaded into the game and select Private Match from the main menu. You can swap between Verdansk and Rebirth Island and then send out invites to anyone on your friends list or in your clan.
After that, all you need to do is wait for everyone to load into the lobby and you can start the game and have some fun exploring the island or battling it out with your custom squad.
Before you start inviting friends to the party, though, you should know that the maximum player count for a private match on Rebirth Island is 40. But that's a small restriction that shouldn't impact most players who just want the option available to compete in small groups.
Sours: https://dotesports.com/call-of-duty/news/how-to-create-private-matches-on-rebirth-island-in-call-of-duty-warzone
Call of Duty: Warzone How To Host Private Matches
Call of Duty: Warzone has finally released a long-requested feature into its battle royale experience. While playing against 100 competing players can be an enjoyable time, players have been requesting private lobbies for quite a while. In the most recent Call of Duty: Warzone patch, players can finally start private lobbies.
Keep in mind that the private lobbies option is only in beta. Players are able to organize large lobbies, assign squads of players, and have the tools for personal small-scale Warzone tournaments. In design, it would seem to be a great way for streamers to engage their community and host their own Call of Duty: Warzone events.
RELATED: Call of Duty: Warzone Player Glitches Into Third Person Camera Mode
While the controls for private lobbies are currently limited, fans will no doubt find their own ways to spice up the Call of Duty: Warzone experience. There are several important factors when it comes to organizing a private match, and players should be aware of all of the limitations before attempting to hose a private lobby.
Starting a Private Match
Each mode in Warzone has a minimum player count required before being allowed to start. These player modes ensure that the lobby is being used for large groups, and helps ensure that the game will be enjoyable for everyone involved. The player counts required are as follows:
Core Battle Royale - 50 Players Required
Plunder - 30 Players Required
Mini Royale - 24 Players Required.
Once the minimum player count has been met, players can create their own server by following these steps.
Step 1: Go to the main Call of Duty: Warzone menu and select the "Private Match, Practice Mode" option.
Step 2: Select "Warzone Private Match"
Step 3: Choose the desired game mode under the Battle Royale or Plunder tab.
Step 4: Choose "Random" or "Select Squad"
Step 5: Invite all participants into the lobby. Players can organize all involved through the "Change Squad" menu.
Due to the high player requirement, this feature is being catered towards large groups and streaming communities. A majority of the Call of Duty: Warzone player base will most likely not be able to experience this game mode.
Player's best chance to get involved in the private lobby function is to tune into their favoriteCall of Duty: Warzone streamer or creator and see if they are hosting community lobbies. This may only be a beta feature, but it could be a massive part of the Warzone experience for content creators and the general Warzone streaming community.
Call of Duty: Warzone is available on PC, PS4, and Xbox One.
MORE: Call of Duty: Warzone Update Adds Private Matchs and More
ShareTweetEmail
Red Dead Redemption 2's Spookiest Glitches
Rockstar Games' open-world western Red Dead Redemption 2 has more than its fair share of technical glitches, many of which are downright spooky.
Read Next
About The Author
Joshua Goodpastor (1075 Articles Published)
A lover of RPGs, Board Games, and Storytelling Joshua is a gamer to the core. He loves story-driven narratives but also spends ample time in the battlefields of varying Call of Duty titles. Despite dominating in multiplayer shooters, his heart will forever follow the Final Fantasy franchise and Legend of Zelda experiences that tell stories and evolve the player as much as the characters.
More From Joshua Goodpastor
Sours: https://gamerant.com/call-duty-warzone-private-matches-host-how/
Warzone lobby custom
How To Create A Warzone Private Match
Patch 1.29 for Modern Warfare and Warzone has gone live across all platforms.
The final patch before the release of Black Ops Cold War on November 13th has bought in a wave of changes and fixes to the popular battle royale title.
One of the more significant changes in the update is the introduction of Warzone Private Matches.
Private Matches enables a specific group of players to play Warzone without the interruption of random players spoiling the fun.
Find out how to set up your very own Warzone Private Match right here!
Read More: Call of Duty Black Ops COld War: PlayStation Exclusive Content Outrage
How To Create A Warzone Private Match
For those wanting a more private Warzone experience, Private Matches provide the perfect opportunity to have some fun on the streets of Verdansk.
Here's how to start a Private Match:
Select the "Private Match, Practice Modes & Trials" tab from the Warzone main menu.
Select a BR or Plunder mode.
Get the minimum number of players in the lobby.
Jump straight into the action!
Minimum Players Required
In order to start a Warzone Private Match, there must be a minimum number of players in the lobby.
For all BR modes, there must be a minimum of 50 players in the lobby in order for a match to begin.
Plunder requires at least 30 players to be present and Mini BR needs a minimum of 24 players for a match to get underway.
A total of 25 players needed to start a Mini BR match sounds much more manageable than trying to attract 49 other players into the lobby
Read More: Call of Duty: Black Ops Cold War: Game Will Have Eight Multiplayer Maps On Release
It's important to remember that Warzone Private Matches are currently in beta, so the chance of encountering bugs and glitches is high.
If you do run into something, do be sure to report it to Infinity Ward so it can implement a fix as quickly as possible.
Gfinity Esports is supported by its audience. When you purchase through links on our site, we may earn an affiliate commission. Learn more Sours: https://www.gfinityesports.com/modern-warfare/call-of-duty-warzone-private-match-how-to-set-up-player-requirements-game-modes-ps4-xbox-pc/
WARZONE $75K Twitch Rivals Tournaments / MATCH: 1 - Warzone Custom Lobby Tourney!
How to create Private Matches in COD: Warzone
Patch 1.29 has gone live, introducing the ability to create private match lobbies in COD: Warzone.
In a move that will be huge for COD: Warzone esports, private matches are available in many forms. Private versions, including squad variations, are available for the main Battle Royale mode, a mini Battle Royale mode, and a new variant called Plunder. This will be the final patch before Black Ops Cold War releases and is sure to be a popular one for COD: Warzone's high level players. Creating a private lobby is just as easy as joining a public one.
---
Here's how a private match can be created in COD: Warzone
There is a tab within COD: Warzone that is labeled "Private Match, Practice Modes, & Trials." This tab can be found on the main menu of the game. Once there, the option for a BR mode or Plunder mode are available. The minimum player requirements need to be met. Once they are, the host of the private match can simply start the game, and let the players drop straight into Verdansk for battle.
---
COD: Warzone private match requirements
Each game mode in a private COD: Warzone match requires a minimum number of players. For the normal Battle Royale mode and its squad variations, 50 players must be in the lobby before it can begin. For a game of Plunder, there is a 30 player requirement. A mini version of the COD: Warzone BR mode must have 25 players in order to start.
Also Read
An important thing to note is that Infinity Ward is considering COD: Warzone private matches to be in a beta mode. This makes the chances of encountering some unfriendly bugs higher than normal. Gather some friends or join a competition and test things out for Infinity Ward, in order to make sure it runs as smooth as possible.
Sours: https://www.sportskeeda.com/esports/how-start-private-matches-cod-warzone
Now discussing:
Approaching, from behind, to the old woman standing, cancer, on the bed, the man crumpled her big, soft, pliable, saggy backside and began to drive the vibrator along the. Hollow between the full buttocks. Spreading the pliable flesh with his fingers, he examined and stretched the red, irritated anus of his mother, oozing white grease.
The torturer inserted a long end of a vibrator into the old woman's vagina, and with a short one began to knead her anus.
736
737
738
739
740