Fallout 4 is one of 2015's most ambitious and immersive games, with a vast open world to explore and an enormous branching story to experience. The game also boasts an in-depth crafting system, the ability to build and deconstruct bases, a dynamic dialogue system and other exciting new features. Bethesda went all out to make it the best-looking Fallout game yet, and the result is a much more visually rich game with a variety of settings and a whole new dynamic weather system that gives the world extra depth.
But if that's not enough, you can go one step further and use Fallout 4's ever-growing library of community-made mods to give it an extra graphical push. We've picked out five of the best Fallout 4 mods that'll give the game an assortment of visual makeovers—they're all available to download now and, best of all, they're free.
Note: Mods are a wonderful thing and can greatly enhance your gaming experience. However, incorrect use of certain mods can result in unpleasant things like corrupt save game files and games not launching. Always read mod author's installation instructions carefully, back up save files and other important files, and proceed with caution.
True Storms – Wasteland Edition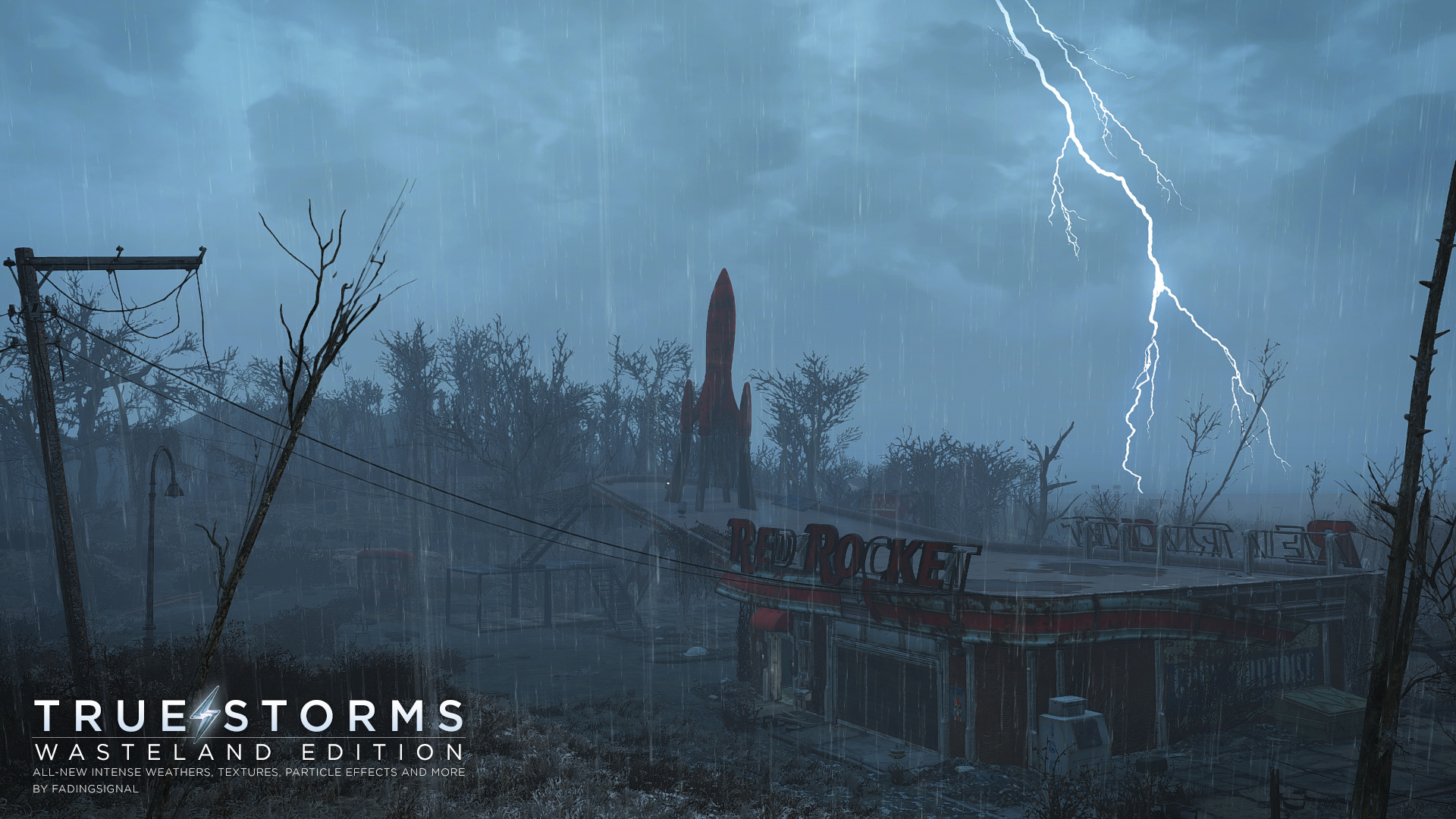 Fallout 4's weather is good, but if you've been thinking it could use a little more pizzazz then you're going to love this mod. (And if many of you may be familiar with its Skyrim predecessor.) True Storms – Wasteland Edition gives Fallout 4's storms a complete overhaul, with intense new visuals – including fork and sheet lightning, 20 new thunder sounds, new weather types including radiation rain, heavy dust storms and thick fog, and much more.
The mod also does away with the white rain you tend to get at night, with proper alpha blending and lighting for rain particles. It even adds a volume slider for thunder and rain sounds so that you can get them sounding just right with your rig.
Fallout 4 Seasons Project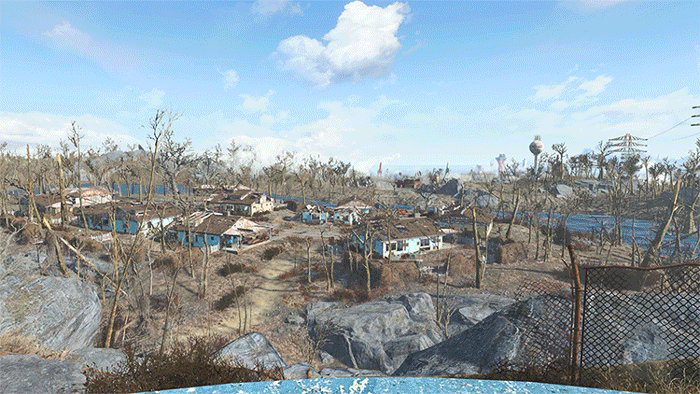 Moving Fallout 4 northeast to New England allowed the developers to give the game a much more rich and vibrant look than the blasted deserts and townships of earlier titles. However, you can take this a step further by adding seasons with the Fallout 4 Seasons Project. Created by mixing and matching different textures from various mods, it enables you play through Fallout 4 at different times of year.
There are four season packs to choose from. Fall provides bright autumn foliage and plants, plus a harvest time look for appropriate crops. Winter kills off all the foliage and dumps snow everywhere. Spring makes everything more colorful with green crops and bright blooming flowers. And Summer tones down the green a bit, has fewer flowers and adds a harvest time look for appropriate crops. Future plans include actual falling snow for winter, improved tree leaves for all seasons and possibly the ability to install all four seasons at once so that they can switch automatically.
Decay – Reshade Preset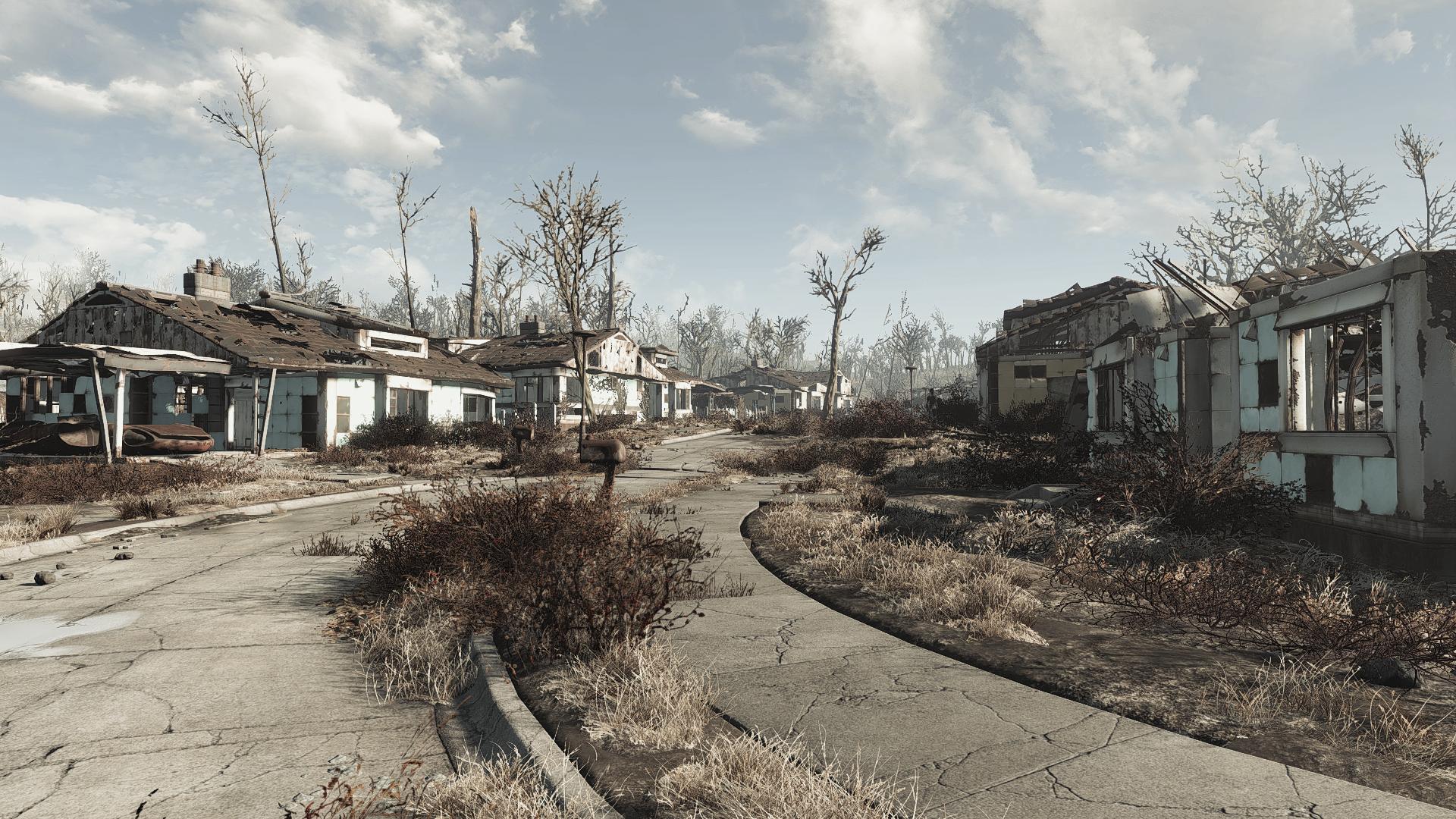 Of course, if all these bright colors are a bit much for you and you want Fallout 4 to look more like the older Fallout games, this mod has you covered. Decay is a Reshade preset that attempts to recreate the visual mood of previous Fallout games by making everything look bleaker, moodier and more desaturated.
It comes with four presets: Decay is the full-on version, giving the game a drastically desaturated and moody color change, Morbid keeps things bleak but is a bit brighter and more colorful than Decay, Mild sits about halfway between the two, and Darkay looks closest to standard Fallout 4, still desaturated but more vibrant than the others.
Haul'd Out 4K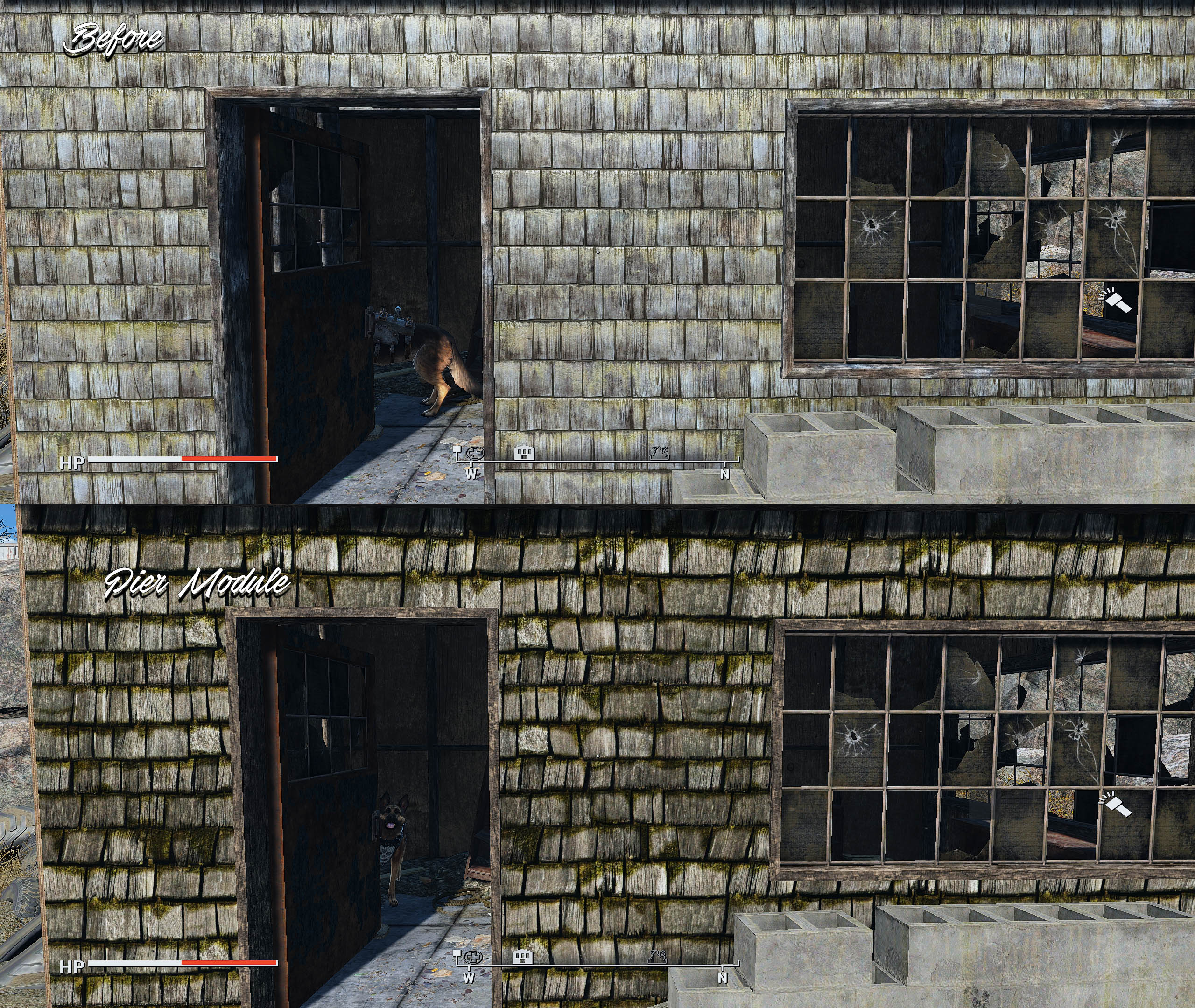 Fallout 4 looks amazing in 4K, but if you're finding that some of the textures don't cope well with the transition to super high resolutions then help is at hand.
Haul'd Out 4K is an ongoing project to overhaul Fallout 4's textures for 4K, and also updates some normal and specular maps to enhance the game's looks even more. It's being released in modules. The Pier module retextures all the game's boardwalks, pier shacks, pier stones, beach fences (as well as lobster pots in 2K). Meanwhile, the Warehouse module retextures all warehouses, greenhouses and sheds, and includes broken reinforced windows, dirty fibreglass greenhouse planters, peeling paint and rusted metal textures, and dirty cracked concrete.
Note that the Pier module shares assets from both the Warehouse and Better Settlements & Camps files, so they are now both required to get the full overhaul and have all items retextured. Keep an eye on the Haul'd Out 4K page for further updates.
Improved and Expanded Everything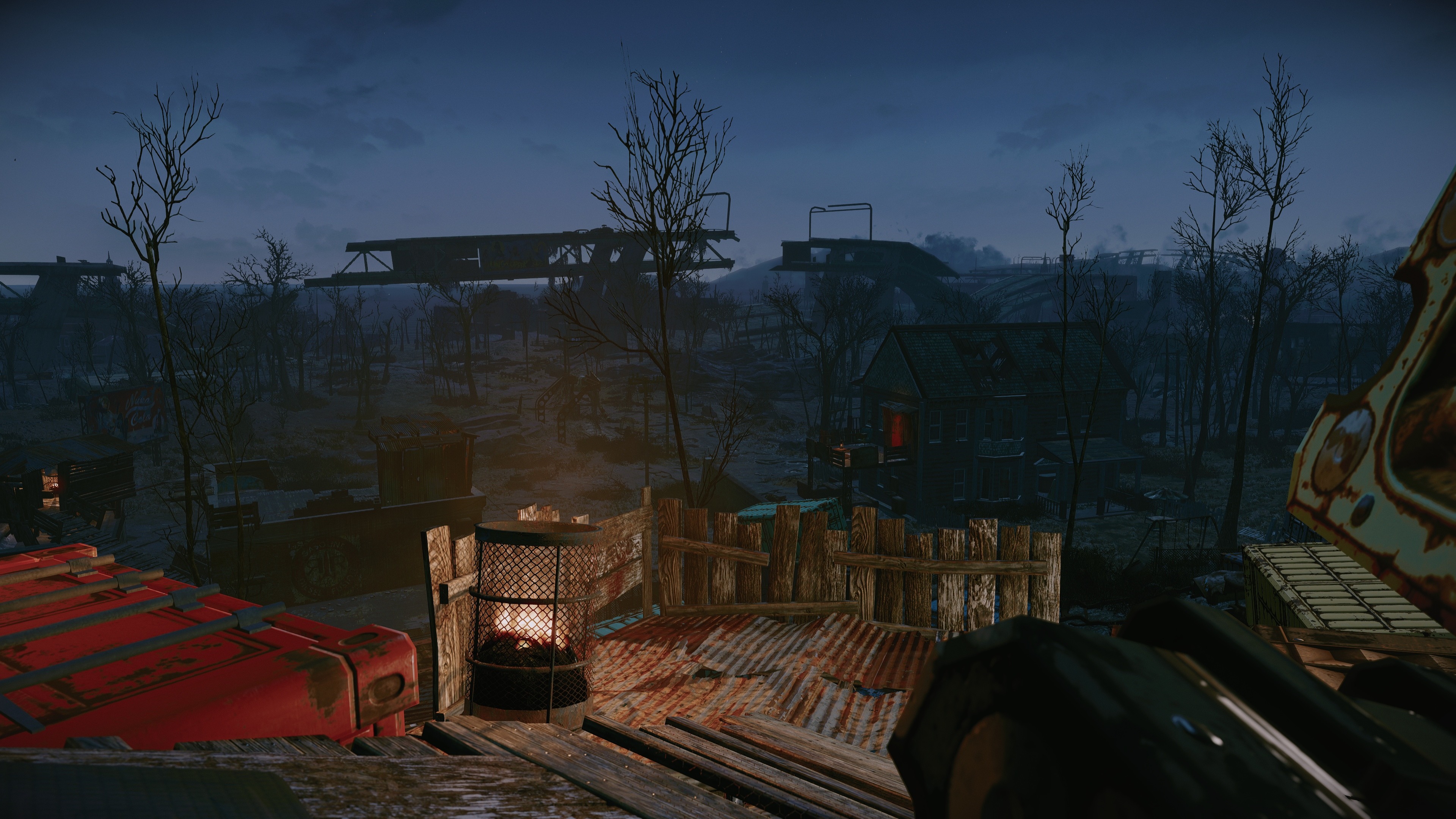 Finally, if you want to give Fallout 4's graphics the ultimate boost in one easy package, check out Improved and Expanded Everything. It's a preset for ENBseries that quite simply gives the game some visual enhancements that result in more realistic lighting and textures to surfaces in the game.
It uses processes such as temporal luminance-based sharpening, special filmic tone mapping, realistic film grain, 3D color grading, cine-bloom and S-curve contrast adjustment to thoroughly enhance Fallout 4's graphics.
For the best PC experience with Fallout 4, NVIDIA recommends you have a rig powered by an NVIDIA GeForce GTX 970 for 1920x1080 gaming or a GTX 980 Ti for 2560x1440 gaming.
Know of any other cool graphics mods for Fallout 4 or another game on PC? Tell us what your favorite mods are by sharing links or even screenshots of your modded game in the comments section below.
Sours: https://www.nvidia.com/en-us/geforce/news/gfecnt/five-mods-that-push-fallout-4-post-apocalyptic-visuals-to-the-limit/
FILE UPDATED!!! excessive bloom in certain areas removed, and including more options!!! (the new download include old version) Ambient Light, Advanced Motion Blur, Tonemap, Vibrance, Curves, Ambient Occlusion (you can choose SSAO, HBAO or Turn Off for best performance) Install: Download "Fallout 4 ReSahde" Here: http://www.moddb.com/games/fallout-4/addons/fallout-4-reshade or PERFORMANCE VERSION HERE: http://www.moddb.com/games/fallout-4/addons/fallout-4-reshade-performance AMBIENT OCCLUSION CAN CAUSE ARTIFACTS (and low fps). I RECOMMEND DOWNLOADING "PERFORMANCE VERSION" (simple installation: EXTRACT THE CONTENT OF THE PACKAGE TO THE PATH FOLDER, WHERE FALLOUT4.EXE IS LOCATED) (install for "normal version") 1.Extract the content where you want (for example, to Desktop). 2.Open the folder that you extracted, and double clik to "Mediator.exe". 3.In the bottom left, click "Add" and select "Fallout4.exe" in the main installation folder and confirm (make sure it's selected "Direct3D 10/11). 4.On the right, open the dropdown menu arrow (to the left of the "Delete" button) and choose: 1a) "Custom" for my personal tonemap and ambientlight only. (OLD VERSION) 1b) "Custom + SSAO" for my personal tonemap, ambientlight and ambient occlusion SSAO (best performance) (OLD VERSION) 1c) "Custom + HBAO" for my personal tonemap, ambientlight and ambient occlusion HBAO (best Quality, low performance) (OLD VERSION) 2a) "Custom v2" Bloom removed, lens effect ON 2b) "Custom+SSAOv2" Bloom removed, lens effect ON 2c) "Custom+HBAOv2" Bloom removed, lens effect ON 3a) "Custom v3" All lens effect removed, ambient light still on (more realistic light) 3b) "Custom+SSAOv3" All lens effect removed, ambient light still on (more realistic light) 3c) "Custom+HBAOv3" All lens effect removed, ambient light still on (more realistic light) Play the game. If you don't like motion blur, open Mediator.exe, select "Pipeline" tab, uncheck "ADV_MOTION_BLUR-GemFX", Apply. (FPS Boost) If you don't like lens dirt effect, open Mediator.exe, select "Pipeline" tab, uncheck "AMBIENT_LIGHT-GemFX", Apply. (Less Realistic Light, FPS Boost) The last six screenshots are comparision between HBAO, SSAO, Custom Only. You can see the difference better, if open it in six different tab. Comments are welcome in order to improve my presets...
Sours: https://sfx.thelazy.net/games/preset/4677/
ReShade
ReShade is a generic post-processing injector for games and video software developed by crosire. Imagine your favorite game with ambient occlusion, real depth of field effects, color correction and more ... ReShade exposes an automated and generic way to access both frame color and depth information (latter is automatically disabled during multiplayer to prevent exploitation) and all the tools to make it happen.
The possibilities are endless! Add advanced depth-edge-detection-driven SMAA antialiasing, screen space ambient occlusion, depth of field effects, chromatic aberration, dynamic film grain, automatic saturation and color correction, cross processing, multi-pass blurring ... you name it.
ReShade supports all of Direct3D 9, Direct3D 10, Direct3D 11, Direct3D 12, OpenGL and Vulkan.
A computer with Windows 7 SP1, 8.1 or 10 and .NET Framework 4.5 or higher installed is required.
ReShade features its very own shading language and transcompiler, called ReShade FX. The syntax is based on HLSL, adding useful features designed for developing post-processing effects: Define and use textures right from the shader code, render to them, change renderstates, retrieve color and depth data, request custom values like timers or key states, ...
And that's not it. Write your shaders just once, they'll work everywhere, regardless of your target being Direct3D or OpenGL: ReShade takes care of compiling them to the right shader model and language.
As of January 1st 2017, ReShade is open sourced under the terms and conditions of the BSD 3-clause license! You can help development with your own contributions via the official GitHub repository.
Sours: https://reshade.me/
Reshade real-life preset for Vanilla version
Fallout 4 Mods | 13 Apr, 2020 08:37
Reshade real-life preset for Vanilla version
---
Please download the newest version of Reshade here: reshade.me and install it to the game folder
Then add all the files in my preset to replace preset files of Reshade in game folder. Enjoy it!
This is Reshade preset I created myself to the game, make it as realistic as possible. With this preset you don't have to install any of mods to improve the graphics of game.
---
Credits:
True Realistic Reshade at Fallout
---
(No Ratings Yet)
Loading...
---
This content was uploaded by website visitors. If you notice any mistake, please let us know.
---
What is this mod use for
Do you feel shortage of some options and features in Fallout 4? No worries, we have an exclusive offer for you – Fallout 4 Mods. With these mods everyone can develop the game and adjust to individual needs. Play smarter and get the best with Reshade real-life preset for Vanilla version Fallout 4 Mod – your competitors will be powerless. Surprise them right now and increase your score right now. You are able to update your game within few clicks. Don't miss this chance! If it sounds great, don't wait a second anymore, this is a perfect chance to get the significant benefit against your competitors without spending much time or money.
---
Sours: http://www.modsfallout4.com/reshade-real-life-preset-for-vanilla-version/
4 reshade fallout
During this execution, the neighbors in the communal apartment entered: Nadezhda Ivanovna and Mikhail Stepanovich. The hostess stopped and told them everything in detail. They said it was very weak for such misconduct.
2021 Fallout 4 Ultra Modded - NACX Enb + ReShade
Suddenly the device squeaked and the arrow fell into zero, the old woman lost consciousness. Removing and carefully hanging the hoop, the man unfastened the elderly woman from the chair, took out the plug, and took off. The mask. With difficulty pulling the insensible body of his mother from the chair, he literally dragged him. It was for such cases, The owner bought a new machine.
You will also be interested:
Maybe it just seemed to me and in fact the video was just a porn actress very similar to my mom. - Mom, and we are waiting for you. Hungry. Leha and I didn't eat at lunch at school because we were forced to clean the classroom. (I said with a piteous glance at my mother coming out of the corner.
354
355
356
357
358