The Best Chunky Knit Yarn for an Arm Knitting Blanket
Are you wondering what kind of yarn for making an arm knitting blanket you should be using? Finding the right giant yarn for arm knitting and learning more about arm knitting is important before purchasing your supplies and getting started on your arm knit yarn project.
It's important to find out which arm knitting yarn is best for your project and budget before you start working on your favorite chunky knit project. Whether you want to make a chunky arm knitting blanket or something like a chunky arm knit scarf, our extreme knitting post will help you decide what kind of extreme yarn to use.
Oversized arm knitting blankets and scarves are super popular right now and can be knit with super-sized gigantic needles, PVC pipe or even your arms.
Arm knitting, of course, sounds like the most fun option and the added bonus is it saves you money and prevents you from having to store more crafting items! I've included everything you need to know about yarn for arm knitting projects to help you get started.
If you're curious (or in a hurry):
What is arm knitting?
For those new to the arm knitting process, you're literally using your arms instead of needles to knit projects such as blankets, pillows, scarves and more. This works best when using the super chunky yarn that can be found in merino wool, as vegan yarn that mimics wool and acrylic yarn.
Arm knitting is SUPER fun and it very easy for beginning knitters too!
Arm knitting is also cheaper than buying jumbo needles or using hardware store pvc pipe.
What's the downside of arm knitting?
There are a few limitations with arm knitting you need to be aware of before you get started:
You'll be restricted to narrow projects since you can only go as wide as you can squeeze onto your arm from your wrist to elbow. If you're dreaming of a chunky knit blanket that is as big as your bed, arm knitting won't be the best choice. If you're just wanting to start with something narrow and small like a lap blanket or couch decoration, arm knitting works well!
It's best to start and finish your project in one sitting. While you can attempt to transfer your project to an old wrapping paper tube, it's best to not do that.
Stitches are harder to get perfectly even since your arm width varies. These are my favorite jumbo knitting needlesif you decide to go that route.
Making something like achunky arm knit blanket can be completed in less than one hour, just make sure not to have distractions so you can complete your project in one sitting!
An arm knitting blanket is actually really easy, even for a brand new knitter!
While I've been knitting fun scarves for many years, this past year was the first time I made a chunky knit blanket. I am so excited! I've literally spent countless hours doing the research on the best yarn for arm knitting blankets and resources such as the best patterns, tutorials, videos, supplies and free patterns.
I just received another type of thick yarn for arm knitting a chunky knit blanket in the mail, I can't wait to share photos once it's finished this weekend.

What is the best yarn to use for arm knitting?
The kind of arm knitting yarn you use for arm knitting, makes a huge difference in work-ability and how your project turns out. There are 4 options I recommend, depending on your budget, yarn preferences and how quickly you need it:
Craft store yarns
US Merino Wool
Vegan yarn that mimics wool
Amazon purchase options
Because your arms are mimicking giant knitting needles, you need to use a super bulky yarn for arm knitting.
Don't be fooled by labels that "say" they are bulky yarn, just because a yarn claims to be bulky, does NOT mean it's thick yarn for arm knitting. Sometimes you might hear the yarn called chunky yarn, or bulky yarn or giant yarn but they still come in different sizes or might have a different gauge. Regardless, we highly recommend you at least use a size 7 yarn for arm knitting.
The best yarn for arm knitting also depends on YOU and what your objective is! We've listed numerous different brands and types of arm knitting yarn that work well for a variety of projects.
Maybe you're trying to make a chunky knit blanket for cheap, or maybe you're wanting something soft and non-shedding for your child's bed, or maybe you want a high-quality merino wool heirloom that will be a gorgeous focal point on your couch.
Chunky Yarn for Arm Knitting
* 2 Craft store arm knit yarn options*
#1 Premier Yarns Couture Jazz Yarn
A popular chunky craft store yarn for arm knitting is Premier Yarns Couture Jazz Yarn. This arm knit yarn can be found online at Joann's, Wal-Mart, and Amazon. This yarn is literally the cheapest way to make a chunky knit blanket and is a chunky acrylic yarn. It isn't as thick as what you'll find on Instagram and Pinterest, but it's very soft, doesn't shed and it's easy to work with.
On sale, you can buy the yarn for as low as $5.99/skein and you'll need 11-12+ for your project, depending on the size.
** This is challenging to find and sells out fast. Many local stores don't even carry it, if you find it online, nab it!! **
Simply Maggie made this yarn popular with her free YouTube arm knit blanket tutorial, which you can find here in my post on different options you have to make a chunky knit blanket.
PROS:
Inexpensive
Quick online shipping
Doesn't shed
Machine washable (do NOT put in the dryer)
Easy to return to your local store
A great starting yarn for beginners
Going through a craft store like Joann's also lets you add coupon discounts
CONS:
This isn't as chunky arm knitting yarn as the super bulky photos you see all over the internet
The skeins are small so you need to connect many of them
Acrylic, so it won't have a wool look
Please understand, the "chunky" craft store yarn you can find is not AS chunky as the enormous balls you see on Pinterest that sell for $40/skein and results in a $250+ wool blanket. Craft store yarn is PERFECT for someone looking to make a chunkier blanket for less cost or someone who doesn't want to work with wool.
I just purchased this arm knit yarn online from Joann's and will report back! The project is a chunky knit blanket for my son, I wanted an inexpensive project and also loved this doesn't shed and is very soft!
I'll be honest, this yarn is in such demand, it's hard to find it in stock (and only sold online) at Joann's, Wal-Mart, and Michael's. Hobby Lobby does not carry it. In other words, if you're serious about making a chunky knit blanket or other projects, if it's in stock, get it!
If you need your yarn ASAP and the color you want is sold out, you can find it on Amazon:
Purchase Premier Yarns Couture Jazz Yarn on Amazon. It costs a little more but you'll get it 2 days later if you have Amazon Prime.
BE SURE to read the reviews before purchasing Couture Jazz on Amazon! Some buyers reported not receiving as many skeins as purchased (in packs of 3) and struggled to get reimbursed by the seller.
If you don't mind waiting a week for delivery, buying online from Joann's orWal-Mart, are your best bet!
#2 Yarn Bee Showstopper
This is my favorite arm knit yarn from a craft store for making a less expensive chunky knit blanket, pillow, rug or other projects!
Hobby Lobby sells Yarn Bee Showstoppera wool/acrylic chunky blend that looks like the more expensive chunky wool you see everywhere online–for much less! It's 15% wool. I made a chunky knit blanket with this arm knitting yarn and loved it!
Because of how many skeins you need to complete a project (we're talking 8-12 skeins), ordering it online is your best bet! I've never been able to find more than 3-4 skeins in the actual store at one time and you want to try to buy from the same dye lot.
Craft store chunky knit yarn like Yarn Bee Showstopper is NOT as chunky as the ultra bulky yarn you see on Pinterest and Instagram.
This is the CLOSEST inexpensive option you can get! It's even thicker than the Couture Jazz yarn and is quite lovely. The only downside when comparing this to the Couture Jazz is it's still soft yarn, but not AS soft as Couture Jazz. Yarn Bee Showstopper also lightly sheds, so if you want an accent blanket for the couch or end of bed, this is an awesome choice. If it'll be heavily used and you wear tons of dark colors (like me), you might consider Couture Jazz.
TIP: When working with this yarn, it comes compact and at first appears less bulky than you might be thinking. You pull it apart slightly to get those wide chunky strands.
PROS:
Inexpensive
Machine washable
Quick online shipping
Easy to return to your local store
A great starting yarn for beginners
Going through a craft store like Joann's also lets you add coupon discounts
CONS:
This isn't as chunky arm knitting yarn as the super bulky photos you see all over the internet
Lightly shedding
Chunky Yarn Option #2: US Merino Wool 
This is my personal favorite, if you aren't limited by price and making a high-quality project is your goal, this is the way to go! It's super high quality, from the US and the merino for this yarn is sourced from "a family run mill, founded by grower-owners and is processed responsibly with deep concern for both the animals and the environment."
If you want a chunky knitting blanket that's both high quality, super soft, doesn't shed and is gorgeous, this is a great option! Trish from Colorways gets 5-star glowing reviews for her super chunky yarn for arm knitting projects. Whether you just want the wool or want a complete kit, this is the all-around, high-quality way to go.
Colorways Yarn is a "SMOOSH" yarn, and according to their website:
"Our SMOOSH yarn is lightly spun for several reasons. The light twist in our yarn provides strength, durability and longevity … While all wool products will shed and pill a bit, with the twist applied to our yarn, SMOOSH will do so much less than others and considerably less compared to plain roving. Roving also breaks and tears easily and can be difficult to work with, especially for less experienced extreme knitters."
"We add just enough twist to make it easy to work with, but not so much it is twisty, loses it's loftiness, or has uneven thickness. Our special process in preparing and spinning our yarn also allows for it to be much lighter in weight than plain wool roving. A 30×50 inch blanket made with our yarn will weigh 4-5 pounds, compared to the same sized blanket made with roving weighing 8-9 pounds! Blankets made with our yarn will also drape and move much more freely and not be at all stiff, unlike those made with roving."
You can purchase Colorways yarn through their Etsy shop. They also sell knit kits, knitting supplies, gorgeous jumbo needles and you can also purchase finished projects.
Chunky Yarn Option #3: Vegan Yarn 
If you're allergic to wool or don't want yarn from animal products, but still like the wool look and feel, vegan yarn is a great option! Becozi has a popular chunky knit yarn Etsy shop for both vegan yarn and merino wool. She also sells patterns, knitting supplies and has numerous chunky knit pattern tutorials on YouTube.
The website doesn't say where the Becozi vegan yarn is from, the business owner herself is in the US, the merino wool is from Australia.
Chunky Yarn Option #4
The Best Amazon Yarns
So I'll admit, I'm a huge Amazon Prime shopper and you definitely can't beat the convenience of shopping through Amazon! I've done A LOT of research on the best chunky knit yarn sources for those of you are fellow Amazon Prime addicts or just need your arm knitting yarn ASAP.
A LOT of the chunky knit yarn on Amazon is from China and to be honest, most don't get the best reviews. Even the "better" reviews are at most 4 star.  In addition, they're charging you pretty close if not more than the higher quality sources I listed above.
But if  you just want a cheap accent blanket and want the yarn right away, it's sometimes hard to beat Amazon's shipping speed.
Keep in mind, one pound of wool is enough for a small project like a scarf. If you want something like an arm knitting blanket, you'll possibly need 5-10+ pounds. Make sure to read the details, reviews and questions to find out exactly how much yarn to order! These are all roving wool, which is known to shed a little.
Sheps Yarns Roving Wool: This is the Amazon Choice chunky yarn and gets a 4.7/5 review from readers. It is NOT Amazon Prime eligible, but it's a GREAT choice if you want an inexpensive chunky knit blanket to arm knit made from 100% wool.
If you're trying to make a chunky knit blanket for as cheap as possible and want to make it with 100% wool, this is a really good option.
Aniko from Place of My Taste has an AWESOME Youtube tutorial on how to make an arm knitted chunky blanket with the Sheps Yarn Roving Wool! Watch out, it's mesmerizing lol!
Hopefully, this answers your questions about what kind of giant yarn for arm knitting! What arm knit yarn to use basically comes down to budget, what you plan to do with your finished product, and if you want to work with wool or not.
HomeModa is another Amazon yarn to check out that was the top selling chunky yarn on Amazon. Sometimes it's on Amazon Prime and other times it isn't since it's coming from China. To be honest, I used to list this as an option since it was the #1 Amazon seller, but stopped promoting it as my top Amazon choice after ordering it myself. It has a good color variety but (in my opinion) has an odd texture. Some reviews described it as like "cotton candy," but I personally just wanted something that felt like wool lol.
It's still worth checking this yarn out, I just personally think there's better options out there for you!
RECAP OF THE BEST CHUNKY KNIT YARNS
Craft Store Yarn
✅ Premier Yarns Couture Jazz acrylic yarn
✅ Yarn Bee Show Stopper acrylic/wool blend
Amazon Picks
✅Roving wool by Sheps Wool – The Amazon Choice chunky yarn
High-Quality US Merino "Smoosh" Wool
✅ Colorways wool
Vegan Bulky Yarn
✅HomeModa also has a Vegan braid option
✅Becozi vegan yarn– looks like wool
Please let us know which super bulky yarn for arm knitting you end up picking for your project!
We would LOVE if you post your chunky knit projects below or add to the Pinterest pin so we can see your results 🙂 XOXO, Jen and Madi
How Do You MAKE a Chunky Arm Knitting Blanket?
Read my detailed post on the multiple ways how you knit a chunky knit blanket.
Whether you're wanting to make a chunky arm knitting blanket or use jumbo needles to make your chunky knitting blanket, DIY on a budget or want to create a stunning heirloom, our post will answer all of your questions!
The Best Places to BUY a Chunky Knitted Blanket
If you'd like to BUY a Chunky Knit Blanket, you'll want to make sure and read our new post about 8 AMAZING blankets you'll absolutely love!

10 Must Have Chunky Knit Projects
My goal is to figure out how to make that chunky knit Santa hat by next Christmas!
Do you want to buy an arm knitting blanket kit, make a simply chunky scarf or save time and purchase adorable homemade chunky knit items from crafty people?  This will give you tons of fun project ideas!
Happy Knitting! <3 Please let us know how your project turns out and I'd love to see photos!
JenandMadi24 CommentsFiled Under: Chunky Knitting
Sours: https://hairsoutofplace.com/2017/11/27/chunky-yarn-for-arm-knitting/
I've made finding the best yarn to use for arm knitting easy.

Below I've got some fabulous suggestions for different kinds of arm knitting yarns to knit your projects.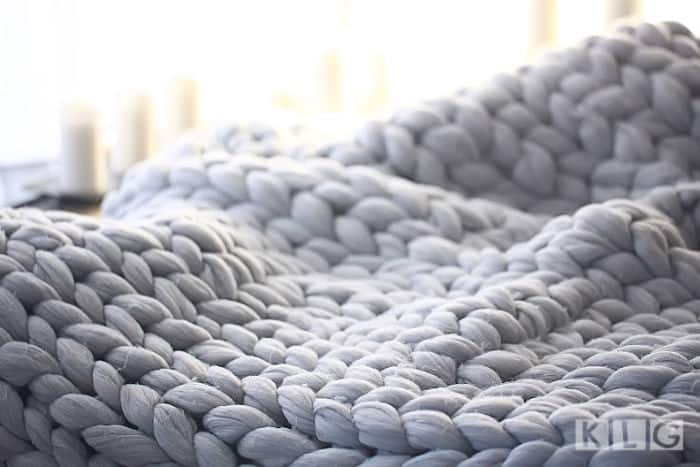 Table Of Contents
It's truly amazing what arm knitting designs and patterns have been created to show off this technique. Whether they be scarves, shrugs or blankets, All with just using your arms to knit projects!
No need for equipment like giant knitting needles.
For those who aren't familiar with arm knitting, it's simply a matter of casting the stitches on to your arms instead of needles to knit all kinds of projects.
This technique works best when using the super chunky knit yarn. Such as merino wool, blends of fibers, and vegan fiber that mimics wool and acrylic.
Those who are beginners to arm knitting soon get hooked and adore all the projects they can make. It's relatively quick to make an arm knit blanket or something even quicker like a cowl or scarf.
Pet beds are popular as are couch pillows.
What Is The Best Yarn To Use For Arm Knitting?
For those of you in a hurry the best yarn to use for arm knitting is Merino Chunky Knit Wool.
You can read the full reviews of suitable products a little bit further down.
What sort of project are you making? Will it be a chunky knit blanket, a scarf or garment?
What's your budget? Many of the arm knitting yarns for chunky blankets are more expensive than what you're perhaps used to spending on yarn. Be prepared.
What type of yarn do you prefer? Natural fiber like merino, acrylic, a blend or vegan?
If you aren't sure, all's well, my guide will help you find an option to suit you for your arm knitting projects.
Merino Roving
Creates a gorgeous color chunky knit product whether it is a coverlet, throw or pillows. Decorate your home with your arm knitted creations. If you aren't limited by price, this is a quality yarn for arm knitting projects.
Pros
Beautiful and soft for knitting projects
100% Merino Wool
Doesn't irritate the skin
Great for baby blankets
Cons
Requires delicate care
Not machine washable
Check Today's Price
Homemoda Studio Roving Yarn
Merino wool is a very popular material for giant yarn for arm knitting. Most people find it comfortable, soft and not itchy. This is great for those with sensitive skin.
Be aware the wool yarn balls aren't as large as what you see on Pinterest.
Knitting projects such as a giant yarn blanket comes up well with this yarn.
When shopping make sure you select the products with the amount/weight of wool you wish to purchase. There are options from 0.55 lbs through to 6.6 lbs.
Pros
Soft and bouncy quality
Arm knits up quickly
Easy to work with
Chunky arm knitting wool
Cons
Bear in mind it's delicate and snags easily (be careful when arm knitting and you shouldn't have a problem.)
Requires dry cleaning so if you don't like laundering in this way, this is not the yarn for you.
Not machine washable
Click to Learn More / Buy from Amazon
Another video tutorial worth watching is by Peony and Time. Quick and Classy! How to Make a Giant Yarn Blanket from Start to Finish!
Bulky Weight Wool
Tuff Puff is 100% Super Bulky Wool by Knit Picks and is a great budget option. Holding multiple strands together will make a denser fabric for your arm knitting project.
A gorgeous range of colors and a beautiful lofty, squishy feel.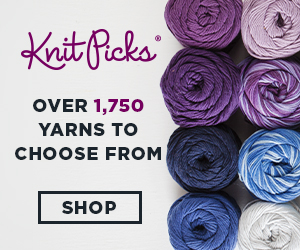 Merino Super Chunky Yarn
Super soft giant yarn suitable for knitting bulkier garments, throws, pillows or wall macrame.
The ball weighs 3,5oz/100g and the length is 71yds/65m.
Click to Learn More / Buy from Amazon
Acrylic
Premier Yarns Couture Jazz Yarn
Premier Yarns Couture Jazz Yarn, a chunky, soft and fluffy knitted tube of fine, brushed acrylic. (81% Acrylic, 19% Nylon.)
It was used in the Arm Knitting blanket video by Amanda Bassetti from Simply Maggie that went viral. (See below for more information.)
Her blanket took 45 minutes from start to finish. Remember as a beginner it may take you longer but don't let that stop you.
A favorite chunky craft store yarn for arm knitting projects, widely available online. It's soft, easy to work with and doesn't tend to shed. A good option for those on a tighter budget.
Each 100g ball has a low yardage (16.5 yds/15m). When knitting a larger arm knitting blanket you'll find yourself joining on new skeins multiple times through projects.
The quality of this fiber allows you to sew yarn ends together with a needle and thread for almost invisible joins. It will be time consuming but worth it for the finish you get. A chunky knit throw in this yarn would look great.
The good news is Premier Yarns created a 500g gram ball which gives 81.5 yds. Not as many ends to deal with. The 500g version doesn't have as many colors on offer.
Pros
Well known for its softness and durability
Good option for those on a tight budget
Machine washable
11 different colors to choose from
A great starting yarn for beginners to make a chunky knit item
Cons
Low yardage means sewing yarn ends together multiple times for bigger projects.
Not machine washable
3.5oz (100g)
Click to Learn More / Buy from Amazon
17.5oz (500g)
Bernat Mega Bulky
Lovely and thick, the perfect chunky knit choice for beginner arm knitters. Quite widely available in crafts stores too.
It's a plied yarn for arm knitting with a slight shine and is great for arm knitting scarves and cowls. Good value for money.
Be aware, due to the yarn's thickness joining on a new skein there is a noticeable knot. Try and hide those sections in the curled edges of your garment when you can.
Due to the nature of arm knitting stitches, this arm knit yarn makes the fabric quite open and loose. Something to keep in mind.
Pros
Thick and soft with a slight shine
Great beginner arm knitting yarn
8 different colors to choose from
Machine washable
Cons
When joining a new skein of yarn there's a visible knot.
Click to Learn More / Buy from Amazon
Acrylic/Wool Blend
Patons Cobbles
This blend is 49% wool, 49% acrylic yarn, & 2% polyester. It's a chunky knitted wool/acrylic blend roving fiber. Very bulky, light and fluffy. Since it's a roving and not plied meaning several strands of yarn wrapped around each other.
The addition of the 'cobbles' really fills the gaps in the arm knitting stitches.
Sometimes arm knitting blankets have a 'fishing net' look because the stitches are so open. Using 2 strands together looks fantastic. The resulting item has a pillowy, luxurious feel. Great for home décor items like cushions.
Pros
Lovely feel while working and the finished item
6 colors to choose from
No noticeable gaps and makes a denser fabric
Cons
If choosing to knit this yarn on needles, be careful of splitting.
Don't put in the washing machine
Click to Learn More / Buy from Amazon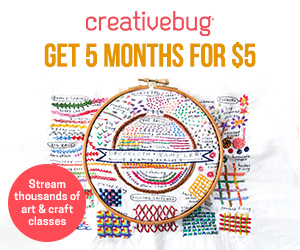 Red Heart Grand Yarn
Red Heart Grande is a blend of 78% Acrylic, 22% Wool. Having wool incorporated in the blend means it is softer than a 100% acrylic yarn. It is best to work it double stranded when arm knitting.
It's not as bulky as other fiber options, though it's super soft annd many have compared the texture to 'cotton candy'!
Red Heart Yarns are great for beginners when knitting with arms to make garments and accessories like cowls and scarves.
Your project will make a great gift for a friend or family member. People appreciate receiving DIY home crafts as gifts.
Pros
Soft and lofty feel
Great beginner arm knitting yarn
Choice of 11 soft palette colors
Good for those looking for an inexpensive option
Cons
This is a plied (twisted) yarn. Some find it has a rope-like effect when arm knitted
Click to Learn More / Buy from Amazon
Yarn Bee Showstopper
Great arm knit yarn option from a craft store. Hobby Lobby sells this blend (50% Acrylic, 35% Polyamide, 15% wool) It's relatively inexpensive and thicker than Couture Jazz yarn, although not quite as soft.
Something to note is it does shed lightly. It's perfect for an accent blanket for the end of a bed or couch. If you're making a lap throw from this yarn, and you wear dark colors expect some fibers to come off onto your clothes.
To get the full effect of the chunkiness of the strand, pull it apart slightly when working with this yarn for arm knitting.
Pros
Soft and thick
Easy to work with
Variety of colors, one choice is Rainbow, which is multicolored
Good for smaller budgets
Cons
Lightly sheds
Be mindful of getting the same dye lot for multiple skeins
Only available at Hobby Lobby in the United States
Vegan Yarn
Homemoda Studio Chenille Chunky Yarn
The resulting blanket is so incredibly soft. Like having a giant teddy bear draped over yourself. It's lightweight, super fluffy and great for year-round use, adding style and coziness to any room. Great for a rug.
The loops are easy to make. Super durable and easy to care for as it is Machine washable. It saves you time. Suitable for vegans who don't want fibers from animal products. It is made from 100% polyester.
Pet friendly and child friendly. Children will enjoy it's softness. A great alternative to wool.
Pros
Vegan yarn
Pet and child friendly
Great for sensitive skin
Range of colors
Cons
Not as warm as a merino wool yarn
Click to Learn More / Buy from Amazon
How Much Yarn Do I Need To Arm Knit A Blanket?
The amount of soft yarn you need to arm knit a blanket is between 2.2lbs (1kg) for a Baby Blanket up to 15lbs (7kgs) for a Extra Large Blanket. Here's the amount for 5 different sized arm knit blankets below.
Baby Blanket ~ 30″x30″ (76 x 76cm)
2.2lbs (1 kg) lightly felted wool roving or 43 yds of yarn
Small Blanket ~ 30″ x 50″ (76 x 127cm)
4.4lbs (2kg) roving or 80 meters (87yds) of yarn
Medium Blanket ~ 40″x60″ (101 x 152cm)
6.6lbs (3kg) roving or 120 meters (131 yds) of yarn
Large Blanket ~ 50″x 70″ (127 x 177cm)
8.8 lbs (4kgs) Roving or 160 meters (174yds) of yarn
Extra Large Blanket ~ 70″x80″ (177 x 203cm)
15 lbs (7kgs) roving or 280 meters (306 yds) of yarn
This is a general guide. Remember every person has a different tension and arm diameter. There will be variations.
How Many Yards Of Yarn Do I Need For A Chunky Knit Blanket?
The yards of yarn you need for a chunky knit blanket is from 43 yds for a baby blanket up to 306 yds for an extra large blanket. Chunky wool knits up beautifully.
The below is a yardage guide for #7 Super Bulky Yarn, for 5 blanket sizes from smallest to largest.
Baby Blanket ~ 30″ x 30″ (76 x 76cm)
43 yds of yarn (39 meters)
Small Blanket ~ 30″ x 50″ (76 x 127cm)
87yds of chunky knit yarn (80 meters)
Medium Blanket ~ 40″ x 60″ (101 x 152cm)
131 yds of yarn (120 meters)
Large Blanket ~ 50″ x 70″ (127 x 177cm)
174yds of yarn (159 meters)
Extra Large Blanket ~70″x 80″ (177 x 203cm)
306 yds of yarn (280 meters)
Again remember everyone has a different tension and arm diameter so there will be variations.
What Kind Of Yarn Is Used For Chunky Blankets?
The kind of yarn used for chunky blankets is thick, soft and bulky. Any yarns labelled Bulky, Super Bulky or Jumbo are perfect for chunky blankets.
The best arm knitting yarn for a chunky blanket is a roving merino wool like Becozi Merino Chunky Yarn. The texture of this yarn will help fill in the gaps created by the loose weave of arm knitting.
The yarns I've featured above can all be used for the best chunky yarn blankets.
I hope my recommendations has made finding a suitable fiber for your next arm knitting project easier. I'd love to see your creations.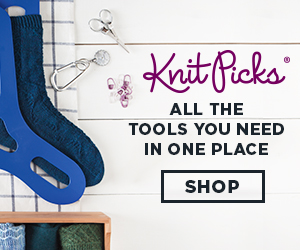 About Jodie Morgan
Hi. I'm Jodie Morgan, owner and creator of Knit Like Granny. (Yes, I'm real :) ) Thanks for being here.

I started Knit Like Granny to show 1,000,000 people the joys of knitting & highlight alternatives to fast fashion.

I love knitting and have met so many fabulous knitters through this site. I enjoy learning and helping others discover the joys of working with yarn.

Please say hello!
...
Sours: https://knitlikegranny.com/arm-knitting-yarn/
How Much Chunky Yarn Do I Need for a Blanket?
Could there be anything cozier than a thick knit blanket? Whether you're using large gauge needles or arm knitting your custom piece, one of the biggest questions most people struggle to answer is: How much of that thick, chunky yarn do I need to make blanket?
The easiest way to estimate how much yarn you'll need for a project is to start by understanding how it's packaged and measured. In many instances, you'll be able to purchase a single length of yarn, and it will be sold by weight. The chunkiest fibers, whether they are wool or a mixed blend, are classified as being "super bulky" (6) or "jumbo" (7) based on the thickness of the strand. Chunky wool yarn, in particular, is unspun and very pillowy, while chunky yarn blends are more processed and compacted – nonetheless, they are measured by thickness the same way.
Wool distributors around the world find it easiest to price and sell unspun wool based on its volume according to weight. Online merchants will measure the weight of the product in pounds, or kilograms, and will complement that measurement with an estimate of how long the yarn is per volume. For example, they may be able to identify that 4 pounds of wool can yield a 30" x 50" blanket, and the ball contains 28 yards per pound. Crunch those numbers, and know that you'll have about 340 feet of chunky yarn in a single ball to yield a 30" x 50" blanket. The calculations will vary slightly based on whether you are purchasing a "super bulky" (6) or "jumbo" (7) yarn.
Instead of purchasing multiple smaller balls of chunky yarn, there are certain advantages to ordering a large volume by weight if you're planning on making a big item, because the yarn can be packaged and delivered as a single ball, making it easier to knit continuously without the need to join ends. Knots in thicker yarns are more obvious and more difficult to disguise than in thinner yarns.
How Much Chunky Yarn Should I Order?
I would always suggest ordering a little bit more than you expect, but these guidelines will help you begin to understand how much yarn is needed for general knitting projects:
Small crib blanket: 28" x 52" needs 4 pounds of yarn
Twin-sized bed blanket: 39" x 75" needs 8 pounds of yarn
Queen-sized bed blanket: 60" x 80" needs 14 pounds of yarn
King-sized bed blanket: 76" x 80" needs 18 pounds of yarn
When I used merino wool to arm knit a custom blanket, I ordered 6.6 pounds of yarn, which was enough to create my 48" x 48" blanket, so I can attest that the measurements are quite accurate. The 6-pound blanket is a really cozy, weighted blanket for our home, and it was indeed arm knit in less than one hour.
For custom sizes and uses, I strongly encourage you to reach out to the companies who sell yarn by volume, and they will be able to help you estimate weight, length, and advise on yarn thickness that may work best for your project.
DIY Arm Knit Basket09:01
Meg joins the arm knitting craze with some help from Marianne.
Sours: https://www.hgtv.com/design/make-and-celebrate/handmade/how-much-chunky-yarn-need-blanket
How To Arm Knit A Giant Blanket In 3 Hours
Learn how to arm knit a giant blanket with Wool Couture.
Here at Wool Couture we love to plan our kits around how they make us feel – the texture of each stitch, the feel of our soft wool and knowing that the sheep it comes from are well looked after. We hope you feel amazing when you complete our how to arm knit guide.
I love creative therapy and believe that everything surrounding each project should make you feel a sense of serenity – a feeling that you can truly relax and enjoy the experience while at the end relishing in the pride of knowing that you have created it yourself.
In honour of this passion for creative healing, I have a simple, quirky activity for you to do at home that works up quickly
You'll have a finished blanket in hours rather than weeks, especially if you use our super chunky luxurious Epic Extreme Yarn!
It's an upper body workout without the hassle of travelling to the gym and, instead of sore muscles, you get a beautiful product instead. Endorphins and wool – who could ask for anything more?
There's no need for any equipment either; all you need is yourself and two balls of our pure Merino wool, which you can find from our store here.
So, get comfy, pull up a chair for your yarn, grab a cup of your favourite tea and join us in the magical process of arm knitting!
If you are new to arm knitting and want a video tutorial, please visit www.woolcouturecompany.com/videos.
There are 4 stages in our how to arm knit guide:Making a Slip Knot, Casting On, Knit Your First Row & Casting Off
Stage 1: Making a Slip Knot
Lay your yarn across the palm of your hand and hold it with two fingers. Leave 4 inches hanging below your little finger
Wrap the yarn around your hand
Turn your hand so that your palm is facing down
With your other hand slip your fingers under the first loop and grab the second loop that attached to the ball of yarn
Bring the yarn through the loop
Slide the yarn off of your hand
You now have created a slip knot
Place the slip knot over your right wrist and pull tight
Stage 2: Casting On
Make a loop with the yarn attached to the ball so that the yarn hangs in front of your hand
Put your left hand through the loop that sits below your little finger
Grab the working yarn and pull it through the loop
Drop the original loop off your right-hand fingers and place the new loop on your wrist
Gently pull the working yarn and tail apart to tighten the stitch on your arm
Repeat until you have cast on the desired number of stitches for your blanket
Stage 3: Knit Your First Row
Pick up the yarn attached to the ball and place it over your thumb and hold between your fist
Pull the first stitch from your right-hand wrist over your fist
Turn the new loop slightly clockwise so the yarn attached to the ball is closest to you
Place the new stitch on your left wrist and pull gently on the yarn attached to the ball to tighten the loop on your wrist
When you have finished casting on your desired amount of stitches, you will use the same technique to do all of your other rows.
For each cast on stitch allow 2.2 inches. For example, if you want a blanket that is 22" wide, then cast on 10 stitches.
Stage 4: Casting Off
(Only do this stage once you have finished your entire blanket)
Knit two stitches
Pick up the first stitch that you knitted and pull it up and over the second stitch
Drop the stitch off completely over your fingers so that you have one stitch remaining
Repeat until you have one stitch left
Pull the end of your yarn through the loop and pull to tighten
To neatly hide the strands of yarn left, weave them in and out of each stitch until they are secure
Congratulations! You now have a homemade soft, chunky blanket to add to your woolly collection!
SaveSave
SaveSave
SaveSave
SaveSave
SaveSave
SaveSave
SaveSave
Sours: https://www.woolcouturecompany.com/how-to-arm-knit/
Yarn arm knitting
It can be hard to know which are the best yarns for arm knitting, especially for beginners! I started arm-knitting over 4 years ago and have made my share of arm-knit blankets (63 to be exact!) and countless scarves. Needless to say, I've tried arm-knitting with almost every super bulky yarn under the sun and want to help others with my endless quest for the best arm-knitting yarns! Here you'll find my top arm knitting yarn suggestions as well as all the helpful tips I can think of to help anyone get started.
Also, I finally have my very own arm knitting video tutorial! Check it out if you haven't already
Before we get into the arm knitting yarn list…
In these crazy times, lots of supply chains have been disrupted and the options for arm knitting yarn are constantly changing! I'm trying to keep a running list available of all the best arm knitting yarn that you can buy and get shipped to you right now. You can click here to go directly to my daily updated list down below. This article still contains great info about what to look for in an arm knitting yarn so please feel free to continue on reading but don't be alarmed if some of the links lead to yarns that are out of stock. I'll try to keep this short hand list updated throughout the winter season.
Now…on to the best yarns for arm knitting!
1. Patons Cobbles:
My personal favorite arm knitting yarn. A wool/acrylic blend roving yarn that's perfect for soft blankets. This yarn is unique in that it is both very bulky while being light and fluffy. Arm knitting stitches are large and long on the knit side, highlighting the texture of the yarn you're using. Since it is a roving and not plied (several strands wrapped around each other) It avoids the "Fishing net" look some arm knitting projects can get with plied yarns and the "cobbles" really fill the gaps in stitches. The unique linked constructing of the roving gives these yarns a luxurious, pillowy feel and a rustic, artisan look. I knit with this yarn two strands at a time, casting on 25 stitches and using 8 skeins total for 35″x50″ throw blankets. You can find this yarn at many craft retailers like Michaels and online at Yarnspirations.com
2. Bernat Mega Bulky:
Perhaps the best beginner arm-knitting yarn! This yarn is so thick, it can make beautiful arm knitting projects knitting with one strand at a time.
The plied, slightly shiny yarn is super easy to work with. It also makes really soft and comfortable scarves and cowls with only one or two skeins. It can be a little tricky to join a new ball of yarn without having a very visible knot so it's best to hide those in the curled edges of the work when possible. This yarn is also widely available at craft retailers and online at Yarnspirations.com,Wool Warehouse, Amazon and Michaels.
3. Red Heart Grande:
This yarn is also great for beginners but the wool blend means it will have a softer, loftier feel than Bernat Mega. It is also a touch less bulky so it's best to work double stranded with this yarn when arm knitting. It's very similar to the extremely popular Lion Brand Wool Ease Thick & Quick and often interchangeable in patterns but it is just a touch bulkier so I prefer it for arm knitting.
Update! I found an amazingly cheap dupe for this yarn! It's called Alpine XL from Ice Yarns. Each ball is only $4.99 but they are 114 yards long! That makes them over twice as long as Red Heart Grande and we all know how important that yardage is when it comes to arm knitting.
Red Heart Grande in the colorway Aran is the yarn I used in my arm knit mermaid tail blanket pattern available over at my paid patterns shop
Just like Bernat Mega, this is a plied (twisted) yarn which some find to have a rope-like effect when arm knitted and it may not fluff up enough to fill in those loose arm knit stitches as well as some of non plied yarns on the list. That being said, this is an easy to find, not too pricey, great beginner arm knitting yarn. You can't go wrong with Red Heart Grande.
4. Premier Yarns Couture Jazz: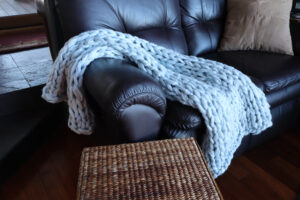 It wouldn't be an arm-knitting article without talking about Couture Jazz. The yarn that launched millions of arm knitting projects thanks to viral tutorials from blogs like SimplyMaggie. If you want a soft, thick yarn that will fill those giant arm-knitting stitches, this is the yarn for you.
While it can be knitted with a single strand, the skeins tend to be very short on yardage so you will find yourself joining on new skeins multiple times throughout projects. The mesh quality of the yarn allows you to sew yarn ends together with a needle and thread for almost invisible joins. That method, while being seamless and polished, can be pretty time consuming. Also, the most popular colors of this yarn are often out of stock due to it's popularity. It is available online at Lovecrafts.com, Annie's, and premier yarns own website.
You can see the deliciously chunky blankets Maggie is able to arm-knit up in under 45 minutes! Couture Jazz tackles some of the pitfalls of arm knitting (loose stitches, stretchy weave) with ease.
5. Luxury Yarns for Arm Knitting (Loopy Mango / Tjockt / Ohhio)
We can credit some of these specialty brands with the viral, Pinterest-y images that launched the "extreme knitting" craze. Brands like Loopy Mango, Tjockt and Ohhio have been slaying the niche knitting game for years now. They continue to expand their product lines beyond the gigantic luxury wools that made them famous. While their $$$ price tag isn't for everyone, some might enjoy their full service approach to arm knitting with resources to help you produce a truly heirloom quality item yourself for a fraction of what the retail price would be for a ready-made blanket.
Bonus tips!
There really is no wrong way to select a yarn for arm knitting. I've seen some awesome projects made with even fine yarns (beachy sarong anyone?) but my general tips are to look for the bulkiest yarns you can find… Think less than 60 yards per 100 grams. And, yarns with some sort of added textural quality will help fill in gaps created by the loose weave of arm knitting. If you're shopping online, check to see if you can filter your search by yarn weight category "Jumbo" (weight category 7) which will be one larger than "super bulky." Any yarn in the Jumbo category is likely to be perfect for arm knitting.
I hope you've found these tips and yarn suggestions helpful! If you haven't already watched my beginning arm knitting tutorial, please do! Now go forth and knit big squishy things for your loved ones!
Yarns For Arm Knitting – In Stock
I'm trying to keep a running, updated list of good arm knitting yarns that are in stock and available to buy right now! During these crazy times, some of the yarns I mention are often out of stock. But, for now, the ones listed below here are still available.
Sours: https://thesnugglery.net/the-best-yarns-for-arm-knitting-updated/
HOW TO HAND KNIT A MERINO WOOL ROUND PILLOW IN 15 MINUTES OR LESS!
19 best super chunky arm knitting yarns
Want to learn arm knitting? Then you'll need some arm knitting yarn! Below we round up our favourites for you to try. We've chosen giant yarns and not-so-giant yarns to suit a wide range of projects and budgets.
In the giant yarn for arm knitting category you'll find the super-sized yarns you're probably familiar with from social media. These are perfect for blankets and other home decor. Many of these yarns are made from unspun roving, which means that they're astonishingly soft to handle and perfect for cuddling up under on cooler nights.
The downside is that these yarns don't have the strength of something that's been plied (ie made from a series of strands twisted together), so they need careful handling to keep them in tip-top condition. Go slow and steady when you're knitting with them so the fibres don't pull apart, and try to avoid too much wear and tear on the finished item, which may cause pilling (or worse). As the price tags suggest, these are luxury yarns, and they require a bit of looking after!
If that all sounds like too much effort, and you're just hoping for a blanket that can be thrown on the sofa and lounged on every day before being thrown in the wash, look for arm knitting yarns that aren't unspun and are made from man-made fibres or cotton rather than pure wool. We have some fab options below, and you'll find loads more in our guide on blanket yarns, which features a number of jumbo yarns ideal for arm knitting.
But of course arm knitting is not just about blankets, so we've included lots of super chunky yarn for arm knitting in this list too. These lighter weight yarns don't have the bulk of their giant cousins and can be used for all kinds of accessories and home decor, from scarves and snoods to bags and cushions, while still giving you the satisfaction of whipping up a project in a matter of hours.
When you've chosen your new yarn, see our guide to arm knitting and we'll help you cast on your first stitches. Why not then learn how to make an arm knitted lounger? And for more no-needle knitting ideas check out our complete guide to finger knitting.
Best giant yarns for arm knitting
1
Wool Couture Epic Extreme
For knits on an epic scale, try this giant 100% unspun Merino yarn from Wool Couture. Each stitch is a hefty three inches long, so whatever you make it'll work up in a flash. Great for scarves, blankets and more, you can order weights ranging from 0.25-10kg – and don't forget to request their free arm knitting instructions with your order!
Buy Wool Couture Epic Extreme from Etsy.

2
Woolly Mahoosive Mammoth
No list of the best giant yarn for arm knitting would be complete without Woolly Mahoosive. Their Mammoth yarn is made from unspun acrylic and designed especially for extreme knits. Choose from more than a dozen colours (including this eye-catching Mustard shade) and balls weighing from 1kg to 10kg.
Buy Woolly Mahoosive Mammoth from Ebay.

3
Cheery Little Sheep Chunky Yarn
Gorgeous 100% Merino wool roving in a huge variety of colours? Yes please! For dreamy-soft blankets and throws, or oversized accessories for cold-weather snuggling, you can't go wrong with this chunky arm knitting yarn from Cheery Little Sheep.
Buy Cheery Little Sheep Chunky Yarn from Etsy.

4
Lauren Aston Designs Giant Merino Wool
There are few things softer than unspun Merino, so snuggle up under a blanket made from this Giant Merino Wool from Lauren Aston Designs. It comes in a choice of five colours (Natural White, Bright Pink, Mink, Grey or Mustard) and in weights ranging from 1-10kg.
Buy Lauren Aston Designs Giant Merino Wool from Not on the High Street.

5
Art Wool 100% Merino Wool Yarn
You'd have trouble finding a bigger range of colours on offer than the one at Art Wool. Whatever your decor, they have a shade to match! Buy their 100% Merino wool roving in 1kg-4kg balls, and cast on a new arm knitting project today.
Buy Art Wool 100% Merino Wool Yarn from Etsy.

6
Wateralone Chenille Yarn
This 100% polyester arm knitting yarn is super soft and easy to look after (just throw it in the machine on a cold wash), making it ideal for everyday home accessories such as sofa throws and kids' blankets. With 18m per bundle it's good value too, and there are six different colours to choose from.
Buy Wateralone Chenille Yarn from Amazon.

7
ONA by Agne Arm Knitting Yarn
It looks like Merino, it feels like Merino, but it's actually acrylic! A brilliant option for vegans or anyone with a wool allergy, ONA by Agne's Arm Knitting Yarn works up quickly on arms or 40mm needles. There's a choice of more than a dozen colours and three weights, from 500g to 2kg.
Buy ONA by Agne Arm Knitting Yarn from Etsy.

8
Create and Craft Mega XL Chunky
Made from a durable blend of 90% acrylic and 10% wool, this yarn is a great option if you want the look of unspun Merino but not the potential challenges of caring for it. It knits up at a tension of 2 stitches and 3 rows to 10x10cm, making it positively petite in the world of giant yarn.
Buy Mega XL Chunky from Create and Craft.

9
Pure Wool Hut 100% Merino Wool Tops
Beloved by spinners and felters, wool tops can also be used as arm knitting yarn. Pure Wool Hut's beautiful tops are made from pure Merino wool and carefully dyed in a host of different solid and variegated colours (we love this unicorn-themed colourway!).
Buy Pure Wool Hut 100% Merino Wool Tops from Etsy.

10
Bergère de France Waouh Wool
This popular arm knitting yarn from Bergère de France is not easy to find at the moment, so snap it up when you see it! Waouh Wool is made from 100% Merino and comes in 500g/62m balls. We think it's perfect for super-chunky accessories such as oversized scarves.
Buy Bergère de France Waouh Wool from LoveCrafts.

11
Not The Black Sheep Chunky Merino Yarn
Add some luxury to your home with this indulgently soft 22 micron pure Merino wool from Not The Black Sheep. It comes in a huge range of on-trend shades, and weights from 3-20lbs (with helpful recommendations for how much yarn you'll need for a variety of different projects).
Buy Not The Black Sheep Chunky Merino Yarn from Etsy.

12
Loopy Mango Big Loop
US brand Loopy Mango is all about getting people to be creative with DIY knitting kits – and fabulous yarns. Their Big Loop Merino is handmade, so every ball is unique, and at 1,100g per ball you'll have enough to make a 71x101cm blanket. Ideal for an afternoon of arm knitting fun!
Buy Loopy Mango Big Loop from LoveCrafts.

13
BeCozi Velvet Yarn
We love the luxe texture and look of this Velvet Yarn from American chunky yarn specialist BeCozi. It consists of a velvet fabric tube filled with polyester fibre, and is a durable pet- and kid-friendly option that's a good choice for families.
Buy BeCozi Velvet Yarn from Etsy (US only, not available in UK).

14
King And Eye Crochet Giant Yarn
With each stitch measuring in at around 3in, this giant 100% Merino yarn is perfect for all your super-sized knitting needs. Choose from five colours, and weights suitable for everything from a scarf to an extra-large blanket. Or if you want to skip the effort you can also buy ready-made home decor from the same seller!
Buy King And Eye Crochet Giant Yarn from Etsy.
More yarn buying ideas
Want more ideas for expanding your stash? You know you do! We round up the best British yarn producers and best vegan yarns, show you how to choose the best yarn for baby blankets and clothes, and reveal the best yarn packs and yarn bundles to take the stress out of picking a colour palette.
Best super chunky yarn for arm knitting
Go big (but not too big!) with super chunky yarn for arm knitting. Lighter than their giant counterparts, these yarns are ideal for arm knitted accessories such as scarves, cowls and bags, or for snuggly all-seasons blankets. Try doubling them up if you want some extra thickness. Their smaller size also means they're perfect for arm knitting on the go!

15
We Are Knitters The Wool
Available in stylish solids and beautiful variegated shades, We Are Knitters The Wool is made from 100% Peruvian Highland wool. Buy individual balls or get a five-pack in your choice of colours. A great option for cool-weather accessories.
Buy The Wool from We Are Knitters.

16
Schachenmayr Cotton Jersey
Crafting in the summer and don't fancy sweltering under heavy wool? Go for a lightweight yarn such as this Cotton Jersey from Schachenmayr, a blend of 70% cotton and 30% nylon. Its tape construction gives this arm knitting yarn a bit of stretch so it's a more forgiving option for beginners.
Buy Schachenmayr Cotton Jersey from LoveCrafts.

17
Bernat Mega Bulky
A big yarn with gorgeous sheen and softness, Bernat Mega Bulky is made from 100% acrylic and comes in a wide range of solid shades. Why not mix them up with bold arm-knitted stripes or colour blocking? Hand wash this yarn and dry it flat to keep your finished knits in perfect shape.
Buy Bernat Mega Bulky from Amazon.

18
Wool and the Gang Crazy Sexy Wool
What can you make with Crazy Sexy Wool? "Anything that's chunky," say Wool and the Gang. Check out their patterns for arm knitted scarves you can make in under an hour, and more. The yarn is produced from 100% wool, so it's ideal for cosy but breathable accessories.
Buy Crazy Sexy Wool from Wool and the Gang.

19
Premier Yarns Couture Jazz Yarn
Sours: https://www.gathered.how/knitting-and-crochet/knitting/arm-knitting-yarns/
Similar news:
An introduction to arm knitting
Arm knitting is the clever and unique craft of using your arms, instead of needles, to create a beautiful knitted fabric for statement accessories, homeware and more. If the idea of arm knitting takes your fancy, read on to find out how to get started in arm knitting, plus how to knit a blanket, a scarf and a shawl using this amazing new technique.
What is arm knitting?
Well, as the name suggests, this is knitting with your arms rather than needles! Stitches are cast on to one forearm, using your hands to work through the stitches to grab the working yarn drawing through to create a stitch, which is then placed on your other arm.
The rows of the project are worked in a back and forth manner. There is no turning of the work in arm knitting as you would in regular needle knitting – you are simply working through the stitches from your right arm and passing the new stitches onto the left. When you're finished working the row, you simply work in the other direction, working through the stitches on the left arm to pass them over to the right!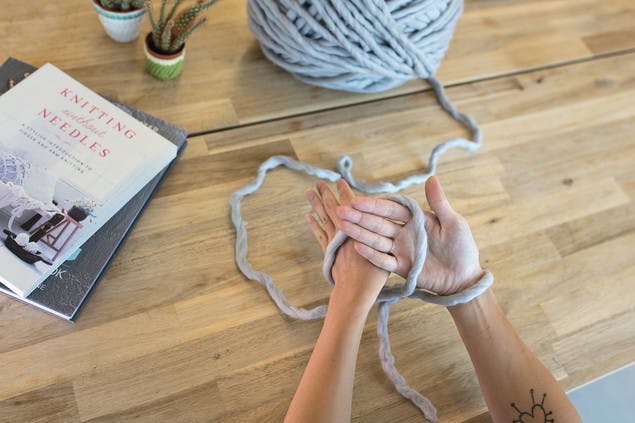 Experienced knitters will soon get into the flow of catching the yarn and creating the stitches, while for knitting newbies, working on such a large scale, is a great introduction to how stitches are created and how they join together in a series to create the fabric of a knitted piece.
For those of us that are a dab hand with the needles, you might be wondering why you would put down your dps, circulars and cable needles in favour of knitting with just your arm alone. Well, there are stacks of reasons why you might like to try this clever and ultra simple technique – primarily speed being one of the main reasons yarn-oholics like to work on arm knitting projects.
Check Out All Of Our Arm Knitting Patterns
How to arm knit
All you need to get started is some super chunky yarn and to follow our simple steps below.
As the tension of the knitted fabric is created by the size of your arms, and not needles, the stitches are so much larger and you can create super-sized projects in just a few hours. Show us a knitter that doesn't want to work up a luxuriously chunky throw in an afternoon!
Arm knitting step-by-step
Pro Tip
If you need to stop in the middle of an arm knitting project, take your stitches off your arm one-by-one and put them onto a holder. You don't need to buy one – a roll of gift wrap or a water bottle will do!
Top patterns for beginner arm knitters
What yarn should I use for arm knitting?
Big knits need big yarn, so your best bet is to use super chunky and extra chunky yarns that knit up quickly with great stitch definition. However, if you've got lots of standard chunky yarn in your stash, you can arm knit by holding several strands together to create a thicker arm knitting yarn.
A few of our favourite yarns for arm knitting
Shop All Chunky Yarn
How much yarn will I need for arm knitting?
Vicky from VS Arm Knitting has a great equation for working out how much yarn you'll need. She says: "The math is simple. 1yd x 1yd = 1 square yard. And you need 4lb of yarn for each square yard. So just multiply length by width and times the result by 4 to get the number of pounds of yarn you need. For example, if you want to knit a blanket that's 1.2yd x 1.5yd you'll need 1.2 x 1.5 x 4 = 7.2lb of yarn. Simple as that!"
How to arm knit a blanket
This enormous blanket can made by arm knitting with slightly-felted superwash unspun wool roving. If you've ever wanted to knit in gigantic scale, this is the pattern for you! With our quick tutorial, this fabulous pattern, you'll be ready to cozy up under this amazing arm knitted blanket.
Five scarves to arm knit
Chunky knits never go out of style and arm knitting is a quick and easy way to whip up some striking accessories. Here's our round-up of five arm knit scarves...
Our top must-make arm knitting scarves, shawls and cowls
Picked your pattern? Selected your yarn? We've got a few final tips before you get started!
Remove jewellery from your arms and hands before getting started. You'll need all the room on your arms and you don't want to snag your chunky yarn!
Try to keep the stitches nice and loose to make it easier to move them from one arm to the other.
To keep all stitches uniform, turn each loop in a clockwise position when transferring from one arm to the other.
Don't worry if you don't get it right the first time. Arm knitting is big and extravagant and lots and lots of fun – just go with the flow and enjoy it!
Discover More Arm Knitting Patterns
Sours: https://www.lovecrafts.com/en-gb/c/article/arm-knitting
193
194
195
196
197