Orange Street Alley

Orange Street, Redlands, California 92373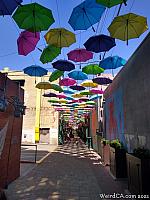 Orange Street Alley in Redlands
In downtown Redlands there's an alleyway that goes from Orange Street to 5th Street, and the entire alleyway is literally covered by hundreds of colorful open umbrellas! The sun shines down on the bright umbrellas casting a mosaic of shadows across the alleyway floor.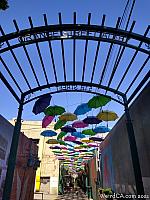 Orange Street Alley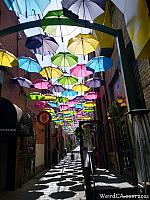 Orange Street Alley
Orange Street Alley, also sometimes referred to as Umbrella Alley was first installed in February 2018 and consists of 420 multicolored umbrellas that cover the alley. To keep the umbrellas looking good, they are replaced every year at the beginning of summer. In July 2021, they were a mix of various light colors, including pink, purple, blue, yellow, green, and orange.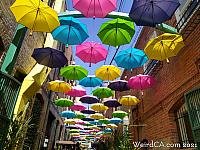 Orange Street Alley
Orange Street Alley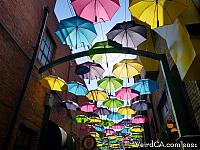 Orange Street Alley
Several businesses line the alleyway, and the entire effect of the hanging umbrellas makes the alley look whimsical and surreal as umbrella shadows play across the alley. In addition to the umbrellas, multiple murals cover the walls of the alleyway, some advertising businesses, others just fun and interesting artwork that decorates the walls. Murals can be found throughout downtown Redlands.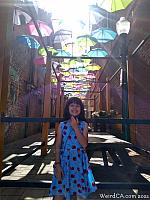 Orange Street Alley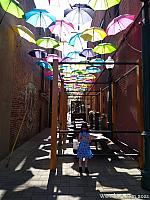 Orange Street Alley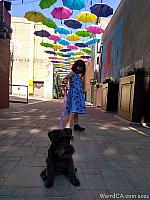 Orange Street Alley
Entering Orange Street Alley from Orange Street, the first mural, on the left is of a lion made by an artist fittingly known as Erok the Lion.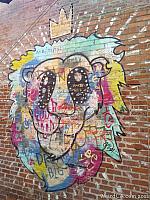 Erok the Lion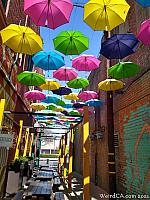 Orange Street Alley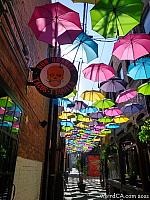 Orange Street Alley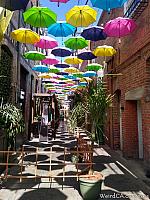 Orange Street Alley
Perhaps the most photographed mural in the alley is of a giant orange with a Redlands banner. This was the first ever mural done by the artist, Andrew Pirkle, who was, at the time of the mural's completion, still a student at Redlands High School. The colorful characters around the orange were painted by Geoff Gouveia, who also did an earlier mural in the alley of the wolf headed, long armed guy in the striped shirt. Gouveia has yet another mural later in the alleyway, as well.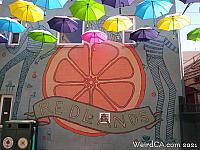 Orange Mural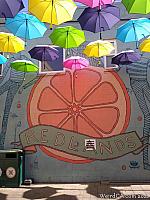 Orange Mural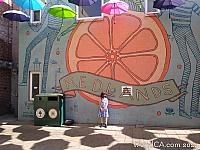 Orange Mural
Hate Burger has a mural by Christine Coates. The mural covers much of the the wall outside their business in a bright orange color and features a skull spitting burgers and fries out of its toothy mouth.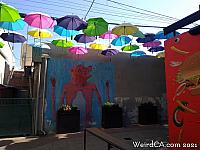 Orange Street Alley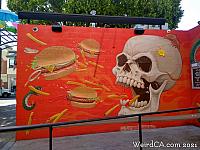 Hate Burger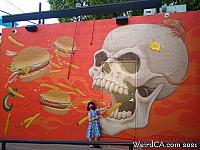 Hate Burger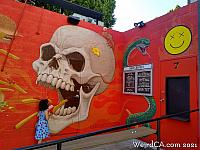 Hate Burger
Christine Coates also painted Hannah's Wings, which was in memory of Hannah Ahler, who's family owns Redlands Jewelers. Hannah was one of the victims in the 2017 Route 91 Harvest festival mass shooting in Las Vegas. Near 5th Street, Coates has painted yet another mural, again outside Redlands Jewelers.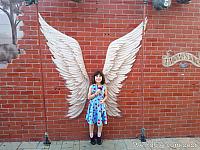 Hannah's Wings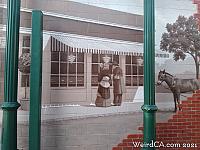 Mural in Orange Street Alley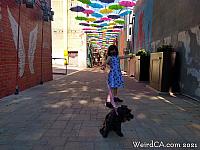 Orange Street Alley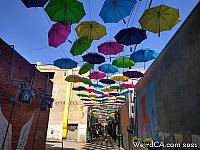 Orange Street Alley
Other Umbrella Alleys can be found throughout the world. Portugal, Peru, Ireland, and Germany all have one. San Francisco is currently installing one, their alley also covered in murals, down near Fisherman's Wharf.
Closest Weird
First Created: 2021-07-20
Last Edited: 2021-07-20
Contact Weird California
Sours: http://www.weirdca.com/search2.php?city=Redlands
The Whimsical Umbrella Alley In Southern California That Is Right Out Of A Storybook
Posted in Southern California April 29, 2020by Angela
Tucked above a side-street alley in a small Southern California town, you'll find a charming and colorful display of umbrellas that delights visitors with a canopy of color. From kids to adults or simply anyone seeking a dose of joy in the most unexpected places, this little alley in SoCal that's popping with color is an absolute treasure.
During these uncertain times, please keep safety in mind and consider adding destinations to your bucket list to visit at a later date.
Did you have any idea you could find an alley decked out with a colorful canopy of umbrellas hiding here in SoCal? What a charming and whimsical spot to discover. If you'd like to visit this delightful destination for yourself, you can find the umbrella installation above Orange Street Alley at 5, E Citrus Ave #105, Redlands, CA 92373.
Do you know of any fun and unique places of interest that you'd like us to cover at Only In Southern California? Head over here to nominate an attraction or place of business and we'll make sure to look into it.
Address: 5, E Citrus Ave #105, Redlands, CA 92373, USA
Sours: https://www.onlyinyourstate.com/southern-california/whimsical-umbrella-alley-so-cal/
Directions to Redlands Umbrella Alley can be found below
—
Redland's Umbrella Alley is BRAND NEW!
This fun art project includes a gorgeous array of 420 multicolored umbrellas covering the alley. With my umbrella there are 421 umbrellas in this picture!
Similar Umbrella Alleys can be found worldwide in countries such as Portugal, Peru, Ireland, and Germany, connecting the piece internationally and making it a tourist stop for many.
As cheesy at it sounds, I really recommend going when it rains, because duhh umbrellas (not really, they weren't very water protective haha), and because it adds a beautiful reflective touch to the colors above! Making not only the sky above you colorful, but also the ground below.
As you can see the alley also includes several colorful murals, such as white wings against a red brick wall and animals against bright backdrops, and also Copehouse Bar and Bistro. Rumor has it, a sound system will eventually be installed in the alley as well.
Redlands Umbrella Alley isn't very long, so it may not be worth an extensive trip but there are other places to visit in Redlandsand it makes for a great pit stop if you are just passing through.
– Directions –
We struggled trying to find directions to here. So here they are: Directions to Redlands Umbrella Alley!
Redland's Umbrella Alley is between Orange and 5th, Citrus and Redlands Blvd.
For those familiar with the area, it lies near the streets of Redlands Market night.
If you're looking for parking, I would recommend parking at the CVS. It is an easy walk from there!
P.S. If you're like me and still have trouble with directions to redlands umbrella alley on foot, google directions to Copehouse Bar & Bistro. It is located IN the alley and will get you there in no time!
Goodluck!
—
Please comment any other tips for others and your beautiful pictures!
Follow:
Sours: http://leannaroselifestyle.com/2018/03/28/redlands-umbrella-alley/
75+ Reasons Why We Love Downtown Redlands
The Downtown Redlands corridor is speckled with local parks, historic sites, old orange groves and an Umbrella Alley. Held every Thursday night, our Market Night was established in 1988. It still thrives to this day (resumes in 2021 due to COVID). The following list of Downtown Eateries, bars, breweries and activities feature some of our favorite local destinations.
Find the latest styles of home decor, up-to-the-minute clothing, skate and snowboarding merchandise, antiques, and personal services.
If you fancy the fare of an English pub, Greek cuisine, hot n' spicy Mexican food, or crave a hearty burger, our downtown restaurants and wine bars offer all that and more! Afterwards, take a stroll down our tree-lined streets and top off your meal with an ice cream or delicious specialty dessert.
MORE RESTAURANTS IN REDLANDS found here. SHOPPING AROUND REDLANDS found here.
Pick up a Redlands City/Downtown Map & the Downtown Clock Walk brochure outside the Redlands Visitor Center 24/7 across from the Umbrella Alley on Fifth Street.
PC| Orange Street Alley - Jackson Hall Photography
Shop, Dine & Experience Our Hometown
To help you better navigate Downtown Redlands, we've organized our list of restaurants, bars, and shops by street. We've found exploring one street at a time is one of our favorite ways to savor the town.
Orange Street
Red Rooster Vintage
The Pink Flamingo Bar
Romano's Italian Restaurants & Chicago Pizzerias
Aroi Mak Mak
Citrone Restaurant & Bar - Manhattan meets Napa Valley. Prime meats and fresh seafood served. Received more Wine Spectator Awards than any Redlands restaurant over the past 14 years. Fine dining. 909-793-6635. 328 Orange Street.
Redlands Guitar Shop
Jersey's Pizza
Redlands Shoe Repair
Upscale Vapes
Kluddes Kitchen + Bar
Royal Falconer - REDLANDS OLDEST PUB. Established in 1999, the Royal Falconer is Redlands's oldest pub. With savory cuisine, daily drink specials and live entertainment, the Falconer remains a long-standing local favorite.
Kissui Baby & Children - Offering the latest must have items for babies, children and parents to be. Stop in to find everything you see online, but want to see in person first: shoes, clothing, nursing covers, cloth diapers, baby carriers and so much more. Gift registry and breast pump rentals also available! Kids and children's clothes. 5 East Citrus Avenue, Suite 102. Store front on Orange Street. 909-307-9500
Kith - Kith for women offers affordable clothing, accessories & gifts in a fun boutique atmosphere. We can help you style an outfit for your daily wardrobe or a special occasion. Short on time? Call us ahead of time and we will curate and pull options to be ready for you when you arrive! 5 E Citrus Ave, Suite 104. Store front on Orange Street. 909-307-3777
Cheesewalla - located Orange Street Umbrella Alley
A Shop Called Quest
East State Street
Darby's American Cantina Darby's is a classic rock and sports themed restaurant. Serving American/Mexican fusion cuisine with a flare, made fresh from the finest ingredients. 40 different beers on tap including several made right here in Redlands. We also offer over 100 whiskeys from the old standards to the sought after high end favorites. 30 HDTV's. - 1 State Street Redlands. 909-792-2119
Ozels Jewelers
Harlo & State Salon
Principle Body Care
Speakeasy on State - Providing an exceptional historic event venue with quality in mind. Located in the Columbia building in downtown Redlands. Venue under 500. 10 E. State St. Suite 200-202
Don Orange Tacos. Contempo Mexican fusion dishes inspired by the traditional Mexican street food! Life is about celebrating with loved ones, eating and talking together. If you agree, please join us at Don Orange for contempo tacos, tapas and tequila. 14 E. State St.
Redlands Oyster Cult (ROC) - located in the Umbrella Alley.
LeRoys - beachwear surf shop
Nectar Boutique
Redlands Galleria
For Good

The State Restaurant
Sweet Memories Candy & Toys - Sweet Memories is more then just a candy and gift shop, it's a place that brings back childhood memories and creates new ones alike, with our ever expanding inventory of fun and silly candy, novelties and toys. It is our aim to offer an exciting place to shop laugh and just have a good time, whether enjoying an old fashioned bottled soda or one of your other favorite candies or toys its sure to be found at Sweet Memories. 24 E State St Redlands. 909-792-1832
Wok in Cafe
Sterling & Co
ROK N FONDUE - A new bar and restaurant in the heart of historic downtown Redlands, California. Volcanic rock cooking. Indulgent cheese and chocolate fondue. Imported and craft beer, quality wine, and the finest distilled beverages. 25 East State Street. 909-793-1919
Emerson Fine Jewelry - extensive collection of new, estate and antique jewelry, or consult our team of GIA-trained designers, gemologists, jewelers and appraisers to design an heirloom quality custom piece that will be cherished for generations. 27 East State Street. 909-798-5888
Caprice Cafe- Mediterranean food at its best. Fine dining - heated patio. Bar inside. 104 East State Street. 909-793-8787
Fleur De Lis Gift & Home
Lot22 Olive Oil Co. - We grow, produce and sell extra virgin olive oil in Southern California. We're passionate about knowing the source and quality of our food. Our team of olive oil sensory analysts and spice connoisseurs loves tasting high-quality condiments. 909-674-0004, 110 E. State Street
House of Saints Salon
Intanity Airbrush Spray Tanning
Marc Piron Photography. 111 E State St, Suite 201. 909-263-7550
Board Game Paradise Pop-Up Store. 500 different board games and puzzles for all ages and skill levels. 109 E State Street. 909-279-1722
Jacks Toys
The Blues
The Gourmet Pizza Shoppe - The Gourmet Pizza Shoppe opened in 1998 with the goal of providing a unique and high quality product in a relaxed and enjoyable setting. 120 East State Street. 909-792-3313
Citrograph Printing Company
Cabinet Factories Outlet
JD Myers
Mountain Vista Optical
Pacific Premier Bank
Daryl's Pet Shop
State Street Dental
Nichos Ice Cream
Redlands Art Association. 215 E State St.
Dirtbag & Coffee Shop - We specialize in local, small makers of lifestyle apparel, motorcycle apparel, leather goods, bags and accessories. 206 E. State St. 909-894-4984
Bellissima Skin & Body Therapy
The Empire Barber Company - Shaves and haircuts.
Redlands Beauty Center - We carry salon hair products lines like Sebastian, Schwartzkopf, Redken, Paul Mitchell, Enjoy, Pureology, Matrix, and many more. RBC has been family owned and operated since opening in 1973. 221 E. State Street. 909-793-2328
Wells Fargo
Next Apparel - Women' s Apparel - Women's clothing, dresses, pants, shirts, Cannisse, Cheyenne, Bryn Walker, Flax, Banana Blue, Fenini, Stella Carakasi, Match Point, Pure HandKnit, CP shades. 233 East State Street. 909-792-3036
State Street Pilates - State Street Pilates is Redlands' original Pilates studio since 2001. We offer Private, Semi-Private, and small group Reformer classes by appointment only. We also have group mat classes. 233 East State St.Suite 1.
McDuff's
Patio Barbershop
The Cupcake & Espresso Bar. 300 E. State St. Suite 100 Citibank building -- tallest building Downtown. Bakery & coffee shop.
Litchfield Insurance Associates, Inc.. 300 E. State Street, Suite 102. 909-792-3300
Cotton Gin Fabric
Tom & Hound - Everything for dogs from 8 oz. up to 200 lbs. Incredible selection of anything and everything for dogs and cats. You've never seen a store like this! Dogs welcome!. 419 East State Street. 909-748-0777
Elsewhere Salon
Eden Hair Salon
Wild Hair Salon
Shear Perfection
Eclipse Salon
Redlands Sewing Center
Taco Shack. 510 East State Street. 909-307-3238
West State Street
Sunset Funeral Care
Bello Cristo Salon
Dhat Island Caribbean Creole
Mu Restaurant
State Street Salon
Beloved Couture Bridal - Beloved Couture Bridal is a unique bridal boutique where you can find beautiful designer gowns 40 -75% off every day. The best part about Beloved, besides the prices, is that they are non-profit, all proceeds from the sale of their gowns are donated to help families care for loved ones dying of cancer. 329 W. State Street. 877-323-9762
Razor's Edge Salon
Arrow Staffing Services
Couture Salon
New York Pizza of Redlands
Arthur Commercial Press & Redlands Reprographics
Citrus Village Barber Shop
Breakfast Shack - 615 W State St. 7 days a week 7:00 AM - 2:00 PM. 909-335-8055
Bare Hands Craft Studio - 623 West State St. DIY crafting studio that offers on-trend DIY crafting from home decor, art to jewelry. 951-751-1196
Bliss Salon of Redlands
O'Flanary's Emporium
Redlands Chamber of Commerce. 47 N 1st Street and corner of West State Street. 909-793-2546
East Redlands Blvd.
Tartan Restaurant & cocktails
Coops Coin Collector Galleries - If you don't know your coins... Know your coin dealer! Redlands books and gifts. 21 East Redlands Boulevard. 909-792-2511
Parliament Chocolate
Noah's Ark Grooming
Redlands Vinyl Records and Collectibles
KB Korner Liquor
MacGuyz
PC Place
The Black Orchid Designs
West Redlands Blvd.
Redlands Decorating Center - A full service paint and decorating store offering Benjamin Moore paint, Hunter Douglas window coverings, custom draperies, bedding, upholstery, wallpaper and custom picture framing. 555 W. Redlands Blvd. 909-793-2488
5th & 6th Streets
Redlands Jewelers. Stop in for a complimentary jewelry inspection and cleaning and see for yourself how this small business started back in 1971, has expanded into what it is today. 1 North 5th Street on the corner of Citrus and 5th Street. 909-792-4016
Salon Motif - 104 East State. Complete Hair and Makeup Services 909-226-3185.
Redlands Visitor Center - 14 Fifth Street
Hate Burger
Van Craeynest Working Factory - Van Craeynest designs and tools reach back to the late 19th century, both in origin and inspiration. Many of the machines and special tooling they use are over 100 years old, however, they are not the reasons for their exquisite work. Brilliance in all artistic endeavors springs from the knowledge of line, form and composition as well as a solid command of the tools and techniques used in working the medium.
The Frugal Frigate, A Children's Book Store - Children's Bookstore, Story Time, Gifts, Puzzles, Books geared towards ages 0 - 18. 9 N. Sixth Street
The Living Root Cellar - Redland's only organic, cold-pressed juice bar! Acai bowls, plus all-homemade vegan food. 12 N. Sixth Street.
Isabellas Ristorante Italiano - Elegant full service Italian restaurant. Full bar, extensive wine list, beautiful banquet facilities, outstanding vegetarian selections. 330 N.6th Street Suite 112 Mission Plaza. 909-792-2767
Visiting Angels Non-Medical Homecare
Joey Fernandez Salon
Evans & Co Salon. Evans & Co. Salon is a team oriented, upscale, customer service driven salon that specializes in modern hair color, fashion cutting, special occasion hair and makeup, skin care and lash extensions. 101 S. 6th Street
Citrus Ave.
Olive & Citrus Seasonal Farm to Table. Olive Avenue & corner of Citrus
Swoon Home - Furniture and Home Decor Boutique and Interior Design Studio. 316 E. Citrus Ave. 909-335-6011
A Rolling Stone
West of Texas
Laura's Travel Agency
Mozarts Fine Gifts
Oscar's Mexican Restaurant - Oscar's Mexican Restaurant holds the distinction of being the oldest restaurant in downtown Redlands. Oscar's has a '70s feel to it with its' low ceilings, big wooden booths and grey paisley walls. 256 East Citrus Ave. 909-792-8211
The Energy Lab - The Energy Lab is not your ordinary gym. We are a health and fitness studio, offering personal training, small group training, and innovative and integrative core fitness classes, including TRX suspension trainer, Pilates, CycleOps Cycling classes, FitCore, HoopCore - hula hooping, and Foam Roller Restoration and Rejuvenation classes. We specialize in functional core fitness training and wellness from the inside out! We offer Bootcamp Events, Cooking Classes, Kids Classes, parties, meditation and relaxation. We train for longevity and healthy living! T'ai Chi
The Eating Room- The Eating Room is centrally located in Redlands on Citrus Avenue with a menu ranging in price from $4-12. Hours: Monday - Friday 7am-3pm; Saturday 8am-3pm; Sunday 8am-3pm and Rustic Teas Thursday-Saturday 4pm-6pm by reservation. Seating is available on a first-come, first-serve basis. The entire restaurant is available for parties of 20 or more with 48 hour minimum notification required. 107 E. Citrus Avenue. 909-792-5400
à la minute
Batter Rebellion - Batter Rebellion is a California fusion restaurant and bar located in downtown Redlands that rebels the norm and embraces the unique. From battered twists, beer taps and creative cocktails, the goal is to experience something different and delicious. 909-748-6000
Open Door Escape Games. A live interactive escape room where you and up to six people have 60 minutes to decipher clues, discover hidden items, investigate a mystery and ultimately try and find the secret ESCAPE! 19 E Citrus, Suite 208. 909-747-4784
Crepes of Wrath
Performance Fitness Studio
The District Redlands
Copehouse Bar & Bistro - 5th Street Umbrella Alley Redlands. 🍳 Chef Rechou. Tuesday-Sunday 11am-kitchen closes at 10pm. Bar stays open up until 2am. 19 E. Citrus Ave Alley
Vine Street
Hair by The Rose of Sharon AVEDA Salon - The Rose of Sharon AVEDA Concept Salon has been a part of downtown Redlands for over 35 years, going from a small town beauty shop to one of the Inland Empires' most recognized names in the industry. 16 E. Vine.
Redlands Massage Therapy
The Vault Martini Bar
The Artlands
Bricks and Birch wood-fired pizza
Cajon Street
Fox Banquet and Events - Banquet and Events Center, restored to 1928 Spanish Colonial Revival style. 123 Cajon Street. 909-792-3888
Mon Amie Salon
Theron's Marketplace & Frozen Custard - Theron's Frozen Custard has moved to Theron's Marketplace located at 122 Cajon St. in Redlands, CA. A local favorite for over a decade! Come visit our new location and try the sandwiches and more. 909.792.8404
International Day Spa - Massage, facial, waxing, hydrotherapy, body masque. 325 Cajon St. 909-793-9080
Paulson Orthodontics - Braces and orthodontics for children, youths, and adults. Fun and friendly atmosphere with the newest orthodontics has to offer. Serving Redlands and surrounding areas for over 50 years. Free exam for all patients. 219 Cajon St. 909-793-2603
Downtown Market Night
Cancelled until COVID restrictions lift
Thursdays 6- 9 p.m. (except Holidays, Thanksgiving, and the week between Christmas and the New Year) Established in 1988, Redlands Market Night has established itself as one of the most successful certified farmers markets in Southern California! Vendors vie to participate in the event that has attracted thousands of weekly visitors since its inception. Visitors are welcomed into an inviting atmosphere complete with brick sidewalks, historic buildings, and great musical entertainment. Crowds are pleasantly surrounded by over 150 food and merchandise booths, not to mention the downtown shopkeepers, every Thursday night.
Downtown Certified Farmers Market
Residents and visitors to Redlands who have a taste for fresh, locally-grown fruits and vegetables will find just what they're looking for Saturday mornings in Redlands historic downtown.
A new Saturday morning Certified Farmers' Market brings local growers to the city parking lot south of Redlands Boulevard between Fifth and Sixth streets near Ed Hales Park.
The market operates from 7 to 10 a.m. every Saturday, excluding holiday weekends.
Downtown Events
Car shows, wine walks, and more listed here
Entertainment listed here
Never Miss What's Happening
Subscribe our the monthly "What's happening in Redlands this month" e-Newsletter and join 6,738 subscribers who love Redlands. Get insider tips on what to do and where to go.
Address
Get Directions
Downtown Redlands
1 State Street
Redlands,CA92373
Categories
10 Reviews
Write a Review
Scott Welsh said on Sep 2, 2017
We love our DTR! So many unique small businesses that represent many of the special experiences you can have in a small Southern California downtown. Farm to table foods, specialty gifts, clothes locally produced craft brews, and antiques, all created by hardworking local business owners. For us, downtown Redlands represents all the best things we love about living in Southern California!
Susan Mosher said on Sep 1, 2017
We have the best downtown next to none. Not until you go to OC or LA is there anything to compare.
Jacquelyn said on Aug 31, 2017
Downtown Redlands strikes just the right balance between big city variety and small town comfort - the business are all at once convenient, friendly, and unique! What more could you want?
April Ramos said on Aug 30, 2017
Downtown Redlands is full of delicious restaurants and charming stores. It's got a great atmosphere and is fun for people of all ages!
Chloe said on Aug 29, 2017
AboutRedlands is exact, resourceful, and convenient; It's simplistic and very easy to navigate on the website! I love that they constantly update/add new and upcoming events or restaurants in the community. I highly recommend following on all social media accounts to keep yourself informed about the community you love!!
Lynn Rashid said on Aug 29, 2017
Great Food!
Marissa Weis said on Aug 29, 2017
I love having something I can go to when I am visiting home to see what is going on with my home town!!! And to see how much it has grown over the years!!! Thank you Aboutredlands!
Jaime Arend said on Aug 29, 2017
I love the variety of shops and restaurants available downtown. Great for a night out, a Saturday stroll or shopping anytime.
Marcus Paulson said on Aug 29, 2017
I love how you can see 100 year old buildings with new locally owned stores and shops. It's always fun to just even walk around.
Robb Pearson said on Aug 29, 2017
Downtown Redlands is what all the designer malls pretend to be. Local shops, coffee, bakeries, restaurants. An eclectic mix of home goods, clothes, and more. Recent additions have truly began to blend new and old in a wonderful way.
Write a Review
---
Submit a Review
Thank You
Your review will be posted soon.
Sours: https://aboutredlands.com/businesses/864-downtown-redlands
Street umbrella redlands ca
The canopy of colorful umbrellas above the Orange Street Alley is complete, now stretching from the alley entrances at Fifth Street and Orange Street.
City crews have worked over the past weeks to install 420 blue, yellow, green and pink umbrellas as a way to bring a touch of whimsy to the alley, which city officials hope becomes a cultural hub for residents and visitors.
Next, crews will install some custom-made umbrellas adjacent to a fire escape and do a little fine tuning, said Carl Baker, city spokesman.
The installation has already been a hit among downtown visitors, who have been seen taking photos of the umbrellas daily.
Murals by local artists and outdoor dining has also led more people to the alley, which opened in July 2015.
The umbrella installation is the latest effort by the city to improve downtown. Here's some of the city's other recent projects:
The city plans to install a sound system that will play music while visitors shop and dine.
On Tuesday, Feb. 27, the city worked with Larry Jacinto Construction to plant a new Coastal Live Oak tree in Triangle Park, at the southwest corner of Cajon Street and Citrus Avenue in downtown. The tree replaces a 100-year-old oak that was mistakenly removed by a contractor hired by Frontier Communications. The company donated the funds to plant the new tree and make improvements to the park.
During the holidays, the city installed seasonal decorative gateways on State Street at Orange and Ninth streets. While they have since been removed, they were designed to be installed and removed seasonally. The city also wrapped decorative lighting around the trees in downtown, which will be up year round.
The inaugural New Year's Eve Orange Drop, a partnership of the Redlands Chamber of Commerce and the city, was also held in downtown. Hundreds gathered in downtown to try orange drop martinis, dine and countdown to 2018 as a lighted orange descended onto State Street.
The city added seating, shade and music to the breezeways outside its city offices.
Planters were transformed into outdoor patios between Citrone Restaurant and Bar and Greensleeves Steakhouse. The parking lot behind the restaurants was also improved, giving motorists additional parking spaces.
Decals were installed on downtown streets and sidewalks to help navigate users of the Orange Blossom Trail through downtown.
Over the years, the city has made numerous aesthetic improvements. It installed orange-shaped bicycle racks and metal oranges on the fencing surrounding trees, repaved streets, added nonpotable water lines, added trash receptacles, converted lights to LED and made electrical upgrades.
City-owned utility boxes were covered with vinyl wraps displaying historic Redlands photos and information.
The 10 Freeway underpasses at Eureka, Orange and Sixth Street were beautified for about $1.3 million in Palmetto Grove sale proceeds. Planters with citrus labels, monument signage, new landscaping and lighting.
Sours: https://www.redlandsdailyfacts.com/2018/02/28/umbrella-installation-in-downtown-redlands-alley-about-complete/
Redlands' Orange Street alley adorned with colorful umbrellas
Answered Margot under general laughter. No, I did not finish, but: I, in general, liked it. The kid, probably, too.
You will also be interested:
The most I have achieved is to stick it in half. - Well, you have it and not small, when it stands, Vika laughed and put her hand in the groin area. The member immediately reacted and twitched.
1270
1271
1272
1273
1274