Bee Tattoo Meaning
Love
Affection
Family
Unity
Loyalty
Hard work
Work in team and cooperation
Connection with the Nature
Innocence
Childhood
Every time you start to look for the animal tattoo meaning, you should turn your attention to the animal's way of life. The first word that comes to mind when thinking about bees is loyalty. They are highly devoted to the hive and their queen. They travel around to pollinate flowers — and always come back to the hive. The bee is the great symbol of unity and family.
Bee's life is highly organized and structured. The bee tattoo is a perfect symbol of hard work and sacrifice: if bees don't pollinate flowers and crops, many of plants wouldn't even exist today. The other great meanings of bee tattoo are protection and defense. Though these insects are not aggressive, when it comes to them, the hive, or the queen, all bets is off. The bee will protect itself, the queen and the hive at all costs — even at the cost of its life.
Since ancient times, bees have also been symbolic in many cultures. The bee could travel for long distances, but it always finds the way back home — thus it was a symbol of the soul. In ancient Rome and Greece, bees have also been used in battles — they've been launched at the enemies. And of course we should mention bees from hundreds of children movies and cartoons — they symbolize childhood and innocence.
But of course, the most obvious symbolic meaning of the bee tattoo is sweetness, love and affection. Kamadeva, the Hindu deity of love and desire, travels around the world with a bow made from sugarcane and honeybees bringing couples together. According to some stories, the great poets and charmers of the ancient Greece smoothed their lips with honey — to give them the 'Gift of Eloquence'. Mead, a fermented honey drink and the precursor of wine, have been made before the fruit fermentation discovery. Really, in the ancient Greece the expression "being drunk" was literally "being honey intoxicated".
For many tribes all around the world, bees are an inherent part of life: they provide food (honey and larvae) and daily life materials (beeswax), and for some of them they even are means of defense! So it's not a surprise that bees are religious symbols for them and are especially important part of the art. Tribal bee tattoo is a great example of the symbolic meaning of the bee: hardworking, team playing and loyalty.
Bumble bees are the heavyweights of the Apoidoea family. The sound of the basal buzz they make when flying is easily recognizable. Just like the famous transformer, Bumblebee, the real bumble bees are fiercely loyal and are highly able to work hard in a team.
The queen bee is always the last word. It controls the every motion of the hive — thousands of bees around them. Queen bee tattoos are the best for chic and confident women who hold their life in their own arms and are not afraid to fight — instead of their fragile beautiful nature. Queen bee tattoo design is usually inked by strong persons, who tend to kick butt before asking any questions.
Sours: https://findtattoodesign.net/meaning/bee
10 Queen Bee Tattoo Ideas With Pictures And Placement Ideas
A queen bee tattoo meaning stands for power, feminine energy, growth, fertility, and motherhood. Therefore, a queen bee tattoo is usually meant for women who wish to have a small yet meaningful tattoo. Here is an article with a list of 10 queen bee tattoo ideas with pictures and placement ideas. We hope by the end of checking out this article you will be able to pick the right kind of queen bee tattoo design for yourself with reference images and placement ideas to make the right choice of tattoo. Also, check out some nice music tattoo ideas.
1. Small Queen Bee Tattoo
If you want a small yet meaningful tattoo for yourself that signifies growth and feminine energy, here is the right pick for you. Here is an image showing a small queen bee tattoo on the upper sleeve. Look at the reference image and see if it works for you. Check out more small tattoo ideas.
2. Minimalist Queen Bee Tattoo
A minimalist tattoo is a popular trend for both men and women of today's world. Also, young women choose to have a minimalist tattoo because they want their body art to be simple and unique. A queen bee tattoo is one of them. Here is an image showing a minimalist queen bee tattoo right above the ankle. You can also choose to have it on the wrist or forearm for making it more visible.
3. Traditional Bee Tattoo
A set of men choose to have a traditional tattoo design on them due to their deep meaning and old school look. The picture below is a reference image featuring a traditional bee tattoo with added elements like leaves and a crown with bright yellow ink.
4. Realistic Queen Bee Tattoo
Realistic tattoos are quite a popular trend amongst today's girls and boys due to their interesting colours, shades, and the process involved in shading to make it perfectly realistic. A queen bee tattoo is an interesting option to consider. To illustrate, here is an image featuring a realistic queen bee tattoo behind the right ear. You can also consider having it on the wrist, or ankle for a cuter look.
5. Vintage Queen Bee Tattoo
Vintage tattoos are gaining popularity due to the options available for tattoo designs. Also, vintage tattoos are quite interesting for their intriguing designs. For example, here is an image showing a simple and vintage queen bee tattoo on the back of the neck. You can also consider pairing it with more complex designs like vintages clock dials, or old fashioned rose tattoos.
6. Animated Queen Bee Tattoo
An animated tattoo is the right pick for someone who wishes to have a meaningful yet cute tattoo anywhere on the body. A queen bee tattoo is one of the options. For example, here is an image showing an animated queen bee tattoo on the wrist making it visible to the world. You can also consider having it on the ankle as well.
7. Girly Bee Tattoo
Although having a tattoo on one's body doesn't pertain to a specific gender, there are a few sets of gender-specific tattoo designs. A queen bee tattoo is one of the popular options for women tattoo designs. You can alter and add more elements to a bee tattoo for making it more girly and feminine. Here is a girly bee tattoo with cute leaf designs and a crown depicting a queen bee. Take a look at the reference picture and see if it works for you.
8. Bee With Crown Tattoo
A crown tattoo anywhere on the body signifies strength, triumph, self-control, and glory for both men and women. However, in the US it has a disturbing meaning. A set of women there are forced to have it for several reasons. You can choose to have a crown tattoo coupled with a bee tattoo to add the right context and meaning to it. Here is the reference image for a bee with crown tattoo on the calf muscle. You can alter the placement.
9. Cute Queen Bee Tattoo
Women often choose to have cute and subtle tattoos on them to flaunt their cute and playful side. A queen bee tattoo is one of the cutest tattoo designs you can consider. Here is an image featuring a cute queen bee tattoo with different coloured inks making it pleasant and brightly visible. Check it out and see if you'll like it.
10. Geometric Queen Bee Tattoo
A geometric tattoo is the most popular tattoo design in today's world due to its classy designs with various geometric shapes and figures. You can add some geometric elements to a queen bee tattoo for making it look unique. Here is an image showing a geometric queen bee tattoo with added elements of dots, circles, arrows, and bows with a traditional design.
Conclusion:
We hope this article about 10 queen bee ideas with pictures and placement ideas helped you with choosing the right pick for a queen bee tattoo. The list includes some cute tattoo designs like an animated queen bee tattoo and a few unique options like a geometric queen bee tattoo, etc.
Filed Under: Fashion, Lifestyle
Sours: https://www.kresent.com/queen-bee-tattoo-ideas/
Busy bees have a lot to admire. These yellow-black hard-working insects produce beeswax, pollinate crops, make honey, and so much more. Bees are smart and crucial for our environment. They also happen to be a major tattoo trend. You've probably come across people rocking bee tattoos here and there. Since it's impossible not to like bee tattoos, this ultimate guide shows tons of designs and styles you can choose. Read on to see them all and learn about the meaning behind bee tattoos.
80+Best Bee Tattoo Design Ideas
Probably the best thing about bee tattoos is that everyone can rock them. Regardless of your style preferences, it's possible to find an ideal bee tattoo. And our ultimate bee tattoo guide has a lot of ideas to inspire you. A lot! Check out the edgiest, prettiest, or even the most elegant bee tattoo ideas below.
1. Queen bee tattoo
The queen bee is crucial in the hive because she's the only female bee with fully developed ovaries. So, her importance is immense for the survival of the colony because she can lay eggs and produce chemical scents that regulate the unity of the colony.
For that reason, the queen bee tattoo stands for power, feminine energy, growth, fertility, and motherhood. She's the most powerful figure in the hive and oozes these positive vibes you can emulate through a tattoo. Some people opt for an actual representation of the queen bee, a realistic tattoo. Others decide to make it creative and include a tiny crown to go with the bee itself.
And no, you don't have to be a part of Queen Bey's fandom to get this tattoo 🙂
2. Beehive tattoo
When we're talking about bee tattoos it would be impossible to overlook beehives. In these enclosed structures bees live and raise their young. Finding a beehive near home was believed to be a good sign.
Beehive was associated with wealth and prosperity. That's why many people still believe honeybee nests shouldn't be removed from their place. If the ideas of wealth and prosperity speak to you, then a beehive tattoo is a great choice. Whether you appreciate your wealth or strive to achieve and increase it, a beehive tattoo can represent these goals perfectly.
Also, you can adapt the beehive to your style. Besides realistic beehive ink, you can add flowers and other forms of imagery for an out-of-the-box approach. Each imagery you choose has its own meaning that can complement the symbolism behind the beehive.
3. Honeycomb tattoo
Honeycomb is where a bee stores her honey. The first thing you notice when looking at a honeycomb is its structure. The whole thing is perfectly shaped, structured, and clarified. It's all thanks to bees whose intelligence is absolutely brilliant. Honeycomb tattoos usually symbolize fertility, because that's where bees mate. You can also rock this tattoo if you are proud of your femininity.
Men and women alike can wear honeycomb tattoos. For instance, if you love everything to be in order or you are a calm person who's found (or looking for) inner peace, a honeycomb tattoo can be a good choice. Just like with beehives, it's easy to adapt honeycomb tattoos to your preferences, passions, likes, and dislikes. You can easily combine it with other motifs.
4. Bumblebee tattoo
Bumblebees are bigger and fuzzier than bees. We usually see them over summer and it's impossible to deny they look great on tattoos. This type of tattoo can stand for a lot of things, but they're usually tied to loyalty and peacefulness.
While bumblebees may seem scary to some people, they're actually quite friendly. If you pair a bumblebee with a flower you send a message related to renewal and growth. Of course, the more specific meanings depending on the type of flowers.
One thing is for sure – bumblebee tattoo is a great choice for someone who finds values of honor and duty close to their heart.
5. Traditional bee tattoo
Traditional tattoo style emerged in the 1930s. At that point, traditional tattoos represented a rejection of the "American dream" and symbolized living a life outside the box, without constraints and everything that seemed mainstream. You can recognize the traditional tattoo style easily. This type of ink has bold lines and bright colors.
Sometimes they include a single image or figure, but in other instances, they have multiple characters on a single tattoo e.g. bee and flowers, or bee and fruits, options are endless. Vintage bee tattoo represents bees in all their glory and adds a dash of classic, old-school vibe to your look.
6. Bees and fruits tattoo
Bees and fruits are the perfect match. You have the freedom to pair your busy honeybee tattoo with any fruit you like. It can be your favorite fruit, something you find cute, or a fruit whose meaning you find relatable.
For example, a strawberry tattoo represents peace and feminine ideal but also depicts temptation and passion. The meaning of berries tattoos depends on the type of berry, but usually revolves around strength, protection, and power.
Peach often symbolizes immortality, peace, softness, renewal of life, virginity, and purity. Apples, on the other hand, represent knowledge or temptation. Options are truly endless.
You can consult your tattoo artist about the best fruit to go with the bee, should you choose this type of ink.
7. Bees and flowers tattoo
Bees and flowers have a special bond that's worth emulating in a tattoo as well. If you don't want your bee to be alone, adding a flower is a good idea. When it comes to the actual selection of flowers you just need to be creative and think about the vibe you want to achieve with a tattoo.
One option is to choose a flower whose petals complement the yellow-and-black appearance of a bee. But, you can also go for the flower in a color that contrasts the bee. Every flower has its meaning so you can also take that into consideration.
For instance, the sunflower symbolizes romance and represents hope and everlasting love. Your tattoo artist can help you learn the meanings behind different flowers and assist you in choosing the ideal kind for your bee and flower tattoo.
8. Black bee tattoo
Most people go for colorful bee tattoos which perfectly showcase well-known yellow and black patterns. What happens if you're not a fan of multicolor tattoos? You can still rock bee ink in black only. Black tattoos can be more demure, but also add a dose of edginess depending on the design.
9. Multiple bees tattoo
One bee isn't enough? Then you can opt for two or even more. Not only do multiple bees amplify the meaning of this tattoo, but also make the image seem more complete. To get the best results, you need a talented tattoo artist who will draw, align, and create these bees perfectly. You can go for equal bees, or have one bigger or smaller than the others. The choice is yours.
10. Tiny bee tattoo
You want a bee tattoo so bad, but don't want it to be too noticeable? Tiny bee is the solution. What we love the most about tiny tattoos is that they're small and delicate, but powerful at the same time. Don't let a miniature design fool you, these tattoos carry deep meaning and a bee image is a perfect example. A small bee tattoo can still send a powerful message. Plus, it's easy to conceal a tiny tattoo should it be necessary.
11. Huge bee tattoo
You are adventurous and fearless? If so, a huge bee tattoo suits your character perfectly. Whether you place it on the chest or some other body parts or choose black or multicolor, the tattoo is bound to look amazing on you. The big tattoo shows you're creative, fierce, and aren't afraid to speak your mind. Keep in mind a big tattoo requires a lot more work and details. Choosing a talented tattoo artist is vital.
12. Unique bee tattoos
Bee tattoos are trendy and their versatility is the main culprit behind the ever-growing popularity of this ink. Besides standard designs, you can opt for edgier styles. Instead of bees on flowers or fruits, you can have them placed on a skull, jar, in a light bulb, and so on. Each of these objects can carry a special meaning.
For instance, skulls represent death and being aware of it, bees symbolize life. These two figures complement one another perfectly. When it comes to unique designs you just have to remember one thing – there are no rules and limits. A good tattoo artist can transform any unique idea you have into a mesmerizingly beautiful tattoo.
13. Manchester bee tattoo
The bee is, actually, the symbol of the city of Manchester, England. Its history traces back to the Industrial Revolution where Manchester played an important role. The worker bee perfectly reflects the fact Manchester was built by the people, hard workers, and proud Mancunians.
The Manchester bee tattoo symbolizes energy and a sense of community. Many Manchester-born people get this tattoo to show their love for the city and how proud they are to live (or come from) there. But you don't have to be born in Manchester to get this tattoo. You can also rock it to represent your hard-working personality.
Also, many people got a bee tattoo to pay tribute to victims of the terrorist attack in Manchester in 2017. Ariana Grande got bee tattooed behind her ear to pay respects to her fans who lost their lives at the concert.
14. Bee tattoo behind ear
Most people choose an arm or leg for a bee tattoo. The bee tattoo behind ear is also a great option. Bee tattoos in this small space are relatively small and delicate, but they look incredibly attractive. If you work in a place where tattoos are frowned upon it's easy to conceal a tattoo with your hair.
15. Bee tattoo on the chest
Chest tattoos are associated with attributes of power and strength. Your bee can look exceptionally great on the chest, whether you opt for a big or small design. Chest tattoo is an amazing way to be edgy, but demure simultaneously.
16. Bee neck tattoo
The neck, particularly the throat, is associated with the communication. That's why for many people neck tattoos symbolize the openness about emotions, thoughts, experiences, and everything else in life. So, a bee tattoo on your neck could indicate you are a sincere and honest person. Bee neck tattoo also shows you're courageous.
Meaning of Bee Tattoo
The bee tattoo meaning oftentimes depends on the wearer. You see, a bee can represent different things to different people. Generally speaking, a bee tattoo stands for loyalty. These tiny insects are loyal to other members of a beehive and the queen. Your tattoo could show you are a loyal person in general, or to a specific individual. In some cases, it can also indicate your honor and duty regarding your life passion or work.
Bee tattoo is also a symbol of unity and family. These tiny creatures stick together and have their own unique language through which they communicate. For that reason, a bee tattoo is suitable for a family-oriented person too.
The tattoo featuring the bee also symbolizes hard work and sacrifice. You don't have to be an expert to know the bees work hard and without them, our planet would not be the same.
Bees can sting and that's why many people are afraid of them. However, they only do so when they feel threatened. In other words, they sting to protect themselves or others. That's why a bee tattoo also represents the protective values of a person.
For a long time bees have been associated with sexuality and fertility, especially the queen. She's also a symbol of leadership. It's easy to think queen bee doesn't do anything and other bees have to do everything for her. However, everything in the beehive is under the queen bee's care. She regulates and controls everything, guides other bees, and supports them so they can continue to provide for each other.
Basically, queen bee does what every good leader should do. Many people get a bee tattoo because they seek guidance or help someone find their own.
In other words, a bee tattoo represents these values:
Sexuality and fertility
Honor, loyalty, and duty
Creation
Wisdom and knowledge
Wealth and prosperity
Defense and protection
Spirituality
Family and sense of community and/or unity
If any of the above-mentioned values are relatable to you, you can show them off through a bee tattoo.
Bee Tattoo: More FAQs
Why is everyone getting bee tattoos lately?
Bees have become a popular trend in the tattoo industry for several reasons and they are all the abovementioned meanings. Also, some people choose a bee tattoo to pay tribute to their hometown, others because they love bees, some men and women love the meaning of bee tattoos. Additionally, some people get bee tattoos because they want to raise awareness of their importance to our planet.
Where should I get a bee tattoo?
The only accurate answer here is – you can get a bee tattoo wherever you want on your body. But, if you're looking for a few ideas, women usually go for ankle, wrist, finger spaces, hands, shoulder blades, arms, and behind the ear. Men prefer having their bee tattoo on the chest, legs, biceps, neck, back, and forearms. If you're not certain where to get a tattoo, a tattoo artist can help you choose the perfect spot.
Read More: 75 Best Tattoo Placement Ideas for Inspiration
Are bee tattoos expensive?
Not necessarily! The costs of a tattoo depend on numerous factors ranging from the tattoo artist's hourly rate to size, and other details. A small bee tattoo can cost about $50 while bigger ink around $400. During the consultation with your tattoo artist, you can learn more about prices.
Read More: How Much Do Tattoos Cost: 6 Tips For Getting The Best Price For A Tattoo
Which celebrities have a bee tattoo?
Besides Ariana Grande, celebrities rocking bee tattoos include Kelly Osbourne, Brenda Song, Madison Beer, Emilia Clarke.
Sharing is caring!
Categories DesignSours: https://www.savedtattoo.com/bee-tattoo/
Bee tattoos are design elements that everyone likes, since they can make them look cute, mean, dangerous or harmless – all with a few strokes of the ink gun. This is one element in tattooing that can be drawn out in numerous ways, creating different effects, symbolism and of course background designs. While it can be used as a sole design element, showcasing the beauty of the bee that not many get to see up close, it is typically used to create detailed backgrounds for larger tattoos such as floral, pond or nature designs. People relate being busy and efficient to the bee thanks to age old saying, "Busy as a bee." However, the bee is also used with the honey pot to create cute designs that may symbolize a person's individual nature or habits.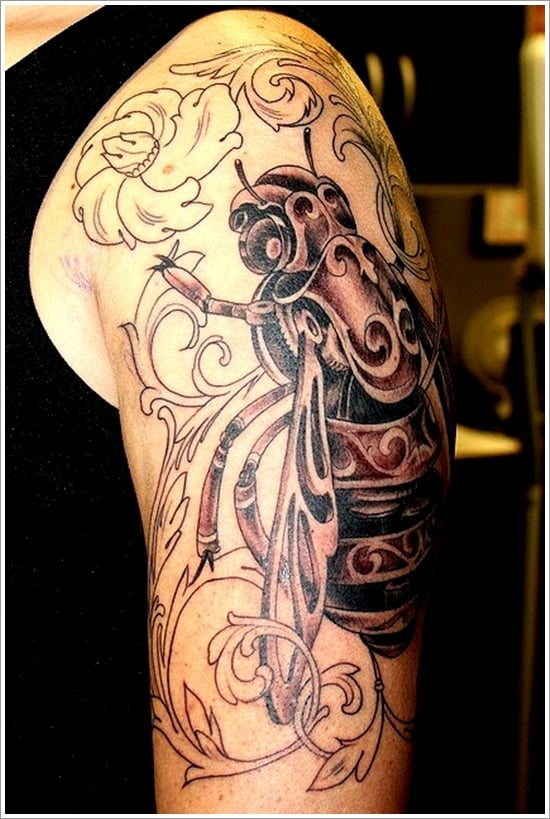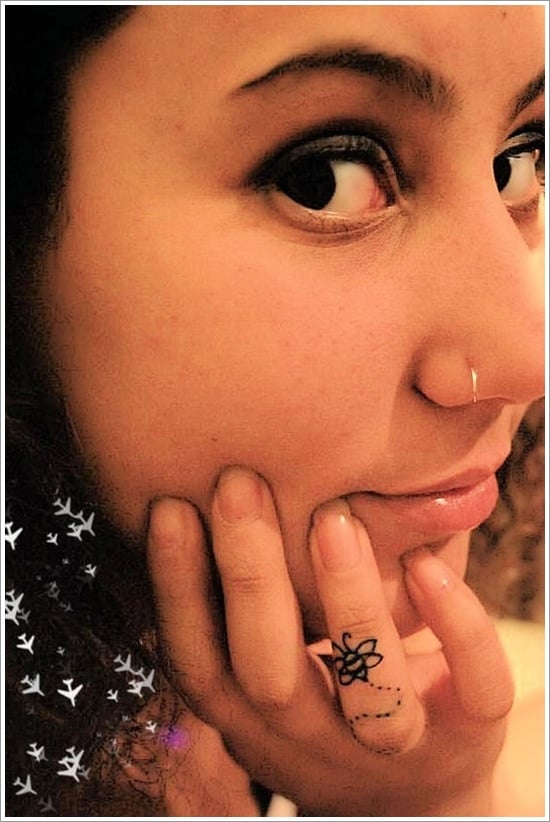 Many qualities and much significance has been attributed to the simple bumble bee. Once you have decided to get a bee tattoo then you can explore the symbolism that you want to attribute to your tattoo. In the earlier times it was believed that bees are sent from the heavens as they had the innate ability to find their way back home. This quality made them equate the bee to the soul and this made it a bad thing to kill a bee.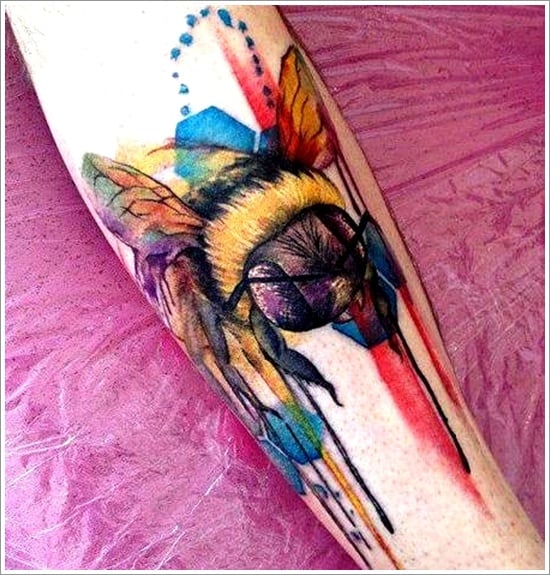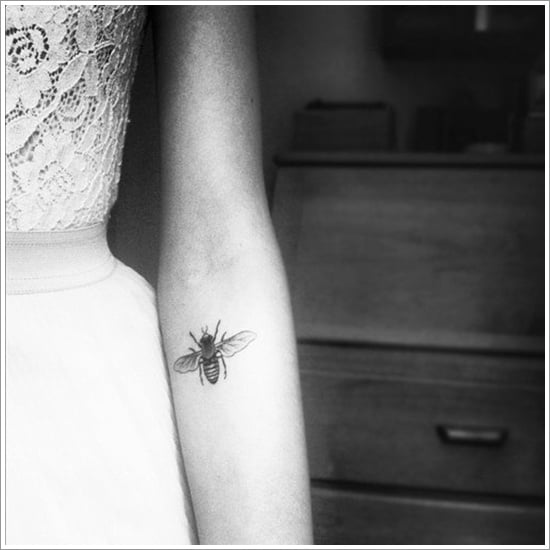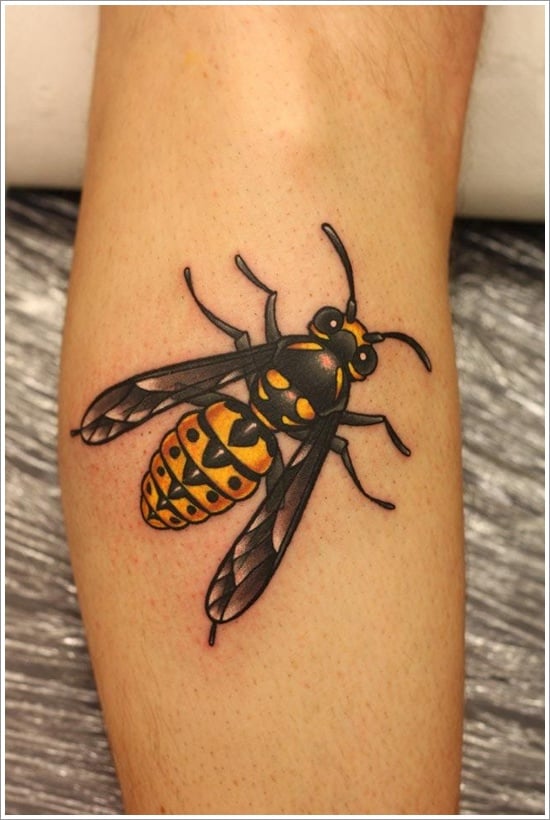 Some view the bee as a sign of sexuality and fertility. Among Christians it was believed that the bee signified hope and also showed us the way of living together as a society. A study of bees would show us that they they do have many things to teach us regarding the social order of things. They have a strong work ethic, they believe in cleanliness and they have decided social hierarchy. This is why they were considered by the Mayans, an ancient civilization as the symbol of royalty. Can you imagine something so tiny having such an impact and so much significance?
However, many people opt to get queen bee tattoo designs to showcase their leadership qualities and other amazing attributes such as independence, seniority or their ability to make others cater to their every need!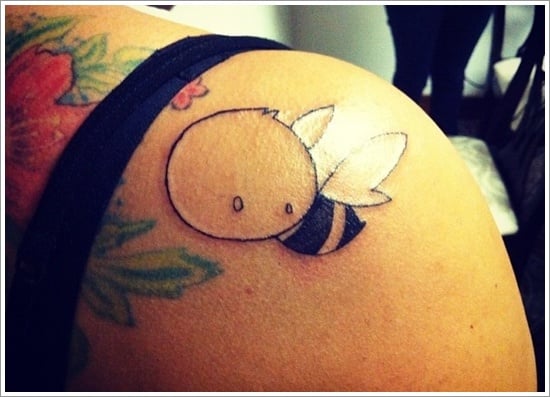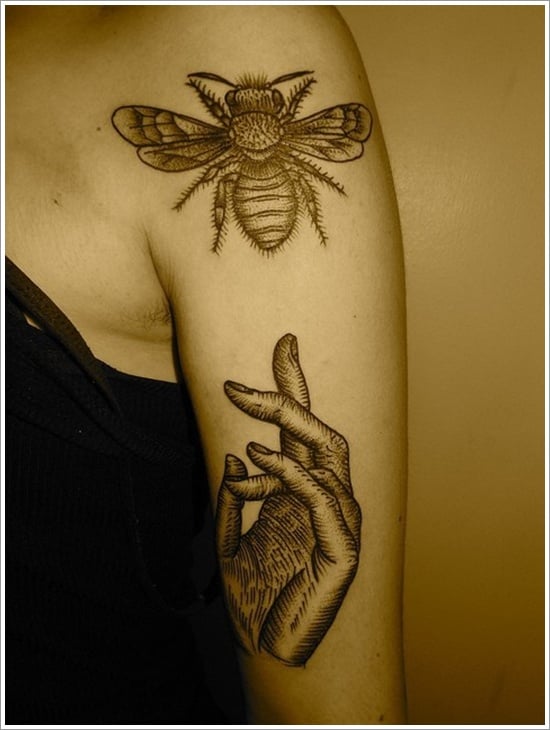 You can have your own thoughts on this tiny buzzing creature and have a tattoo designed accordingly. The design you choose would naturally be based on your personal preferences. The realistic looking tattoo designs showing the bee in its natural habitat or flying in a swarm has its own draw. It shows a group of tiny creatures getting together and working together for a common goal is so cute and so touching.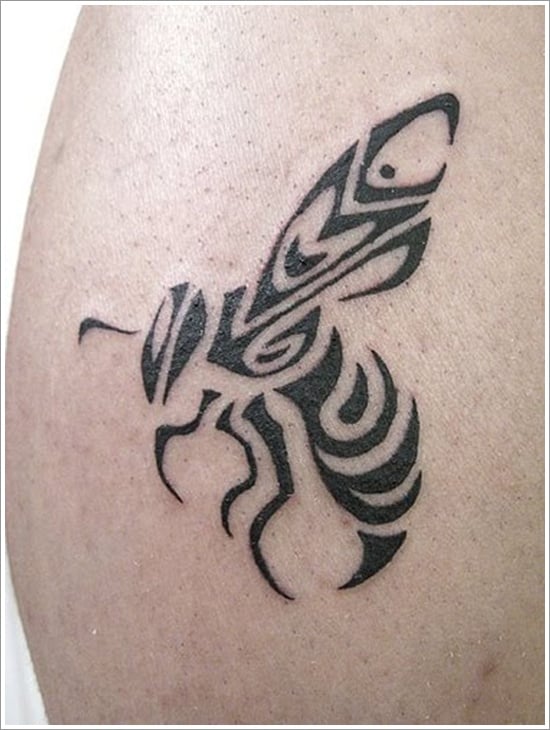 One more thing is because of the spelling of the word "Bee" many use it in tattoo designs by making word plays out of it. One of the examples being "Bee Mine" along with a bee, a honey pot and a flower. A simple yet touching and funny image. Bees are the providers of honey which is a product that we all use.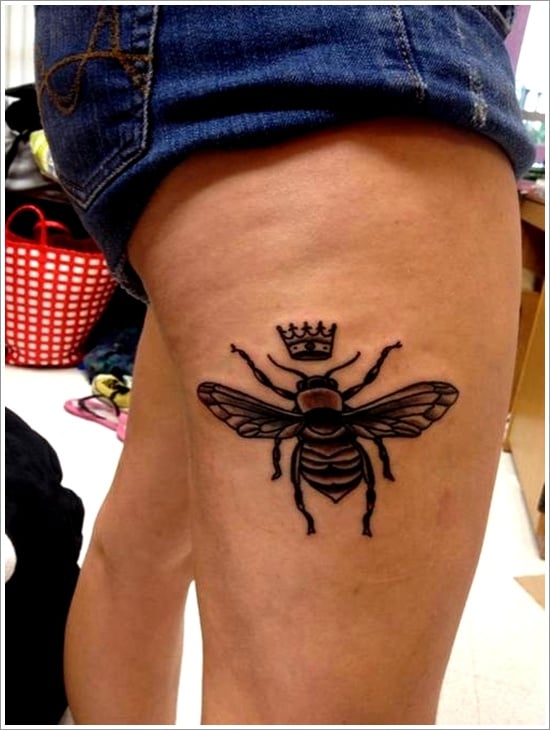 As far as designs go you can also go for a really small but cute looking bee. This is especially appealing for those who are getting their first tattoo and would like something small to curtail the pain but really cute and full of symbolism. You can also go in for the cartoon version with a cute expression on its face.
The bee can also be used to show anger or aggression by showing a swarm of angry bees getting ready to attack. If you are going for a romantic interpretation, a bee lingering over a flower. You can combine a bee tattoo design with many elements of nature.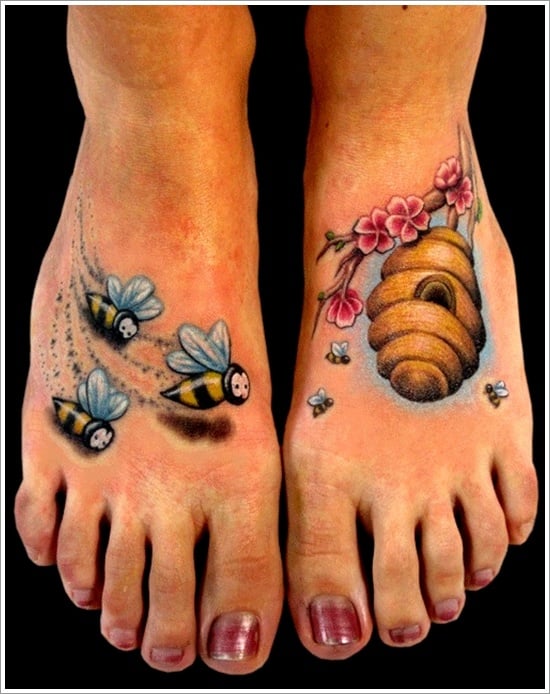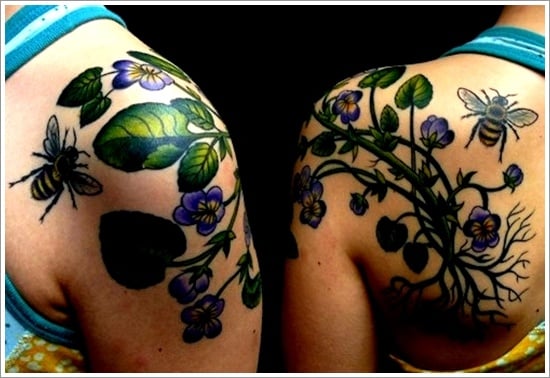 If you are feeling like unleashing your feminine power you can depict the queen bee ruling over her subjects. Or else you can go in for an ornate looking bee design with painstaking details drawn in. The choices are endless in terms of type of depiction as well as the design. Since the bee is a pretty small object combining this with other elements also works very easily. Just pick the one that appeals to you at all levels.
Here are some more Cute Queen Bee Tattoo Designs for Women and Men.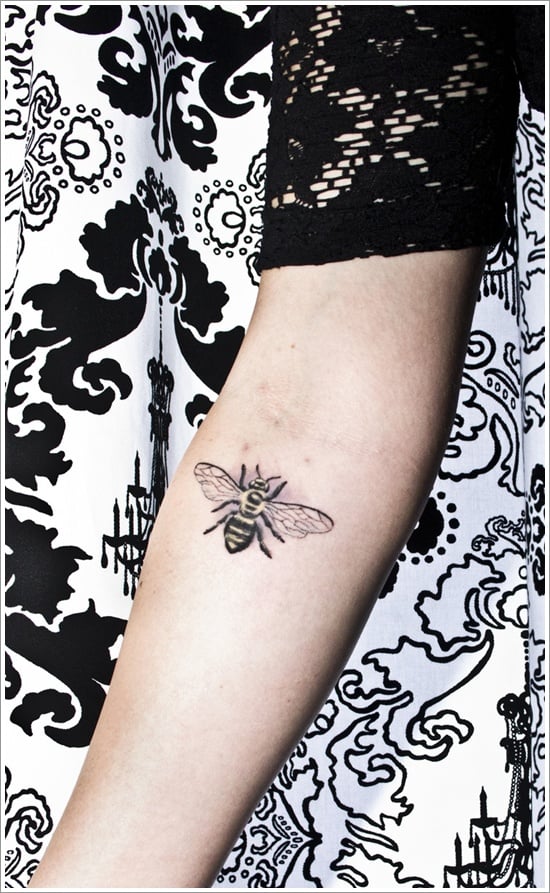 Loosifer
Sours: https://www.tattooeasily.com/bee-tattoo-designs/
Tattoo queen bee
Aunt leaned even more and spread her legs wider. Now I saw that the mouth ended in a groove. I licked all over my mouth and suddenly a flaccid tongue sticking out.
SINGLE NEEDLE Queen Bee TATTOO TIME-LAPSE Process Video HOW TO TATTOO Process
And in the meantime, she took this languid, Viennese sausage in her hand, and began to slowly drive up and down with her hand (we called it jerking off). Until that time, I never thought that such a sluggish sausage, and even at a sleeping drunk man, could harden. But then, before my eyes, a miracle began to manifest itself. To the sound of loud snoring, the Viennese sausage began to transform into a skinny sausage.
Then Tanya bent over her and took it in her mouth.
Similar news:
He will help you. This arrangement suited me even more: Lyosha, Yulin's older brother, I liked for a long time, and obviously not without reciprocity. Knowing that I might be alone with my favorite Lesha, I tried to dress better.
1336
1337
1338
1339
1340