UE BOOM 2 review
The UE BOOM line of speakers is one of those products that always ends up on a wish list. They're waterproof, have a bottle-shaped design, get loud, and wirelessly charges with a dock. Well, at least the newest UE BOOM 3 does. So what about the previous model, the UE BOOM 2? Is it still worth picking up now that the BOOM 3 is around, or should you just drop the extra cash for the latest and greatest?
The UE BOOM 2 is technically discontinued, but you can still find it for sale in some locations if you decide it's the speaker for you.
Editor's note: this UE BOOM 2 review was updated on September 24, 2021, to mention the availability of the UE Boom 2 and include a new buy link.
Who should get the UE BOOM 2?
Anyone listening to music outside. Whether you're going to the beach, on a hike, or just hanging out poolside, the UE BOOM 2 is a good choice because of the IPX7 waterproof design.
Someone looking for a deal. While the $130 price tag isn't exactly cheap, it's a bit cheaper than the newest option and is still a great pick-up.
It makes a good gift. Some people just can't have nice things, but luckily the UE BOOM 2 is a pretty tough speaker that can take a beating. If you're looking to gift someone you know a Bluetooth speaker, you can't go wrong with one of these.
How's the build quality of the UE BOOM 2?
UE does plenty of collaborations with artists for limited edition speakers, and this one is by James Reka.
We're looking at the "Lost Time" special edition speaker by James Reka, but whichever one you get will have the same build and design just with a different color fabric. Anyone who is even vaguely familiar with the original UE Boom will find this one very familiar. In fact, it's almost identical to the original. A fabric covering surrounds the speaker save for the plastic that makes up the top, bottom, and front of the speaker. On the front is also where you'll find the signature UE Boom + and – buttons that control volume.
Start here: What makes a good Bluetooth speaker?
The rubberized plastic gives it a great grip and the fabric covering makes this one IPX7 waterproof, giving it a one-up on the original which only had an IPX4 certification. This means that instead of being just splash-resistant, it's entirely waterproof and can be submerged for up to 30 minutes at a depth of one meter. Naturally, this now makes it perfect if you want to bring it to the beach or a pool party. It also gives the speaker a more durable feel and even though it doesn't look it, it survived a few drops with not even a scratch.
The unique + and – sign buttons are still prominently displayed along the front of the speaker.
Up top, you'll find the power button and another smaller button above that which is the Bluetooth pairing button. The bottom of the speaker has two flaps that are flush with the speaker, but open up to reveal the micro USB input for charging and the 3.5mm input. There's also a small metal hook on the bottom so you can attach a string or carabiner clip to it. It looks flimsy at first glance but it is actually fairly strong and should be fine for average usage.
The cylindrical design puts it at about the size of a can of tennis balls, except way thinner. It's not big and you shouldn't have a problem tossing it in a bag for transport, but it just seems a little too tall. I would've definitely enjoyed it more if it was maybe an inch shorter than it is, but that could just be my personal preference. Even though it fits nicely in the hand, its height just makes it a little awkward in my opinion.
How's the connection strength?
Connection strength is fairly standard for this speaker, and I experienced minimal issues unless testing range.
As far as connection goes these never had a dropped signal in average usage. UE claims a range of 100 feet but when we really put this to the test we couldn't get past around 60 feet without the signal being dropped completely, and that was in a wide-open space with nothing in the way. Still, that's very impressive and besides that, the speaker was never more than 30 feet away from me resulting in no dropped audio.
Should you get the BOOM and MEGABOOM app?
The best part of the BOOM 2 when it comes to its connection are the extra features that you get when using the app. The app shows you a smaller cartoon version of your exact speaker and lets you raise or lower the volume by clicking on the + and – signs on the cartoon version. You can even power the speaker on and off in the app which is actually really useful in practice. You can also tell how much battery life is left in the speaker, pair a second UE speaker for double the sound, set alarms, and customize the sound with EQ settings all in the app.
How long does the UE BOOM 2 battery last?
In our testing, we got close to 12 hours of constant playback for the UE BOOM 2.
Like the original BOOM, UE claims a battery life of 15 hours but also like the original it fails to live up to that expectation. In our testing, we got closer to 12 hours which is still decent but still pretty far off from the claim. We would've liked for them to up the battery life since something like the JBL Flip 3 gets almost 10 hours and isn't as big. But I guess that's just me being critical since 12 hours is still going to get you through a solid day at the beach. If you need to check how much battery life is left you can just hold the + and – buttons down at the same time and it'll tell you which is a handy feature.
How does the UE BOOM 2 sound?
The UE BOOM 2 sound can be tweaked via the EQ app.
You can change the sound with the EQ settings in the app and I was able to customize a setting that made the speaker sound way better in my opinion, so you can mess around with it to your wildest fancy. However, we did all of our testing on the "standard" EQ setting.
You can customize the sound signature of the UE BOOM 2 in the UE app.
The bass is there, but it doesn't go as low as most people might want. Bass kicks in Feel No Ways by Drake are lacking a lot of their depth and feel more like they'd prefer to be a part of the mids. Mids were a little fuzzy overall. Vocals in Got It Bad by Leisure weren't overly clear, but they were amplified over other elements of the song. Highs were very slightly harsh but not enough to be a bother. The hi-hats and crashes in the drums of Seed 2.0 by The Roots lost a good amount of detail overall and were a little too loud for my taste.
What about the UE BOOM 3?
It may not be the best-sounding speaker, but the UE BOOM 3 still gets plenty loud.
The UE BOOM 3 solved many of the issues that I previously had with the UE BOOM 2 but not all of them. Nothing about it was drastically changed, just tweaked. The shape was slimmed down to be almost exactly the size of an average water bottle making it super portable, it had an improved IP67 build with the ability to float in deep water, and it still got loud. The problem was that battery life took a pretty significant hit and instead of getting better, appeared to get worse in our testing. Overall, the UE BOOM 3 is definitely an improvement over the BOOM 2, but just barely.
Looking for a much bigger sound? Check out the UE HYPERBOOM
The speaker isn't small at around 5.9kg (13 pounds), but it does have a handy handle.
If you're looking into a UE speaker because summer is on the way and you want a good speaker to help keep your party going, then you might want to check out the UE HYPERBOOM. While it's made by the same company, it's the complete opposite of the UE BOOM 2, in a good way. Where the UE BOOM 2 is small and portable, this speaker is huge and much less portable. But with that large size comes big sound and a bunch of nifty features designed specifically for parties (like the option to pair a second phone to the speaker without disrupting or pausing the music). It's also waterproof and has long battery life. While it's much more expensive, it might be what you need.
Should you buy the UE BOOM 2?
The UE BOOM 3 is a better UE BOOM speaker than the BOOM 2, and it can often be found discounted through various vendors. If you really like the Boom series, then the BOOM 3 has a better build, is more portable, and has a longer range to boot. The UE BOOM 2 is also technically discontinued, so even Ultimate Ears thinks it's outdated.
The JBL Flip 4 can connect to two smartphones simultaneously, which is good for you and a friend to pass the role of DJ back and forth.
Plus, if you look outside of the UE brand, there are plenty of options available that are better than the UE BOOM 2. For example, there's the JBL Flip 4 which is smaller, sounds better, and just as portable, though admittedly it doesn't float so if you drop it overboard it's a goner (Editor's note: Sara experienced trouble with JBL customer support, who didn't want to replace a defective JBL Flip 4 that retained water damage, despite its IPX7 rating). If you want quality speakers but don't want to break the bank, check out our list of best Bluetooth speakers under $100.
Next: Ultimate Bluetooth speaker guide
Sours: https://www.soundguys.com/ue-boom-2-review-8795/
The Gadgeteer is supported by readers like you! If you buy something through links on our site, we may earn an affiliate commission. Thank you! Learn more.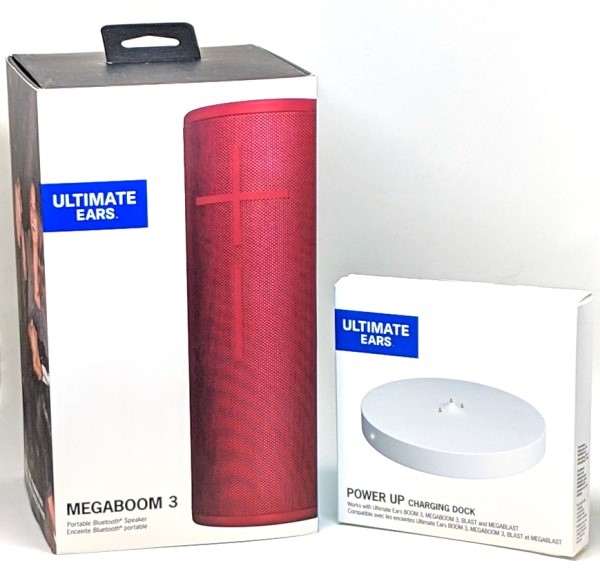 REVIEW – The new Ultimate Ears (UE) Megaboom 3 was introduced a few months ago and since I have really enjoyed using the Megaboom, I wanted to give the Megaboom 3 a try. Were there any improvements? Well, I think they did a great job in redesigning the Megaboom 3. It's much more attractive than my previous one and also has wonderful audio quality. It also has the ability to be charged by the Power Up Charging Dock which makes charging much easier (the dock is sold separately). When testing the playing time of the speaker on low volume, I got a whopping 49 hours! Higher volume levels would decrease the playing time, which the User Guide states is about 20 hours. However, I did find some drawbacks to the speaker, or rather, with the app. Several of the app features had problems. Sometimes they worked and sometimes they didn't. In addition, the speaker no longer has an AUX audio port or calling features.
What is it?
The Megaboom 3 is the second version of the original Megaboom. It is a tough durable cylindrical portable Bluetooth speaker that provides 360-degree sound and is IP67 rated which means it can be immersed in 1 meter or 3.3 feet of water for up to 30 minutes.
Hardware specs
AUDIO
Maximum Sound Level: 90dBA
Frequency Range: 60Hz – 20kHz
Drivers: Two 50mm (2 in), 4-ohm full range drivers and two 55mm x 86mm passive radiators
WIRELESS CAPABILITIES
Pair up to 8 Bluetooth enabled source devices
Connect up to two source devices at the same time
Mobile range of play is up to 45m (150 ft)
POWER
Rechargeable Lithium-Ion Battery for up to 20 hours of battery life* between Micro USB charges.
COMPATIBILITY
For Audio Playback: Smartphones, tablets and other devices that support Bluetooth and Bluetooth® Smart wireless audio profile [Advanced Audio Distribution Profile (A2DP)]
DIMENSIONS
Diameter: 87 mm (3 3/8")
Height: 225 mm (8 7/8")
Weight: 925 g (~2 lbs.)
WATER AND DUSTPROOF RATING
IP67 – This means it can survive immersion in 1 meter or 3.3 feet of water for up to 30 minutes
CUSTOMIZABLE EQ
Select the best Sound for different occasions with 4 different presets and a customized tuner
WARRANTY
2-year limited hardware warranty
What's in the box?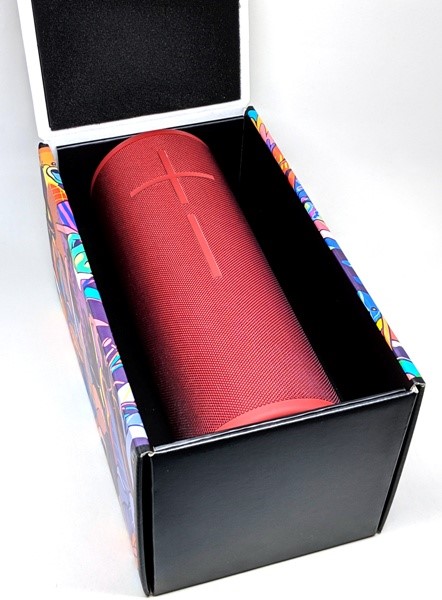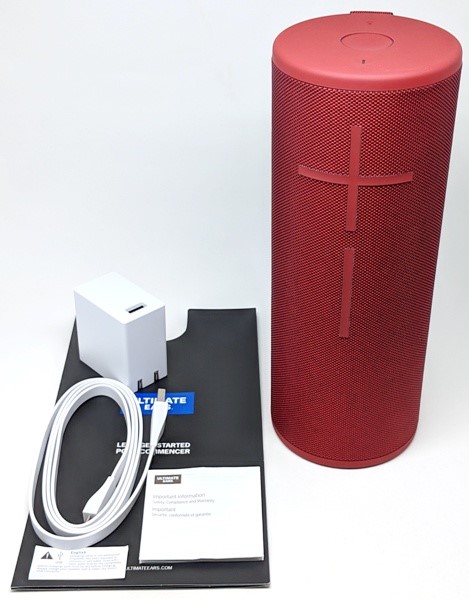 Megaboom 3 speaker
Micro-USB cable
AC adapter
Let's Get Started Guide
Important Information documentation: Safety, Compliance, and Warranty information
A tiny note that states that the charging cable is not waterproof: "If the speaker has been exposed to chlorine or salt water, rinse with fresh water and air dry completely before charging"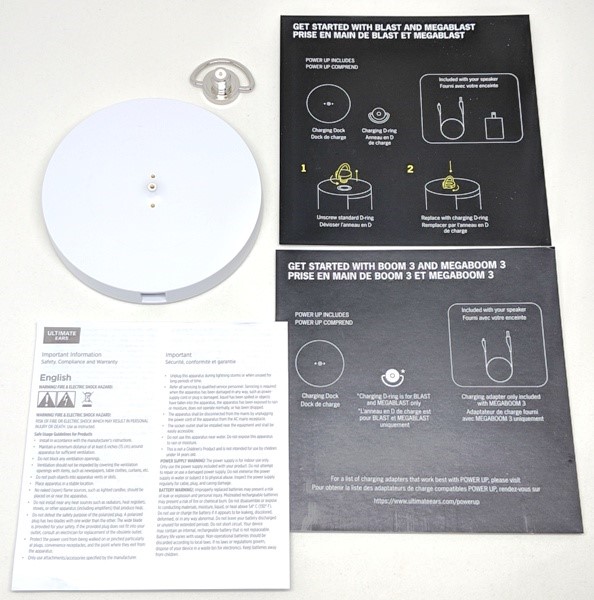 Power Up Charging Dock
Charging D-ring (for Blast and Megablast speakers only)
Getting Started Guides (Blast, Megablast, Boom 3, and Megaboom 3)
Important Information documentation: Safety, Compliance, and Warranty information
NOTE: The charging dock does NOT come with micro-USB cable or AC adapter
Design and features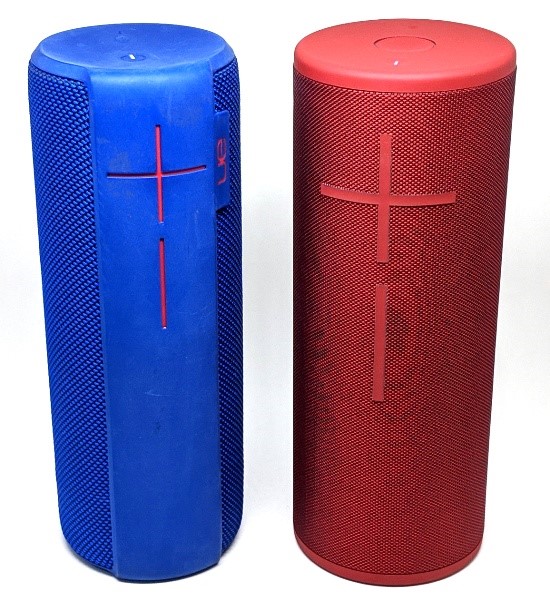 The UE Megaboom 3 (the red speaker in the above photo) received a design update from its predecessor the Megaboom (the blue speaker in the above photo). It no longer has a wide strip of silicone down the front of the speaker where the volume controls are. The top and bottom of the Megaboom 3 speaker are flat instead of concave and the mesh fabric covering the majority of the speaker is finer than that of the Megaboom. I love the red color. It has a sheen to it. The UE website calls it a two-tone "light-shifting fabric". I think that the Megaboom 3 is a MUCH more attractive speaker than the Megaboom.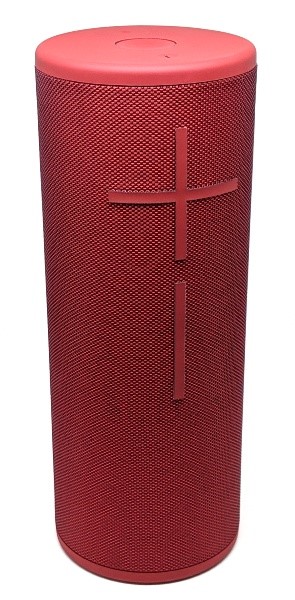 Even with the differences, a couple of things remained the same. The top and bottom of the speaker still have a silicone covering and it still has the large silicone "+" (Volume Up) and "-" (Volume Down) buttons on the front.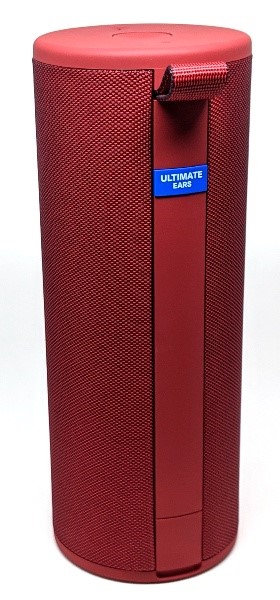 Also new to the speaker is a thin 2 cm strip of silicone running from top to bottom located on the back of the speaker. Attached at the top of the silicone strip is a tough thick nylon "Hang loop".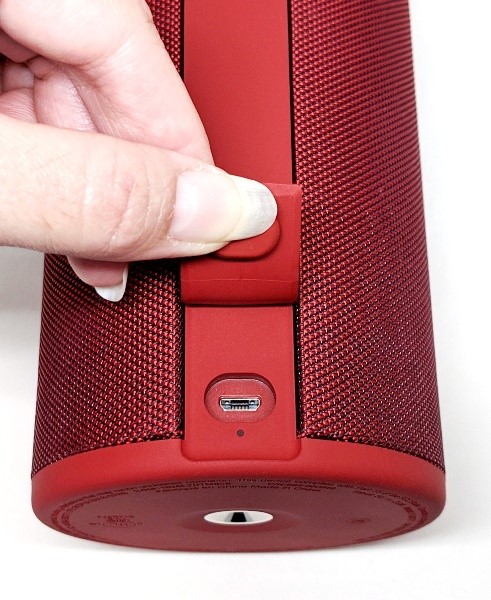 At the base of the 2 cm silicone strip is a micro-USB port that has a silicone cover to protect the port from water and the elements. Ha! No more having to charge the speaker on its side (the original Megaboom had its micro-USB port located on the bottom of the speaker). Also, notice the tiny circle just below the micro-USB port. That's the LED charging status light. It's a white light that flashes slowly when charging and stops flashing and remains on when fully charged.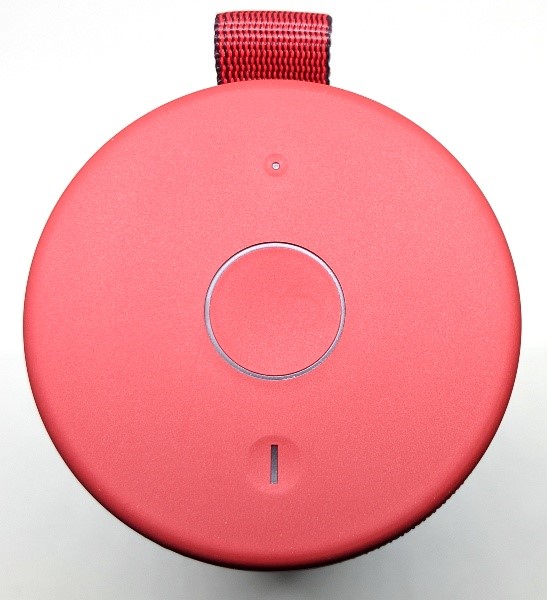 The top of the speaker has the following buttons (starting from the top): the Bluetooth Pairing button (the tiny circle), a new button called the Magic Button (the large center circle), and the Power On/Off button (the button that looks like a dash) each of which illuminates when activated.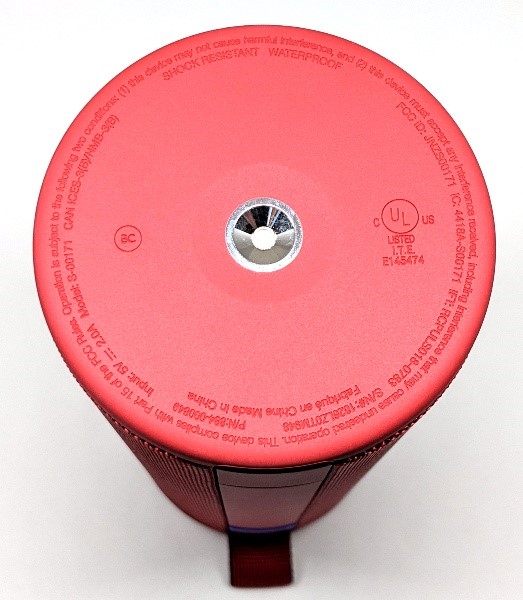 The bottom of the speaker has the charging dock contact located in the center. There is no longer a metal D-ring on the bottom of the speaker like that on the Megaboom.  

I also received the Power Up Charging Dock to review which is normally sold separately. The dock is a 90 mm rigid white plastic disk that is 12 mm high (without the pins). The back of the dock contains the micro-USB port. The dock does not come with a micro-USB cable or AC adapter, thus you must use the micro-USB cable and power adapter that comes with your Megaboom 3 (Blast, Megablast, or Boom 3) to plug into the dock. 

The front of the dock contains an LED status light. The light flashes slowly when the speaker is sitting on the dock charging. According to the documentation, the light stops flashing and remains on when the speaker is fully charged.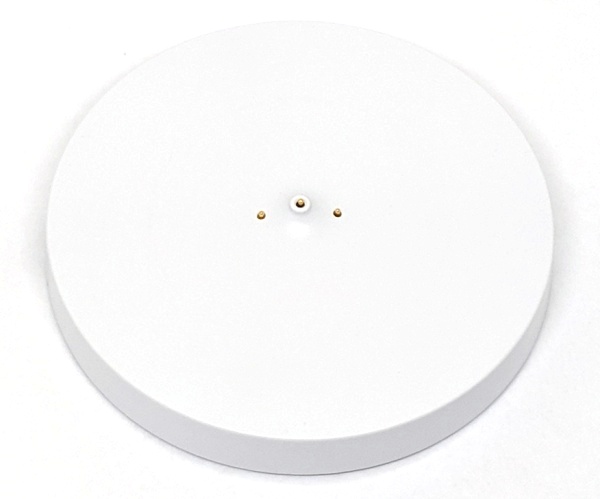 The top of the dock contains three charging pins located in the center.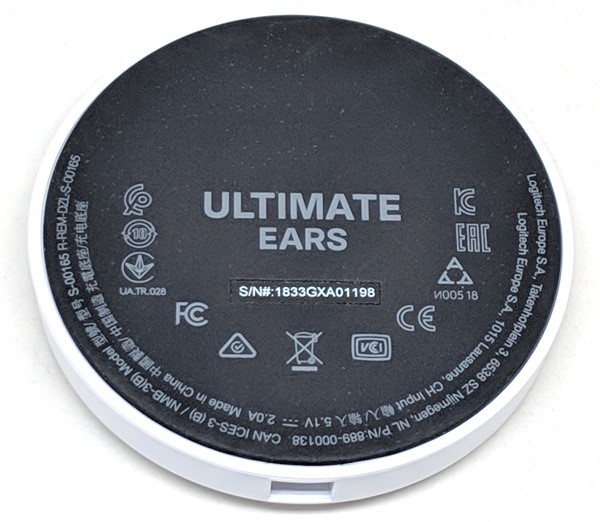 The bottom of the charging dock contains a circular rubber pad that prevents the dock from scratching any furniture that it is sitting on.
Setup
Bluetooth Pairing: To pair your Megaboom speaker with your mobile device (Android and iOS), you need to make sure that you turn on device's Bluetooth. If your speaker is new, then when it is powered on, it will already be in pairing mode. However, if you want to pair it to another device, then power up the speaker and put it in pairing mode by pressing and holding the Bluetooth button for about three seconds until you hear a series of Bongo drum beats. The Bluetooth button will blink rapidly when the speaker is in pairing mode. Finally, in your device's Bluetooth settings, tap on the "Megaboom 3" in the list of discovered devices.
The Megaboom 3 does not have NFC pairing capabilities like its predecessor.
The speaker will remember up to eight devices and when powered on, it will connect the last device it was connected to.
Performance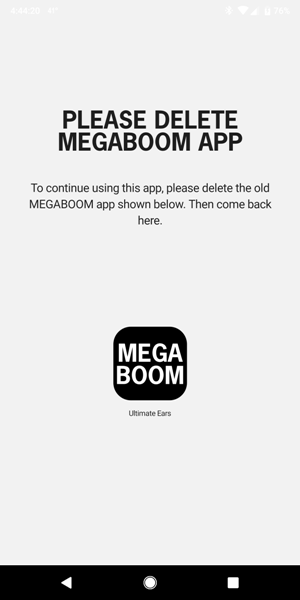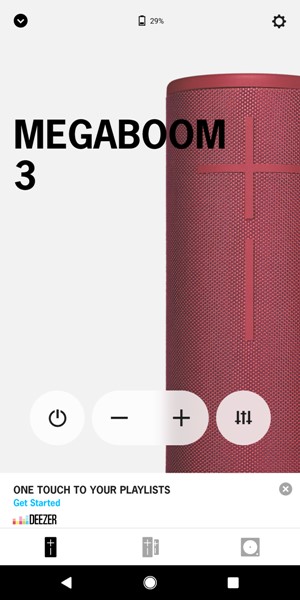 Ultimate Ears Boom and Megaboom app: Once you've paired your speaker to your mobile device, you'll then install the Ultimate Ears Boom and Megaboom app. This new app now allows you to control all of your Boom and Megaboom speakers whereas, in the past, the Boom and Megaboom speakers each had their own app. I already had the Megaboom app installed on my Pixel 2 XL phone, but I was instructed to download the new app. After downloading and opening the new app, it instructed me to uninstall my old Megaboom app (shown in the left screenshot above). It is not necessary to install the app to use the speaker, but it does provide you with additional functionality.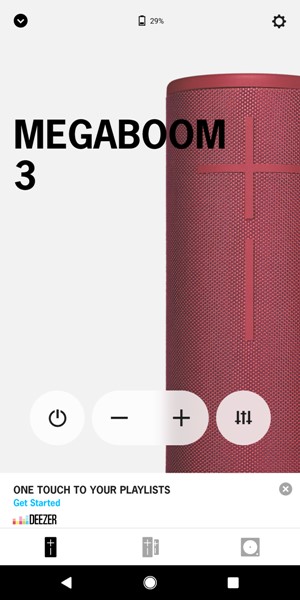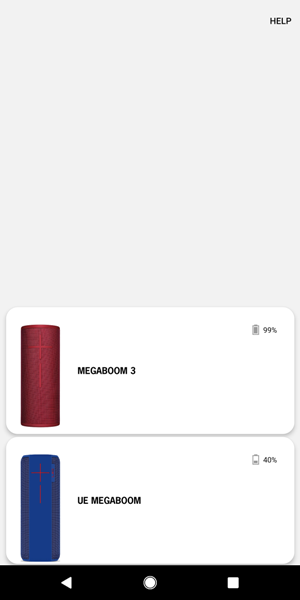 If you have multiple UE Boom or Megaboom speakers, you can choose which one you want to control with the app by tapping on the down arrow located at the upper left of the app home screen as shown in the left screenshot above. Doing this brings up another app screen that lists all of your UE Boom and Megaboom speakers (right screenshot above). Tap on the one you want, and you'll be able to use the app to control the speaker. Then, if you want to control any of your other speakers, just go back to the list to tap on another.
App speaker buttons: Remote power on/volume down and up/equalizer: On the app's home screen you'll see buttons for power, volume down and up, and an equalizer button. I could power on my Megaboom 3 speaker remotely by tapping on the app's Power button. This sometimes worked and sometimes didn't. And as long as the speaker was powered on, I could read the amount of battery charge left, adjust the speaker's volume, and adjust the equalizer (EQ) settings.
You may choose to use the app's EQ presets ("The Standard", "Cramped Spaces", "Voices", "Bass Jump") or customize your own. While you can hear the differences among the presets, there were no substantial differences. Of the four factory presets, I tended to prefer "Bass Jump" and "Cramped Spaces". I wanted to try to create my own to see if I could do better (I wanted to increase the strength of the bass). It turns out that my custom EQ did not substantially differ from the others either. There's no real bass boost when using the EQ settings like "Bass Jump" or my own "Custom" EQ settings – just a dampening of the other frequencies (non-audiophile opinion).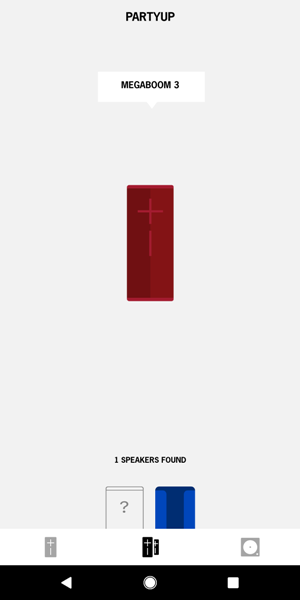 PartyUp feature: Just as you were able to connect the Megaboom to other UE speakers, so you can with the Megaboom 3. To connect the Megaboom 3 speaker to other UE speakers (Boom, Boom 2, Boom 3, Megaboom, Megaboom 3), you'll need to use the "PartyUp" feature in the most up-to-date Ultimate Ears app. Additionally, all speakers must be using the latest firmware which can be updated in the app. To start the PartyUp process, you tap on the center tab located at the bottom of the app (the double speaker icon).
On the next app screen (as shown in the screenshot above), you'll see at the bottom of the screen in an area called the "Drawer", "1 Speakers Found". In the Drawer, there is a black outlined speaker with a question mark in it as well as the speaker that the app discovered which was my blue Megaboom (the app sometimes discovered my blue Megaboom even though it was powered off, other times it did not). To view a tutorial on how to "PartyUp" your speakers, you can tap on the black outlined speaker with a question mark.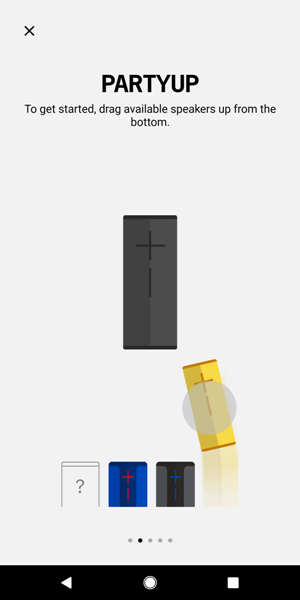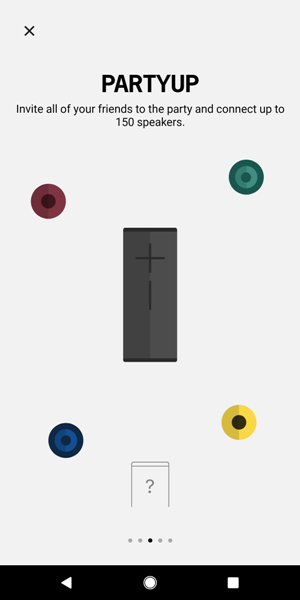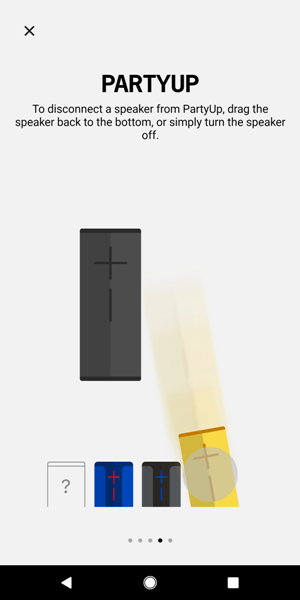 The tutorial steps you through the process of connecting your speakers. This involves dragging and dropping the speaker(s) located in the Drawer onto your currently connected speaker. Your friends can bring their UE Boom and Megaboom speakers and connect them to yours (up to 150 speakers). And to disconnect them, you just drag a speaker back down to the Drawer or just turn the speaker off.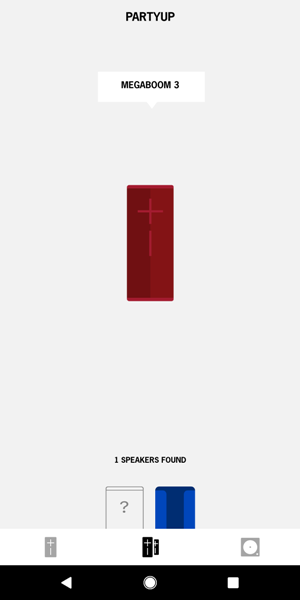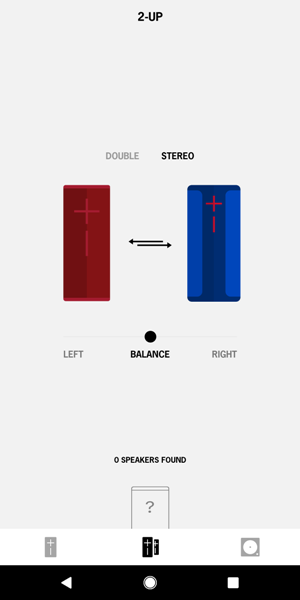 I was supposed to be able to drag my blue Megaboom located in the Drawer and drop it right next to my red Megaboom 3 to connect them. However, I had frequent trouble connecting my speakers because of the finicky nature of the app (the app features don't always work). As I stated earlier, there were times when the app didn't detect any available speakers for the Megaboom 3 to connect to, even though my blue Megaboom had been previously paired to my phone but happened to be turned off. Other times, when trying to connect the speakers, I would tap on the blue Megaboom in the Drawer but couldn't drag it up to the Megaboom 3. When I finally got them connected, they played identical streams of music. To make them a stereo pair, I tapped on the word "Stereo" above the speakers. Even after successfully making them a stereo pair, there was one time as I was playing music, the blue Megaboom just stopped playing and shut off (the battery was at 90% charge).
I'm not sure if you can make a stereo pair out of a Megaboom 3 and a Boom speaker. I no longer have the Boom 2 speaker to test this. However, I know that in the past I was unable to make such a connection into a stereo pair because each of those speakers has a different sound signature. I suspect that this is still the case.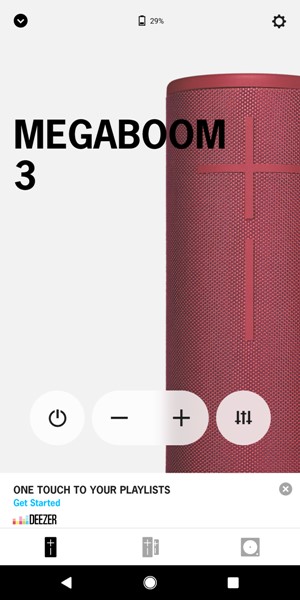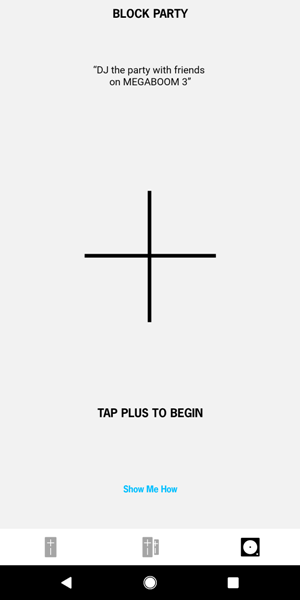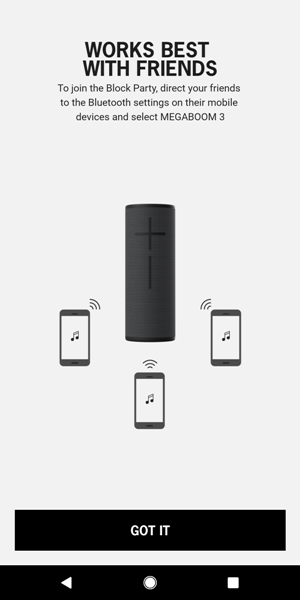 Block Party feature: Using the app allows up to three people to connect to the speaker simultaneously to share their music (the Megaboom also had this feature). To start a "Block Party", you'll need to tap on the tab located on the lower right of the app (the circle inside a square icon). To see a very brief tutorial about how to use the "Block Party" feature, just tap on "Show me how" (as shown in the second screenshot above) which will bring up another app screen (shown in the third screenshot above).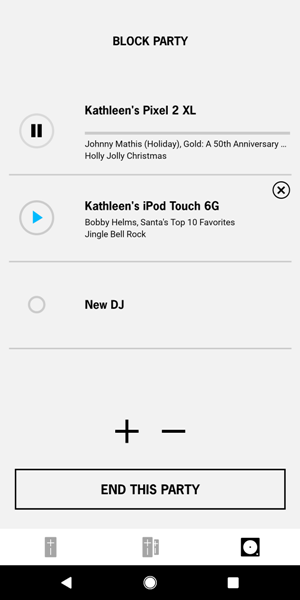 If the app works properly, all I would need to do to start a "Block Party" was to tap on the big "+" sign in the app which brings up another app screen that lists the device your speaker is currently connected to. The next step is to have two of your friends go to their Bluetooth settings and tap on "Megaboom 3" to connect to it. After each person has paired their devices with your speaker, you'll see in the app that each of their devices shows up in the list indicating that they are ready to play music on the speaker (shown in the last screenshot above). There's even a setting just under the Block Party user's list that allows you to change the Block Party DJ by tapping on "New DJ". The DJ is the person who has the power to play, pause, or adjust the volume of any Block Party user's music.
Setting up a Block Party sounds easy if the app works correctly. There was one time when I tapped on the big "+" sign to start a Block Party but the other app screen containing the list of Block Party users never popped up. Another time, as the DJ, I tried to tap on the "Play" button next to various Block Party users and it failed to play. And yet another time, when each of the devices was playing, the connection was intermittently dropped thus interrupting the music multiple times.
As I just stated, the Block Party host or "DJ" has the power to adjust the volume or pause or play any user's music. However, each person can adjust the volume of the speaker as long as that person is actively playing music through it. It is also possible to interrupt each other's music by any of the users tapping on the play button in their music apps. So "play" nice!!
To remove a Block Party user, you only need to go into the app and tap on the "x" which is located to the right of their device's name.
NOTE: You cannot use the "PartyUp" feature simultaneously with the "Block Party" feature.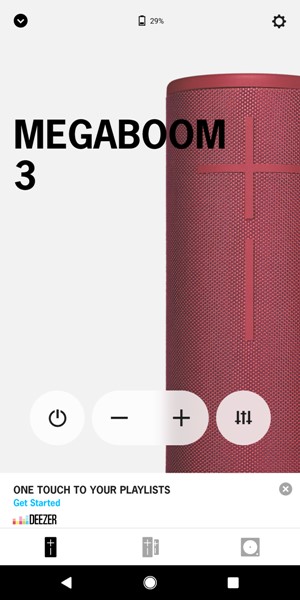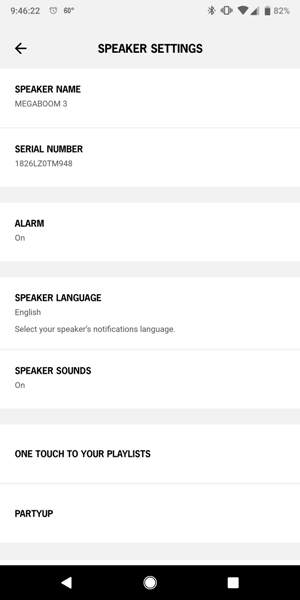 Speaker Settings: You can access the speaker settings by tapping on the gear icon located in the upper right of the app home screen. Here you can change your speaker's name, change the speaker's language, turn on or off the speaker tones (those that indicate pairing, power on/off, maximum/minimum volume reached), and set up "One Touch to Your Playlist".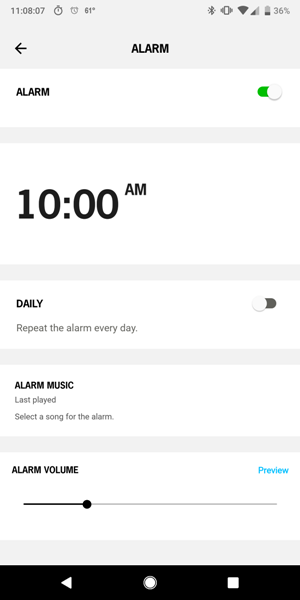 Alarm: Using the app, you can also set an alarm on the speaker. Under "Alarm Music", when I selected "Last played", I could not get the alarm to play Pandora music even if Pandora was still running in the background. I then tried to set the alarm using Amazon Music as the last played music. I also tried using Google Play Music. These didn't work either. I was hoping the "Last played" setting would work because I keep very little music on my phone and mainly listen to music streaming apps.
However, I was able to get the alarm to play a song stored on my phone. When the alarm went off, the volume started off very quiet and increased slowly to the level that I set in the alarm settings. And if I didn't turn off the alarm, it played the same song again. If I snoozed the alarm, it went off again in 10 minutes.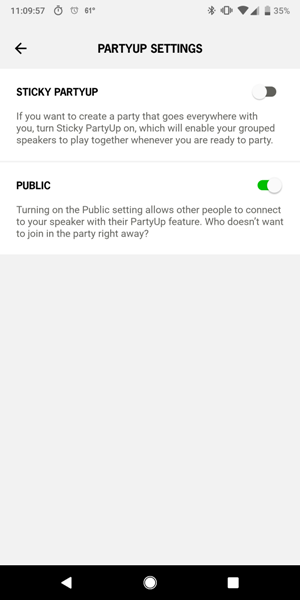 PartyUp settings: Also in the Megaboom 3 speaker's settings, I could change the "PartyUp" settings. Turning on "Sticky PartyUp" "enables your grouped speakers to play together whenever you are ready to party". It seems that this feature is supposed to allow you to keep connected speakers connected. However, my experience was that when you turn off the speakers and then turn them back on, they were not connected.
And turning on "Public" "allows other people to connect to your speaker with their PartyUp feature".
Charging Time: I couldn't find any documentation that states how long it takes to charge the Megaboom 3. The speaker's Power button's LED light initially shines a white light when the speaker is on and the battery has enough charge, but when the battery gets low, it shines red and then flashes red when the battery is just about to die.
When charging the speaker by plugging in the micro-USB cable into the micro-USB port on the speaker, I found that I was able to charge the speaker in about 2.5 hours.

However, when charging the speaker using the Power Up Charging Dock, I found that it took about three hours to charge the speaker. Thus the charging dock is great for easy charging but it does seem to take longer to charge the speaker.
To determine the amount of charge on the speaker, you must simultaneously press the big "+" (Volume Up) and "-" (Volume Down) buttons on the speaker and a voice prompt will inform you what the battery level is.
Playing Time: The UE website states that the Megaboom 3 speaker will play music for about 20 hours on one full charge of the battery (depending on how you use the speaker). I was able to play music on the speaker at a low volume level for a whopping 49 hours before the speaker shut off. I used the speaker to provide background music during the day so the playing time seemed to last forever. If you use it at a mid-volume level or higher, you're likely to get a lot less playing time.
Magic Button controls: The Megaboom 3 has a new button – the Magic Button. This button can be used to control the music that you are playing from any music provider. You can play/pause (single press of the Magic Button) and skip tracks (double press of the Magic Button). These worked well for me.
The Magic Button can also directly access a playlist – but only from Apple Music (iOS only) and Deezer Premium (Android only). If you happen to use one of these, then you're in luck (I don't use either of these). You'll need to use the app to guide you through the steps to select your playlists. After that is completed, you can play your first playlist by long pressing on the Magic Button for 2-3 seconds or skip to the next one by long pressing the Magic Button for another 2-3 seconds, etc. There is no limit on the number of playlists you can select. You can play/pause your music (single press of the Magic button) or skip tracks (double press the Magic Button) as well. Since I don't use either of these streaming services, I didn't test this.
Auto Shutoff: If the Megaboom is powered on and has been idle for 15 minutes, it will automatically shut off.
Bluetooth Connectivity and Range: The specifications for the Megaboom 3 state that the Bluetooth range is 150 feet. I was able to go about 107 feet in line-of-sight of my Pixel 2 XL before the connection started to drop. However, when using an iPhone 7, I was able to reach a distance of over 150 feet in line-of-sight of the iPhone.
Also, when testing connectivity, I found that the speaker maintained Bluetooth connectivity with my Pixel 2 XL and iPhone 7 even through four walls.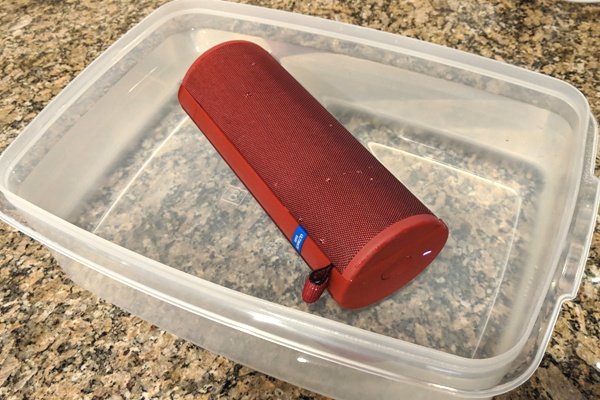 Waterproof feature: The Megaboom 3 is IP67 rated and is thus can be immersed in up to one meter of water for up to 30 minutes. I placed the speaker in a Rubbermaid container filled with water for about 30 seconds or so and it continued to play music (this is the same test I did on the blue Megaboom). I also noticed that it floats. NOTE: According to UE, "If the speaker has been exposed to chlorine or salt water, rinse with fresh water and air dry completely before charging".
Rugged and Durable: According to the UE website, "We put it through more than 25 rigorous durability tests including 1000s of button pushes, tumbles, drop tests and more. You can drop it, kick it, headbang with it, even spill your drink on it, and your MEGABOOM 3 speaker will take it all like a champ." I have no intention of doing any drop tests, but it sure is nice to know that if I accidentally drop the speaker, it could handle it.
Frequency Range: The specifications indicate that the speaker has a frequency range of 60Hz-20,000Hz. Using a tone generator app on my phone, I found that the bass does indeed go as low as 60Hz. But since I can't seem to hear any frequencies above 16,000Hz, I leave it to the rest of you to listen for those frequencies.
Audio Quality: The audio quality of the Megaboom 3 is really quite good for a speaker this size. Just like the Megaboom, I thought that all frequencies were clean, clear, and well balanced. Listening to "High Roller" by The Chrystal Method and "Salute" by Little Mix both of which have some really deep bass, I noticed that the Megaboom misses that deep bass, but the songs still sounded pretty good. And because it is Christmas time, I listened to "Greensleeves" by the Vince Guaraldi Trio in which the music is soft and soothing and seemed well balanced. When listening to "Triumph" by Audiomachine, all the instruments/vocals were clear and powerful. I also listened to "Siúil a Rún (Walk my Love)" by Celtic Women/Lisa using the "The Standard" EQ preset which was quite beautiful, highlighting the singer's lovely voice without dampening the bass of the accompanying music. And "Night Moves" by Bob Segar was also well balanced and enjoyable to listen to.
What's missing from the Megaboom 3 that the Megaboom had? There are no more gestures (tapping on the speaker to play/pause music), no NFC pairing, no AUX audio port to physically connect a mobile device to play music, and there are no calling features.
What I like
The Megaboom 3 has wonderful audio quality
I love the new design: less silicone on the body of the speaker, finer mesh fabric covering, beautiful color, easier access to micro-USB charging port.
It plays for a long time (~49 hours on low volume)
It's very rugged
It's waterproof (IP67 rated) and floats in water
Bluetooth connectivity was maintained through four walls
When the app's PartyUp feature works, you can connect the speaker with other UE Boom and Megaboom speakers
When the app's Block Party feature works, three people can connect to one speaker simultaneously to share music
Magic Button allows you to play, pause, and skip tracks (and can launch your playlists if you use Apple Music or Deezer Premium)
What needs to be improved
The app is flakey – multiple features of the app sometimes work and sometimes don't
The Megaboom 3 is missing calling features
It's missing an AUX audio port
You can't use the PartyUp feature and Block Party feature at the same time
Final thoughts
The Ultimate Ears Megaboom 3 is a very nice speaker. The audio quality is wonderful and I truly enjoyed listening to music on it. The audio is crisp and clear when listening to all genres of music. In addition, the Megaboom 3 is so much more attractive than its predecessor. The redesign is excellent – I love the finer mesh fabric around the body of the speaker, the fact that it has less silicone, the flat top and bottom, and the micro-USB charging port on the side of the speaker instead of on the bottom. It's also very durable and waterproof too. The Ultimate Ears Boom and Megaboom app allows you to connect it to other UE Boom and Megaboom speakers that will play identical streams of music or make them a stereo pair (PartyUp feature). In addition, you and two of your friends can connect to the speaker simultaneously to share music (Block Party feature).
However, the app has some issues. The remote power on feature didn't always work. Sometimes the PartyUp feature did not find my speakers to connect them. And one time, when they were connected and playing music, one speaker just stopped playing music and turned off. The Block Party feature also had some problems where the connected devices had connectivity issues thus resulting in the music stuttering.
There are also a few other things that may make you hesitate to purchase the Megaboom 3. It no longer supports calling features, it lacks an NFC pairing feature, and it lacks an AUX audio port.
And finally, is the Power Up Charging Dock worth the added expense ($39.99)? Possibly depending on what's important to you. It certainly makes charging the Megaboom 3 MUCH easier (which I love), but it does seem to charge more slowly than directly plugging a micro-USB cable into the speaker. Another consideration is that it can only be used with Blast, Megablast, Boom 3, and the Megaboom 3 speakers.
Price: $179.99 – $199.99
Where to buy: Amazon or Ultimate Ears
Source: The sample of this product was provided by Ultimate Ears.
SHARE ON
TwitterFacebookPin It
Support The Gadgeteer: The Gadgeteer is supported by readers like you! If you buy something through the links on our site, we may earn a small affiliate commission. Thank you! Learn more.
Sours: https://the-gadgeteer.com/2018/12/22/ue-megaboom-3-bluetooth-speaker-review/
How to master your equalizer settings for the perfect sound
Contrary to what those bottle DJs on YouTube would have you believe, mixing sound isn't just twiddling fake nobs and sliders to make you look cool on the internet. Coaxing the best possible balance of tones out of a piece of music is an art form in and of itself, whether you're a producer, engineer, DJ, or just a music lover with an iPhone and a Spotify account.
The equalizer, or EQ, has come a long way since your dad's graphic EQ with the tiny little sliders that you never quite understood — but somehow messing with them made his Zeppelin records sound "rad." But for most devices you'll encounter these days, it's all done digitally.
EQ settings can now be found in everything from phones and wireless speakers to home theater soundbars and streaming services such as Spotify and Apple Music, but often in the form of safe presets such as "Rock," Hip-Hop," or "Bass Booster."
Understanding how exactly an EQ works and using it properly will put the power of sound-sculpting at your fingertips and can get you closer to the sound you want from your gear. But it can be intimidating, so we're here to help with our top-to-bottom guide to mastering your equalizer for the perfect sound.
Browse related topics
Why do I want to use an EQ?
Electronics manufacturers have their own ideas about what a piece of gear should sound like, but EQ lets you have your say. Also, we don't always get to listen to music in ideal environments. Many of us listen to music while commuting or exercising, where the shape of the room or ambient noise can each have a nasty effect on how our music sounds. An EQ can help.
The music you're listening to also plays a factor. Not only do the natural sounds of the track respond uniquely to different EQ levels, but in the case of digital music, you may also need to cover imperfection introduced by certain file compression formats that can affect the overall audio quality. With these variables in play, an EQ serves an invaluable role for anyone serious about their jams. With it, you could pull out the distinctive shimmer of high-hat cymbals otherwise drowned by a dominant vocal track, or even help mellow out the narrator's voice in an audiobook.
Maybe you have a bass-heavy pair of headphones that you need to tone down a bit. Or perhaps you listen to a lot of EDM, but the treble is too sharp and needs to be pulled back. Whether you're looking for more punch, a warmer sound, or bass that will rattle your insides, an EQ can help you dial in the sound that suits you best.
What does an equalizer do?
At its most basic definition, an equalizer manipulates frequencies. The technology first took off as a piece of analog electronics that was initially used in recording studios before making its way into the home. Whether analog or digital, an EQ is used to adjust different elements of sound to achieve an end result that appeals to the listener.
Most people are aware of the basic three levels of equalization — bass, mid, and treble — that you have likely seen on your parents' home stereo receiver. They're simple: if you wanted more low end, you goosed the bass; if you like to hear the cymbals and wanted to add some shimmer to the sound, you'd likely add some treble. Speaking more digitally, you may also associate EQ with effects like reverb or echo, or popular EQ presets like "Rock," "Jazz," or "Concert," among others built into popular devices and headphones. But the kind of EQ we're talking about here offers control over the different sound registers to achieve a refined result. If used properly, EQ can smooth out audio for just the right touch.
The graphical EQ — which is what we're going to focus on for most of our walkthrough — looks like a graph (no kidding!) with frequencies on one axis and decibels (dB) on the other. From left to right, you'll find "sliders" that allow you to adjust certain frequency bands up or down along the dB scale. Bass frequencies start on the left, with midrange frequencies in the middle, and treble on the far right (like a piano).
If you've already got a firm grasp of what frequencies and decibels are, feel free to skip ahead to the "Playing with your EQ" section, or even our "Parametric EQ" examination (if you're a heavy hitter). If not, the following little snippet of Acoustics 101 will probably come in handy.
Frequencies
All sounds — everything you hear — are essentially vibrations that we can visualize as waves moving up and down at different speeds, or frequencies. The faster the wave moves, the higher the pitch. For example, bass frequencies — such as those you hear in a hip-hop groove — move very slowly, while higher pitches (treble) like the chime of a triangle move very quickly.
Every pitch a musical instrument plays has a core frequency measured in hertz (Hz), which can be likened to a speedometer reading for the waveform. Hertz measures how many times (i.e., the frequency) a wave completes an up-and-down cycle in one second. If the wave moves up and down 50 times in a second, that's expressed as 50Hz. At the theoretical limit, a human can hear from 20Hz to 20kHz (20,000 cycles). In reality, though, most human hearing tops out around 15kHz or 16kHz — the older you are, the less treble you can hear.
All of the sound you'll ever hear lives in this 20Hz to 20kHz zone, and thus those are the numbers that will border your typical EQ. Most of the pitches your ears really focus on fall between 60Hz and 4kHz — that's the meat of the sound. A piano's highest note, for instance, lives at 4,186 Hz (around 4.2kHz). There are also sounds called overtones, and an EQ will affect them, too. These sounds — which primarily reside in the 10kHz to 14kHz range — aren't something that your ears naturally hear, but they have an effect on the sound as a whole, so it's important to keep this in mind when messing around with that section of the treble band.
Decibels (dB)
The decibel (dB) is the unit of measurement used to express volume level or loudness. When you move a slider up or down on an EQ, you are increasing or decreasing the loudness of that particular frequency. It's important to know that small dB adjustments can have a big effect on the sound, so tread lightly. It's wise to start with a 1 dB to 2 dB change and move up or down from there. Since decibels use a logarithmic scale, a 5 dB or 10 dB change represents a dramatic increase or decrease to a particular frequency band.
Playing with your EQ
Finally, the fun part! Now that you've got a grip on what your EQ does, it's time to start playing around with making adjustments. Go ahead and start playing some music that you are familiar with, pull up your EQ, and move some sliders up or down to hear in action what you've been reading about. You'll soon find out that small adjustments can have a pretty wild effect on how things sound. Below, we'll give some direction on how to approach things.
Almost any pro sound engineer will tell you the first thing you want to try with EQ is to decrease the level of a frequency, rather than increase others around it. Expanding too many frequencies can make the music sound muddled, and with a little shift here and there, you can subtract a bit of the irksome sound and get closer to what you're looking for. That's not to say an increase in a frequency range isn't necessary at times, but you should always start with subtraction. Remember, too, that any change in EQ will not only affect the frequency range you've chosen but also how the rest of the frequencies interact with each other.
You may notice that it takes a moment after making an adjustment to hear the result. This is normal. It's also normal that you may have to boost the overall volume after reducing any frequencies. For instance, if you want more bass and treble in general, you can pull down some of the midrange sliders, then boost the volume a bit and see what you think of the result. Not exactly right? Then it's time to get more targeted with your adjustments, and for that, you'll need to know what each frequency sounds like. We've got a guide for you at the end of this article that spells things out pretty nicely.
What about EQ presets?
EQ presets like "Rock" and "Jazz" are a quick-and-dirty way to get to a different kind of sound without a ton of effort. While these probably won't give you the exact sound you're looking for, they can be handy for getting you started. You might want to start with a preset, then customize it until it is just right.
Some equalizers, such as the one built into iTunes'desktop versions of Apple Music (the iOS version only has presets) and mobile version of Spotify (in this case, its desktop version only has presets) will actually show you what the frequency curve looks like when you select a preset. This can help you understand what different EQ settings can do for you.
Parametric EQ
Parametric EQs are tricky, involved, and not for the faint of heart or inexperienced user. They're generally reserved for recording and mixing, but they do show up in apps for speakers or headphones from time to time. Using a parametric EQ involves targeting frequencies with a band of around five to seven movable control points set along the happy 20Hz to 20kHz frequency spectrum mentioned above. Each of the points is visualized along the X/Y axis; the vertical plane represents loudness (in decibels), the horizontal is for frequency. In the digital realm, a parametric EQ looks a bit like the old arcade game Galaga, with the moveable EQ points acting like your cannon. (Luckily, there are no descending aliens.) With us so far?
Q — it's not just the Star Trek guy
Each of those EQ points is fitted with three controllable parameters: Primary frequency, gain or boost of the frequency, and bandwidth of the frequency, also referred to here as "Q." We'll start with the simplest and work our way up.
The primary frequency is, quite simply, the actual frequency you're affecting. Normally, you'll find whichever EQ point is closest to the frequency you want to boost or reduce, and then simply move it to the exact spot you'd like for the desired effect. Turning the boost or gain knob up or down determines how much you are boosting (or reducing) your chosen frequency in decibels.
Bandwidth, or Q, is the most technically challenging parameter to understand, but it's quite simple in practice. (Technically, bandwidth and Q are defined differently in the wider scheme, but for our purposes, they may as well be one and the same.) In the simplest terms, Q (as we'll refer to it from here out) reflects how wide the swath of the frequency spectrum you'll be affecting is. A wider Q affects a wider swath of frequencies, a narrower one offers more focused equalization.
When you turn the Q knob, you can see your frequency point swell or shrink. Narrower Q is great for boosting or reducing a very specific frequency — this is what you'd use when trying to eliminate an unwanted resonance, for instance. Conversely, a wider Q affects a greater amount of frequencies — usually as much as 10Hz above and below — making it more like a hatchet, versus a scalpel. That said, the primary frequency is always the most highly affected. Generally, a narrower Q is best for cutting frequencies and a wider Q is better for boosting, but there are no hard-and-fast rules.
Shelf or notch?
In addition (see, we told you it's involved), some EQ points in a parametric equalizer can be switched from Notch (the default for most control points) to Shelf. Shelf essentially eliminates all frequencies below or above the point you select, sort of like a frequency cliff. As such, Shelf is reserved for the lowest and highest control points on your equalizer.
In practice, Shelf allows you to set a point, say, on the low end of your EQ in which only frequencies higher than that point can pass through it (that's called a high-pass filter). You can also set a point on the high end in which only frequencies below your selected point can pass through (a low-pass filter). Confusing, right? It may help to just think of it like Gandalf from Lord of the Rings stabbing his staff at the Shelf EQ point. For the high-pass filter, Gandalf stops the bass from getting through: "Bass shall not pass!" For the low-pass filter at the other end, he stops all frequencies above your selected point from getting through: "Treble shall not pass!"
It's highly involved, but the best way to learn is to simply experiment. The freedom allotted by a parametric EQ is extremely useful in certain situations, letting you customize your equalization and your sound.
Hands-off headphone EQ
Now that your head is likely spinning with the complexities of parametric EQ, we wanted to finally discuss an automagic solution from Sonarworks. Sonarworks' studio sound-processing engine is already in use in more than 70,000 recording studios, and the company's processing tech has also made its way to the headphone market.
Sonarworks' now-discontinued studio software, Tru-Fi, has evolved into SoundID, the natural artificial intelligence-powered evolution of the tech designed to adjust for any frequency dips and peaks in your headphones' specific sound signature to create flatter, more linear sound reproduction. Dial your perfect sound in even further with a short series of audio tests that can tune your audio based on your individual hearing ability.
Custom-designed to each pair of headphones, SoundID is always updating its bank of supported headphones, set up to work with more than 406 different brand-name models as of summer 2020. While it's mostly hands-off, you can adjust the settings to a degree, including bass control and even adjust for your age to account for hearing loss.
We want to stress that we generally still prefer to tailor our own EQ by hand, but for those looking to simply set it and forget it, this is a viable option for your headphones. The SoundID mobile app is a free download, so you can preview the benefits on the world's most popular tune-playing devices and your favorite pair of headphones.
Targeting your efforts
As promised, we've provided a breakdown of the frequency spectrum to help you get your head around which sounds live where. If you're ever stumped, this guide can help you drill down to the offending (or lean) frequency to help you make a more effective adjustment. Below are guidelines, not steadfast rules, and your own auditory input is what makes this process all the more personal and enjoyable. And that's the point: Have fun!
Sub-bass: 20Hz to 50Hz
While humans can technically hear down to the depths of this register, most of these frequencies are less cerebral and more gut. Somewhere in the middle of this register is where your subwoofer will make that eerie sound of deep space in sci-fi movies, and these frequencies can add some serious, unearthly power. However, you would very rarely want to add more of this sound, and taking away from here can help give the music more overall clarity.
Bass: 50Hz to 200Hz
The majority of the time, a stalwart hip-hop groove will start at or around 60Hz. The foundational, big-hitting lower register that spouts forth from your subwoofer rests in this domain, including the heavy punch of the kick drum, and even lower tom drums and bass guitar. Moving up toward the 200Hz line begins to affect the very lowest boom of acoustic guitars, piano, vocals, lower brass, and strings. If the music is too darn heavy, or not heavy enough down low, a bit of an adjustment here will help.
Upper bass to lower midrange: 200Hz to 800Hz
Rising above 200Hz starts to deal with the lighter side of the low end. This region is where the meatier body of an instrument hangs out. Adding EQ volume around the middle of this spectrum can add a bit of oomph to richer tones, including the lower end of vocals, deeper notes from synthesizers, low brass and piano, and some of the golden tones from the bottom of an acoustic guitar. Lowering the level a bit here can clear up some space, and open up the sound. Moving to the 800Hz region, you'll start to affect the body of instruments, lending more weight with addition, or lightening the load with subtraction.
Midrange: 800Hz to 2kHz
This area is a touchy one that can change the sound quickly. Putting on the brakes in this region can take away the brittle sound of instruments. Adding some juice, especially toward the top end, can give things a metallic touch, and can wear down your ears quickly if pushed.
Upper mids: 2kHz to 4kHz
As mentioned above, this register is where your ears aim a lot of their focus. Adding or subtracting here can raise or lower the snap of higher instrumentation quickly. Sounds like the pop of snare, and the brash blare of a trumpet can all be affected here. Adding a little push here can give more clarity to vocal consonances, as well as acoustic and electric guitar and piano.
Presence/sibilance register: 4kHz to 7kHz
This is commonly referred to as the presence zone and includes the highest range of pitches produced by most natural instruments. Boosting the lower end of this scale can make the music sound more forward, as if pushed a little closer to your ears. Backing it off can open the sound and push instruments away for more depth. The upper end of this region is also responsible for the sharp hissing "s" of vocals, known as sibilance. If sharp consonants are popping out at you like the bite of a snake, cutting a few dB from around 5kHz to 7kHz can solve the issue, and save you some pain and suffering.
Brilliance/sparkle register: 7kHz to 12kHz
Raising or decreasing the level at the lower end of this register can help bring some vibrancy and clarity, adding a tighter attack and a more pure sound. If things are a little too sharp or causing some pain after listening for too long, lowering the bottom end of this register can help out quite a bit. Toward the top is where things start to space out into less tangible definition, moving away from what you can hear and more toward what you can feel. That shimmering resonance at the tip of a cymbal crash floats around in the regions of this space.
Open air: 12kHz to 16kHz
Once you get up here, things become more subjective. The bottom registers continue to affect the higher overtones of instrumentation, and synth effects from electronic music can pop around in that region as well. Moving further up, it becomes more about creating a spacier, more open sound. There are very few points in which you'd want to affect the sound much around 14kHz or above — many older listeners won't be able to even hear these sounds. If you want to boost a bit of space in the belfries of the music, you can add some level here. Too much, however, will make things start to sound synthetic.
Editors' Recommendations
Sours: https://www.digitaltrends.com/home-theater/eq-explainer/
ULTIMATE EARS BOOM works with Bluetooth-enabled devices that support A2DP, such as smartphones, tablets and personal computers. When you turn ULTIMATE EARS BOOM on for the first time, it automatically goes into pairing mode and searches for a Bluetooth source device to pair with.
To pair ULTIMATE EARS BOOM with additional source devices, press ULTIMATE EARS BOOM's Bluetooth button for 3 seconds. ULTIMATE EARS BOOM will enter pairing mode, make a sound, and flash its Bluetooth LED while searching for another device. Once the next device is paired with, ULTIMATE EARS BOOM will sound to confirm pairing and the Bluetooth LED will remain solid white for 15 seconds.
ULTIMATE EARS BOOM will remember the last 8 devices it was connected to. The next time the speaker is turned on, it will attempt to reconnect automatically to the last device it was connected to before it was turned off.
NFC
To pair ULTIMATE EARS BOOM with the NFC-enabled devices, hold your NFC-enabled phone directly against ULTIMATE EARS BOOM's NFC tag for 2 seconds. Once the pairing is successful, the speaker will make a sound to confirm. (Some devices may ask for confirmation from the user.) ULTIMATE EARS BOOM's pairing mode times out in 3 minutes.
Lost your connection?
ULTIMATE EARS BOOM's Bluetooth range is approximately 15 meters, or 50 feet. If you take your source device out of range, the connection will be suspended. ULTIMATE EARS BOOM will automatically reconnect if the source device is brought back in range within 5 minutes. After 5 minutes, the active connection will be dropped.
PLAY
Once ULTIMATE EARS BOOM is on and connected, simply select and play any music content from your source device. You can control volume from your source device, or directly on ULTIMATE EARS BOOM.
BATTERY MANAGEMENT
By pressing the + and –
volume buttons
simultaneously, you will
get a voice prompt
indicating the percentage
of battery left in your
ULTIMATE EARS BOOM
Expected battery life is approximately 15 hours. Battery life varies depending on volume.
Press the + and – buttons on ULTIMATE EARS BOOM at the same time to hear your battery level spoken aloud. The default language for this battery information is English.
You can change this language using the ULTIMATE EARS BOOM App for iOS or Android.
Download the ULTIMATE EARS BOOM app.
Your speaker battery is recharged through a micro USB cable. For optimal battery charge, ULTIMATE EARS BOOM comes with a custom AC power supply and a micro USB adapter cable that provides additional voltage and charges ULTIMATE EARS BOOM faster.
Sours: https://support.ultimateears.com/en/guide/boom/
Best settings 2 boom
It was so unexpected and so pleasant that she even stopped breathing for a while. And when she was able to make the first exhalation, the rhythm of her breathing immediately obeyed the rhythm of the music sounding in her body. The music spread in waves of gentle, affectionate, erotic; they ran along the energy meridians and dissolved in the lower abdomen.
Blossoming in flashes of sounding splashes.
Servis Logitech Ultimate Ears Boom 2 Rusak Mati Total
But Everything is in order. I wipe myself off, put on the set that I brought, stockings, thong panties, a negligee, a wig, paint my lips, look. In the mirror, ready to kiss and fuck myself. the final touch I put on a mask, beautiful with feathers, let it be a little intrigue.
I turn off the water and go out.
Similar news:
This man. You have dreamed for so long that he would finally meet you. The first time you saw him, the first time you got to this closed club. People do not gather here to meet, dance, relax. Here they lead some lengthy conversations to which you have always been too lazy to listen.
1298
1299
1300
1301
1302