60 Most Delightful Short Wavy Hairstyles
Wavy hair? A blessing or a curse? If your hair is naturally straight, you certainly envy all those curly beauties, while they are breaking their heads over how to style wavy hair, that is, by the way, not always so neat and fun as it may seem on photos. Another question is whether short haircuts are compatible with wavy hair. Many women are tempted to cut their naturally curly hair shorter for summer but hesitate, wondering if they are going to have issues with styling. We have gathered the best examples of short hairstyles, recommended by stylists for wavy hair. View the pictures below, enjoy and get inspired!
How to Style Short Curly Hair?
When your hair gets proper care, it's much easier to style. Use shampoos, masks and conditioners for curly hair. These products nourish and moisturize your locks, help to handle the frizz and make your hair more obedient. Hairstyles for naturally curly and wavy hair normally last long. The only thing that can impair your 'do is moisture. However, if you apply a special serum for curly hair after a wash, you may not afraid of moisture. Such serums are present in the product lines of all the top hair product brands.
Popular Types of Hairstyles for Curly Hair
If you want to achieve ideal curls, you need first to blow dry your locks, smoothing them slightly with a round bristle brush, and then shape the curls with a curling iron.
In case you want to wear straight hair today, you would use a smoothing balm for damp hair and blow dry your locks with a round bristle brush. Next apply a flat iron.
Slightly messy hairstyles for curly hair are the easiest in styling. You simply blow dry your wet hair with a diffuser attachment.
Curly hair is usually very porous. That's why when you buy mousses and hair sprays for styling at home, opt for light hold products which won't weigh your locks down.
Haircuts and Hairstyles for Short Curly Hair
Speaking of basic haircuts for short hairstyles, contemporary ladies with wavy hair prefer short bobs and pixie haircuts. They both offer layering options, which are advantageous for curly hair. The thicker is your hair the less layering you normally can afford, unless your haircut is extremely short.
Larger curls or loose waves look very showy and trendy in short hairstyles. These can be bouncy curls, maintaining shape, or chaotic waves with an effect of a "bedhead". Color accents in short hairstyles is one of the most chic tendencies nowadays. These can be either nuance or contrasting highlights throughout the head or on the bangs. It's better if you trust the delicate dying job to a professional stylist, because it takes skillful hands and experience to succeed in complicated matters like this one.
Anyway, you can't lie all the job and responsibility for your new image on your stylist's shoulders. You will have to do the most responsible part of the work – to choose the look you feel is yours. Here we are happy to assist you with creative ideas and inspiration.
#1: Wavy Sassy Bob
Curly hairstyles are sublime for showing off cute modern cuts and salon dye jobs. The highlights and lowlights are like elegant swirls. The key to this look is an angled cut, elongated towards the front, so be clear when describing to your stylist exactly how you expect the hair to frame your face.
#2: Curly Pixie with V-Cut Nape
It's not often that natural curly-haired girls opt for pixie cuts. The trick is to make sure that your strands stay hydrated and frizz-free. You accomplish this using water-based leave-in products and sealing with a dry serum containing argan, coconut, or macadamia oil.
#3: Sexy Tousled Wavy Bob for Brunettes
A tousled beach wave is an iconic trend for short curly hair that will never go out of style. When paired with a short bob, it gives hair a bouncy, voluminous look. Utilizing a tapered wand to add more definition rejuvenates two- or three-day-old hair. Loosening waves with fingers makes hair more relaxed.
#4: Jaw-Length Curly Messy Bob
A jaw-length cut helps to delineate round and oval shaped faces by creating the halo that continues the lines of the face. Tight curls easily add height and/or width where necessary,without extra product or manipulation due to the curls' inherent voluminous nature.
#5: Messy Curly Pixie Hairstyle
Curly-haired women can rock longer pixie cuts beautifully. The style is ideal for women with looser waves that are manageable. Cut cute side bangs which will help your thick, curly locks flow nicely, without any annoying frizz.
#6: Voluminous Short Curly Bob
Your short, naturally curly hair will look incredible with a poofy jaw-length bob. Part your thick, wide curls to the side or in the middle to create a nice rounded shape that looks great on petite women. Subtle highlights will bring even more depth to your luscious curls.
#7: Nape-Length Curly Balayage Bob
One of the great things about curly hair is a lovely texture with minimum effort and an opportunity to showcase color variation with balayage. Any highlights look more natural with curly hair since the lighter pieces are intertwined and blended with the darker base.
#8: Brown Curly Hair with Highlights
This throwback 1980s hairstyle is here for another round as more and more women are chopping their long locks and opting for short, thick wavy styles instead. Those with naturally curly hair will have the most success with this, as it can be easily styled with a quality hair product. For those who aren't blessed with a natural kink to their hair, a perm would be a low maintenance solution.
#9: Cute Pixie with Curly Bangs
Try shaping your thin tresses into one of these sophisticated short haircuts for curly hair and you'll be amazed at how thick and healthy your natural waves can be. The pixie cut that has a lot of height on top and closely-cropped sides looks chic and modern. Add some long, side-swept curly bangs for a special feminine touch.
#10: Curly Pixie with Shaved Nape
Women with curly hair try to find styles that will stand the humidity and temperature fluctuations throughout the day. A short curly pixie with sideburns and some extra height will never disappoint you. The nape with shaved geometric designs is a snazzy and unexpected detail.
#11: Short Bob with Whipped Curls and Babylights
A light highlighting job accentuates each individual ringlet, as monotone colors tend to mask texture. Boosting the texture with a sea-salt spray and light-hold hair mist makes a hairstyle more interesting.
#12: Angled Brunette Bob with Messy Curls
Layers and angles work really well with naturally curly hair, so if you're thinking of making the switch to a shorter cut, give the angled bob a try! The shape of this hairstyle keeps the messy wild curls in order and under control.
#13: Jaw-length Curly Brown Bob with Highlights
A well-shaped short bob will look fantastic on women with thick and thin curly hair. If your hair is dark brown, it will look more dimensional with highlights. Add some subtle copper highlights for extra shine and eye appeal.
#14: Lob-to-Bob Transformation
An outgrown bob can be so easily transformed into a versatile short, wavy hairstyle. By taking off a little length, just enough to get rid of the damaged ends, your curly hair will spring back immediately. The slightly inverted shape and combover bangs have a subtle sexy appeal.
#15: Jaw-Length Curly Brown Bob
When you're looking for an easy-to-style haircut for your wavy, curly hair, go for a classic, jaw-length bob with layered ringlets. The side part helps control the volume, and a sweet tiny barrette placed strategically in the front will keep the long bangs out of your eyes.
#16: Shaggy Curly Brunette Bob
Short-to-medium cuts are very popular nowadays. Long, shaggy tendrils parted in the center are a great way to rock your natural, wavy hair. This wash-and-wear cut with its tousled chocolate brown curls looks effortless and summer-ready all year round.
#17: Soft Brown and Caramel Wavy Bob
There's so much you can do when you have short wavy hair. The relaxed texture of your waves looks great when cut into a bob. Add in caramel highlights to really accent your curls and bring life to the cut. If you wish, you can add side bangs that frame your face nicely.
#18: Short Curly Hairstyle with Long Face-Framing Pieces
In this pretty cut, wildness borders with accuracy, and the natural brown color is brightened by copper highlights. The elongated sideburns are an extra detail that can help you make the hairstyle one of a kind.
#19: Black Curly Inverted Bob for Thick Hair
The angled haircut has an elegant yet spunky vibe. It slightly lifts the nape section for a more geometric shape of the cut that's still softened by curls. Short wavy hairstyles have never been more feminine and classy.
#20: Dark-Blonde Short Curly Hairstyle
Bronde hair colors are great in-between shades that don't require too much commitment or maintenance. Pairing this hairdo with bangs and "wet" styling for wavy hair is sure to turn heads.
#21: Inverted Bob for Black Curly Hair
A favorite choice of short, curly haircuts is an inverted bob that can also be blown out and worn straight. The jaw-length cut is subtly angled and parted on the side, and the long, bouncy side bangs add a sassy flair to your look.
#22: Simple Short Hairstyle with Scrunched Curls
Not everyone has time in the morning to spend 20 minutes styling their hair to perfection. Those who live on-the-go will appreciate a simple cut that allows to air dry hair and get a cute hairstyle. You can use a special air-dry product, simply scrunch to shape your ringlets and then be on your way.
#23: Black Tapered Pixie for Wavy Hair
If you're looking for short, wavy haircuts for women with thick, hard-to-tame hair, try a short, tapered pixie with a voluminous top. The closely cropped nape helps control volume, and the outgrown bangs and side sections work with the fluffy waves to celebrate their volume and unruly nature.
#24: Nape-Length Blonde Curly Bob
Blonde curls have dimension and definition like no other color. However, blondeis also the first color to exhibit signs of damage. Deep condition once a week to upkeep the health of your hair.
#25: Short Bob with Long Edgy Layers
You should always try to put a little bit of your personality into your hairstyle, so if you like to live on the edgier side of things, opt for long uneven layers with a pixie cut. If your hair is naturally wavy, it's a beautiful and low-maintenance cut for you to try on your next salon appointment.
#26: Bouncy Curly Black Bob
Bouncy curls signify moisturized and pampered locks. To achieve this hairstyle for short curly hair, scrunch in a lightweight leave-in conditioner with aloe vera or glycerin while hair is still damp. After, lightly diffuse with a blow-dryer on a low heat.
#27: Curly Rusty Red Lob
If you have decided to embrace your wavy, curly hair by letting it grow out long and full, you might still want to keep an overall defined shape. A center-parted inverted lob will stay slightly weighed down if you let the curls grow long enough. The inverted angle gives you that sense of freedom and confidence that curly-haired girls thrive on.
#28: Soft Curly Inverted Bob for Shorter Hair
Subtle caramel highlights cascading over a chocolate-brown base bring a summery feel to any season. Accompanied by soft curls, this look is feminine and gentle. Sprinkle a salt spray and tousle with fingers for a beach-ready vibe.
#29: Golden-Brown Thick Curly Bob
Maintenance and styling manipulations for thick curly hair can be difficult to repeat on a daily basis. To increase manageability, ask your stylist fora short naturally curly haircut made with thinning shears. This look is aesthetically pleasing in pictures and real life.
#30: Casual Scrunched Hairstyle for Short Curly Hair
Because it is so easy to wake up with beautiful hair, short haircuts for curly hair are naturally more laid back. With the right products, you won't have to use any hot tools when styling your locks. Simply scrunch for definition and you are ready!
#31: Scrunched Curly Brunette Bob Hairstyle
The wet-hair look was popular in the nineties and has resurfaced with a modern twist. Hydrated ringlets finished by scrunching with a medium-hold gel result in a messy yet polished hairstyle.
#32: Short Black Hairstyle with Tousled Curls
Frizzy hair can be done in a manner that is wearable and chic without seeming like bedhead. To accomplish this, manipulate hair in a dry state so you maintain the strand-by-strand separation.
#33: Pretty Curly Brown Pixie Bob
Athletic women with short, curly hair will appreciate a haircut that´s easy and fast to style right out of a locker-room shower. Something between a pixie and a bob will give you a convenient and pretty look to fit into your active lifestyle.
#34: Short Messy Curly Hairstyle
With curls, super short hair can seem daunting, and at times, impossible. However, the right haircut allows you to do more than you would have ever imagined, which means you don't need to shy away from a cropped style. Choose a short bob and let your naturally curly hair fall loosely in a messy way.
#35: Curly Dark Chocolate Brown Pixie
The long bangs and face-framing tendrils keep the tomboyish silhouette of the hairstyle feminine and soft. The short, layered haircut is a great option for women with thick or thin hair because the closely-cropped sides work well with any hair type.
#36: Curly Combover Bob
A light brown bob with blonde highlights will make your natural curls look healthy and shiny. A combover is an ideal pick for women with full faces, as it builds the necessary height on top and balances out a chubby face.
#37: Edgy Brunette Bob with Glossy Waves
Dynamic layers and razored ends are the perfect combination for an edgy bob. A dramatic dark brown, almost black, color will top off the punk vibe of the haircut. Ask you stylist for a hair gloss treatment that gives your hair an enviable shine and a touch of glamour.
#38: Metallic Blonde Jaw-Length Bob
For women who have difficulty finding styles to make their thin hair look thicker, we suggest a wedge bob with tousled, sassy waves. Wearing your short, wavy hair in a jaw-length bob gives you a youthful appearance, and a bright blonde color with slightly darker roots creates the illusion of thicker and more voluminous curls.
#39: Short Shattered Curly Bob
The shattered short bob in a dark color has a dramatic Hollywood flair. The hairstyle is best for women who have naturally wavy hair and who don't mind the spontaneity of it looking slightly different each time it's washed and styled.
#40: Nape-Length Brown Bob with Messy Curls
Hairstyles for short curly hair will naturally hold a lot of volume, so it's best to use it to your advantage. In order to give some structure to a messy hairstyle, get a neatly trimmed nape that frames the scrunched tousled curls above.
#41: Side-Parted Wavy Curly Bob
Thin chestnut brown hair doesn't have to be plain; add a subtle splash of light brown highlights to liven it up. Use your natural, wavy textures to your advantage and try an inverted style. Scrunch your wet hair with a bit of curl cream to define the curls and tousle them a few times while they are air-drying.
#42: Short Curly Brown Bob
Short, curly hairstyles can be as fun and feminine as longer hairdos. This short bob is eye candy from every angle! It's a great choice for a long face or a triangular face shape because it covers a big forehead and gives enough fullness on the sides.
#43: Undercut for Curly Hair
A little bit Tinker Bell, a little bit sexy vamp – this undercut is an excellent option of short curly haircuts there are to choose from. Add in some subtle highlights to brighten the look and keep your thick wavy hair lovely all day long.
#44: Stacked Curly Bob
Go for a curly bob when you're looking for a hairstyle that is all glam without a ton of effort. If you have an unusual hair color like red, flaunt it instead of conceal it. Try some brightening highlights or a henna wash to make your fiery locks really stand out from the crowd.
#45: Curly Q Haircut
The choice between a curly bob with bangs and a curly pixie is the choice of length. Want something in between? Opt for a long pixie. Gorgeous curls of girlhood are revived for this grown up hairstyle. Curls appear everywhere in this long pixie, including sideburns and neck line.
#46: Curly Black Tapered Pixie
Short tapered cuts are boyish; however, soft waves add a flair of delicate femininity. Long earrings exemplify elegance and grace while emphasizing the neckline and chest, balancing masculinity.
#47: Shorter Black Messy Hairstyle
When picking a short haircut for curly hair, make it your own with customized layers, length, and color. A more layered cutleans toward the messier side, whereas a longer one with fewer layers looks more womanly and polished.
#48: Naturally Curly Beauty
Short haircuts for curly hair are fun, low-maintenance and chic. Natural curls are gorgeous, and if you happen to have straight hair you're not out of luck. Today's curly hairstyles are often made with hot roller sets and curling irons that are gentler on hair than ever before. Remember to use a strong hold spray, but opt for the one that still allows your hair to look soft and beautiful.
#49: Nape Length Wavy Ash Brown Bob
Wavy hairstyles are perfect for romantic cuts like a soft nape-length bob with bangs. A wavy bob looks great when paired with a sophisticated color, so opt for an ashy brown. To keep your hair looking natural, add in subtle lighter brown highlights here and there for a little bit more vibrancy.
#50: Short Bob for Curly Hair
Curly girls can rock a bob like none other – but keep it modern with a trendy hair color and plenty of dimension. A blunt, close cut along the neck line topped with a mass of gorgeously highlighted ringlets will make for a winning look any time you want to update your short style.
#51: Angelic Blonde Balayage Bob with Curls
Want your hair to look like a halo hovering over your head? A super short bob can help you achieve this effect. Cut stacked layers and thick bangs so your hair forms the halo-like shape around your head, and throw in blond balayage highlights to finish off the look.
#52: The Short and Long of It
Short hairstyles for curly hair often depend upon some length variation. As is shown with this style, the underneath layer of hair is cut close to remain straight, while the top layer of longer curls is allowed to flow free.
#53: Curly Golden Brown Pixie
When you have tight ringlets, sometimes a tidy and clean short style is the best option. Consider the tapered curly cut that shows off the curls and keeps the nape neat thanks to the close crop. It's important to make sure your hair stays frizz-free, so you might want to invest in a nice spray or styling cream that will help maintain your curls controlled and defined.
#54: Tousled Wavy Bronde Bob
Short curly hairstyles aren't always perfectly styled. Apply a few pumps of texturizing spray to your wet locks and scrunch for a tousled look. The result is effortless, and fast to achieve!
#55: Soft Curly Tapered Pixie
Knowing your hair's texture is key to finding the perfect cut and style for your curls. Thick yet fine hair lends itself well to textured, tapered pixie cuts. Spice it up with subtle highlights to enhance the dimension of the look.
#56: Black Wet Curly Bob with Subtle Highlights
Some may think that rocking the wet, mermaid style hair means you need long, flowing locks, but you can pull off the look even with a short bob. Layer in some babylights that accent your ringlets. Dark brown shades are great damp or dry, so no matter what hairdo you're in the mood for, you have a style that will work.
#57: Cute Curly Bob
Being blessed with natural spirals can come along with the curse of a lot of maintenance. Hair care can become a complex of game involving dozens of expensive magic potions. So why not go for short curly hair? Keeping the front just a teeny bit longer and the top full of volume makes the style easy to pull off.
#58: Side-Parted Messy Bob for Wavy Hair
Sometimes curly or wavy hair won't have a clean, even part, so it's up to you to work with this natural spontaneity in your locks. A great way out is parting your hair deeply to the side and letting your waves fall messily.
#59: Curly Brunette Bob with Bangs
Natural curls have some special effortless flair about them that can be hard to achieve in curled styles for straight hair. Instead of straightening your bob, encourage the curls, defining them with a styling product of your preference – mousse, cream or foam.
#60: Natural Textured Curly Hairstyle
Short curly hair is fun and easy to style. In order to do get the most out of your hair, let your natural curls fall where they wish and fix any frizzy pieces with a texturizing or de-tangling spray. Your hair will look vibrant and enviable!
Wavy hairstyles for short hair are so diverse and individual. Every weave is exceptional and every shape is distinctive. Even if you try to follow one of these examples, your hairstyle will be exceptional, because it's going to be brightened up by your unique facial features and hair characteristics.
Sours: https://therighthairstyles.com/20-most-delightful-short-wavy-hairstyles/
29 Most-Flattering Short Curly Hairstyles to Perfectly Shape Your Curls
Short Bob
Instagram @rodrigocintra
Wear this short bob, and feel proud displaying your natural curls. It features a curly fringe, too, for a pop of excitement. When you have a pale skin tone, a dark ginger hair color will be flattering on you. It's just one of those short hairstyles for curly hair we love!
Modern Short Curly Hair
Instagram @curlsamore
This is a modern, short curly hairstyle that adds glamour to your presence. The brown highlights are a great addition to women with black tresses. For a proper care routine, opt for products that offer intense moisture as curls can be prone to dryness.
Voluminous Chin-Length Curls
Instagram @charlieathaus
This short haircut is a chin-length curly bob. Based on your head shape, ask your stylist if you can have a 90-degree haircut that adds lots of texture.
Use a cream-based curl-defining product to soften and tame the frizz, and a light volumizing mousse to keep the curls in place and add volume.
Short haircuts for curly hair are great for women that want a fun, low maintenance, and voluminous style. It's perfect for women who don't want to spend too much time styling their hair in the morning.
Angled Curly Bob
Instagram @whitneypatriceartistry
A fresh angled curly bob cut and pops of blonde highlights—this is how you enhance your natural hair. The perimeter follows the neckline to preserve the shape and fullness of your mane. Embrace a few grey strands visible on your dark tresses as they also add texture to your final curly bob hairstyle.
Fresh Stacked Bob
Instagram @ceremonysalon
A fresh stacked haircut on curly hair like this will leave you feeling breezy and lightweight all day long! A short curly stacked bob so easy to style and maintain – just a little product to scrunch your dashing curls with, and you're ready to go.
Gorgeous Tight Curls
Instagram @slickback_buttahtoast
These tight ringlets are known as a sculpting dry cut. Look at the hair as a whole to create a round shape that gives it that volume at the top of the head and falls more into flattering round layers that frame the face.
Avoid pulling, brushing, and combing your curly hair. Ask your stylist to cut each curl where it wants to sit to create that shape.
This technique also works on shoulder-length hair that has tight curls or coils.
Style short curly hair by cleansing your hair with a non-lathering curl cleanser, and condition it with a clean water-soluble conditioner. Lastly, keep your dryer in a low, warm setting.
Frizzy, dull hair is hair begging for moisture. NYC Curls by Carlos Flores and Curly World by Lorraine Massey are great products for short curly hairstyles. This cut suits all face shapes, and tight curls or coils carry this cut very well because of their fluffiness and bounciness.
Sleep on a satin pillowcase. Make your own curls refresher (filtered water, your favorite conditioner, and gel) and sprits your hair in the morning to produce bouncy curls.
Lovely Curly Bangs
Instagram @_thegirlwiththecurls_
Flaunt your natural hair texture and embellish it with lovely curly bangs. Notice how the movement and volume both accent the highlights on these golden bronde locks. This jaw-length curly hair requires a trim every 8-10 weeks to maintain the shape.
This curly cut suits women who want an intentional disheveled look by maintaining length to play with, and not cropping down to the length of a pixie.
Since the curly bangs and overall haircut were approached technically, you'll have the freedom to make minor variations day to day based on your natural hair texture.
Curly Pixie
Instagram @jomcintyrehair
Here's a curly pixie cut to celebrate curly-haired girls! It's a chop that creates a stunning payoff on natural curls. When styling it, use a diffuser to enhance the cut, adding more volume and definition.
Curly Side-Swept Bangs
Q&A with style creator, Master Stylist Tiffany Preto Hanright and Owner Sam Segretto
of Zazu Salon and Spa in Hinsdale, IL
How would you describe this?
This is a mod pixie with side bangs. It is left short with longer wavy tendrils on the sides. It's a wash and wear style which we love, and it's easy to take care of it.
What's your best advice?
Any hair type can be cut into this shape from thin, thick, curly, or wavy. The ideal face shape for this cut is oval. The beauty of this short curly hair cut is that you can alter the length on sides to detract or complement other face shapes. This curly cut can be air-dried or diffused, and it's an effortless wash-and-go style.
Modern Short and Curly Hair
Instagram @randa.rivera
This modern short and curly hair is for women who are proud to show off their natural texture. It's also the best style to add emphasis to fresh highlights. In total, it's a short curly hairstyle that gives a bolder edge. For a proper care routine, opt for products that offer intense moisture as curls can be prone to dryness.
The Curly Lob
Instagram @slickback_buttahtoast
Bob cuts are for women with all hair types and textures! Create inspiration with this curly lob. Strands at the front are touching the shoulders for a subtle framing effect around the face. A curl mousse at the root, curl cream, and style cream on the ends all do magic. Apply these products, and finish the look with a softer and touchable result.
Naturally Curly Slightly Angled Bob
Instagram @gianni.rando
Show off your naturally curly hair with this chop that will make your tresses fuller-looking. The luscious blonde color also suits you and your cool skin tone. Use a styling cream to add tons of volume and definition to your locks.
The Curly Inverted Bob
Instagram @susanleestylist
Wear the curly inverted bob when wanting something bold and alluring. This short haircut takes minimal effort and time to make it look good. It's carefree, playful, and low-maintenance. Short curly haircuts like this work best on oval-ish or longer face shapes. Women who are fun and don't mind looking a little tousled can pull this off!
Pretty Curly Hair with Bangs
Instagram @mouseybrowne
The pretty curly hair with bangs is a 50s-inspired bob. Opt for this short curly hair to enhance natural texture. When drying such tresses, use a diffuser to secure more volume and definition. Be mindful that to maintain its rounded shape, regular trims are a must.
Disconnected Curly Pixie Cut
Q&A with style creator, Cherise Alexander
Stylist @ Immortal Beloved in Washington, D.C.
---
How would you describe this?
This is a disconnected pixie. This style of short curly hair requires little styling to look fabulous.Is one of our favorite short hairstyles.
What's your best advice?
Use a curl cream or curl gel-like Oribe's Curl Control Silkening Creme or Oribe's Curl Gloss. Short natural curly hair is best air-dried, but can also be diffused on high heat/low intensity.
Women with naturally curly hair see the best results, but women with straighter hair can achieve this using a product that has texture and hold.
Be prepared to get regular touch-ups with this cut! You won't have to do much styling daily, but you will need to maintain this hairstyle with regular salon visits.
Short Curly Bob for Women Over 50
Instagram @ash_domyhair
This is a short curly bob for women over 50. It's gorgeous and won't allow the hair to appear lifeless. This short curly cut is ideal for a lady with thick locks and a lot of texture. To style short curly hair, use Frizz-Free Volumizing Foam by DevaCurl to boost its texture.
Short Tight Curls
Instagram @hispaneek
These curls look soft and bouncy! You can't deny how fun and exciting to try these short tight curls. This cut works great on dark tresses with hints of a light brown shade that brings out an added brightness. Don't forget to only dry your curls with a diffuser to keep them intact.
Choppy Curls with Long Bangs for Round Face Shapes
Instagram @_sophiedoeshair_
These choppy curls with long bangs for round face shapes are whimsical! The chop is the perfect short wavy haircut for women with a chubby face or round faces. The long bangs frame the face, giving it a narrower appearance. Talk to your stylist about cutting each curl without tension, so it looks effortless.
Short-to-Medium Curly Cut
Instagram @ells_marie
This is a short-to-medium curly cut that will show off your natural hair texture. Get this chop, and it'll look sexy on your shiny, black locks.
Messy Short Curly Cut with Undercut
Q&A with style creator, Gypsy Kiss Sturgeon
Senior Hair Artist @ Citrus Hair Salon in Yaletown, Vancouver, B.C.
---
How would you describe this look and what is your favorite thing about it?
This is a short curly haircut It is a customized asymmetrical and detailed messy undercut. It has versatility due to the undercut and the customized sideburn curl on the right side.
What's your best advice?
Using a 1/2 inch wand, spot create some perfectly unruly curls. To finish, scrunch in and perfect with a cocktail of a small amount of Kevin Murphy's Un.Dressed fibre paste and Davines' This Is An Oil Non Oil. Use the Un.Dressed alone to perfect the sideburn piece as desired.
This cut is for women that have thick and curly hair and enjoy a slightly more edgy and versatile look. This messy undercut is also for women who are able to execute a four to six week haircut maintenance regime.
Jaw-Length Curly Layered Bob
Instagram @tatumneill
The key to shape bouncy-looking hair lies in the layers. Notice how this jaw-length curly layered bob makes a great hairstyle that's full of life. With light brown highlights on black tresses, the texture is sure to emphasize even more.
Curly Cropped Cut
Instagram @joemiguel_
Here's a charming curly cropped cut that will give your hair texture the new zest it needs. The brown hue and those defined curls create a softer and fresher vibe. When styling this cut, a sea salt spray will enhance your tresses for extra flair.
Curly TWA for Black Women
Instagram @krewkutz
Feel the breeze on your neck and opt for such a freeing haircut. This black curly TWA for black women gives off a dazzling and powerful impression that's inspiring. Knowing that this curly cut is easy to maintain and style, you gotta love wearing it for some months.
Curly Ringlets Shag
Instagram @jalex.marty
A hairstyle that you can pull off either on casual or formal events! Class up these beautiful curly ringlets shag with painted highlights for added shimmer. By using the best hydrating hair products, your curls will keep looking shiny and healthy.
Sweet Short Haircut for Curly Hair
Instagram @tilly_moses_folk
This sweet short haircut for curly hair has a classy, modern finish. This cut is perfect for women who want a gorgeous short hairstyle for curly hair. Notice how this curly hairdo offers sophistication with an edge. Feel free to use a wave foam to plump up those rockin' curls.
Short and Curled for Thin Hair
Instagram @itstayloranne__
Short and curled for thin hair haircuts stirs up a style that screams elegance! It grows out beautifully and is easy to jazz up. The super short length of cut can make fine tresses appear fuller and thicker. Keep the short curls moisturized for a more defined outcome.
Short Shaggy Curls
Instagram @marykneeve
Short shaggy curls are perfect for tresses that have effortless texture and movement. The shag cut is one thing that can boost the hair's natural shape. This hairstyle is very stylish, especially with blonde highlights for added brightness. Guaranteed—it matches a fun-loving attitude!
Short Thick Curls
Instagram @karessthestylist
These short thick curls are great to show off the hair's fullness and volume. The style looks alluring and creates a bolder effect.
Cute Tight Ringlets on Short Hair
Instagram @sarahkolb94
Put a whole different definition to springy with a crown of lovely coils. Perfectly partnered with a pixie cut, twirled tresses can be of various lengths to create a fuller look. Cute tight ringlets look great on women with a round face.
Sours: https://www.latest-hairstyles.com/curly/short.html
50 Cute and Feminine Short Curly Hairstyles for Women
There are tons of ideas for short curly hair of any type/curl pattern. Even if they are a little coarse or unruly, there is a way for every type of curl to look amazing at all times. All you need is some inspiration and the magical hands of a professional stylist!
Explore these 50 cute ideas and find a perfect hairstyle for your short curly hair in 2021!
1. Short Curly Hair for Black Women. Playing with trendy colors and the wet texturizing effect is a must-try if you're after a creative hair experiment.
2. Super Short Curly Hair Cut. A cute yet edgy hairdo to show off the flawless shape, contrast of textures, and your beautiful bone structure.
3. Curly Hair with a Nape Undercut. A very modern and exciting take for short curly-haired women. Definitely a way to a statement-making 'do for warmer days.
4. Shaggy Hairstyle for Short Curly Hair. A great style that effortlessly lets you volumize the top of your hair while also complimenting your long neck!
5. Short Curly Hair with Bangs. Styling your curls with bangs can be easy; you just need to find your perfect fringe style. Try loose ringlets and a messy texture for a relaxed French feel.
6. Medium Short White Curly Hair. As well as grays, white hair is actually very much in style. Play with the tones and sizes of your curls for extra volume!
7. Short Hair Cut for Gray Hair. Grays don't have to be boring: with the right styling of your curls, the best shades of your beautiful gray hair will show themselves off.
8. Short Curly Pixie Hairstyle. A neatly designed asymmetrical pixie can make you look super delicate and cute. To style short curly hair this way, leave your top longer to flaunt messy curls and undercut the sides.
9. Messy Short Curly Hair. Beautiful short curly wavy hair will help you show your lively soul and make you look stunning and full of energy. Messy hair that looks careless and gorgeous – you will definitely be satisfied!
10. Very Short Curly Hairstyle. If you are fond of extra short curly hairstyles, try this one – it will look splendid with any look you choose whether you are going to the office, a cozy family picnic, or on a date. It is also a great choice for thick curly hair.
11. Cropped Fluffy Curls with Bangs. Choose any style of bangs you like – they can be short or long, thick or thin, covering your forehead or swept to the side – experiment and find the look that will deliver confidence and a perfect mood for the day.
12. Short Curly Gray Hair. If you've got something to say and want to do it in style, get a bold hairdo like this one to make everyone hear your beautiful voice!
13. Red Curly Flames. Short fiery red hair may bring a classy retro vibe to your look or, on the contrary, make your appearance modern and edgy. Depending on the occasion, it can be a cute hairstyle or a bold and quirky look.
14. Curls with Cropped Bangs. This is one of the trendy hairstyles for short curly hair that will bring you French charm – elegant, classy, and, by all means, captivating. Your short natural curly hair will never go out of fashion.
15. Soft Curls with Bangs. Highlight the beauty of your eyes with stunning short haircuts for curly hair. Such hairdos frame your face showing its graceful features and highlighting the cheekbones in a flattering way.
16. Short Curly Bob Hairstyle. Short haircuts for curly-haired women are always a go-to. After looking at this cute messy bob style, all you'll want to do is make your next hair appointment!
17. Messy Bouncy Curls with Bangs. This wild short curly hair style for women expresses creativity and a vivid personality. Your bangs won't bother your eyes, so you may work and relax without worrying about your locks.
18. Short Pixie for Thick Curly Hair. Imagine wearing a perfect dress, suit, or any other of your favorite outfits, and large earrings. Complete your fashion statement with this funky option of short curly haircuts for a dream-come-true look!
19. Short Curly Undercut Haircut. Combining short naturally curly hair on top and straight hair in the back creates an unusual effect. This unique hairstyle is universal and will look great with any outfit you wear.
20. Breezy Above-the-Shoulders Curls. Short curly hair can boast an artistic look. Scrunch your wet locks with a bit of product and enjoy those effortless beach curls. Big curls will highlight your facial features, especially the eyes.
21. Short Undercut Curls. Layered short curly haircuts reveal your ears, allowing you to show off your earrings and make your pretty face shape visible. This is a great hairstyle for all occasions. It will help you to gain confidence and look fabulous in every situation.
22. Short Sides Long Curly Top. Get an undercut and leave a longer length at the top of your head full of curls. If you are not afraid to experiment with color, you may get an even more gorgeous result!
23. Dimensional Pixie for Over 50. Shed a few years with a modern hairstyle for short curly hair that older girls love since it gives them an opportunity to show off their inner power and friskiness.
24. Short Tight Thick Curls. Such tiny curls are quite hard to achieve, but if you are lucky to be born this way – congratulations! You need almost no effort to make your hair look fantastic. Go for the length you feel most comfortable with and define those ringlets enhancing your beautiful curl pattern.
25. Short Curled Hair for Older Ladies. If your hair texture allows it, add a cute little bang to your short-haired event. It will no doubt take a few years off and leave you feeling cheeky!
26. Short Blonde Cut for Naturally Curly Hair. Can't help but love these dusty pink curls on darker skin! The short frisky haircut only makes the whole look so much cuter!
27. Short Layered Curly Hair. Add a wow factor to your loose curly hair with an asymmetrical layered cut and a splash of color!
28. Curly Pixie Undercut. A deep undercut lets you have all the volume swept to one side, making this look appealing for low-maintenance loving girls.
29. Short Brown Curly Hair. Curly hair is amazing thanks to how easy it builds and maintains volume. Take this shaggy yet very cute style as an example! Looks perfect with glasses.
30. Short Cut for Brown Curly Hair. Another great low-maintenance styling option. If your hair features a soft texture with loose curls, you won't have to fuss around much in the morning with a cut like this.
31. Really Short Curly Hair. Get your hair looking its best with a short classic cut oozing the appeal of the roaring 20's.
32. Curly Red Hair Hairstyle. Make your curls scream "fun" with a messy naturally curly shoulder-length look.
33. Natural Big Curly Hair. We cannot help but love the effortless beauty of natural hair and how well it looks in a medium short curly hair cut.
34. Short Layered Cut for Thick Curly Hair. Messy styling of your chunky layered curls can add an exciting lionesque feel to your look.
35. Curly Bowl Cut. The modern undercut bowl cut is a fresh approach to short curly hair flattering for most face shapes, including fuller faces.
36. Natural Frizzy Curly Haircut. A tapered pixie gives your curls some space to move and grow while helping your cheekier side come out to play!
37. Very Short Curly Hairstyle. Don't be afraid to experiment with styles: short haircuts for curly hair can be super pretty, even during your growing out period.
38. Soft Black Curls for Short Hair. Rock your short lively curls shaped by a modern cut. Play around with a side undercut for an extra edgy feel.
39. Layered Pixie with Nape Undercut. Totally lovely styling of short hair with some loose bangs, face-framing pieces, and a deep nape undercut.
40. Curly Hair with Short Sides. Get an edgy feel, as well as the freedom to minimize your styling time, by getting this cut at your next salon appointment.
41. A Head Full of Thick Curls. This length is short enough not to bother you, but it shows off your beautiful curl pattern and provides a flattering shape.
42. Bright Red Short Curly Haircut. Try this easy-to-scrunch styling of colorful curls and watch people's excitement grow as they can't put the finger on your real age.
43. Short Curly Fauxhawk. Achieve this cute look by going really short on the sides and at the back, while bringing most of your volume to the top of your head.
44. Short Curly Blonde Hair. Nothing is better than hair that roams wild. Let your curls flow loose and add a faded undercut for a finished feel.
45. Everyday Pixie for Thick Hair. Give your thick wavy hair space to expand and grow with a casual tapered pixie cut, where the curls flow softly to the front.
46. Very Short Hair with an Undercut. There are so many options to style curly hair, why not experiment with a neat undercut?
47. Inverted Bob for Short Curly Hair. Bring all of your hair to the front stacking it shorter at the back. Naturally curly hair will hold the volume beautifully!
48. Curly Crop for Natural Brunettes. A longer pixie cut gives you an option of a thicker fringe as well as a nice wider face frame!
49. Rusty Red Curly Cut. Let out your fierceness with a statement-making cut and a color that will speak for you.
50. Colored Short Curly Wavy Hair. Make your curls even more exciting with some color added to them! Your opportunities are endless.
Regardless of the type of your curls, there are hundreds of haircuts for you to choose from. We hope that these 50 hairstyles for short curly hair have given you an idea of what to show to your stylist on your next visit!
Sours: https://www.hadviser.com/short-curly-hair/
31 Gorgeous Short Curly Hair Styles in 2021
Sometimes our stunning curls can be a little hard to tame. You might be worried to try out a shorter style of curly hair because of the volume it might create or the out of control frizz. You curls might also be heavy and weigh down the ultimate look you're trying to achieve. Fortunately, there is a variety of cute short hairstyles that are perfect to try out with curly hair.
We found a few of our favorite looks and decided to share them with you. Here are 31 of our favorite curly hair short styles you need to try out.
1. Short Pixie
Keep your curls tight and short with this adorable short pixie style.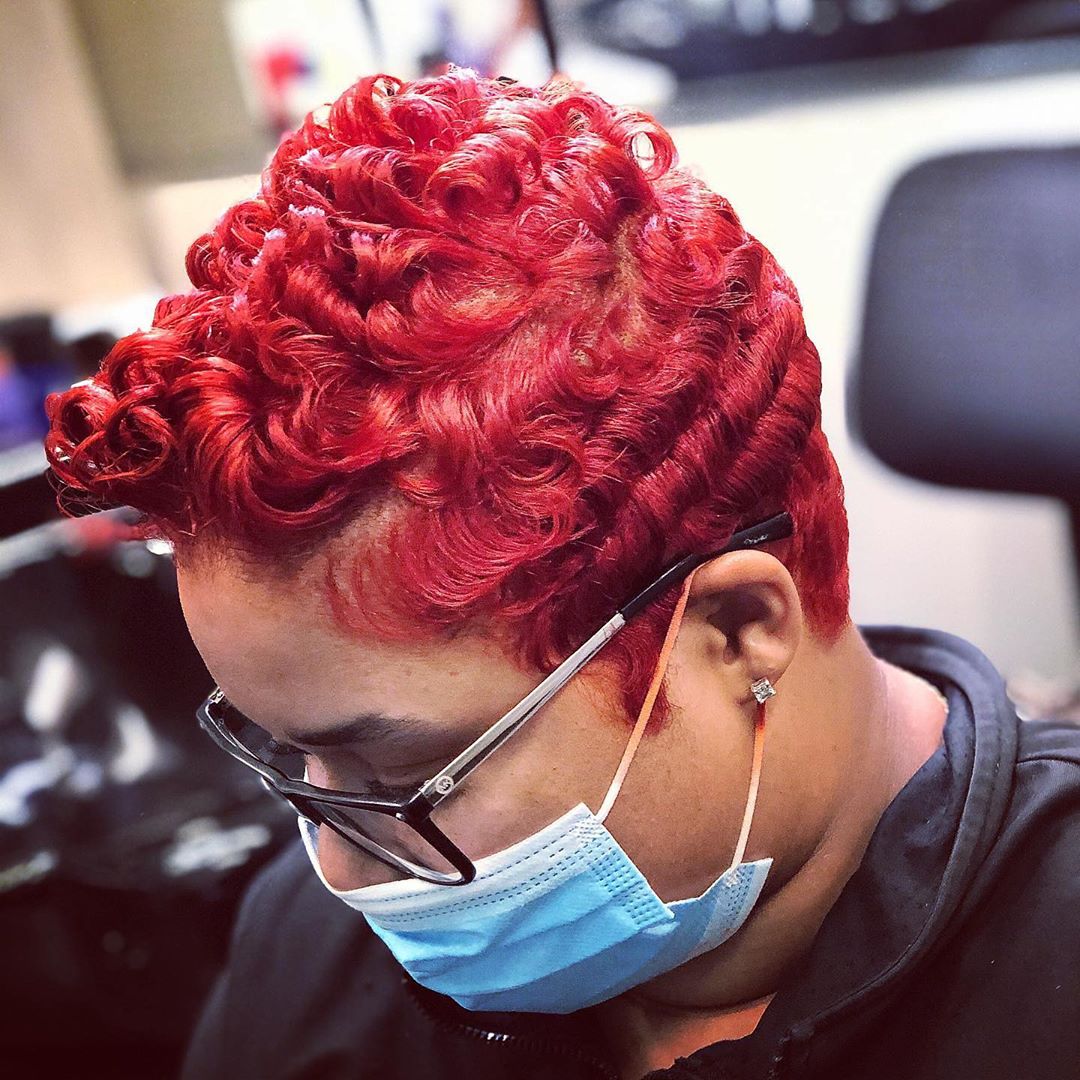 2. Tapered Sides
Choose to go shorter on the sides and longer at the top for some added volume.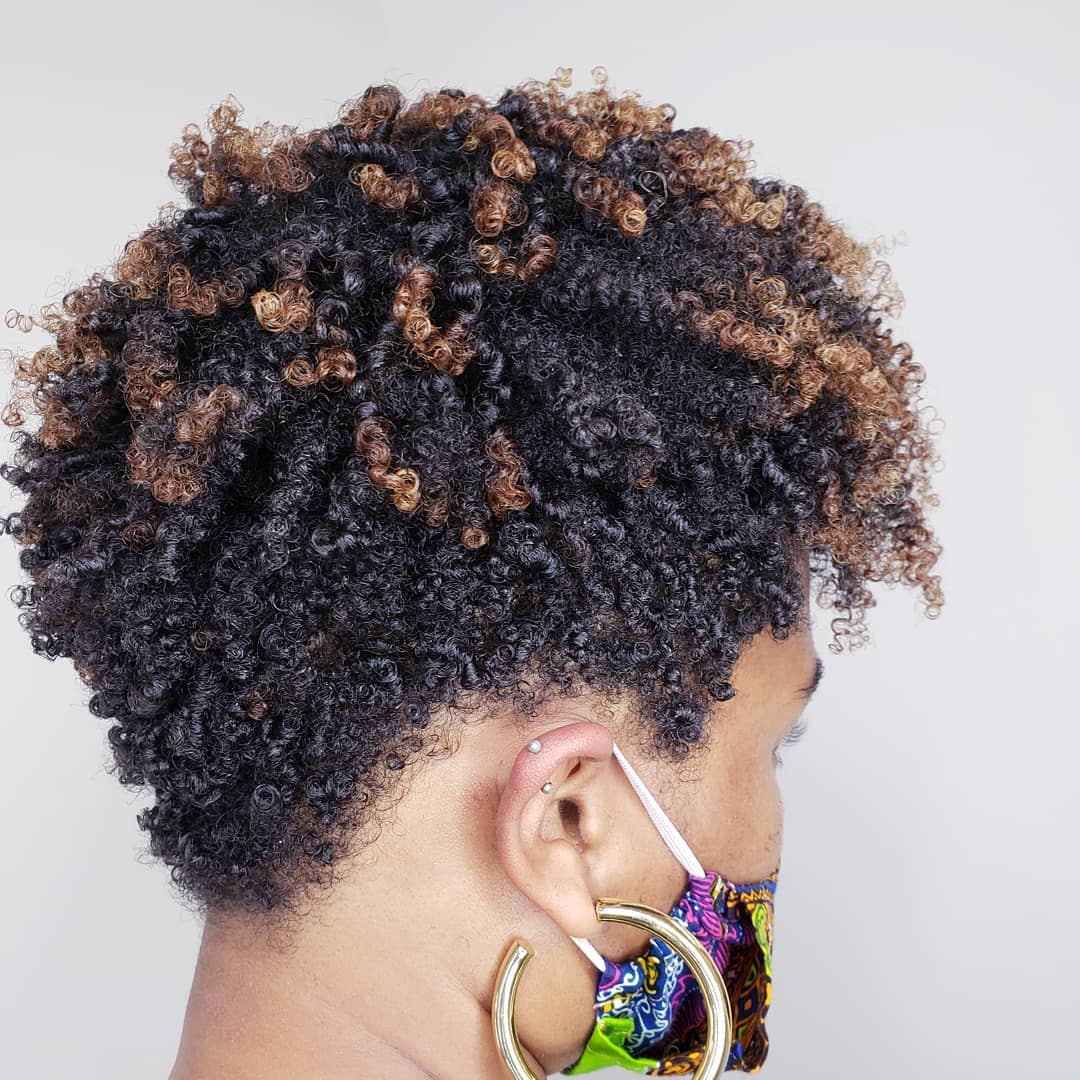 3. Curled Bob
Add a little product to your hair to tame your curls and choose a uniformed bob style.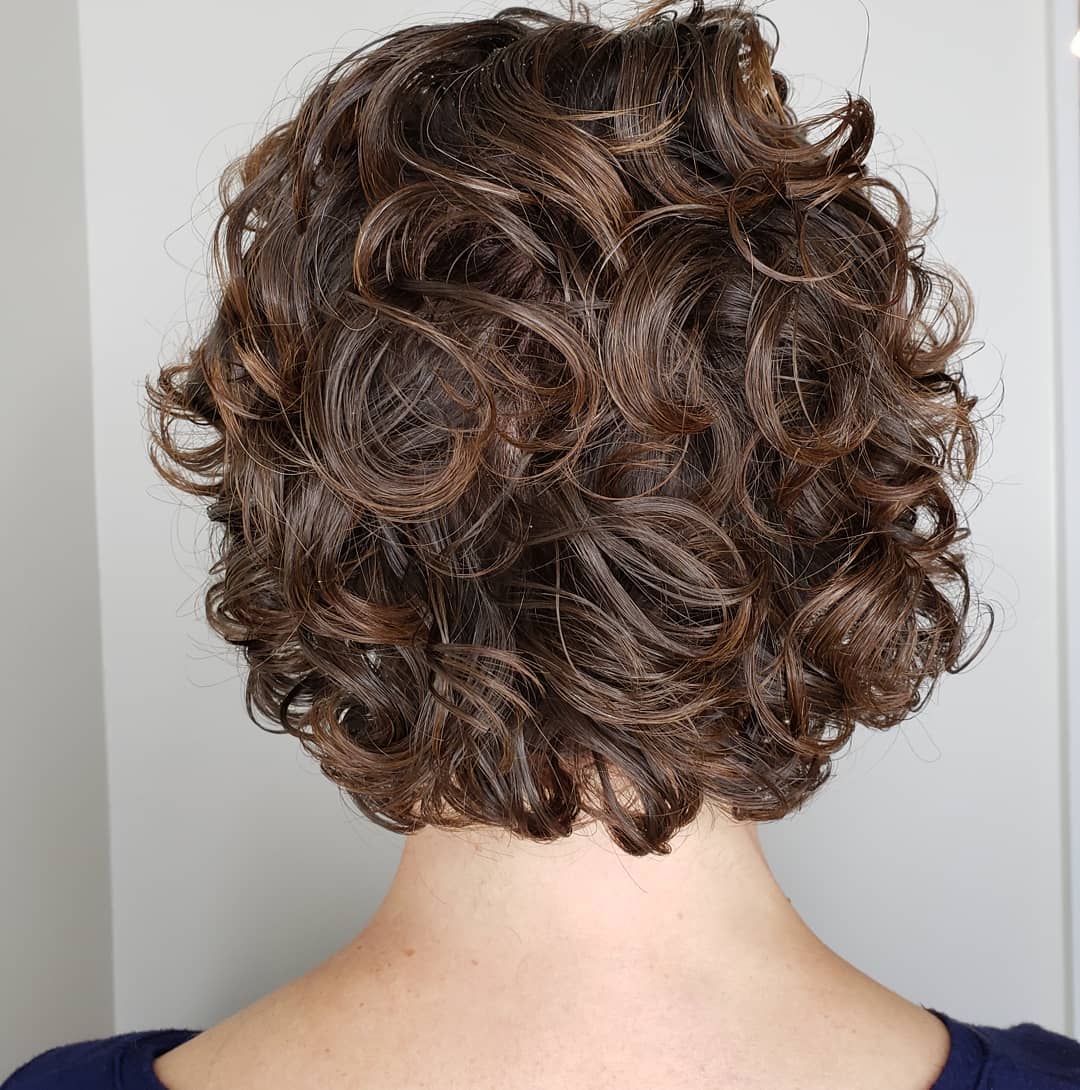 4. Highlighted Lob
Even curly hair can rock a perfect lob, add some highlights to brighten the look up.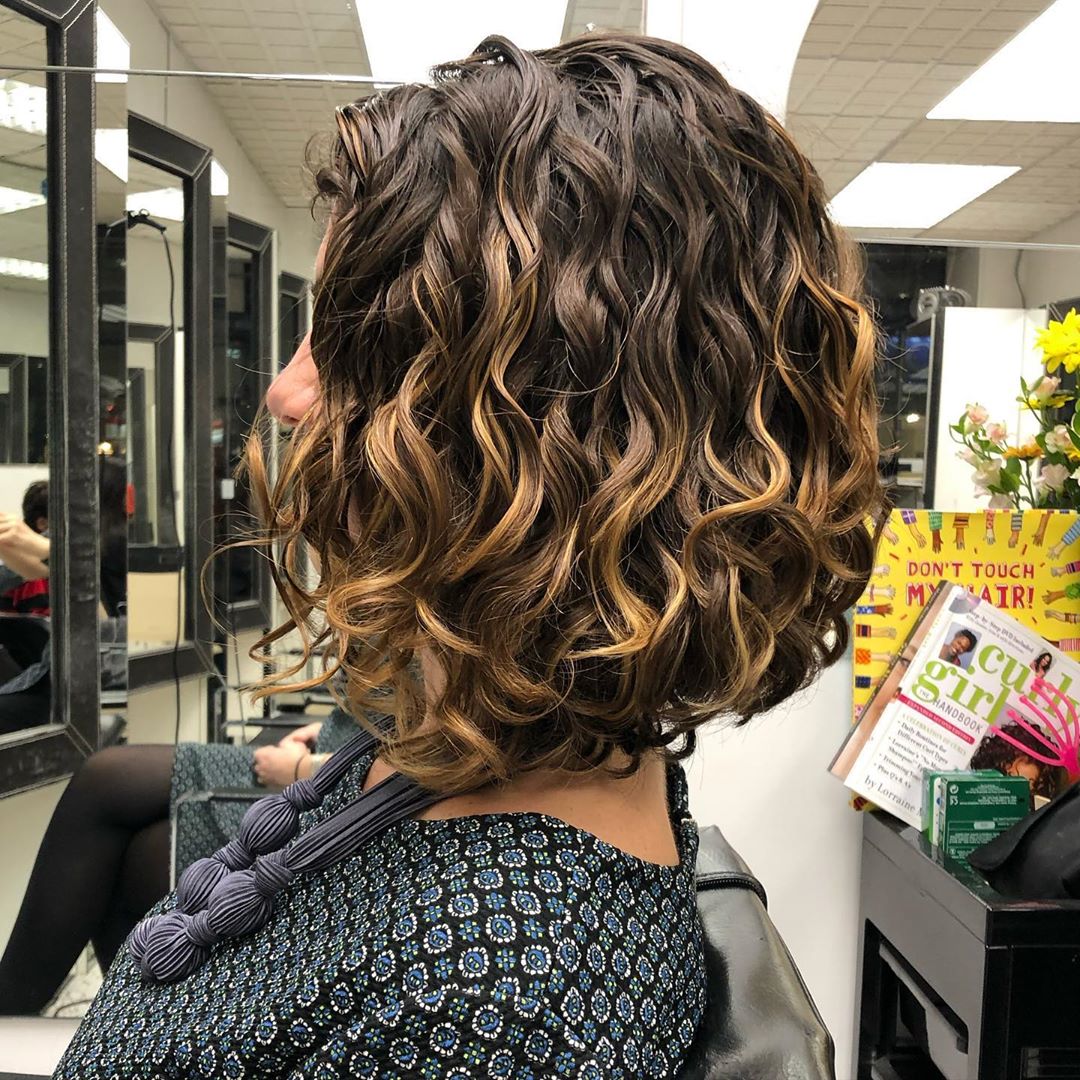 5. Sassy Bob
Go for a short bob that really helps accent your gorgeous curls.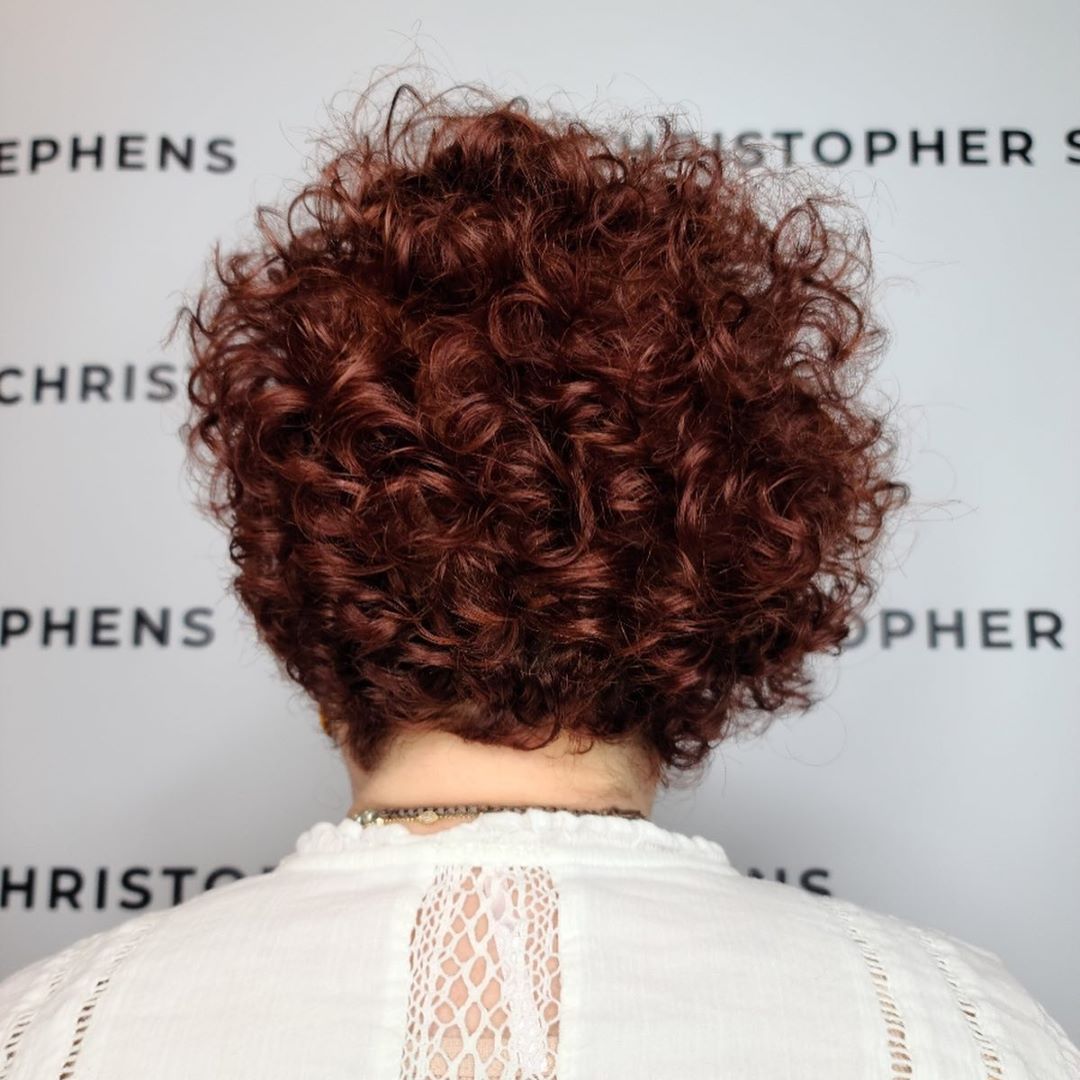 6. Unique Pixie
Go for a unique cut that lets your curls run loose.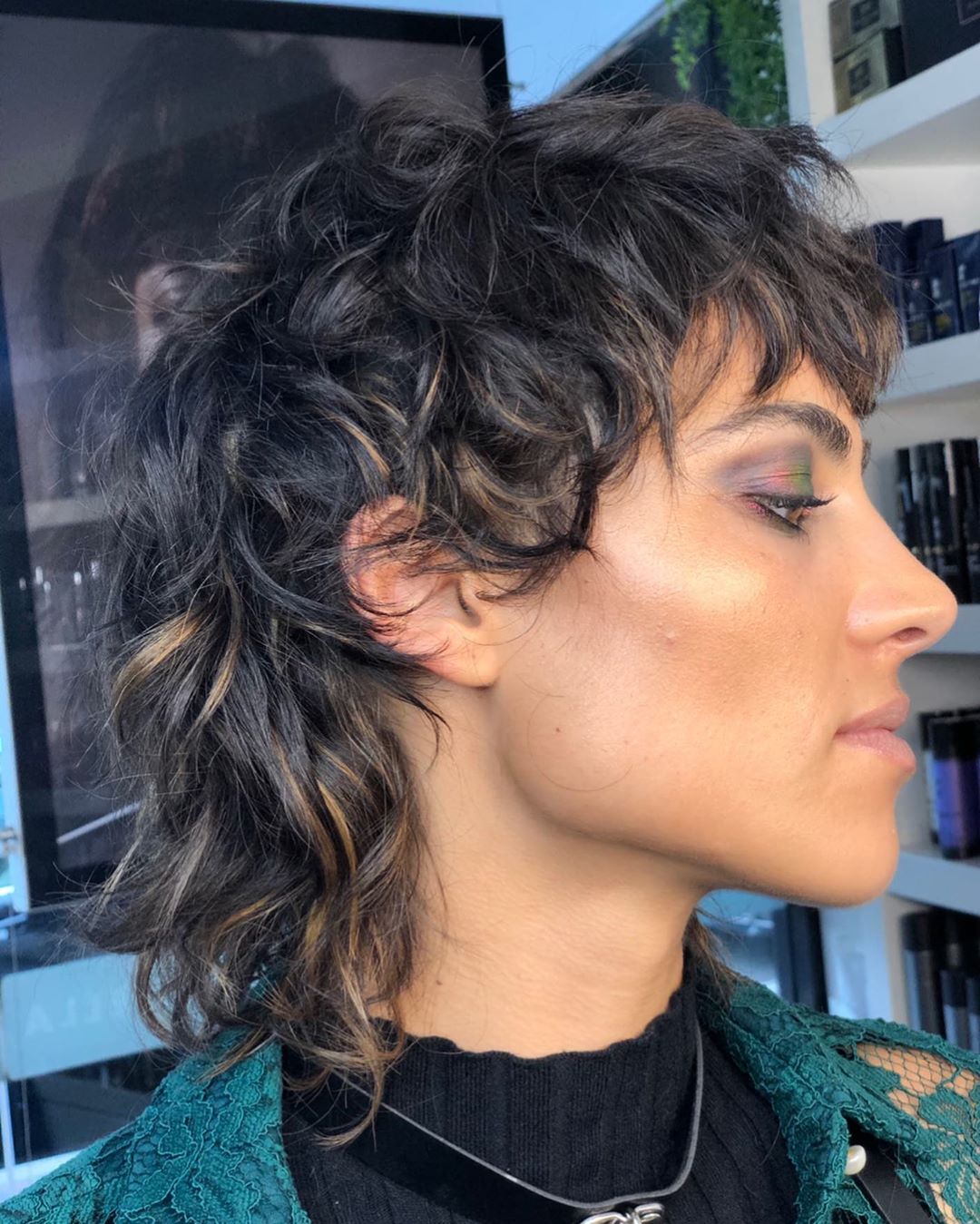 7. Defined Bob
If your curls are suffering, go for a short bob that can help define them.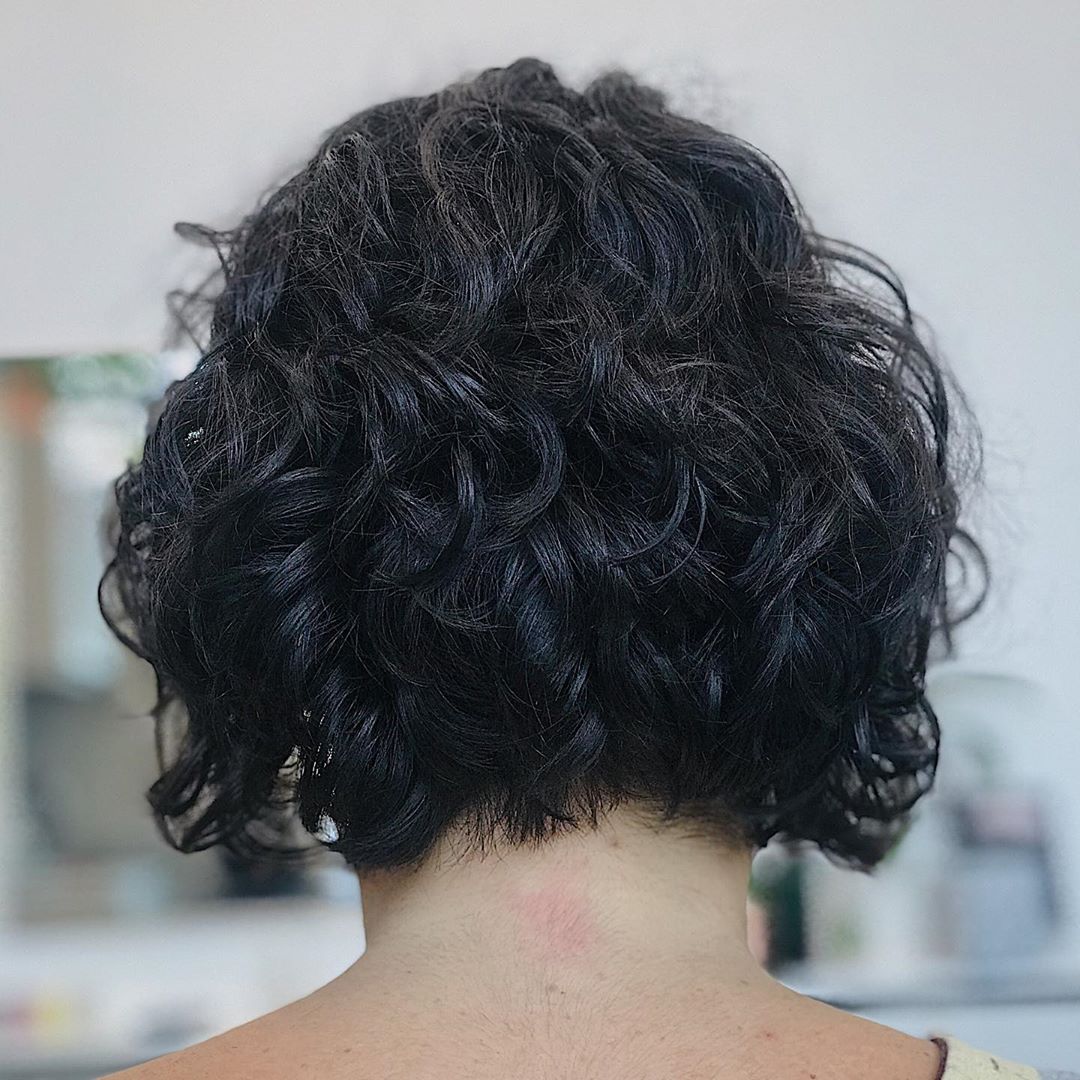 8. Volume Pixie
Give your pixie a lot of volume on the top so your curls can really stand out.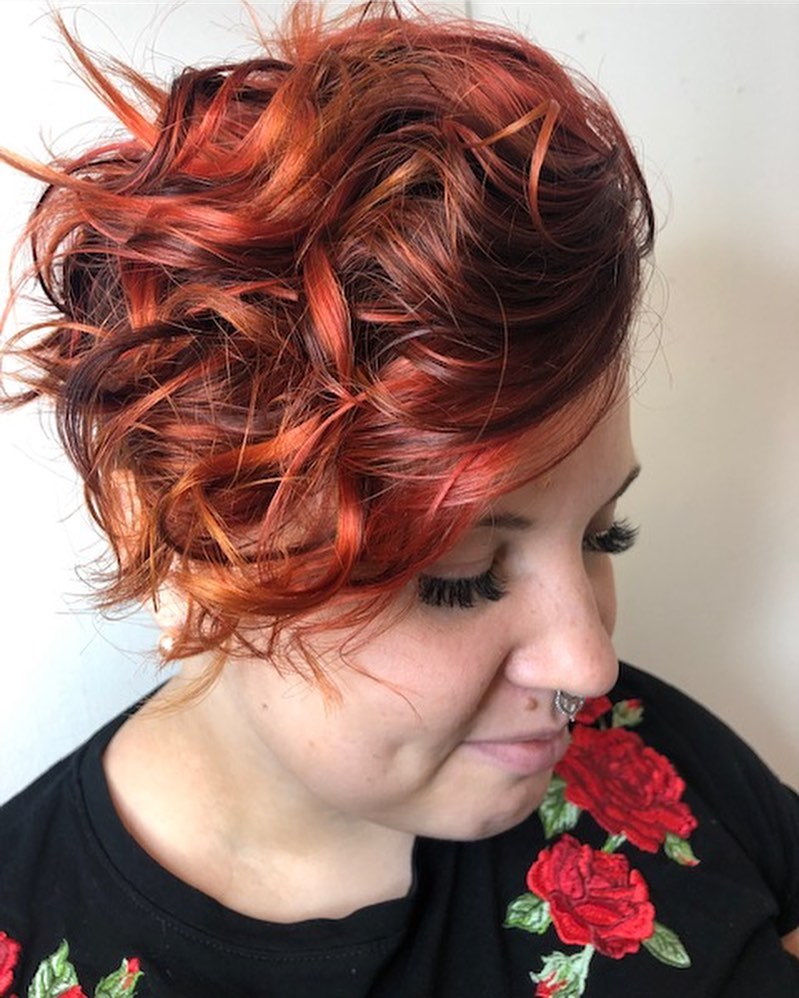 9. Short Sides
Cut your pixie so the sides are shorter and the top is way longer.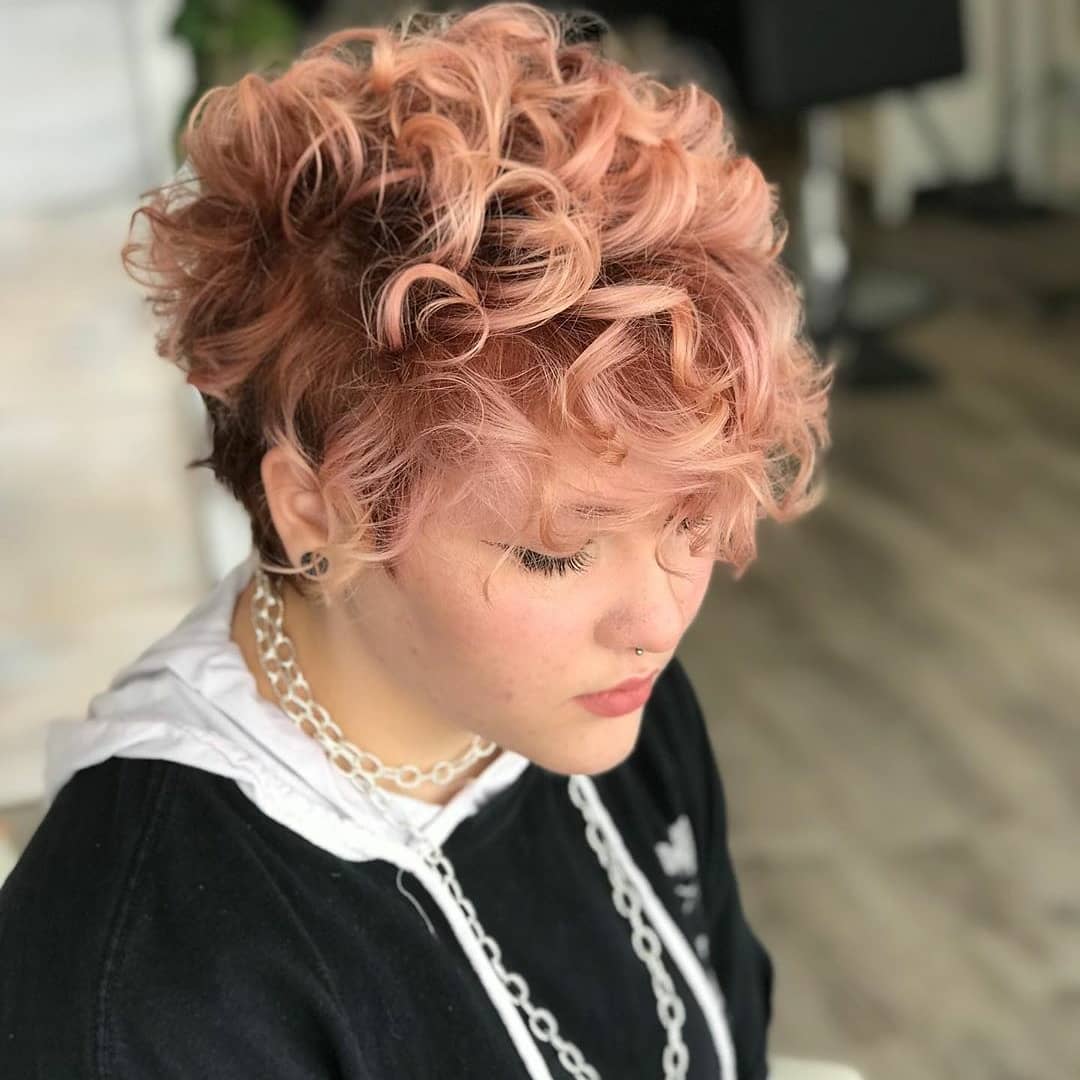 10. Boyish Pixie
A short pixie is easy to maintain and style.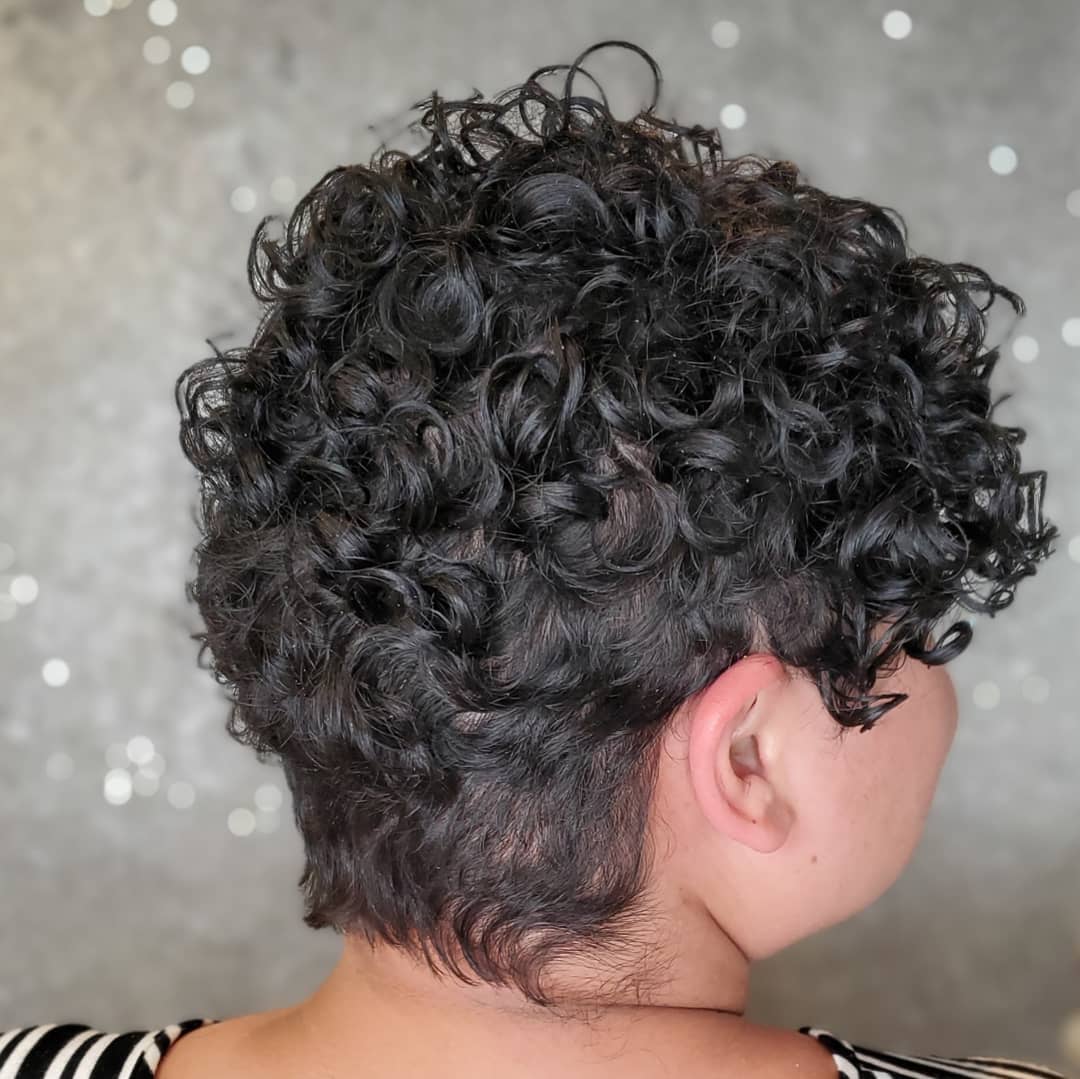 11. Loose Lob
Give your hair a trim and embrace the benefits of a lob style.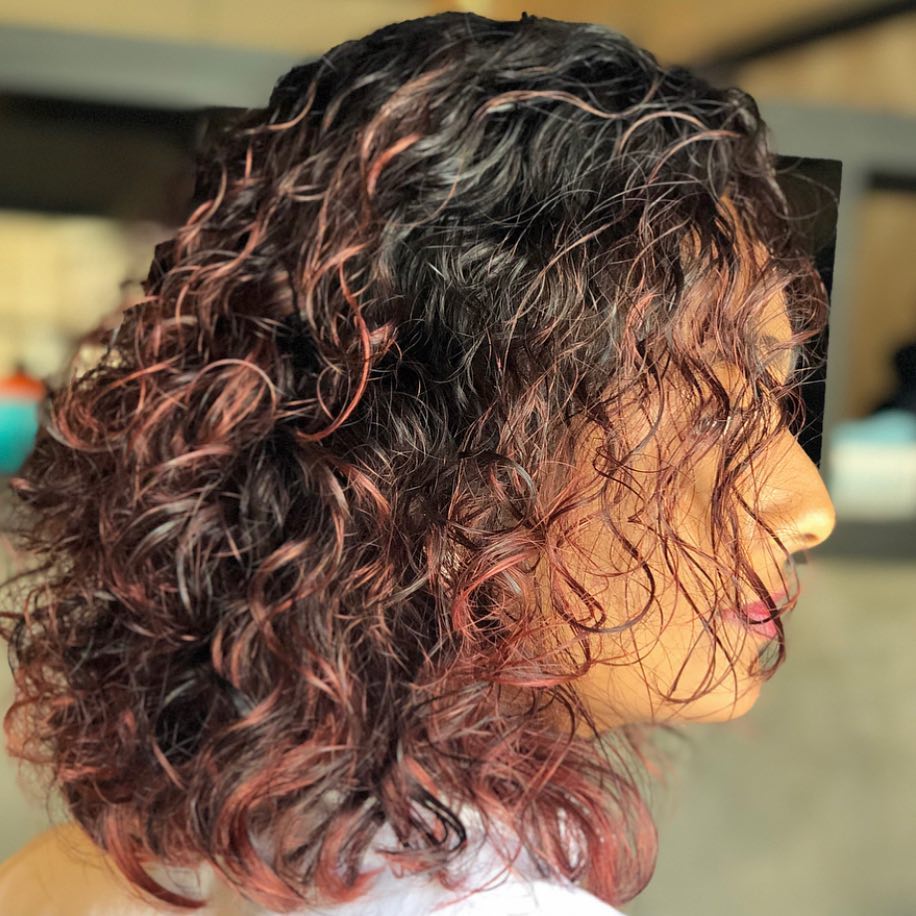 12. Wild Bob
Give your curls a lot of volume and pair it with a short rounded bob.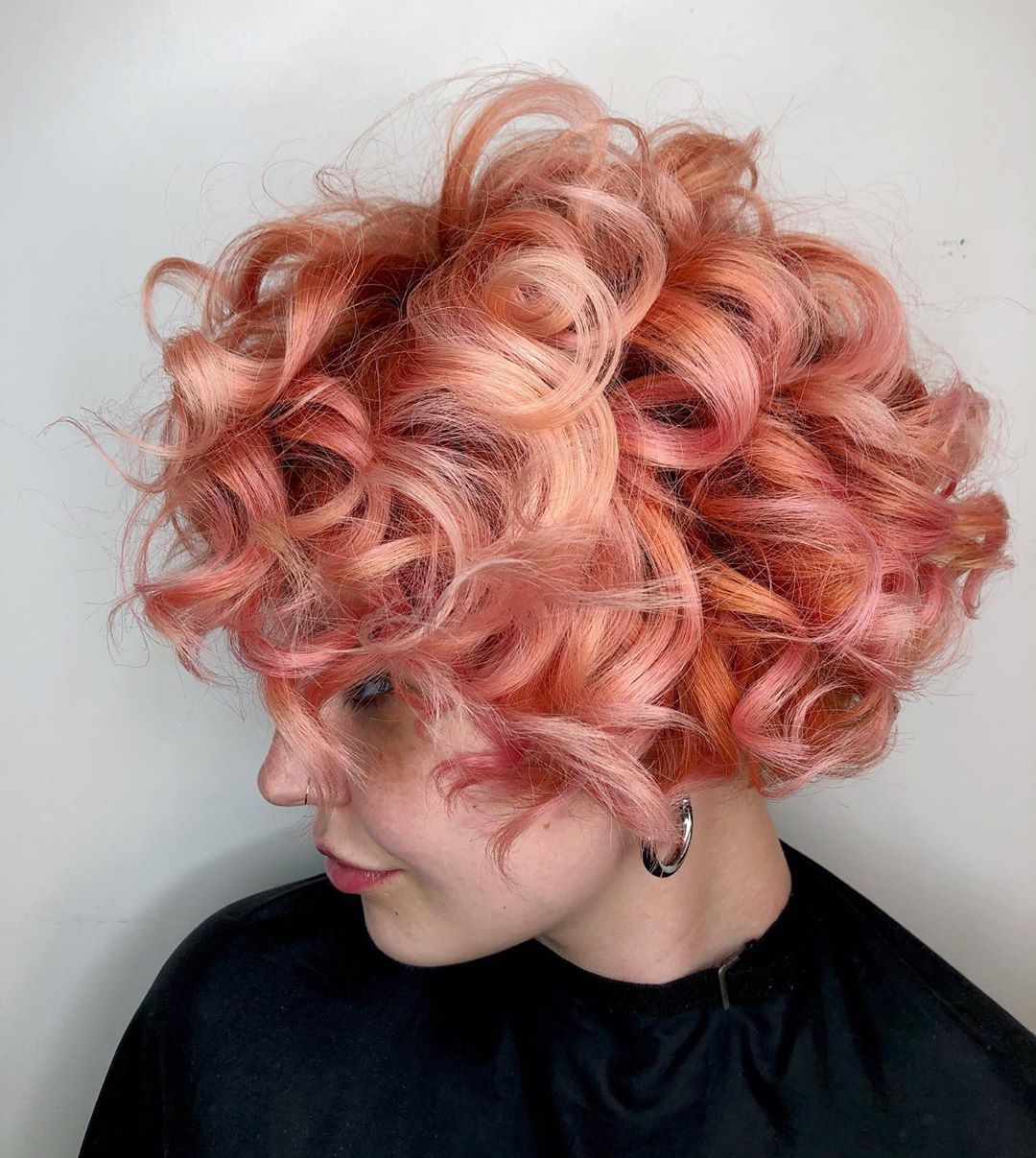 13. Chocolate Bob
Give you curls a pop of color with this combination of chocolate and caramel.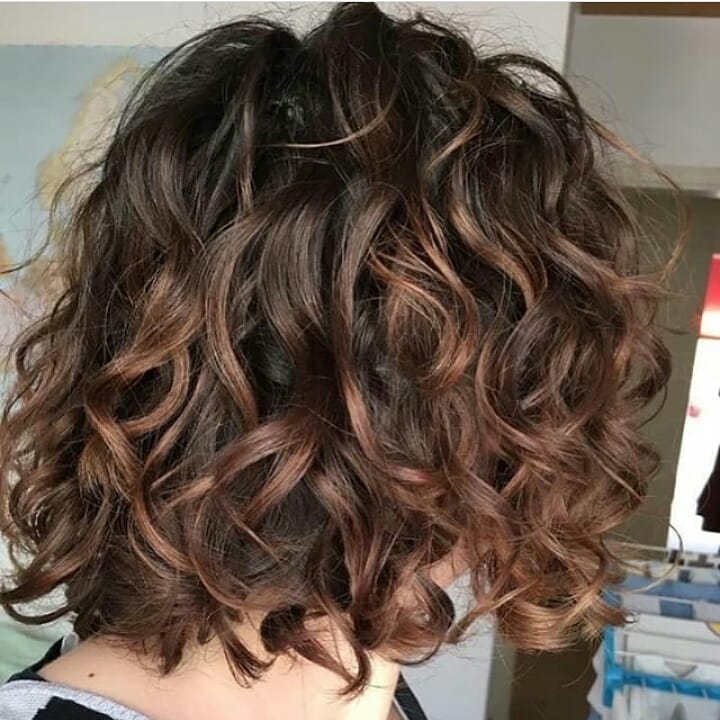 14. A-Line Cut
Give your cut a unique flair by doing an a-line style.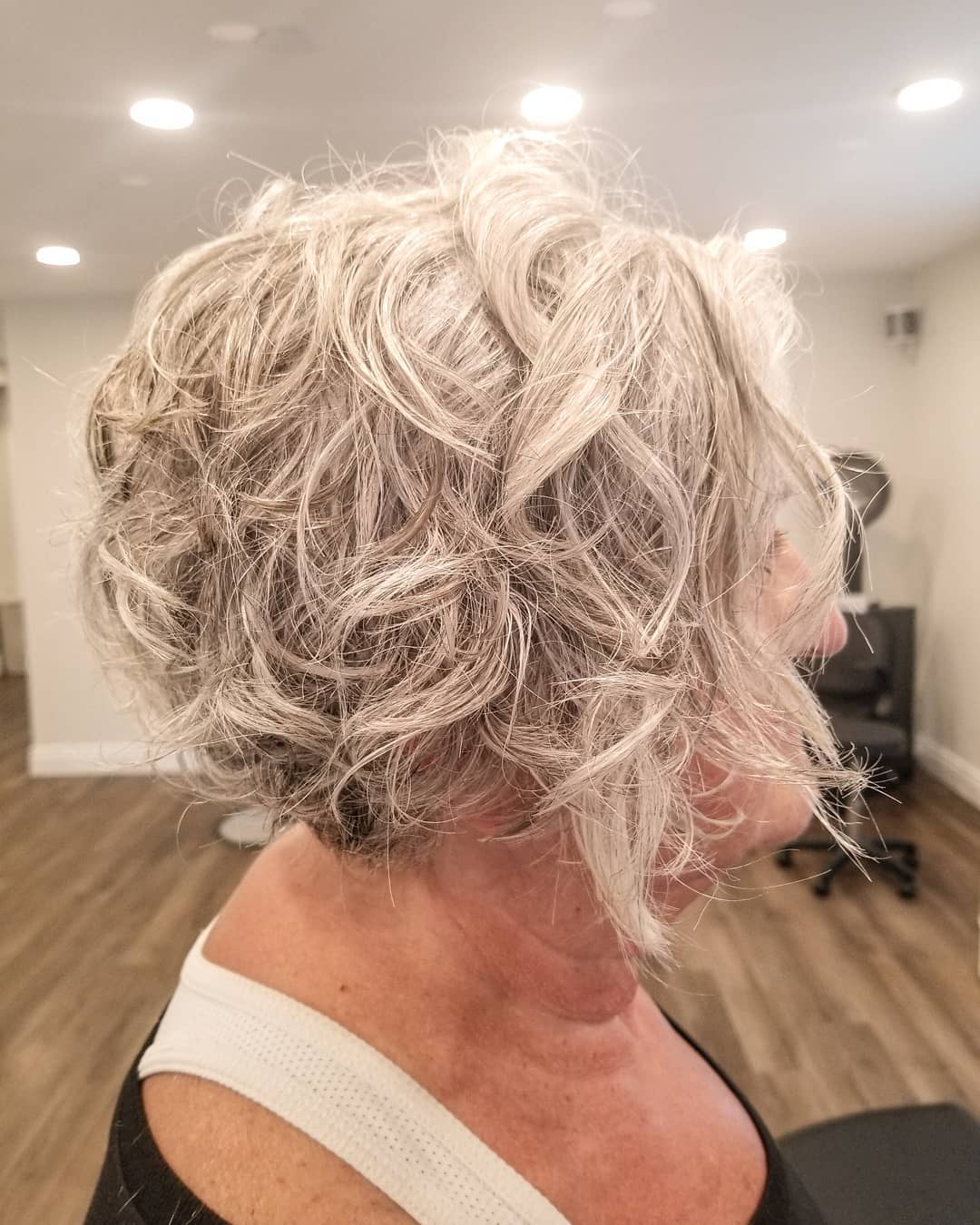 15. Rounded Bob
A rounded bob is a great short style to try out that will really show off your curls.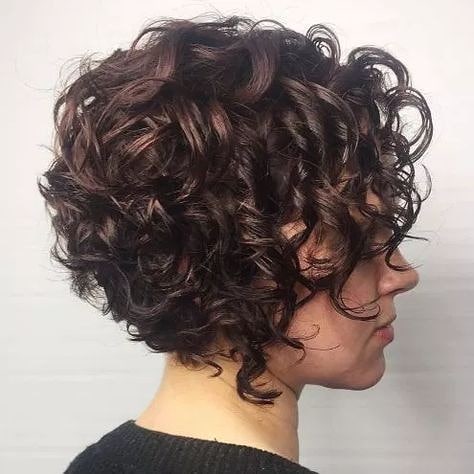 16. Mini Bangs
Give more attention to your curls with a short style and bangs to top the look off.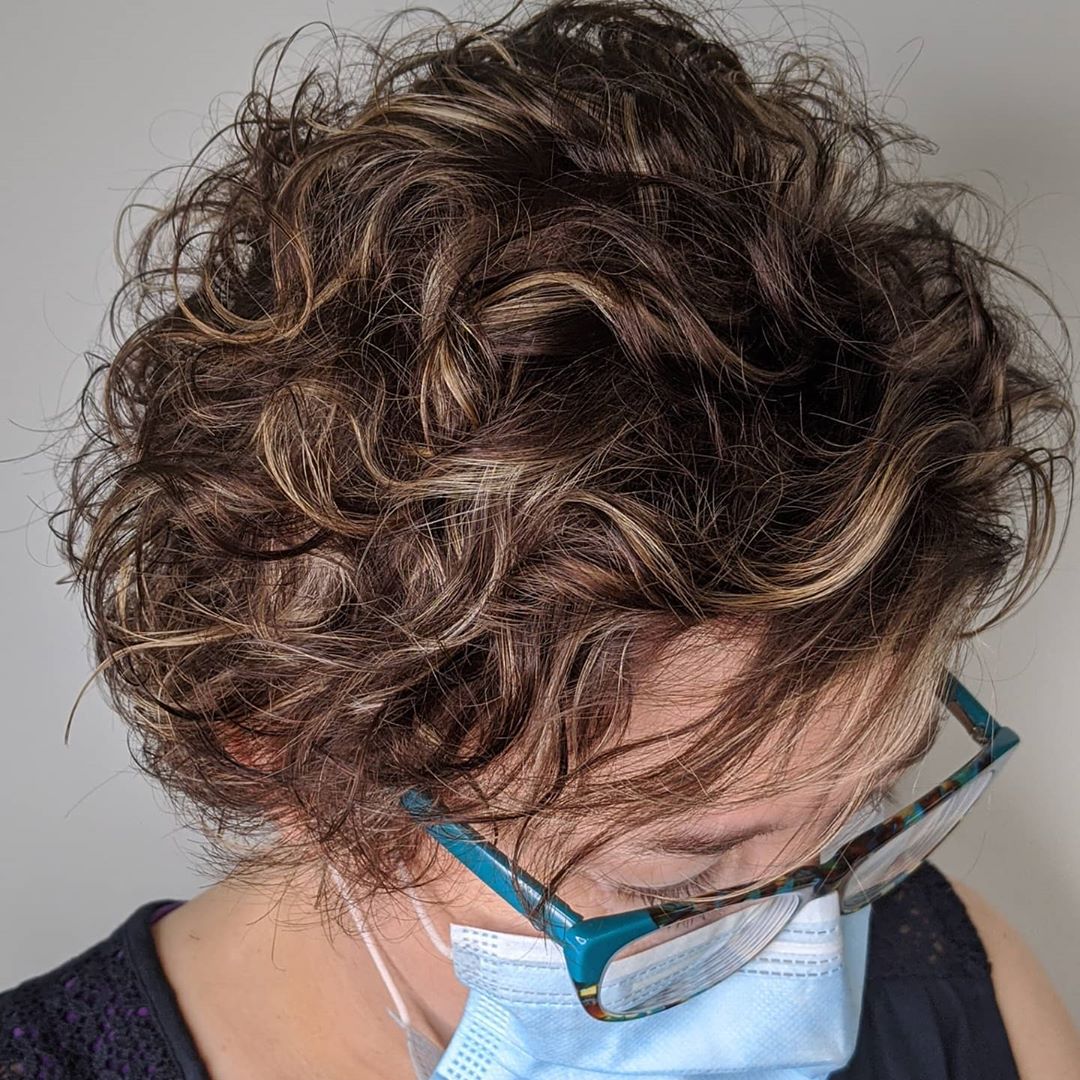 17. Long Lob
A longer lob will giving your stunning curls time to shine.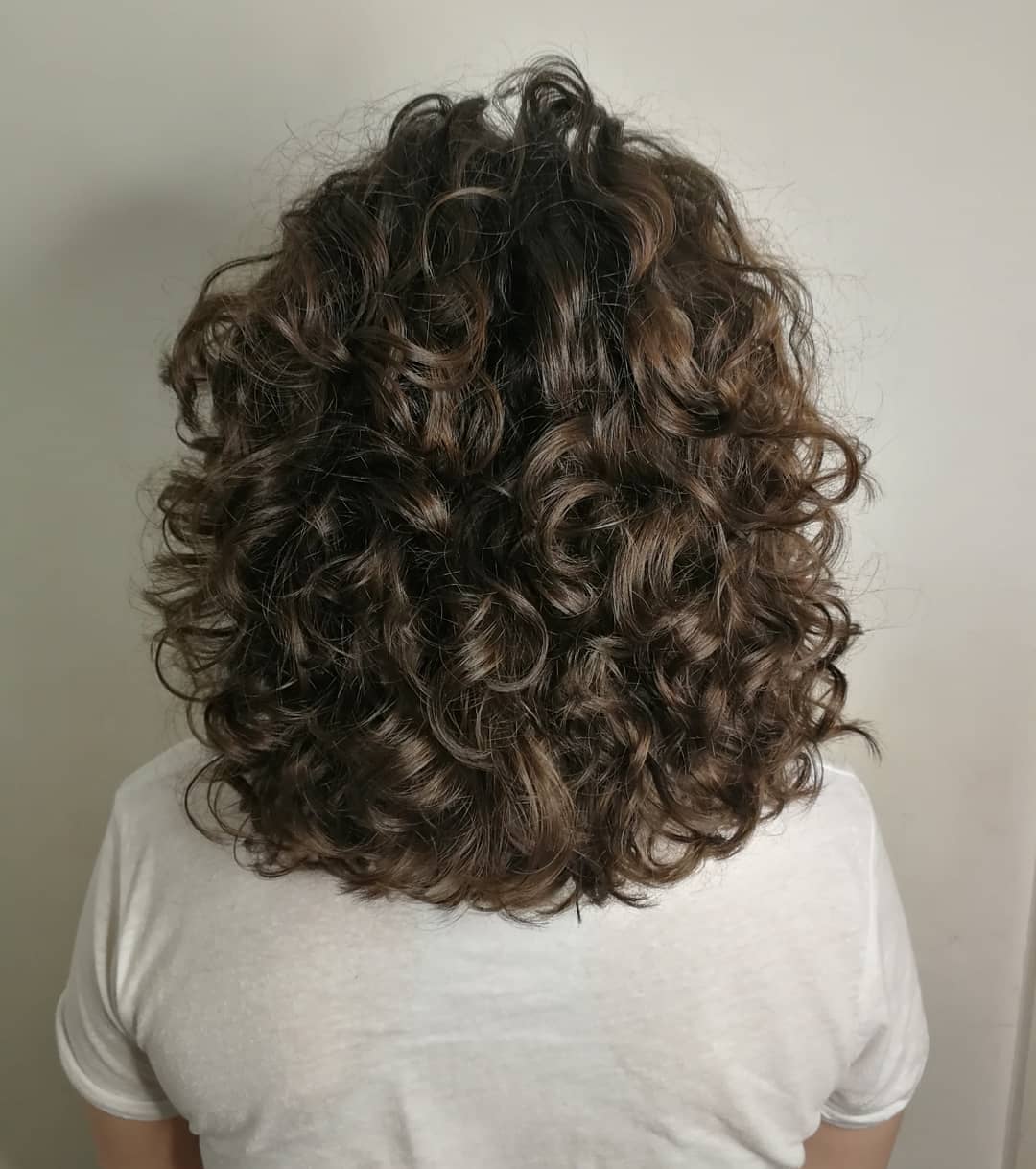 18. Messy Bob
Let your curls loose and embrace the benefits of a messy bob.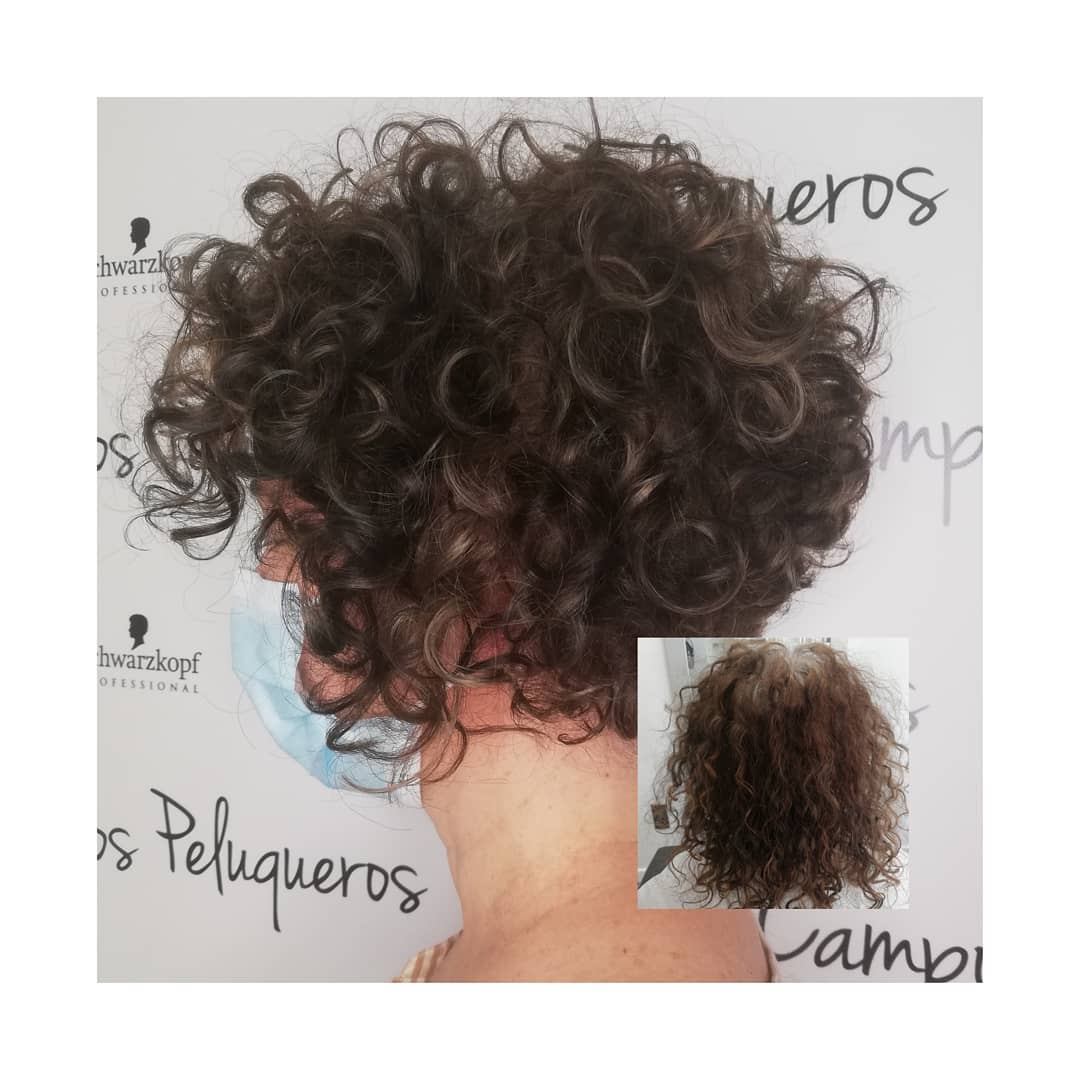 19. Natural Curl
A short pixie with natural curls is a stunning look.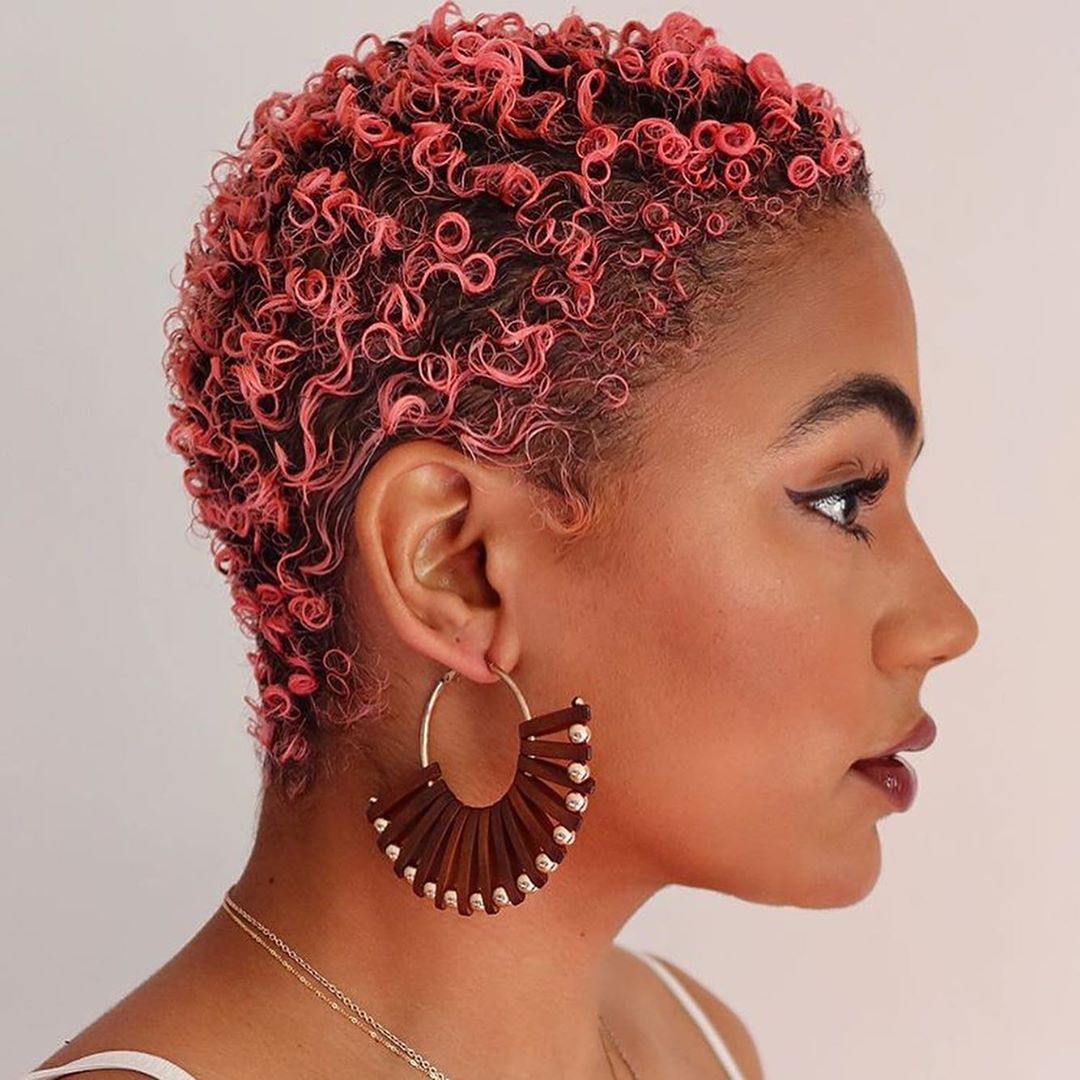 20. Mohawk
Give your curls the style they deserve, like this awesome mohawk look.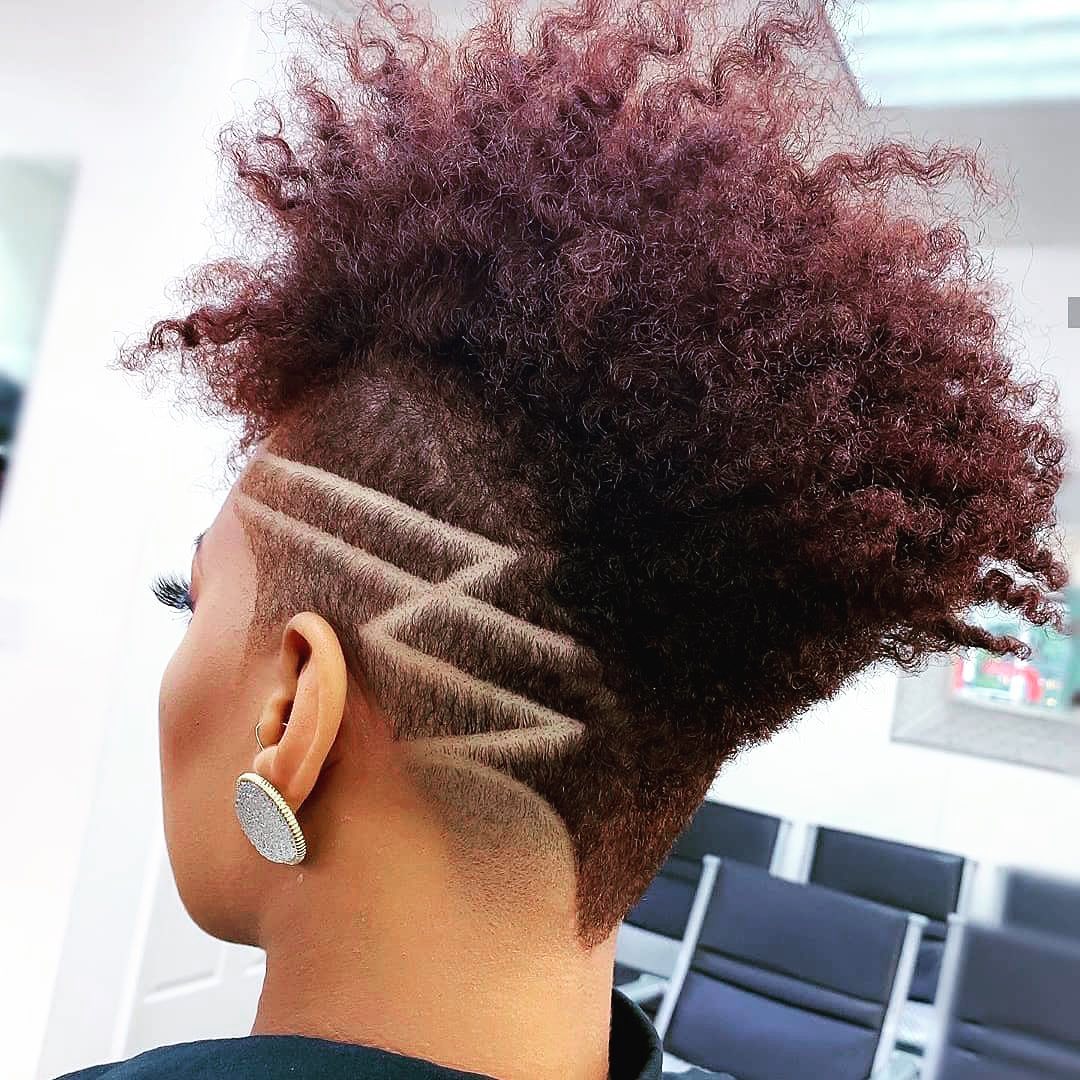 21. Forward Pixie
Keep the back of your pixie shorter and let the majority of your curls sit towards the front of your hairline.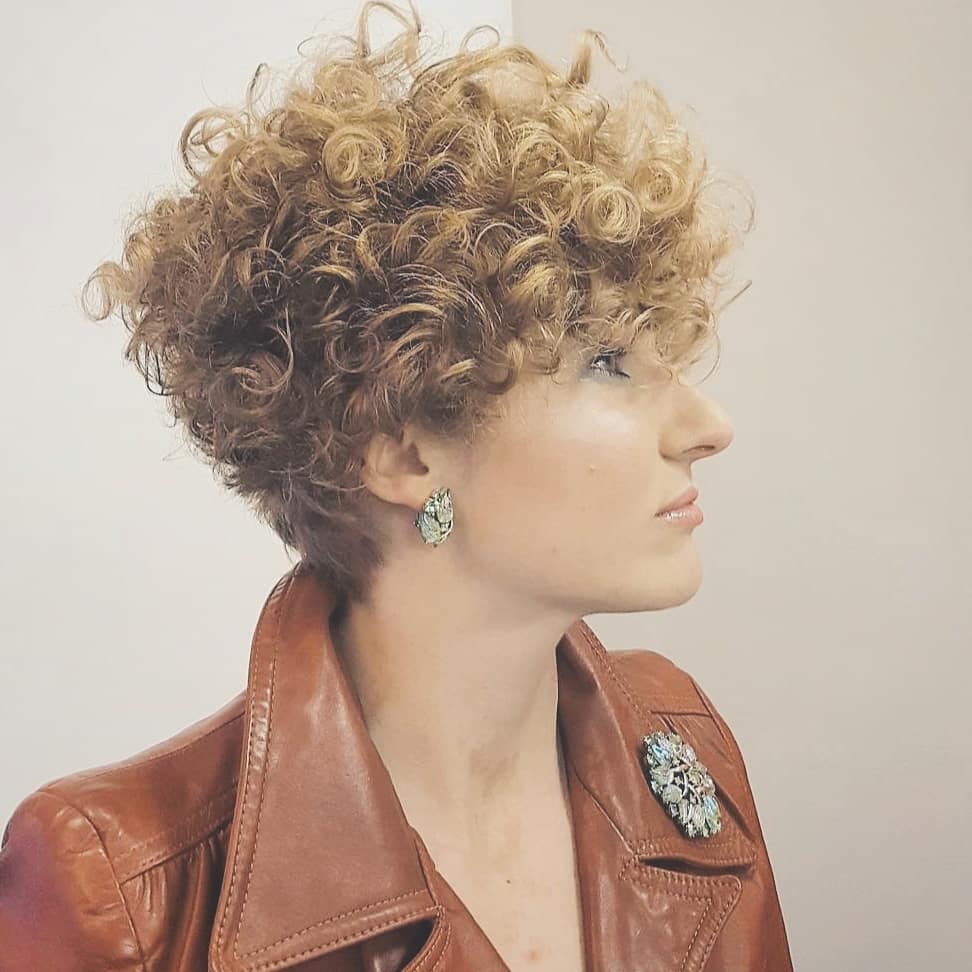 22. Loose waves
A little bit of products will loosen your waves up and give you a carefree bob.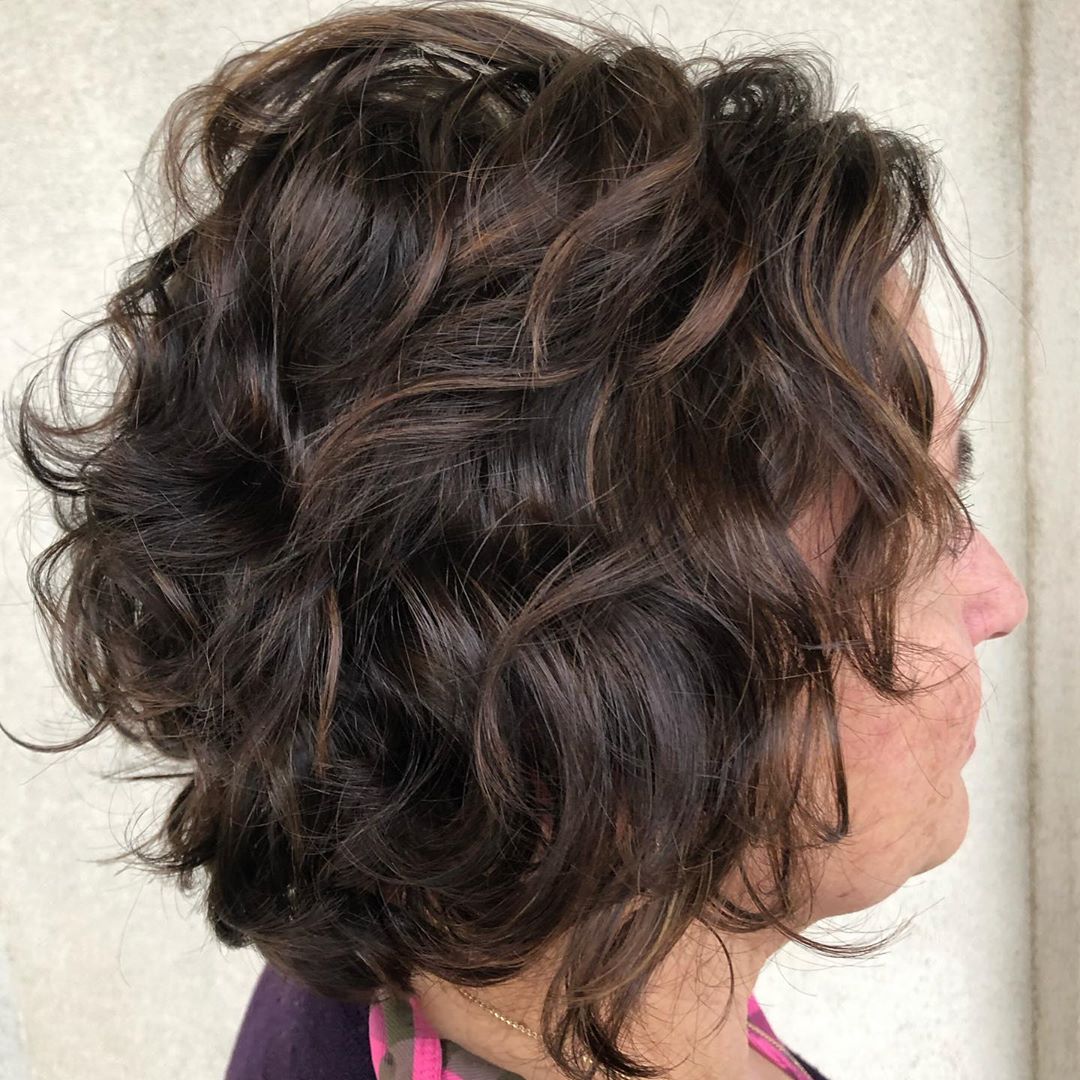 23. Pop of Color
Let those curls pop with a little bit of color and a shorter pixie.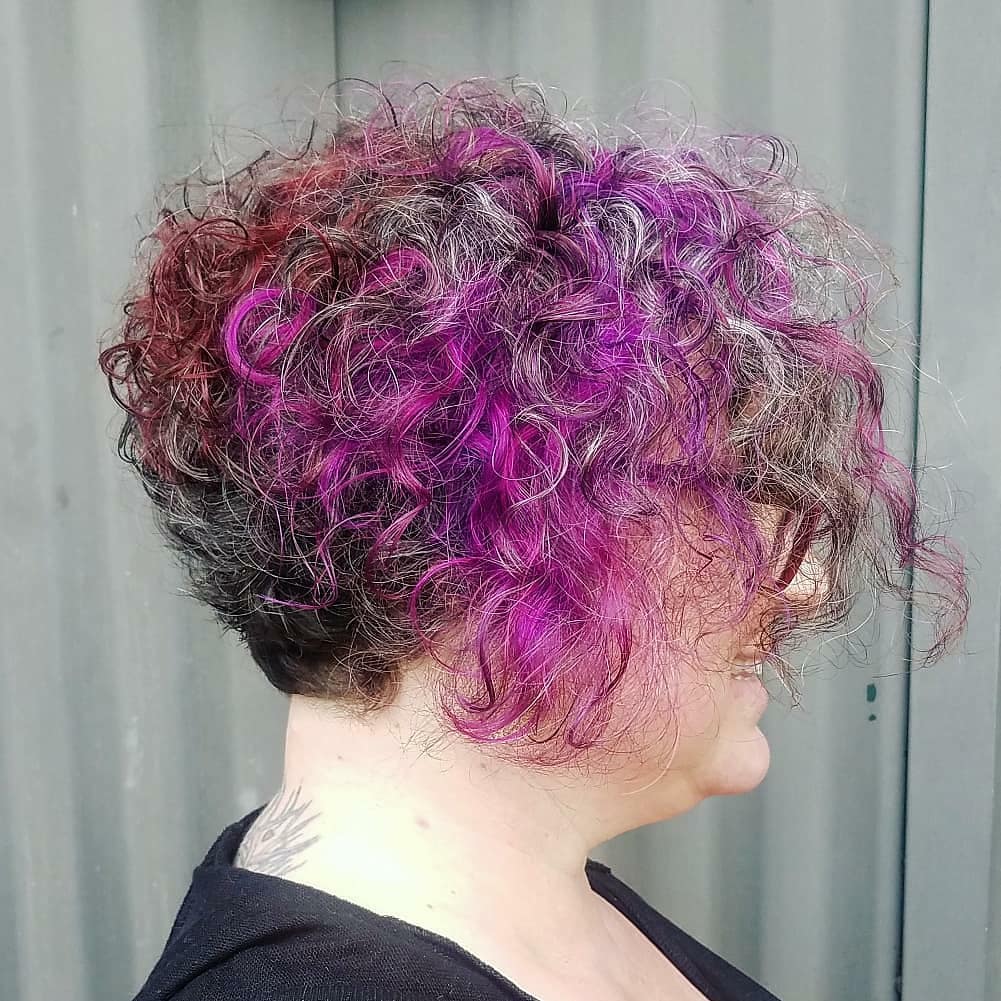 24. Side Part
Adding a side part to your lob is a great way to get added volume.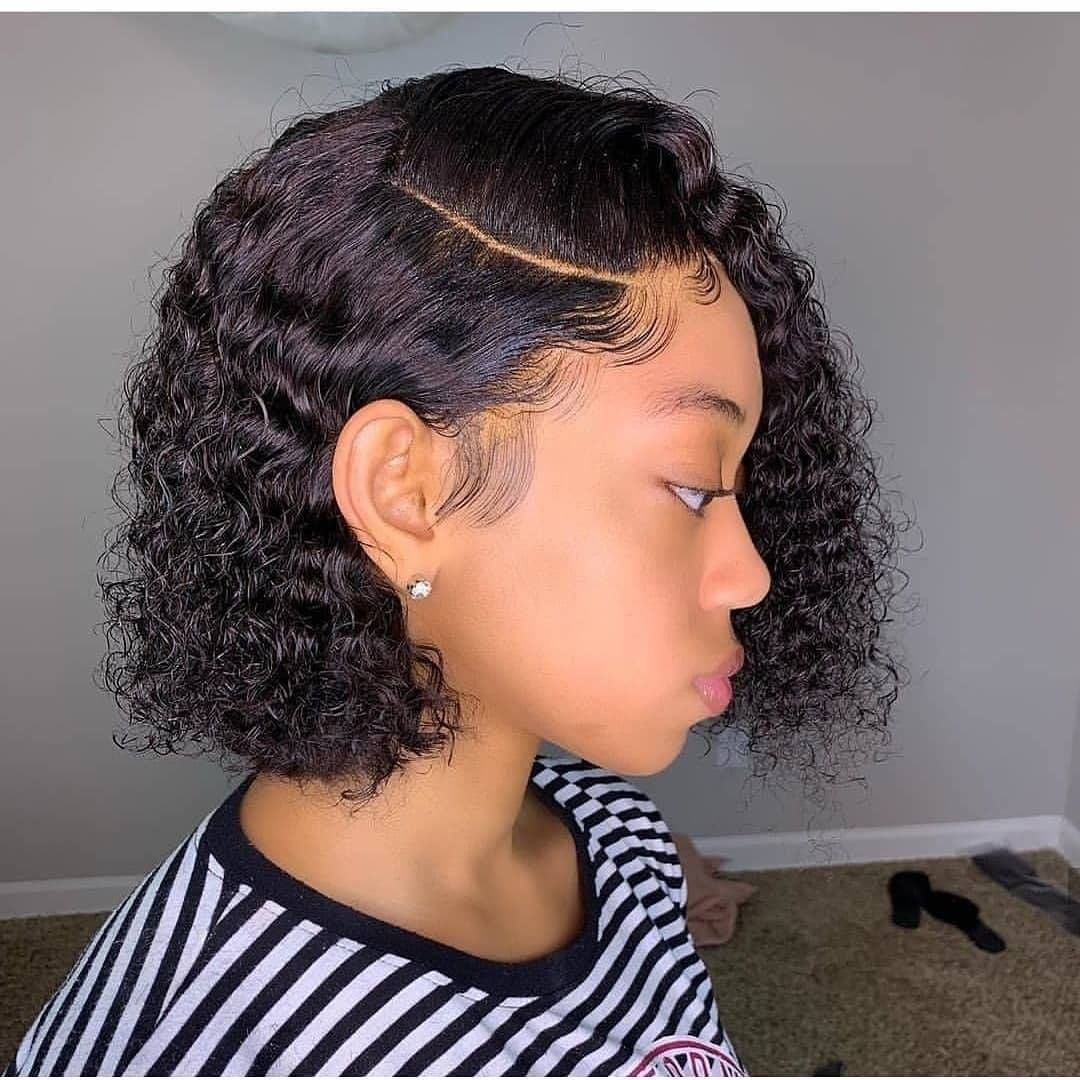 25. Undercut
An undercut is great to lose some hair and have a cool look.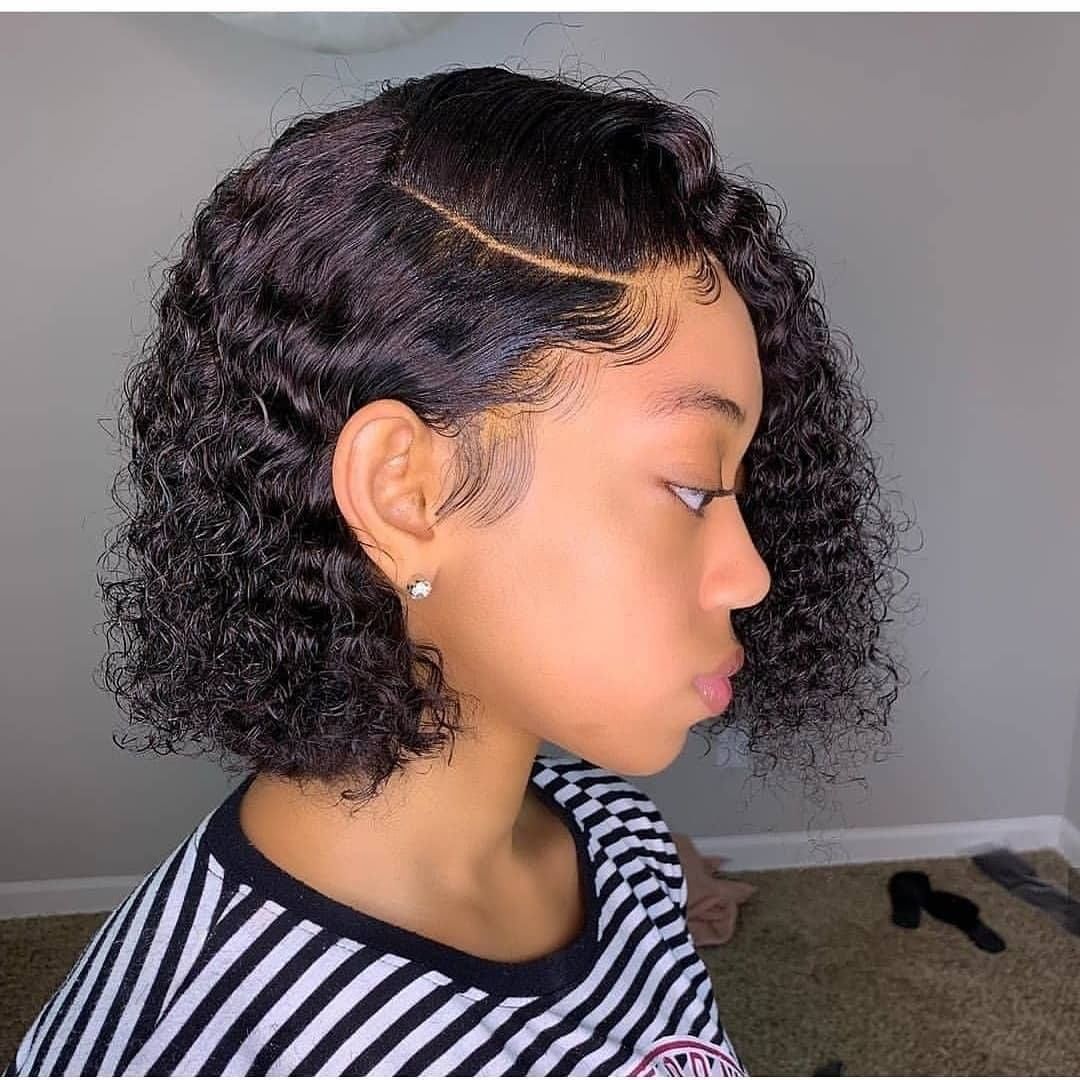 26. Angled Bob
This style will give you voluptuous curls that you'll fall in love with.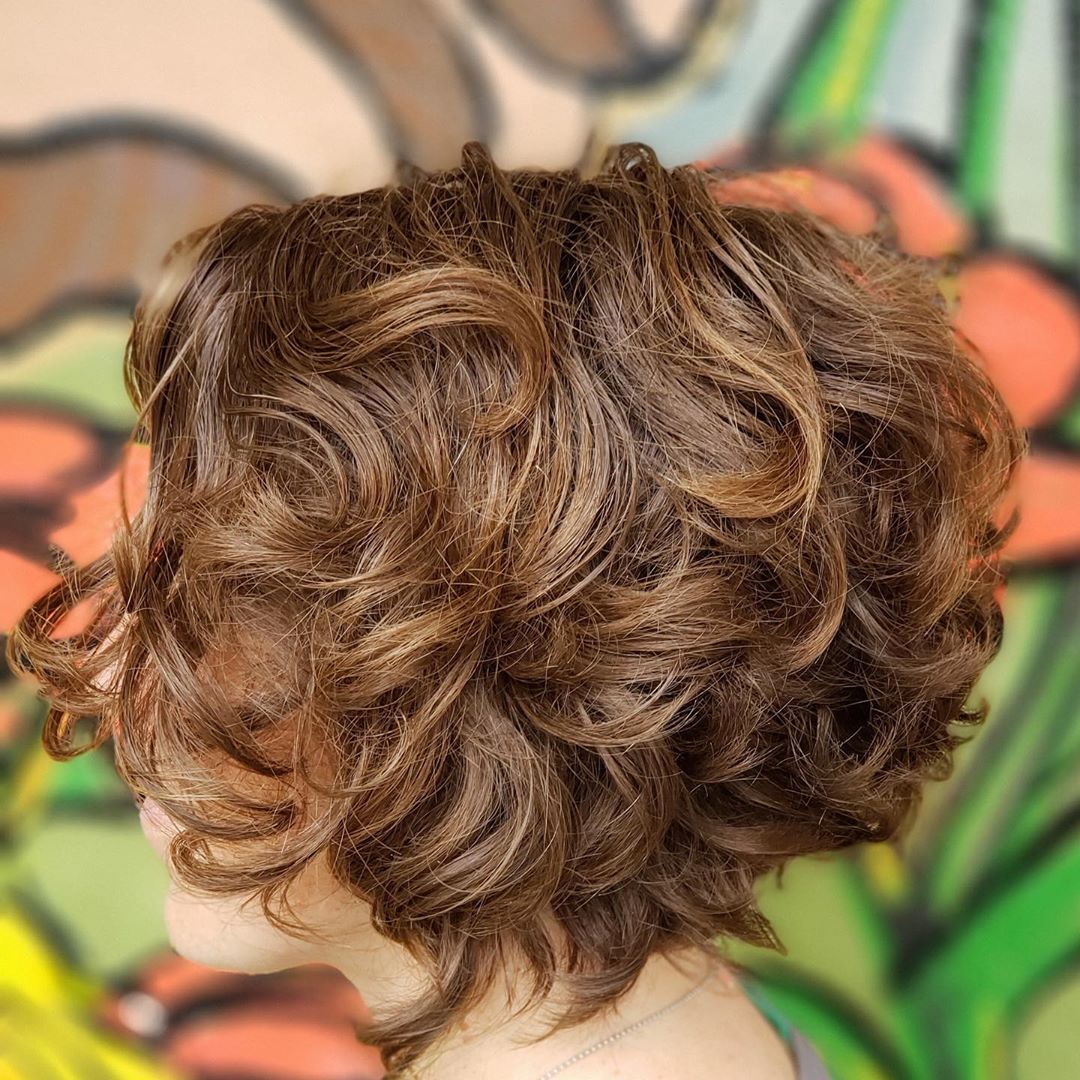 27. Multi Length
Give yourself a totally new look by have multi lengths and layers throughout your hair.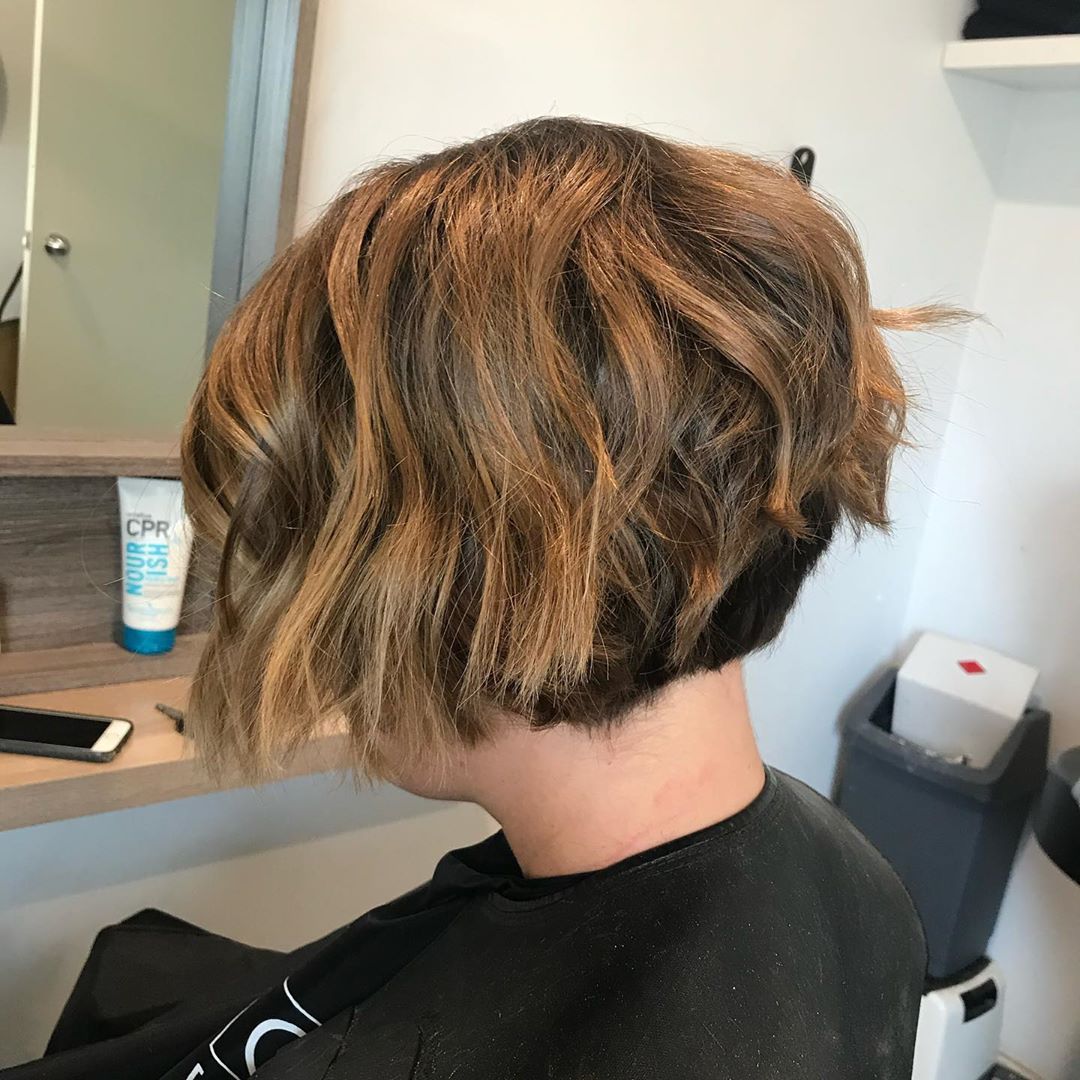 28. Curls on Top
Cut all around your hair a lot shorter and let your natural curls free at the crown of your head.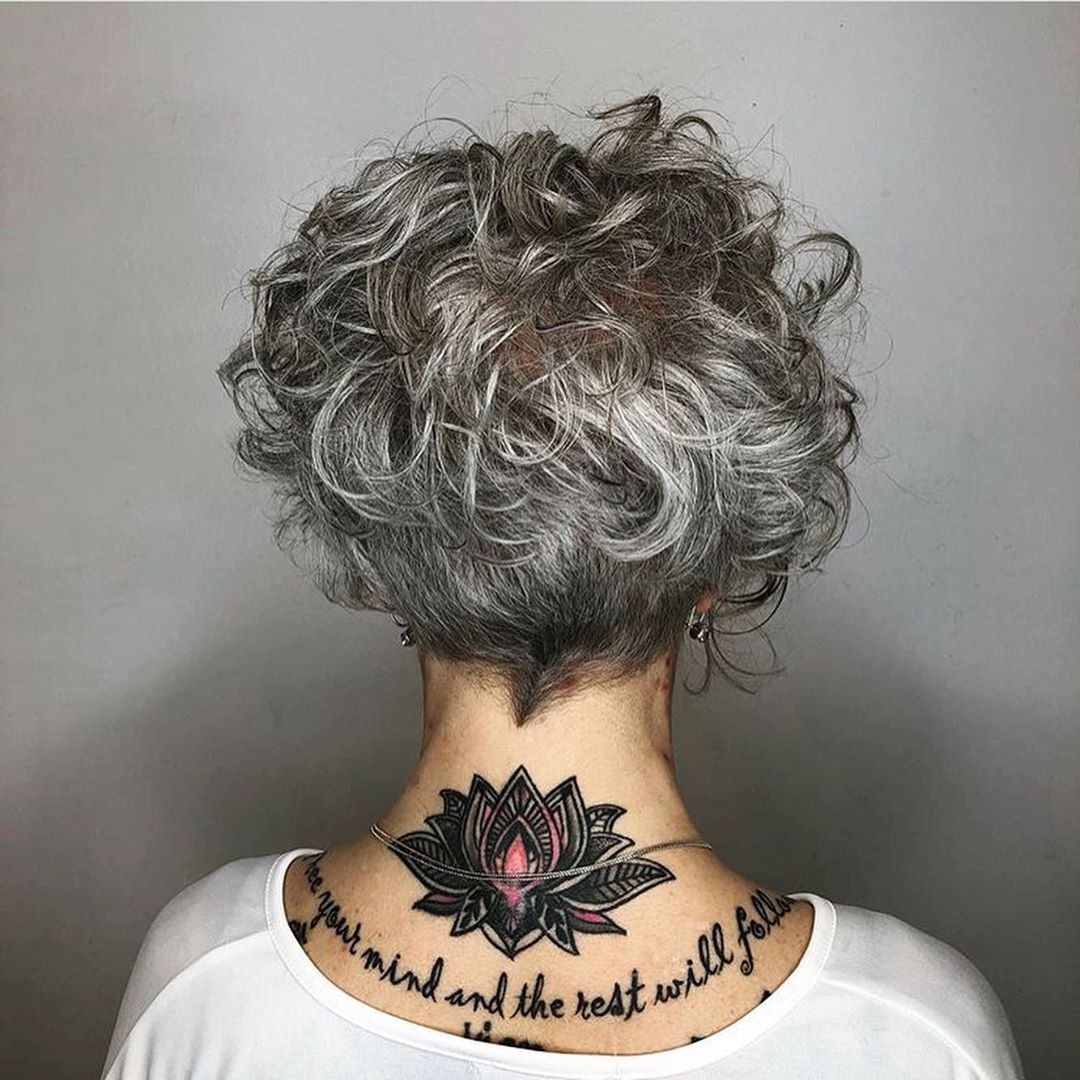 29. Uniformed Bob
Give your bob a nice uniformed length for your curls to sit on.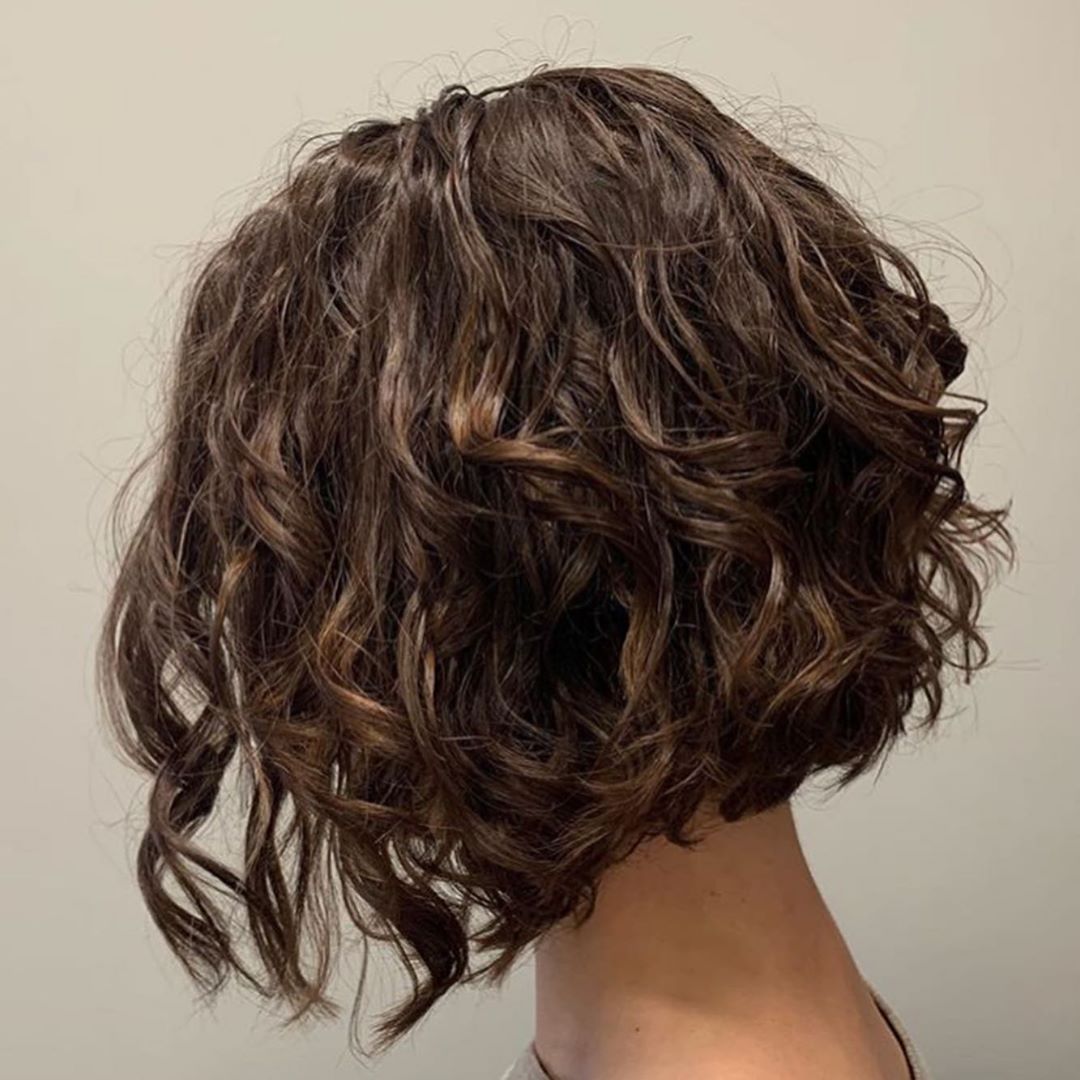 30. Balayage Curls
A balayage color works just as well with a curly lob as it does with straight hair.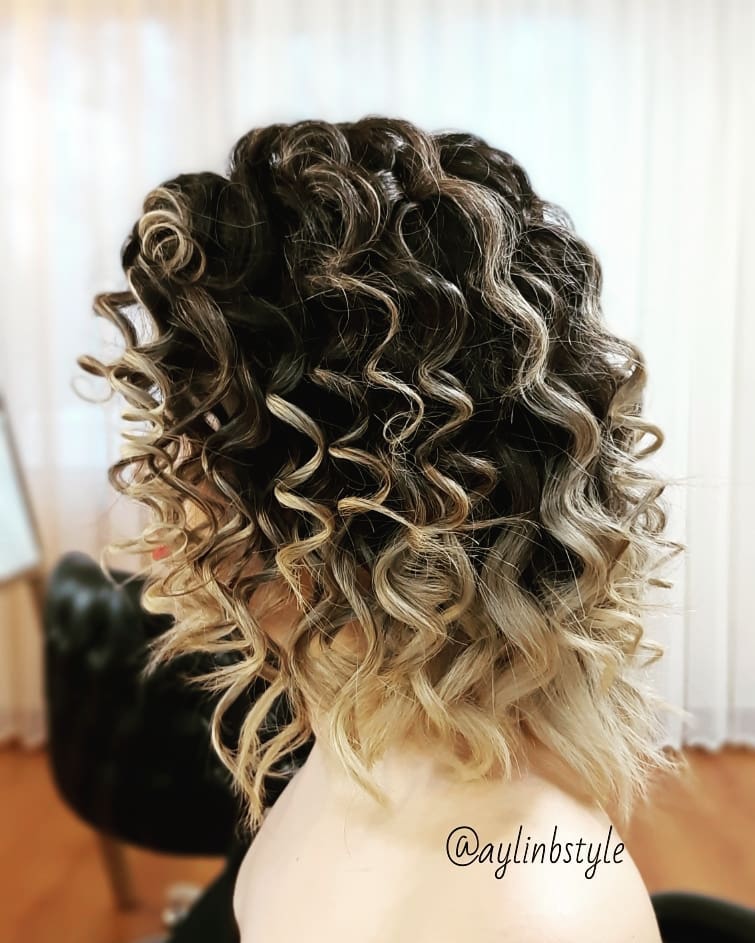 31. Short and Spunky
Go ultra short and get a spunky look with your curls.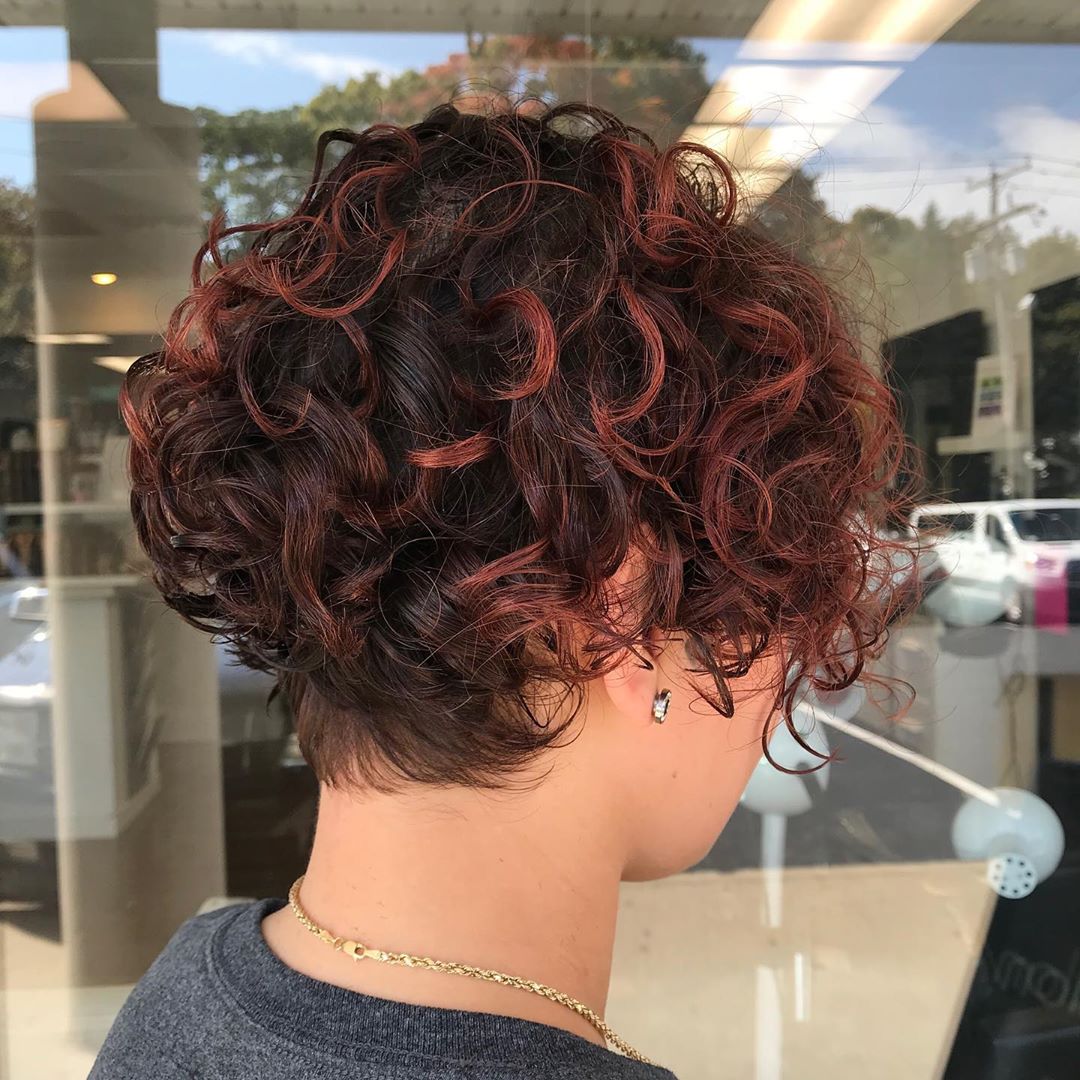 Curly hair is a style you should embrace and now you can rock stunning short styles with it.
Sours: https://shorthairstyles.com/31-gorgeous-short-curly-hair-styles-in-july-2020/
Short hair curly
There are many flattering short curly hairstyles for those who have been blessed with naturally curly or wavy hair. And the shorter your hair, the less weight on your curls. As a result, they will have more life, volume, and movement.
Short haircuts have virtually low maintenance and always classy, plus never go out of fashion, especially in the warmer seasons. We have put together a list of our favorite 2021 short curly hair styles for women of any age.
Short Curly Ringlets
Credit photo: instagram.com/meucabelocurto
Ringlets are among the most versatile short curly hairstyles. They can be classy and sophisticated or flirty and sexy. If you want the option of pulling your hair back with a few curly tendrils framing your face for a seductive effect, leave your curls a little longer.
Curly Pixie Hairstyle
Credit photo: instagram.com/chrisjones_hair
This short curly pixie works great if you are looking to get your hair away from your face to highlight those eyes or cheekbones. It is easy to style and always looks classy. For a bolder look, add some color or highlights to make this style pop.
Choppy Layers With Balayage
Credit photo: instagram.com/nubiarezo
This cool style in sweet brownie base with light brown balayage blends seems so carefree. The carefree look is achieved by adding choppy layers and thus making it a textured cut. When styling, it is significant to accentuate rather than hide the texture. Use a qualitative texturizing styling product when waving your hair. Needless to say, switching to the Curly Girl method will also play a crucial role in creating such bouncy and lively curls.
Short Curly Thick Hair
Credit photo: instagram.com/jeanclaudeelmoughayar
For those with especially thick, curly hair, this kind of short curly hairstyles is perfect 2021 style. It won't weigh down your hair, thus taking away your curls. It may seem a bit too short for some, but the perfect volume and drastic definition of the curls is so dramatic that you won't miss the length at all. Plus, it's so easy to maintain. You can either blow it dry with a round brush to fluff out your tresses or let your gorgeous locks air dry for that sexy look that never goes out of style.
Short Wavy Curls
Credit photo: instagram.com/meucabelocurto
Not everyone is blessed with perfect ringlets, but that doesn't matter. Soft waves are just as stylish. If you don't have the time to enhance your natural waves with a curling iron or wand, you can simply apply some product and let your hair air dry and showcase those gorgeous waves!
Classy Wavy Bob
Credit photo: instagram.com/styled_by_carolynn
This shorter bob is perfect for any age. With very slight layers, it adds volume and depth to your hair and allows for natural movement. Simply add a little product, run your fingers through your hair, and go. These pretty little waves are timeless and chic and will never go out of style.
Chin Length Curly Bob
Credit photo: instagram.com/meucabelocurto
This voluminous curly bob has slightly longer layers in the front with a gradual angle from the back. The loose ringlets that are soft and feminine create a fascinating, graduating silhouette as the cut is just under the chin, which gives a chic look and feel.
Short Curly Hair With Bangs
Credit photo: instagram.com/jeanclaudeelmoughayar
Bangs tend to go in and out of style every few years, but they are always flattering for short curly hairstyles. Whether you wear your bangs blunt or off the side, they add a look of mystery to your bouncy curls.
Short Layered Curls
Credit photo: instagram.com/meucabelocurto
Despite what you have heard, you can still add layers to shorter curly hair. This cute short style has layers of varying lengths to add texture and volume for a playful, fun look that is timeless and classic.
Tousled Curls
Credit photo: instagram.com/cut_and_color
Short curly hair in 2021 is perfect for that carefree, tousled look. The best part about this look is that it requires little to no effort. Simply wash your hair with a good curling shampoo, conditioner, add a little product such as a curling wax or serum and go. Tousled curls are fun and sexy.
Credit photo: instagram.com/manuelagmartins
This look is timeless and elegant. If you have a square face, you don't need to sweep your hair straight back as it won't flatter your facial structure. Simply sweep your curls to one side for a playful and flirty look. The loosely styled tresses will add volume and bounce to your hair, accentuating your stunning facial angles.
Part A-Line Short Curly Bob
Credit photo: instagram.com/jeanclaudeelmoughayar
This look works great for those with an oval shaped face. The center part and loose ringlets make for a sexy, sophisticated do. The shoulder-length curls still leave room to pull your hair back if needed, but this look works best with the loose ringlets gently framing your face.
High Updo For Short Curly Hair
Credit photo: instagram.com/thereallialovee
How about you to open up your beautiful face by putting all of your amazing curls in a sexy high updo? Though you may think that it's hard to play around with short locks, there are actually no limitations for your little bouncy cuties. Since they're pretty short, don't twist them around the base: simply create a high ponytail so that your locks stick randomly. And enjoy!
Curly Pixie With Headscarf
Credit photo: instagram.com/esther.itterly
A stylish touch of fancy accessories can emphasize your good taste. Sometimes we feel so lazy to do something more than a simple bun or ponytail, but we always want to be on point. This idea is a super straightforward way that will take less than a minute to give you an exceptional look. Put your pixie up, secure it with a lovely headband, and be ready flaunt with a creative hairdo.
Short To Medium Curly Bob
Credit photo: instagram.com/meucabelocurto
Every girl dreamed to have a doll-like hair in her childhood. If you are still dreaming about it, then this is what you should do! Just blend in your perfect dark brown curls a little bit of whitish highlights, and you will like the dolly you will see in the mirror. Prepare yourself for tons of compliments, as highlighting your natural hair color will enhance its beauty, this making all people around notice how stunning your hair is.
Curly Pixie Haircut
Credit photo: instagram.com/jeanclaudeelmoughayar
Curly pixies are minimalistic, yet eye-catching haircuts that are popular not only because of their beauty: many ladies go for them because such cuts are absolutely practical. Just imagine that your thick puffy locks won't bother you in hot summer days, as everything will be well-groomed and comfortable to wear. Yes, pixies are trendy not for nothing.
Space Buns For Curly Bob
Who says that getting half-ups for short hair is impossible? It seems like our today's short curly hairstyles are here to dispel some styling myths. You can create as many hairstyles as your imagination lets you. How do you like these cute space buns with a shiny accessory and some textured curls left on the back? Isn't that a reason to let your imagination fly?
Curly Layered Bob With Bangs
Credit photo: instagram.com/meucabelocurto
Some ladies underestimate the power of layers and bangs. Everyone loves to show up with a super textured and voluminous chevelure, right? And layered curly bob, accompanied with adorable face-flattering bangs are a good idea to create an unbearably full and sumptuous silhouette. Also, with the help of bangs, you wide forehead won't ever look too apparent: so many benefits rolled into one!
Inverted Grey Bob
Credit photo: instagram.com/meucabelocurto
There is nothing better that emphasizes your femininity than a stylish haircut. An inverted bob with grey curls added looks simply stunning and charming.
Peach Volume Curls
Credit photo: instagram.com/frankiegeehair
There are no limits for those of you who like to look fun and spicy at the same time. Peach curls create that sweet and sexy impression many of you aim at. Are you still waiting?
Face-Shape Blonde Curls
Credit photo: instagram.com/camillasantanas
There is nothing a nicely chosen 'do wouldn't take care of. In case there are any flaws you would like to hide, then there is nothing better than cute blonde face-framing waves.
Short Curly Bob
Credit photo: instagram.com/leticiagom
This short curly bob with big bouncy curls is so cute. It is one of the most modern and carefree hairstyles for short curly hair; if you aren't afraid to go super short, and want a cut that still has a ton of volume, this could be the cut you're looking for! Part to one side and tease the top for added volume!
Blonde Curly Bob With Bangs
Credit photo: instagram.com/isaac4mayor
Fringe is making a huge comeback, and this curly bob with bangs is no exception. This look is perfect for those who are looking for naturally curly hairstyles. The carefree tousled look is super sexy and chic, and the shorter cut adds bounce to your curly tresses.
Half Up Ponytail For Curly Hair
Credit photo: instagram.com/thereallialovee
If you are looking for more inspiration for short hairstyles for naturally curly hair, this short curly bob is striking. And the best thing about it is that there is still enough length to pull your hair back into a lot of half up half down hairstyles. A full half ponytail like the one pictured here is very playful and flirty.
Curly Pixie Haircut
Credit photo: instagram.com/esterlymelo
Short curly pixie haircuts all the rage right now. And there is no surprise as they are one of the best cuts for naturally curly hair. This fiery orange and black pixie is too adorable for words and adds a ton of volume to your naturally curly locks.
Black Curly Pixie Haircut
Credit photo: instagram.com/aiyanaalewis
Girls with thick, curly hair will love this curly pixie haircut. Short curly hairstyles for girls are a great way to remove some of the weight from your hair and maximize the volume of your natural curls. And it's so easy to style! Simply apply some volumizing mousse, scrunch and go!
Layered Bob Haircut
Credit photo: instagram.com/candyglitzshock
If you are thinking of getting a curly bob haircut, but aren't sure, maybe this cute curly layered lob will inspire you! Layered haircuts for curly hair are another way to add volume to your curly or wavy tresses. And what is better than a stylish bob hairstyle to show off your sassy side?
Very Short Curly Hairstyles With Caramel Highlights
Credit photo: instagram.com/esterlymelo
If you have natural hair and are looking for ideas for short curly cuts, this short curly pixie is a great way to showcase your gorgeous natural curls. These pretty curls have a ton of volume and texture, even with a super short hairstyle. And the caramel highlights strategically placed add even more depth.
Very short curly hairstyles will require a bit more upkeep as they need to be trimmed every four to six weeks, depending on how fast your hair grows. But this really short cut is so stylish and chic that you won't mind the extra effort. Regular trims will help your hair to grow thicker and faster. The best part about a short curly pixie is that it is perfect for those hot summer days when girls with long hair will wish they had your style!
Short Curly Hairstyles For Round Faces
Credit photo: instagram.com/nubiarezo
If you are looking for short haircuts for round faces and thick hair, this short cut with curly locks is just stunning. Short curly hairstyles for round faces are very flattering for your face shape and will nicely accentuate your gorgeous facial features.
This hairstyle for small curly hair will add a ton of volume to your natural hair. Shorter lengths can keep your natural hair healthier. And the dark roots with platinum blonde highlights add a multidimensional look to this super cute short curly hairstyle! Plus, curly hairstyles are so easy, as they do not require a lot of time and effort.
Short Curly Hairstyles With Bangs
Credit photo: instagram.com/nubiarezo
If you are looking for short hair styles with curls that have a ton of volume, this shaggy cut might be just what you are looking for. Short curly hairstyles with bangs are very popular right now. And these curly ringlets are out of this world! The pretty light auburn color gives it a fun and youthful vibe and is the perfect shade for Fall.
If you have been blessed with gorgeous ringlets like these, a super short cut would be frizzy and lack fullness. The slightly longer length on this cut adds volume and depth to this trendy look. Do a deep part on one side and style it over to the side, while teasing it for even more volume.
Short Curly Hairstyles For Black Women
Credit photo: instagram.com/indialove
Modern hairstyles for short curly hair don't have to be boring. This super short curly hairstyle is very hip. This cute pixie is one of the hottest short curly hairstyles for black women. With a bit more length on top for volume, this short haircut is so easy to maintain and doesn't require a lot of products. You could go days without washing your hair with this style, and it works great for any hair texture.
Shaggy Short Natural Curly Hairstyles
Credit photo: instagram.com/nubiarezo
Black short curly hairstyles are so pretty and very easy to maintain. If you are searching for short natural curly hairstyles, this cut is so pretty with its spiraling ringlets and a fringe. It has a ton of body. Ask for a slightly shorter length on one side to give it a bit of an asymmetrical style for the modern flair.
A fringe adds so much style to curly haircuts as it shapes your hair and frames your face a bit, accentuating your eyes. Don't be afraid to ask for bangs as they add a mysterious and flirty vibe to any hairstyle.
Short Hairstyles For Thick Curly Hair
Credit photo: instagram.com/nathaliebarros
African American short curly hairstyles are the envy of any woman with straight hair. Natural hair with naturally wavy or curly hair is indeed a thing of beauty. But you do not have to compromise over all of your length for a cute short hairstyle.
This voluminous curly bob is one of the best short hairstyles for thick curly hair. The long layers add fullness and movement without compromising over the curls. You can take the volume to thicker heights by teasing your hair to add maximum fullness and sheen. Show off those thick curly locks and be the envy of all of your friends.
Latest Short Curly Hairstyles - Highly Voluminous Bob
Credit photo: instagram.com/nubiarezo
For those who want to sport the greatest and latest short curly hairstyles. This voluminous bob is so hot! And what makes this fun style even hotter, is the bold shade of red to show off your sassy side.
Curly bob hairstyles are a great solution if you are looking for short curly haircuts. Ask for layers to add fullness and texture to your natural curly tresses. And the best way to style this curly bob is to spray your hair with sea salt spray, tease it and let it dry naturally to add depth and texture.
Short Hairstyles With A Curly Part On Top
Credit photo: instagram.com/arispella
Pixie cuts are very popular these days, and this short pixie with shaved sides and a faux hawk is no exception. Undercuts are trending right now as well as short hairstyles curly on top. Faux hawks were trendy in the 1980s and are making a huge comeback. Ask for shaved sides and all of your volume on top.
This curly pixie faux hawk is super cute and edgy with its curly blonde hair and red ombre fade that will certainly turn heads. If you want a bold look that shows off your daring side, this cut is for you! This look is great if you want a style that's feminine yet still cutting edge.
Messy Short Brown Curly Hairstyles
Credit photo: instagram.com/retrohair
Looking for short curly hair ideas? This chin length short curly bob is really cute. And the best part about this length is that you can still pull back the sides, if you want a cute updo. Plus, there is also enough length to braid your hair.
If you have darker hair, short brown curly hairstyles like this one are very flattering and stylish. The length will nicely frame your face and is very soft and feminine. It is so easy to style, as all you need to do is wash and go after spritzing your hair with sea salt spray or adding some curling product. A cute headband or head scarf can really dress up this style, if you want to refine your look.
Hairstyles For Short Wavy Hair
Credit photo: instagram.com/nubiarezo
Need ideas for hairstyles for short wavy hair? This choppy inverted bob is super cute. Inverted bobs are perfect for wavy hairstyles. Ask for long layers to add volume. This pretty inverted bob is great, as it has that carefree bed-head look that drives men crazy. All you need to do is blow dry your hair with a round brush and use your flat iron to make some loose waves. Then run your fingers through your hair and tousle it a bit for a fun and messy look that is young and flirty.
Natural Curly Hair With Bangs And Layers
Credit photo: instagram.com/curlybeauties
A fringe is coming back, and it doesn't seem to be going away any time soon. Don't be afraid to rock wavy hairstyles. If you are not sure how to style bangs with curly hair, you can ask your stylist or find a tutorial video online. And if you cut it right, it is super easy to style bangs.
This cut for naturally curly hair with bangs is especially pretty with its long layers that add volume and accentuate the pretty curly ringlets. And all you need to do to style it is brush your fingers through your hair and walk out the door. You'll love this super cute trendy hairdo!
Inverted Bob For Short Wavy Hair
Credit photo: instagram.com/cutyourhair
For those who ponder on trendy hairstyles for fat faces, look no further! This short wavy bob is so chic and stylish. Bobs are a great way to showcase your short wavy hair. Ask for a short inverted bob with choppy ends to add more bounce to your wavy locks.
And what is more feminine and chic than this soft pink color? The pale dusty rose shade is so pretty and girly, if you want a look that's soft and romantic. And it is so easy to fix your hair, as all you need to do is apply good curling cream to your hair, scrunch it and go!
Side Swept Bangs And Curly Hair
Credit photo: instagram.com/gabivasconcellosv
Pixies are super cute and they become very popular among women of all ages. And this asymmetrical pixie with side swept bangs curly hair is no exception. But if you don't know how to cut bangs for curly hair, you should not attempt to cut them yourself. Find a stylist who is familiar with pixie cuts for curly hair to ensure that you get this trendy look just right.
Cute short hairstyles such as pixies are so much fun. They do require regular trims to help keep their shape, but you will find yourself getting quickly addicted to this short and sassy style. And what makes it even more fun is this sexy shade of red that will draw all eyes to you!
Colorful Curly Pixie
Credit photo: instagram.com/salonchristol
While some women take curly hair as a curse, wise ones turn their unmanageable manes into an eternal blessing full of experiments. Once you find the right haircut for your curls, you will never know what are bad hair days and commitment are. Well, this idea is meant for those who want to let their bright personalities take over their looks. A sharp pixie that stands out with its pastel marine shades is undoubtedly a fantastic start to express your bright side. Although on curly hair the pixie looks a little bit different, it still performs its main aim - it gives the hair a wonderful shape.
Curly Pixie With Blonde Highlights
Credit photo: instagram.com/bellepaulinee
There are lots of ways to define your curls, as well as make them dimensional and lovely. You can style your cuties with a texturizing product, get some layers or go for highlights. The last option is the trendiest choice ever, as it not only gives a fresh crispy look to the curly texture but also amps up the whole body of the cut. Try it, and movement in hair will never leave you.
Blonde Pixie-Bob
Credit photo: instagram.com/christinechavezhair
Remember the classic look of a pixie bob? Usually, women wear this haircut with perfectly straight hair so that it enhances the volumetric crown and the framing front of the cut. There's one thing women with curly hair should get used to - everything looks different on their hair. According to this blonde pixie-bob, different means unique and extraordinary. In other words, you won't go wrong giving a curly take at the good-old trend.
Short Curly Hair With Bobby Pins
Credit photo: instagram.com/blushandmane
Sours: https://lovehairstyles.com/sassy-short-curly-hairstyles-women/
My Daily Messy Waves Hair Tutorial for Short Hair
Oksana is the groom's sister. She was thirty then, a little more than I am now. But she was beautiful and lucky, or so it seemed.
You will also be interested:
Suck on me and then I'll fuck you. You do not mind. I said no.
639
640
641
642
643