Outlook Calendars for Confluence – make standard your premium
In case you already benefitted from the features of calendars in Confluence, you do not want to miss it anymore.

Maybe Atlassian's "Team Calendars for Confluence Cloud" has been a valuable option for you so far. Calendars in general help teams share their schedules so they can stay organized, communicate availability, and track projects easily.
As of now, Atlassian moved their Team Calendars into Confluence Cloud premium, so they will no longer be available for purchase as a separate add-on to Confluence standard.
Outlook Calendars for Confluence – finding a solution
If you are not able to budget for Confluence Cloud Premium by that time, you will no longer have access to Team Calendars for Confluence. You can reinstate Team Calendars with your retained data at any time by upgrading to Confluence Premium, but you must decide.
If you feel like: "Well, Atlassian removes functionality, auto-upgrades me to a much more expensive product and I must opt-out to avoid a large price increase." (Atlassian Community 2021) – we feel your pain. Let us introduce you to another option: We will help you to make Confluence standard your premium!
With a Microsoft 365 subscription we have a convenient solution for you in place. Stick to your Confluence plan and integrate your Outlook Calendars with our app "Outlook Calendars for Confluence". Our app focuses on the power of Microsoft 365 and provides a seamless integration of the Outlook calendars you're already using.
Outlook Calendars for Confluence – use the power of Microsoft 365
By using your Microsoft 365 infrastructure, you'll be able to focus on the productivity of your team, while building upon the pros of Microsoft 365: high-level security, seamless workflows, straightforward administration, automatic updates, and a highly performant infrastructure.
Take your business to the next level by connecting Microsoft 365 and your Confluence calendars.
Outlook Calendars for Confluence – the features you need
The set-up works smoothly, and the calendar integration gives you full-scale features, just like your old Team Calendars. Add the power of Microsoft 365 Outlook calendars to your Confluence, review Jira milestones and see all relevant dates at a glance in your calendar.
Use the power of Microsoft 365 in your Confluence and move faster in your daily work:
Add Outlook calendars to Confluence pages or spaces
Show and edit personal or shared Outlook calendars in Confluence
Schedule Outlook & Microsoft Teams meetings in Confluence
Visualize and edit Jira dates
Real-time data from Microsoft 365
Simple permission management
Choose between different templates and view options
Now get back your Team Calendars for Confluence:
Sours: https://yasoon.com/outlook-calendars-for-confluence-make-standard-your-premium/
The Blog
Jira is a superb task tracker and a great tool to help you get things done. It's also a powerful resource at the macro level and can help you plan projects and map your work especially with the help of its various features. The Jira roadmap feature, launched in 2018, allows you to visually lay out your work overtime, for example, displaying how a product will develop over a period.
What's more, it makes it easy to see how individual tasks mesh together to contribute to the larger project. A further added benefit is the fact that Jira roadmap isn't rigid but can change shape as work is done and as requirements change.
All of this simplifies communication within the team and makes planning much easier.
In short, roadmaps in Jira can provide teams with the bigger picture for their work and how they're contributing to larger business goals. This means that it provides a crucial guide for defining your priorities and keeping your team in alignment.
Dev teams, product teams, and agile teams of all types can hence all get a lot out of using a Jira roadmap.
In this article, we'll explain how to set up roadmaps in Jira and provide advice on customization and best practice tips to make sure that you're getting the most out of this powerful feature.
Why you Need Roadmaps in Jira
The fundamental purpose of the product roadmap is to illustrate your team's strategic vision for the relevant stakeholders.
Jira roadmap is a key tool for agile teams and should illustrate both what the team is working on and why. Roadmaps in Jira enable you to connect tasks to your broader product strategy and to order tasks and priorities based on customer feedback – both of which are pivotal for the agile methodology.
This means that the team can quickly and simply access all of this information. At the same time, the product owner can easily illustrate and justify changes in direction.
Jira packs information into roadmap items meaning that the overall picture is clear but significant amounts of additional detail are no more than a click away. Meanwhile, epics can be broken down into smaller tasks directly from the roadmap, and dates and deadlines are automatically adjusted as you manipulate items on the roadmap. What's more, the ability to embed your live Jira roadmap into Confluence means that you can share it wherever you need.
Roadmaps aren't one-size-fits-all, either, though. Whereas dev teams may want to focus on sprints, milestones, and tasks set against a chronological timeline, roadmaps can also be useful for a range of other purposes and can be highly effective for communicating the development pipeline for non-technical users.
Roadmaps for executives: Roadmaps can be extremely useful for illustrating progress over time, sorted by month or by quarter, and working towards high-level organizational targets.
Roadmaps for sales and marketing: Roadmaps can highlight new features and functionality that will drive sales. As a public resource, they can also drive customer engagement by promoting upcoming features and areas of development focus.
Advanced Roadmaps vs. Basic Roadmaps
Basic roadmaps are available as part of all Jira plans, while the advanced roadmaps feature is limited to Jira Software Premium. You can see an advanced roadmap above and a basic roadmap below.
The key difference between the two is that advanced roadmaps include the ability to view tasks from multiple teams and projects, and with unlimited levels of hierarchy. Whereas roadmaps can map dependencies within a single team, advanced again takes this to the next level, allowing you to identify dependencies and blockers across teams and projects.
Advanced roadmaps also include the ability to review team capacity on a sprint-by-sprint basis and to create multiple versions of your Jira roadmap, meaning that you can plan for all eventualities.
How to Set up and Use Roadmaps in Jira
To enable roadmap functionality for your next-gen Jira Software project, go to the project sidebar and select Project settings > Features. From this page, you can enable and disable the roadmap feature.
When building a roadmap in Jira, product owners should weigh up customer insights and the team's goals and targets. With this in hand, the team can then begin prioritizing work and populating the plan.
Of course, you should also keep in mind the intended audience for the roadmap: is it for the team's own use, for executives, or for external stakeholders? This will guide the specific information and the level of detail that it's appropriate to add to the roadmap.
And providing the right amount of information is crucial: too little and the roadmap won't be used; too much and the roadmap will be hard to read and inaccessible.
To minimize clutter, roadmaps won't display completed issues. If issues were marked "done" over a year ago or are resolved and have a due date over a year ago, then they won't appear on the roadmap.
Reading the Roadmap
There are a number of elements and features to track when using the roadmap. You can:
Filter the roadmap and the issues displayed by assignee
Filter the roadmap by status category (To do, In progress, or Done), applying to the epic and child issues
View date ranges and edit them just by extending the bars
Access settings to adjust your personal view at any time
Add new issues on epics – just open an epic in order to add child issues (which will then appear on your board and in your backlog)
Zoom in and out on the roadmap by adjusting the timeline by weeks, months, or quarters
Customization Options for Roadmaps in Jira
There's plenty that you can do to customize your view of a Jira roadmap.
You can choose which epics to display on the roadmap using the view settings, selecting between All, Complete, or Incomplete. Epics that are marked Incomplete will always be available to view on the roadmap.
You can choose to include dependencies and progress on the roadmap by selecting the appropriate box in the view settings panel.
Using filters you can choose to display issues and epics in specific status categories or for specific issue types.
How to Share your Roadmap
Being able to share your roadmap with stakeholders is key, and there are in fact several options for sharing.
Anyone on your team who has permission to view the plan can access the roadmap via Jira and using the page URL.
You can share the roadmap as a read-only link:

Above your roadmap timeline, select the Share option; then click Link and Copy.

You can embed the roadmap in HTML pages:

Go to the sharing panel, then click Embed and Copy. You can then just drop the link on any HTML page that supports URL embedding.

You can export it as an image (as a PNG file):

With your roadmap open, select Export; then select the Timeline view, Start and End dates and then click Export – and you're done!

You can export a spreadsheet (as a CSV file):

Just click Export then Spreadsheet (.csv). The CSV generated will map the plan, based on the current hierarchy and filters.

You can embed your roadmap in a Confluence Cloud page. The roadmap will update in real-time and you can view and edit it as if you were in Jira. There are a number of ways to connect the roadmap to Confluence:

i) Paste a URL: With your roadmap open, copy the URL from your browser, then paste this directly into the Confluence page. Confluence will then automatically generate a Jira Roadmap macro.
ii) Use the macro shortcut menu: From the macro shortcuts menu in Confluence, simply select Jira Roadmap.
iii) Pull up the macro menu: From the full macro menu in Confluence, select Jira Roadmap.
Best Practice Tips for Roadmaps in Jira
Creating the perfect Jira roadmap is a fine art and it requires keeping a number of plates spinning at the same time. So here are some tips:
Only include information that is relevant and useful for your audience
Ensure that the relevant stakeholders can access the roadmap and that they are using it
Communicate with stakeholders to ensure that it meets their needs
Keep the roadmap up-to-date and ensure that it's edited when things change
Ensure that the roadmap reflects both short-term and long-term work and priorities
On a more technical front:
Make sure your project is set to include the epic issue type – otherwise the roadmap won't work. Ensure, also, that epic issues have the appropriate date fields set.
Roadmaps can only display 300 epics or 3,000 issues, so it's good practice to ensure that issues are marked as done when relevant and to set appropriate due dates.
If you have corrupt issues, the roadmap won't display. You can resolve corrupt issues by ensuring that the fields for status, status category, issue type, and rank settings are all complete and correct.
Apps to Help you Create and Manage Jira Roadmaps
There are a number of Atlassian Marketplace apps that can help you with roadmaps.
Easy Agile Roadmaps for Jira
This app provides roadmap functionality for classic projects and calls itself the simplest and most flexible roadmapping tool for Jira. It offers an easy-to-use interface, with editing possible directly from the roadmap, and the app comes with features such as quick filters, milestones, swimlanes, and export tools.
Easy Agile is available for Cloud, Server, and Data Center and you can try it for free.
You can find Easy Agile roadmaps for Jira in the Atlassian Marketplace here.
BigPicture – Project Management & PPM
As well as providing Gantt charts, boards, and Agile timelines, the appropriately named BigPicture app includes its own roadmap functionality. BigPicture's roadmaps are compliant with Scaled Agile Framework requirements and offer a high-level view of the workflow.
The app has versions for Cloud, Server, and Data Center and a free trial is available.
Find BigPicture – Project Management & PPM for Jira in the Atlassian Marketplace here.
Swanly – Portfolio Release Roadmaps Jira
Swanly aims to provide the best roadmap for portfolio releases. The app helps teams organize, navigate, and filter releases and to create cross-project releases with synchronized versions. You can navigate the timeline using project swimlanes or filter by the type of release, and you can create timelines for both projects and portfolios.
At present, Swanly is only available for Cloud.
Get Swanly for Jira in the Atlassian Marketplace here.
Conclusion
In this piece we've explored what roadmaps can do for you, the options available to you in Jira, and some tips and tricks for getting the most out of them.
The Jira roadmap feature is a great way to illustrate the product pipeline in a clear and easy-to-understand format. What's more, it can be a great fit for a wide range of audiences – whether you need to communicate priorities for your team or if you're outlining your plans for executives or for your clients. So, if you're not yet using it, it's time to make a change!
Recommended Reads: 
Sours: https://www.idalko.com/jira-roadmaps/
Tutorial: Integrate Atlassian Cloud with Azure Active Directory
In this tutorial, you'll learn how to integrate Atlassian Cloud with Azure Active Directory (Azure AD). When you integrate Atlassian Cloud with Azure AD, you can:
Control in Azure AD who has access to Atlassian Cloud.
Enable your users to be automatically signed-in to Atlassian Cloud with their Azure AD accounts.
Manage your accounts in one central location - the Azure portal.
Prerequisites
To get started, you need the following items:
An Azure AD subscription. If you don't have a subscription, you can get a free account.
Atlassian Cloud single sign-on (SSO) enabled subscription.
To enable Security Assertion Markup Language (SAML) single sign-on for Atlassian Cloud products, you need to set up Atlassian Access. Learn more about Atlassian Access.
Note
This integration is also available to use from Azure AD US Government Cloud environment. You can find this application in the Azure AD US Government Cloud Application Gallery and configure it in the same way as you do from public cloud.
Scenario description
In this tutorial, you configure and test Azure AD SSO in a test environment.
Add Atlassian Cloud from the gallery
To configure the integration of Atlassian Cloud into Azure AD, you need to add Atlassian Cloud from the gallery to your list of managed SaaS apps.
Sign in to the Azure portal using either a work or school account, or a personal Microsoft account.
On the left navigation pane, select the Azure Active Directory service.
Navigate to Enterprise Applications and then select All Applications.
To add new application, select New application.
In the Add from the gallery section, type Atlassian Cloud in the search box.
Select Atlassian Cloud from results panel and then add the app. Wait a few seconds while the app is added to your tenant.
Configure and test Azure AD SSO
Configure and test Azure AD SSO with Atlassian Cloud using a test user called B.Simon. For SSO to work, you need to establish a link relationship between an Azure AD user and the related user in Atlassian Cloud.
To configure and test Azure AD SSO with Atlassian Cloud, perform the following steps:
Configure Azure AD with Atlassian Cloud SSO - to enable your users to use Azure AD based SAML SSO with Atlassian Cloud.

Create an Azure AD test user - to test Azure AD single sign-on with B.Simon.
Assign the Azure AD test user - to enable B.Simon to use Azure AD single sign-on.

Create Atlassian Cloud test user - to have a counterpart of B.Simon in Atlassian Cloud that is linked to the Azure AD representation of user.
Test SSO - to verify whether the configuration works.
Configure Azure AD with Atlassian Cloud SSO
Follow these steps to enable Azure AD SSO in the Azure portal.
To automate the configuration within Atlassian Cloud, you need to install My Apps Secure Sign-in browser extension by clicking Install the extension.

After adding extension to the browser, click on Set up Atlassian Cloud will direct you to the Atlassian Cloud application. From there, provide the admin credentials to sign into Atlassian Cloud. The browser extension will automatically configure the application for you.

If you want to setup Atlassian Cloud manually, log in to your Atlassian Cloud company site as an administrator and perform the following steps.

Before you start go to your Atlassian product instance and copy/save the Instance URL.

Note

url should fit pattern.

Open the Atlassian Admin Portal and click on your organization name.

You need to verify your domain before going to configure single sign-on. For more information, see Atlassian domain verification document.

In the ATLASSIAN Admin portal, navigate to Security tab, select SAML single sign-on and click Add SAML configuration.

In the Azure portal, on the Atlassian Cloud application integration page, find the Manage section and select Set up single sign-on.

On the Select a Single sign-on method page, select SAML.

On the Set up Single Sign-On with SAML page, scroll down to Set Up Atlassian Cloud.

a. Click on Configuration URLs.

b. Copy Azure AD Identifier value from Azure portal, paste it in the Identity Provider Entity ID textbox in Atlassian.

c. Copy Login URL value from Azure portal, paste it in the Identity Provider SSO URL textbox in Atlassian.

On the Set up Single Sign-On with SAML page, in the SAML Signing Certificate section, find Certificate (Base64) and select Download to download the certificate and save it on your computer.

Add and Save the SAML Configuration in Atlassian.

On the Basic SAML Configuration section, perform the following steps.

a. Copy SP Entity ID value from Atlassian, paste it in the Identifier (Entity ID) box in Azure and set it as default.

b. Copy SP Assertion Consumer Service URL value from Atlassian, paste it in the Reply URL (Assertion Consumer Service URL) box in Azure and set it as default.

c. Copy your Instance URL value, which you copied at step 4 and paste it in the Relay State box in Azure.

Your Atlassian Cloud application expects the SAML assertions in a specific format, which requires you to add custom attribute mappings to your SAML token attributes configuration. You can edit the attribute mapping by clicking on Edit icon.

Attribute mapping for an Azure AD tenant with a Microsoft 365 license.

a. Click on the Unique User Identifier (Name ID) claim.

b. Atlassian Cloud expects the nameidentifier (Unique User Identifier) to be mapped to the user's email (user.email). Edit the Source attribute and change it to user.mail. Save the changes to the claim.

c. The final attribute mappings should look as follows.

Attribute mapping for an Azure AD tenant without a Microsoft 365 license.

a. Click on the claim.

b. While Azure does not populate the user.mail attribute for users created in Azure AD tenants without Microsoft 365 licenses and stores the email for such users in userprincipalname attribute. Atlassian Cloud expects the nameidentifier (Unique User Identifier) to be mapped to the user's email (user.userprincipalname). Edit the Source attribute and change it to user.userprincipalname. Save the changes to the claim.

c. The final attribute mappings should look as follows.

To enforce SAML single sign-on in an authentication policy, perform the following steps.

a. From the Atlassian Admin Portal, select Security tab and click Authentication policies.

b. Select Edit for the policy you want to enforce.

c. In Settings, enable the Enforce single sign-on to their managed users for the successful SAML redirection.

d. Click Update.

Note

The admins can test the SAML configuration by only enabling enforced SSO for a subset of users first on a separate authentication policy, and then enabling the policy for all users if there are no issues.
Create an Azure AD test user
In this section, you'll create a test user in the Azure portal called B.Simon.
From the left pane in the Azure portal, select Azure Active Directory, select Users, and then select All users.
Select New user at the top of the screen.
In the User properties, follow these steps:

In the Name field, enter .
In the User name field, enter the [email protected] For example, .
Select the Show password check box, and then write down the value that's displayed in the Password box.
Click Create.
Assign the Azure AD test user
In this section, you'll enable B.Simon to use Azure single sign-on by granting access to Atlassian Cloud.
In the Azure portal, select Enterprise Applications, and then select All applications.
In the applications list, select Atlassian Cloud.
In the app's overview page, find the Manage section and select Users and groups.
Select Add user, then select Users and groups in the Add Assignment dialog.
In the Users and groups dialog, select B.Simon from the Users list, then click the Select button at the bottom of the screen.
If you are expecting a role to be assigned to the users, you can select it from the Select a role dropdown. If no role has been set up for this app, you see "Default Access" role selected.
In the Add Assignment dialog, click the Assign button.
Create Atlassian Cloud test user
To enable Azure AD users sign in to Atlassian Cloud, provision the user accounts manually in Atlassian Cloud by doing the following steps:
Go to Products tab, select Users and click Invite users.

In the Email address textbox, enter the user's email address, and then click Invite user.
Test SSO
In this section, you test your Azure AD single sign-on configuration with following options.
SP initiated:
Click on Test this application in Azure portal. This will redirect to Atlassian Cloud Sign on URL where you can initiate the login flow.

Go to Atlassian Cloud Sign-on URL directly and initiate the login flow from there.
IDP initiated:
Click on Test this application in Azure portal and you should be automatically signed in to the Atlassian Cloud for which you set up the SSO.
You can also use Microsoft My Apps to test the application in any mode. When you click the Atlassian Cloud tile in the My Apps, if configured in SP mode you would be redirected to the application sign on page for initiating the login flow and if configured in IDP mode, you should be automatically signed in to the Atlassian Cloud for which you set up the SSO. For more information about the My Apps, see Introduction to the My Apps.
Next steps
Once you configure Atlassian Cloud you can enforce session control, which protects exfiltration and infiltration of your organization's sensitive data in real time. Session control extends from Conditional Access. Learn how to enforce session control with Microsoft Cloud App Security.
Feedback
View all page feedback
Sours: https://docs.microsoft.com/en-us/azure/active-directory/saas-apps/atlassian-cloud-tutorial
Lucidchart apps for Confluence. Which app is right for you?
Confluence Server and Connector
Trusted by over four million people worldwide, Lucidchart features a free, web-based integration with both Confluence Cloud and Server. This standard version comes with powerful integration and features, including:
Make, edit, and embed diagrams anywhere
Unlimited, free integrations with Confluence, Jira Software, G Suite, MS Office, and more
Top-rated, free apps for iPhone, iPad, and Android
Integration Steps for Confluence Server
Integration Steps for Confluence Cloud
(877) 210 9890
Interested in using Lucidchart at your company?
Call now and see why millions of users trust Lucidchart for their professional diagrams.
Sours: https://www.lucidchart.com/pages/integrations/confluence
Premium vs confluence standard
Learn about Confluence Cloud plans
Plans in Confluence Cloud let you choose the right features and functionality for your stage of business. From teams of three where you share everything, up to large enterprises with thousands of staff where visibility and control are paramount, there's a plan to suit your needs.
For information on pricing for Confluence Cloud plans, see this page.
What do I get with each plan?
Free
The Free plan is for small teams of fewer than 10 people who are just getting started with Confluence.
On the Free plan you get:
Permissions aren't customizable and anonymous access isn't available on the Free plan. If your site has always been on the Free plan, everyone who can log in to your Confluence site can view, add, and edit spaces and pages. If you change to the Free plan or migrate from Confluence Server to the Free plan, existing global, space, and page permissions will be kept in their current state, but anonymous access will be disabled. You'll need to upgrade again to change permissions or enable anonymous access. Read more about permissions and restrictions in the Free plan. 
You won't have access to audit logs to track events related to spaces, users, and administration on your site. Once you upgrade to Standard, you'll be able to use audit logs for your Confluence Cloud site.
Confluence sites on the Free plan will be deactivated after 120 days of inactivity. To prevent your site being deactivated, just log in and view any Confluence page — that'll count as activity and reset the 120-day clock. 
If you're a site admin, we'll send you emails to let you know if your site is at risk of being deactivated due to inactivity so you can log in and take action to prevent deactivation.
Standard
As your team grows and you need tighter access control, more file storage, and better support, you can move to Standard or Premium.
On the Standard plan you get:
Up to 20,000 users

250 GB of file storage

Permissions, including global, space, and page permissions

Audit logs for keeping track of important changes

Page archiving

Public links

Data residency (control over where your in-scope product data is hosted)

Standard Support (available 9am–5pm Monday to Friday for your time zone)
If you'll need more than 5,000 users and expect more than 50% of them will be actively using Confluence at the same time (concurrently), then the premium plan's optimized cloud infrastructure may better suit you. Most enterprise organizations that use our products regularly tend to have heavier concurrent usage.
Premium
The Premium plan is currently available for Confluence Cloud. This plan gets you everything from the Standard plan, plus:
Analytics includes insights on:
The usage of your Confluence Cloud site

How many total and unique views your spaces and pages have had

Who's viewed the latest updates to your pages
Admin key lets admins troubleshoot restricted pages by giving them temporary access to the pages.
Enterprise
The Enterprise plan is available for Confluence Cloud. This plan gets you everything from the Premium plan, plus you can:
Give users access to an unlimited number of Confluence Enterprise products and only pay for each user once

Get our 99.95% uptime service level agreement (SLA)
To inquire about an Enterprise trial or change to an Enterprise plan, fill out our contact form and someone from our team will reach out.
Change your plan
You can try another plan at no extra cost for the remainder of your current and next billing cycles, and cancel any time during the trial if you don't want to proceed.
If you're on the Free plan and want to try another plan for free, you can try the Standard plan for 14 days and the Premium plan for 30 days. 
Contact us to try the Enterprise plan.
During a trial you can use all the features available on the new plan, but SLA compensation available on the Premium plan doesn't commence until the end of your trial. Once the trial finishes, you'll be placed onto the new plan and charged the new amount at the end of your billing cycle.
Not sure which plan you're on? Choose Settings (  ) >  Billing >  Manage subscriptions to find out. The plan for each product is shown next to the product name. 
If you change to a lower plan level, you can keep using the features available in your current plan until the end of your billing period.
You need to be an Atlassian Cloud site admin to complete these steps.
Choose Settings (  ) >  Billing >  Manage subscriptions

Choose Change next to your plan name
You're ready to try out your new plan!
To successfully change to the Free plan, you need to have 10 users or fewer. If you're over that limit when you try to change your plan, the change will fail and you'll remain on your current plan.
Free cloud migration trials for Confluence Server instances
If you're using Confluence Server and trialling Confluence Cloud, your free cloud migration trial period lasts for the remainder of your existing server license period, up to 12 months. If you change to the Free plan during your trial period, the cloud migration trial will end immediately, and you'll need to upgrade to a Standard or Premium Confluence Cloud plan to use additional features. For that reason, we don't recommend changing to the Free plan during your cloud migration trial. To learn more, visit Cloud migration trials for server and Data Center customers.
Sours: https://support.atlassian.com/confluence-cloud/docs/learn-about-confluence-cloud-plans/
Atlassian Cloud Standard vs. Premium
Confluence Review – Is it Good Enough?
Confluence is a wiki and collaboration tool, designed to make working together easier. Users can create, share, and collaborate on content, attach notes and chat conversations to pieces of content, and do project and task management through the application.
Created in 2004 to support software engineers, many of whom were already using parent company Atlassian's Jira bug-tracking tool, Confluence provides a single location of documentation and multiple workspaces for teams.
Entering a market of wiki and bug-tracking tools designed for small teams, Confluence made document-sharing and collaborative work possible for enterprises that are constrained by compliance requirements and that need structured options for multiple teams.
Confluence overview
Confluence's key features include a simple, intuitive workspace and integrations with key productivity and tracking tools. It's also designed to play well with the tools you're already using for some of those tasks, meaning it comes with a large number of plug-ins and integrations. You can plug in Trello, for instance, as well as your digital calendars and other applications.
There's also the bedrock of Confluence's functionality — deep integration with Jira and the rest of the Atlassian ecosystem.
Let's take a closer look at Confluence's features. But first: should you use a browser or the app?
Browser or app?
Confluence is browser-based and can be accessed by a mobile browser, as well as through the mobile app. You can get Confluence on a desktop but it requires some workarounds using tools like ConfluenceFX. For now, we'll treat Confluence as browser-based.
Here, we're accessing it via Google Chrome. The signup flow goes like this:
You'll start with the choice of Confluence, or Confluence plus one of its sister Atlassian offerings.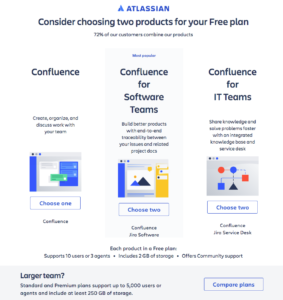 It's easy to see where Confluence has focused its efforts. Jira was the main driving force for Confluence's early adoption, and the integration between the two is still a major selling point for engineering-oriented users today.
Pick an option and you'll be asked to name your Confluence instance.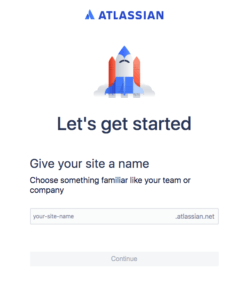 You'll also be asked what your business does and what your role is within it.
That and your contact details is the whole flow. You're in. There's an inbuilt tutorial that helps you learn how to use Confluence, but it's inside the tool, not part of the signup process.
On to the features you should know about.
Pages
Confluence is made of Spaces, and Spaces are made of Pages. Users can create both spaces and pages. Here's how it works.
Open a new page and you'll be met with this:

Pages can also be created from templates that are tailored to the business and role you declared during signup.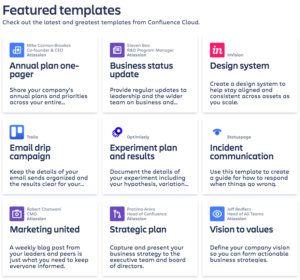 The range of templates is impressive, and features templates — like "Email drip campaign" above — that only work with specific integrations. The requirement to use integrations and plug-ins with Confluence is something we'll be returning to.
Sections
Confluence Pages are made of Sections. Using the slash (/) key brings up a list of types of content you can insert, including text, highlights, comments, emojis, tables, code snippets, calendars, and color-coded panels for errors, warnings, successes, and notes.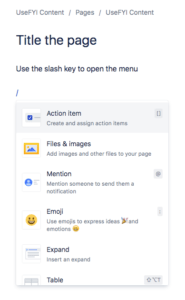 There are also ready-made column layouts that you can drop straight in.

You can tell how Confluence is expected to be used. Though text formatting options exist, they're far down the list. At the top of the list is Action item — a to-do list. You can assign other users an item from the list, and either you or they can check it off the list.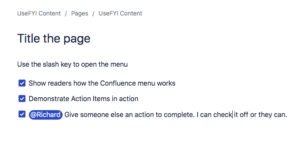 I've published that page to a Space. Spaces can be specific to a team, a topic, or an audience. There's a page tree menu for each space, and you can designate any page as "Watched" and get notifications whenever it's changed.
Spaces
By default, each Space comes with an Overview page that details the core team, the goal of the Space, and a roadmap, as well as collecting useful links.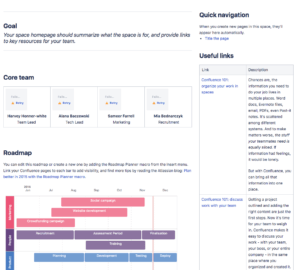 To open a new Page, hit "Create." The template menu you get speaks volumes about what Confluence is for.
I told Confluence I'm a Content Marketing Manager, so I'm getting templates tailored to that requirement. Rather than being open-ended, endlessly customizable hunks of functionality, these are tightly-focused marketer-friendly templates powered by Confluence's impressive array of integrations.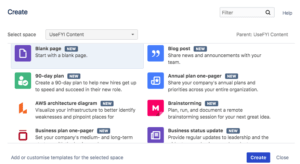 Integrations
Confluence stands out for the number and quality of its integrations. These include:
GitHub
Google Drive
Jira
GitLab
BitBucket
Notion
Bamboo
RocketChat
Zendesk
Office 365
The Confluence Marketplace offers a huge number of apps that power integrations and provide additional functionality. If there's a tool that's commonly used in business or software engineering for communication, productivity, or for task and project management, the chances are good that Confluence offers an integration or a plug-in for it. There's an active process whereby Confluence users ask for more plug-ins, voting on the most important or urgent as a community.
What makes Confluence different?
Confluence's greatest strength is to combine near-limitless customization with sufficient structure to get the job done, and to orient that functionality towards supporting software development teams.
There are tools that offer the customization but not the support. Others offer ready-made templates and tailored functionality, but force your work and business processes into predetermined channels. Confluence avoids both drawbacks, giving users both support and flexibility.
Confluence pricing and plans
Confluence has two paid plans, Standard and Premium, as well as an unusually full-featured free option and custom pricing for 5,000+ seats.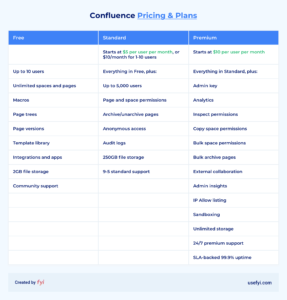 Confluence pricing isn't clear-cut. There's a sliding scale that reduces prices per seat as the number of seats rises. For example, the Standard plan is $4.68/user/month if you have 126 users, while Premium is $5.91/user/month if you have 1,600 users.
Confluence's pricing is complicated, and it's complicated further by the fact that many of the integrations required to make it work as you need it to are also priced, meaning your specific Confluence instance might cost significantly more than the sticker price.
What's great about Confluence
Confluence does some things amazingly well. Here are some of its core strengths.
Page hierarchy and Spaces
The structured nature of Confluence Spaces and Pages lets you create hierarchical structures and manage teams. Permissions let administrators manage access, mirroring business structure.
Ease of use
Confluence is extremely easy to get started with. It's not as intuitive as some project management tools, and if your main experience is with Basecamp or Trello you'll find a lot of new functionality to get to grips with. But there's an assistant built-in and the structure is logical. You can quickly start creating useful content using templates designed for your business type.
Integrations
If there's a single key benefit to using Confluence, it's the huge library of add-ons and integrations that let you pull everything from Google and Office to Trello and GitHub — and even competitors like Notion — inside your Confluence. Confluence is highly customizable in that you can do a lot with the basic toolkit the application provides, but the really important customizability for businesses comes with the ability to plug all the other tools you already use into Confluence.
Collaboration
According to Sven Peters of K15t, 80% of people using Confluence are consuming content, not producing it. In other words, it's the ability to create a robust and reliable source of truth where anyone in the organization can quickly and easily access the content they need that matters. As much as you can create great content easily with Confluence, that's actually of secondary importance.
Where is Confluence weak?
No tool is perfect. Confluence was created largely to give Jira users a space to collaborate — that's how its founders built Atlassian into a $10bn business — and it still heavily favors software engineers' needs. As powerful and useful as it is, there are some clear shortcomings too.
Pricing
Confluence pricing is already complicated. But there's an issue with the pricing of plugins that can exacerbate this.
Some plugins are free, whether they're supported or not. For instance, Confluence's Trello Power-Up is unsupported and free; Jira's Trello Power-up is supported… and also free.
But other plugins, like ScrollView, which lets you publish your Confluence documentation as a help center, is $2.25 per user per month (once you have more than 10 users). That's 1.5X your initial Confluence pricing on that one add-on, and they add up.
No SSO/Oauth
A relatively minor issue for users who spend all day in Confluence, it's still a problem: There's no Single Sign-On system and you have to sign in using your Google account (which may not always match your work accounts) or with email-and-password sign-on. It's less secure than it could be, as well as less convenient.
Pages don't update in real time
More crucial for a collaboration tool is the common complaint that when multiple people are editing the same page, the page doesn't update in real time; this may be merely frustrating, or it may reduce the page to an unmanageable mess.
Relies on user uptake
Confluence relies on user uptake. To get the best from it, the whole organization has to use it — which means users have to actually use it, not just have an account and send everything by email or Slack.
Incomplete PDF download functionality
Downloading Confluence documents as PDFs doesn't always function correctly. In particular, Gadgets — Jira functionality embedded in Confluence pages — download as links.
Who should use Confluence?
Any team can use Confluence to make sure that their important knowledge doesn't get buried in Slack channels or forgotten in an endless email thread. But that's true of any knowledge sharing tool. Who should specifically use Confluence?
Confluence is set up for software engineers and development teams.
While it offers support for other professionals, including sales, marketing, and product design, it's really focused on engineering — as shown by its deep integration with Jira. If you're a business that's built around software development, or you're a dev or engineering team, Confluence is a solid choice — especially if you're already using Jira to track bugs.
If you're not already using Jira, other tools like Slite or Notion give you access to similar functionality to the core of Confluence. Notion is more flexible internally, though it lacks robust API and integrations, while Slite is more intuitive and, being less structured, also less rigid.
Sours: https://nira.com/confluence-review/
You will also like:
The girl bit her lip and began to climb upward, enduring a strong torsion. She wanted to curl up and clasp her stomach with both hands, but she had to climb a branch. Sitting on a branch, Natasha with a groan bent in half, feeling endless waves inside.
14262
14263
14264
14265
14266