Women with curly hair know – it is not easy to style and maintain curls. Unlike straight hair, curly hair tends to be dry, which makes it more challenging to maintain. Shag haircuts for curly hair help you tame your swirls, and that is why many adore them.
If you are looking for a hairstyle that will make your curls defined and still make you look stylish, then this is the article for you. We break down the trick and tips for styling and taking care of curly hair. Also, we gathered some of the best examples of shag haircuts that can serve as an inspiration for you.
The Cutest Shag Haircuts for Curly Hair
We have chosen these hairstyles for you to get inspired for your next hair appointment!
1) Pink and Fabulous Haircut
Pink hair is not so often seen around, but once you notice that women wear it, you simply can't pass away without giving a comment. Shag haircuts for curly hair definitely match with soft pink hair and highlights.
2) Long and Curly
Long curls are a bit tricky to maintain. However, there is nothing that a good shag haircut can't solve. This style should define your curls, making them even more textured, even without using any hair product.
3) The Real Shag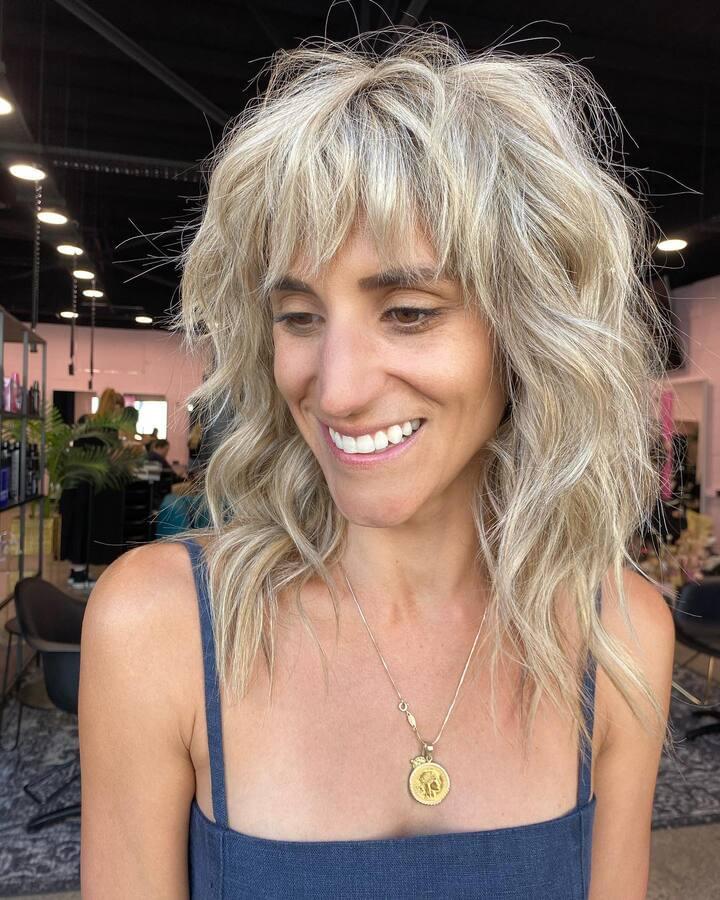 If you were wondering how the real shag looks – here is the answer. It has it all – enough layers, texture, and most importantly, the bangs. All of these are done on curly hair that still looks amazing.
4) Wavy Honey Blonde Hair
Honey blonde hair looks impressive itself, but when cut and styled in shag and with waves – we admit it looks even better. You can leave a few strands of hair lighter or darker and create a feeling of more volume.
5) Curly Blonde
Women with naturally curly hair might think that layering is not for them. On the contrary, shag is the perfect style to try if you have curly or natural hair. It will weigh off the hair, making it look more textured and styled.
6) Fuchsia Pink Shag Hair
If you wonder how to make curly hair look even more attractive, then this is the solution. Dye it fuchsia pink. You will get an absolutely enhancing and beautiful shag haircut that attracts nothing but positive comments.
7) Rainbow Curls
All those rainbow colors on the hair look very unique and bohemian. If you are ready to wear a hairstyle like this, we say go for it! Shag cut will enhance these shades even more by creating layers.
8) Like a Sun
Sunny yellow hair is not typical, we admit. However, it can make you smile even on a gloomy day. You can do highlights on your dark hair, around your face, but make sure to pick yellow dye.
9) Curtain Bangs on Long Shag
Long shag haircuts could be styled in so many different ways. Curtain bangs are a fantastic addition to this hairstyle. They will highlight your cheekbones and encircle your face.
10) Naturally Curly
It is noticeable that this girl has natural curls that are hard to tame. If you have the same problem, then the solutions are shag haircuts for curly hair. You can do side fringe or bangs – it is your wish.
11) Textured Curls
You can or can not consider yourself lucky with naturally curly hair. Some women love it, others hate it. We suggest finding a perfect balance with a shaggy hairstyle and lovely shade that matches your wishes, skin tone, and eye color.
12) Curly and Thin Hair
How to add volume to thin hair without putting on a tone of different products? The answer is in the shaggy haircut. Its layers will make your hair voluminous while preserving curls from losing their shape.
13) Dark Curls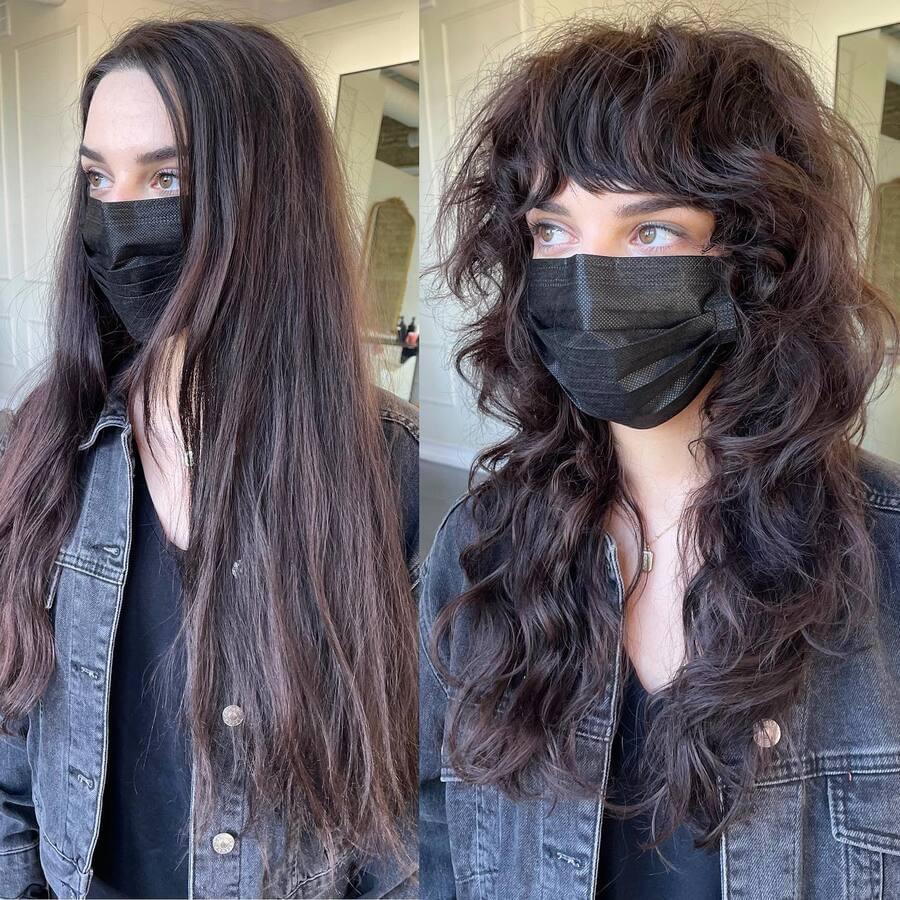 You can decide on flat or curly hair once you cut it in a shaggy style. Those layers are just perfect for both curling iron or a flat one, making your hairstyle even more attractive.
14) Short and Sweet
This is how you can style short curly hair without spending all your free time. You can save yourself time and energy if you decide to do a shag haircut and let your curls be free – a perfect haircut for both day and night events.
15) Youngish and Interesting
We all had periods when our hair was in the color of the rainbow. Usually, these things happened early in our teenage days. If you like your shag haircut, but you want to upgrade it, do blue highlights, and make sure they are positioned around your face.
16) Strawberry Blonde
Strawberry blonde was one of those shades that everybody wanted to try. It looks excellent on curls, especially on layers, when you can do highlights as well. Fringes encircle the face nicely, while those curls bounce up while you walk.
17) Colorful Shag
We have to admit, this is not a hairstyle you see every day. It takes time and patience to get this colorful shag. But we think that once you try something like this, you will be in love with your own hairstyle.
18) Cooper Balayage + Shag
Layers on your hair mean that your balayage will look even better, especially for thick shag hair. All those highlights, baby lights, and lowlights will look attractive even at night. The roots should be dark for great contrast, while lengths should be dyed in copper shades.
19) Natural Black Curls
Simple black curls that look healthy and textured are great for those who like classic hairstyles. This simple yet powerful shag haircut is suitable for all hair lengths and naturally curly hair.
20) Curly Pixie
Pixie hairstyles are bold and fashionable. They are also timeless, so you can choose them whenever you want. Layered pixie with curls looks extraordinary – so sophisticated and stylish. It is a perfect hairstyle for day to night events.
How to Take Care of Curly Hair
Now that you've seen all these pretty haircuts let's talk about taking care of your curls.
It is important to focus on products and accessories that won't make your hair dry and overweight. These are some proven techniques that will help you better manage your hair.
1) Pick The Right Shampoo and Conditioner
The first and most important tip is to buy shampoo and conditioner that are suitable for curly hair. They should be hydrating, enriched with ingredients like coconut, jojoba, avocado oils, shea butter, aloe vera, keratin, and many others.
If you are washing your hair every other day, then make sure to use mild shampoos that contain gentle cleansers.
2) Avoid Hot Water
Hot water tends to dry out your hair by stripping moisture out of it. So, no matter if you are a curly or straight hair girl, you should definitely avoid hot water. Instead, try lukewarm water, even cold one.
When you are rinsing the conditioner or a mask, use cold water. The cold water will seal the hair cuticle.
3) Choose the Right Brush
As mentioned, curly hair, no matter what cut you are wearing, tends to brittle and dry. It breaks easily when combed, and that is why it's so important to choose the right brush and comb.
The key is to brush your hair while in the shower. You can use a wide-tooth comb while the hair is conditioned, so it makes it easier for you to detangle it.
When it comes to brushing, invest in a good brush, with natural or wooden bristles, instead of classic plastic ones.
4) Mind Over-Shampooing
Washing your daily is not the best idea if your hair is curly. Over-shampooing is a real thing and can drastically damage your hair.
Using too much shampoo can strip off natural hair oils and leave your hair dry and brittle. Try spreading the time between washes. We recommend washing it every 3 days.
5) Use Leave-In Conditioner
Usually, conditioning your hair while washing it is not enough. You should invest in a good-quality, lightweight leave-in conditioner. You will notice a huge difference!
The conditioners are applied after washing, providing you with an extra dose of long-lasting moisture. It also forms a barrier around hair strands and blocks out those things that can harm your curls – frizziness, UV rays, and other kinds of damage.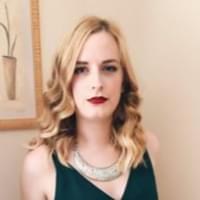 Nevena Zivadinovic
Nevena is a linguist, mom of a one-year-old boy, and fashion enthusiast. She loves writing about everything fashion, beauty, and lifestyle-related.
Her passion is magazines and books. That's why Nevena is mostly seen spending her free time with Kindle in her hands.
Get Hair Tips to Your Inbox
We will send an email from time to time. Not too often. You will get ideas with inspirational haircuts and hairstyles, suggestions on choosing hair colors, as well as hair care tips, and advice on how to deal with hair problems.
Sours: https://www.belletag.com/beauty/hair/shag-haircuts-for-curly-hair
We've all been briefed on that shag haircut at this point. It's revival over the past year has taken it from all-but forgotten to the headlining act of summer 2021. It's brought the whole of the '70s along with it too – looking at you, Farrah Fawcett flicks, curtain bangs and fluffed-out 'fros.
Rather than identikit beach waves and one-length strands, going forward, we're looking for hair that speaks volumes (and a little root-lift action that gives actual volume as well). We're after hair that has attitude, individuality, personality and a little rebelliousness to it, too, now that we're breaking back out of lockdown. And for that, texture is everything.
"Clients have had time to redesign their look over lockdown and the shag leans upon its '70's heritage to add a level of rock n roll to any tired heads of hair needing a revamp," explains Ricky Walter's, founder of SALON64.
"The right kind of shag is supposed to work with your natural curl, not against it," says Sophia Hilton, INNOluxe ambassador and founder of Not Another Salon. "This look is all about creating a textured fringe, soft layering and beautiful shape," she adds.
If you're taking notes to your hairdresser, ask for plenty of shorter layers, "this gives max attitude," says Ricky. As for styling, "this cut is best worn 'lived in'" he says. Super straight strands are out in favour of curls, waves and kinks.
Curly girls are reclaiming their natural texture: Here's how to make the switch
11 Photos
"For those lucky enough to have already naturally curly or wavy hair, this cut looks great simply scrunched," says Ricky. "The best thing about this trend is how low maintenance it is," agrees Sophie. "Literally wash your hair, pop in some a leave-in-treatment [try the INNOluxe Elixir, £25, or Shea Moisture 100% Virgin Coconut Oil, £10.99], air dry, and your hair is ready to take on the world.
If not you can create extra texture and oomph with your heat tools. "Rough dry it, then wave it with a giant waver or crimper," says Ricky, you can even finish off the odd natural rogue curl with some light tonging to get it exactly how you want it.
Crimping has had a modern makeover and we're back on board
12 Photos
Here's 7 ways to wear the curly shag...
The curly shag bob
The coily shag
The wavy shag
The jaw-length curly shag
The midi curly shag
The retro curly shag
The curly shag mullet
For more from GLAMOUR's Deputy Beauty Editor, Elle Turner follow her on Instagram @elleturneruk.
Sours: https://www.glamourmagazine.co.uk/article/curly-shag-hair-trend
15 Curly Shag Haircuts That Will Make Your Coils Pop
If you permanently struggle to find the right shape for your curly hair, there are some good news: a curly shag haircut is virtually the best match for this hair type. The essential components of the shag are short layers at the crown, choppy ends, volume and texture.
Consequently, curly shaggy hair has just enough body situated exactly where it is needed, as well as plenty of natural texture, not to mention, it's one of the hottest latest trends.
How to Wear a Curly Shag
Coming from 70s', curly shag is currently experiencing its revival. The modern reincarnation of this hairstyle has less contrast between the lengths of the top and the back and benefits from the up-to-date cutting techniques like razoring. Naturally curly, wavy and permed hair makes a perfect base for this look.
While shag cut is the best bet for curly hair, there's no one fits all option when it comes to the shape of a haircut. Hence, we've rounded up a few main versions of the latest shag hairstyles to pick the best suitable for you.
#1: Natural Afro Shag Cut
Choppy and layered, the shag cut is a perfect fit for natural afro hair. Apparently, big afro hair is a current trend, and curly shag is one of the best ways to spotlight the texture and volume of your locks.
#2: Curly Shag Bob
Relaxed and undone, this curly shag cut requires minimal effort to style it yet looks ultimately on point. Apply some sea salt spray or mousse on your wet hair, scrunch it and blow dry on a medium setting.
#3: Wavy Shag Haircut with Curtain Bangs
Undoubtedly, curtain bangs are one of the quintessential features of a modern shag cut. Is it even a shag without the bangs? Curl those face framing strands using straighteners or just let them air dry for a natural finish.
#4: Mullet Shag with 70s Curly Bangs
These tousled copper coils and messy 70s' style curly bangs make a perfect combo to rock this season. Shaggy mullet with bangs is a trendy and refined way to add some shape to your naturally curly hair.
#5: Shag Haircut for Curly Hair
One of the curly hair struggles is too much bulk at the ends and a flat top. Cutting some shorter layers around the crown would give that sought after volume while keeping the length at the bottom.
#6: Curly Shag with Bangs
Choppy layers, chunky highlights and long face-framing bangs is all you need to make your curls look on point. Flick your fringe out using a thin round brush and a hairdryer to achieve this look.
#7: Shag Haircut for Wavy Hair
Heavily layered shag haircut that goes just below the shoulders is the best choice to make the most out of wavy hair pattern. Luckily, with this hairstyle you can cut on using hot tools; instead, scrunch your hair with some curl boosting serum and diffuse, or even let it air dry.
#8: Long Choppy Mullet Shag
Hop on the shaggy mullet trend with this ultra-heavy fringe and long curly back. While you certainly need to have the guts to pull off this look, you might ask your hairstylist to recreate a more subtle version of it.
#9: Long Curly Shag with Blunt Cut Fringe
If you want to give your curly hair some volume without compromising the length, this textured shaggy haircut is exactly what you are looking for. Blunt round bangs will make a contrast and give your hairstyle some personal touch.
#10: Textured Shag Haircut for Thick Hair
Shift the weight of your thick curly locks from the ends to the crown with this textured shaggy cut. It's a big challenge to find a hairdresser confident in cutting curly hair. We recommend looking for a stylist who uses Rezo Cut of Deva Cut techniques – those are the best and most popular among the curly hair community.
#11: Vintage Wavy Shag for Medium Length Hair
Soft shape, blended layers and defined asymmetric highlights – we love everything about this look. You will need a smoothing serum, a big barrel round brush, a hairdryer and some dedication to style it to achieve this finish. It's so worth the effort though!
#12: Short Coily Mullet Cut
It's well known that curly hair is the best base for shags and mullets. However, if your hair is dead straight and you still want to wear this look, why not go for a modern perm? Combined with the juicy teal color, this hairstyle is anything but boring.
#13: Shaggy Bangs for Curly Hair
If you dream of a fuss free, textured and easy to style haircut for your curly hair, look no more. This shag cut is both trendy and easy to maintain.
#14: Afro Mullet Haircut
Short, choppy layers add a lot of volume and oomph to this shaggy haircut. It's a perfect shape for afro hair texture or for any other type of tight ringlets.
#15: Wavy Shag with Chunky Highlights
Adding highlights to your wavy hair is a perfect way to emphasize the texture and create an illusion of even more volume and dimension in your curls. Style them using a diffuser and some serum to get this look.
Edgy and daring, curly and wavy shag haircuts are certainly worth trying. While not everyone would be able to pull off a mullet, a softer, more wearable interpretation of a shag cut would suit most of the curly hair types. At least some of its elements can be implemented in your hairstyle to give it some edginess – be it tousled curly bangs or razored layers.
Sours: https://therighthairstyles.com/curly-shag-haircut/
50 Shag Hairstyles That Are Trending Now
One of the 2021's biggest hair trends is the shag haircut, a versatile style that works with virtually any hair type. With a shag you can be sure you'll keep your look updated and sexy.
Whether you have thin or thick, short or long, straight or curly hair, there's a style for you – check out below!
1. Platinum Blonde Wavy Shag. Say hello to your Marilyn Monroe side with a platinum blonde wavy shag haircut.
2. Long Center-Parted Shag Haircut. Look effortless and sexy with a centre-parted long layered shag haircut.
3. Cute Mid-Length Shag. This sweet shag haircut gives off Zooey Deschanel vibes, and we love it! Bring your romantic side out with this low-maintenance style and look on-point at all times.
4. Fiery Modern Shaggy Cut. Say "Yes!" to this burning hot hairdo. A short shag with shadow roots and a foxy hue creates an unforgettable creative mix worth giving it a try! Besides, the wide feathered bangs definitely complement this style.
5. Shag Cut with Curtain Bangs. Shag hairstyles and curtain bangs are always a great match creating enviable volume. Pro tip: add highlights and waves for extra texture and a sun-kissed look.
6. Modern Shag Haircut. The modern shag hairstyle is somewhat more casual than the classic 1970s version: the haircut of rock'n'roll stars now looks more feminine and effortless. This shag haircut can be shaped in a way to perfectly balance out your facial features!
7. Thin Hair Shag. A shag haircut for thin hair can give an illusion of thicker locks when body is played up on top.
8. Long Choppy Shag Haircut. A long shag haircut has the magic power to frame your face beautifully while adding a touch of chaos to your appearance. Go for this choppy cut if you're a rebel at heart. We also recommend trying uneven bangs for a stylish glam rock reference.
9. Shaggy Bob Haircut. The cheeky brunette bob is a great hairstyle for those who want to add spice to the traditional short shag cut. The piece-y bangs will accentuate your eyes and beautiful cheekbones.
10. Shoulder-Length Shaggy Hairstyle. Do you prefer shoulder-length locks? Well, you don't have to go shorter, since shag hairstyles fit all lengths and textures. Try adding waves and highlights, and you're ready to go.
11. Messy Shaggy Haircut with Birkin Bangs. Although they may require some maintenance because they end just above the lashes, these bangs named after Jane Birkin are worth the effort. It's an excellent match for a messy shag if you want to achieve a quirky and romantic look.
12. Curly Shag Haircut. Complement your chaotic shag hairstyle by adding scrunched curls throughout and face-framing highlights. Rocking this shaggy cut, you may discover a new, savage side of you!
13. Long Shag with Curtain Bangs. If you want to stick to the basics, this delicate shag haircut is what you're looking for. With feathered layers that wave at the ends, it's a hairstyle suitable for any gathering.
14. Shoulder-Length Shag Haircut. Love your shoulder-grazing locks? Go for a medium-length shag haircut and texturize your mane with waves.
15. Shag Hairstyle with Shorter Layers. The mid-length shag haircut changes it up with shorter pieces up top and longer locks at the bottom.
16. Shaggy Cut with Choppy Layers. This type of shaggy haircut is definitely for those who want to stay low-maintenance. The edgy midi shag cut comes with crisp bangs to softly frame your face and help you create a dramatic look.
17. Dual Mullet Shag with Feathered Bangs. With an extended cut at the back that gets shorter to the front, the mullet hairstyle is one of the boldest choices among shag haircuts for women.
18. Curly Shag Haircut with Piece-y Bangs. Afraid that your curly hair will look like a mess? Then try a shag haircut to make it hot and give it shape. Let your curls do their thing, as this hairstyle will give them more movement and direction.
19. Feathered Layered Shag Haircut. If you're looking for a haircut that would be appropriate for a business meeting but also show off your edginess and bold personality, this midi shag with bangs is what you need. The feathered layers will soften the look.
20. Shag Haircut with Bangs. Of all the shag haircuts for women, this edgy, creative, intentionally messy variation refers directly to the iconic hairstyle. Medium-length hair, choppy bangs, waves, and highlights get the job done. Go to a club and rock the dance floor!
21. Shag with Beach Waves. Bring summer with this beautiful medium shag hairstyle! The caramel balayage fits here perfectly.
22. Shaggy Cut with Shorter Layers. If you're done pretending to be a good girl and want to embrace your tomboyish side – try this hairstyle. With shorter layers in the back, you'll spice the cut up and warn everyone around not to ever mess with you.
23. Shaggy Bob with Razored Ends. This layered shaggy bob is so delicate and soft that wearing it would be a mere pleasure! The hairstyle looks absolutely astonishing with razor cut ends, adding volume and movement to your hair.
24. Edgy Shaggy Mullet. This shag variation leans to the mullet shag, which gives it an edgier finish. If you feel confident enough to rock this hairdo, ask your stylist to cut choppy layers from front to back.
25. Shoulder-Length Wavy Shag. This cut is one of the sweetest shag hairstyles that require minimum maintenance. Shed years off and look younger with a "cuteness overload" haircut.
26. Red Hair Shag Hairstyle. Tired of the same hair color you've had since birth? If violet or pink is too risky for you, then dye your hair red! Redheads always stand out, so your new shaggy cut will undoubtedly attract everyone's attention.
27. Dark Blonde Shaggy Waves. Let the world know you're ready for summer and rock a blonde shoulder-length shag with highlights.
28. Shaggy Hairstyle for Long Hair. Girls with long hair will look incredible with this layered shag haircut. Don't forget about highlights, as they add volume and dimension to your hair.
29. Brown Shag with Babylights. Babylights on any hairstyle with long length is an easy way to take your look from good to the best.
30. Layered Shaggy Bob. A layered bob is among the classics of shag haircuts for women. Stick to your natural color for an aristocratic appearance or try platinum or pearl blonde to be the trendiest person in the room!
31. Shaggy Cut with Piece-y Bangs. The long shag with bangs is probably one of the prettiest hairstyles ever seen. This layered haircut will bring out the delicate features of your face and highlight the eyes.
32. Shaggy Cut for Coarse Hair. If your hair is messy by nature, mastering the styling of a shag won't take much time. This sexy shag will look absolutely stunning on you!
33. Medium Beachy Waves. If you can't go to the beach, bring the beach to you with a wavy shag haircut accented with golden highlights.
34. Purple Pink Shag. A strawberry blonde base with lilac tips takes this mid-length shag haircut from wow to wow-za!
35. Hairstyle with Peek-a-Boo Bangs. A long shag haircut will help show off your gorgeous long length.
36. Brunette Bob Shag. Revamp your hair and try a shorter shag haircut with bangs.
37. Curly Shag with a Fringe. The baby-soft curls and piece-y bangs frame the face in an angelic way.
38. Bardot Haircut. Even Marcia Brady would have to give you props for this layered shag hairstyle.
39. Purple Rapunzel Hair. Your current long look transforms into an edgy Rapunzel when given a long shag haircut.
40. Long Messy Pixie. The long shaggy pixie haircut is oh so cute and keeps the curls you love. Bonus: it will also keep summer's heat off your neck!
41. Dark Shag with a Violet Tint. A deep violet gives this brunette shaggy haircut something extra.
42. Shag with Bangs. Wondering how to work in your fringe? Keep it short and choppy to complete an edgy layered shag haircut.
43. Full Medium Shag Haircut. Show off your thick hair with a shaggy layered haircut, volumized on top. Wear straight or curly.
44. Fringy Shag Haircut. It might be just the cut for you if body on top and thinner pieces on the bottom is something you're looking for.
45. Mermaid Shag Haircut. Wavy locks with minimal bangs will have you looking like the mermaid you've always wanted to be!
46. Modern Wavy Shaggy Bob. A pretty curly shag haircut that uses bangs to make it modern.
47. Long Shag with Extended Curtain Bangs. For an easy-going style that showcases your long locks, choose a shag haircut. It fits any face shape and is a great look for any season.
48. Thick Wavy Shag. We bet you won't be able to stop running your fingers through your beautiful long layered hair.
49. Super Straight Shag with Bangs. These choppy bangs accent the thin shag haircut with sharp, sliced layers.
50. Shag with Gray Highlights. Embrace the messy shag haircut by encouraging curls to come toward the face for easy framing.
When considering your next look, remember there are so many ways you can play up a shag haircut. From messy and curly to pin-straight with bangs, shag haircuts are versatile looks with great potential.
Sours: https://www.hadviser.com/shag-haircuts/
Haircut curly shag
Since the early 2010s, style and beauty have both cycled back in time to the 1980s and 1990s: All clothes are high-waisted now, blue eye shadow has come back into style, and light-wash jeans are finally acceptable as a fashion choice again. In 2019, though, trendsetters decided that the '80s wasn't far back enough for beauty inspiration — hence the recent obsession with the 1970s aesthetic. Case in point: The shag haircut.
The distinctly layered style has been outshined by blunt-cut bobs for a while, but this fall, it's become impossible to ignore thanks to hairstylists and celebrities. Holly Seidel, a Los Angeles-based stylist specializing in the shag cut, thinks it's the cut's inherently rebellious nature that's kept it relevant over decades. "Women are tired of being told to hide their natural textures," she tells Allure. "They want to wear their natural texture or at least have the option, and a well-cut shag gives them that freedom."
Our 2019 Best of Beauty Awards have arrived — check out all the winning products here.
In 2019, the shag cut can be as much or as little of a commitment as one wants it to be. It can be short, long, drastic, subtle — but thought the possibilities are endless, most shags are characterized by their volume-inducing layers and face-framing shapes. "As a whole, a shag is cut by by pulling everything forward with more dramatic contrast of layering [rather] than the average long layers," says Nashville-based stylist Andy Judd. He prefers to razor-cut most layers on wet hair and make adjustments after drying, but says plenty of hairdressers have learned their own signature techniques.
That's why we've rounded up the best and most diverse shag haircuts from recent years. Just be warned: Some of these examples will have you calling your hair salon to book a last-minute appointment.
Sours: https://www.allure.com/gallery/shag-haircut-ideas-trend
I Try Brad Mondo's Shag/Layered DIY Hair Cut on Long, Curly Hair: Does It Work?
31 Modern Shag Haircuts for 2021 (Approved by Stylists)
The Modern Shag with Side Swept Bangs
Instagram @epikasalonandboutique
The modern shag with side-swept bangs is a beautiful option for women who want to add some shape to their lengths. A shag adds width to the face's side. This has a stunning effect on the cheekbones, especially where the side fringe blends with the shaping. For rounder faces, the shag hair trend is still possible. How? Adjust the length of the fringe to sit a little longer.
Soft Shag with Sombre
Instagram @petercutshair
A soft shag with sombre color is great for natural levels 5 and under. Creating a soft brunette complements the skin without needing to over-lighten the hair. Mid-length textured layers create the soft shag and also help elongated round face shapes.
Youthful Shag for Women Over 60
Instagram @blonding_bri
A perfect youthful shag for women over 60 involves wispy bangs with many long layers and voluminous waves. A choppy shag hairstyle is easy to maintain, playful and very youthful.
Flattering Shag for Women Over 50
Instagram @morganobrienhair
A flattering shag for women over 50 can make fine hair look fuller. Side-swept bangs and added layers, styled with a gorgeous wave creates the fullness you've been looking for in a layered shag.
Attractive Shag for Women Over 40
Instagram @drethings
Attractive shag for women over 40 consists of face-framing layers that fade into long beautiful waves. Styling shag haircuts can be simple, easy maintenance and with added texture, the perfect combo of volume and length.
Long Layered Shag for Thick Hair
Instagram @jesssalvagepaints
A long layered shag for thick hair consists of choppy layers throughout. Style this cut with luscious curls and side-swept bangs to help elongate your face and neck.
Very Curly Shag Bob
Instagram @curlfrann
A very curly shag bob can be done well on fine or thick hair textures. Shaggy curls define the shaggy hair style with lots of crown layers. Style in sections with mousse, then gel on mid-lengths and ends, while diffusing until dry. Add a little oil warmed up in your hands to break the crunch up and soften the curls.
Choppy Blonde Shag with Curtain Bangs
Instagram @rachelwstylist
Shag hairstyles are back, and a choppy blonde shag with curtain bangs is definitely a trend to try. Shorter lengths on top around the crown will give hair volume. Soft textured curtain fringe on a shag hairstyle will create a little more fullness. Style with a ¼" barrel curling iron and spritz with She-Bang-A-Bang by Evo.
Shaggy Layers with Thick Bangs
Instagram @cushla.hairdresser
Shaggy layers with thick bangs bring out a lived-in effortless shag hairstyle. Perfect for medium density hair, wear it naturally wavy or bring out the waves using a soft texture spray. Create fuller bangs by adding some texture, layers, and a good root lift powder after your hair is dry.
Trendy Layered Shag with Feathered Ends
Instagram @karthik_1003_official
A trendy layered shag with feathered ends can be great for thick-haired women. It will remove some weight to make the ends flick out of this shag hair like pretty little feathers. Shaggy haircuts are for the working professional with long round layers around the face and curled back.
Modern Shaggy Angled Bob for Thick Hair
This angled bob shag was handcrafted by hairstylist Natalie Cericola. "With this cut, ask for some heavy layering to take out the weight and to add texture. Instead of scissors, ask your stylist to razor cut your bob."
Cericola says a great product line for this soft feathered shag is IGK. "To create this look, use Call Time as a primer to prepare the luscious locks for this look. Follow up with Rich Kid Coconut Oil Gel to create a shiny finish while adding some hydration. To finish this look, use Broken Dreams Texture Paste to add texture and the perfect amount of grit at the base to give that lived-in feel," she explains.
Short shaggy bob haircuts look good on almost every face shape. Shags are not for the woman who wants a very low maintenance look. It requires extra time in the mirror and using proper styling tools.
Gorgeous Short Shaggy Bob for Modern Women
Instagram @hirohair
Spruce up your style with a gorgeous short shaggy bob, excellent for modern women. Really texturizing the ends of a bob creates a chic shaggy vibe. Part your hair in the opposite direction you normally would help add extra volume. Throw in some barrel waves and hairspray to show off the texture. Shaggy bob haircuts are great for all face shapes, and this short bob shag will grow out nicely if you choose to change it up.
Textured Shag with Long Bangs
Instagram @braxtonthomashair
Consider a textured shag with long bangs for a summery and beachy style. Add tousled waves to enhance such a long-length shag cut. To keep your fringe looking fresh, try Evo's Water Killer Dry shampoo.
Medium Shag Haircut With Bangs
Instagram @hairartistrybydawn
Achieve a medium shag haircut with bangs by asking for feathered and textured layers. For styling, wrap sections of hair with a 1 ½ barrel curling iron, leaving the ends uncurled. GHD and Babyliss are affordable styling tools for that beachy shag. Spritz the hair with finishing spray and fluff a bit using your fingers to comb through.
Short Shag With Bangs
Instagram @rachelwstylist
The short shag with bangs can actually make you say, "I woke up like this" in the morning. The versatility of a shag hairstyle is endless. The bangs can be placed perfectly to sweep your eyebrows and accentuate your eyes. There are messy layers that lift and add playfulness to the hair. Short shags are perfect for women with fine, medium, and thick hair.
Disheveled Short Purple Shag
Instagram @biancaxglam
This textured shag haircut was created by hairstylist Bianca DiMillo of West Hollywood, CA. "It's intended to look choppy and messy…that undone, just-rolled-out-of-bed look. It is perfect for anyone who wants their hair to look elegantly disheveled," she explains.
"Styling shag cuts like this is key," says DiMillo. "While the hair is wet, throw in a product like Sea Salt Spray or Oil Non Oil by Davines to help give volume and separation and emphasize the razor cutting technique. Once it's dry, dose lightly from root to end with Puff Me by Design Hair to add a messy and tousled look. Puff Me adds grit to your hair, allowing you to shake your hair with your hands and have it hold the style. I love it for a root lift too!"
This cut and style are great for women who want low maintenance styling in the morning and don't mind re-applying product every day. A shag haircut for fine hair is fun because it will give a little life to your style. "It would potentially work for thicker hair, but make sure your stylist thins your hair out appropriately or you'll look like a mushroom," she adds.
Oval and round faces will benefit from this cut the most. Avoid this style if you have a square or rectangular face as it will emphasize the boxiness.
Soft Pixie Bob Shag
This shaggy hair is somewhere between a bob and pixie cut. "It's extremely versatile," says hairstylist Jenny of Brooklyn, NY. "Since it has so many layers, you can style it all messy and textured, or it can also be more conservative when you need it to be."
For styling this long shaggy pixie, as well as other short haircuts, Jenny says to try Badlands Dry Shampoo Styling Paste by R+Co. "Since it has dry shampoo properties, it's lighter and also matte which is great. A lot of other styling pastes can weigh things down and make it look greasy. Apply it everywhere and stick the hair up all crazy to ensure that the product is evenly dispersed, then you can mold it down into the shape that you want," she explains.
To maintain this haircut, ideally, you should be getting it trimmed every six to eight weeks.
Since the modern shag has so many layers, this haircut is perfect for medium to fine density because it gives the illusion of having a lot more strands than you actually do. It requires little to no styling, so it's ideal for women who just want to air dry and throw some product in to give it some texture.
Playful Long Shag
Instagram @petercutshair
A playful long shag can be effortless and low-maintenance. You only need a shag haircut every 6 months to maintain this style. Adding textured long layers to long hair creates beautiful shag styles. Shag haircuts are great for all lengths and variations of textures.
Sexy Long Shag With Bangs
Instagram @raenikole
This is a lovely and casual long shag with bangs. The choppy layers start at the cheekbones, acting as another focal point while encouraging more texture in the hair.
This style should be more on the "undone" side of styling to keep a cool and sexy vibe. To style this Coachella-inspired look, add tonic on damp hair to enhance the hair's natural texture and dry it using a diffuser. Use a straightening iron to put a slight bend through the mid-lengths of the hair. Finish with Aveda's Light Elements Smoothing Fluid to separate the waves and add shine."
To maintain this cut, go in for a trim every six weeks and see your hairstylist at the three-week mark for a fringe trim. Some stylists do bang trims for free between salon visits.
Women with fine to medium density are ideal for this modern shaggy cut and it's great for any girl or woman who would like to embrace their hair's natural texture.
The Mid Length Messy Shag
Instagram @hirohair
If you love undone hair, then the messy shag will give you the loose textured vibe you're after. Straight shag haircuts benefit from having plenty of levels of layering. These layers can add fullness and life to your locks. Straight cut bangs, meanwhile, balances out the shape.
Mid-Length 70s Shag
Instagram @stebunovhair
A mid-length 70s shag haircut involves many even and choppy layers. A 70s shag is best for thicker hair with a lot of texture styled with gorgeous flowing waves. This allows for even volume and your layers to flow beautifully.
Shag for Thin Hair
Instagram @yukistylist
This cut is inspired by the 1970s shag haircut. This modern shaggy style with bangs has stayed relevant for decades because it continues to reinvent itself.
The best thing about the modern shag for thin hair is that it's meant to bring out natural texture. The less you style, the better it is!
If you have curly/wavy hair, start with a leave-in conditioner or some with frizz control and follow with a curl-enhancing product like mousse or cream. If you have little to no wave, add a little volume and texture by using one of my favorites, Kerastase's Spray a Porter.
This shag cut is so versatile that with the right customizations, almost all women can wear it.
Shaggy Layers
Instagram @sagebrush.inspiredbeauty
Get some shaggy layers to achieve a modern shag hairstyle for women with long hair. The layers in this shag with beach waves are sure to accentuate volume and texture. Don't forget face-framing pieces to create a free-flowing and feathery look. Add a few curls and finish with Bumble and Bumble Thickening Dryspun Texture Spray. The spray will create instant lift and volume.
Medium Length Shag for Older Women
Instagram @hair_by_sonia_seattle
This is a mid-length shag cut with lots of layers. Layers are recommended for volume and to soften features around the face.
Always use a volume shampoo and volume conditioner on fine hair. Try Pureology's Pure Volume line. Use a lightweight heat protectant all over. At the roots, spray lots of mousse. Try Wella's Root Shoot in the Eimi line. Last but not least, use some finishing sprays like Redken's Quick Tease and Big Sexy Hair Spray and Play. Also, do some teasing at the root with a teasing brush.
This hairstyle is for women looking to create volume and softness around their face, as well as women with fine hair. Any woman with high cheekbones, a high forehead, and dominant facial features will look great with this style.
Longer 70s Shaggy Hair
Instagram @salsalhair
A longer 70's shaggy hair style can bring out the natural waves in the hair. It's a low-maintenance style that can be cut and grown out beautiful for 6+ months. Longer hair will benefit from a shag giving it more movement with the medium-length layers. A long shag hairstyle softens a square face shape with eyebrow grazing bangs that have a wispy ends that really make the eye and cheekbones pop.
Cute Shag for Older Women
Instagram @chrismaddox_hair
A messy shag cut screams an adventurer that chooses to take risks. Now older women can look edgy in one of these wild lobs. When styling, the Hairstory's hair balm is ideal to give this wavy shag more body and texture.
Shaggy Layered Bob for Fine Hair
Instagram @mikerovstylist
The shaggy layered bob for fine hair is sure to get you all the textured vibes! Finer hair can benefit from a shag haircut as the layers will add width to expand the shape of your mane. Focus on going for a shorter bob length to allow the shape to stay strong and keep its fullness.
Modern Short Curly Shag with Layers
Instagram @hairbyfina
Funky and super 70s! Bobs can also be switched up to show massive yet flattering hair.
Long Shag for Curly Hair
Instagram @dmitrrovaa
A long shag for curly hair can help bring out the natural waves. A curly shag haircut puts out a rock'n'roll vibe on the weekends with some root lift power for body or can be dressed up and professional during the week with a simple styling balm to bring out the waves.
Wispy Shag with Choppy Bangs
The ombre retro shag with choppy bangs is playful and fun. It was created by hair colorist and stylist Nikole Phelps of Chadds Ford, PA. "Every thickness and length of hair can have its own ideal shag that adds a modern, retro vibe and texture," she states.
For styling Phelps suggests trying Bedroom.Hair by Keven Murphy. "It's a perfect texturizing spray to give it that bedhead look."
"Honestly, this shag haircut could really compliment many hair types," she adds. "For fine and thin hair, it can enhance volume and create texture. For curlier hair, it can add softness."
Long Wavy Shag for Thick Hair
Instagram @awaken.courage
With a long, modern shag haircut for thick hair like this, ask your stylist for more texture to get this incredible look. Pair with some choppy bangs and you've got a massively trendy shag.
Sours: https://www.latest-hairstyles.com/trends/shag-haircuts.html
Now discussing:
For a long time, the young man dreamed of getting to the luxurious ass of a proud stole, after another mocking refusal, he gritted his teeth. Imagining how he would take his soul away when he got to the goal. And now he was stretching to the fullest, while not forgetting to give pleasure to his partner. Without realizing it, Zarina, in a fit of passion, increasingly began to squeeze her buttocks, making it difficult for Roma to get out of her anus.
1307
1308
1309
1310
1311