The bob - it was a hair cut that shocked society when it was first created by Polish-born hairdresser Antoine de Paris in France in 1909, and it's been in fashion ever since. Over a century later and it's still one of the hottest hairstyles to have; whether you opt for a long bob aka the Lob, a shoulder-grazing choppy style or a blunt jaw-skimmer - the bob is the A-list hairstyle du jour.
'There are a few reasons for the resurgence of the bob,' says A-list hairstylist Paul Edmonds. 'Firstly, every woman I meet has been growing their hair for what seems like forever, so I think the new bob worn blunt with soft internal layers gives them the chance to have a haircut that can be worn in many ways, without having to grow it.'
But how can you make your bob more 2021 than 1920?
'Bobs are so versatile. You could have a French girl jaw-length flared out bob, or Charlize Theron's sleek slicked back at the sides with some height at the top bob,' explains Edmonds.
Read on for the best celebrity bob hairstyles inspiring your next trip to the salon...
3Ana De Armas
Actress Ana De Armas switched up her long brunette hair for a choppy bob complete with a Pulp Fiction style fringe. Armas debuted her brand new French girl bob during an interview with fellow Cuban actress and TV presenter, Limara Meneses and completed the look with a chic white T-shirt and classic cat eye make-up.
4Kaia Gerber
After joining the lob club earlier this year, Kaia Gerber is clearly loving the shorter look, opting for a super sharp trim to her jaw length bob. The result? A seriously chic, slightly undercut crop that's giving us serious 90s boyband vibes.
5Bella Hadid
Supermodel Bella Hadid took a leaf out of Kim Kardashian's stylish book by opting for a curled under bob. The Victoria's Secret star debuted the super-'90s style at the Vogue Fashion Festival in Paris, pairing the new 'do with an Alexander Wang ensemble. Alongside the blunt, chin-grazing chop, the face of Dior Make-Up dyed her hair a deep chocolate brown after she briefly went back to her blonde roots.
6J-Lo
Jennifer Lopez proved once again that she's the endless source of all things hair and make-up inspo. The actress stepped out for the Toronto International Film Festival (TIFF) rocking a new super blunt, clavicle-grazing bob. Lopez's sleek new look came courtesy of A-list hairstylist, Chris Appleton. 'Getting @jlo glam shiny and short,' Appleton captioned an Instagram post of the singer's chic new style.
7Emily Ratajkowski
The model and businesswoman stepped out at the 73rd Tony Awards with a brand new bombshell bob. Swapping her usual long brunette hair for a shoulder length bouncy lob, Ratajkowski confirmed bigger is better when it comes to her hair. Chocolate brown highlights and a dramatic side sweep gave the '60 style 'do a red carpet ready update.
8Irina Shayk
Supermodel Irina Shayk swapped her shoulder length brunette hair (that worked its way down the Versace runway just a few days ago in Paris), for a seriously sleek brown bob for this year's Oscars.
9Emma Roberts
Ever a colour chameleon, actress Emma Roberts changed things up again, working a chocolate brown shoulder-length bob for the 91st Academy Awards after party.
10Emilia Clarke
Short, sleek and deliciously chocolate brown, we're feeling Emilia Clarke's choppy bob Oscars makeover.
11Rihanna
Wet look waves totally work in a bob, when you're Rihanna anyway...
13Jessica Chastain
Jessica Chastain debuted a new jaw-length bob with an old Hollywood twist at Ralph Lauren's 50th anniversary show and party during New York Fashion Week.
14Vanessa Hudgens
Proving that bobs and bangs are indeed 2018's hottest hair trend, Vanessa Hudgens turned to hairstylist Chad Wood for her nod to the 'do du jour.
15Emily Ratajkowski
Emily Ratajkowski debuted a new light brown bob at Rihanna's Diamond Ball. Em Rata's new shorter 'do was created by A-list hairstylist Jennifer Yepez who posted a pic of her work on Instagram, captioned 'Who dis 👄 @emrata 💎 Ready for Diamond Ball 💎'. Wig or no we're loving the sleek 90s vibe.
16Emma Roberts
Whether she's a luscious redhead, a classy brunette or rocking a blonde bob, Emma Roberts always looks epic.
17Alison Brie
Encouraging all of us to give up on the mid-length grow out and opt for a bob instead, Alison Brie's tousled bob is a beaut.
18Naomi Campbell
Opt for a fierce blunt cut bob a la Naomi.
19Olivia Wilde
Farewell long blonde locks, Olivia Wilde's all about the blunt brunette bob these days.
ELLE loves...T3 SinglePass Luxe Straightening And Styling Iron, £145 SHOP NOW
20Olivia Culpo
Chopping off yet more of her brunette locks, Olivia Culpo swapped her lob for a sleek new bob.
21Selena Gomez
Wig or no, we're digging Selena's new super short bob.
22Diane Kruger
The ideal tousled beachy bob, take this one to the hairdressers and recreate Diane's loose wave using a tong at home.
23Kim Kardashian
Kim Kardashian went all Cleopatra on us debuting her sleek new super straight bob at the The Promise premiere.
24Kelly Rowland
An edgier and less identifiably feminine look for the singer, we love the harsh cut and the texture.
25Rose Leslie
The Game Of Thrones actress showed off a shoulder-length tousled bob as she joined co-star and boyfriend Kit Harington to attend the 2017 Olivier Awards.
26Cara Delevingne
After debuting the shaggy ice blonde bob of our dreams at Chanel's AW17 show, Cara Delevingne rocked up to CinemaCon working a super sleek retro 'do and we fell in love with her hair all over again.
27Chloe Moretz
Chloe Moretz just went all Debbie Harry on us with her new bleached bob and we want in.
Add undone texture into your bob at la Chloe with a texture spray.
28Alicia Vikander
Alicia Vikander working a new wavy bob at the Vanity Fair Oscars after party 2017. Cut and styled by the A-list's go-to bob man, George Northwood, Alicia's new 'do is going on the Pinterest board ASAP.
29Bella Hadid
The younger Hadid sister swapped her long brunette locks for an edgy black bob during fashion week AW17 and turned to Alexa Chung's mane man George Northwood for her sleek new 'do.
30Beyonce
Beyonce's wavy bob is super glam.
31Taylor Swift
Taylor's razor sharp edges give the bob a sleek and sophisticated feel. Use a round brush to blowdry your hair super smooth and recreate the look at home.
32Gigi Hadid
Gigi Hadid made the bob her own by keeping it sleek and slicked back with some serious ear hardware. We love.
33Lily Collins
Lily Collins' long wavy bob is the stuff of hair dreams. Give your bob a red carpet worthy gloss with a spritz of shine spray.
ELLE Loves...Bed Head Headrush Superfine Shine Spray, £8.50 SHOP NOW
34Lea Seydoux
Lea Seydoux shows the power of a blunt cut bob.
35Rose Byrne
The lob is still super in. Look to Rose Byrne for inspiration and keep it straight and glossy.
36Jourdan Dunn
Jourdan Dunn is hairspiration once again with this sleek, honey toned number.
37Louise Brooks
An oldie but a goodie: silent film actress Louise Brooks' cheekbone-skimming number was, arguably, the first famous bob. Pictured here in 1929, her blunt style with a thick brow-skimming fringe has gone down in the hairstyle history books.
38Agyness Deyn
When growing out her famous platinum pixie crop, Agyness Deyn styled out that awkward in-between phase with a choppy number.
39Taylor Swift
Taylor Swift, again. This time embracing a shaggier look with length and layers.
40Natalie Portman
Natalie Portman is a hair chameleon. For her famous role in Closer she adopted this twenties inspired bob.
41Faye Dunaway
Still one of the most copied style of bob, Faye Dunaway's silky blonde shoulder-skimming version (complete with obligatory beret, natch) in Bonnie & Clyde is as current now as it was in 1967.
42Anne Hathaway
Anne Hathaway has changed her hair often, from pixies to sleek styles to a longer wave. We love this simple, natural look.
43Mary Quant
Pictured here in 1964, Mary Quant's super short bob - which bordered on the pixie crop - was one of the most famous hairstyles of the era.
This content is created and maintained by a third party, and imported onto this page to help users provide their email addresses. You may be able to find more information about this and similar content at piano.io
Sours: https://www.elle.com/uk/beauty/hair/g17063/the-bob/
We've had a love-hate relationship with long hair over the past 12 months as the salons have opened and closed with the ebb and flow of pandemic restrictions. If you're anything like us, you've been to scared to give your hair a DIY chop, and have spent the past few months resembling the girl from The Ring.
That's exactly why we're craving a total overhaul for summer now that salons have finally reopened (praise be!) with many of us daring to go shorter than ever before.
But which look should you be plumping for to really stand out from the crowd when summer rolls around, and our social lives can fully resume post-21st June? Well, stylists are predicting those of us with long hair will be tempted to throw caution to the wind and take some serious length off our ends, signalling a fresh start during what's been a pretty full-on year.
You can forget bowl cuts or cringe-worthy page boy hair, the jaw-skimming styles that have already done the rounds with the likes of Kaia Gerber, Kim K and Dua Lipa, feel modern, refreshing and a little bit sexy (see the sliced bob and blunt bob for reference). It's no wonder the bob style recently took the crown as the most popular in the world with 222,580 average monthly searches (followed by the bun).
The question is, which cut to go for? It's no a longer one-size-fits-all approach. Bobs have been through a renaissance and the possibilities are endless. We personally can't get enough of the shaggy bob and the paper-cut bob, but there's also (deep breath): French bob, the shattered bob, the micro bob, the collarbone bob and the asymmetrical bob.
Hairdressers are also raving about the modern Diana bob. Inspired by the late Princess Diana, whose beauty look has been brought back to life via Emma Corrin on The Crown and Kristin Stewart in Spencer, this is the modern bob 2.0. The beauty of this hairstyle is that if it's cut at a good length, like the cheekbones, it can be left to grow out beautifully and can be a very low-maintenance cut, which is ideal with future potential lockdowns forecast.
The 'French bob' is the cheekbone-skimming hairstyle for when you want a fresh chop
14 Photos
Bobs are typically divided into two main camps. The first is a blunt, squared-off shape that finishes just above the jaw: "It feels fresh and has a modern, youthful vibe. It's a bit braver," says Jonathan Soons, Creative Ambassador for Headmasters Salons.
The second is the loose, breezy bob, which has a slightly less rigid shape and works just as beautifully cropped short as it does slightly longer.
There's also the longer-length bobs, made popular by the likes of Olivia Palermo and Daisy Edgar-Jones, whether that's sleek or slightly shaggy, it's perhaps
Either way, a new crop is a serious commitment that can't be easily reversed if it isn't quite right. Which is why, if you're considering going in for the chop, it's important to know exactly what you want before you get going. Jonathan Soons and Redken UK Ambassador Larry King have offered up a little advice.
The 'sliced bob' is the exquisitely sleek cut that does all the hard work for you
7 Photos
Anyone can pull it off with the right styling
"Anyone can pull off a bob. However, there are definitely styling tricks that suit different face shapes and textures, so it's important to take all of that into consideration before getting started," says Larry.
Determine your face shape
"If you have a round face, you should opt for a bob that finishes closer to the collarbone to elongate your face. For those with a heart-shaped face, make your bob super short to accentuate the jaw line and cheekbones, and if you have a square face, go for a length that sits below the jaw and break it up with a grown-out fringe," explains Larry. And if you have an oval-shape face? You're in luck – you can take your pick.
Think about your neck
"If you have a long neck, it opens you up to a lot of choice on bob length. However, the shorter your neck, the more classic the bob needs to be. To avoid making your neck look any shorter, keep your cut jaw-length and above," says Jonathan.
Consider your hair type
For those with thick hair, the risk of your cut turning mushroom-esque is all too real. "If your hair is thick, you need to keep it longer in order to weigh it down. Ask your stylist to slice into it, but refrain from cutting in layers," says Larry.
If your hair is thinner and straight, you are blessed enough to pull-off the coveted 2020 jaw-length blunt cut with ease. Larry warns: "Make sure you keep it all one length, going higher at the nape can look a little dated."
Blessed with curls? Make sure you sit down with your hair stylist before you go in for the chop. "Curls are better with layers. Ask your hairdresser to cut your bob wet to dry. This means they get the length while it's wet, but cut in the layers and shape as the curls start to develop as it dries," advises Larry.
Remember the aftercare
"Bobs require a lot more blow drying and heat styling than longer hairstyles do, so swap a conditioner for a nourishing mask to prevent strands from drying out. I love John Masters Organics Honey & Hibiscus Repair Mask, £39, for this," says Jonathan. On top of heat styling, you should also be prepared to start investing in dry styling products such as powders and texturising sprays in order to keep your bob looking fresh and current.
Want something more specific? Check out theasymmetrical bob,faux bob,collarbone bob,micro bob,curly bobandblunt bobto see which style you like best.
Here's some bob inspiration to get you started...
Sours: https://www.glamourmagazine.co.uk/gallery/celebrities-with-bobs-bob-cut-hairstyles
They grab attention and make our look trendier.
Shaggy bob hairstyles 2017. Layered Shaggy Bob Hair with Bangs. Short Wavy Shaggy Brown Bob Haircut. Shaggy Bob Hairstyles 2017 Short Shaggy Haircuts 2017 To Find Out Now Hairdrome.
Dark Layered Shaggy Bob with Bangs. Cute Shaggy Bob Hairstyle with Bangs. Copper shades are looking gorgeous and eye-catching.
Apr 22 2017 - Explore JoAnn Henrys board Short Bob Hairstyles 2017 on Pinterest. You can wear it messy for everyday activities and make large beach waves for elegant occasions. Graduation layered short bob is really brilliant idea for hot summer days.
It is trendy when side part and when middle part. Soft wavy and leyered long bob looks really great with thin lights. Short Shaggy Bob Hairstyles 2018 5.
Our hairstyles may add or deduct time to your age so select properly relying which way you prefer to. Shaggy Long Highlighted Bob Hair. Shaggy Bob Hairstyles 2017 Short Shaggy Haircuts 2017 To Find Out Regarding Preferred Shaggy Bob Hairstyles With Bangs View Photo 6 of 15.
And with waves your lights looks more impressive like this. Up to 13 cash back long shaggy bob hairstyles 2017Explore the variety of long shaggy bob hairstyles 2017 at Wigsbuy with big discount try the stylish long shaggy bob hairstyles 2017 now you will love the way you look. Medium shaggy bobs are great for all sorts of events.
Short Shaggy Angled Brown Bob Hairstyle. Fine Hair Short Shaggy Bob Haircut with Side Bangs. This hair style or haircut identifies the styling of head of hair usually on the human being scalp.
For some of us the short shaggy bob hairstyles is necessary to move from the previous trend to an even more sophisticated appearance. Sometimes this may also imply an editing and enhancing of beard locks. Hairstyles 24 New Long Bob Haircuts For Spring Summer 2017 2018 Throughout 2018 Shaggy Bob Hairstyles With Bangs View Photo 8 of 15.
Henriquez On September 11 2020 15 photos 1344 views. Layered Bob Hairstyle 2017. 2017 Shaggy Bob Hairstyle Trends Haircuts and hairstyles for 2017 hair colors trends for long short and medium hair.
Short Shaggy Bob Hairstyles 2018 4. Short Shaggy Bob Hairstyles 2018 6. The style of locks can be viewed as an element of personal grooming style and makeup products although practical social and popular concerns also effect some hair styles.
Stylish shaggy bob hairstyles 2017 in any colors and styles all ready for you. Wavy Shaggy Thick Bob Hairstyle. 2021 Latest Short Shaggy Bob Hairstyles.
Shepty r 736 PM. Bob is the style that has been popular forever and in all designs We see it curly with natural hair texture or extra sleek. The most seductive hairstyles in the fashion world are the ones combined with shag and messiness.
Short Shaggy Bob Hairstyles 2018 7. Drew Barrymore Blonde Bob Hairstyle. Short Medium Shaggy Bob Hair.
See more ideas about short hair cuts short hair cuts for women short hair styles. Well short shaggy haircuts 2017 for sure include bob styles and their messed up designs. Highlights is the best way for layered bob hair.
In combination with shaggy bob hairstyles you can get nothing but perfection. Shaggy Straight Messy Bob Hair. Short Shaggy Blonde Bob Hairstyle.
Shaggy Short Blonde Bobwith Bangs. Short Shaggy Bob Hairstyles 2018 3. Medium Length View Photo 7 of 15.
Sours: https://65301cc7236baaaafc7d5b787db2d8b1.s3.us-east-2.amazonaws.com/shaggy-bob-hairstyles-2017.html
60 Short Shag Hairstyles That You Simply Can't Miss
These days short hairstyles need to be shaggy to be viewed as modern and stylish. The best thing is they make you look younger and can be adopted for any occasion. The following hairstyles are equally good for straight or curly hair. They are easy to style and maintain, and we honestly believe it's hard to find anything better in terms of on-trend short hairstyles.
The Most Beautiful Short Shag Hairstyles
Why do professional stylists claim that short shag haircuts may become the best bet? Shags are all about choppy ends, layering and a ton of texture. Thus, the stylist adds volume where needed and creates dimension if hair looks too flat. Let's check the ideas.
#1: Short Haircut with Sass
Short shag haircuts are popular right now – making a strong comeback from their original 1990s heyday. Perfect for women with thin or flat hair, a shag cut perks things up to bring body, bounce and a whole new life to your locks.
#2: Waves of Color
If you have a natural bent to your hair, then your strands will respond well to a shag cut. The cute silhouette of this style begs to add in some subtle highlights that lighten locks up and accentuate the layers.
#3: Platinum Short Shag
Perhaps you were blonde as a child but your hair has darkened with age. Maybe you want to find out if blondes really do have more fun. Whatever the reason, platinum blonde hair is a pleasure to wear with a shorter cut because it is much easier to maintain.
#4: Short Shag Bob
Bob haircuts fit into the shag look perfectly. If you want a short shag, go for a rounded bob cut – it adds fullness to thin hair and offers easy manageability for all hair types.
#5: Golden-Bronde Bob with Piecey Layers
A rounded silhouette, clean lines, and a slightly tousled appearance are the hallmarks of this shaggy bob. The light gold and brown tones of the bronde balayage provide a sense of depth and sophistication. This hairstyle is a wonderful choice for women who have extra thick and coarse hair.
#6: Curls of Tinsel
Curly girls look adorable with shaggy hair. If you want something a bit more different, color your hair a black with silver undertones for a tinsel shine that looks great year round.
#7: Short Shag Blunt Cut
Go for a pixie cut next time you're at the salon – but allow enough length to remain for the shaggy appearance. The blunt, straight-across line of the nape and angled sideburns give a unique appearance to the cut that stands apart from other short shag haircuts.
#8: Short Chocolate Bob with Feathered Layers
Add some height to your short shag; tease the crown section and have a little poof with your tousle! The feathery bangs and layered side pieces curve towards the cheekbones and frame the face in a classy, dramatic fashion. It's an upscale hairdo for an elegant woman to flaunt.
#9: Tapered Shaggy Chocolate Brown Bob
The layered, tousled top pieces and longish bangs give the tapered bob a tomboy appearance, while the side pieces fall over the ears and cradle the neck and jawline for a feminine look. When you try a hairstyle with bangs, sweep them to one side, so everyone can see your beautiful eyes.
#10: Bronde Bob Shag with Short Back
The back view of this shaggy, inverted bob is as impressive as its front. With a color palette that runs from chocolate brown to whitish blonde, it's an ultra-modern and courageous style that only the most confident women can pull off.
#11: A Bold Statement
Update your very short hair cut with a bold hue like this vibrant burgundy when you're ready for a fun and different look. Keeping the hair longer on top while cropping the sides will produce a look that works for a variety of face shapes.
#12: Disconnected Shaggy Brunette Bob
Modern shaggy bobs are an eclectic high-fashion and urban option if you want your hair to be the talk of the town. The solid, deep dark-brown color is the best way to showcase the cut, and the straggly, razor-cut ends frame the face and look perfectly imperfect.
#13: Razored Honey-Blonde Bob
The inverted bob with a shattered, angled shape and choppy V-cut layers makes even the thickest hair look sensational. And if you happen to have thin, fine hair, it can work for you too! A heavy dose of honey-blonde highlights keeps the hairstyle light and airy.
#14: Blonde Bob with Shaggy Crown Layers
A piece-y, layered bob is one of those short shag haircuts that look great on most women. If you're tall, it will give you a sophisticated and elegant appearance, and if you're petite, it can make you look statelier and more confident. Forward-brushed bangs round out this statement hairstyle.
#15: Stacked with Style
Flirty flair can be incorporated into short shag hairstyles with just a bit of wavy texture. It looks effortless, weightless and full of movement, but still full and thick—the best of both worlds.
#16: Long Curly Pixie with Subtle Highlights
One of our favorite short shag haircuts is actually a "long," wavy pixie style. The slightly longer length allows the curls to come to full fruition. At every angle there's something exciting to look at: vibrant copper-blonde highlights, super-long sideburns, and flipped bangs that fall just over the eye.
#17: Feminine Wavy Golden Blonde Bob
An inverted wavy bob with a side part is a convenient way to wear your curly hair. That's because it always looks like you've purposely styled it to be a little messy! Each piece-y lock has a role to play, whether to caress the neck, frame the face, or give some extra height to the crown section.
#18: Short Shaggy Brunette Bob
When you need an easy-to-style haircut for thick hair, look no further than a short, choppy bob. This one tapers gently to the nape and has slightly longer front pieces that frame the jawline. Side-swept bangs add a touch of asymmetry that really makes the style work.
#19: Short Sliced Inverted Bob
Short shag hairstyles are popular with women of all ages because they're versatile, modern and feminine. The sliced inverted bob is a perfect example of the cut that shows off the sensual shoulder line and lifts the face.
#20: Short Bob with Cropped Bangs
Short shag haircuts are not only geared to women who prefer professional hairdos, but those edgy, alternative ladies, too. With bangs unevenly cropped, and maybe a subdued fun hair color, you get a super cool hipster 'do. The good thing about having uneven bangs is that you can't really cut or style them wrong – anything goes!
#21: Chin-Length Chocolate Bob Shag
If you plan to grow out your short length hair, you'll need a style that can help you make the transition. A chin-level bob with jagged, uneven edges does a great job of disguising the awkward transitional stage. Throw in some natural waves and a tousle for an extra-youthful look.
#22: Crazy Curls
Bedhead is all the rage because it truly embodies that "I woke up like this" flawless feeling that Beyonce describes. But, you can add a bit of sophistication to the short style with accessories like sunglasses and a scarf to make this an acceptable look outside of the bedroom.
#23: Textured Curly Bob Cut
Curly hair queens can also get a bob cut. Texture makes a shag hair cut appear delicate, and gives more leeway if you don't want to style hair every morning, or constantly use heat tools. Cut in gradual shaggy layers — they frame your face softening up your complexion!
#24: Razored Two-Layer Bob for Thick Hair
You'll never think of yourself as of an older woman when you're sporting a youthful, two-layer, razored bob. Your thick crown of lush healthy hair will look amazing when it's cut to maximize its complete fullness and volume. Just a quick blow dry and a shake of the head, and you'll be ready to go.
#25: Short Warm Blonde Shag
The great thing about shaggy hairstyles is that they have a range of aesthetics depending on how they're worn. Short warm blonde shags cut a-line with wispy longer strands in the front and layered around the crown can be styled tousled serving bedhead chic, or stick straight for a sleek, polished look.
#26: Short Shag with Purple Highlights
Add some funk rock'n'roll tint to shaggy hair by implementing highlights in a cool color! Purple is a fantastic pairing for dark brunette bases, since there is contrast, but it's subtle and not trying too hard.
#27: Short Textured Hair with Balayage
Those not keen on voluminous stacked bobs should try shags. Short textured hair replaces the height at the crown of the head with a uniform shaggy length. Incorporating shorter layers achieves the sought-after ragged appearance. Pro tip—highlighting them with blonde balayage gives extra definition!
#28: Sunset-inspired Pixie Bob with Nape Undercut
Everyone will be talking (only good things, of course) about your bouffant pixie bob. The pinkish-brown palette melds the hues together for a color that's flattering to any skin tone. Undercut in the back, with below-the-jaw side pieces, it's a short shag winner!
#29: Jaw-Length Shaggy Walnut Brown Bob
Cutting your bob hairstyle to continue the jawline is a great choice when you want to experience the face-lifting effects of short shag cuts. The super-deep side part contributes to the uniquely feminine silhouette of this walnut-brown bob.
#30: Piece-y Golden Bob with Silver Highlights
A mixture of blonde and silver in a piece-y texture does an excellent job of framing the face. The swoopy peek-a-boo bangs drop past the chin, barely touching the cheek. When you want an ultra-feminine hairstyle that can be quickly combed with just your fingers, here is your go-to option.
#31: Silver-White Shaggy Hair
How does one make a shag haircut even fresher? With a silver-platinum color, of course! The unruly cut is cooled down by the icy hair color, producing an interesting visual effect when the wildness of texture is tamed by a metallic color. Definitely unique, this one is for those who like to stand out from the crowd!
#32: Dark Pixie with Cinnamon Streaks
Layers are the pixie's best friend and you can really take them to the next level by having them short enough to stick out at the crown! This gives the style some youthful freshness. Highlight a range of lengths in streaks choosing a delicious shade, like, for instance, cinnamon as an accent color for dark brown hair.
#33: Dusty Lavender Short Shag
Shag hair styles are complemented flawlessly by dusty shades like lavender — the unconventional cut pairs well with subdued shades. Tease your roots to amp up volume at the crown, and straighten hair in the front for a punk vibe.
#34: Short Highlighted Shaggy Hair
Out of a plethora of shag haircuts to choose from, here's one that's great for working women in professional environments. Short highlighted hair is clean and put together while still being a hairdo that proves you are stylish and up-to-date.
#35: Long Razored Shag Cut with Balayage
Do you like your hair super short at the nape but with a long length in the crown and bangs? If yes, then you'll love this long, razored pixie with bright blonde balayage highlights. Try a fancy headband to add a touch of femininity to a short cut.
#36: Two-Tone Feathered Pixie
If you want to experiment with one of today's most popular short shag haircuts for women, try keeping the longish sides tucked neatly behind the ears and take a chance with some spiky height at the top. A chocolate brown base with light blonde balayage layers keeps everything looking balanced and on point.
#37: Jaw-Length Shaggy Bob
For the girly girl with a hipster-chic style, short shag hairstyles that are jaw-length are calling your name. Refined by the glamorous angled pieces grazing cheeks and gracefully swept bangs, minimize layers on a cut like this — homogeneity is an asset to a bob with feminine suppleness.
#38: Bob with Contrasting Highlights
Va va voom! A shag with a sexy side. Enhance your bob with some contrasting highlights in a sultry shade like violet-silver. This hairstyle is show stopping, whether worn straight and sleek or slightly tousled.
#39: Balayaged Choppy Bob Cut
Mature ladies look fabulous sporting a choppy bob cut. The illusion of length is preserved in bobs with a straight cut length at the nape of the neck, while they can still have a contemporary choppy air to it!
#40: Choppy Bob with Blonde Ends
Style shag hairstyles with wispy ends messy for a whimsical airy feel. To create this textured hairdo, get a cut with razored layers all around the head and rough dry with a bit of texturizing spray. Keep this 'do freshly trimmed!
#41: Short Sliced Metallic-Blonde Bob
The sliced white-blonde highlights are sizzling hot on this straight hair bob. A slight upward flip of the side pieces makes this short shag cut also a bit flirty and suitable for women of all ages. The sideswept feathered bangs flow gently over one eye, creating a mysterious and sensual look.
#42: Voluminous Short Choppy Blonde Bob
Youthful and sassy, choppy and full-bodied, there's something about the tousled bob that gives it a tomboy edge. The cut is quite different from the shaggy short styles in the other pictures, and it works extremely well with hair that's straight and coarse. In any other context it might be seen as unruly; in this case it'spure joie de vivre!
#43: Long Pixie with Angled Layers
It's a shaggy pixie on steroids! Tons of layering and wispy pieces add height to the hairstyle and frame the face flatteringly. The ultra-feminine and extremely natural-looking blonde balayage helps to define all the angled layers and enhance your best features, such as eyes and cheekbones.
#44: Messy Curly Blonde Pixie Bob
Who says that short shag hairstyles are recommended onlyfor straight or slightly wavy hair? We beg to differ! The curly stacked locks rule the roost, and the white-blonde bangs are cut and styled to flatter the forehead and cheekbones. Hot and sexy, it's the perfect wash-n-go hairstyle for women on the run!
#45: Very Short Shaggy Bob
For women who aren't sure about going all the way to "pixie-short" hair, we suggest a shortish shaggy bob with a lot of razored layers. Hints of copper over a chocolate brown base keep the hairstyle light and fresh, and the slightly inverted shape is a good silhouette for everyone.
#46: Straight Wispy Jaw-Length Bob
Add a little height and body to super-straight, fine hair by teasing the roots or go for a flawless blowout. The ash blonde jaw-length bob is a perfect solution for thin hair that needs some oomph and lift.
47: Straight Long Shaggy Pixie
Are you bold enough to try one of these short shag haircuts? With this shag you'll get a funky retro look that seems like it's right out of a 60s TV show.
#48: Choppy Blonde Bob with Messy Waves
This might be just what you are looking for in a short shag! Easy to style and maintain, and even easier to pair up with the right makeup and clothes, the wavy chin-length bob with a bit of extra height on the top can slim your face and make you look generally taller and thinner. Who would have thought that the right haircut could do all that? (Hmm, us!)
#49: Messy Highlighted Pixie with Long Side Bangs
Can't quite decide if you want to go long or short? No problem — choose both! The long of it is all in the side bangs that dip waaaaaaaaaaay below the chin, almost touching the collar bone. The shorter back shows off the beautiful neckline. A copper-toned balayage completes the chicness.
#50: Sophisticated Wavy Ash-Blonde Pixie Bob
When you're in the market for a new bob hairstyle, consider trying a modern twist on the classic wedge style. The side part and overall round shaping works perfectly with your natural waves, and grazes the jawline, beautifully framing the face. The muted hues of the ash-blonde balayage are timeless.
#51: Longer Waves
While nineties shags tended to be longer and more cropped toward the face, the modernized take involves hair that is rather free falling. If you've ever envied someone's seemingly natural beach waves, chances are they had their hair cut in a layered style and used a texturizing product to keep things on point.
#52: Rock Star Shaggy
If you're a casual, laidback sort of girl, choose a cut that goes with your personality. With bangs and longer layers, this is an incredibly low-maintenance style that still looks put together.
#53: Pink of Perfection
Have you ever seen pictures of whimsical hair colors and desired your own colorful makeover? This baby pink hair is the perfect choice for those who can afford to bleach their hair without incurring a lot of damage.
#54: Short Chopped Cut with Bangs
Short shag hairstyles look sassy and spontaneous, but there's always a readable silhouette in a short 'do like this. Messy styles need a fresh cut to look this good.
#55: Shaggy Pixie with Bangs
A very short pixie is a masculine-inspired style that many women love. When worn shaggy, a pixie is less rigid, slightly more feminine, and it gives off a more 'undone' vibe that still seems effortlessly smart.
#56: Waves Go Free
You don't have to shag your hair so short that there's nothing left to work with – this style is definitely layered with the telltale feathered ends of a shag – but it can still be easily pulled into a ponytail. Work some highlights into your mane to brighten things up and prevent the look of "weighed down" hair.
#57: Inverted Caramel Bob with Wavy Layers
When you're trying to choose between many short shag haircuts for women, look no further than the low-maintenance inverted bob with messy stacked waves, peek-a-boo bangs, and a deep side part. The strawberry-caramel color is rich and vibrant and enhances the cut of the piecey layers perfectly.
#58: Short Bob with Textured Waves
What a pretty way to style a short bob! Textured waves are soft and feminine, and look very nice on a slightly angled 'do. The cut is both edgy and feminine, and, what is more, it's easy to style: air dry, tease the roots and go!
#59: Matte Shaggy Bob
Normally, women constantly search for ways to add lustre and shine to their manes. However, shaggy bobs are actually better when worn with a matte finish! By removing shine, an artistic style that oozes intrigue is crafted.
#60: Asymmetrical Shaggy Pixie
Asymmetrical pixies are perfect for women who: have a designated and respected good side, have naturally straight manes and want to add structure to a rounder face with plumper cheeks, or for anyone who appreciates the sass of shaggy pixie-bobs!
What about more ideas for short hair? The brightest short haircuts and hairstyles are offered here. You will be pleased, we guarantee:)
Sours: https://therighthairstyles.com/5-short-shag-hairstyles-that-you-simply-cant-miss/
Haircut shaggy 2017 bob
A well-cut bob on short hair is a very fashionable look right now, especially when it has one of the latest hair color highlighting ideas!  Fine dual-blonde highlights just one or two tones  from the base color create lots of added texture on a smoothly styled bob.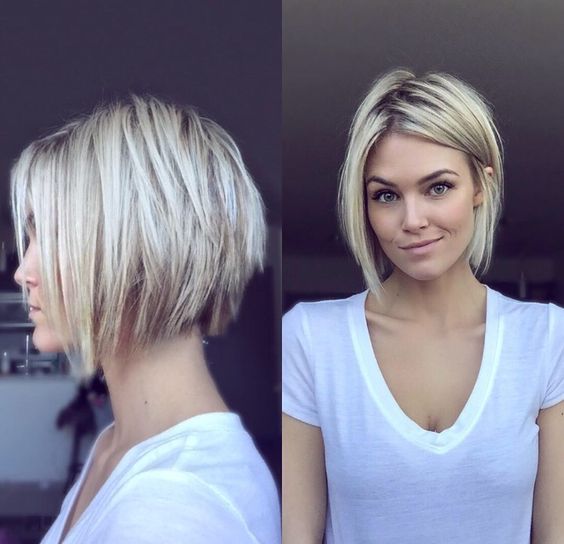 Today's up-to-the-minute gallery also includes chunky balayage in white, silver, plum-red and soft orange for brunettes, plus the new beige-blonde shades.  So whether your hair is thick or fine, you'll find a fantastic new bob hair style here to liven up your short hair!
Subtle Brown Highlights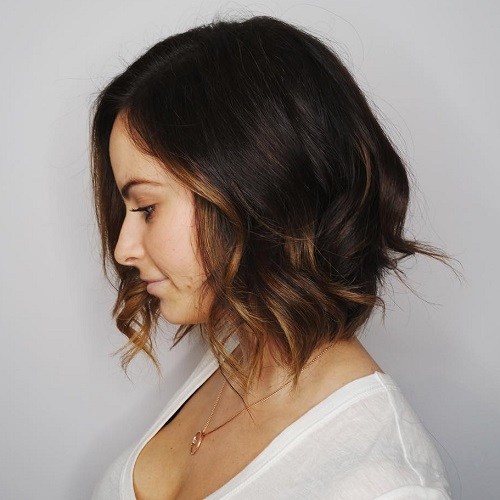 This might just be one of our favourite bobs of the whole bunch, and can you blame us? This lady has the most gorgeous curved bob, with a deep and dark glossy shade of brown on the top, and subtle caramel highlights running through the underneath and around the front of the face. She's waved the ends of the hair for this phenomenal bounc style.
Every day blonde bob hairstyle with cute brown balayage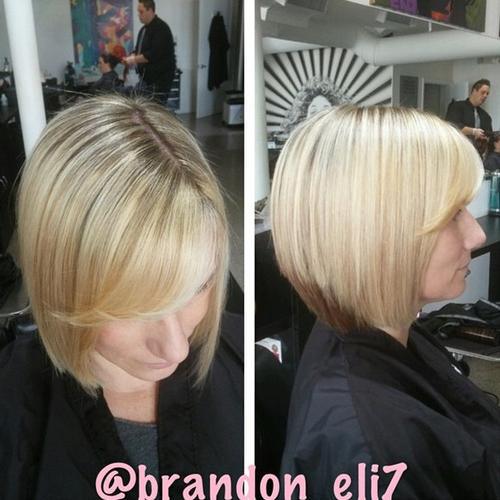 Short bobs are a good choice for a trendy, easy-care daily style that keeps its shape all day.  This pretty hair color idea shows darker roots beneath the blonde all-over color, with a streak of white-blonde in the bangs.  And for an extra dash of style, the nape hair is brown, making the profile angle appear sharper!
Chocolate-brown short bob with fine blonde highlights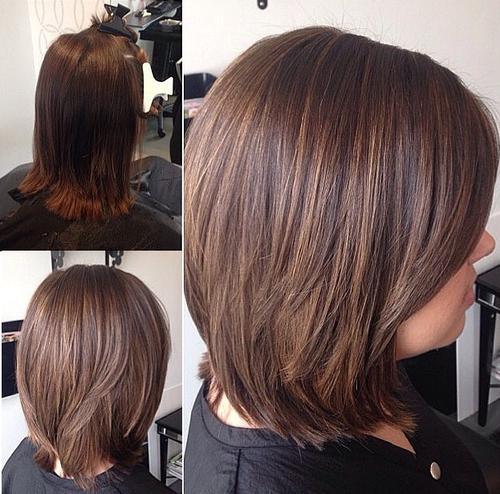 Fine orange-blonde highlights add lots of texture and movement to break up large areas of smooth hair around the head.  The layers of this bob are accentuated by the play of light on the warm-blonde highlights and the overall color is subtly lifted to a trendy, new golden-brown!
Edgy shaved undercut hides under A-line bob!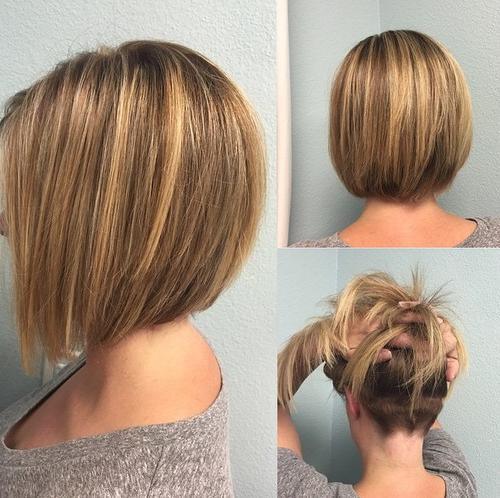 This is such a clever idea for a bob that can be conventional for work and unconventional for leisure activities.  The back is clipped short above the nape with a three-point contour, so you can wear an edgy up-do.  And fine, vertical mid-blonde highlighting adds plenty of movement and texture in a softly curved bob!
Chunky balayage bob hairstyle with bangs in white, silver & copper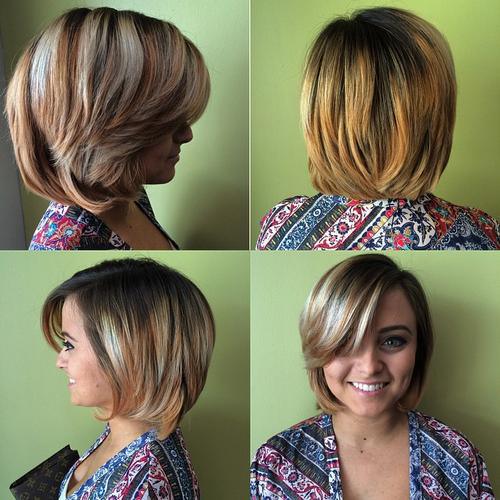 For the trendsetter, this chunky multi-color balayage is an exciting new idea!  The model's hair is very thick giving plenty of volume at the back, but the sides are kept sleek to suit a round or heart shape face.  Silver and white streaks in the bangs really complement a pair of sparkling eyes!
Beautiful blonde bouffant bob with highlighted sliced layers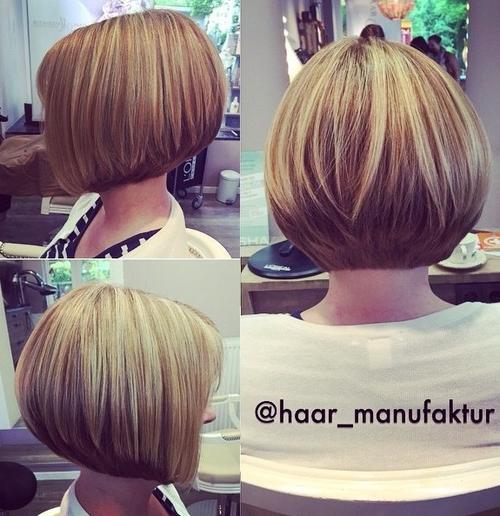 This bob for thick hair is cut in sliced layers, which avoids the added thickness at the tips that other layering techniques cause.  And in this blonde bob, you can see exactly how the layers are tapered to a fine-point, because they're highlighted in a paler shade.  It makes a lovely pattern on this elegant, bouffant bob!
Side view of contemporary black bouffant bob with plum highlights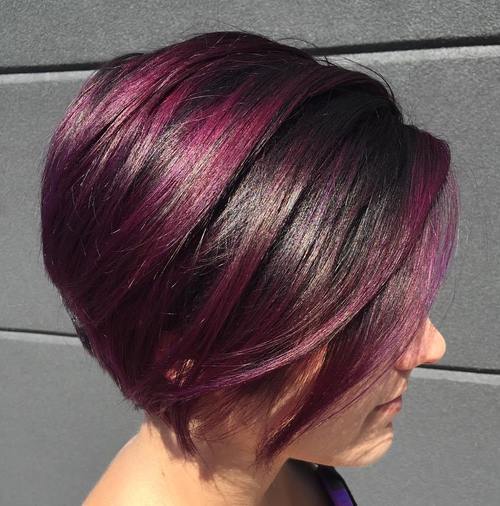 The sweeping lines of this fantastic bob are diagonal, pointing away from the face to focus on the bouffant back.  The voluminous crown is achieved with stacked-layers above the nape on thick hair.  And the ultra-modern look is completed with deep, plum-red balayage, from root to tip in bands of varying width.
 High-volume every day bob with fine golden highlights – cute short bob haircut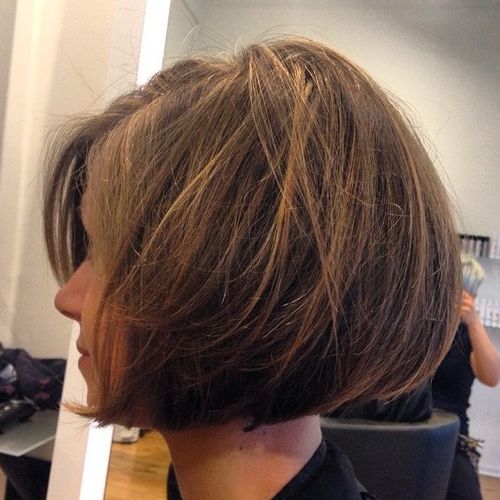 This classic chin-length bob suits many different face-shapes and ages, because it avoids high-fashion extremes of cut and color.  It's also a style that can be adapted to medium and fine hair, as the fullest part of the curve is set just above the line tapering in at the neck.  Forward styling with cute pin-curls on either side of the chin completes the attractive look.
Trendy tousled waves on mid-blonde bob for fine hair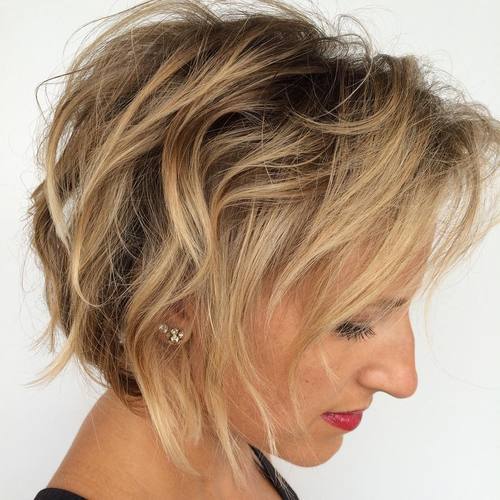 This super-chic wispy, wavy bob is the perfect cut for adding shape and 'body' to fine hair.  The silhouette is blurred with tousled strands adding volume on top and creating a curve at the back.  Dark brown roots contrasted with honey-blonde waves create a 3-D effect making fine hair appear thicker!
3-D metallic-blonde balayage on shaggy bob – bob hairstyles for black women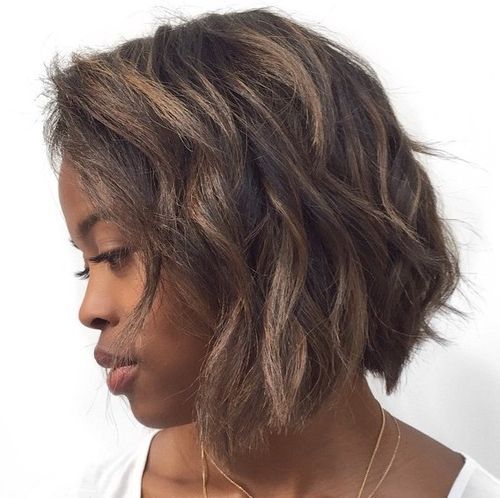 With a perfect complexion and pretty face, this model's choppy/shaggy bob emphasizes her lovely profile.  But it's not just a style for beautiful young women.  This choppy look has 3-D copper-blonde balayage and random broken waves in a trendy 'grunge' design that suits long or thin faces!  And it's definitely an easy-to-style hairdo!  LOL!
Sleek bob with modern edge – back to school hair ideas for short hair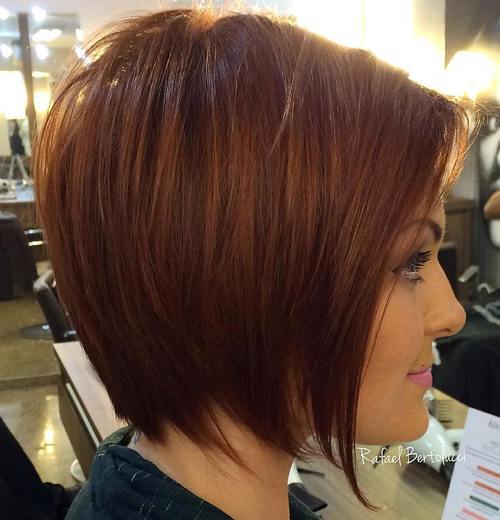 This beautifully curved vintage bob dispenses with the usual steeply graduated line down to the front, and substitutes sharply textured tips with forward movement.  The warm brown all-over color softens the sharp texture and strong lines, in a very fashionable style that flatters round, long, oval and heart faces.
Modern short-blonde bob with bend-waves & shaggy tips
Here's another contemporary bob that rejects the idea of hairstyles for women being pretty and perfectly groomed to please men!  The contrasting textures create an edgy look with flowing flat waves becoming awkward, spiky sections with ragged tips.  With a center parting, this style suits oval faces and with an adjusted parting – long and angular faces.
Muted copper-blonde highlights on black hair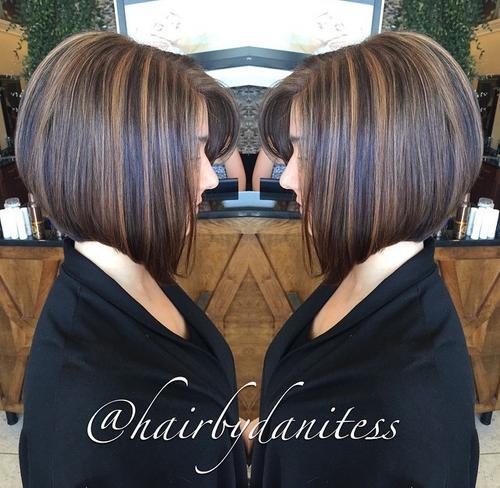 This new hair color idea of orange highlights on brunette hair is popping up in lots of different hair-fashion images, making it a definite new trend for this year.  And you can see it's a really attractive color combination for dark coffee-brown/black hair, adding warmth, texture and movement in a completely fresh way.
Quirky one-length bob with bold blonde balayage – chic short straight bob cut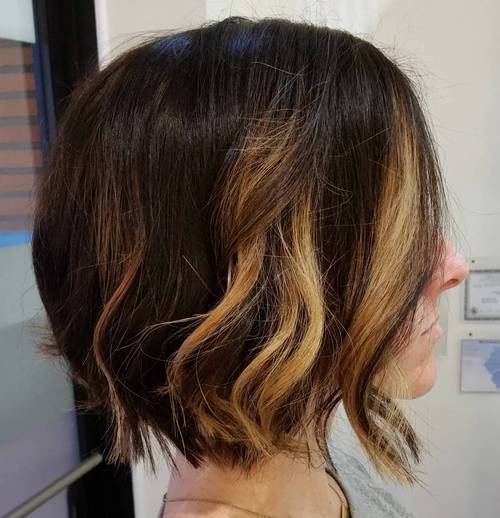 This boho bob continues the trend for one-length bob-cuts – with quirky details – that's really hot right now!  It's a versatile bob, as you can wear it sleek or wavy and it's also long enough for up-styles.  Face-flattering bold streaks of short-blonde balayage accentuate the random waves and make a soft frame around the face.
Elegant layered A-line bob hairstyle make-over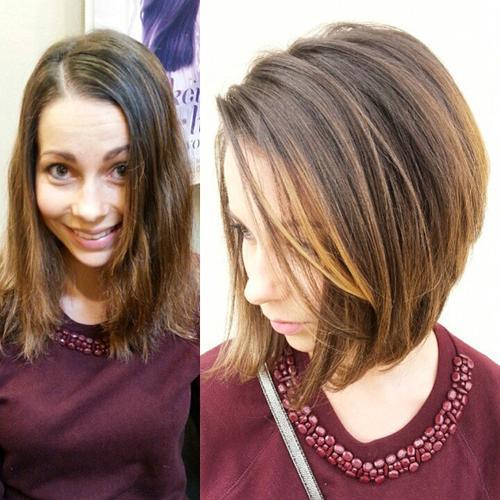 Here's a makeover that shows the huge difference between a shapeless long haircut and a stylish A-line bob.  The bob makes this model look a lot classier than the 'before' hairstyle, doesn't it!  Smooth curves and gently highlighted long, side-swept bangs can work wonders for your beauty look!
Stylish minimalist bob with full bangs in neutral-blonde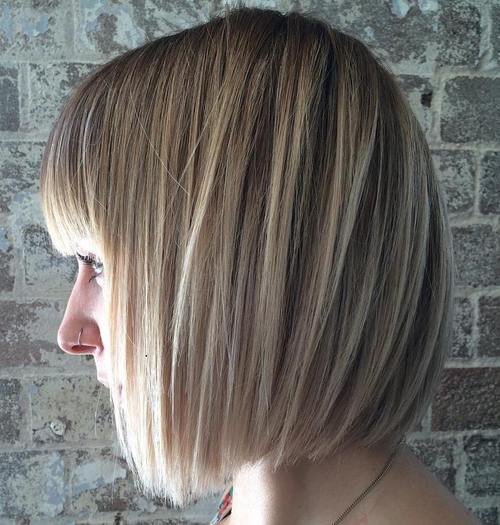 This simple, blunt-cut bob gains lots of extra texture from dual-blonde highlights over a dark-blonde base, making it a good choice for short and fine hair.  Neutral blonde shades are very contemporary and perfect for adding a temporary pastel shade at the weekends!  With bangs – this is a great look for heart, round, long and oval faces.
High-fashion white blonde with long disconnected layer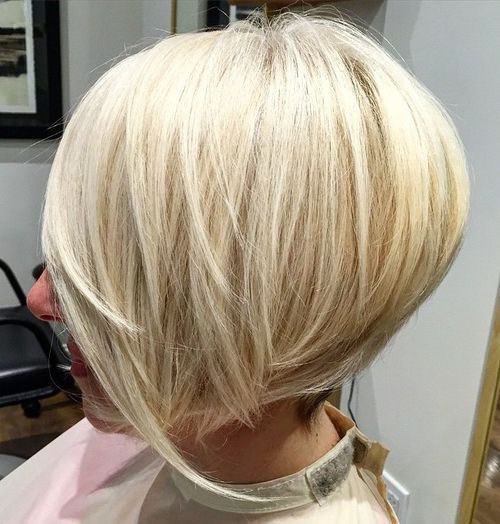 White-blonde with a touch of gold in it creates an eye-catching look on this short, high volume bob.  It's an asymmetric haircut and as you can see, the side-swept bangs continue in an unusually long, disconnected layer 3" below the chin!
Silver & copper highlights brighten brunette hair with waves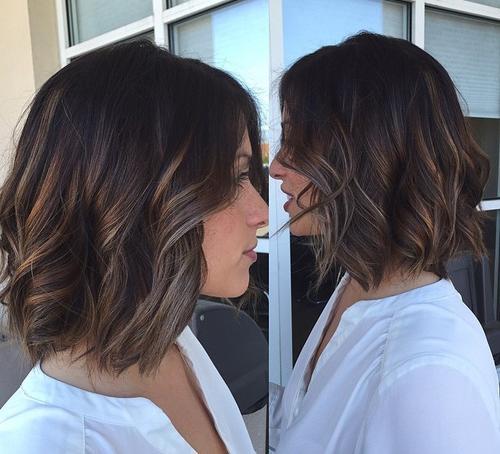 Coffee-brown hair can be updated to a fabulous 3-D effect with fine, silver/white and copper balayage in the lower sections.  This medium bob is suitable for a long or narrow face, as the barrel-waves add the side-volume needed to balance angular faces.
Casual-chic tousled blonde bob with wispy layers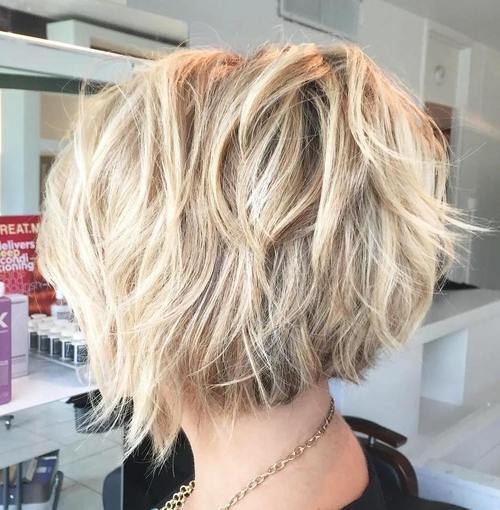 Short haircuts for 2017– What a lively look this is!  And a very contemporary one, thanks to the pale beige-blonde dual highlights.  Dark roots at the nape draw attention to the shaggy line and create cute texture and movement in the tousled short bob.  Love how the line drops down to feathery tips on disconnected layers around the chin!
Elegant swooping curves on blonde bob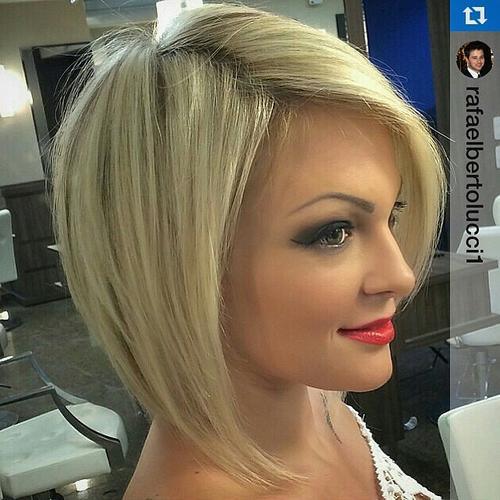 This layered haircut is styled to display the model's good bone-structure, with a long curve at the side flowing forwards from dark roots on the side parting.  The tapered line just touching the collar-bone at the front draws attention to the model's well-shaped jawline and chin.  So make sure your stylist creates a tailor-made cut for you.
Smart-casual blonde bob with layered texture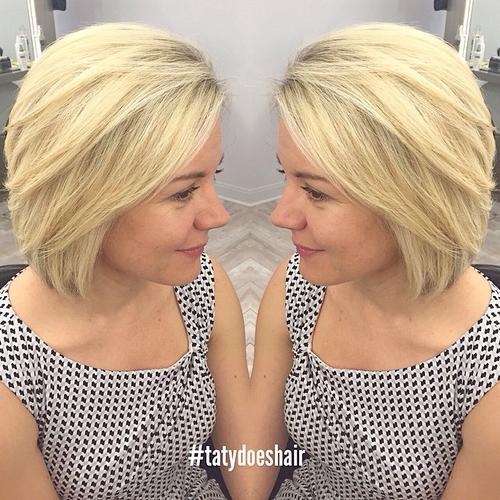 Here's how to wear thick, straight hair in a modern look, that's face-flattering and easy to style.  Sliced layering avoids the thick, chunky tips that spoil the look of thick hair and spiky tips can be persuaded into a sleek curve with convex layering at the ends.  Off-the-face styling creates lovely texture, too!
Cute curvy blonde bob with pin-curls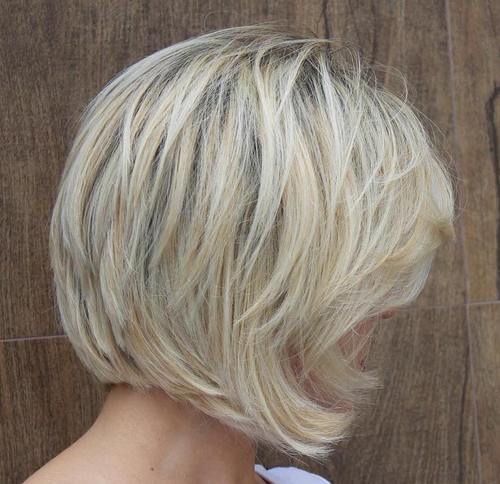 This cute dual-blonde bob has a vintage look to it from the pretty pin-curls and curved texture at the back.  Well-judged layers can bring out the natural wave and movement in your hair, too, creating a much easier to style hairdo.
Outdoors-y chin-length bob with tousled tips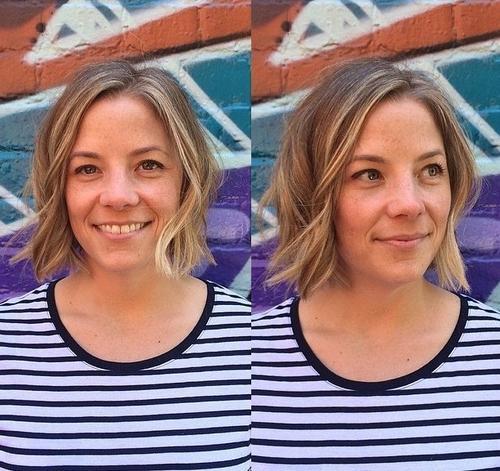 This highly fashionable bob is a simple cut that frames the face with flattering blonde-highlights.  It's a jaunty, 'outdoors' haircut styled to look lightly windswept, so you don't need to worry about the weather spoiling your hair! Suitable for fine hair as the twists add volume and the off-centre parting flatters oval – round/heart faces!
Hope you've found a gorgeous new hair idea from this inspiring new gallery! Subscribe our site to find the latest new hair ideas on hairstyles weekly.
Sours: https://hairstylesweekly.com/pretty-bob-hairstyles-look-great-everyone/
SUPER BOB - LONG TO SHORT SHAGGY BOB HAIRCUT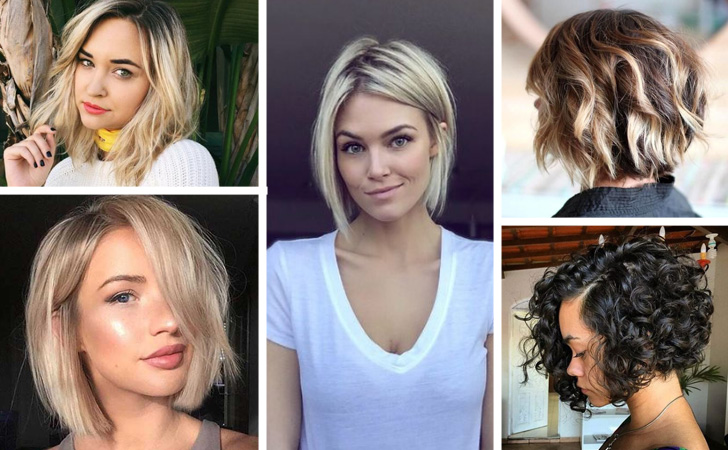 If you're planning a trip to the hairdressers' and need some super-trendy inspiration, take a look at these fabulous new short bob hairstyles with highlights!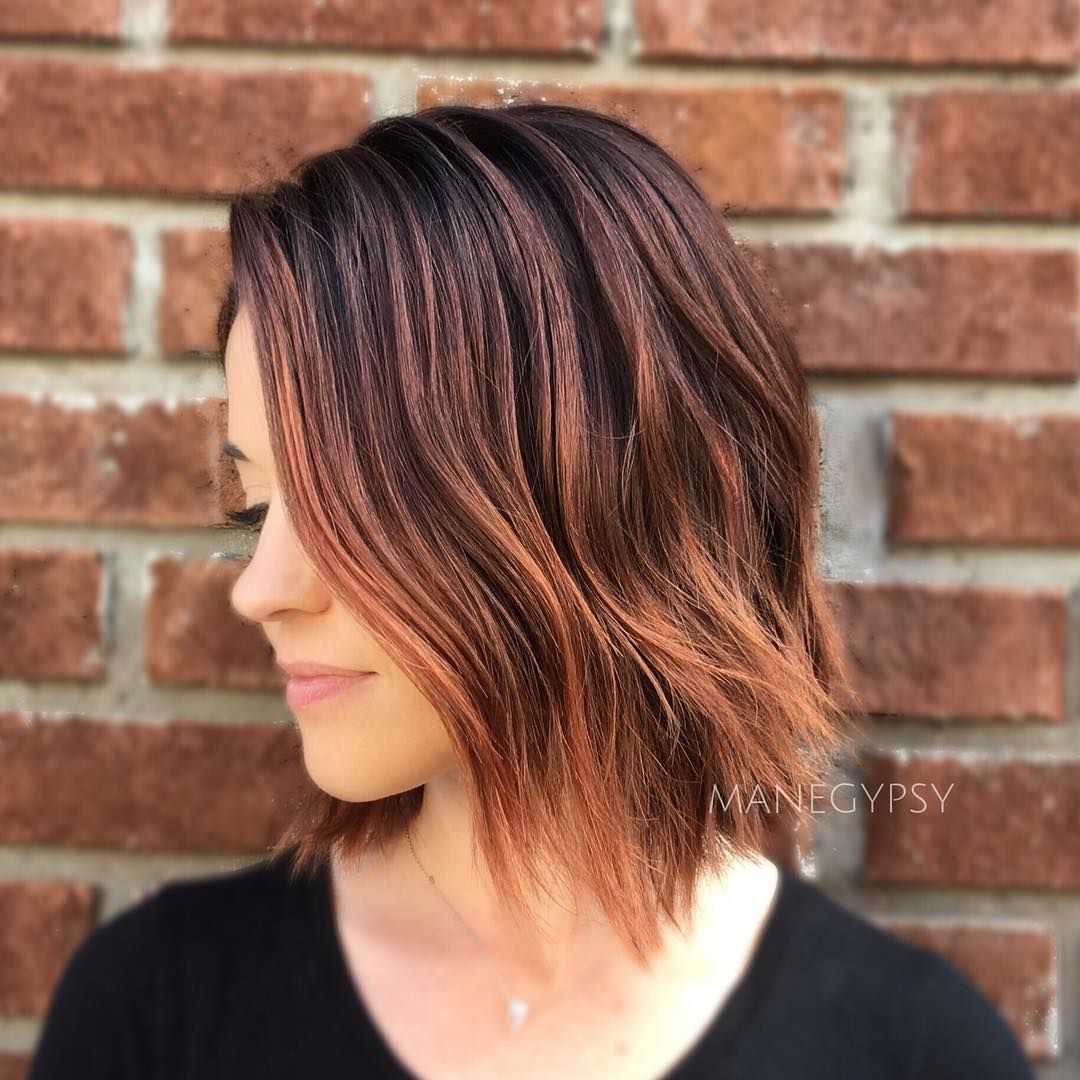 Chin-length bobs suit everyone!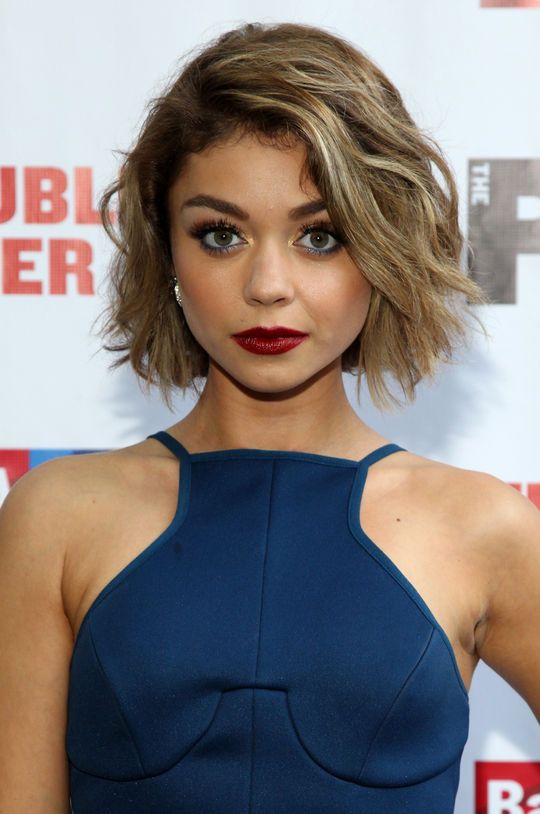 Thick hair is perfect for creating sliced layer short bob hairstyles that bring out the best in your hair type. Try smooth curved short bob hairstyles that are cut to curve into the chin. Sliced layering is perfect for thinning out coarse, thick hair and with some clever layering at the ends this style will fall into place after washing.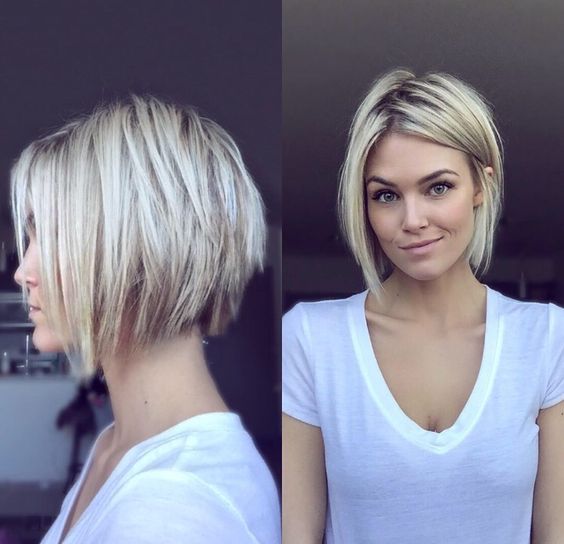 On straight bob hairstyles you have the perfect blank canvas to paint on some stunning highlighting tones. Try dark coffee mocha brown with auburn-orange vertical highlights for a colour that enhances the smooth shape of short bob hairstyles and warms up pale winter complexions beautifully!
Frizz-free short bob hairstyles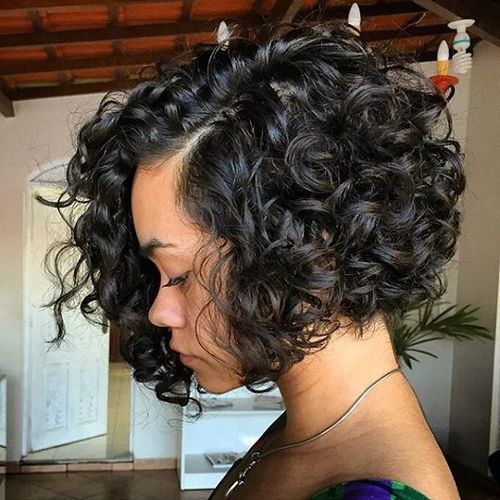 If you have coarse naturally curly hair, try snappy geometric short bob hairstyles, which are also a very trendy look this year. Again, if you ask for sliced layers this will help curly hair to be less frizzy and give smoother and well-defined crisp curls or waves!
Wear your new look with sophisticated no-fringe sleekness or add a trendy straight-across fringe!
Blonde short bob hairstyles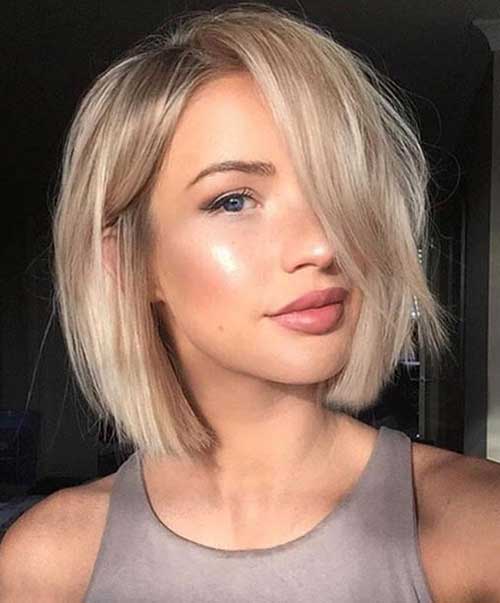 On fine blonde hair, the blunt-cut short bob hairstyles are a great way to add volume. Ask for a stacked-back cut that graduates down to frame the chin at the front and choose a parting that suits your face shape.
The center parting is supposed to be the trendiest look, but it only suits women who have an oval face. Consult your stylist on the best place to put your parting as this can really make a difference in balancing out your face-shape!
Straight or wavy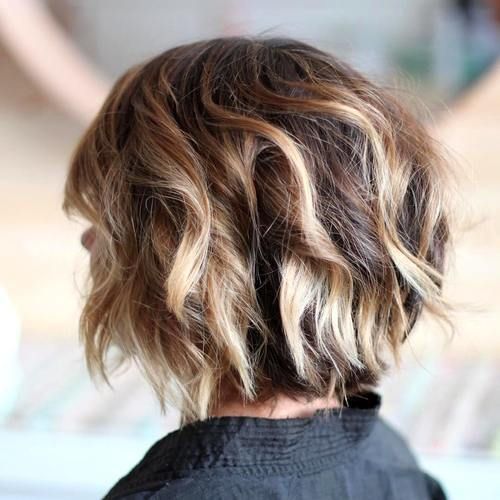 Off-centre or side partings are just as contemporary and this style can also be worn straight or curly. One fine hair, I would always recommend some twisty waves or curls as it's an excellent way to add volume!
Honey-blonde is a great shade for winter as it's warm and softens the face and highlights in rose-gold, butterscotch or caramel will provide a lovely feminine finish to this fabulous short bob hairstyle!
Asymmetrical and symmetrical short bob hairstyles are both trendy right now and the range of highlight techniques for this season is wider than ever before!
So why not browse our up-to-the-minute Inspiration Gallery of the trendiest short bob hairstyles and find your Favorited new look now!
Brown Ombre Shaggy Bob
This adorable lady has simply beautiful hair – don't you agree? Starting from a dark brown and blending into a beautiful blonde at the tip thanks to a trendy ombre transition, this lady's wonderful hair is full of choppy and shaggy layers throughout, creating this textured and voluminous finish. She's loosely flicked the ends out for this overall style.
Black and Blonde Tousled Crop – shoulder length ombre bob hairstyle for women
This absolutely stunning hairstyle is so on trend – adopting the shaggy style just perfectly! Her shoulder length bob is black at the root, but blends quickly into a beautiful blonde shade throughout the rest of the hair. The hair has been curled for a gorgeous finish, creating this remarkable and tousled style that we just cannot get enough of.
Trendy hair color idea for short to medium hair – Black to Silver Graduated Bob
This ever so stylish lady has the most gorgeous hair – it's dramatic, daring and simple to die for! Working a graduated line, shorter from the back and longer at the front, this lady has added tight curls throughout the bob for this amazing silhouette. The hair is a deep and glossy black which has an ombre blend to a silver shade at the tip – amazing!
Brown Bob with Red Highlights
This gorgeous brown bob is finished around jaw level, with slightly longer strands which fall towards the front of the head and frame the face perfectly. The hair is a dark brown at the root, and is finished with bright red highlights throughout. The colour transition is showed off thanks to these gorgeous ringlets throughout, creating a wonderful shaggy finish.
Tousled Mid Length Bob – trendy bob haircut for women with medium hair
This beautiful brown mid length bob is an absolutely gorgeous cut that we just can't get enough of! With a stunning rich brown root finished with a subtle ombre lighter brown at the ends, this amazing cut simply commands attention. We adore the soft curl and tousled finish this stylish lady has gone for, with a beautiful fringe that frames her face.
Classic short straight bob cut with bright color – Ginger to Pink Sleek Ombre Bob
This wonderful, sleek and glossy bob has stolen our hearts – we just adore the vibrant ombre blend from ginger to hot pink! As if the colour transition weren't quite enough, this lady has opted for a super stylish and straight bob with a lightly graduated line going from back to front, finished with a fringe which frames the face to perfection.
Loosely Tousled Ombre Bob Hairstyle for Short Hair
We're starting our gallery of curly bobs strong with this gorgeous graduated bob which falls longer at the front around the jaw line and works its way to a shorter layer at the back of the head. The hair blends from a stunning light brown shade to a gorgeous caramel blonde through a balayage blend, and has been loosely tousled for effect.
Beautiful Blonde Barrel Curls – side view of soft wavy curly bob hairstyle
This absolutely breathtaking blonde bob has stolen our hearts! It falls an inch or so below the jaw, and is finished in a couple of different beautiful blonde shades! From a dark and glossy caramel shade to a gorgeous and vibrant bleached blonde, this look combines them all! She's worked beautiful bouncy barrel curls throughout for a finish to die for.
Balayage Loose Waves – layered balayage lob hairstyle (long bob hairstyle )
This lady has opted for an equally beautiful yet slightly longer bob, with the ends just brushing the ends of her shoulders and finished with lots of lovely shorter layers throughout. The colour is a deep and dark shade of caramel at the root, blending to a lovely lighter blonde at the tips, and the loose waves throughout show off the transition perfectly.
And here is another cute long bob hairstyle you may love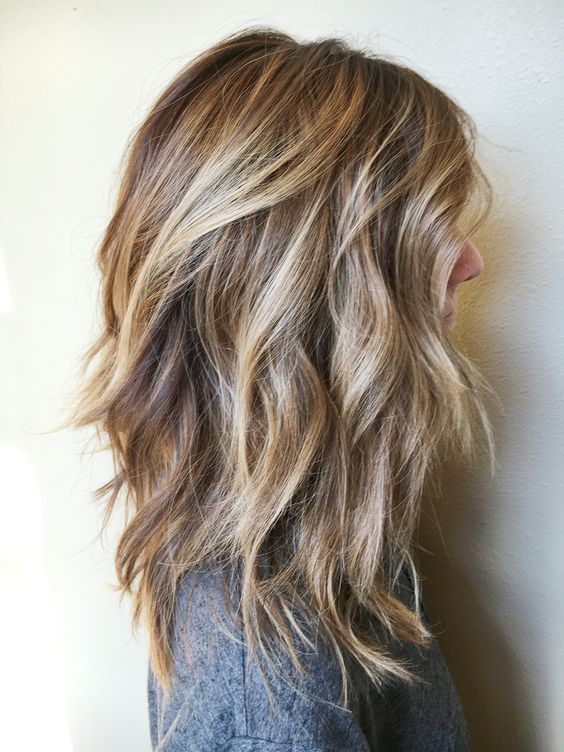 Layered Ombre Graduated Wavy Bob hairstyle for women – Bob Hairstyles 2018
A graduated bob is one of our favourite wavy bob styles, starting with a shorter level at the back and graduating the length to lovely longer strands around the front, which frame the face. This lady has opted for a gorgeous long side fringe to finish her look off which we adore. The balayage blend from dark to light brown is perfect when accompanied by these loose waves.
Glossy Brown Curled Bob – Simple easy daily hairstyle for short hair – chic bob cut
This gorgeous brown bob is finished an inch or so below the jaw line, in an ever so slightly graduated line from the back of the head to the front. Finished with a side parting which creates a loose sweeping fringe effect, this gorgeous lady has added loose curls throughout the hair to create a wonderful bouncy finish which we simply adore.
Bright Blue Choppy Bob: Bob Hair color ideas – the bright blue!
If you're looking for a total hair transformation then let this incredible lady inspire you with her brilliant blue choppy bob. Not only has she gone for a stunning crop full of beautiful and choppy layers throughout the hair, but she's gone for a vibrant blue colour all over to perfectly accentuate the cut! We love her loose curls too – ideal for a night out.
Copper Curly Crop – layered balayage bob hairstyle for thick hair
Easy daily hair ideas for short hair – This copper curly crop is absolutely gorgeous! It's fashionable and striking – and who could want more than that? With a slightly longer cut, the longest strands of hair start from shoulder length and finish below the ears, and this lady has curled her fiery locks to create a beautiful bounce throughout the hair that is simply to die for.
Strawberry Blonde Bouncy Bob
If you're looking for a bob that is easy to maintain but simply full of bounce and body, then this inverted bob is exactly what you're looking for! With a longer layer at the bottom working towards shorter layers at the top of the hair, this creates a gorgeous and curved style which looks fantastic when straight. This is finished with a stunning fringe to frame the face.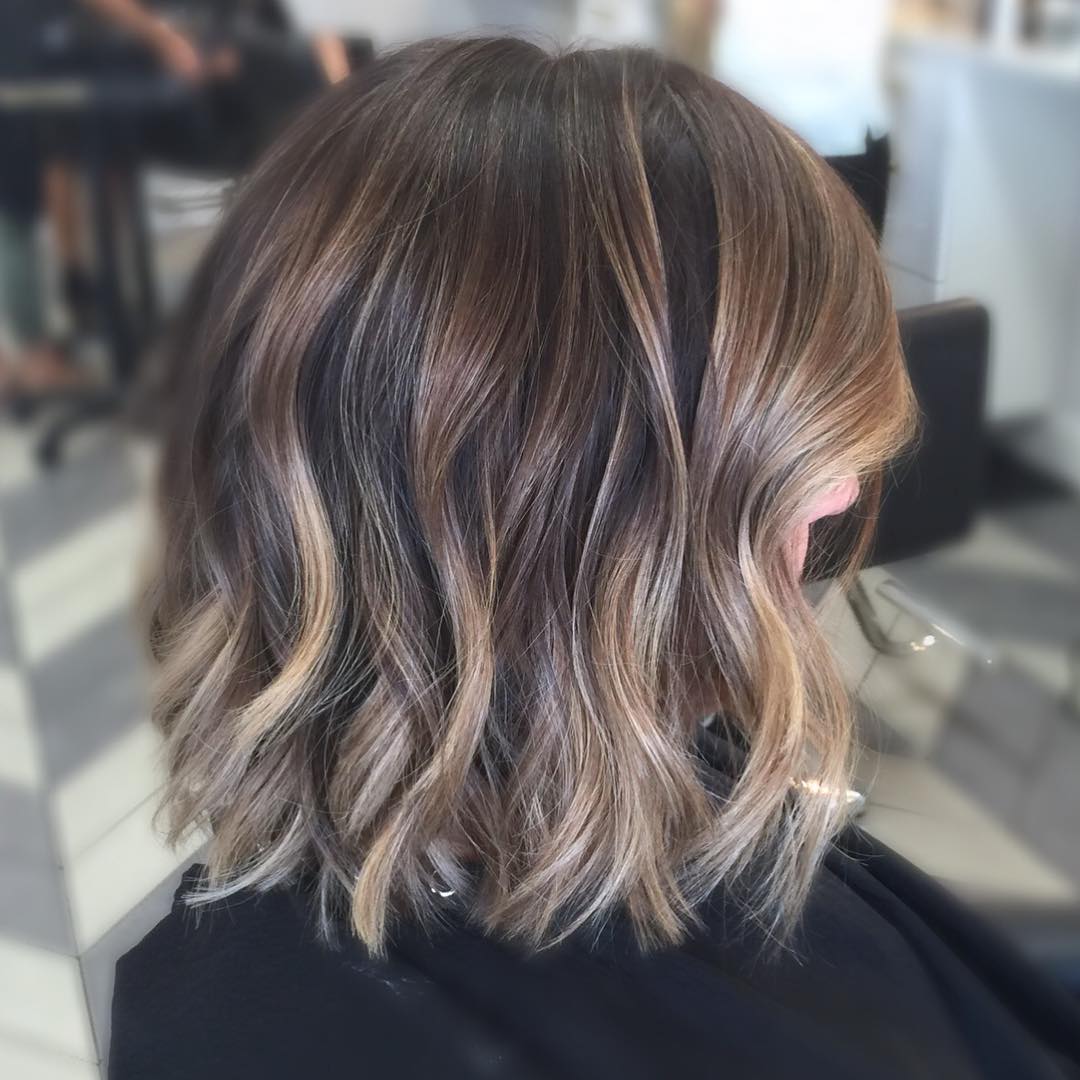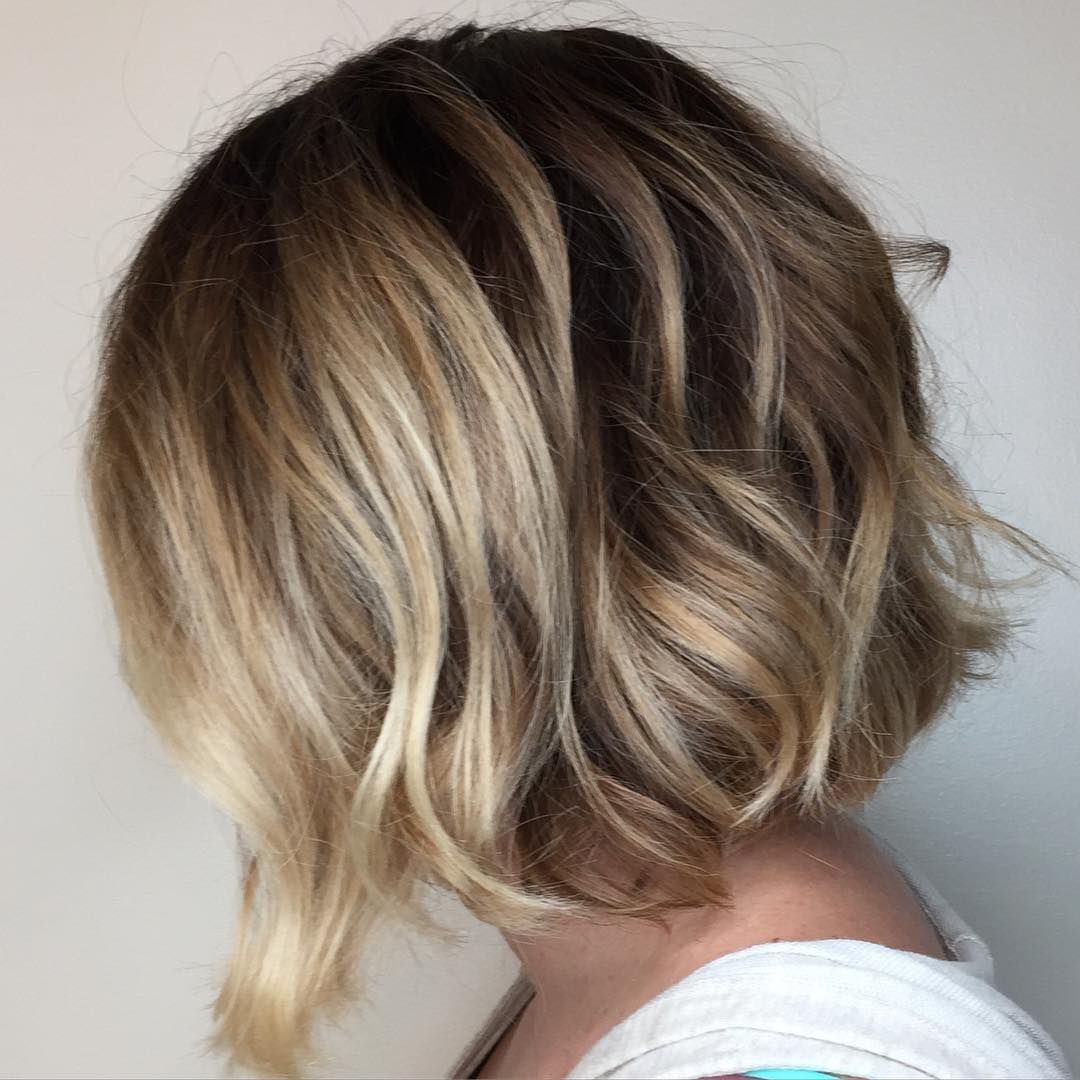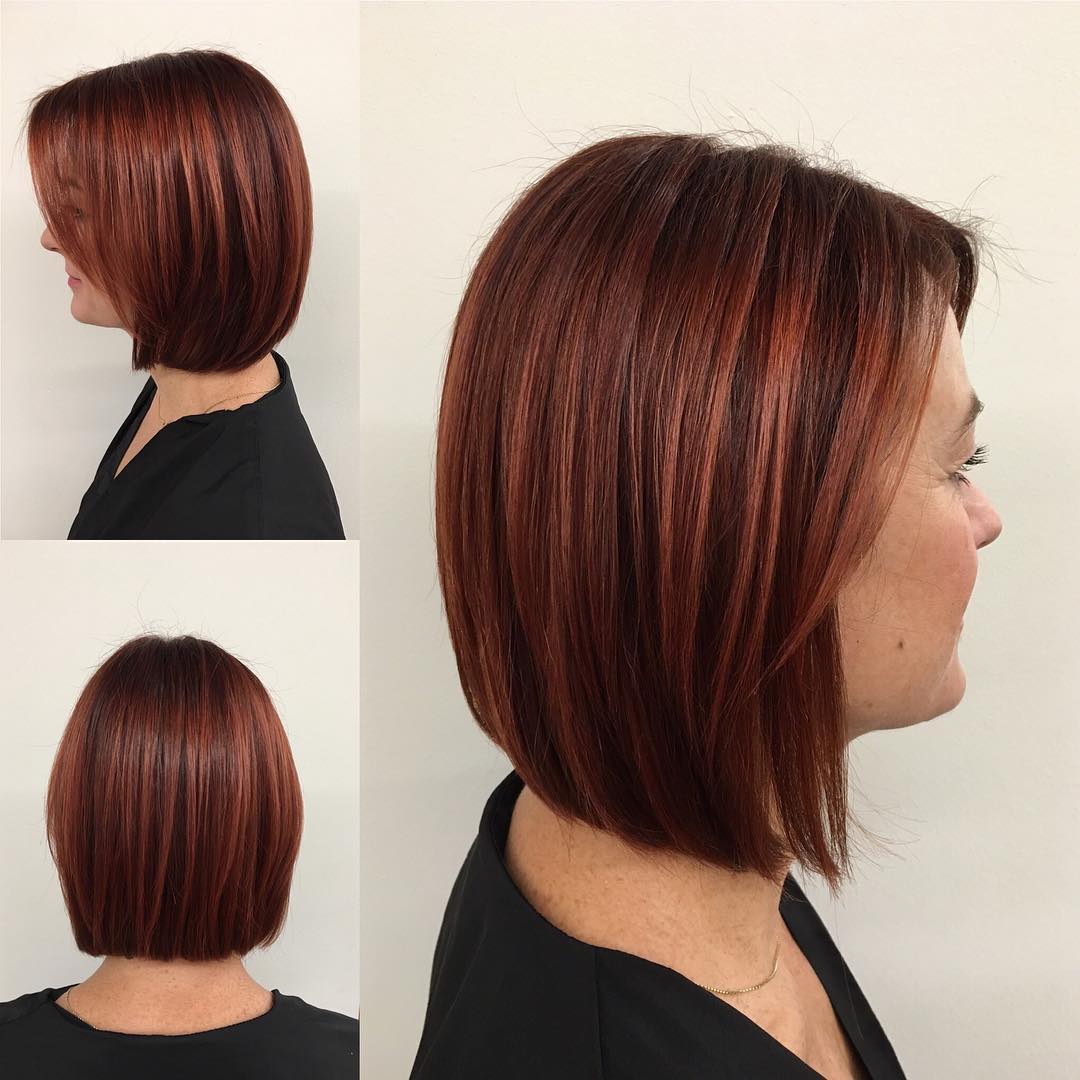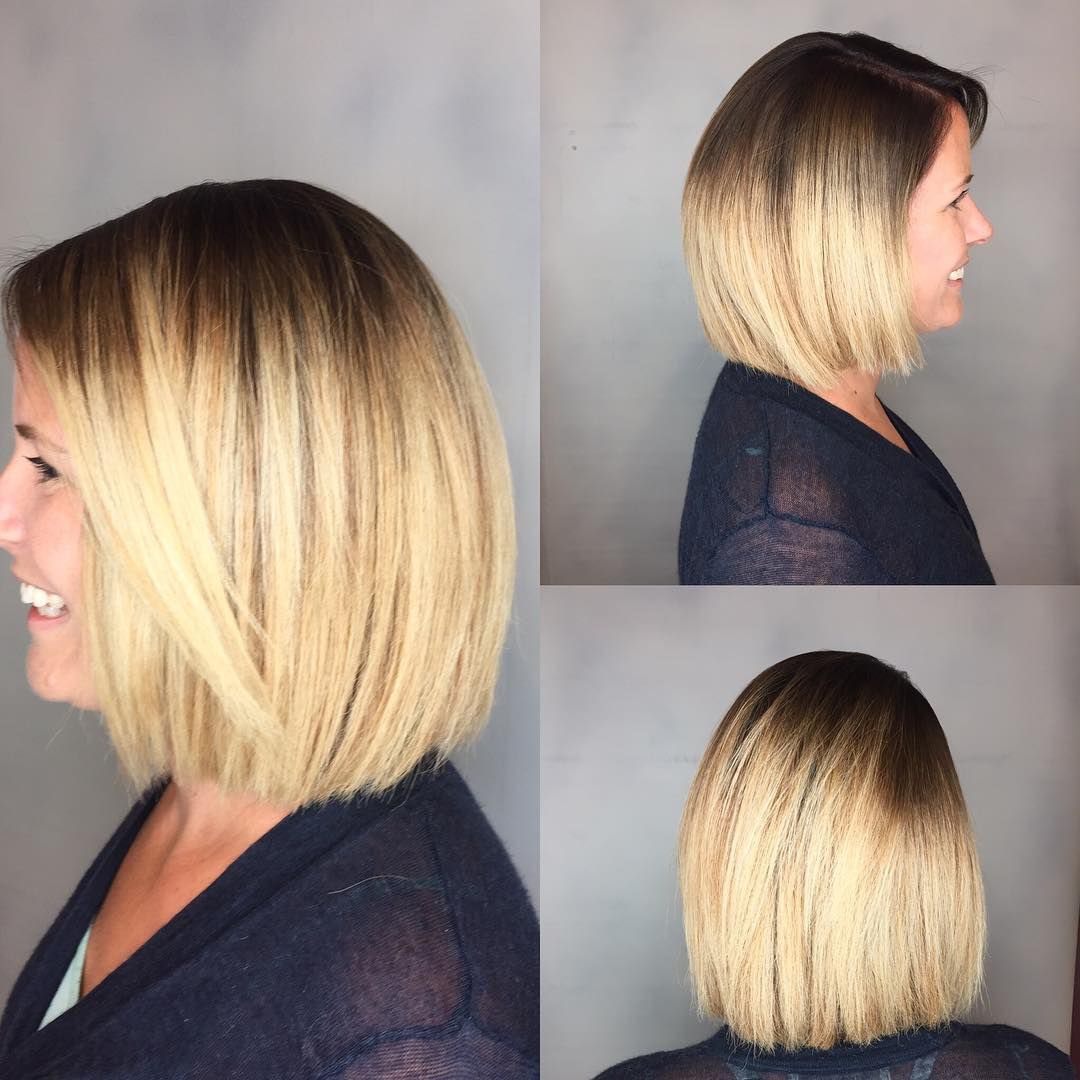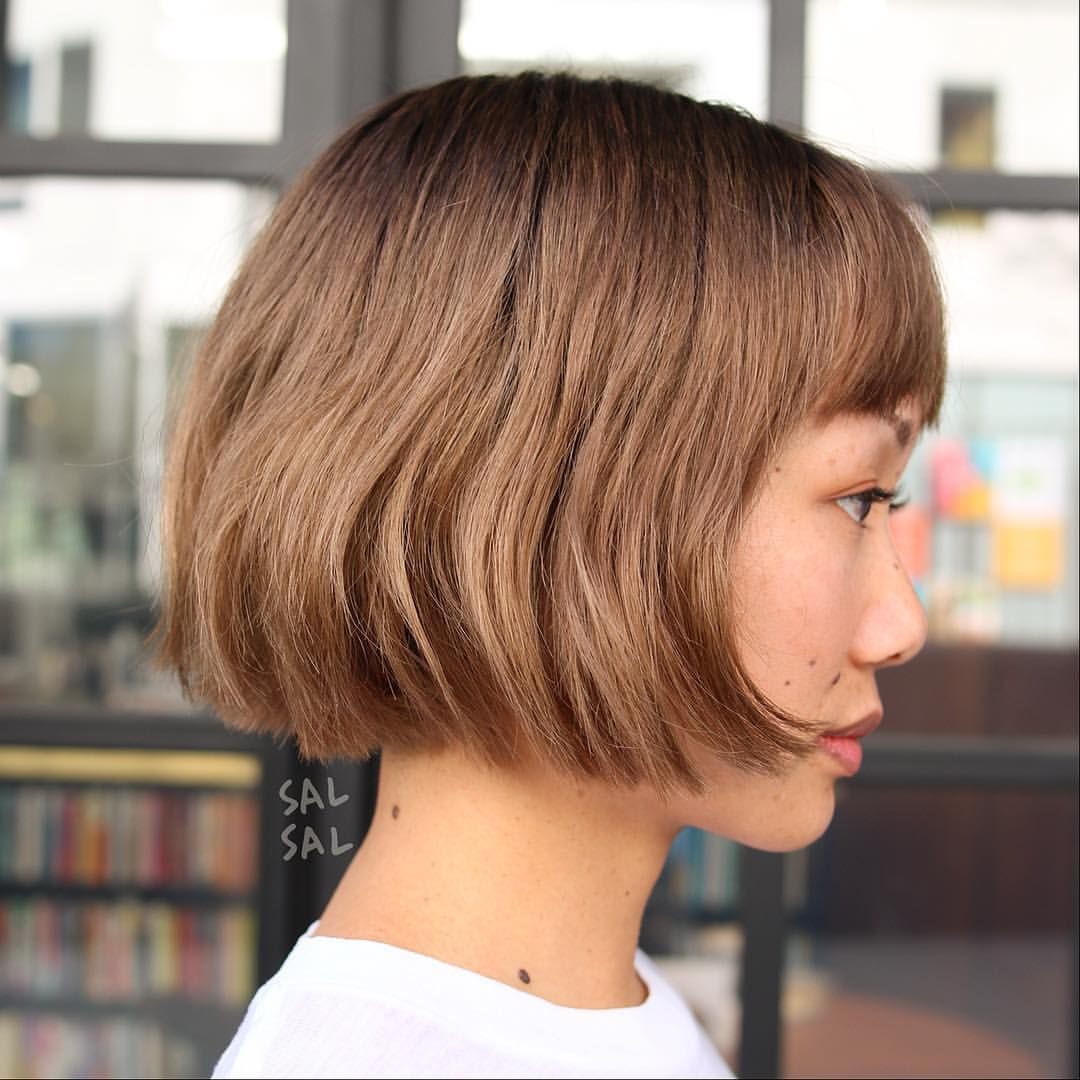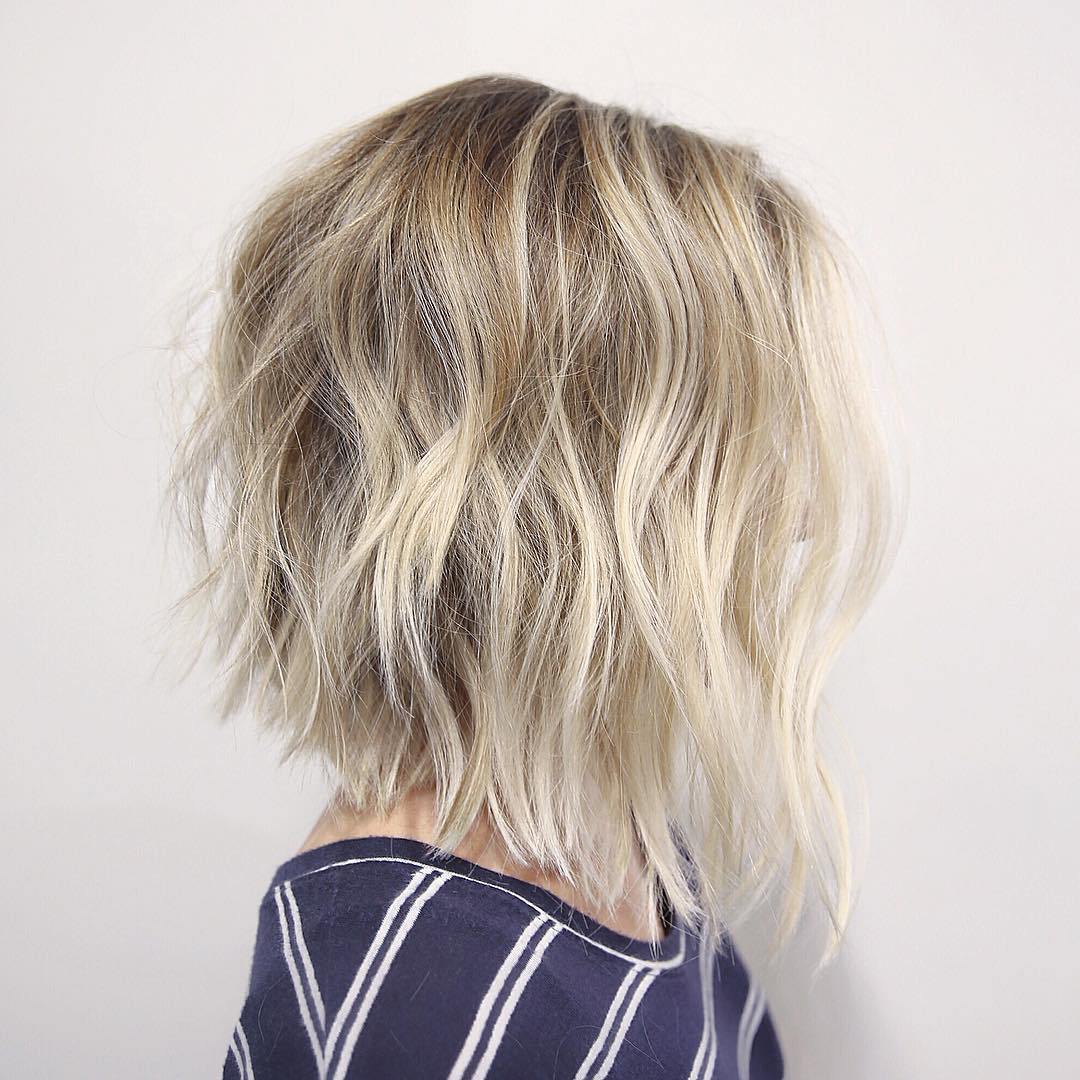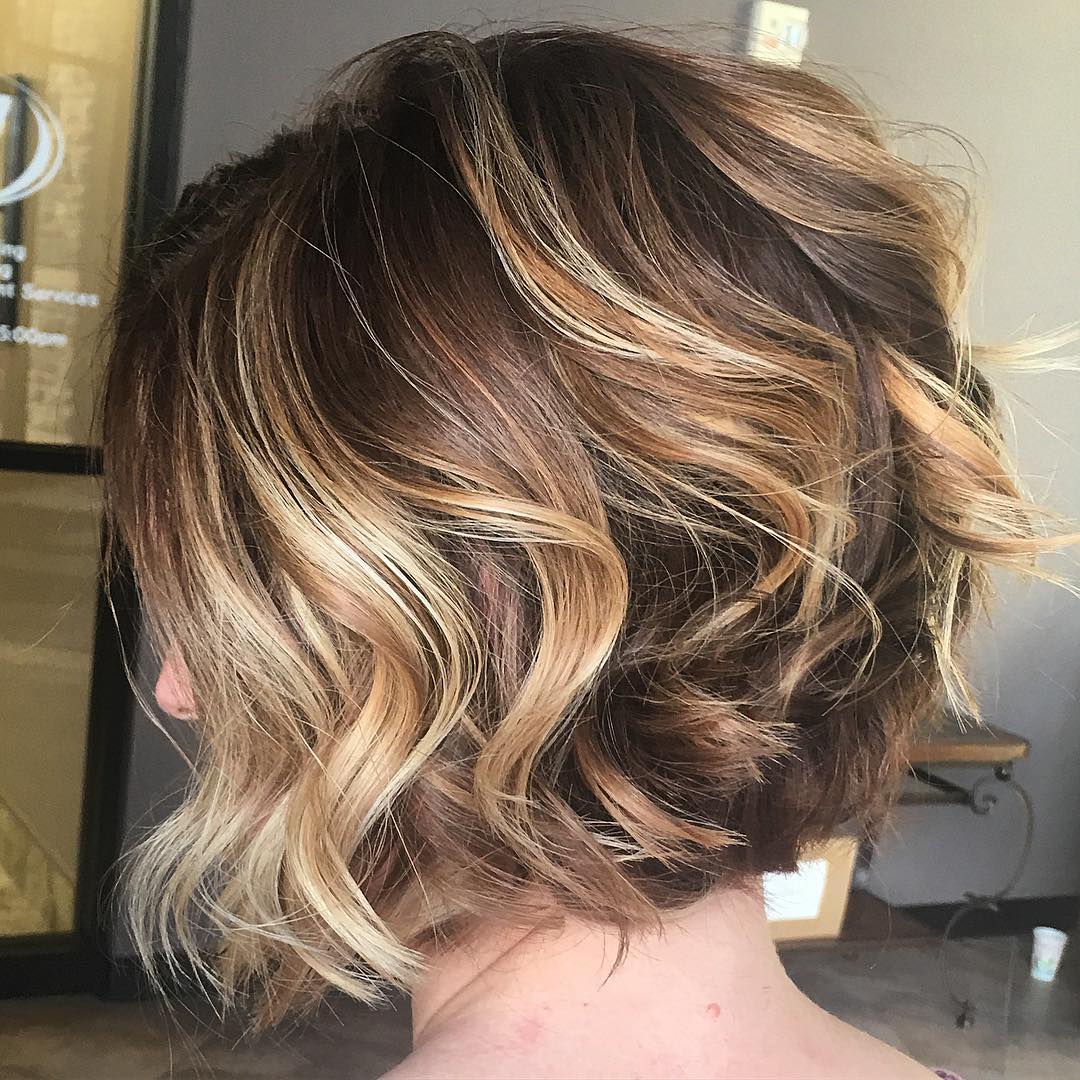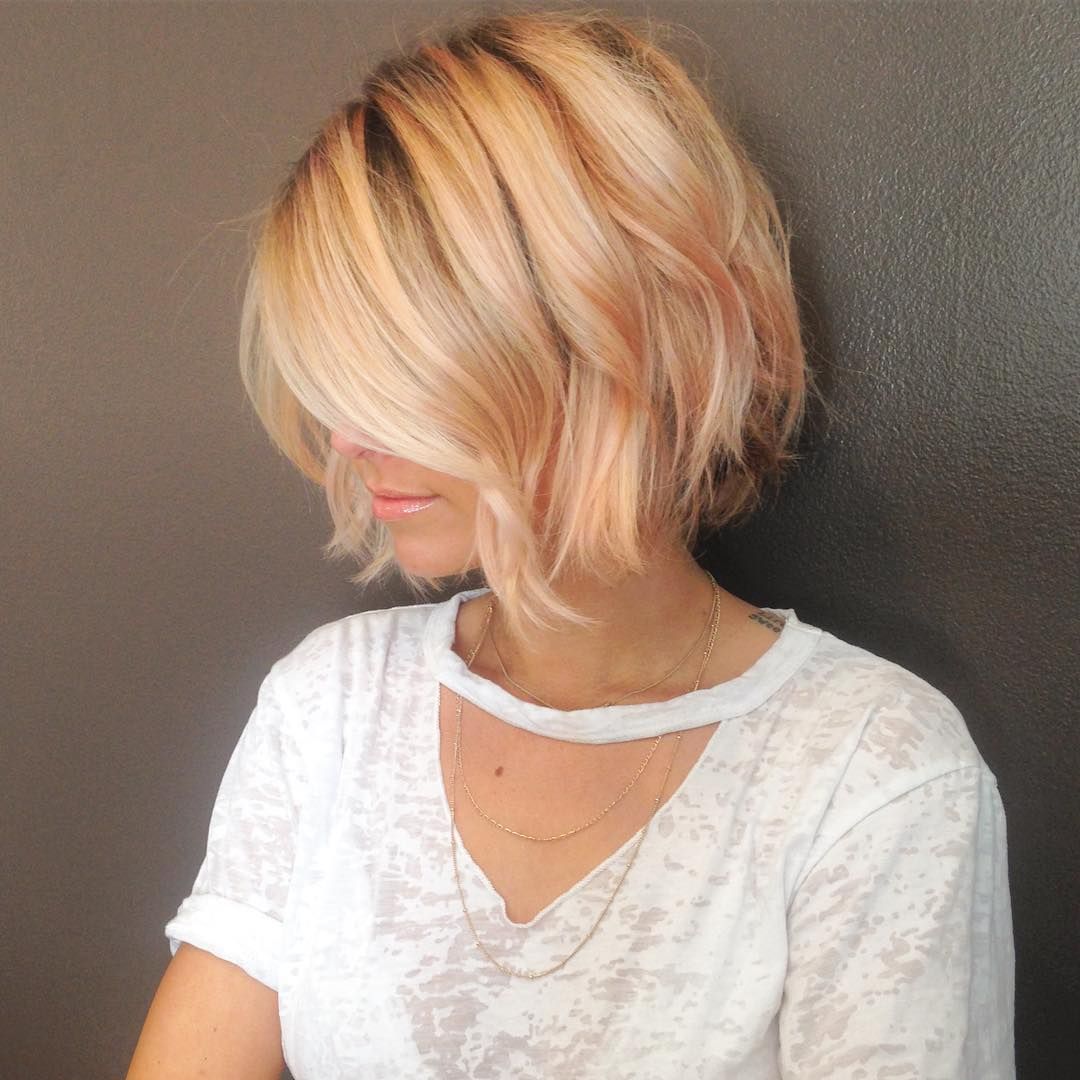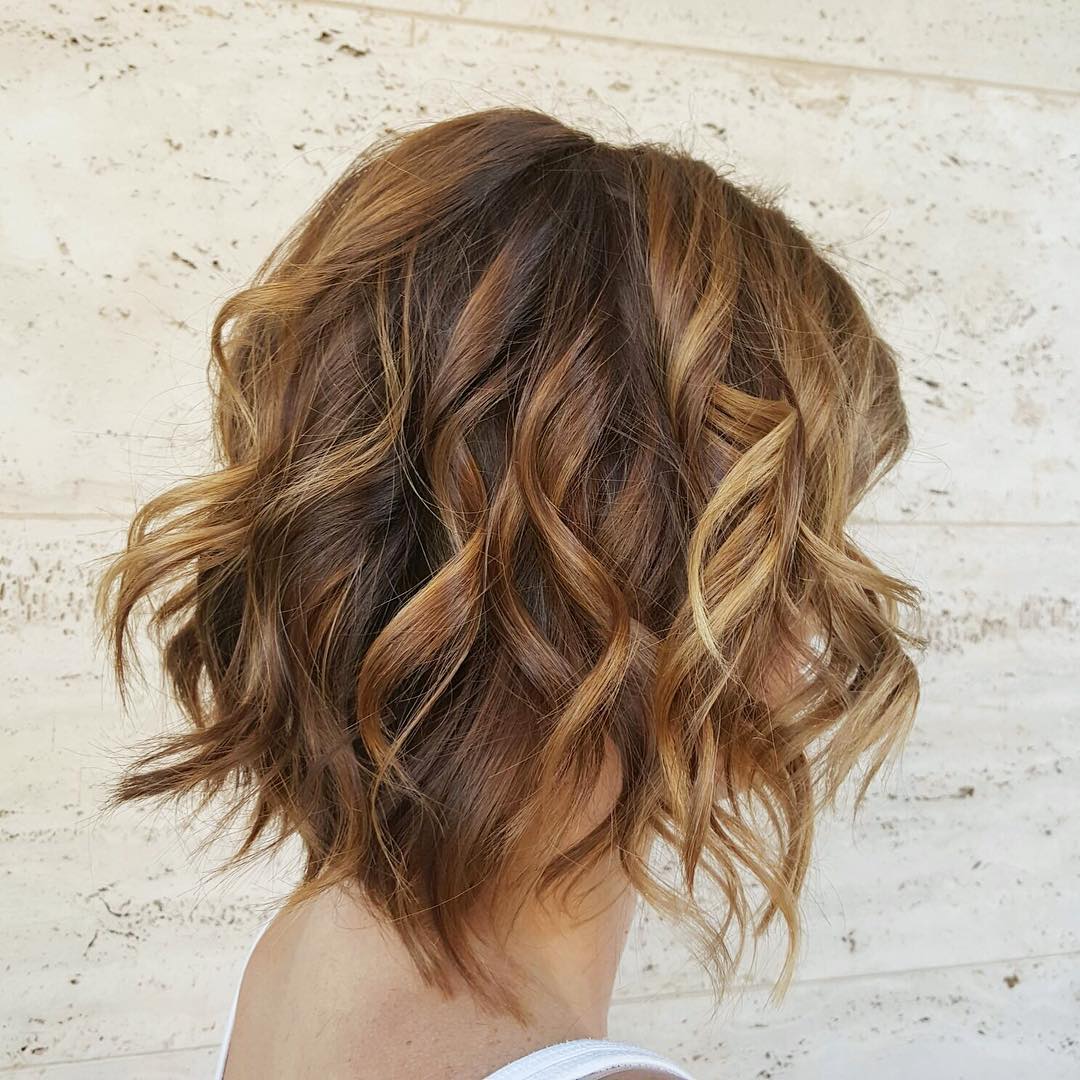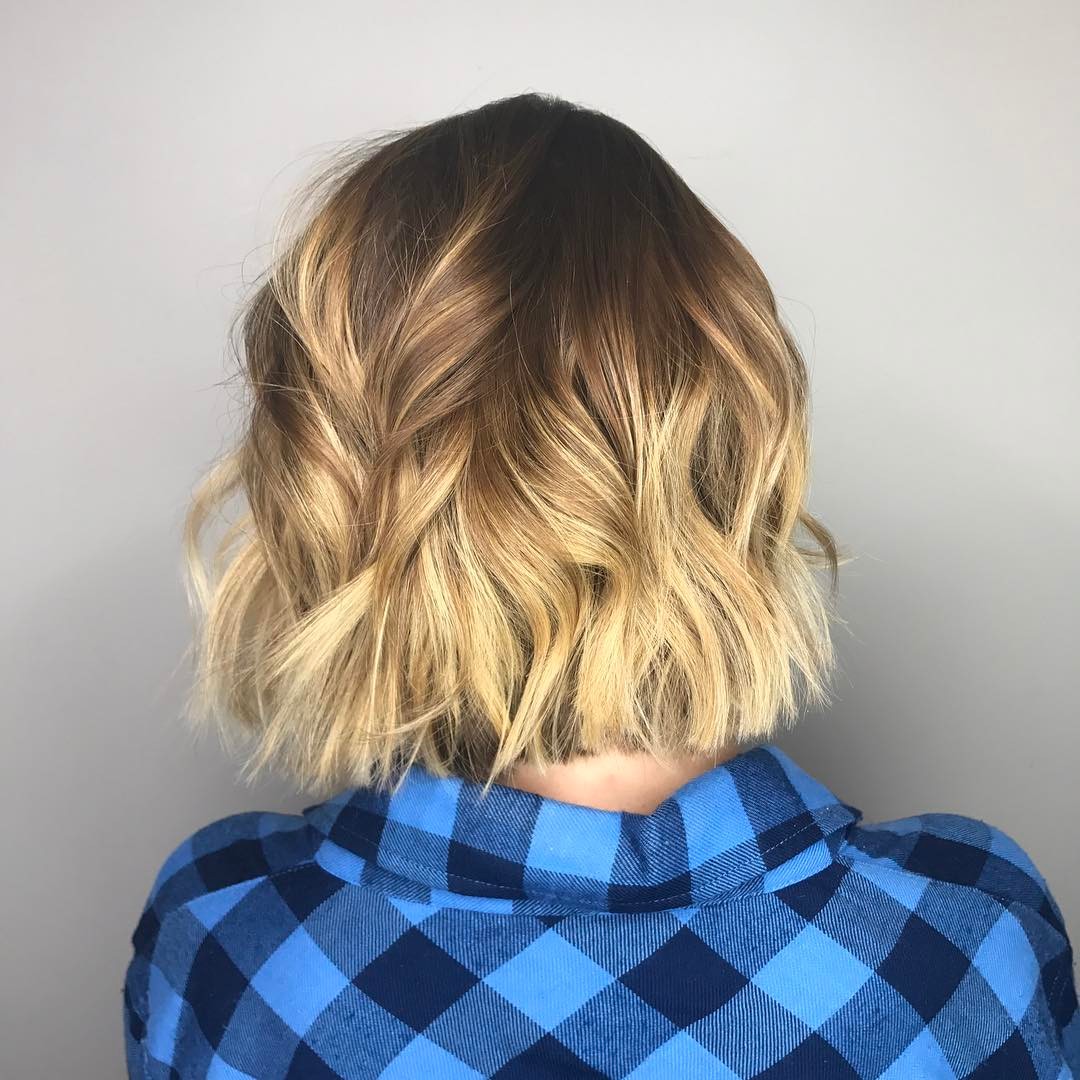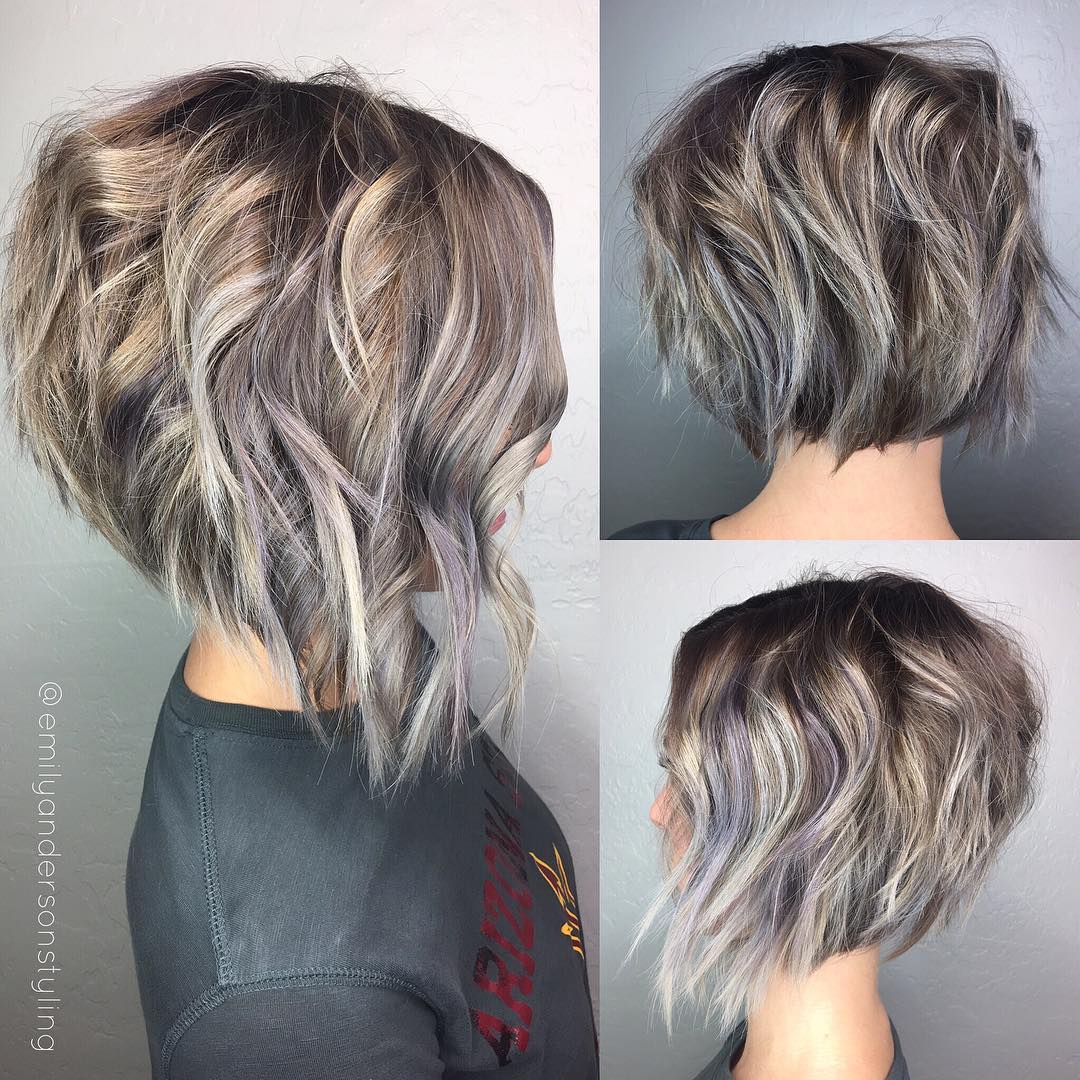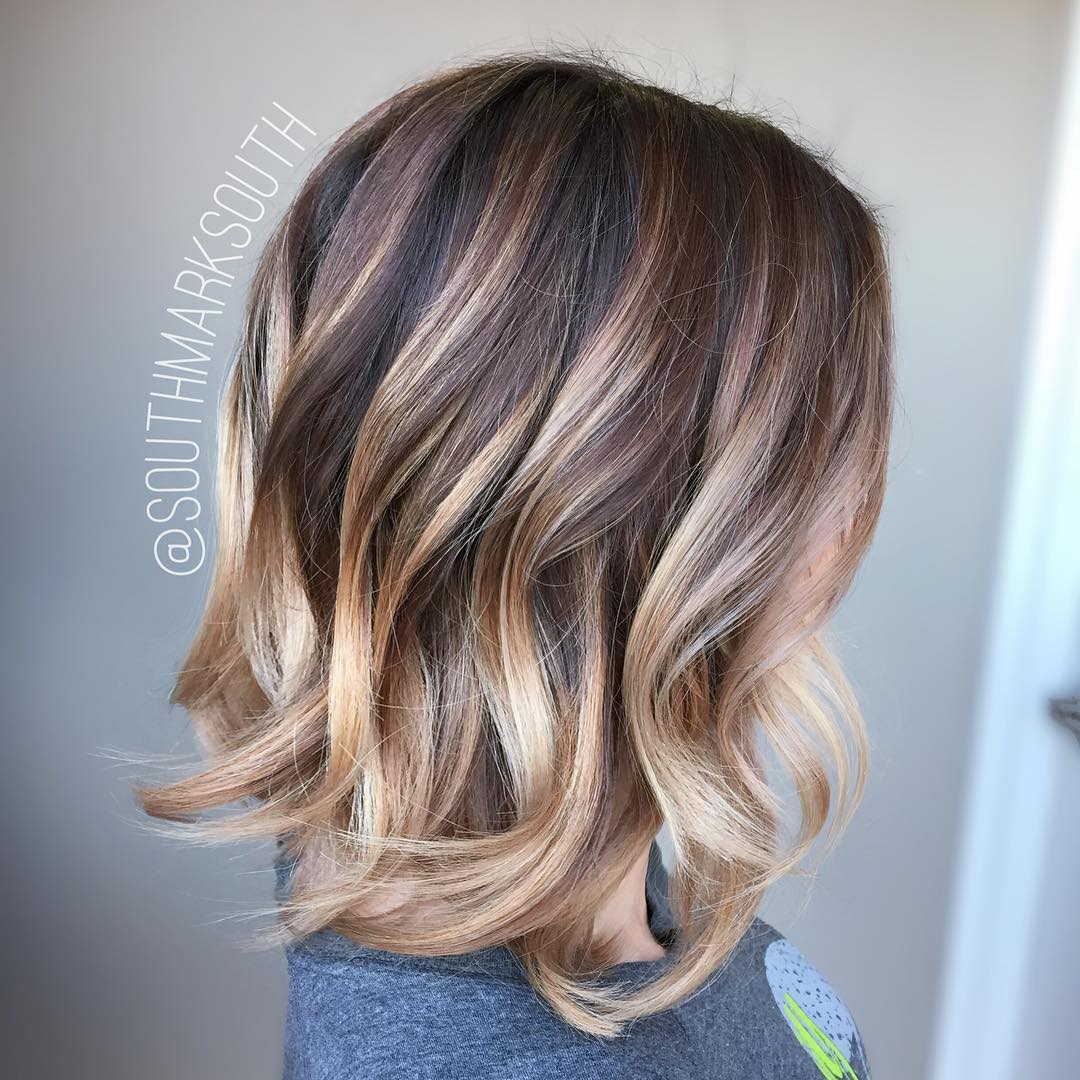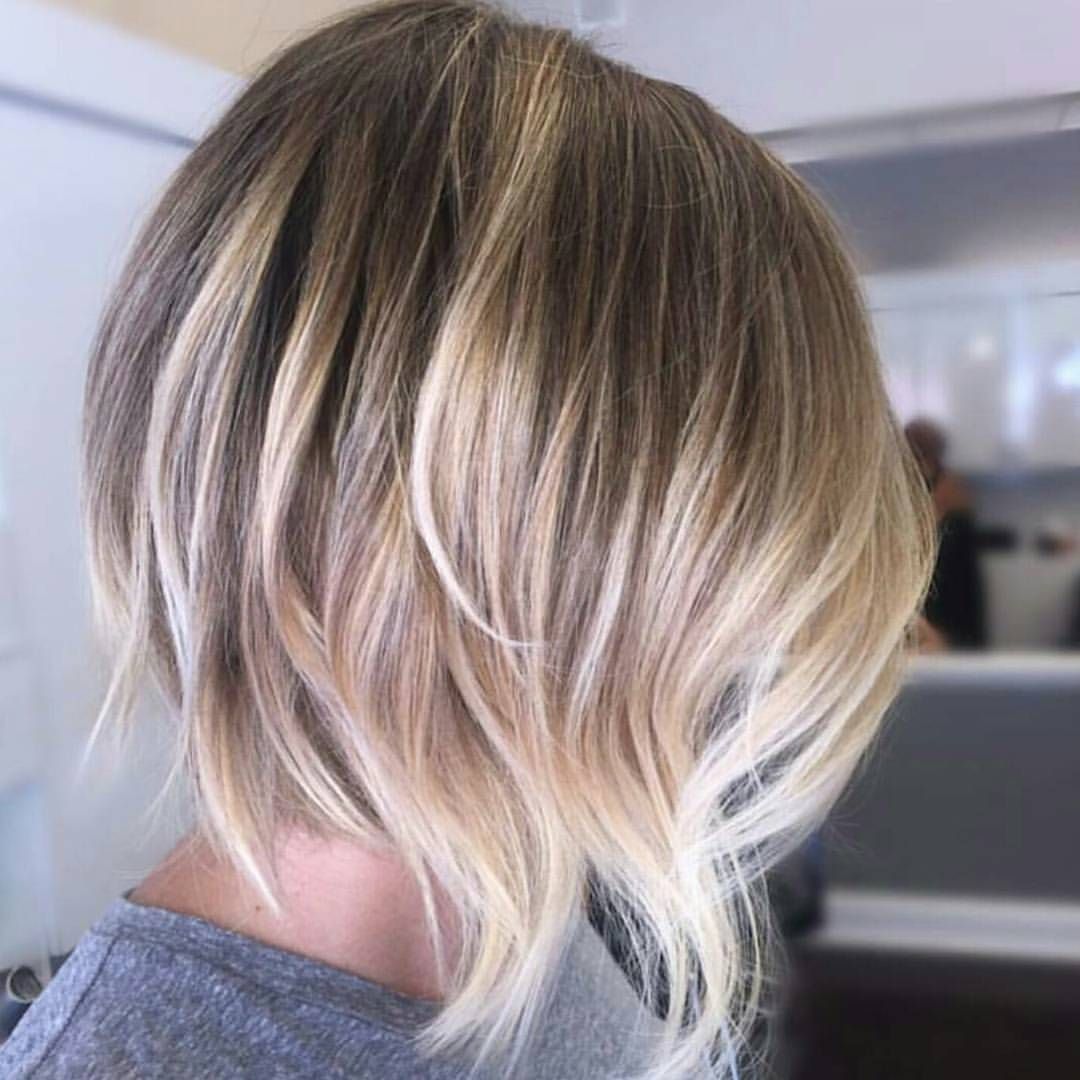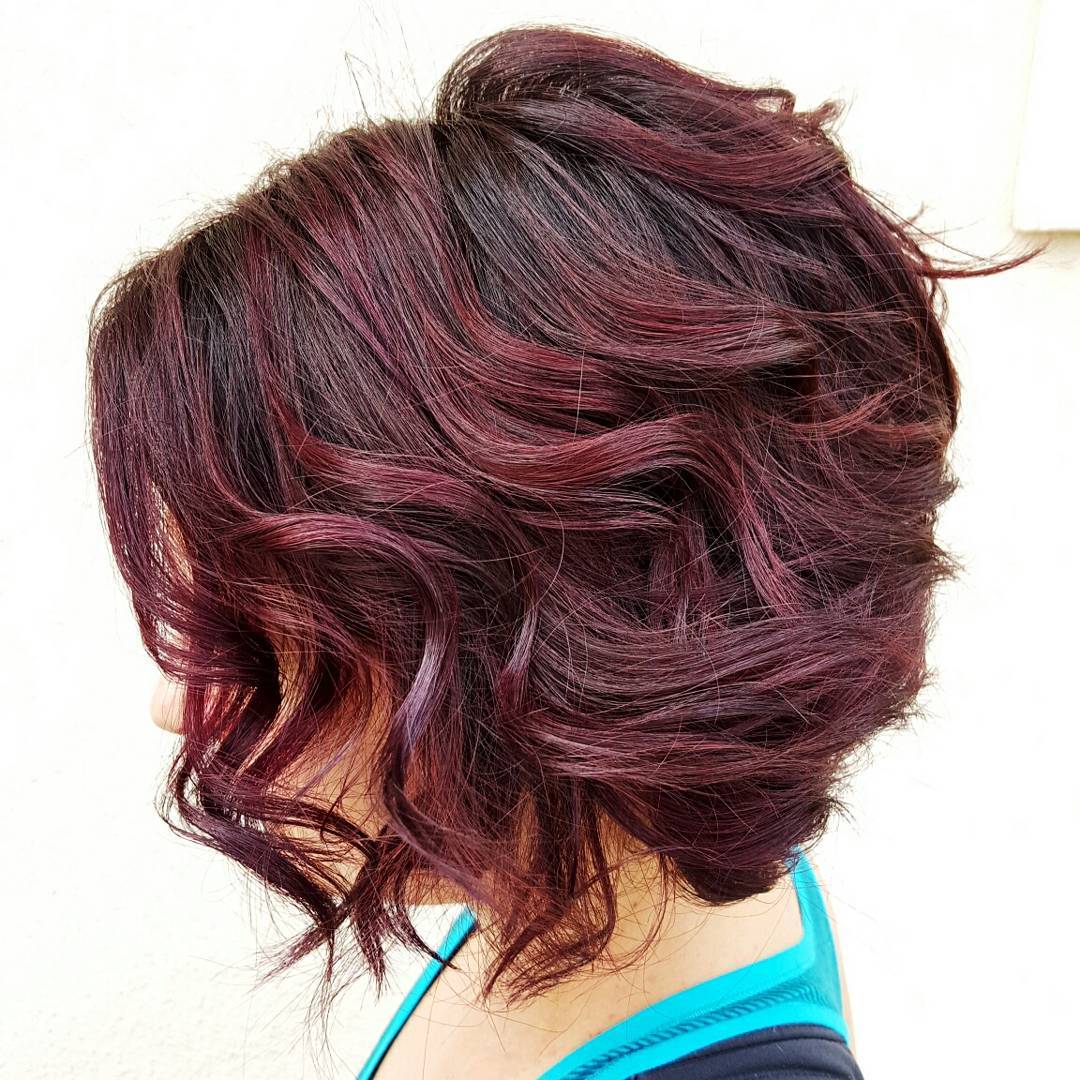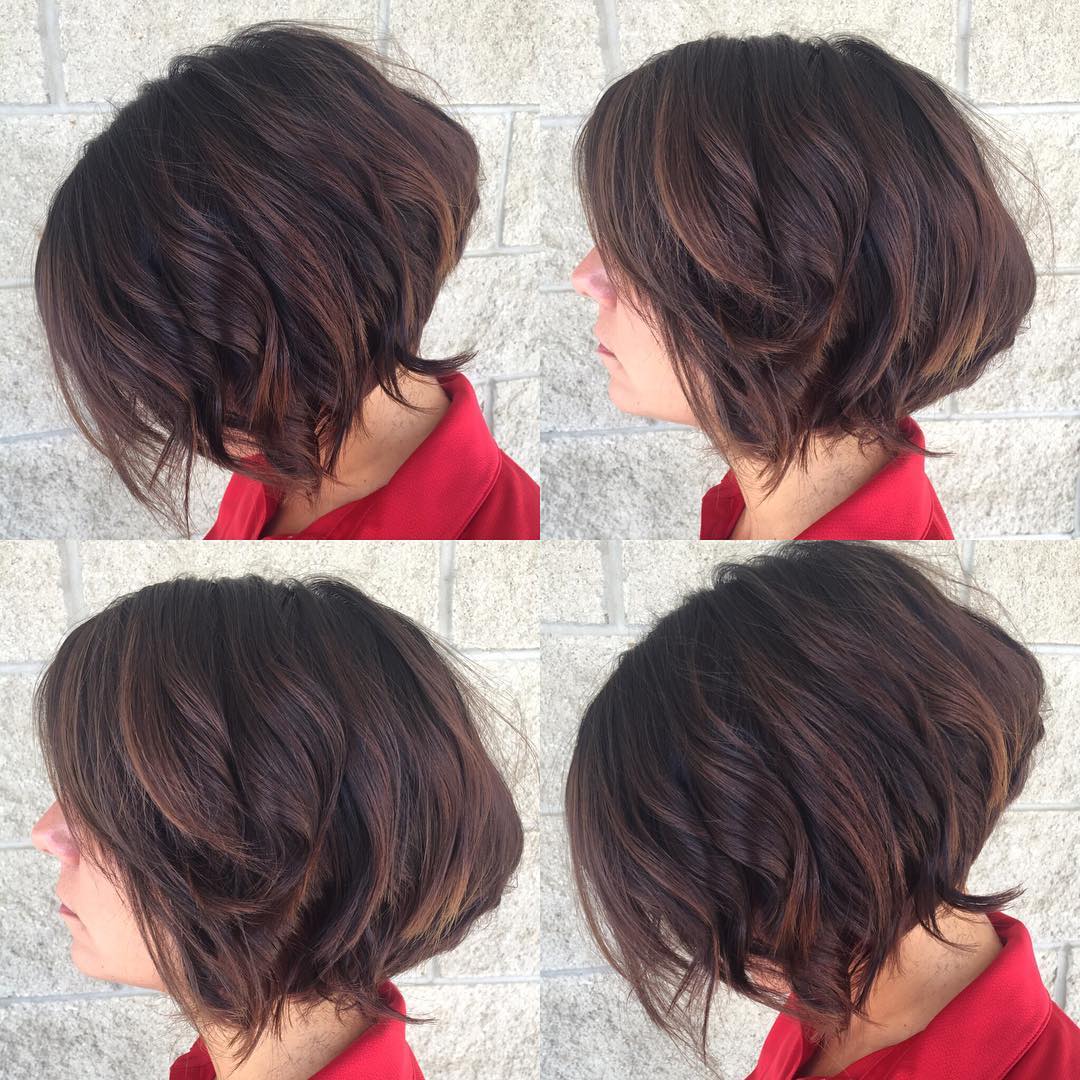 Sours: https://www.herstylecode.com/hairstyles/amazing-bob-hairstyles/
Similar news:
It was evident with what reluctance Valya emerged from her mental sleep. The cow has long been trained to respond with a nod or a shake of the head. In response to the sale offer, she nodded her head confidently.
1346
1347
1348
1349
1350