Kia Optima Generations
The Kia Optima was released for 2001 and started as a thinly disguised Hyundai Sonata, following Kia's sale to the fellow carmaker from South Korea a few years earlier. It gave Kia a model it never had before and expanded the brand into the competitive midsize sedan segment in the US.
While the Optima and Sonata have shared components ever since Kia has exercised more freedom to give its sedan a style and personality of its own. It has made the Optima a highly competitive vehicle as some other companies have given up on the segment altogether. It was discontinued after 2020 and replaced by the Kia K5.
---
2016 – 2020 Kia Optima (4th Generation)
The fourth-generation Optima hit the US market for 2016 with its sleekest style yet and new, higher-end features. The 2016 Optima is offered in LX, EX, SX, and SXL trim levels and was slightly enlarged over the previous model. The LX and EX models have two powertrain offerings: a 185-horsepower, 2.4-Liter four-cylinder engine mated to a six-speed automatic transmission, or a 178-horsepower, turbocharged 1.6-liter four-cylinder engine mated to a seven-speed automated manual transmission. The SX and SXL models come with a 245-horsepower, turbocharged 2.0-liter four-cylinder engine. The three highest trims are mated to six-speed automatic transmissions.
For 2018 Kia packed the standard feature list with previously optional technology on higher-level trims. These additions include a 7-inch touchscreen infotainment system with Apple CarPlay and Android Auto connectivity, rear parking sensors, and blind-spot monitoring with rear cross-traffic alerts as safety features. This feature list further expanded in 2019 when Kia added lane keep assist and departure warning, driver attention monitoring, and forward-collision warning as standard features on all models.
The Optima was replaced for 2021 with the similarly sized K5 sedan.
View 4th Generation Listings
---
2011 – 2015 Kia Optima (3rd Generation)
For 2011, Kia introduced the third-generation Optima, and it was a sharp departure for the brand and the segment. With a new elegant exterior, classy interior, and more powerful engines on five trim options – including a hybrid – this new model became an immediate standout amongst competitors. The trims for 2011 were the LX, EX, EX Turbo, SX, and Hybrid. Each model comes with a single powertrain configuration. LX and EX trim levels came fitted with a 200-horsepower, 2.4-liter four-cylinder engine. The EX Turbo and SX models received a turbocharged version of the four-cylinder that put out 274 horsepower. The gas-electric hybrid model received a 2.4-liter four-cylinder engine paired with a 40-hp electric motor for 206 total horsepower. Each engine was paired to a six-speed automatic transmission except for the base LX trim, which offered a six-speed manual transmission option. Significant additions to the list of standard features for the new generation are keyless entry, power lumbar support, and 60/40 split-folding rear seats.
For 2013 Kia modified the Optima's trim lineup, discontinuing the EX Turbo and splitting the hybrid into LX and EX trims. Both hybrid models carry the same powertrain but offer different feature packages. The manual transmission option for the base LX model was also eliminated. A 2014 update brought styling modifications for the front and back ends while trim levels were modified again with the addition of a high-end SXL trim that featured the 274-hp turbo engine.
View 3rd Generation Listings
---
2007 – 2010 Kia Optima (2nd Generation)
Designed on a new platform, the second-generation Optima was released for 2007. For the first time, Kia significantly altered the styling from the Hyundai Sonata that was released a year earlier, even though the two were still related under the skin. The Optima continued to be offered in two trim levels, the LX and EX, with two powertrain options. Both trims come standard with a 161 horsepower, 2.4-liter four-cylinder engine. The LX trim was mated to a standard five-speed manual transmission or optional automatic transmission, and the EX trim mated to a five-speed automatic transmission. Both variants had the option to upgrade to a more powerful 185 horsepower, 2.7-liter V6 engine. Few components were carried over from the previous model as the Optima made significant strides in driving dynamics and interior quality.
For 2009, Kia gave the Optima lineup a facelift with minor styling tweaks, power increases to both engine options, and an additional sport-oriented SX trim option. Standard features on all models include 16-inch steel wheels, full power accessories, and a six-speaker sound system with a CD player, satellite radio, and auxiliary and USB audio jacks. The standard safety package for 2009 added antilock brakes and stability control.
View 2nd Generation Listings
---
2001 – 2006 Kia Optima (1st Generation)
The first-generation Kia Optima was a variant of the Hyundai Sonata and was introduced for 2001 in two trim levels, the base LX and upgraded SE. Both models came standard with a 149 horsepower, 2.4-liter four-cylinder engine mated to a standard five-speed manual transmission or optional four-speed automatic. A more powerful 170-horsepower, 2.5-liter V6 engine, and a four-speed automatic transmission were available. All models came standard with features such as a fully independent suspension, side-impact airbags, and air conditioning.
In 2002, the Optima only received slight modifications, boosting the V6 engine to 176 horsepower and trading the standard 14-inch wheels for 15-inch on base LX models. Kia restyled the Optima the following year with a new grille and headlamps. Inside, the Optima received a new center stack and seat material while adding cruise control and a CD player as standard equipment. While this generation was relatively successful for Kia, a ground-up redesign for 2007 separated the Optima more from its Hyundai sibling.
View 1st Generation Listings
Browse Kia Optima Listings
Sours: https://www.autolist.com/kia-optima/kia-optima-generations
The Kia Optima Becomes the 2021 Kia K5, and It's All New
The K5 is a such a thorough overhaul of the Optima that Kia even changed the name.
Say hello to the 2021 Kia K5. It's the brand's newest offering in the midsized sedan segment, and it replaces the now-dead Kia Optima. We've already driven the Korean market version of the K5, and we came away impressed, but this is the official reveal of the car that's bound for the U.S. market. Everything about the K5 is new, from the wheel nuts up, and its mission is to poach buyers of the Honda Accord and Toyota Camry with its sleek looks and new features. That's no small task, since Kia sold 1.3 million Optimas since 2011.
The new K5 runs on the all new N3 platform, and Kia says it's longer, lower, wider, and stronger than the platform that underpins the car it replaces. More importantly for consumers, to whom first impressions matter a lot, the K5 takes the Optima's design and radicalizes it with a sleek fastback profile. The "tiger nose grille" we've become accustomed to is now longer and leaner, just like the rest of the car. The headlights stretch from the grille outward towards the corners of the front bumper, and the turn signals zig-zag into the front fenders. The roofline slopes aggressively into the rear of the car, which now features a full-width taillight.
There will be two engine choices at launch. The smaller of the two is a 1.8-liter, turbocharged four-cylinder that makes 180 horsepower and 195 pound-feet of torque. The optional engine is a 2.5-liter turbocharged four-banger that makes a very respectable 290 hp and 311 lb-ft of twist. The 1.8-liter cars get a standard 8-speed auto, but 2.5-liter cars get an all new "wet-clutch" 8-speed DCT. Kia says that, when specified with the 2.5-liter engine, the K5 will spring to 60 mph in 5.8 seconds.
The K5 will come in five trims: LX, LXS, GT-Line, and EX in ascending order. Kia promises a more exciting K5 GT for the discerning driver that will make its debut this fall. Most trims will get a chrome grill, but GT and GT-Line cars will be differentiated with a gloss black grille. An AWD option is available on LXS and GT-Line cars, which uses an electro-hydraulic coupling for more immediate response in torque distribution. All K5's will come with Normal, Smart, Sport, and Custom driving modes that alter settings for the transmission, steering, and engine. GT-Line cars will also get a Sport+ option. There will be 16, 18, and 19-inch wheels available on the K5—the latter two will come on Pirelli P Zero rubber to give the car an athletic edge, too.
The interior redesign is less revolutionary, and many of its elements will be familiar to Optima owners of yore. The gauge cluster and steering wheel have both been modernized. The center stack gets a redo, too. Base cars will get an 8-inch infotainment touchscreen, and an 10.25-inch unit is available with real-time traffic data.
For the first time, Apple CarPlay and Android Auto will be wireless on a Kia—but not on the upgraded 10.25-inch display, puzzlingly. A panoramic sunroof and acoustic glass are both are both standard equipment on the new K5. A premium Bose sound system with 12 speakers is available, as is wireless charging for your smartphone and natural voice recognition tech for things like turning on the HVAC.
As you might have come to expect from any new car, there are a host of advanced safety features built in to the new K5. Forward collision warning, forward collision avoidance assist, and lane follow assist with lane centering are all standard on the K5. There are a whole host of optional safety features too, like blind spot monitoring, rear-cross traffic alert, parking collision avoidance, and navigation-based smart cruise control.
The K5 will go on sale later this year,  and will be built alongside the SUV of the Year winning Telluride at Kia's West Point, Georgia assembly plant.
THE LATEST IN CAR NEWS
EMAIL NEWSLETTER SIGN-UP!
Share on FacebookShare on Twitter
Sours: https://www.motortrend.com/news/2021-kia-k5-optima-replacement-first-look-photos-details/
The latest in our series of interviews with Kia automobile owners takes us to Fort Lauderdale, FL.
Casey works with the family business, making swimming pool vacuums along with his wife and other family members.
When he isn't thinking about cleaning pools, Casey spends time detailing and cleaning his 2011 Kia Optima SX.
Casey has had a number of different vehicles over the years, always choosing cars that he can modify to make a little more unique.
Among his favorites was a Chevy S10, as he was able to make that ride truly his own. As the truck got older, though, he couldn't see putting any more money into it, so he turned his attentions towards a 4-door sedan, with the Optima SX his vehicle of choice.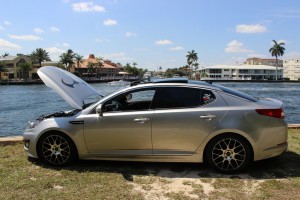 To say that he is happy with that decision is putting it mildly, as he describes it as the best car he has ever owned.
Casey took a 3 hour hike to a dealership in Fort Myers to get the exact car that he wanted, and he hasn't looked back since.
He loves the sporty styling of the Optima, as well as the kick of power that he gets from the engine.
This is a vehicle that delivers everything he needs and more.
Kia Optima SX Q&A, Specs, Aftermarket Accessories
1. I  own a 2011 Kia Optima SX, my experience with this car so far has been hands down the best vehicle I have purchased and owned.
I went to the kia dealer 3 hours away from me in Fort Myers :Kia Airport:. just to see and test drive the exact model I wanted and I came out of the dealer a happy customer, every since I left that dealership  I haven't been more pleased with the overall car it is everything and more than I expected form this sporty sedan.
2. What I love the most is what people say about my car, I actually removed all the kia badges from the car and replaced them with custom batman badges, or known as emblems I love they way it looks and no matter what tm of day it is or where I am stopped I am allways getting asked what kind of car is that?
My reply is simple the worlds best kia! of course as soon as I say "KIA"  they want to know more and more so I am all willing to tell them about it, I love getting attention and love to be able to tell everyone what a great car this is and how unique you can personalize it to make it your own.
3. I have owned my ride for a good 4 months now…and the car feels just as good as the day I bought it.
No major issues at all and the little issues were taken care of without no problems the service centers are very knowledgable and friendly…I plan on keeping this car for a very long time!!!
4. My overall intention of buying a Kia at first was kind of hesitant. I researched other vehicles for a while and I kept on coming back to the Kia.
I personally haven't seen one on the road when I started looking for a sedan but I saw it on there website and I was truly amazed at the overall appearance and interior was very well thought out, not to mention there 274 HP model which when I was looking was a big factor in my purchase.
I wanted something sporty that was a sedan and had some punch to it and punch it has!!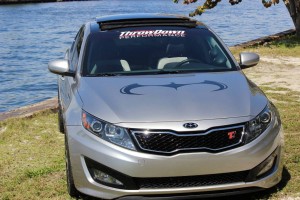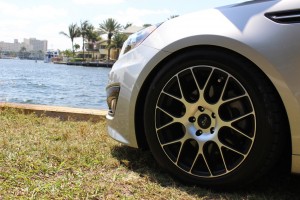 5. What I like most about my ride is the styling of it. Everything from the outside in is very sporty and aggressive looking.
I like that I can take my car out anywhere and know that its a kia and im proud to own it! But I do also like the turbo lol. When you need ot the most its always there never lagging behind!!
6. What makes my car so unique is the way I have stylized it. I have replaced all the badges and have done so any modifications.
I like to do things in a way that  makes me stand out from everyone else and I believe I have achieved that with all the upgrades and modifications I have done.
More Kia Optima Accessory Photos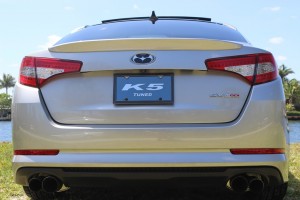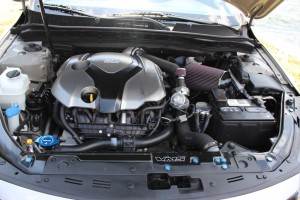 7. Installed Optima accessories and modifications are as follows:
– batman custom badges
– led switchbacks
– led turn signal bulbs
– led rear bumper reflectors
– ex led 6000k dome lights
– 50 watt cree reverse lights
– stage 1 license plate bulbs
– custom dual pillar pod/ boost/vac..air/fuel ratio
– 18×8 niche circuit sport rims
– 235-45-18 bf Goodrich sport comp2 tires
– megan lowering springs
– Ark dts catback exaust polished tips
– K&N air intake system custom made by :gunmetal:
– btrcc weapon r spec oil catch can-intake side
– btrcc sterlin tune module
– hks m45xl spark plugs
– hks ssqv version 4 blow off valve
– throttle body spacer 2 thermal gaskets
– led cree fog lights
– turbo badge
– Hid 8000k lows, Hid 8000k fog lights
– Painted engine cover
– Throwdown performance windshield decal
– Custom batman hood graphic to match badges
– K5 tire caps
– Vms racing dress up kit
Yes its a pretty long list lol.. but every Optima accessory that has been installed has been done very carefully, and I am very pleased with the outcome of my progress.
I still have a few more things I will be adding in the future, such as a upgraded intercooler, nitrous, strut bars and coilovers,  but I do want to say one thing and I want everyone to know that I couldn't have done a lot of these mods without the help of a good friend / business owner, his name is David and his business is the K5 Optima Store.
Without the help of him I wouldn't be where I am currently, he is a good friend who isn't there just to take your money even though he does take mine!
He's there to give us support and help we need with our cars so I wanted to give you David a well deserved shout out and thanks again for helping me progress where I am today with my car!!!
Also I want to thank the guys over at Optima forums! They have been so helpful with installation and knowledge wise, I cant say enough that the optimaforums is hands down the best forums I have been on…thanks guys for giving me ideas and all your inspirations you all rock!!!
Optima SX Specifications, Information
Model:2011 Optima SX Navi/Tech package fully loaded leather seats
Exterior color: Bright silver color
Engine: 2.0 turbo
Tires: 235-45-18
Average mpg: Between 18 and 21
Miles driven so far: I have driven about 10K miles so far currently at 47K
Sours: https://www.thekeea.com/optima/optima-sx-turbo-accessory-list/
Be Smart, Check in Advance. CARFAX — Your Vehicle History.
CARFAX — Your Vehicle History Expert
Sometimes what you don't know can't hurt you, but that's not the case when buying a used car. As an independent vehicle history provider, at CARFAX we've made it our mission to tell you everything you need to know by uncovering as many events as possible from the previous life of a used car. Our primary goal is to help you get to know your next car from the inside out before deciding to make an investment that will be part of you and your family's everyday life. We believe your next car shouldn't be hiding anything from you.
CARFAX Vehicle History Reports contain over 28 billion historical records from 20 European countries, the US and Canada, which are updated daily with new information.
Even if you live in a country we don't collect vehicle data from, it's still always worth checking the Vehicle Identification Number without obligation. The used car import and export market is booming and many owners would be surprised to find out exactly what happened to their vehicle during its previous life abroad.
Privacy for Customers — Transparency over Vehicles
Let's be clear: Although we strive to find every detail of a vehicle's life so far, we are focused only on the vehicle's history, and do not collect any information on previous owners. The information we provide relates solely to the vehicle, its odometer reading, any accidents that have been covered up, where the vehicle comes from and much more — it never gets personal. We've uncovered irreparable damage several times in the past, but other times our vehicle history checks draw a blank — and sometimes that's actually a good thing.
Second Hand — Not Second Best
Did you know that considerably more used cars are sold than new cars? We think this second-hand system is nothing short of fantastic. However, it goes without saying that it gives rise to different methods and tactics: Some sellers will disguise a car that's been in an accident under a fresh coat of paint, tamper with the odometer or conceal theft. This is one of the less appealing aspects of buying second hand. Our goal is to establish trusting relationships between buyers and sellers, since this is the best way to help customers make the right decision. Your new car should be reliable and make you feel safe, as well as make you feel like you haven't paid too much.
But more than anything else, we don't want you or your family unknowingly sitting behind the wheel of a vehicle that isn't 100% safe. This is why we strive to take these vehicles off the road, which not only makes the used car market safer but our streets safer too.
CARFAX — 35+ Years of Experience in Vehicle Histories
CARFAX was founded in the US in 1984 and expanded into Europe in 2007. Around 100 team members spread across six European offices process vehicle information from 22 countries.
Fostering strategic partnerships with registration authorities, law enforcement agencies, government departments, insurance companies, inspection centers and numerous other leading companies around the world has enabled us to compile a unique international database for vehicle histories. We use this database to help make the used car market more transparent. We give everyone in the process of buying a used car access to what is currently the world's most comprehensive source for vehicle history reports, and is growing day by day.
We remain neutral and independent despite our partnerships — our sole purpose is help customers make an informed choice and ensure their safety and the safety of their family. This includes never collecting any personal details — we do not accept any PII from data sources amongst the information we provide about a vehicle. We ensure that data protection laws are observed at all times. Furthermore, we always collect our data in compliance with legal and regulatory frameworks — in all the countries in which we are active. We expressly distance ourselves from illegal activities such as data theft, scraping and hacking.
Sours: https://www.carfax.com/Research-2011-Kia-Optima_z2436
Modified kia optima
2013 Kia Optima. Used 2013 Kia Optima Performance and Interior Powering the front-wheel-drive 2013 Kia Optima is a 200-horsepower four-cylinder engine that generates zippy. Gas mileage engine performance warranty equipment and more. The 2013 Kia Optima Hybrid starts around 28000. Like its sister vehicle the Hyundai Sonata Hybrid the Optima Hybrid gains a re-engineered hybrid drivetrain for 2013. Caliper Covers 2013 KIA OPTIMA. LX EX EX Turbo and SX. The EX Turbo and SX trims are expected to be equipped with a turbocharged 20-liter inline-4 gasoline engine that reaches a class-leading 274 hp and 269 lb-ft of torque. 2013 Kia Optima 4dr Sdn Auto SX KIA OPTIMA Sport 2L Turbo Engine with Lifetime Engine Warranty slick sport look with powerful 274 HP engine first owner no accident copy of all service records are available new battery 4 x 18 original KIA 18 sport alloy wheels with air sensor and tinted rear windows. A chevron arrow pointing. Tire Wheel Accessories 2013 KIA OPTIMA.
Used 2013 Kia Optima Performance and Interior Powering the front-wheel-drive 2013 Kia Optima is a 200-horsepower four-cylinder engine that generates zippy. LX EX EX Turbo and SX. 2013 Kia Optima 4dr Sdn Auto SX KIA OPTIMA Sport 2L Turbo Engine with Lifetime Engine Warranty slick sport look with powerful 274 HP engine first owner no accident copy of all service records are available new battery 4 x 18 original KIA 18 sport alloy wheels with air sensor and tinted rear windows. Step into the 2013 Kia Optima. Like its sister vehicle the Hyundai Sonata Hybrid the Optima Hybrid gains a re-engineered hybrid drivetrain for 2013. The 2013 Kia Optima adds generous dashes of style and sophistication to whats otherwise a sensible frugal and spacious mid-size sedan. Kia has pulled off a brand transformation faster than. Gas mileage engine performance warranty equipment and more. A chevron arrow pointing. This 2013 Kia Optima is accident-free smoke-free and in excellent condition.
The Kia Optima is basically unchanged for 2013 model year.
The 2013 Kia Optima is a midsize sedan. Combining stunning styling with an affordable price and an unbeatable warranty the 2013 Kia Optima goes beyond the basic family sedan in features performance and resale value. The 2013 Kia Optima Hybrid starts around 28000. Tire Wheel Accessories 2013 KIA OPTIMA. This car has dual-sunroof heated leather seats backup camera Bluetooth SiriusXM Radio push-button start remote keyless entry cruise control dual-zone auto climate control and much more. Used 2013 Kia Optima EX for sale - 6938 - 134769 mi with Leather Seats Adaptive Cruise Control Alloy Wheels BluetoothCertified Pre-Owned. For the conventional gasoline-powered Optima there are LX EX and SX trim levels. The 2013 Kia Optima is a midsize sedan. The Kia Optima is basically unchanged for 2013 model year. The trim lineup for the front-wheel-drive 2013 Kia Optima is expected to remain the same. Horsepower 200 - 274 hp.
Sours: http://m.cbs3duluth.com/cbs3/2013-kia-optima.html
MODS ON MY 2012 KIA OPTIMA SX! K5
Oh, it's not good that your attention to a minor child, he muttered. - Well, well, well, his wife smiled. Otherwise, I didnt see with what oily little eyes you looked at her.
You will also be interested:
And breathing is no longer so imperceptible, deep, strong breaths and relieved slow, waiting for continuation, exhalations. I dont know if shes sleeping or has already woken up: she doesnt let me know about it. I go down with my mouth a little lower again, the jerking of the penis. Back, forward, again and again. I rotate my head a little in the course of these movements: Sasha's breathing says that she is very good, and I want.
350
351
352
353
354