The New Motorola Moto X (2nd Gen) Review
Display
Without question, the display is one of the most important aspects of a smartphone. Unlike desktops and laptops, smartphones are primarily interacted with through their displays. Unfortunately, it's hard to evaluate a display by eye as human vision is strongly dependent upon context. In order to control for this aspect, we turn to SpectraCal's CalMAN 5 with a custom workflow in order to test smartphone displays. At any rate, let's get into the data.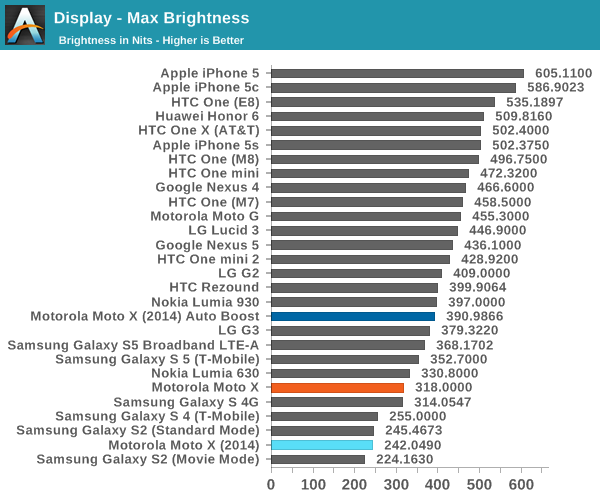 In the basics, the new Moto X is a bit on the low side. While AMOLED has traditionally struggled with luminance in situations such as the web browser and light-themed applications, Samsung's Galaxy S5 and S5 LTE-A Broadband have shown that it's possible to achieve levels of brightness approaching some of the brightest RGB-stripe LCDs. As the brightness of the Lumia 930 is about equal to the new Moto X, I suspect we're looking at the Galaxy S4/Note 3 generation of panels. This seems to be backed up by pictures of the subpixel layout seen below as the green subpixels seem to be noticeably larger when compared to the Galaxy S5's panel.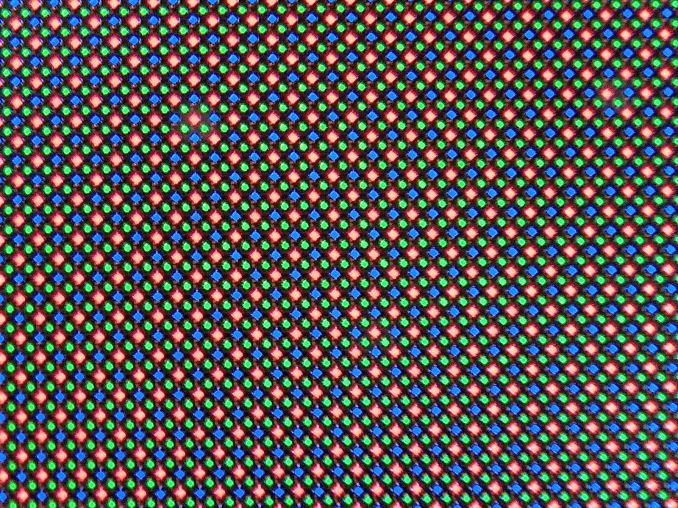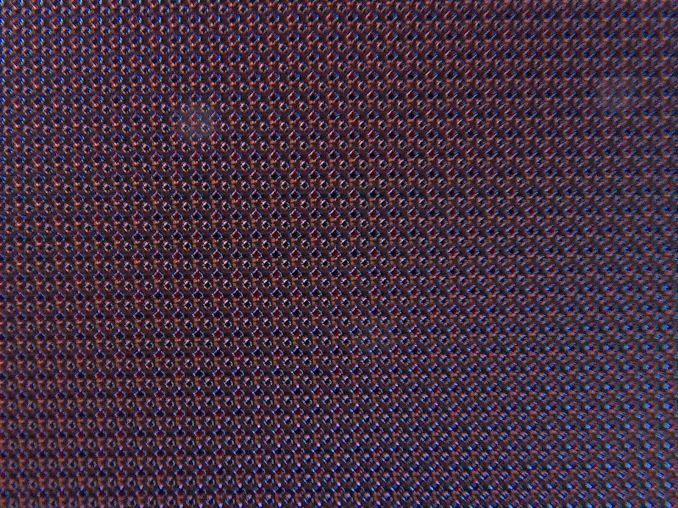 Contrast is still incredible, but I can still see the purple smearing effect that comes from unlit to lit pixels. I'm still unable to get a clear answer on why this is, but it's likely that capacitance somewhere in the system is causing this issue in the form of RC delay. Whether this is a fixable issue is something I'm not aware of yet. The clear solution would be to set black to the lowest possible brightness a lit pixel can be, but this would make for worse contrast.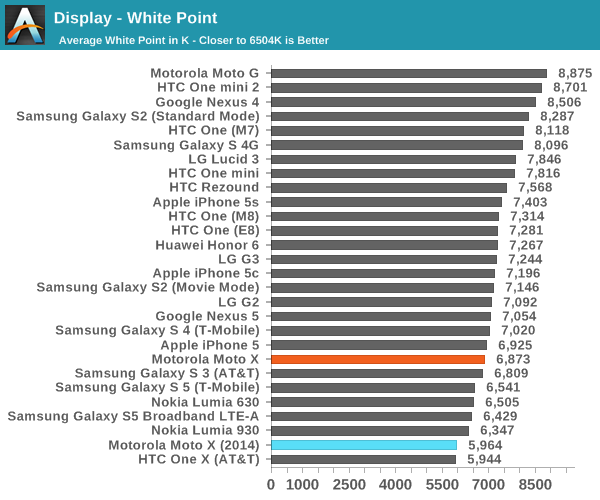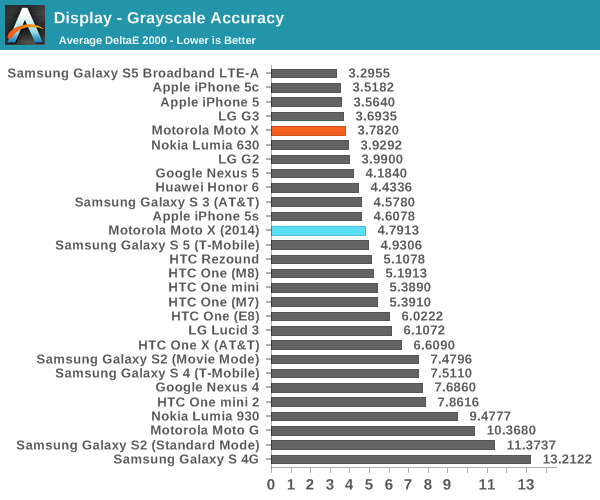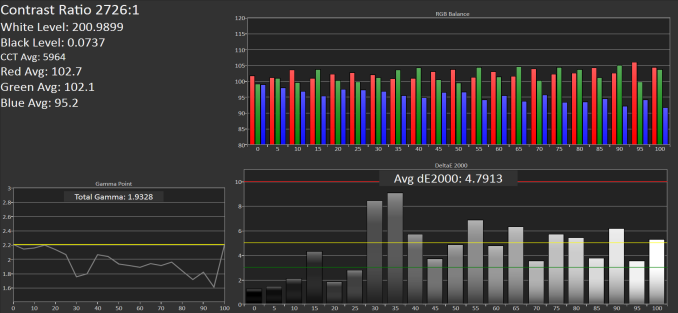 In grayscale, the new Moto X isn't the best. We see that the display is just a bit too red, and that most of the luminance is coming from red and green. This makes sense from a power and display lifetime perspective though, as blue tends to have the least efficient emitter material in an AMOLED display. However, this translates to poor grayscale performance. The green tint tends to show itself in certain shades of grayscale as well.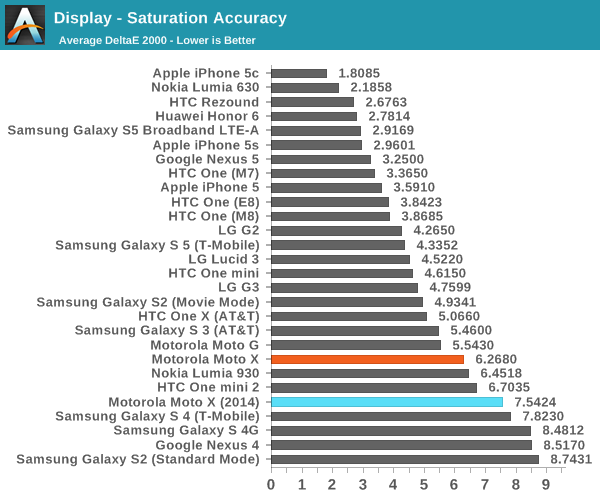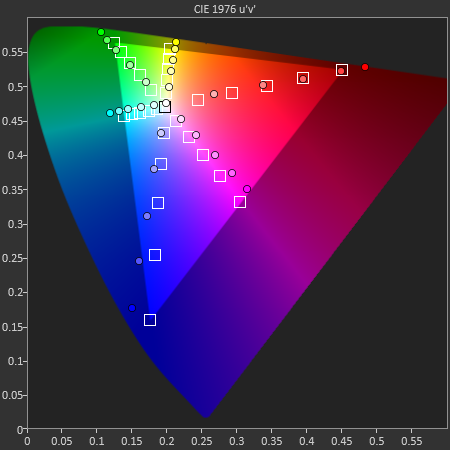 In our saturation sweep, the new Moto X continues to be rather poor in its performance. While on Samsung phones it's normal to see colors like this on the default display mode, there's usually a mode that correctly constrains the display to sRGB which is the industry standard for displaying colors. There's no such mode on the new Moto X, so the display significantly overshoots sRGB. This doesn't bode well for the ColorChecker, which provides the most thorough look at color accuracy.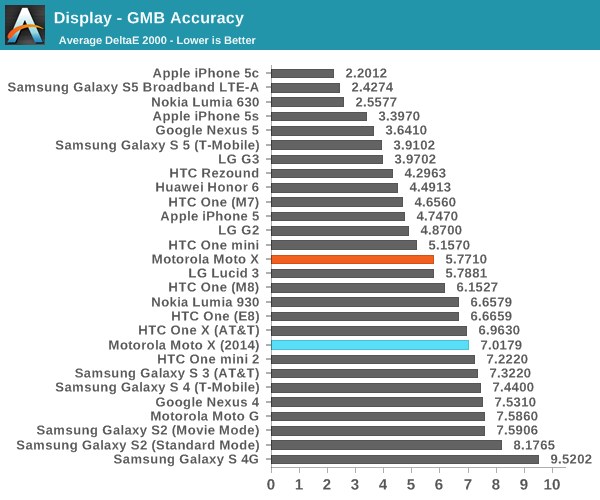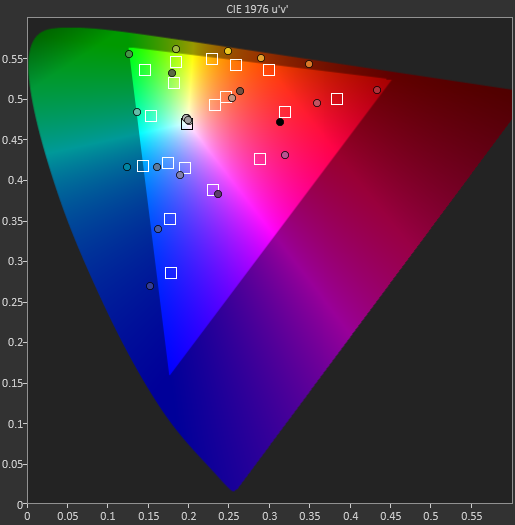 As predicted, the new Moto X does poorly in the ColorChecker. There's really not much that the Moto X can accurately display in sRGB as just by pushing the gamut too far, even if there wasn't saturation compression for some colors, the large gamut will cause distortion of all colors within the gamut triangle.
Unfortunately, it's not clear where this lack of attention to color accuracy comes from. In discussions with Andrei it's clearly possible to calibrate the AMOLED panel from the GS4 quite accurately, and there's no real technical limitation for AMOLED to lack good calibration. However, judging by the relatively low peak brightness there are other issues as this could affect Motorola's performance in battery life tests. This seems to suggest that Motorola is unable to access the latest generation of AMOLED panels from Samsung Display.
This would be a rather startling thought, as it means that no matter what Motorola does to improve their implementation of Samsung's AMOLED displays, they will always be behind the curve. If it becomes clear that Samsung's AMOLED is the best display from a user-facing standpoint, every other OEM will face significant barriers in competition as they would be unable to access the latest generation AMOLED panels. The real solution here is for other display manufacturers such as LG, JDI, and AUO Optronics to catch up.
At any rate, the display of the new Moto X seems to be relatively poor compared to what we see in the Galaxy S5 LTE-A (and likely the Note 4), along with the iPhone 5s, Nexus 5, and One (M7). While it's impossible to ignore the power advantage of AMOLED when implementing functions like Moto Display, the relatively low peak brightness and poor color accuracy are concerning.
Sours: https://www.anandtech.com/show/8523/the-new-motorola-moto-x-2014-review/5
Moto X 2014 Now Available In Red Leather, So Your Phone Can Match Your Christian Louboutin Pumps
By Michael Crider
ShareTweetEmail
Motorola has really been pumping up the customization option for the newer model of the Moto X, and the exotic wood and leather backs are probably the most interesting part. Today the Moto Maker website in the US, UK, France, Germany, and Mexico has added an option for red Horween leather on the back panel, just in case you want to match up with the soles of your designer shoes.
The upgrade is the same $25 charge (in the US) as the other leather and wood options, and engraving is still available. You can also add a 32GB or 64GB storage option for $50 or $100, respectively. Red leather is available on all unlocked models and carrier-discounted phones from AT&T and Verizon. It's a little hard to tell exactly what the color is from the various photos on the website - the red on the promo page (see thumbnail) looks a few shades brighter than the red on Moto Maker.
Keep in mind that this is real leather (from a real cow!), so that oh-so-nice finish is less durable than plastic. It will also absorb oils from your skin over time, giving it a worn look... which might actually be appealing to some users. There doesn't seem to be a red option for the leather bands on the Moto 360, but I wouldn't be surprised to see it at some point.
Source: Moto Maker
Head over to your local Walmart and grab a Lenovo Smart Clock Essential bundle for just $17 right now
Seriously, go do it, why aren't you in your car yet?
Read Next
ShareTweetEmail
About The Author
Michael Crider (3609 Articles Published)
Michael is a born Texan and a former graphic designer. He's been covering technology in general and Android in particular since 2011. His interests include folk music, football, science fiction, and salsa verde, in no particular order. He wrote a novel called Good Intentions: A Supervillain Story, and it's available on Amazon.
More From Michael Crider
Sours: https://www.androidpolice.com/2015/03/30/moto-x-2014-now-available-in-red-leather-so-your-phone-can-match-your-christian-louboutin-pumps/
Motorola Moto X (2014) Hybrid Case (Red/Black) Protective Diamond Bling Rhinestone Cover for Motorola Moto X XT1097 (2nd Generation, 2014)
Color:Red + Black
This CoverOn hybrid dual layer case is made of two separate parts which combine into one heavy duty case. The first layer is a flexible silicone rubber skin, and the second layer is a rigid hard shatterproof plastic with rhinestone diamond accents. It is custom designed to fit securely on your device without impeding the use of your phoneÆs functions or ports. With the full body dual layer rugged design, your phone will have the maximum protection again drops, scratches, dust, bumps, etc. Comes in retail packaging. Best of all, Wireless Central offers a worry-free 90 Day return policy and fast US based shipping that gets sent out within 24 hours of purchase. Check out our Wireless Central Amazon storefront to purchase additional accessories for your device including other types of cases, screen protectors, and chargers.
Sours: https://www.amazon.com/Motorola-Protective-Diamond-Rhinestone-Generation/dp/B00PUVMAMA
Second-generation Motorola Moto X available in red leather
Check out the Motorola Moto X in red leather
Into leather? If you like the feel of the stuff, you might want to consider the new red leather second-generation Motorola Moto X now available from the Moto Maker store. The price of the leather back is the same $25 that Motorola charges for other leather and wood options on the site. Motorola is partnering with Horween for the material.
Let's go over those specs for the second-gen Moto X. The phone carries a 5.2-inch AMOLED display with resolution of 1080 x 1920. That works out to a pixeldensity of 423ppi. A quad-core 2.5GHz Snapdragon 801 CPU is under the hood with the Adreno 330 GPU crunching graphics. 2GB of RAM is inside and the second-gen Moto X comes with 16/32GB of native storage. Keep in mind that the Moto X lacks a micro-SD slot. A 13MP camera is on back with a 2MP snapper on front for selfies and video chats. A 2300mAh battery keeps the lights on and Android 5.0 is on board.
The off-contract version of the Moto X with the red leather back is priced at $524.99 for the 16GB model, and $574.99 for the 32GB variant. If you sign a two-year contract with Verizon or AT&T, the 16GB model in red leather will cost you $124.99. The 32GB variant will run you $174.99.
Ah yes, thanks to the leather back there is nothing like that new smartphone smell.
source: Motorolavia AndroidAuthority
Latest News
Sours: https://www.phonearena.com/news/Second-generation-Motorola-Moto-X-available-in-red-leather_id67751
Moto 2014 red x
About Motorola Moto X 2nd Generation
Start up apps in an instant. The Moto X 2nd generation phone whizzes along at 2.5 GHz. The phone's Android 4.4.4 KitKat platform can upgrade to Marshmallow 6.0.

The 5.2-inch display in the 2nd generation Moto X gives you extra viewing space to swipe, pinch and zoom allowing you to see more clearly.

Onboard storage provides you with access to 16-32GB for all of your favs.

Compared to other smartphones, having a 13MP camera ensures that your precious memories appear clearer without having to settle with inferior-looking images.
eBay has provided more information about this product above and is not affiliated with or endorsed by Motorola.
Compare Similar Models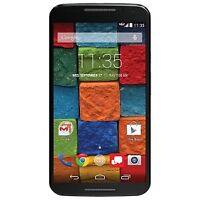 Motorola Moto X 2nd Generation
Operating System
Operating System
Android 6.0 Marshmallow
Processor
Processor
Qualcomm Snapdragon 801, Quad-core 2.5 GHz
Internal Storage
Internal Storage
16 GB
Front Camera
Front Camera
2MP
Rear Camera
Rear Camera
13MP
Display Size
Display Size
5.2" Super AMOLED
Display Resolution
Display Resolution
1920 × 1080
Size
Size
5.54 x 2.85 x 0.39 inches
Motorola Moto Z Play

Operating System

Operating System

Android 6.0.1 Marshmallow, upgradable to Android 7.0 Nougat

Processor

Processor

Qualcomm Snapdragon 625, Octa-core 2.0 GHz

Internal Storage

Internal Storage

32 GB

Front Camera

Front Camera

5MP

Rear Camera

Rear Camera

16MP

Display Size

Display Size

5.5" Super AMOLED

Display Resolution

Display Resolution

1920 × 1080

Size

Size

6.12 x 3.01 x 0.28 inches

Motorola Moto Z2 Force

Operating System

Operating System

Android 7.1.1 Nougat

Processor

Processor

Qualcomm Snapdragon 835, Octa-core 2.35 GHz

Internal Storage

Internal Storage

64 GB

Front Camera

Front Camera

5MP

Rear Camera

Rear Camera

12MP

Display Size

Display Size

5.5" POLED ShatterShield

Display Resolution

Display Resolution

QHD 2560×1440

Size

Size

6.13 x 2.99 x 0.24 inches

Motorola Razr V3

Operating System

Operating System

Motorola OS

Internal Storage

Internal Storage

5.5 MB

Front Camera

Front Camera

No

Rear Camera

Rear Camera

0.3 MP

Display Size

Display Size

2.2"

Display Resolution

Display Resolution

176 x 220

Size

Size

3.85 x 2.08 x 0.54 inches

Motorola Moto G

Operating System

Operating System

Android 4.3 Jelly Bean, upgradable to Android 5.1.1 Lollipop

Processor

Processor

Qualcomm Snapdragon 400, Quad-core Cortex-A7 1.2 GHz

Internal Storage

Internal Storage

8 GB / 16 GB

Front Camera

Front Camera

1.3 MP

Rear Camera

Rear Camera

5MP

Display Size

Display Size

4.5"

Display Resolution

Display Resolution

1280 × 720

Size

Size

5.11 x 2.59 x 0.46 inches
Sours: https://www.ebay.com/b/Motorola-Moto-X-2nd-Generation-Cell-Phones-Smartphones/9355/bn_80188473
Moto X (2014) Review: Last Year's Modest Moto Gets A Reboot - Pocketnow
Motorola Moto X (2nd generation) Unlocked Cellphone, 16GB, White/Bamboo
A pure Android experience
Moto X runs the latest version of Android OS, free from unnecessary software skins. With quick access to the latest updates, you always enjoy the best Android experience. Learn how to get a pure Android experience with unlocked, no contract Moto phones.
More power to you
With the latest Qualcomm Snapdragon, quad-core processor, Moto X responds faster than ever with less drain on the battery. Seamlessly switch back and forth between your favorite apps and scroll through web pages easily.
Choose the best shot
Launch your camera with just a twist of your wrist. Moto X takes multiple pictures before and after you even touch the screen, so you can choose the best shot
Sours: https://www.amazon.com/Motorola-Moto-generation-Unlocked-Cellphone/dp/B00MWI4JNM
Now discussing:
Motorola Moto X (2014) camera review
We are retrieving offers for your location, please refresh the page to see the prices.
The Nikon Z 14-24mm F2.8 S is a worthy addition to the company's lineup of high-end F2.8 zooms, offering great image quality in most every respect. Get all the details in our full review.
What tripod can support a 600mm lens and still go on a long hike into the wilderness? We test out six higher-end, thick-legged, modular tripods that are comfortably tall and capable of supporting tremendous amounts of gear. This group review compares all six models, examining their features, functions and ergonomics in use, both in the studio and out in the field.
The Panasonic GH5M2 is a refresh, rather than complete reworking, of the company's image-stabilized, video focused GH5. We didn't find live streaming as reliable as we'd hoped but we appreciated the improved feature set.
Sigma's designed-for-mirrorless 150-600mm F5-6.3 DG DN OS 'Sports' lens provides great image quality across a wide zoom range – get all the ins and outs of how this lens performs in our field review.
A little over a year after releasing the OM 4, DJI returns with the OM 5, a smaller, more capable model. It's can deliver great results, though as we found, not without a little bit of practice.
Read more reviews »
What's the best camera for around $2000? These capable cameras should be solid and well-built, have both speed and focus for capturing fast action and offer professional-level image quality. In this buying guide we've rounded up all the current interchangeable lens cameras costing around $2000 and recommended the best.
Most modern cameras will shoot video to one degree or another, but these are the ones we'd look at if you plan to shoot some video alongside your photos. We've chosen cameras that can take great photos and make it easy to get great looking video, rather than being the ones you'd choose as a committed videographer.
Although a lot of people only upload images to Instagram from their smartphones, the app is much more than just a mobile photography platform. In this guide we've chosen a selection of cameras that make it easy to shoot compelling lifestyle images, ideal for sharing on social media.
If you're looking for the perfect drone for yourself, or to gift someone special, we've gone through all of the options and selected our favorites.
Whether you're just sharing clips with friends or you're launching an online on-camera career, vlogging matters. We looked at cameras with selfie-friendly screens, wide-angle lenses, microphone inputs and great video quality, and selected the best.
Check out more buying guides »
Sours: https://www.dpreview.com/reviews/motorola-moto-x-2014-camera-review
920
921
922
923
924