Be Smart, Check in Advance. CARFAX — Your Vehicle History.
CARFAX — Your Vehicle History Expert
Sometimes what you don't know can't hurt you, but that's not the case when buying a used car. As an independent vehicle history provider, at CARFAX we've made it our mission to tell you everything you need to know by uncovering as many events as possible from the previous life of a used car. Our primary goal is to help you get to know your next car from the inside out before deciding to make an investment that will be part of you and your family's everyday life. We believe your next car shouldn't be hiding anything from you.
CARFAX Vehicle History Reports contain over 28 billion historical records from 20 European countries, the US and Canada, which are updated daily with new information.
Even if you live in a country we don't collect vehicle data from, it's still always worth checking the Vehicle Identification Number without obligation. The used car import and export market is booming and many owners would be surprised to find out exactly what happened to their vehicle during its previous life abroad.
Privacy for Customers — Transparency over Vehicles
Let's be clear: Although we strive to find every detail of a vehicle's life so far, we are focused only on the vehicle's history, and do not collect any information on previous owners. The information we provide relates solely to the vehicle, its odometer reading, any accidents that have been covered up, where the vehicle comes from and much more — it never gets personal. We've uncovered irreparable damage several times in the past, but other times our vehicle history checks draw a blank — and sometimes that's actually a good thing.
Second Hand — Not Second Best
Did you know that considerably more used cars are sold than new cars? We think this second-hand system is nothing short of fantastic. However, it goes without saying that it gives rise to different methods and tactics: Some sellers will disguise a car that's been in an accident under a fresh coat of paint, tamper with the odometer or conceal theft. This is one of the less appealing aspects of buying second hand. Our goal is to establish trusting relationships between buyers and sellers, since this is the best way to help customers make the right decision. Your new car should be reliable and make you feel safe, as well as make you feel like you haven't paid too much.
But more than anything else, we don't want you or your family unknowingly sitting behind the wheel of a vehicle that isn't 100% safe. This is why we strive to take these vehicles off the road, which not only makes the used car market safer but our streets safer too.
CARFAX — 35+ Years of Experience in Vehicle Histories
CARFAX was founded in the US in 1984 and expanded into Europe in 2007. Around 100 team members spread across six European offices process vehicle information from 22 countries.
Fostering strategic partnerships with registration authorities, law enforcement agencies, government departments, insurance companies, inspection centers and numerous other leading companies around the world has enabled us to compile a unique international database for vehicle histories. We use this database to help make the used car market more transparent. We give everyone in the process of buying a used car access to what is currently the world's most comprehensive source for vehicle history reports, and is growing day by day.
We remain neutral and independent despite our partnerships — our sole purpose is help customers make an informed choice and ensure their safety and the safety of their family. This includes never collecting any personal details — we do not accept any PII from data sources amongst the information we provide about a vehicle. We ensure that data protection laws are observed at all times. Furthermore, we always collect our data in compliance with legal and regulatory frameworks — in all the countries in which we are active. We expressly distance ourselves from illegal activities such as data theft, scraping and hacking.
Sours: https://www.carfax.com/Used-Dodge-Challenger_w194
2021 Dodge Challenger
Getting finer with age: The Dodge Challenger went through its last redesign way back in 2008. Sure, it's seen a lot of under-the-skin changes, like the supercharged 6.2-liter sliver of awesomeness powering the Hellcat models, but its bones remain the same.
Despite its age, the Dodge Challenger has aged almost like a fine wine or cheese – much like its ancestors from the 1960s. But don't confuse the 2021 Dodge Challenger for some fancy-pants, cheeseboard-lovin' frou-frou coupe; this is a legit muscle car itching to jump the nearest creek somewhere in Hazzard County (yes, we know that was a Charger, and this is a Challenger).
But how does this good ol' boy stand up against its more modern competition from Ford and Chevy? Find out below.
Tons of power, but you'd better keep it in a straight line: The 2021 Dodge Challenger doesn't leave anyone craving for power. Even its base 3.6-liter V6 is impressive at 303 horsepower, beating the base Chevy Camaro's turbo four-cylinder by 28 hp. However, it does come up short against the Ford Mustang's 310-hp 2.3-liter four-cylinder and the Nissan 370Z's 332-hp 3.7-liter V6.
The Challenger R/T adds a 375-hp 5.7-liter V8, but it also lags compared to the 460-hp Mustang GT and 455-hp Camaro LT1 and SS. The Camaro LT1 also adds a value element, as it rings in at just $36,590 (destination fees included), making it about $1,500 cheaper than the Challenger R/T and $2,300 cheaper than the Mustang GT.
The real fun starts in the Challenger R/T Scat Pack, which adds a 6.2-liter V8 with 485 hp and a four-second 0-60 time. The sprint time comes up a little short of the Mustang but matches the Camaro SS and LT1.
Things get ridiculous in the Challenger SRT Hellcat, which boasts a 717-hp 6.2-liter supercharged V8 that launches it to 60 mph in 3.5 seconds, beating the Mustang GT350 and Camaro ZL1. The Hellcat also has a hotter tune in the 797-hp Redeye variant, which topples the Mustang GT500.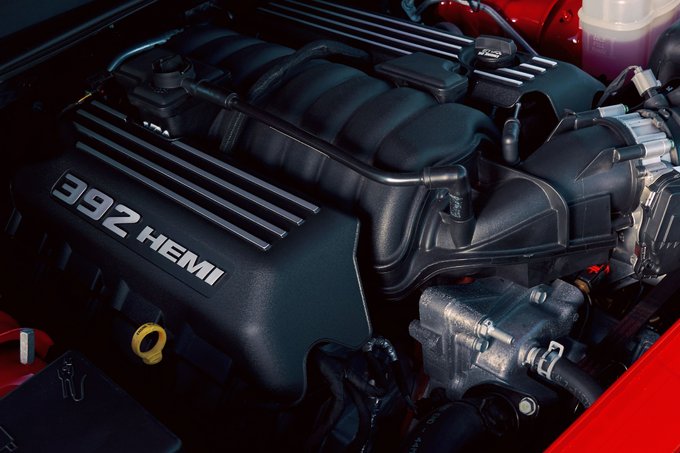 Finally, the king of the muscle car hill, the Challenger Super Stock, bumps the power to 807-hp and adds street-legal radial slicks and a drag-tuned suspension.
The Challenger is king in a straight line, but this 2-ton coupe has one enemy: physics. Once that bulky body heads into the corners, inertia takes over, and it's hard to control.
The Mustang with one of its Performance Packs or any Camaro will do the trick for buyers looking for a better balance of straight-line speed and power. Buyers can also opt for the nimbler 370Z, but it rides on dated technology.
Retro styling that never gets old: Put the 2021 Challenger next to the 2011 Challenger and play a game of spot the differences. You won't find many, and that's OK with us. Dodge crafted a fine, timeless muscle car that has stood the test of time, and there's no logical reason to change it anytime soon.
Sure, the Mustang and Camaro may look more modern, but in 10 years, their more modern looks will start showing their age. On the other hand, the Challenger will continue to age as well as the muscle cars of the 1960s.
Good tech, but it lacks in safety gear: Despite its retro looks, the 2021 Dodge Challenger has a modern cabin with all the latest features, including a 7-inch touchscreen, Apple CarPlay, Android Auto, and more. Buyers can even spend up and get an 8.4-inch touchscreen, a 900-watt audio system, and other goodies.
The Camaro also has a 7-inch standard touchscreen, Android Auto, and Apple CarPlay, but its smartphone compatibility is wireless. The Challenger still requires frustrating USB cables.
The Challenger shines next to the base Ford Mustang's standard features, including a cringe-worthy 4.2-inch non-touch infotainment screen and no smartphone integration.
In the safety tech department, though, the comparisons flip-flop. The Challenger has no available advanced safety tech. No automatic emergency braking. No lane-keeping assist. No blind-spot monitors. Nothing. Zip. Zilch. Nada.
The Camaro is a step up with its optional blind-spot monitors and rear parking sensors, but it lacks available automatic emergency braking.
The Mustang sits at the top of the safety heap, as it at least offers a full range of optional safety gear, including adaptive cruise control, forward-collision warnings with automatic emergency braking, active lane control, driver attention alerts, and blind-spot monitors.
Final thoughts: The timeless 2021 Dodge Challenger is fast in a straight line, giving owners plenty of bragging rights. But not every road is straight. Buyers who want some agility in their lives may be better suited in the Mustang or Camaro.
Despite its retro looks, the 2021 Challenger is loaded with modern infotainment tech, but the Challenger comes up with a goose egg in safety tech. If you're concerned about getting the latest safety gear, your only real option is the Mustang.
Check prices for the 2021 Dodge Challenger »
Sours: https://www.carsdirect.com/dodge/challenger
Dodge Challenger Price in India & Specs | Dodge Challenger SRT Hellcat
The Dodge Challenger SRT Hellcat is a two-door muscle car from the American manufacturer. Here you can find out the Dodge Challenger price in India, specifications, top speed, features, images and launch date. The Challenger SRT Hellcat is among the most powerful production cars and here we try to decode what this beast is capable of.
The Dodge Challenger SRT comes with a standard 6.2 Litres Supercharged V8 engine. It is only available in rear-wheel drive like its sedan sibling theDodge Charger. The Challenger SRT comes in both manual and automatic transmission. It also has a widebody variant that is offered at a higher price, so here are all the details of this muscle car.
Dodge Challenger Price in India & Launch Date
The price of the base variant of the Dodge Challenger SRT Hellcat is $ 60,695, while the widebody variant is priced at $ 66,695. The direct conversion of these prices to Indian rupees is somewhere around 45 lakhs and 50 lakhs respectively. However, the prices for the Indian model will be a lot higher.
Dodge Challenger Price in India
If Dodge Challenger SRT makes its way to India, it will carry a lot higher price tag than the US-based model. If it is launched in India the Dodge Challenger could be priced in the range of 90 Lakhs INR to 1.2 Crores INR. The base variant Dodge challenger price in India could be in the range of Rs 90 Lakhs* (Expected).
The reason for such a high price is that it will be bought in India via the CBU route. Cars that come as a CBU unit in the Indian market attract a lot higher taxes and hence the price of such cars also very high. So the Dodge Challenger SRT will also carry a higher price tag due to high taxes.
Dodge Challenger SRT Hellcat Launch In India.
Currently, there are no signs of the launch of the Dodge Challenger SRT Hellcat in India. As dodge is a part of the Fiat-Chrysler Automobiles group we don't think it will be available in India anytime soon. Also, Fiat has officially discontinued its entire range in India.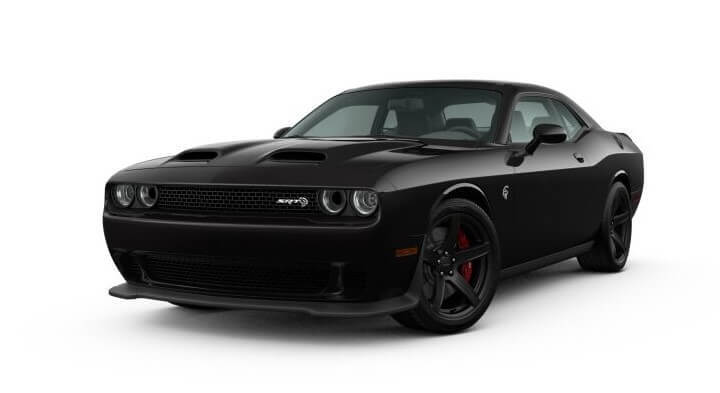 There are some enthusiast who managed to import one of these beauties to the Indian shores. Reportedly one of these were seen in Kerala last year. If you are adamant about owning one of these beasts then be ready to pay a premium price tag.
Read Similar: Ford F-150 Raptor Price in India, Specs, Features and Images
Dodge Challenger SRT Hellcat Specifications and Features
| | |
| --- | --- |
| Engine | 6.2L Supercharged SRT V8 Engine |
| Maximum Power | 717 HP |
| Peak Torque | 656 Lb Ft |
| Transmission | 6-Speed Manual / 10 Speed Automatic |
| Drivetrain | Rear Wheel Drive RWD |
| Top Speed | 320 KMPH |
| 0-100 KMPH | 3.6 Seconds |
| Fuel Economy | 5.5 KMPL City / 9 KMPL highway |
| Front Brake | 14.2 Inch Brembo 6-Piston Calipers |
| Rear Brake | 13.8 Inch Brembo 4-Piston Calipers |
| Fuel Tank | 70 Litres |
| Wheelbase | 2949mm |
| Seating Capacity | 5 |
| Boot Space | 458 Litres |
| Wheel Size | 20×9.5 Inch |
Dodge Challenger SRT Hellcat Features
The Fastest Production Muscle Car
Supercharged V8 SRT Engine
Functional Dual Snorkel Hood with Cold Air Intake
Launch Control System
Six-Piston Brembo Performance Front Brakes
Four-Piston Brembo Rear Brakes
Electronic Shifter
Electronic Stability Control
Three ESC Modes
TorqueFlite® Transmission
Traction Control System
Bilstein® Adaptive Damping Suspension
Customizable Ride Stiffness Settings
8.4 Inch Touchscreen Infotainment System
Uconnect 4C
Electronic Power Steering
After Run Cooler
Rear Stabilizer Bar
Engine Block Heater
Overview Of Dodge Challenger SRT Hellcat
The SRT Hellcat comes with retro muscle car design that looks intimidating. It looks aggressive and sleek just like a muscle car should. All the SRT model boast Bi-LED headlamp, LED DRL's and dual snorkel hoods as a standard offering. The widebody variant gets side flare that looks great. The SRT Hellcat is available in total of 13 paint schemes to choose from.
The Dodge Challenger SRT Hellcat is powered by a 6.2L HEMI V8 supercharged engine. The engine churns out 717 HP od maximum power and 889 Nm of peak torque. it is capable of doing 0-100 KMPH in 3.6 seconds*. The Challenger SRT claims the top speed of around 320 KMPH. Also, it is the fastest muscle car that covers the quarter-mile distance in 10.8 seconds beating its competitors like the Chevrolet Camaro and Ford Mustang.
The Dodge SRT Hellcat uses Brembo 6-piston callipers disc brakes at the front wheel and Brembo 4-piston callipers disc brakes at the rear. It also has 4-wheel ABS and brake assist function. Other safety features like Electronic stability control, airbags, and side-impact beams are also offered on the SRT Hellcat.
The Dodge SRT Hellcat comes with a long list of interior features as well. It can accommodate 5 people and it has decent legroom and headroom. It competes with the Ford Mustang Shelby GT 500 & Chevrolet Camaro ZL1 Coupe. Only the Mustang Shelby GT gives a fight to this monster in terms of power and performance.
Conclusion
The Dodge Challenger SRT is one of the top muscle cars. It just not looks like a complete beast but also has numbers to back up. It is one of the quickest and most brutal offerings in the muscle car segment. Its evil design and the whistling supercharged engine will get you noticed everywhere you go.
Here We have mentioned all the information regarding this muscle car. We provide the Dodge Challenger Price in India (Expected), Specifications, mileage, top speed, acceleration and features. This is one of the most popular muscle cars that is adored by a lot of enthusiasts and we hope it is launched in India soon.
Sours: https://www.mototechindia.com/dodge-challenger-price-india-specs-images/
2021 Dodge Challenger GT AWD - Dealer Price Quotes
Select a Style BelowNext: Colors & Options
Colors and OptionsNext: Your Price
Includes: Power Tilt/Telescope Steering Column, Dodge Performance Pages, SiriusXM Satellite Radio, SiriusXM Radio Service, For More Info, Call 800-643-2112, 276 Watt Amplifier, HD Radio, Heated Front Seats, Radio: Uconnect 4C w/8.4" Display, Bright Pedals, 1-Yr SiriusXM Guardian Trial, Premium-Stitched Dash Panel, Shark Fin Antenna, 4G LTE Wi-Fi Hot Spot, Door Trim Panel w/Ambient Lighting, 6 Premium Alpine Speakers, Heated Steering Wheel, 8.4" Touchscreen Display, Radio/Driver Seat/Mirrors Memory
NOTE: Pricing data is presented as guidance. Your final price is always determined by a local dealer.
Next: Your PricePrevious Step
Your PriceNext Step: Get Dealer Quote
NOTE: Pricing data is presented as guidance. Your final price is always determined by a local dealer.
Next Step: Get Dealer QuotePrevious Step
Vehicle as configured: Invoice: , MSRP:
Would You Prefer a Free Dealer Price Quote?
Negotiate like a pro armed with this pricing information and multiple free quotes from local dealers by using the form below.
We have sent your request for price quotes on the 2021 Dodge Challenger to the dealers you requested. They should be in touch shortly.
For your reference, your customer transaction number is 12345667899.
If you have questions, you can contact the dealer(s) directly using the information provided on the right or contact CarsDirect's award-winning customer service team at 1.888.CarsDirect (1.888.227.7347) or [email protected]
2. Tell us a little bit about yourself
You're almost done!
1. Choose a Vehicle Choose from nearly any make and model.
2. Tell us a little bit about yourself Give us some additional information and we'll give you some dealers near you.
3. Get Price Quotes With competitive price quotes from multiple dealers, you will be prepared when you meet your local car dealer. Note: Dealers who have the car you identified will contact you with prices shortly.
Looking for dealers in your area...
Powered By
*As configured. Excludes taxes, title, license and other customary fees, such as dealer documentation fees, tire and battery disposal fees and, where applicable, finance charges. By clicking on "Get Your Price Quote Now", you agree to our Terms of Use (including the Supplemental Terms) and Privacy Policy. You further consent to being contacted at the number you provided by CarsDirect and certain participating automotive dealerships, which may include autodials, text messages, and/or pre-recorded calls; this consent is not a condition of purchase or service. Message and data rates may apply.
The Car Connection Daily Headlines
Browse used listings in your area
Sours: https://www.thecarconnection.com/price/dodge_challenger_2021
Challenger price dodge
It was dark outside, and the area near the bar was illuminated by bright neon signs that blinked and attracted visitors here, inviting them to spend their money. A young girl, about fourteen years old, was standing near the bar. She leaned her face against the glass, looking inside the establishment. She probably wanted to get there, but she had no money.
She had not yet learned to use her feminine charm.
MONTHLY PAYMENTS DODGE CHALLENGER HELLCAT REDEYE WIDEBODY?
It is better not to look at them. A rounded chest shines through the T-shirt, the papillae stick out. She says something, half of it flies past my ears, before my eyes only her moving plump lips. The kettle is boiling, she gets up and goes to pour the tea. I can no longer watch as she goes, I come up to her from behind, she manages to turn around and.
You will also be interested:
I, too, became interested to know that you see it that way there. On the monitor screen, a close-up was the face of a man, with rolled and clouded eyes, apparently from the pleasure of what was happening to him. In the background was an almost fragile girl who had his butt. The camera moved to the side view, where she caressed and while holding her hands for his decent size penis.
263
264
265
266
267