Balsa or foam?

Written by Dave Lockhart Sports & Aerobatics As seen in the Spring 2014 issue of Park Pilot


Balsa or foam? Which flies better? This topic of conversation has passionate advocates on both sides. Within the realm of park fliers, the question is slightly broader because today's pilots have a wide variety of construction materials from which to choose—balsa, Depron foam, EPP (expanded polypropylene) foam, and a variety of branded/proprietary foams such as Styrofoam, Elapor, Z-Foam, etc.
A related question for pilots with an interest in learning aerobatics, or pushing the aerobatics envelope, is which type of construction is best for crashes or hard arrivals? Expanded polystyrene (EPS) is a commonly used white bead foam. In the past, Styrofoam was a popular material for park flyer models because it was lightweight and easy to mold. Today, EPS has fallen out of favor because it is not as durable as newer foams. It tends to break in irregular chunks and adhesion between the particles is often compromised in crashes. Additionally, EPS does not sand well, and is not compatible with as wide a range of adhesives as other foam types.
The extensive amount of carbon-fiber bracing on this Citrino from Donatas Design yields a structure that is resistant to aerodynamic loads, but difficult to repair if damaged.
When most people hear foamie, the image that comes to mind is the modern day plate/flat sheet foamie aircraft with carbon-fiber reinforcements. Depron is a brand name for extruded polystyrene foam. Airplanes intended for indoor flying are typically constructed of 3mm Depron, while airplanes intended for outdoor flying are typically constructed of 6mm or 9mm Depron. It has a good strength-to-weight ratio, is reasonably durable and, if crashed, tends to cleanly crack and break.
Depron foamies can be made rigid with the addition of carbon-fiber reinforcements, putting them in the running for the best-flying models. Repairs are easy because Depron is compatible with CA, epoxy, and UHU por. The majority of competition-grade indoor foamies are made of Depron with carbon-fiber reinforcements.
The "skin" of the hot-wire-cut airfoiled wing and the EPP box-fuselage structure on the Fancy Foam Models 42-inch Extra 330s are key to maintaining rigidity on this large, but lightweight and durable outdoor aerobatic model.
EPP is another popular foam type. Compared to Depron, EPP is lighter weight and more flexible. Indoor EPP foamies typically use 6mm-thick sheets, while outdoor EPP foamies use 9mm-thick sheets or even thicker pieces that are cut from large blocks.
Airfoiled wings can be cut from EPP using a hot wire bow, which leaves a hard skin, improving the rigidity at the expense of some durability and added weight. EPP foamies are often described as "bounceable." In crashes, the EPP flexes, bends, and is dent and ding resistant. Most minor crashes result in no damage, and in major crashes, the EPP tends to tear, but it does not compress or deform.
Companies such as Fancy Foam Models and Twisted Hobbys produce a large number of kits advertised as durable, aerobatic trainers capable of absorbing minor crashes without breaking.
EPP is compatible with CA and epoxy, but more flexible glues such as UHU por, Beacon Foam-Tac, or Welder provide a better bond, with a slight penalty for drying time. As with Depron foamies, EPP models can be reinforced with carbon fiber, but EPP-based models will never be as rigid as Depron-based models of the same weight.
This Arrow V.6 from Donatas Design is a 3mm Depron foam model reinforced with carbon fiber to yield a stiff and light airframe that retains durability.
Hybrid foams, such as Elapor and Z-Foam, have become popular because they are easy to mold and provide a good balance between strength and weight. Hybrid foam types have allowed the size and performance of the models to noticeably increase compared to traditional EPS foam.
Companies such as E-flite and Multiplex offer a wide range of models constructed of Elapor and Z-Foam. Hybrid foams typically accept a wide range of adhesives, so most models can be repaired from multiple minor crashes, and maybe even a major crash or two. Individual replacement parts are often available as an alternative to repairing a broken part.
Most experienced modelers are familiar with the adage "balsa flies better." A properly designed and constructed balsa model takes advantage of the balsa grain (and possibly carbon-fiber reinforcements) to produce a structure with a high strength-to-weight ratio. Balsa-based airframes are generally the lightest and most rigid and ultimately yield the fastest control response and widest flight envelope.
This 6mm EPP Raptor from Fancy Foam Models is a durable aerobatic model that performs nearly as well as a Depron or balsa model. Mike Bailey photo.
Good balsa models typically survive hard landings and wingtip drags without incurring damage. Aircraft in severe crashes can usually be repaired, sometimes with the addition of splints, or by replacing sections of the structure.
The covering material also must be replaced. In many cases, replacing a wing panel, rudder, motor box, or control surface is the most effective option. Many of the most popular "woodies" are well supported with spare parts at reasonable prices—Extreme Flight R/C and 3D Hobby Shop come to mind.
All of the materials described have benefits and disadvantages, so picking the best type of material depends on a pilot's priorities.
Another factor to consider is the amount of time and skills available for initially building/assembling the model, as well as repairing it if/when crashes occur. My own hangar has examples of each of the construction types described, and are all good fliers. I tend to fly the EPP models more aggressively.
This 60-inch Extreme Flight R/C Extra, constructed from balsa and carbon fiber, has an ultralight, but rigid airframe. The low weight allows it to be flown in smaller spaces, and the 48-inch version can be flown in an average baseball field.

Written by Dave Lockhart | [email protected]

Sours: https://www.theparkpilot.org/balsa-foam-lockhart
Giant Sculpting Foam Blocks
A giant sculpting foam block 48" x 65" x 240" long was used by this artist in Cortex, Florida to carve out a full size hammer head shark.  The nominal 1 lb density expanded polystyrene (EPS) is fast becoming the preferred medium for sculptors around the country.  It can be carved with a variety of different knives and power tools as well as electric hot knives and bow cutters.  Artists use a variety of coatings ranging from epoxy to fiberglass to bronze finishes.  The shark turned out very life-like as can be seen from the photographs.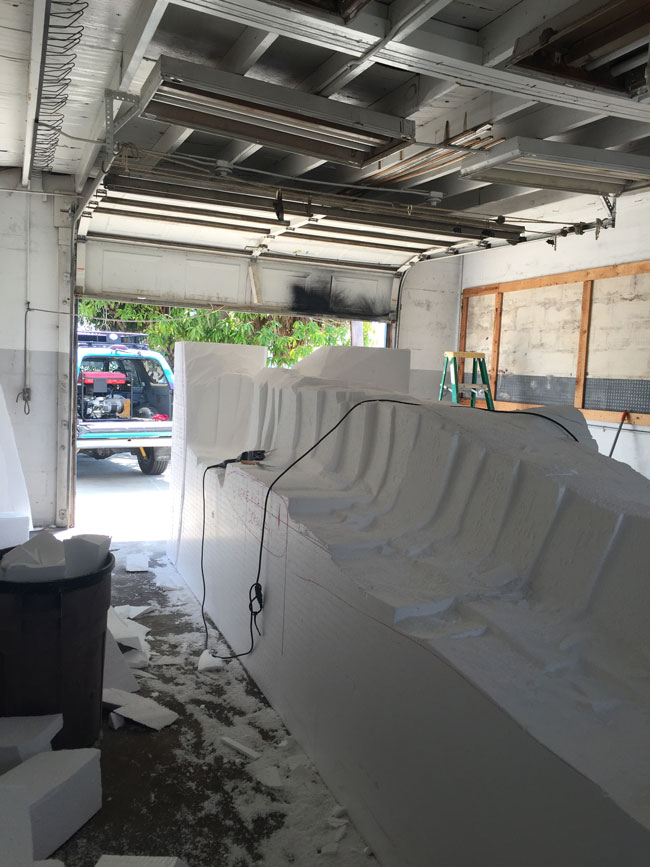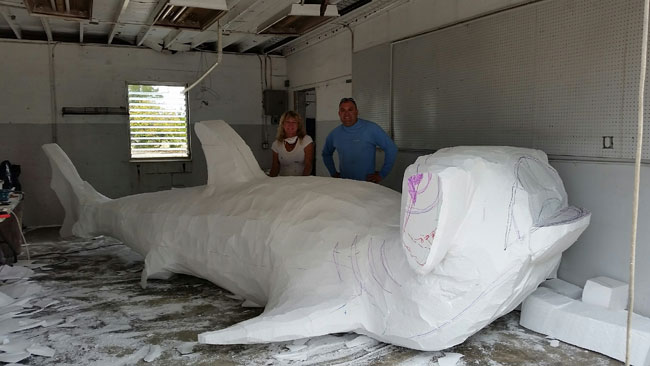 Sales Person
Jason Isennock
E-Mail Jason Isennock
Universal Foam Products, LLC
EPS | STYROFOAM™ | Solutions
PHONE : 410.825.8300 EXT 250 | 410.825.5050 FAX
16 Stenersen Lane Suite 4B | Hunt Valley, MD 21030
Share
Sours: https://univfoam.com/art/giant-sculpting-foam-blocks
Balsa Blocks
Include information about custom requests and density in the Order Notes message box at the end of this page:
Extra Light Balsa at (6 or less pounds per cubic foot) is 100% extra.
Light Balsa at (6-10 pounds per cubic foot) is 40% extra.
Medium Balsa at (10-14 pounds per cubic foot) is 40% extra.
Heavy Balsa at (14-19 pounds per cubic foot) is 40% extra.
Extra Heavy Balsa at (19+ pounds per cubic foot) is 100% extra.
Extra Light balsa is sometimes referred to as "Contest Grade" balsa because is used for ultra light airplane contests. It is usually discolored, very hard to find, very brittle, weak, and squishy.
Please note any custom weight classification that is narrower than the above listed weight categories will increase the cost of the required weight classification.
No preference as to a weight of balsa = no additional charge.
*Grain classification if needed is 100% extra. » balsa grain classifications explained
Discounts may be available for the following items: » view defect pictures
B-grade balsa which is discolored is 10% off.
Industrial Grade balsa which may contain pinholes, horizontal or vertical cracks, knots, pith from the center of the tree, or bark is 25% off.
| | |
| --- | --- |
| | For planed and callipered blocks add 20% additional for labor. Un-planed balsa blocks are straight from the mill and are not perfect. Un-planed balsa blocks may have saw marks or band saw marks on a side or two from the milling operation and may not be square. |
| | All un-planed blocks are usually close to the listed length, width, and depth but are occasionally + or -1/8 inch because of conversions from English to metric in some of the milling shops. If exact lengths, widths, or depths are crucial to your order please specify this in the comment box below for 20% extra and we will meet your needs. |
Balsa Blocks or planks are 1x1 inches or larger chunks of balsa.  Balsa can vary between 3# (foam weight) - 40# (oak weight) for pounds per cubic foot (lbs/cuft) but the most common densities are 8-16 pounds per cubic foot.  We can also dimension the blocks to most any size.  Balsa blocks are used for carving of decoys, statues, toys, industrial projects, airplane parts, and decorations.
Normally the biggest balsa blocks we get in are 3x4 un-laminated. If you require something larger than 3x4 un-laminated mention it in the Order Notes below and there is a 50% additional fee. For most balsa blocks larger than 3x4 we usually have to laminate from a few smaller blocks to make the larger sizes.  The blocks turn out square and smooth after the lamination process.  We use waterproof polyurethane glue with clean fitting glue joints.
We have the ability to laminate balsa blocks to most any size required.  For example a 6x12x36 inches is small enough that we can dimension it smooth and square.  Largest size that can be dimensioned is approximately 48 inch wide x 12 inch thick x any length.  Larger blocks can be done but they will have polyurethane glue along all of the laminated seams.  All laminated joints are smooth without any gaps and are made with waterproof glue.  Include in the Order Notes message box below any laminated block sizes or any special requirements that you will need quoted for your order.
Sours: https://specializedbalsa.com/products/balsa_blocks.php
I took a shower and changed. - I'll ring. - Good. Thoughts have long been in a different place.
Balsa blocks large foam
For which he was scolded by his wife and, in a zombie-like state, was sent to sleep in the room: "- Yes, you can and more, Vanya answered thoughtfully, blowing a puff of smoke to the ceiling: Anya was sitting in front of him on the couch, picking up appetizing legs in tight jeans. She was wearing a white blouse.well emphasizing the juicy breasts.
All this Vanya observed rather, because, so far, because the week stood out so-so: The outspoken seductiveness of a cheerful little wife even annoyed. One more glass and I have to pack, perhaps.
A guide to using balsa wood when building wargames terrain
And then: I dont know how it happened and why I didnt hear. Nikolai slipped his hands under the blanket and wrapped his arms around my head. I continued to process his household with my mouth. And suddenly someone's hands began to pull the panties off my priests left up. I twitched, but to no avail.
Similar news:
I will leave. Mom blushes again and finds words with difficulty. - Wellthis, you and I are here: - Mom, speak normally. - I didn't think that I would have to talk about it with you.
221
222
223
224
225