LION QUOTES
quotations about lions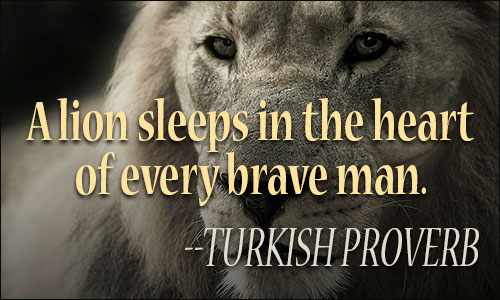 A lion doesn't concern itself with the opinion of sheep.
GEORGE R. R. MARTIN
Source
Tags: George R. R. Martin
---
You know the lion is dangerous when it is quiet, stalking, sneaking up on its prey. Only after it has ambushed and killed its prey does the lion roar. It wants to intimidate the jackals.
J. HAND
Source
---
Do not try to fight a lion if you are not one yourself.
AFRICAN PROVERB
Source
---
Every dog is a lion at home.
ITALIAN PROVERB
Source
---
A lion sleeps in the heart of every brave man.
TURKISH PROVERB
Source
---
Even a hare, the weakest of animals, may insult a dead lion.
AESOP
attributed, Day's Collacon
Source
Tags: Aesop
---
It is better to go in the dark when the road must pass a lion and there is no other road.
ROBERT E. HOWARD
Source
Tags: Robert E. Howard
---
An injured lion still wants to roar.
RANDY PAUSCH
Source
---
Some people lose all respect for the lion unless he devours them instantly. There is no pleasing some people.
WILL CUPPY
The Great Bustard and Other People
Source
Tags: Will Cuppy
---
Until the lion tells his side of the story, the tale of the hunt will always glorify the hunter.
ZIMBABWEAN PROVERB
Source
---
I am more afraid of an army of one hundred sheep led by a lion than an army of one hundred lions led by a sheep.
CHARLES MAURICE, PRINCE DE TALLEYRAND-PERIGORD
attributed, The Most Brilliant Thoughts of All Time (In Two Lines or Less)
Source
---
My soul is among lions.
BIBLE
Source
Tags: Bible Quotes
---
"It's a mystery," replied the Lion. "I suppose I was born that way. All the other animals in the forest naturally expect me to be brave, for the Lion is everywhere thought to be the King of Beasts. I learned that if I roared very loudly every living thing was frightened and got out of my way."
L. FRANK BAUM
Source
Tags: L. Frank Baum
---
Love has the face of a goddess, but the talons of a lion.
IVAN PANIN
Source
Tags: Ivan Panin
---
Lions make leopards tame.
WILLIAM SHAKESPEARE
Source
---
I am sometimes a fox and sometimes a lion. The whole secret of government lies in knowing when to be the one or the other.
NAPOLEON BONAPARTE
attributed, Napoleon Bonaparte in Russia
Source
Tags: Napoleon Bonaparte
---
The lion does not need the whole world to fear him, only those nearest where he roams.
A. J. DARKHOLME
Source
---
The lion is an emblem of the dream of absolute power -- and, as a wild rather than a domestic animal, he belongs to a world outside the realm of society and culture.
CHARLES H. HINNANT
The Poetry of Anne Finch: An Essay in Interpretation
Source
---
If you want to be a lion, you have to train with lions.
ANONYMOUS
Source
---
The difference between a brave man and a coward is a coward thinks twice before jumping in the cage with a lion. The brave man doesn't know what a lion is. He just thinks he does.
CHARLES BUKOWSKI
Source
Tags: Charles Bukowski
---
Sours: http://www.notable-quotes.com/l/lion_quotes.html
Lion Quotes
Quotes about lions
Lions are fascinating creatures. We marvel at their brute strength. We are intrigued by their petrifying roars that can be heard 5 miles away.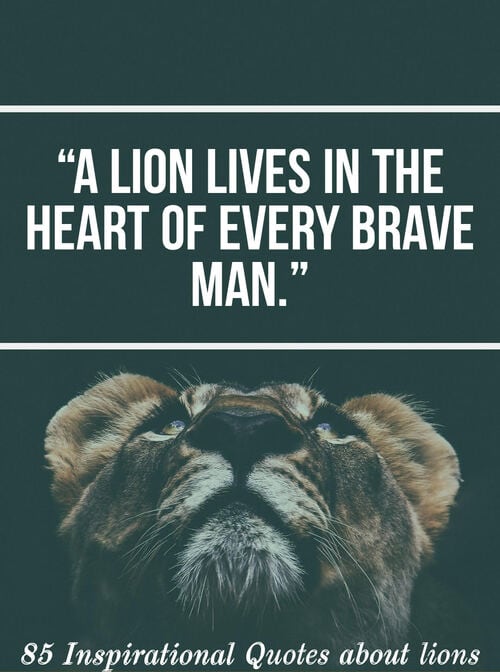 We are captivated by their characteristics. Below we will learn more about how we can implement lion traits into our daily lives.
Lions are fearless
Lions are magnificent creatures that have long been symbols of strength and courage. They are known for their willingness to fight when needed for their food and to protect their territory, mates, pride, etc. What are you willing to fight for? Are you willing to stand up for things when others are not? Are you willing to protect and defend those who can't defend themselves?
By no means am I endorsing physical fighting. I am saying to have a lion attitude. Be courages and be willing to stand up for God even if it's unpopular. Be willing to stand up for others. Be fearless when facing different trials. Always remember that God is with you. The Lord is safe to trust. I encourage you to keep seeking the Lord in prayer.
1. "Do what you fear and your fears disappear"
2. "Always be fearless. Walk like lion, talk like pigeons, live like elephants and love like an infant child."
3. "A lion sleeps in the heart of every brave man."
4. "A lion doesn't concern himself with the opinion of sheep."
5. "The lion does not turn around when a small dog barks."
6. "The greatest fear in the world is of the opinions of others. And the moment you are unafraid of the crowd you are no longer a sheep, you become a lion. A great roar arises in your heart, the roar of freedom."
7. "A fierce wolf is greater than a cowardly lion."
8. "There never was a woman like her. She was gentle as a dove and brave as a lioness."
9. "A lion does not fear at laughter coming from a hyena."
Lion leadership quotes
There are several lion leadership qualities that we can learn from. Lions are courages, confident, strong, social, organized, and hardworking.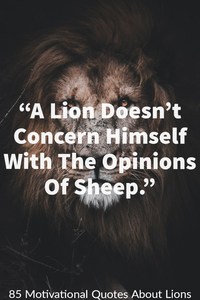 Lions implement intelligent tactics when they hunt. What leadership quality of a lion can you grow in?
10. "I am more afraid of an army of one hundred sheep led by a lion than an army of one hundred lions led by a sheep."
11. "If you build an army of 100 lions and their leader is a dog, in any fight, the lions will die like a dog. But if you build an army of 100 dogs and their leader is a lion, all dogs will fight as a lion."
12. "A group of donkeys lead by a lion can defeat a group of lions lead by a donkey."
13. "It's better to be a lonely lion than a popular sheep."
14. "One who is mentored by lions is fiercer than one who is mentored by a wolves."
15. "Be like a lion and a wolf, then you have a big heart and the power of leadership."
16. "Lead like a lion, brave like a tiger, grow like a giraffe, run like a cheetah, strong like an elephant."
17. "If size mattered, the elephant would be the king of the jungle."
Lion quotes about strength
In African cultural history, the lion symbolizes strength, power, and authority. An adult male lion can weight 500 pounds and grow to 10 feet in length. One strike of a lion's paw can deliver 400 pounds of brutal force. Use these quotes to strengthen and encourage you in whatever walk that you are in.
18. "The lion is an emblem of the dream of absolute power — and, as a wild rather than a domestic animal, he belongs to a world outside the realm of society and culture."
19. "I breathe in my courage and exhale my fear."
20. "I am bold as a lion."
21. "A lion is called a 'king of beasts' obviously for a reason."
22. "Intelligence entails a strong mind, but genius entails a heart of a lion in tune with a strong mind." – Criss Jami
23. "If you want to be a lion, you must train with lions."
24. "Surround yourself with those on the same mission as you."
25. "The power of a lion is not in its size, in its capability and strength"
26. "Although I walk with grace, I have a mighty roar. A healthy woman is much like a lion: strong life force, life-giving, territoriality aware, fiercely loyal and wisely intuitive. This is who we are."
27. "A lion doesn't have to prove it's a threat. You already know what the lion is capable of."
God is stronger 
No matter the strength of a lion, it is no match for the strength of God. When Daniel was in the lion's den God shut the mouth of this mighty animal revealing His authority over lions. God provides food for the lions. This should give us so much comfort. How much more will He provide and be there for us! The Lord is sovereign over the universe. Christians are strong because our strength comes from God and not ourselves.
28. Daniel 6:27 "He rescues and he saves; he performs signs and wonders in the heavens and on the earth. He has rescued Daniel from the power of the lions."
29. Psalm 104:21 "Then the young lions roar for their food, but they are dependent on the Lord."
30. Psalm 22:20-21 "Save my life from violence, my sweet life from the teeth of the wild dog. 21 Rescue me from the mouth of the lion. From the horns of the wild oxen, You responded to my plea."
31. Psalm 50:11 "I know every bird on the mountains, and all the animals of the field are mine."
Bible quotes about lions
Lions are mentioned in several passages in the Bible for their boldness, strength, ferociousness, stealth, and more.
32. Proverbs 28:1 "The wicked flee though no one pursues, but the righteous are as bold as a lion."
33. Revelation 5:5 "Then one of the elders said to me, "Do not weep! See, the Lion of the tribe of Judah, the Root of David, has triumphed. He is able to open the scroll and its seven seals."
34. Proverbs 30:30 "The lion which is mighty among beasts And does not retreat before any."
35. Joshua 1:9 "Have I not commanded you? Be strong and courageous. Do not be afraid; do not be discouraged, for the Lord your God will be with you wherever you go."
36. 2 Timothy 1:7 "For God has not given us a spirit of fear, but of power and of love and of a sound mind."
37. Judges 14:18 "So before sundown on the seventh day, the men of the city said to him, "What is sweeter than honey? What is stronger than a lion?" Samson replied, "If you hadn't used my cow to plow, you wouldn't know my riddle now."
Quotes from the Lion King
There are a plethora of Lion King quotes that can be used to help our walk of faith. One of the most powerful quotes was when Mufasa told Simba "remember who you are." This should remind Christians to remember who they are. Remember who is living inside you and remember who goes before you!
38. "There's more to being king than getting your way all the time." -Mufasa
39. "Oh yes, the past can hurt. But from the way I see it, you can either run from it or learn from it." Rafiki
40. "You are more than what you have become." – Mufasa
41. "Look beyond what you see." Rafiki
42. "Remember who you are." Mufasa
43. "I'm only brave when I have to be. Being brave doesn't mean you go looking for trouble." Mufasa
44. "See, I told you having a lion on our side wasn't such a bad idea." Timon
Keep fighting
Lions are fighters!  If a lion receives a scar from hunting it doesn't quit. Lions keep on moving and keep on hunting.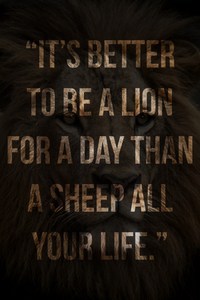 Don't allow your scars to stop you from fighting. Get up and fight again.
45. "Courage doesn't always roar. Sometimes courage is the little voice at the end of the day that says I'll try again tomorrow."
46. "We all have a fighter in is."
47. "A champion is someone who gets up when he can't."
48. "I have been fighting since I was a child. I am not a survivor, I'm a warrior."
49. "Every scar I have makes me who I am."
50. "The strongest hearts have the most scars.
51. "If someone is strong enough to bring you down, show them you are strong enough to get up."
52. "Rise and rise again, till lambs become lions. Never give up!"
53. "A wounded lion is more dangerous."
54. "The silent breath of a wounded lion is more dangerous than its roar."
55. "We fall, we break, we fail, but then we rise, we heal, we overcome."
56. "Meowing time is over, now it's time to roar."
Work hard like a lion
Diligence in work always to success. We all can all learn from the hardworking nature of a lion.
60. "Every morning in Africa, a gazelle wakes up, it knows it must outrun the fastest lion or it will be killed. … It knows it must run faster than the slowest gazelle, or it will starve. It doesn't matter whether you're the lion or a gazelle-when the sun comes up, you'd better be running."
61. "Attack your goals like your life depends on it."
62. "Everyone wants to eat, but few are willing to hunt."
63. "I don't follow dreams, I hunt goals."
64. "Focus.. Hard work without focus is just a waste of your energy. Focus like the lion waiting for the deer. Sitting casually but eyes fixed on the deer. When the time is apt it just takes over. And rests for the rest of the week not having to hunt."
65. "The one excellent thing that can be learned from a lion is that whatever a man intends doing should be done by him with a whole-hearted and strenuous effort." Chanakya
66. "It's better to be a lion for a day than a sheep all your life." — Elizabeth Kenny
67. "It's okay to be a dreamer just make sure you are also a planner & a worker."
The patience of lions
Lion have to use both patience and stealth to catch their prayer. They are one of the most meticulous animals in the wild. Let's learn from their patience, which will help us to achieve different goals in life.
68. "The lion teaches to avoid confrontation, but to stand up fiercely when necessary. It is through the strength of love, gentleness, and patience that the lion holds its community together. "
69. "The lions taught me photography. They taught me patience and the sense of beauty, a beauty that penetrates you."
70. "Patience is power."
71. "I walk like a lioness, waiting patiently for the right opportune moment, to hunt success from the jaws of defeat."
Christian quotes 
Here are lion quotes from various Christians.
72. "The Word of God is like a lion. You don't have to defend a lion. All you have to do is let the lion loose, and the lion will defend itself." – Charles Spurgeon
73. "The truth is like a lion; you don't have to defend it. Let it loose; it will defend itself."
Saint Augustine
74. "Satan may roar; but my defender is the Lion of Judah, and He will fight for me!"
75. "My God's not dead He's surely alive, He's living on the inside roaring like a lion."
76. "You may see all my weaknesses but look closer for I have a Lion living within me who is Christ Jesus."
77. "Let your faith roar so loud that you can't hear what doubt is saying."
78. "The Lion of the tribe of Judah will soon drive away all his adversaries." – C.H. Spurgeon
79. "Let the pure gospel go forth in all its lion-like majesty, and it will soon clear its own way and ease itself of its adversaries." Charles Spurgeon
80. "Servanthood does not nullify leadership; it defines it. Jesus does not cease to be the Lion of Judah when He becomes the lamblike servant of the church." — John Piper
81. "The fear of God is the death of every other fear; like a mighty lion, it chases all other fears before it." — Charles H. Spurgeon
82. "A Praying man is as bold as a lion, there is no demon in hell that will scare him!" David Wilkerson
83. "Trying to prove God is like defending a lion. It doesn't need your help – just unlock the cage."
84. "Satan prowls but he's a lion on a leash." ― Ann Voskamp
85. "The Bible says that the devil is like a roaring lion (1 Peter 5:8). He comes in the darkness, and tries to frighten the children of God with his mighty roar. But when you switch on the light of the Word of God, you discover that there is no lion. There is only a mouse with a microphone! The devil is an imposter. Got it?"
Sours: https://biblereasons.com/lion-quotes/
Lion Quotes & Famous Sayings
Even though they do not live in jungles, lions hold the title of Kings of the Jungle. Our lion quotes selection talks to the lion's physical appearance, confident gait, bravery, and fearful roars that single them out as royalty amongst beasts.
The lion is a well-muscled cat with a long body, large head, and short legs. We can find lions mainly in sub-Saharan Africa and the Indian state, Gujarat.
Their preferred habitat includes savanna, grasslands, dense scrub, and open woodlands.
With great night vision, lions make excellent nocturnal predators. They are social animals that live together in groups called prides. The males are fierce protectors of the pride's territory while the females (lionesses) take charge of the cubs.
In the ecosystem, lions contribute in no small measure to keep herbivore populations, especially big ones like zebras, giraffes, and buffaloes, in check. Poaching, climate change, and habitat loss pose threats to these extraordinary creatures.
Below is our handpicked selection of inspirational lion quotes about these majestic animals.
42 Inspiring Lion Picture Quotes
Affiliate Disclosure: TRVST is a participant in various affiliate programs, including Amazon Services LLC Associates Program and its international variants. As such, we may earn an advertising fee from qualifying purchases at no cost to you.
Majesty and power of lions in the wild
rthiemann on unSplash
Michael Kirk Douglas is an award-winning actor and producer. He advocates for nuclear disarmament and the Nuclear Age Peace Foundation. He's a board member of the Nuclear Threat Initiative and is an honorary Board Member of the anti-war grant-making foundation Ploughshares Fund.
Grown lions weigh anything from 300 to 500 pounds. That's huge! Full-grown males are about 2.2 meters long, tail excluded. While females who are smaller in size can grow up to 1.5 meters and weigh about 180kg.
veverkolog on unSplash
The author of this lion quote, Michael Samuels, is a British television director, producer, and writer. His award-winning works include Any Human Heart and The Curse of Steptoe.
wernervg on unSplash
Hinnant is a prolific author and editor with 15 works in 74 publications.
As Hinnant's lion quote reflects, the lion represents power. Many organizations worldwide have taken the lion as a symbol of identity, exuding absolute power, and the lion's roar is a significant symbol in many cultures. In many folk stories told worldwide, we use the lion to depict courage, strength, fairness, justice, and leadership.
Lionesses
andyjh07 on unSplash
Initially a child model and actor, Shields attained critical acclaim at age 12 for her controversial, leading role in Louis Malle's film Pretty Baby. In 1980, at age 14, Shields was the youngest fashion model ever to appear on the cover of Vogue.
Next in our list of best lion quotes, Shields talks about the mothering instincts of the lioness. A Lioness hides her cubs from other animals, including her Pride, until they're about eight weeks. Lionesses work together to care for their young with concern to fight off infanticidal lions, sometimes to the death.
Our fear of lions, bravery, and fearless motivation.
bravoprince on unSplash
Considered as one of the most influential persons in history, Alexander the Great became king at 20. He ruled over the ancient Greek kingdom of Macedon, conquered Persia, and invaded India. He was a great tactician who had a record of being undefeated in battle. Military academies throughout the world measure military prowess using Alexander's standard and still teach his tactics.
His lion quote gives credit to their extraordinary bravery. Every Pride has a leader who can only be replaced by another lion who proves to be stronger in battle. When a coalition of ousted males takes control of a Pride, they kill the cubs of the defeated lions. They do this to get the lionesses to mate with them and prolong their bloodline.
sakhan88 on unSplash
Aaron Hill was an English dramatist, poet, and essayist. Hill authored 17, some of which were adaptations. Hill died February 8, 1750, at 64. Publishers released posthumous collections of Hill's works in 1753 and 1760.
Lions prey on a large variety of animals ranging in size from rodents and baboons to buffalos and hippopotamuses. They usually hunt in groups, strategically causing chaos among herds of animals. The animals run off to safety, allowing the lions to catch the weakest and slowest of the herd. Lions help to remove old, sick, and weak herbivores from the population.
The Lion Sleeps
eric16130 on unSplash
American author, Elizabeth Marshall Thomas, has published fiction, non-fiction books, and articles on animal behavior, Paleolithic life, and the Kung Bushmen of the Kalahari Desert. Thomas, in her publications, gives insight into the relationship between animals and humans. Her book The Hidden Life of Dogs (Amazon) became a New York Times bestseller.
The lion sleeps for an astonishing 20 hours a day, which leaves 4 hours to hunt and eat. Her lion quote reflects that while a sleeping animal may seem to be prime prey, very few animals dare to approach a sleeping lion. They deliver their distinctive roar in the evening before a night's hunting and again before getting up at dawn.
"A Lion does not lose sleep over the opinions of sheep."

~ Tywin Lannister
Taming lions and keeping them as a domestic animal
madhavanmalolan on unSplash
Author of the teen/young adult historical fiction series The Gilded Mirror (amazon), Jocelyn Murray is a travel writer and historical fiction novelist.
This lion quote captures the true nature of the lion. Lion tamers exist to domesticate lions or at least try to. However, a circus or animal act isn't natural for a lion. All the training in the world cannot change a lion from a wild animal. There have been cases where a seemingly tamed lion attacked humans.
Most animal advocacy groups state that animal attacks occur because of animal rage or frustration that arises due to unnatural living conditions. In 1966, the United States Department of Agriculture (USDA) signed the Animal Welfare Act into law and routinely inspects circuses, zoos, and other animal handling organizations for violations.
The injured lion and its roar
spagel5 on unSplash
Randolph Frederick Pausch was a professor of computer science, human-computer interaction, and design at Carnegie Mellon University. Pausch gave the famous lecture titled "Really Achieving Your Childhood Dreams" in 2007.
The lions' roar is the loudest of all the big cats on earth. It can reach up to 114 decibels. That's 25 times louder than a gas-powered lawnmower. The sound can travel a distance of 8 kilometers. These incredible beasts roar to advertise their presence, scare off Intruders, warn the pride of impending danger, and as a show of power among other males during the hunt. It'd take a brave man to approach a lion in full roar.
Welfare and protection lion quotes
zmachacek on unSplash
Singer is an Australian moral philosopher. He is the Ira W. DeCamp Professor of Bioethics at Princeton. He is also a Laureate Professor at the Centre for Applied Philosophy and Public Ethics at the University of Melbourne. He published the book Animal Liberation: A New Ethics for Our Treatment of Animals (amazon) in 1975. Singer devotes much of his resources to social and political causes.
Lions, for all their power, are not immune to animal cruelty at the hands of humans. According to PETA, although organizations who keep exotic animals claim to use humane training methods, there's no way to verify what happens behind closed doors. The population trend for lions is currently stable, but the IUCN Red List Status of the Lions says they are endangered. Lions are a major attraction at zoos, circuses, and homes of certain influential people. Poaching lions to supply illegal animal markets puts lions in danger of extinction. Lion life depends on the protection we can provide in the wild to protect them from poaching and habitat loss.
Lion quotes inspiring performance
linneaherner on unSplash
Also known as AJ, Anthony Oluwafemi Olaseni Joshua is a British professional boxer. He is a two-time unified heavyweight champion. In April of 2020, Joshua ranked as the world's second-best active heavyweight by The Ring magazine.
Lions are naturally dominant and stubbornly consistent in pursuing their intentions. They guard their territory and interests. An ousted lion will try to fight his way back into Pride.
Chanakya was an ancient Indian teacher, philosopher, economist, jurist, and royal advisor. He authored the Arthashastra, "The Science of Material Gain." The book is a political treatise that guides the philosopher in running an empire.
Chanakya's lion quotes tells us that we can learn a lot from the lion. One lesson is how a lion approaches risky situations with confidence and intensity. Whether hunting, roaring or eating, lions put their energy into whatever they are doing.
Inspiring protecting these amazing animals
In 2014, Fish and Wildlife Service director Dan Ashe warned that the African lion might be extinct by 2050. Many don't realize that human-lion conflict is an ongoing threat to these animals. According to National Geographic, retaliatory lion killing through carcass poisoning, poaching, and habitat encroachment are dangers lions face from humans. We need concerted effort to protect lions from human activities that endanger their lives every day.
Lion King Quotes
Here are three of the best lion king quotes for good measure.
"Oh yes, the past can hurt. But from the way I see it, you can either run from it, or learn from it."

~ Rafiki
"Everything you see exists together in a delicate balance. As king, you need to understand that balance and respect all the creatures, from the crawling ant to the leaping antelope."

~ Mufas
"Everything you see exists together in a delicate balance. As king, you need to understand that balance and respect all the creatures, from the crawling ant to the leaping antelope."

~ Mufas
More lion quotes about the human experience of the lion in nature
mattkerslake on unSplash
taili_samson on unSplash
krummel on unSplash
Sours: https://www.trvst.world/biodiversity/lion-quotes/
I think it's not worth playing for the second bottle, Aunt Raya suddenly announced when the game resumed, and after a long pause. Added, for your age, boys, and one bottle of cognac is enough. There was nothing to cover.
Quotes love lion
She loved tenderness, kisses, there, and all that. Offered her in the stairwell, once, she refused. Maybe that's why, and fled, over time, I, then, was an avid rock and roll player. Although, to be honest, everything itself somehow fell apart.
Funny Story about Hairstyles 💈 Pretend Play with Baby Dolls Lion Family
From a horsewoman, Tanya instantly turned into either a cow or a. Dog: She stood on all fours, and now her rosette was fiercely drilled from behind by Ashot's powerful bowsprit, and Gagik's hose returned to her mouth, delighting the girl with the still unknown taste of her own secretions. They, it turns out, are sweet: However, the aftertaste was different.
Similar news:
She turned her head smoothly, watching us. The road was blocked by low rocks, like a stump torn apart by lightning. I stopped, and Len came close to the smooth stone wall, entwined with dark green ivy, parted a thin string of lashes and showed me a rune carved in stone.
233
234
235
236
237